OnePlus Open Review: Raising the Bar for Foldable Quality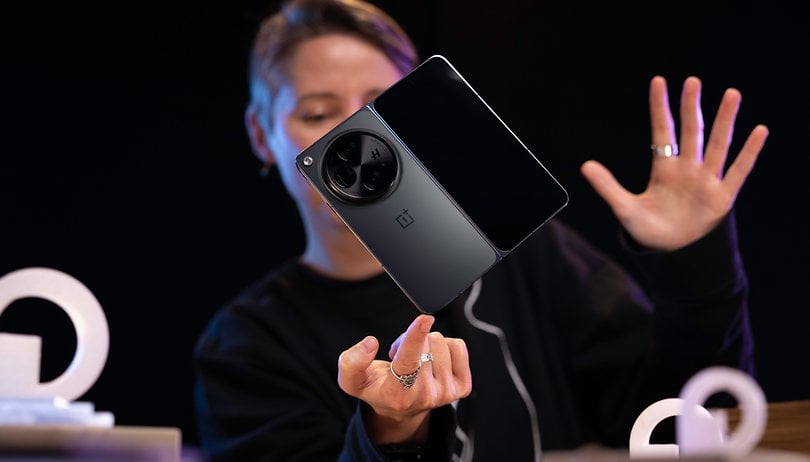 The OnePlus Open is the alternative that many foldable enthusiasts have been waiting for—me included. The device boasts an attractive form factor, is power-packed, and most importantly, features a superior camera module. Continue reading our OnePlus Open review to discover why this may be the best butterfly foldable on the market.
Good
User-friendly when open or closed

Alert Slider onboard

Excellent camera performance

Reliable and consistent performance

All-day battery life

Rapid 67 W SuperVOOC charging
Bad
No room (yet) for exclusive UI customization between displays

Omitted wireless charging for design
In a nutshell
The OnePlus Open embodies everything we were seeking in a new foldable: it's user-friendly whether open or closed, captures exceptional photos, delivers reliable and consistent performance, and boasts an all-day battery life.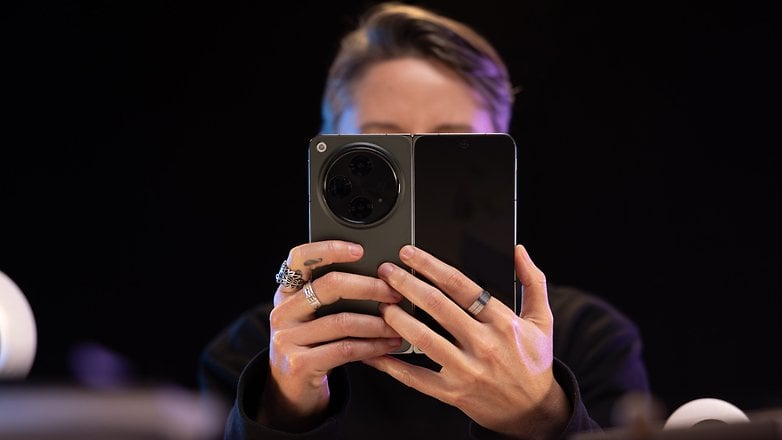 Foldable phones are no longer a novelty; they have become a well-established category. However, they often come with developmental challenges and a steep price tag. OnePlus is not immune to these challenges either.
The OnePlus Open is priced at $1,699, but the company offers a trade-in that starts at $200. So, doing the math, you can obtain the device from the OnePlus Store for as low as $1,499. And this is quite reasonable. Pre-orders should be live as you read this review on the OnePlus Store, Amazon, and BestBuy, with sales beginning in October 26.
So how about the developmental challenges? Well, keep reading to understand how OnePlus probably managed to build the best foldable out there.
OnePlus Open design and build quality
For a 2-in-1 device, the OnePlus Open is compact and feels good in the hand. The power button that doubles as the biometric sensor is easily reachable and performs seamlessly. The alert slider is onboard and manages to fit in a 5.8 mm compact body. Moreover, the OnePlus Open is a device designed with durability and longevity in mind .
---
Pros:
Very compact 2-in-1 device.
User-friendly when open or closed.
Alert Slider onboard.
Cons:
A large, always-accessible camera module.
---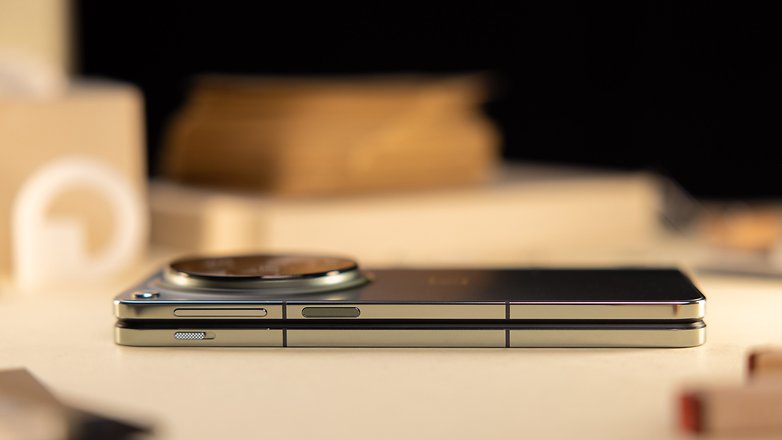 OnePlus has unveiled its cutting-edge "Flexion Hinge" technology. Unlike traditional folding hinges with a three-part design, the Flexion Hinge boasts a sleek, single-spine approach, crafted from 'liquid metal'—a zirconium-based amorphous alloy. To put its strength into perspective, this alloy is twice as robust as surgical-grade stainless steel and is even used in advanced medical practices like making artificial bones.
Despite its strength, the hinge's spine plate is impressively thin at just 0.15mm—about half the thickness of most competing foldables. And while typical hinges might have over 100 components, OnePlus's hinge consists of only 69, making the device notably lighter. This focus on a compact design is one reason the foldable lacks wireless technology.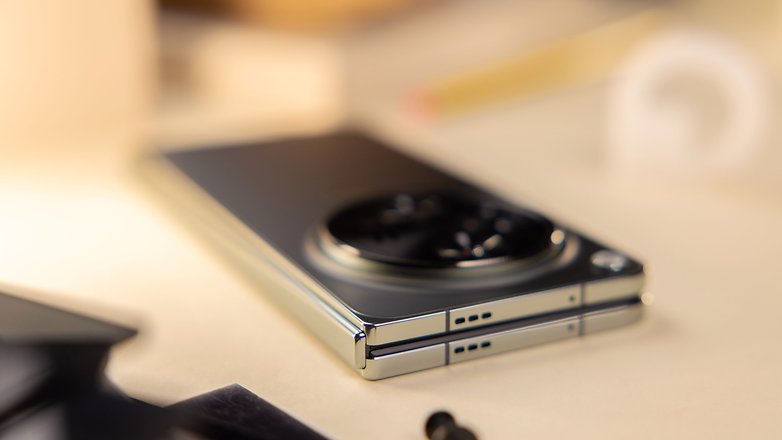 With the Open, OnePlus explored new horizons, opting for cobalt molybdenum alloy and titanium alloy over the standard 316L stainless steel found in many foldables. Think of these materials as the "superheroes" of metals; they're lighter and tougher, which means the device is not only more robust but also more lightweight.
In essence, OnePlus says that the alloy used here is like having a shield that's four times stronger than traditional stainless steel, flaunting a tensile strength equivalent to 2,000MPa.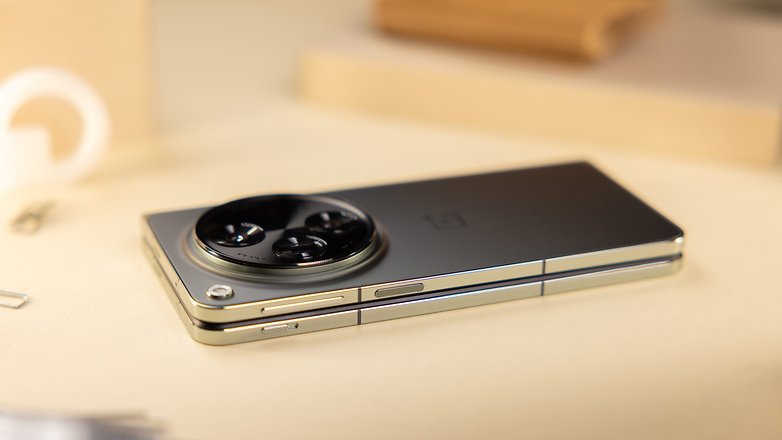 OnePlus crafted the Open with durability at its heart. It not only stands out with an IPX4 waterproof rating—think of this as a raincoat that protects against splashes from every direction—but also has an added layer of dispersive waterproofing on vital components. This is like having an extra umbrella for the phone's core, keeping potential water damage at bay.
The device is available in two distinct colors. I tested the "Emerald Dusk", which is a matte green derived from glass. It sparkles under certain lights, and the contrast between its dark cover and glossy frame is particularly striking. Meanwhile, the "Voyager Black" is very elegant with its deep black vegan leather finish.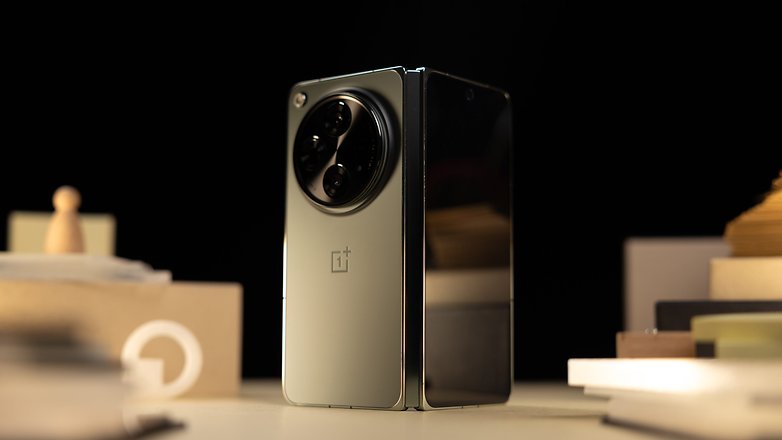 Yet, there's an elephant in the room: the prominent camera module. Despite delivering stunning photos, its size dominates the phone's back, often becoming a magnet for unintentional touches. A quick tip for users: for crystal clear shots, give those lenses a wipe before each use.
OnePlus Open display
The OnePlus screen is a masterpiece. They've introduced "Ceramic Guard" as their knight in shining armor for screen protection. Think of it as a hybrid between glass and ceramic, toughened by ion-exchange processes. OnePlus claims it's 20% more resilient than Corning Gorilla Glass Victus of the same dimensions. But, drop tests haven't yet given us a verdict .
Additionally, the main display boasts a triple-layered defense. First up is the tried-and-true Ultra-Thin Glass. Next in line is a TPU buffer, acting like a shock absorber for impacts. Lastly, an anti-reflection screen protector steps in, guarding against the daily rigors.
---
Pros:
Triple-Layered Main Display Protection.
Glass-ceramic cover screen.
Cons:
---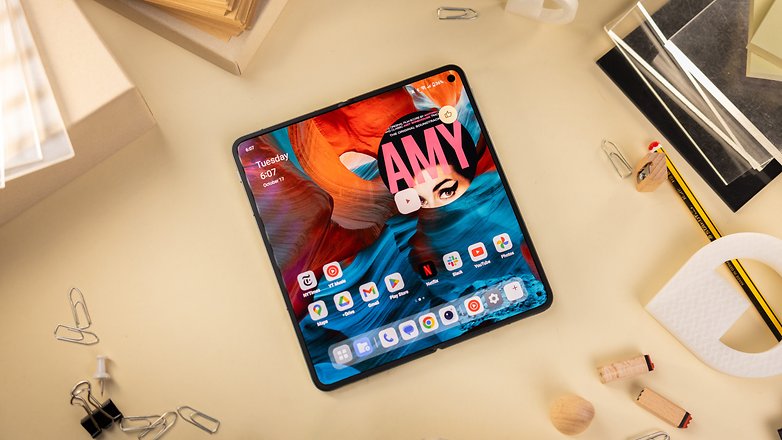 Folded up, the phone sports a sleek 6.31-inch Super Fluid AMOLED display with the latest LTPO 3.0 tech, boasting a resolution of 2,484 x 1,116 pixels (431 PPI). It dynamically adjusts its refresh rate between 10-120 Hz and can shine as bright as 2,800 nits at its peak.
Unfolded, it unveils a stunning 7.82-inch Flexi-Fluid AMOLED screen, also with LTPO 3.0. This bigger canvas offers a resolution of 2,440 x 2,268 pixels (426 PPI), has a versatile 1-120 Hz refresh rate, and matches the folded screen's brightness peak at 2,800 nits.
In my time with the device, what stands out about the screen is how the fold's crease virtually disappears when the phone is open. Having reviewed many flip devices, most have a glaring crease. But with the OnePlus Open, it's nearly impossible to feel, and you'd have to tilt the phone in just the right light to even see it.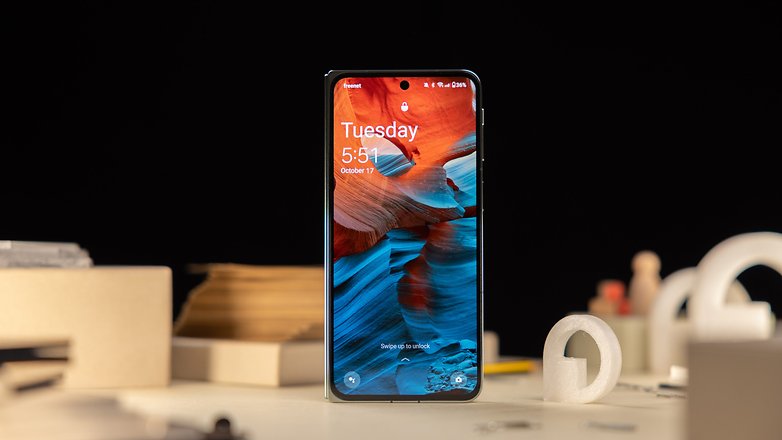 Both displays performed admirably in varying lighting conditions, delivering a balanced color palette, even when I toggled the 'vibrant display' setting. Since I've found myself reading articles and magazines on this device more than usual, I can attest to the brightness being finely tuned. It offers a comfortable view, even in dim settings.
Lastly, the front camera placements earn a nod of approval: centered on the cover screen and neatly tucked in the upper-right corner when opened.
OnePlus Open software
The OnePlus Open comes with OxygenOS 13.2 based on Android 13. Designed for longevity, it promises four years of major Android upgrades and five years of security updates, underscoring its commitment to durable hardware and long-term software support .
This ensures that the device remains up-to-date and protected for an extended period. Moreover, OnePlus is collaborating directly with Google to optimize the user interface and the overall user experience. Essentially, everything you find on the software level with the Google Pixel Fold, you'll also find on the OnePlus Open—except for the camera app, of course.
---
Pros:
Canvas feature: multitasking and productivity elevated.
4 years of major Android upgrades and 5 years of security updates.
Apps and games adapt well to the main display.
Cons:
No room for exclusive UI customization between displays.
---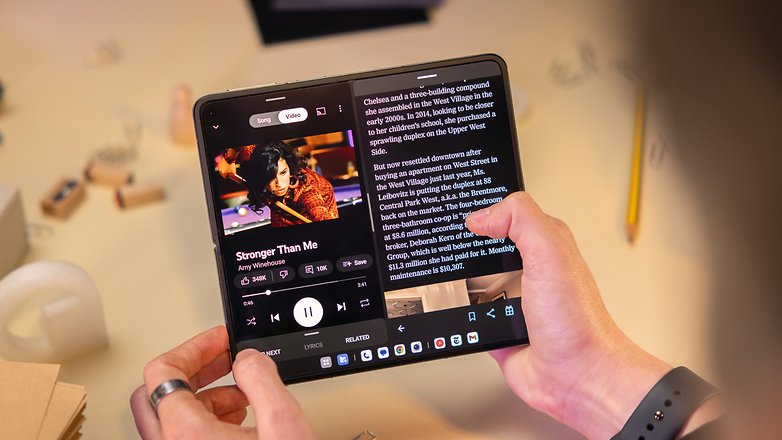 This is my first time fully testing a butterfly (or passport) foldable. I anticipated an immersive entertainment and multitasking experience, and the OnePlus Open certainly delivered. Whether open or closed, it's a genuinely user-friendly device.
The OnePlus Open, with its new Open Canvas feature in OxygenOS 13.2, is tailored for multitasking on large screens. Users can easily adjust multiple windows, stretching and resizing them. The secondary windows slide in and out seamlessly, echoing the screen navigation experience on my MacBook.
Furthermore, with the OnePlus Open, you can multitask with up to three app windows active simultaneously in either portrait or landscape mode. For added convenience, the device stores up to nine multi-app configurations, providing shortcuts to your favorite and most-used app combinations.
As we saw in the Google Pixel Fold (software review), the OxygenOS 13.2 also brings a more desktop touch to the OnePlus Open with a taskbar located at the bottom of the expanded screen. This it, it's possible to have swift access to both recent and preset applications. One of the standout features of this taskbar is the "Recent" folder.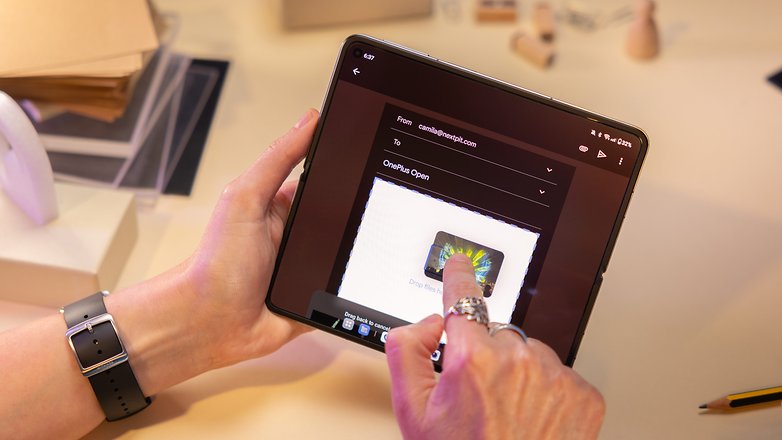 This folder offers users lightning-fast access to their latest photos, saved images, and modified documents. It works seamlessly: just drag files directly to messaging apps like Gmail for instant sharing.
Final note: While the software is generally favorable, there's a nuance with its Android foundation. Like on the Pixel Fold, you can't customize your cover display differently from the main screen. This means you can't stretch widgets across the unfolded display, much like trying to span a book's illustration across two pages. Widgets must reside on either the left or right panel, so you can't, for example, extend a calendar widget across both.
OnePlus Open performance
The OnePlus Open is more than just a beautiful device; it's a beast under the hood. It's powered by the latest Snapdragon 8 Gen 2 SoC, crafted using the 4nm architecture . To further enhance the performance, the device counts with a whopping 16GB of LPDDR5X RAM combined with 512 GB of UFS 4.0 internal storage.
---
Pros:
Reliable and consistent performance.
Efficient control of temperatures.
Cons:
Thermal throttling in heavy tasks.
---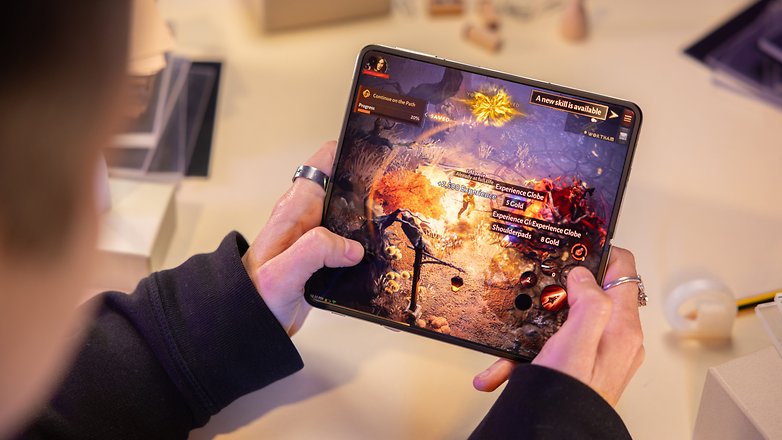 In daily usage, the OnePlus One's performance is reliable and consistent. It has efficiently managed temperatures. I've been using the phone for over two weeks and haven't once experienced overheating of any kind or any system glitches. With the dynamic refresh rate settings on, the experience has been smooth and fluid. Even during one-hour-long game sessions, the device performed with only minor frame issues.
According to OnePlus, the Open foldable is equipped with a specialized heat dissipation system designed to effectively manage heat from critical components such as the chipset, display, and cameras. This ensures the phone remains cool and performs optimally even under demanding tasks, a claim that held true in my tests.
OnePlus Open
(Snapdragon 8 Gen 2)
Google Pixel Fold
(Tensor G2)
Samsung Galaxy Z Fold 5
(Snapdragon 8 Gen 2)
3DMark Wild Life
3DMark Wild Life Stress Test

Best loop: 11,649
Worst loop: 8,442

Best loop: 6,650
Worst loop: 3,508

Best loop: 14,126
Worst loop: 6,442

Wild Life Stress Test Extreme

Best loop: 3,586
Worst loop: 2,834

Best loop: 1,753
Worst loop: 976

Best loop: 3,725
Worst loop: 1,878

Geekbench (v6)

Single: 1,455
Multi: 4,882

Single: 1,479
Multi: 3,784

Single: 2,040
Multi: 5,429
In our benchmark tests, such as the 3D Wild Life Stress Test, the results showcased a strong initial performance with a best loop score of 11,984. However, a subsequent drop to 8,826 suggests performance throttling during extended heavy tasks, possibly due to temperature challenges.
The 73.6% stability indicates some inconsistency in performance over time. Yet, it recorded much better numbers compared to the Google Pixel Fold's 52.8% and the Galaxy Z Flip 5's 52.1%. Interestingly, a slight recovery in later loops suggests effective temperature control mechanisms that activate after reaching certain thresholds. Overall, the device provides impressive initial gaming performance, though it might see a dip in efficiency with prolonged use.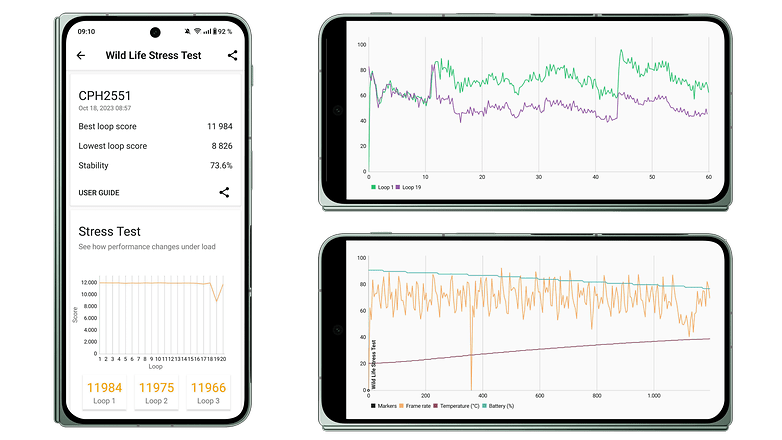 Finally, connectivity is also top-notch. With out-of-the-box Wi-Fi 7 support and dual 5G SIM capabilities, you're guaranteed a fast and consistent connection, no matter where you are. Indeed, the company ensures that their 5G antenna is compatible with a broad range of frequencies, including those used in Europe.
OnePlus Open camera
The OnePlus Open boasts a remarkable triple camera setup that delivers crisp and vibrant shots in a multitude of settings. At the heart of this system is the 48 MP Sony LYTIA-T808 main camera, which comes equipped with a 1/1.43" CMOS sensor, ensuring detailed images with its f/1.7 aperture.
Complementing the main sensor, the device features a 64MP telephoto lens with capabilities for 3X optical zoom, 6X in-sensor zoom, and a somewhat underwhelming 120X Ultra Res zoom. Additionally, there's a versatile 48MP ultra-wide lens that captures broad scenes with its 114° field of view.
For selfie enthusiasts, the OnePlus Open stands out with dual front cameras—a 20MP primary and a more detailed 32MP secondary lens. That said, you might find the main camera a better choice for capturing stunning self-portraits.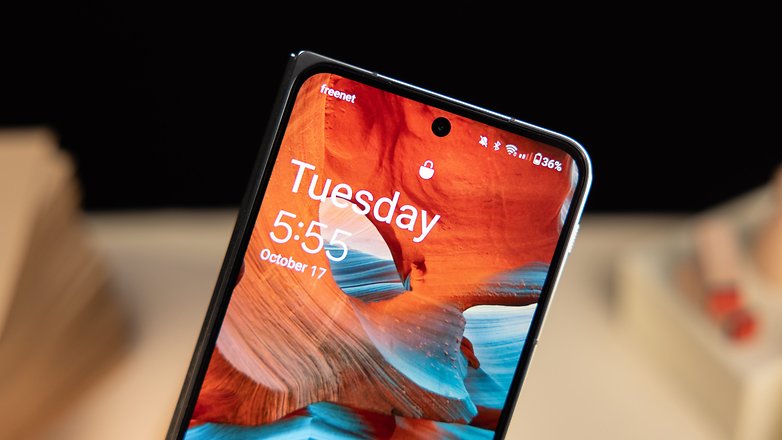 ---
Pros:
A versatile camera set.
Excellent camera performance.
True-to-life photo quality.
The 6x in-sensor zoom is reliable.
Cons:
Underwhelming 120X Ultra Res zoom.
It can accumulate moisture in the camera lenses**.
---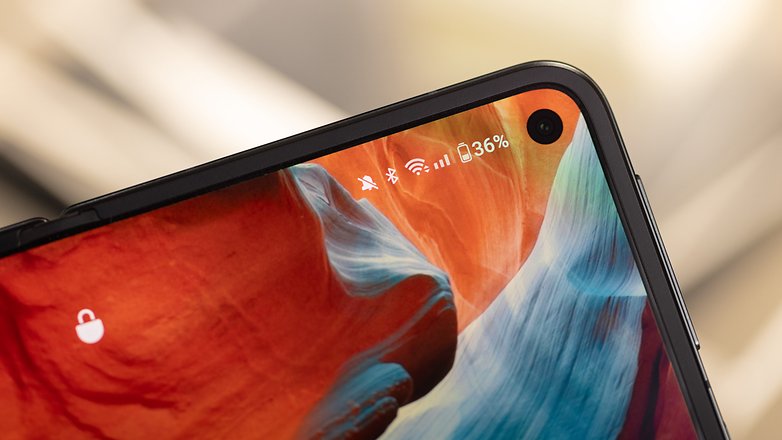 In the OnePlus One, the camera features the cutting-edge Pixel Stacked technology. Imagine a two-story parking garage instead of a single-level lot; it gathers more light efficiently. As a result, even in low light, the camera produces clearer and brighter photos without requiring a larger sensor.
Once again, OnePlus and Hasselblad have collaborated on the camera systems for the OnePlus Open. The aim of this partnership is to enhance the camera capabilities of OnePlus foldable, delivering a versatility of settings. And yes, this collaboration certainly shines in the OnePlus Open.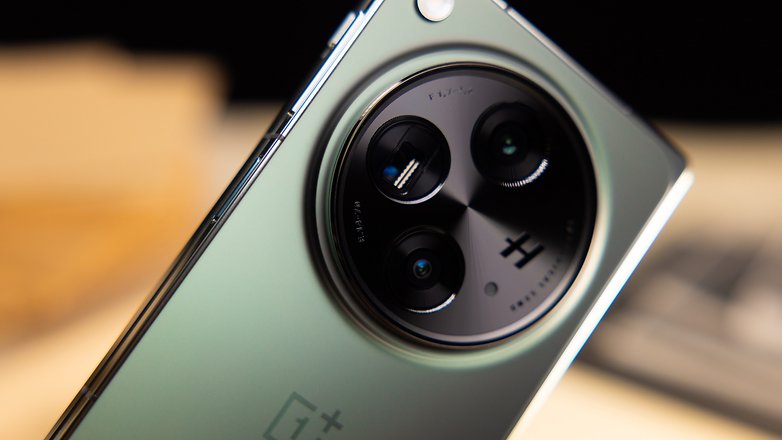 The camera delivers a more natural and accurate color reproduction, courtesy of Hasselblad's esteemed color calibration. For enthusiasts wanting more control, there's an optimized Pro Mode for better shot customization. While I didn't delve deeply into this for the review, many will appreciate having such a professional-grade photography tool in their pocket.
I truly enjoyed using the OnePlus Open camera, which ranks among the best phone camera sets I've tested in 2023. Let's delve into that.
Daylight
The main camera set is dependable for nearly all photographic needs. Photos are vibrant and colorful, yet they maintain true-to-life accuracy. The post-processing is well-balanced, and the camera's dynamic range ensures details are preserved in both extremely bright and dark areas of a scene.
The OnePlus Open boasts a 64MP telephoto camera with a significant 1/2-inch sensor. As previously highlighted, this camera offers 6x in-sensor zoom and an astounding 120x Ultra Res Zoom. OnePlus asserts that its periscope zoom and distinctive d-cut design contribute to a 23% increase in light intake.
Being a fan of the 2x zoom mode, I was captivated by the 3x and 6x zoom capabilities of the OnePlus Open. In the images below, it's remarkable how this camera seamlessly transitions from a broad ultra-wide shot to a detailed 6x zoom without compromising quality. See if you can spot the QR code in Times Square:
However, I must concede that the Ultra Res Zoom is practical only up to 10x to 30x; anything beyond that seems more like marketing.
Night shots
The night shots are consistently reliable. The camera lens effectively captures light without oversaturating images, as one would expect from a premium smartphone. Additionally, being a foldable phone, it allows users to use the main camera in reverse, resulting in selfies with greater detail and contrast.
Selfies
Discussing selfies, there are three methods to use the OnePlus Open for this purpose: with the main camera or with the cameras on the inner and outer displays. While the cover display camera produces bright and colorful images, I predominantly used the main camera for selfies. It's more versatile and offers superior quality, especially in low-light conditions.
**In conclusion, I'd like to address an anomaly I encountered once with the OnePlus Open, which I noticed others experienced as well. I opted not to list it in the main pros and cons section of the review since it was an isolated incident, but I feel it merits a mention here.
During the press event in New York, several journalists, myself included, observed moisture accumulation inside the camera lenses. As previously stated, this issue did not repeat later in the review. Nevertheless, I'll update this section if it emerges as a recurring problem.
OnePlus Open battery
The OnePlus Open proves to be excellent for productivity, multitasking, and photography. But how does it sustain such performance? It's powered by a robust 4,805mAh battery, typically lasting an entire day on a single charge. Impressively, it can be fully charged in just 40 to 42 minutes—a standout feature in the foldable category .
---
Pros:
All-day battery life.
67 W SuperVOOC fast-charging.
Adapter included.
Cons:
Omitted wireless charging for design.
Bulkier SuperVOOC adapter design.
---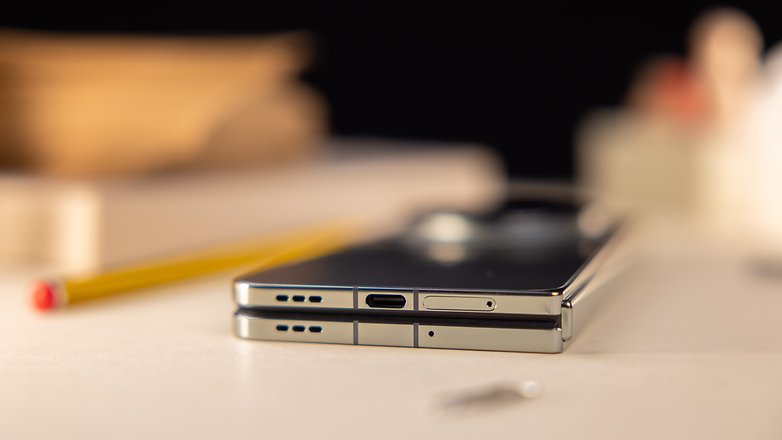 During my daily tests, the OnePlus Open handled a range of tasks, from productivity to hour-long gaming sessions, without any battery concerns. However, under heavy use, such as extended camera sessions coupled with using the device as a hotspot for my second phone during commutes, it needed an additional charge within the day. Thankfully, its quick charging technology mitigated this concern.
During my tests with SuperVOOC charging, the temperature of the OnePlus Open fluctuated between 21 and 39 degrees by the end of each session. What's particularly noteworthy is that the device can be charged to 51% in just 15 minutes. While I personally don't prioritize rapid charging, it's undeniably convenient. However, the power adapter isn't compact enough to fit in many of my waist packs.
OnePlus Open
(4805 mAh | 67 W)
Galaxy Z Fold 5
(4400 mAh | 25 W)
Google Pixel Fold
(4821 mAh | 30 W)
5 minutes
10 minutes
20 minutes
30 minutes
1 hour
Full charge
PC Mark Battery test

17h14 (external)
10h21 (internal)

14h30 (external)
10h21 (internal)
As standard in nextpit's reviews, we utilize the PCMark battery test to rank and compare devices. Regrettably, the OnePlus Open encountered an error in two of my attempts to run this specific lab test. I'll update the review once I successfully complete the benchmark, both with the device folded and unfolded. However, I'll share a detailed screenshot of the battery consumption from the last benchmark attempt with the phone unfolded.
From the results, the benchmark ran from 100% to 20% battery, totaling 10h23min—comparable to the results from Samsung and Google competitor devices.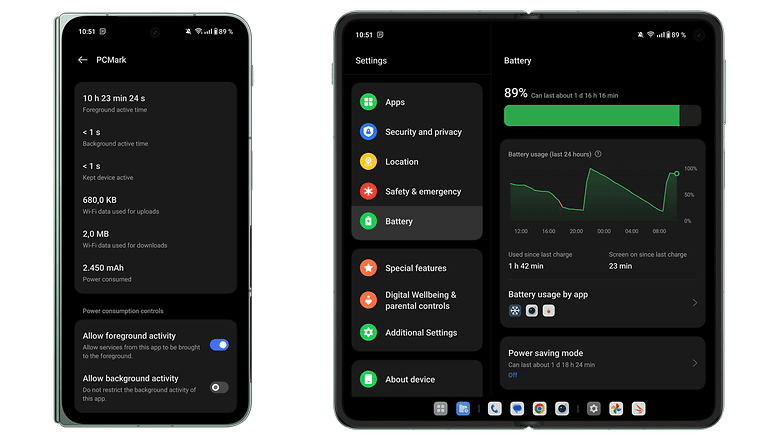 OnePlus Open technical specifications
OnePlus Open
Price
Display

Main display: 7.82-inch
Flexi-fluid AMOLED with LTPO 3.0
2,440 x 2,268 pixels at 426 ppi
1-120 Hz refresh rate
1,400 nits (Typical); 2,800 nits (Peak)
Cover display: 6.31-inch
Super fluid AMOLED with LTPO 3.0
2,484 x 1,116 pixels at 431 ppi
10-120 Hz dynamic
1,400 nits (Typical); 2,800 nits (Peak)

SoC

Qualcomm Snapdragon 8 Gen 2

RAM
Storage
microSD
Software

OxygenOS 13.2 based on Android 13
4 years of system upgrades
5 years of security updates

Main camera

48 MP
f/1.7 aperture
24 mm equivalent focal length

Ultra-Wide camera

48 MP
f/2.2 aperture
14 mm equivalent focal length

Telephoto camera

64 MP
f/2.6 aperture
70 mm equivalent focal length
3x optical zoom
6x in-sensor zoom
Ultra Res (digital) Zoom up to 120x

Selfie camera (Primary)

20 MP
f/2.2 aperture
20 mm equivalent focal length

Selfie camera (Secondary)

32 MP
f/2.4 aperture
22 mm equivalent focal length

Battery

4,805 mAh
67 W SuperVOOC charging

Connectivity

Dual nano-SIM slot
Wi-Fi 6E, Wi-Fi 7, Wi-Fi 802.11 a/b/g/n/ac/ac
LTE, 5G, Bluetooth 5.3, NFC

IP Certification
Colors

Emerald Dusk and Voyager Black

Dimensions and weight

Folded: 153.4 x 73.3 x 11.7 mm
Unfolded: 153.4 x 143.1 x 5.8 mm
245 g

Offer
Final verdict
When we compare the OnePlus Open to its main competitors in the market, it's evident that the device surpasses many of them in various aspects. But is it the best foldable device available?
The OnePlus Open boasts a different form factor than the Google Pixel Fold, aligning more with the design of the Galaxy Z Fold 5. Like Samsung, it operates on the Android OS but introduces its exclusive skin. In contrast, the Pixel Fold provides a more "pure" Android experience. In the realm of fast charging technologies, OnePlus clearly leads with its quicker solution.
The introduction of the new desktop taskbar, along with the 'Recent fold' and OnePlus Canvas features, certainly amplifies multitasking capabilities for this foldable device. Most notably, it stands as a genuinely compact 2-in-1 device, ensuring a seamless user experience whether open or closed.
In the photography department, OnePlus seems to have the edge with its impressive Hasselblad 48 MP main camera system. As an added advantage, the OnePlus Open establishes itself as the most cost-effective foldable in its class, especially with the OnePlus Store's exclusive $200 trade-in offer, bringing the price down to $1,499.
I've often found myself questioning whether my perspective has been swayed by OnePlus's marketing spiel since I began using the device. Yet, by carrying it with me daily, I can confidently assert that it's an exceptional phone, possibly the best foldable available today.
Is there anything else you'd like to know about the OnePlus Open? Please leave a comment on this review, and I'll endeavor to provide the answers for you.