Nexus 5 battery tips and tricks: the best guide to better battery life
Update:

Android M improves battery life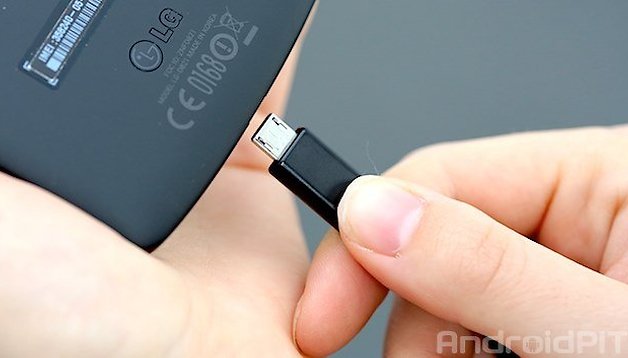 The Nexus 5 has never been known for the quality of its battery, and it has seen its fair share of problems in the past. We've already brought you some great tips to extend your Nexus 5 battery life (scroll to the bottom of this article) but now we're going a step further: showing you how to install a custom kernel that will extend your Nexus 5 battery even further. NEXTPITTV
Read on to learn how to install the ElementalX kernel and then hit up those other Nexus 5 battery tips at the bottom for ultimate Nexus 5 battery life. We've also got some great news about the Android M preview on the Nexus 5.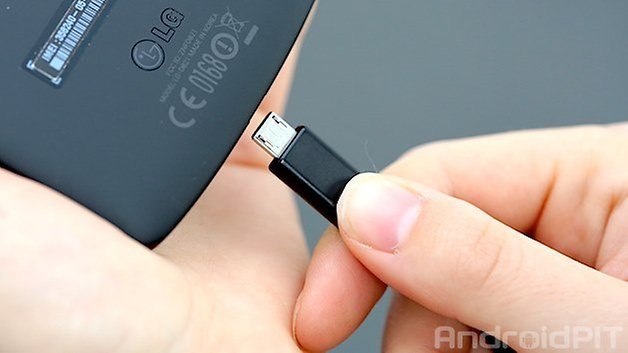 Update: Recent battery tests on the Nexus 5 running the Android M preview have shown that there are massive gains to be had in the next version of Android, even in the developer preview as it stands right now.
The M preview is remarkably stable and very easy to use as a daily driver, so feel free to get Android M on your Nexus 5 and enjoy the battery savings, or you can wait a few months until the Android M release gets finalized and rolls out OTA. Now, back to ElementalX...
What is ElementalX?
ElementalX is a substitute kernel that you can switch out for the stock Android kernel. Not sure what a kernel itself is? The kernel is basically the brain that communicates between your device's software and hardware. This includes everything from processor speeds and display output to gesture controls (like double tap to wake on the nexus 5) and voltage control. This last one is what allows you to tweak your Nexus 5to get the best battery life possible.
Prerequisites
First of all, to replace the kernel obviously requires root and an unlocked bootloader. You'll also need a custom recovery installed (which can be done during the root process). If you need help with any of these steps check out the following tutorials.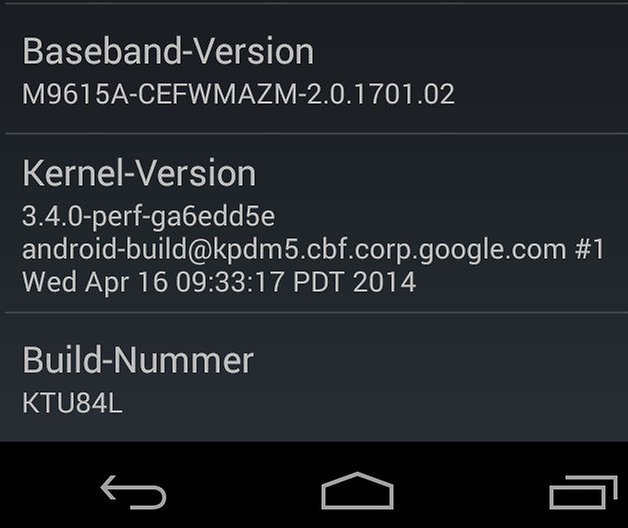 How does ElementalX work?
When it comes to the ElementalX kernel to choose, you have two options: one is a preset version with default values. ElementalX provides very good battery management on its own, so this is a perfectly good option.
The second option allows you to modify various settings manually, so you can undervolt your Nexus 5 even further. This is of course the more advanced choice and, as Spiderman was widely taught: with great power comes great responsibility. This option should only be used if you know what you're doing or are OK with the consequences of figuring it out by doing.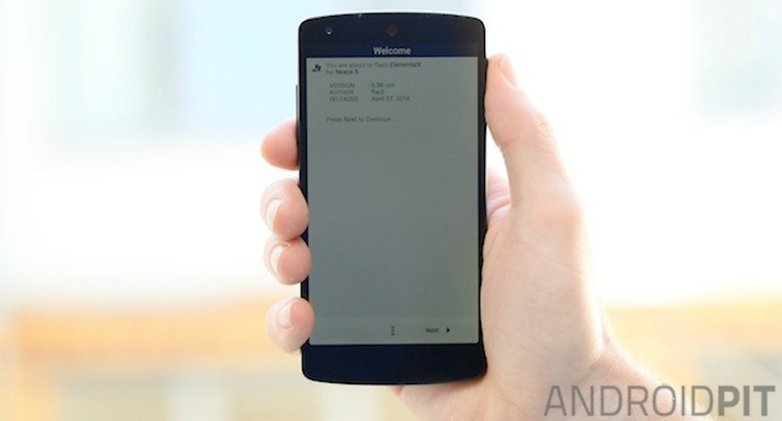 How to install Elemental X kernel on the Nexus 5
1. Visit the ElementalX website on your Nexus 5 and download the kernel for the version of Android you are currently running.
Note: it is important that you get the same kernel as the current version of Android on your Nexus 5. If you don't know what version you currently have, go to Settings > About Phone and look for Build Number at the bottom. If you're on the latest version of Android 5.1 Lollipop it will be LMY47I.
2. Turn off your Nexus 5 and reboot to the bootloader. To do this, press and hold power and Volume Down until you see the screen with the Android robot with its hatch open.
3. Use the volume keys to highlight Recovery mode and press power to confirm.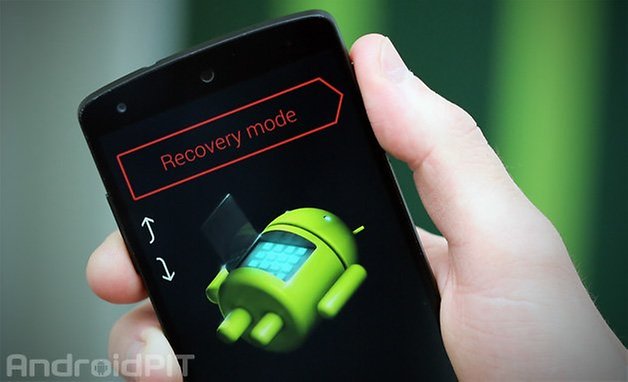 4. In recovery mode, you just want to locate the kernel you downloaded before and flash it. The process depends on which custom recovery you have installed:
ClockworkMod recovery (CWM)
In CWM you simply use the volume buttons to highlight and select Install zip > Install zip from last install folder > select the ElementalX kernel you downloaded and confirm your selection.
Team Win Recovery Project (TWRP)
In TWRP, after restarting with Power and Volume Down held down, tap Install > Download and then the ElementalX kernel you downloaded. Swipe the blue button at the bottom to the right to flash the file.
What now?
If you chose to install the express version of ElementalX you're good to go. Once you reboot you'll be able to enjoy the modified battery management of ElementalX on your Nexus 5. Still one of the best kernels for battery life around. If you chose to manually set up ElementalX yourself, you have some options.
Manual settings for ElementalX
ElementalX provides a lot of additional options above and beyond the basic settings if you want to further tweak your Nexus 5 for better battery life. Generally speaking, the easiest way to do this is by undervolting.
Undervolting means limiting the amount of voltage delivered to your device from your battery. This can of course extend battery life but it also comes with some dangers that could affect performance or the hardware itself.
As such, we won't suggest ''recommended settings'' to you, but suggest you read up and do your homework before you choose your own settings – although it is possible to just choose your undervolt settings and see how they go. To be safe though, check out forums like XDA Developers and look for other users that describe the kinds of results you are after and follow their lead.
Don't be afraid though, a little bit of research beforehand and baby steps along the way will see you enjoying extremely good Nexus 5 battery life.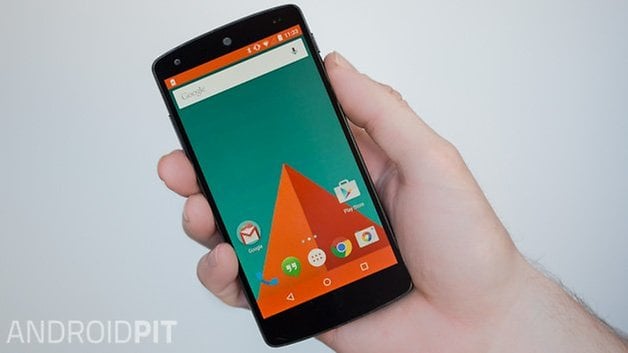 ---
Nexus 5 battery tips
1. Turn off "adaptive brightness"
It should come as no surprise that the display is the biggest source of battery drain on the Nexus 5 - a quick look in Settings > Battery should tell you this. You might think that a solution is to have your battery constantly adjust for optimal brightness, but the reality is that the Nexus 5's light sensor is nowhere near sophisticated enough to adapt effectively. Instead, it is far better to use the lowest brightness setting that is comfortable for you. This will often be lower than what the Nexus 5 adjusts to automatically.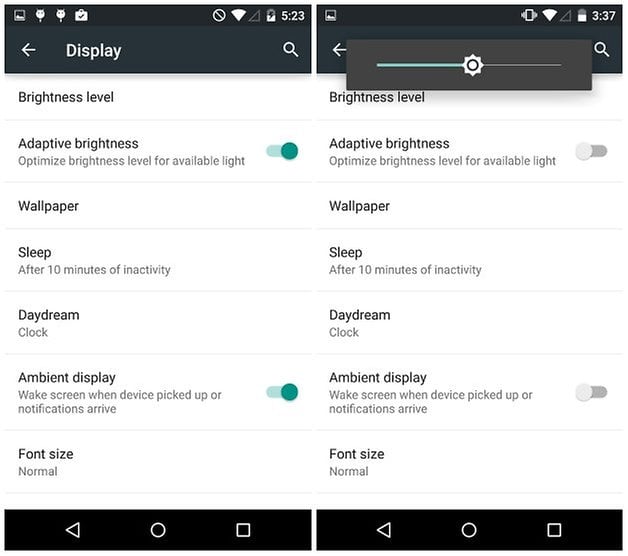 2. Set "sleep" to the lowest number possible
As your phone display is often the biggest battery drainer, switching your screen off will certainly improve battery life. Ideally your phone display would turn off whenever you aren't looking at it, but this is yet to be a properly functioning reality. Instead of leaving your screen on for 5 minutes after you stop playing with your handset, make sure it's awake for the shortest amount of time possible. Try setting it to 15 seconds for maximum benefit - your battery will thank you for it later.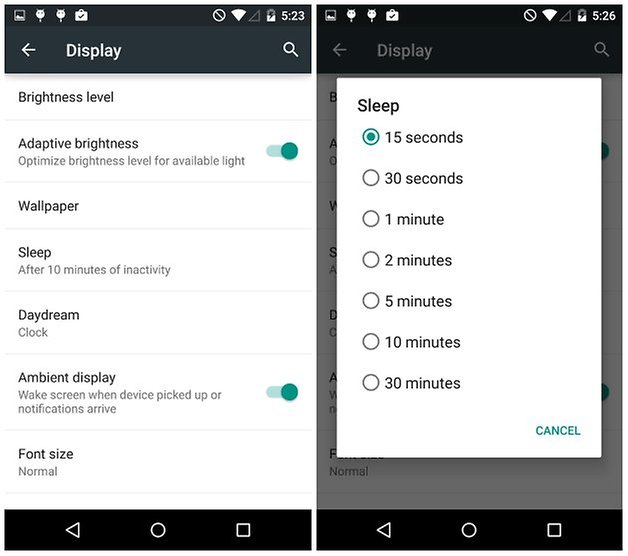 3. Turn on Battery Saver
The Nexus 5 Battery Saver function is a one-stop-shop for saving juice. Unlike the battery-saving features on Samsung's TouchWiz or Sony's Xperia UI -- the stock Android one-tap solution provides an instant improvement to battery life. The cost of this, however, is that a number of functions are limited, such as the ability for the Nexus 5 to vibrate, or sync your accounts effectively. Having to open your email manually to check your email might be a small price to pay for a longer-lasting handset.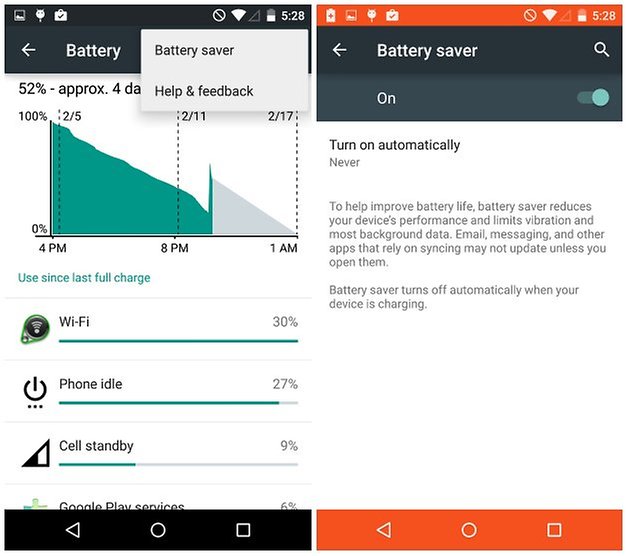 4. Keep your Nexus up to date
With the exception of the odd battery-nerfing bug, Android updates usually mean better battery life. By just having Android 5.0 Lollipop on your device, Google says that you extend your device's battery life by an additional 10 percent, so it's worth checking regularly for the big L update if you haven't got it yet. Go to Settings, 'About phone', and finally to 'System updates'; if there's an update available, your Nexus 5 will let you know.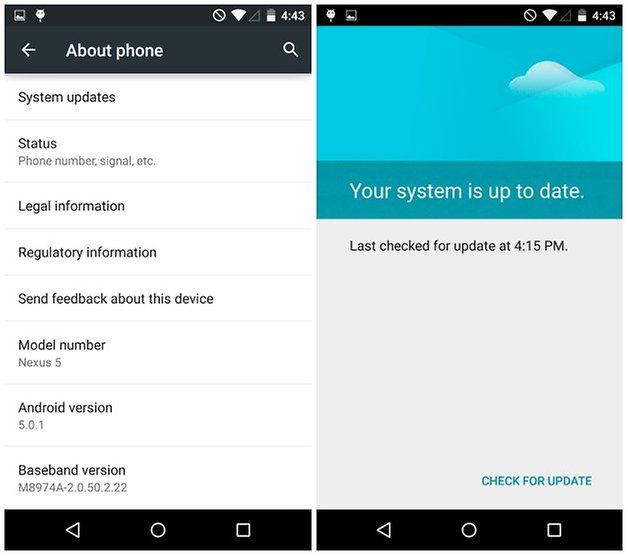 5. Turn off Bluetooth and Location
All of the above features can have an adverse effect on your overall battery life. Bluetooth especially should never be kept running when you're not directly using it. Location is a little trickier because it is used for a number of apps and services. Turn it off, and if you are rarely/never asked to switch it back on, you will know you have made the right choice.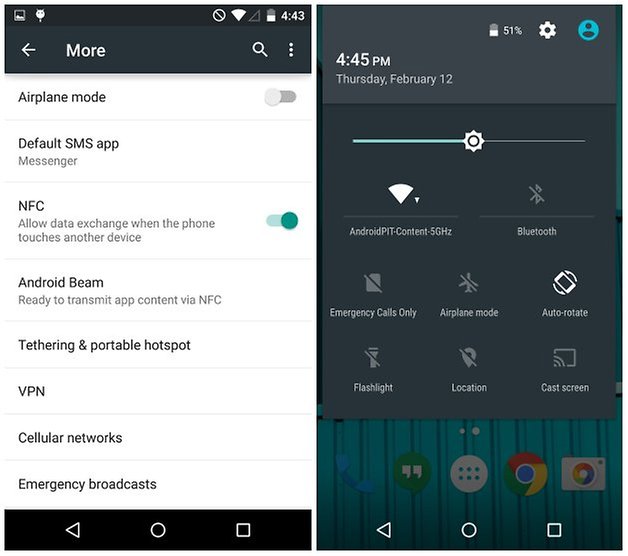 6. Choose a static wallpaper, and limit your number of widgets
Animated wallpapers may look sexy, but they're not energy-efficient. Choose a dark static wallpaper for best results. While you're at it, make sure the number widgets in operation is as low as possible. Each widget you use will be updated in the background and this is something that will silently take the life out of your handset. Limit your widgets, people.
What's your favorite tip for saving battery life on the Nexus 5? Let us know in the comments below.