Mobvoi TicWatch 5 Pro vs TicWatch 3 Pro Ultra: Is the new model worth it?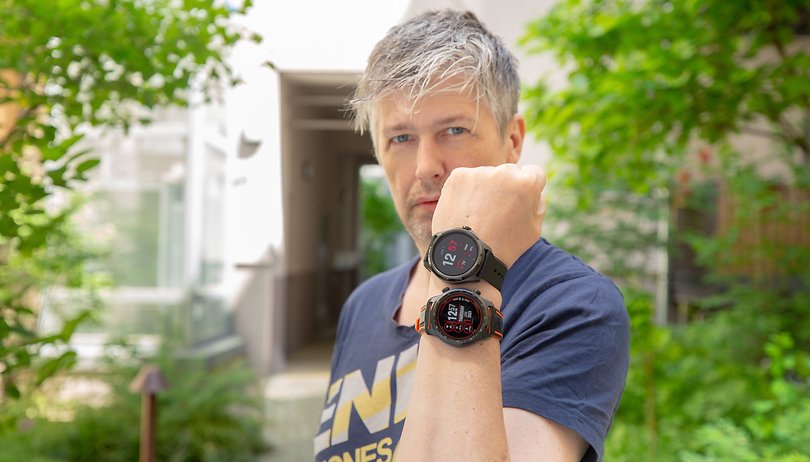 Fans of the TicWatch Pro series had to wait a long time for the latest model. So long, in fact, that Mobvoi apparently simply skipped rolling out the TicWatch Pro 4. No doubt there are vast differences between the two models, the Pro 3 Ultra and Pro 5. Therefore, let us make a direct comparison of technical specifications between the two.
TicWatch Pro 3 Ultra vs TicWatch Pro 5 compared
Existing lagship smartwatches from Mobvoi
Device
Image

MSRP
$299.00
$349.99
Display
Dual-layer system
1.4-inch, AMOLED display &
1.4-inch, FSTN LCD display
454 × 454 pixel (326 ppi)
Corning Gorilla Glass
Dual-layer system
1.43-inch, AMOLED display &
1.43-inch, FSTN LCD display
466 × 466 pixel (326 ppi)
Corning Gorilla Glass
SoC
Qualcomm Snapdragon Wear 4100
12 nm quad-core processor
Snapdragon W5+ Gen 1
4 nm quad-core processor
Memory
1 GB RAM
8 GB ROM
2 GB RAM
32 GB ROM
microSD
❌
Software
Wear OS by Google (currently version 2.42)
Google Wear OS(currently version 3.5)
Connectivity
Bluetooth 5.0
WLAN 802.11 b/g/n
NFC
Bluetooth 5.2
WLAN 2.4 GHz
NFC
Satellites
GPS, Beidou, Glonass, Galileo, QZSS
Battery
577 mAh
628 mAh
Connectivity
5G, LTE, WLAN 802.11 a/b/g,
Wi-Fi Direct (2.4 GHz + 5 GHz), Bluetooth 5.3, NFC
IP certification
IP68, MIL-STD-810G
5 ATM, MIL-STD-810H
Colors
Shadow Black
Obsidian
Material
Stainless-steel and high-strength nylon with glass fibers
Stainless steel, 7000-series aluminum and high-strength nylon with glass fibers
Dimensions and weight
47.0 x 48.0 x 12.3 mm
41,0 g
22 mm bracelet
50.1 x 48.0 x 12.2 mm
44,3 g
24 mm wristband
Sensors
Accelerometer, gyro sensor, HD PPG heart rate sensor, SpO2 sensor, low-latency off-body sensor
Accelerometer, gyro sensor, HD PPG heart rate sensor, SpO2 sensor,
Skin temperature sensor, low latency off-body sensor,
low latency body sensor
Others
Speaker, microphone, vibration motor, PPG, barometer
Speaker, microphone, vibration motor, PPG, barometer, compass
Rating

Not yet reviewed

Not yet reviewed
It becomes clear that these two smartwatches are worlds apart. However, we do not want to approach our comparison in such a superficial manner. After all, the two models are separated by a $150 gulf at the least, depending on the offers you find on Amazon. You can dive into the details here.
Table of Contents:
Display and case
When it comes to the display, hardly anything has changed between the two smartwatches. The slightly larger diagonal measurement of the TicWatch Pro 5 can generally be neglected in our comparison. The difference is a mere 0.03-inches, which is not even one millimeter when you think about it. Mobvoi also remained true to the dual-layer technology used.
There is still a monochrome FSTN LCD located above the color AMOLED panel. The idea behind this? An energy-saving Always-On Display will show the most important information, while the colorful panel is fun to use when viewing active content. The selection of watchfaces (22 of them in total) in the so-called Essential Mode has increased with the new TicWatch.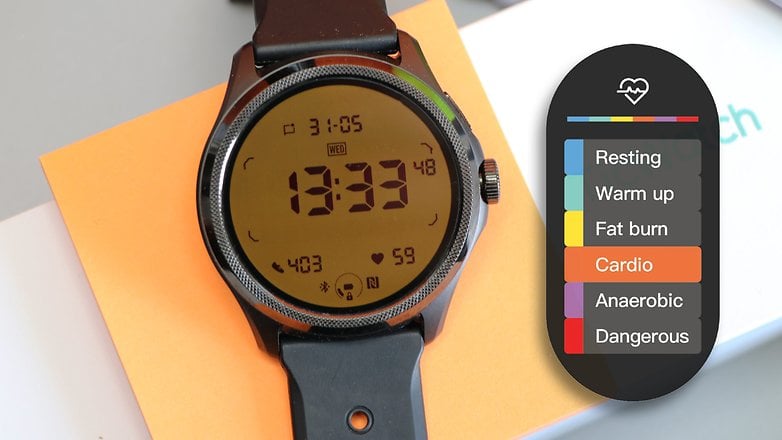 There are also minimal changes in the case size which we do not need to discuss further. The use of 7000-series aluminum is interesting, but it also makes the TicWatch Pro 5 a tad heavier. The major highlight would be the rotating crown, which can also be pressed. This basically retains both hardware buttons with an additional rotating function.
What else is there to it? The wristband width of the TicWatch Pro 3 Ultra measures 22 mm and 24 mm for the Pro 5. This means you cannot use your old wristbands on the new timepiece. Also, the smartwatch has lost its IP68 certification and swapped that with a waterproof rating of up to 5 ATM, which means that the TicWatch Pro 5 can withstand water pressure up to 50 meters in depth. I actually liked the IP certification better.
Software and updates
Currently, this is probably the most significant difference with an uncertain outcome to boot. While the brand-new Pro 5 already has Android Wear 3.5 installed, the TicWatch Pro 3 Ultra still lacks the promised update to Wear OS 3.0. The major reason for this delay can be attributed to Google's promised exclusivity for Samsung smartwatches. However, Mobvoi does not seem completely innocent in this situation either, since there are probably problems with the implementation.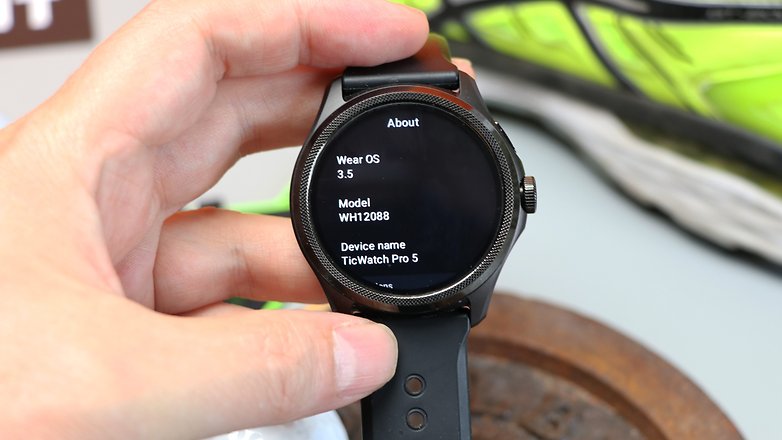 Hence, it is actually a question of whether the "old" smartwatch will even receive the update. Differences are clearly noticeable in the application. I would like to go into detail about this in the review of the TicWatch Pro 5. The new features are simply delightful to use. Navigation with Google Maps is especially fun with the option to zoom around the map via the new rotating crown.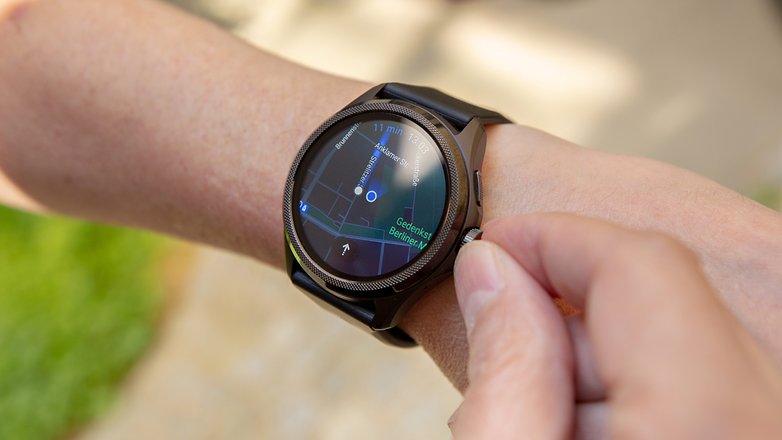 However, I would like to mention one more detail that actually surprised me. I cannot yet pinpoint whether it is a Google Wear feature or a function in the Mobvoi Health app. Basically, there is now the possibility to edit the Quick Setting menu, which can be dragged from the top to the bottom. Simply ingenious!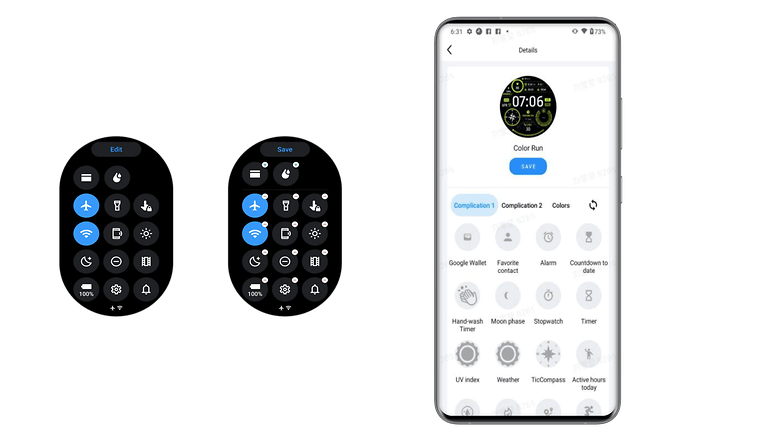 Battery and Quick Charging
The TicWatch Pro 5 now has a larger battery installed with a 628 mAh capacity compared to the predecessor with 577 mAh. The manufacturer advertised the new smartwatch to run for up to 80 days before requiring a charge. Of course, this refers to using the monochrome LCD display exclusively.
The TicWatch Pro 3 Ultra I reviewed managed to achieve two days of runtime on a single battery charge in Smart mode depending on the settings, something that the TicWatch Pro 5 should easily manage here, and more.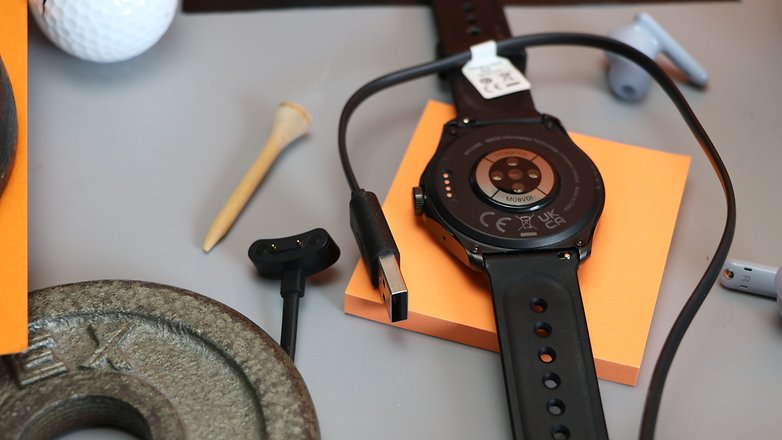 Unfortunately, I haven't had the smartwatch that long to provide something more substantial from me in this department. After all, the runtime is a product of the settings you make.
Here are a few examples of what you can set: Does the display turn on when you make a gesture? How long does it remain active? Which color did you activate in Essential mode and workout (Dynamic HR Backlight)? Which of the many 24-hour tracking apps run in the background? How intense do you want to track your sleep? The list is endless.
In view of such parameters, let me ask you: Give me a little more time for the detailed review. What answers that I do have ready for you, however, are the charging speeds. The new TicWatch only has one charging cable with two magnetic pins on one side and a USB-A connector on the other. This is an exact replica of its predecessor's. A power adapter is missing, but the watch is still advertised to support a "Fast Charging" standard.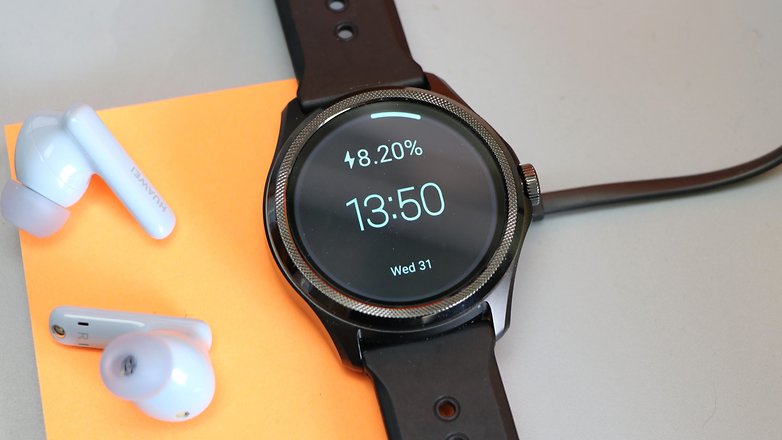 Okay, so with 7 percent battery remaining, I plugged the cable into an 80W power supply, and after 5 minutes, it charged up to 20 percent. Now that sounds like a good thing! The TicWatch Pro 3 Ultra easily requires two hours for a complete charge. However, it didn't get charged that fast: after 20 minutes, there was just 50 percent left in the tank, and after 65 minutes, it finally hit 100 percent.
Those are pretty respectable figures, with an advertised 65 percent after 30 minutes being a slight exaggeration, but is still faster than the predecessor which I naturally charged using the "new" cable and the 80 W power supply for safety's sake. The old model took just under two hours to fully juice up.
Processor
Here, too, the ravages of time provided a decent advantage for the new TicWatch flagship. Instead of a "Snapdragon Wear 4100" quad-core processor (4x Cortex A57), there is now a quad-core SoC (4x Cortex A53) with a coprocessor. This combination not only offers noticeable performance (100 percent more) and energy efficiency (50 percent higher) jumps, but also helps save space.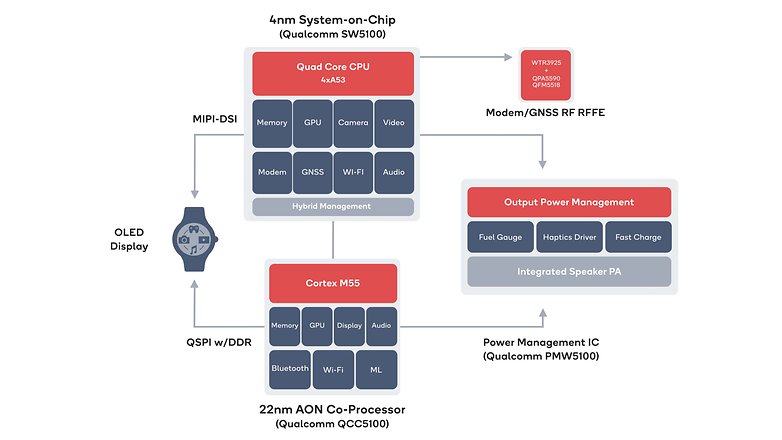 While the processor in the Pro 3 Ultra had a structural width of 12 nm, it is only 4 nm in the Pro 5. Thus, the Snapdragon W5+ Gen 1 not only outsources its computing processes to a 22 nm coprocessor (Cortex M55), but is also noticeably faster. The main processor's performance probably owes this to the Adreno 702 as well.
The GPU runs with a maximum clock rate of 1 GHz. When I think of the times when I regularly had to insert a minute of silence when I wanted to launch any app on my smartwatch, this is a great boon.
It cannot be verified where the performance boost came from—from Wear OS 3.5 or the new SoC—, but the difference compared to the TicWatch Pro 3 Ultra is night and day. On this note, if the predecessor would receive a Wear OS update, the performance gap might not be so stark.
Pricing and availability
With the presentation of the TicWatch Pro 5 on May 24, 2023, Mobvoi also simultaneously made it available via online retailers like Amazon. The brand new TicWatch Pro 5 is priced even higher this year at $349.99 a pop, and Mobvoi only provides one color option in both cases: black.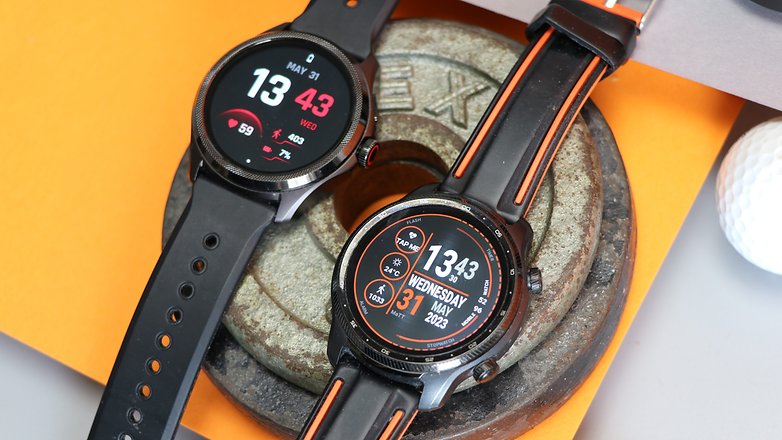 The TicWatch Pro 3 Ultra cost $299.99 a pop at its market launch and is now available from Mobvoi for $219.99. However, you can also find the smartwatch at an even more discounted price from various vendors on Amazon.
Conclusion
Rarely has a decision between two devices been so easy in my eyes, as seen today between the TicWatch Pro 3 Ultra and the TicWatch Pro 5 from Mobvoi. The new smartwatch makes much more sense, especially when you consider how much of a difference a newer Wear OS version makes. The operating system offers a juicy advantage over the old version 2.42, and we still do not know for sure if and when the TicWatch Pro 3 Ultra will receive the 3.0 update.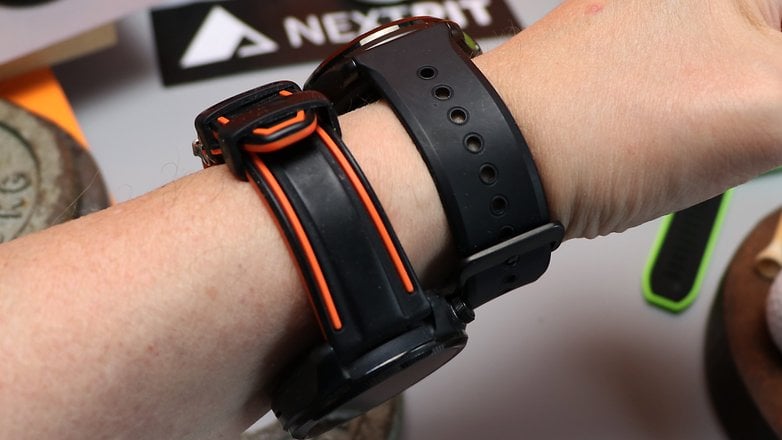 While the price difference is quite hefty at just under $150, it is also more than justified in my eyes. If we were to look at what the Samsung Galaxy Watch 5 Pro (review) cost with its $449 price tag upon launch, then the asking price of $359.99 here is definitely something worth considering.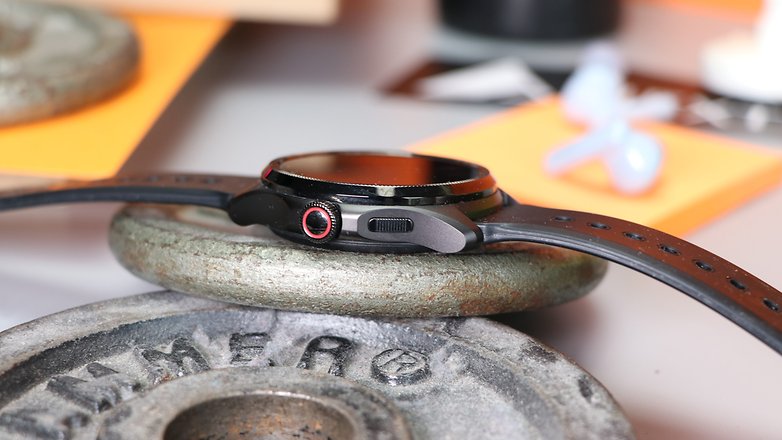 Not only is the rotating crown a killer feature, but it also carries the current fastest wearable processor, a larger battery, and many additional functions such as a compass, skin temperature sensor, and altimeter. The new watch faces and the customizable quick settings menu also leave only one answer to the question of which smartwatch I favor.