Meta Quest 3 vs. Meta Quest 2: How Affordable can a Meta VR Experience be?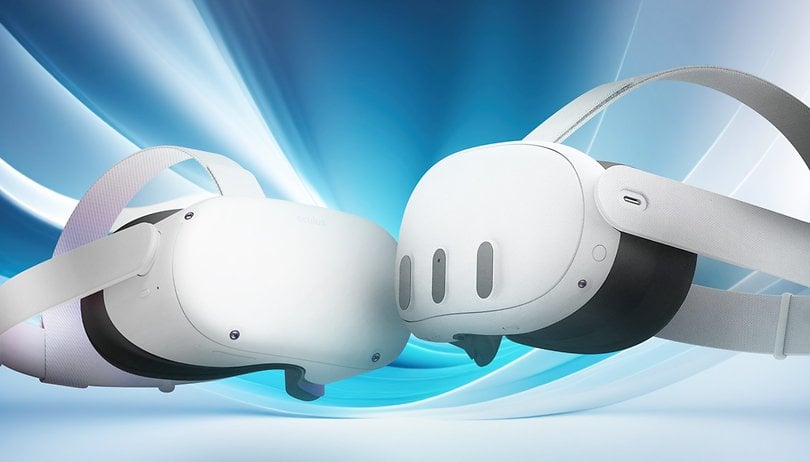 What a time to be alive in the VR world! Recently, we've witnessed the launch of two significant virtual reality devices in the market. One of them has been announced by Meta as the next generation of their industry-leading goggles: yes, I'm referring to the Meta Quest 3. But how does this new Mixed Reality device compare to its predecessor? Here's our comparison of the Meta Quest 3 and the Meta Quest 2.
Meta Quest 3 vs. Meta Quest 2: Specifications compared
3rd Generation
2nd Generation
Device
Meta Quest 3
Image

Dimensions and weight

40% slimmer optic profile compared to Quest 2

191.5 x 102 x 142.5 mm
503 g

Display and optics

High-resolution display
Pancake optics

2x 2.73 inch LCD panel
2x 1,832 x 1,920 (3,664 x 1,920) pixels
60/72/90 Hz refresh rate (120 Hz experimental)
104° horizontal field of view
98° vertical field of view
Fresnel Lens
58 - 68 mm (IPD)

Processor

A next-generation Snapdragon chipset, developed in collaboration with Qualcomm Technologies. Delivers more than twice the graphical performance as the previous generation SoC.

Qualcomm Snapdragon XR2 Gen 1
7 nm
Octa-Core
max. 2.84 GHz
Adreno 650 GPU

Memory

6 GB RAM
64/128/256 GB ROM

Cameras / Tracking

4x 6DoF tracking camera
1x B/W camera

Battery and runtime

3,640 mAh
2 hours runtime

Connectivity

Wi-Fi 6 - 2.4 GHz - 5 GHz
Bluetooth 5.0 LE

Sound

Stereo speakers
3D sound
2x microphones

Other

High-fidelity color Passthrough
Machine Learning ML
Spatial understanding
Compatibility with AAA flagship adventure game at launch

USB Type-C port
1x 3.5 mm jack connection
Air Link connection to PC
Link cable connection to PC (USB-C to USB-A)
Grayscale passthrough

Controller

Specifications per controller:

Streamlined and ergonomic form factor
TruTouch haptics
No outer tracking rings
Support for hand tracking out of the box (Direct Touch technology)
Option to upgrade to fully self-tracked Meta Quest Touch Pro Controllers for a premium experience

Specifications per controller:

2x 6DoF
Joystick and buttons
6-axis sensor (gyroscope)
HyperSense-Vibration motor
2x 2 AA batteries 1.5 V
30 hours runtime

Operating System
Compatibility with the Quest 2 catalog of over 500 VR games, apps, and experiences
Release date | MSRP

June 1st, 2023 (US)
$499 (128 GB)

October 13, 2020 (US)
$399.99 (128 GB)
Meta has just announced the Quest 3, which is expected to be available in the fall, most likely towards the end of September. As such, all the specifications used in this article and the accompanying comparison table are based on Meta's initial preview of the device and may not be complete. Nevertheless, we decided to juxtapose both devices to shed light on some of the enhancements in one of the most affordable VR (and now MR) series currently on the market.
Table of contents:
Meta Quest 3 vs. Meta Quest 2: Design
As mentioned in our previous review of the Meta Quest 2 (formerly Oculus Quest 2), despite being primarily composed of plastic, the headset boasts a remarkably sturdy construction. A notable difference between the two devices is the front casing; the newer model features two conspicuous cameras and one sensor embedded in the plastic structure.
In comparison, the Meta Quest 3 presents itself as a distinct series altogether. Sporting a design that is 40% more compact than the Quest 2, the Quest 3 stands out as a more streamlined headset. Considering that the previous generation measures 191.5 x 102 x 142.5 mm and weighs 503 grams, this is indeed a significant upgrade.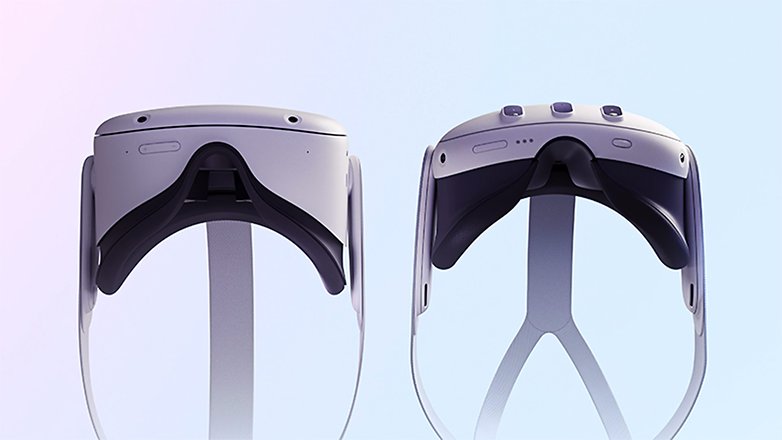 When it comes to the controllers, we can say that the Quest 3's Touch Plus has undergone a transformation, featuring a more sleek design. Technological advancements in tracking have enabled Meta to eliminate the external tracking rings characteristic of the Meta 2 controllers, making them look more natural.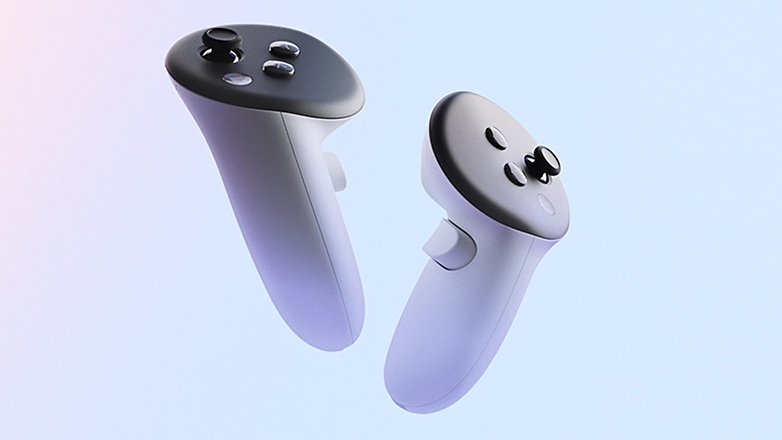 These controllers are enhanced with TruTouch haptics and amplify the sense of immersion during interactions within the mixed-reality world. Another noteworthy feature is the support for hand tracking straight out of the box. With Direct Touch, it's possible to engage with virtual objects using just the hands, eliminating the need for controllers.
However, considering that your hands don't inherently possess haptic feedback, the touch experience may be somewhat limited.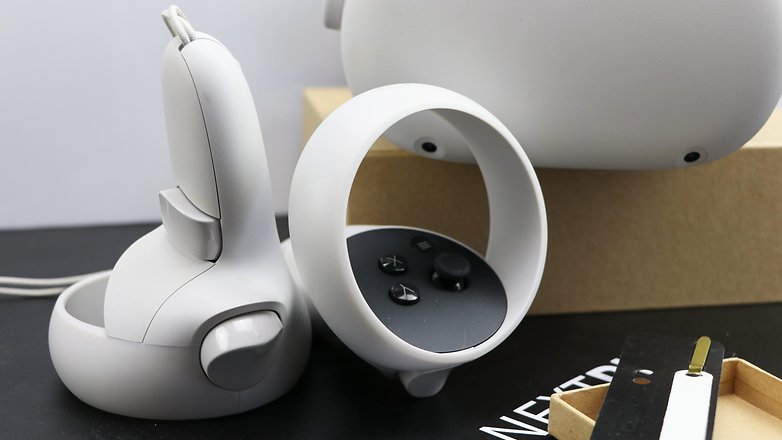 Meta Quest 3 vs. Meta Quest 2: Display and Optics
The newly introduced Quest 3 fuses a high-definition display with pancake optics. To handle these additional pixels, Meta states that the new generation relies significantly on the processing power of Qualcomm's latest chipset generation. In theory, this translates to over double the graphical performance of the Snapdragon GPU used in the Quest 2.
On the opposite, the Meta Quest 2 employs Fresnel lenses, which appear somewhat outdated when compared to its competitors. The key difference is that the pancake lenses used in the Meta Quest 3 are considerably thinner, contributing to a lighter device. Hence, pancake lenses are also increasingly beneficial for those who wear eyeglasses.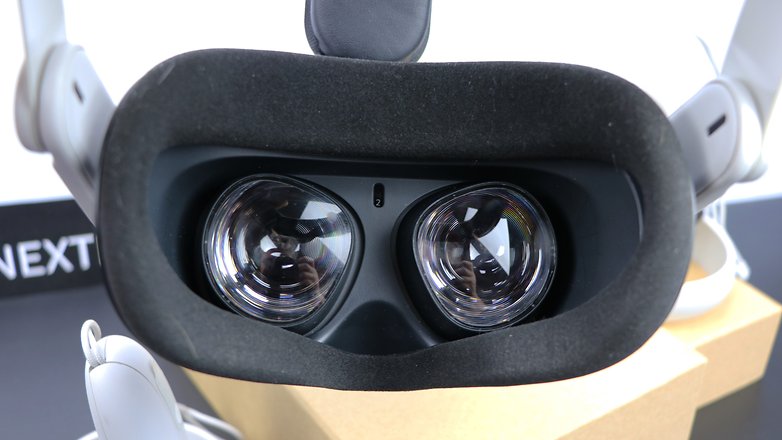 Meta Quest 3 vs. Meta Quest 2: Performance
As previously noted, the Quest 3 is equipped with the new generation Snapdragon chipset designed for mixed reality glasses, boasting more than double the graphical performance of the Quest 2 GPU. Even though the chipset was not reveled yet, this represents a substantial upgrade between generations, even considering that the Quest 2 was released as recently as 2020.
The Quest 2 operates on the Snapdragon XR2 Gen 1, an octa-core processor produced using a 7-nanometer process. It comes with a 5G modem and an Adreno 650 GPU (Graphics Processing Unit). As of now, the Quest 2 comes in two versions: with either 128 or 256 GB of built-in storage. However, there's no option for extending storage via a microSD card. All signs thus far suggest that the Meta Quest 3 will also provide two choices for internal storage.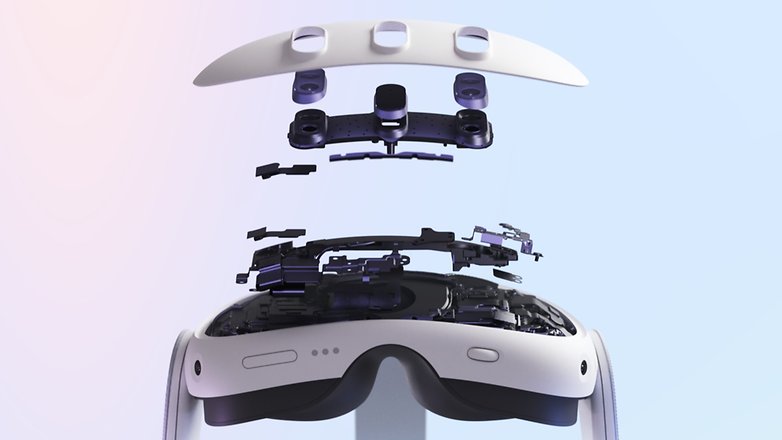 Continuing on the subject of hardware, Meta has confirmed in an upcoming software update, there will be improvements made to the Quest 2's GPU and CPU. This is expected to yield up to a 26% increase in CPU performance and up to a 19% increase in GPU speed.
Finally, both VR systems also harness the power of Artificial Intelligence. I personally find this a significant topic in the context of advancing new technologies, so I've chosen to highlight an example of how Meta is utilizing it in their mixed reality devices. Consider, for instance, the Meta Quest 3's Touch Plus controllers. Instead of using large, bulky tracking rings, these controllers leverage an AI model capable of accurately estimating the controller's position in 3D space, effectively rendering tracking rings unnecessary.
Meta Quest 3 vs. Meta Quest 2: Operating System
The Meta Quest 3 is armed with Meta Reality—possibly the biggest advantage of this new generation over the previous one—that combines hardware and software solutions to blend your physical world with digital overlays, creating somehow captivating mixed reality (MR) experiences. According to Meta, this system understands your surroundings, digitally recreates them, and interacts with the objects within.
Another improvement with the Quest 3 includes features like high-fidelity color Passthrough, machine learning, and spatial understanding. These advancements foster a more immersive interaction with virtual content and the physical world at the same time. While the Meta Quest 2 does incorporate Passthrough technology, it only offers a "grayscale" function, resulting in a heavily pixelated black-and-white view.
This feature is so rudimentary that my colleague Matt Zellmer highlighted in his review that "the letters on a physical keyboard cannot be recognized when using an office VR app with the passthrough function enabled." So, ultimately, this device, which is already three years old, may not be equipped to compete in the MR arena with the brand-new Quest 3.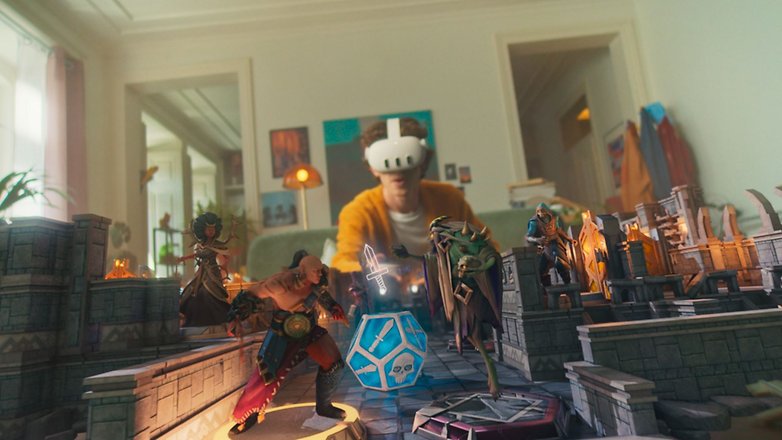 Additionally, both Quest 3 and Quest 2 run over the Android operating system and are compatible with Meta's catalog of over 500 VR games and apps.
Meta Quest 3 vs. Meta Quest 2: Camera and Tracking
At this stage, our knowledge about the Quest 3 is limited, but one thing is certain: the device is equipped with four cameras that collaborate with deep learning and model-based tracking to provide a larger interaction volume for hand-tracking than depth-based solutions can offer. Moreover, all processing is performed entirely on the device, and the system is optimized to support gestures for interaction, such as pointing and selecting by pinching.
Hand-tracking has been a feature on the Meta Quest since 2019, offering users the ability to use their hands in VR just as they would in the real world. However, when Meta announced the Meta Quest 3, they promised that hand tracking would take a significant leap forward in the series. One potential improvement could be a new way of interacting with a computer in a VR environment.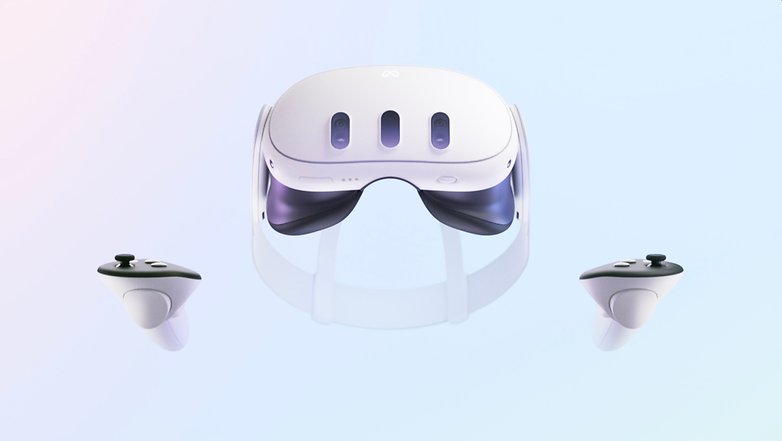 To clarify, the device employs Meta's sophisticated deep neural networks to anticipate the position of a user's hands and notable features such as the joints in the hands. These landmarks serve as the foundation for generating a 3D model, which encapsulates both the configuration and the intricate surface geometry of the hand. This, I believe, can offer a more immersive and intuitive interaction in the virtual world.
The Meta Quest 2 is equipped with a suite of cameras and sensors: the headset houses four 6DoF tracking cameras. Additionally, each controller is fitted with two 6DoF tracking sensors and a single 6-axis gyroscope. According to my colleague Matt, the tracking operates consistently and swiftly at all times. Some applications even allow for hand tracking without the need for controllers.
Meta Quest 3 vs. Meta Quest 2: Battery life and fast charging
The Meta Quest 2 comes with a 3,640 mAh battery, but like all all-in-one VR headsets, it has the advantage and disadvantage of being battery-dependent unless tethered to a PC.
Despite its large capacity, the headset runs for a maximum of 2.5 hours. Solutions like an additional battery headband or a separate battery pack, which can be carried in your pocket and connected via cable, can extend its runtime. It typically takes about 2 hours to fully charge from 0 to 100%. The controllers are powered by a simple 1.5V AA battery.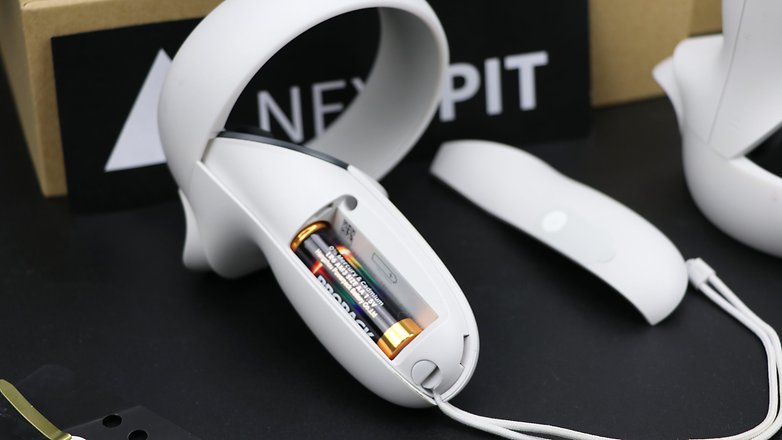 As the Meta Quest 3 is yet to be released, details about its battery capacity or runtime are not readily available. However, as an upgraded headset, we would naturally expect it to perform at least on par with, if not better than, the current Quest 2 experience, wouldn't we?
Meta Quest 3 vs. Meta Quest 2: Price and availability
Let's begin with Meta's latest and most advanced cost-effective device, the Quest 3. This device will be shipped to the United States, France, Germany, and other countries where Meta Quest currently has a presence. Its launch is slated for this fall—likely on September 27 during the Meta Connect event.
The 128 GB headset will be priced at $499.99 USD, and there's an additional storage option for those seeking more space. However, it's worth noting that the device is not readily available at the moment.
In contrast, the Meta Quest 2 is currently available for purchase. The 128 GB SKU can be bought for $299.99 USD either directly from the Meta Store or through third-party e-commerce platforms like Amazon.
First impressions
Before we delve any deeper, I need to highlight that our hands-on experience at NextPit has been solely with the Meta Quest 2. Since the Meta Quest 3 isn't released yet, I can't provide a fully informed opinion on which device is currently the best buy.
It's worth remembering that the Meta Quest 2, launched in 2020, significantly shaped the VR world as we know it today. Moreover, it continues to be one of the most economical gateways into the VR realm. On the flip side, the Quest 3 has the potential to establish a new benchmark for mixed reality and immersive gaming.
Upon the release of the Meta Quest 3, its predecessor will be available for $200 USD less, which still makes it an appealing choice for newcomers. However, for an enriched MR experience, the new generation of Meta's affordable headset appears to be unparalleled.
My suggestion here is to assess your VR personality: are you a newbie enthusiast or an established fan of this new spatial computing platform? In the VR/MR mainstream market, a 40% price difference can be a deciding factor. The good news is that you still have some time to weigh your options before the Quest 3 hits the market.
Now, I'm eager to hear your thoughts: would you consider purchasing one of these devices? Or perhaps you're considering alternatives like the Pico 4 (review) from ByteDance? Maybe you're setting your sights on the heavyweights like Meta Quest Pro (review), Apple Vision Pro, or the Vive XR Elite (hands-on)? Please share your thoughts in the comments section below.