Meta Quest 3 review: Better and cheaper than the Meta Quest Pro!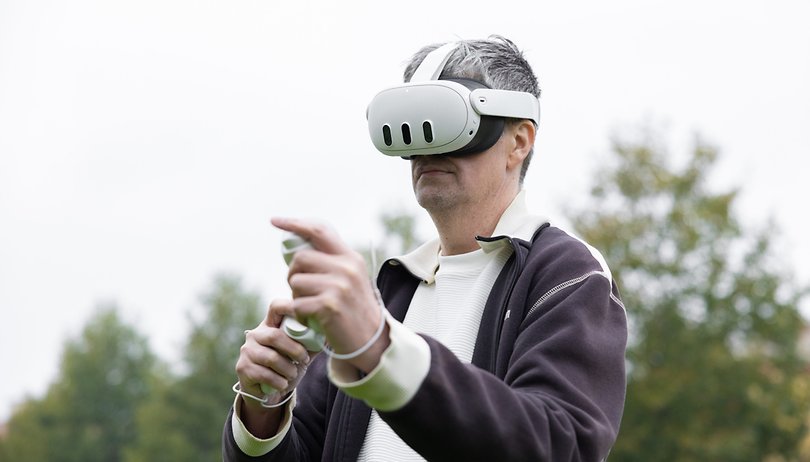 The Meta Quest Pro (review) is crazy cool, there is no question about it. Unfortunately, it is also crazy expensive. That's why we were all the more excited about the Meta Quest 3, which brings a lot of top-class technology to an affordable price range and even does some things better than its big brother. Spoiler alert: The Quest 3 is the best standalone VR/MR glasses on the market, at least until Apple finally launches its Vision Pro. You can read why the inexpensive meta-model is ingenious in nextpit's review of the Quest 3.
Good
Best mixed reality experience (passthrough)

Very good picture quality due to pancake lenses

Really cheap for the great performance

Optimal hand tracking
Bad
No face and eye tracking

Limited battery life

Lens reflections

Long charging times
The Meta Quest 3 in a nutshell
The Meta Quest 3 has been shipping since October 10, 2023. To our surprise, Meta only offers the mixed reality glasses with 128 or 512 GB of internal storage. Nobody wanted to (or could) answer us whether a version with 256 GB is planned at a later date.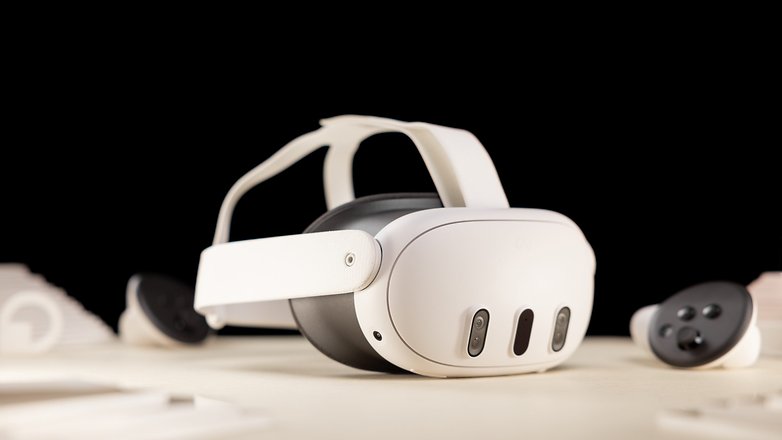 While the "small" version is available for$499.99, you'll pay $649.99 for the Meta Quest 3 with 512 GB storage. Customers will still receive the VR game "Asgard's Wrath 2" that is worth $59.99 for free with the purchase of the Quest 3. Those who treat themselves to the larger storage option will also benefit from a Meta Quest+ subscription for six months. This includes two free games per month.
Unfortunately, the so-called Elite strap with battery that is worth $129.99 is not included as an incentive for you to pick one up. However, our review will reveal that it is mandatory for gamers who want to wear the Meta Quest for more than an hour. Do note that this headband is available with an additional battery at the back.
Meta Quest 3 design and build quality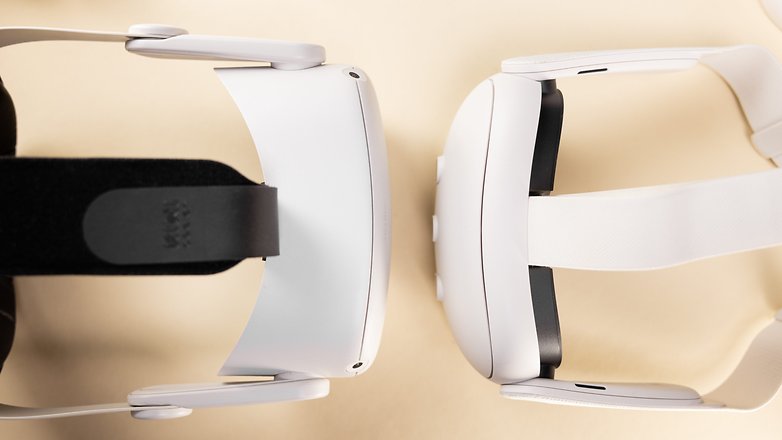 The Meta Quest 3 is significantly slimmer than the Quest 2. This translates to having your eyes located much closer to the pancake lenses than it was ever possible with the predecessor. However, the scales point to a hefty 515 grams for the latest VR headset, making it 13 grams heavier than the Quest 2. And that's without the Elite strap, which would add another 331 grams to the weight of the standalone goggles.
---
Pros:
Slimmer than the Meta Quest 2.
Cons:
Missing the Elite strap.
As heavy as the Meta Quest 2.
Long gaming sessions can cause headaches.
---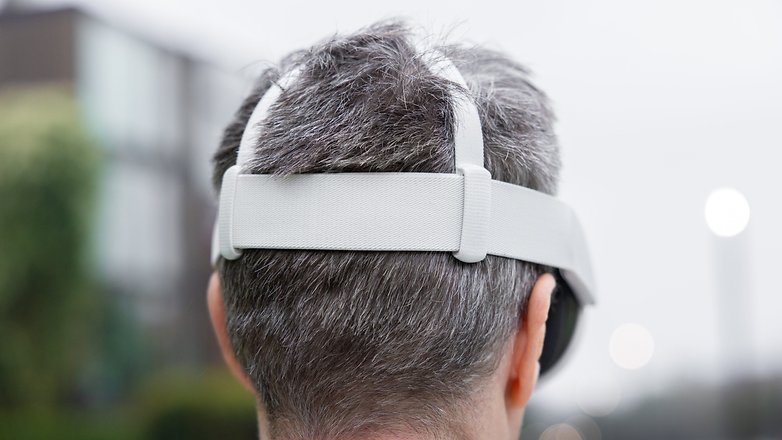 In the box, which is only half the size of its predecessor's, there are two new "Quest Touch Plus" controllers (which now ditched the large tracking rings), an 18 W power supply, and a corresponding Type-C charging cable, in addition to the Quest 3. The Facebook parent company also included two AA batteries for the controllers. As mentioned: The Elite strap, which is unfortunately available as an option, becomes absolutely necessary especially during longer use, if you don't want to bother with additional forehead pains or headaches.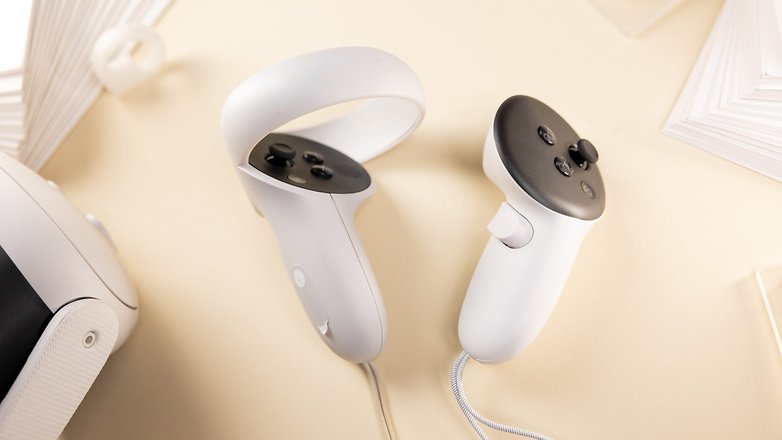 The workmanship might look less than satisfactory for the right and left holders, but they are pretty sturdy, actually. A USB Type-C port (3.0) is installed on the left side (from the carrier's point of view) and a 3.5 mm audio jack on the right. Also located in the frame are two Spatial-compatible stereo speakers, which are even louder compared to the predecessor.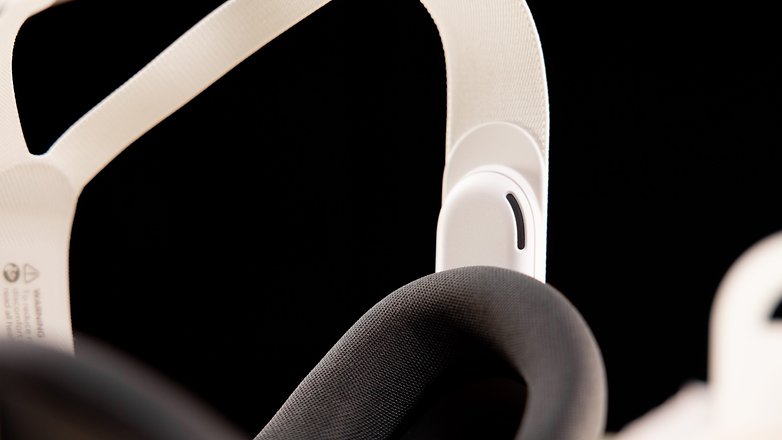 The Quest 3 is very visually striking with its three elongated slots at the front. On the left and right, there is a 4 MP RGB camera, a depth sensor in the middle, and a white LED above it. The second multi-color LED is located directly above the hinge on the right side of the case. Below that, you'll find the power button and one of two 6DOF inside-out cameras.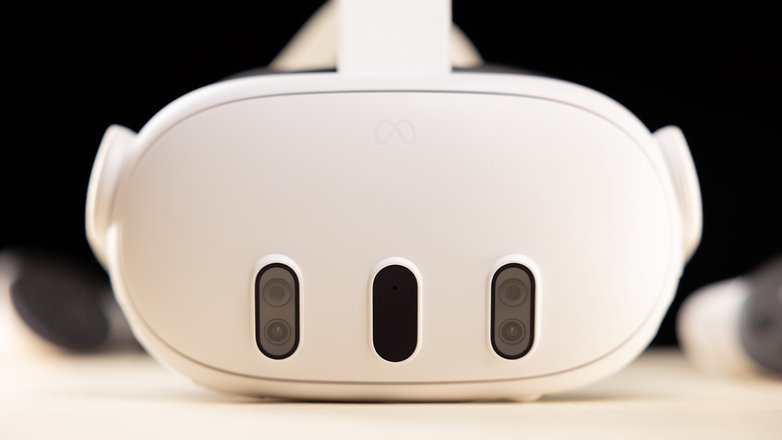 On the bottom, right next to the nose, you'll find the dial for the eye and lens distance. To the left of the nose are pogo pins for the optionally charging cradle, the volume button, and another 6DOF inside-out camera for tracking.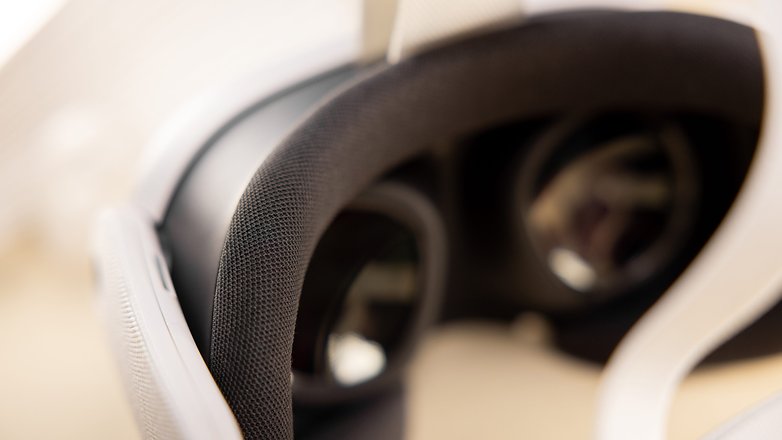 From the inside, we can see two locking buttons on the right and left, which make it possible to increase the depth of the face padding, in order to grant those who wear glasses an optimal distance to the lenses. Optionally, you can also have special lenses made for the Quest 3 at VR Opticians in the near future.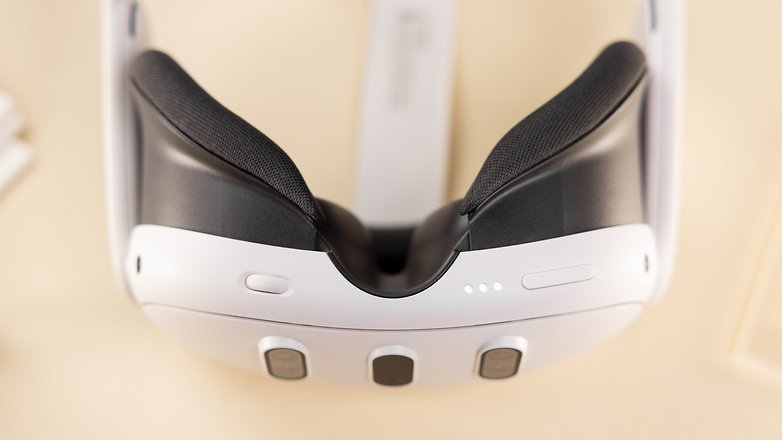 There is also a proximity sensor in the center above the two pancake lenses. This is how the Quest 3 recognizes that someone is wearing the VR/MR glasses.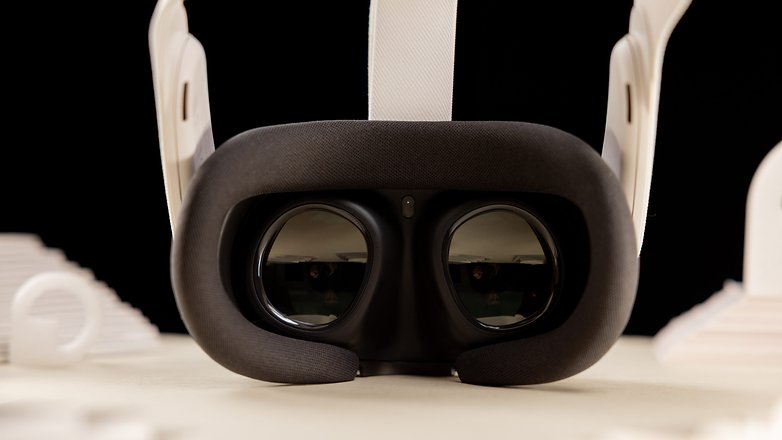 The two "Meta Quest Touch Plus" controllers this year come without the "halo ring" for tracking and look very similar to the controllers of the Meta Quest Pro.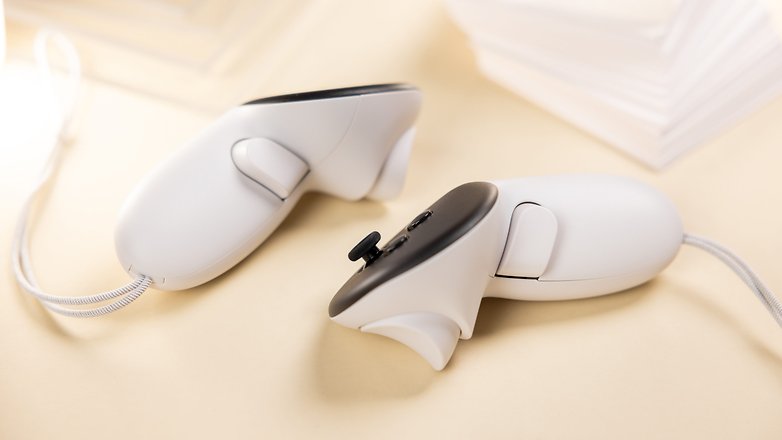 Meta Quest 3 display
The Meta Quest 3 is equipped with two LCD pancake lenses. These can now be adjusted from 53 to 75 mm distance (IPD), which is a bit more than the Quest 2. Unlike the Pico 4, however, the distance still needs to be manually adjusted. The maximum resolution per lens is 2,064 x 2,208 px with a refresh rate of 72, 80 or 90 Hz. In theory, 120 frames per second are also possible, as with the Quest 2.
---
Pros:
Pancake lenses.
Better graphics.
Cons:
---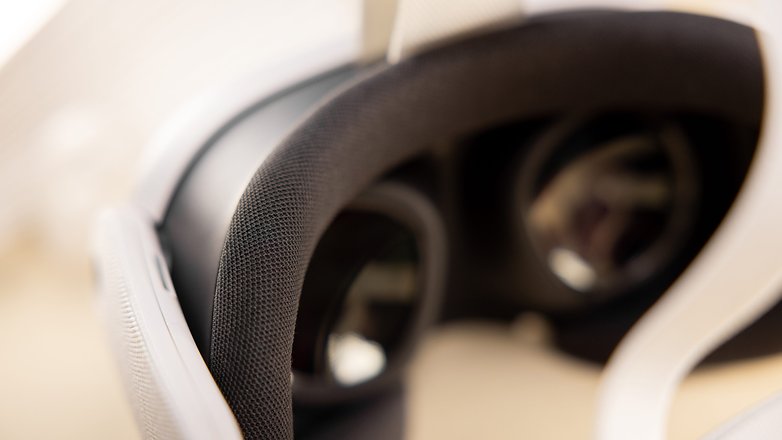 According to Meta, these are not the displays from the Meta Quest Pro, which, as we all know, offer just 1,800 x 1,920 px resolution per eye. And indeed, the pictures look much sharper up to the edges compared to the Quest 2. Only the black levels pleased us better on the Quest Pro.
The company has published a video with a few comparisons to the predecessor, which illustrates the improvements quite quickly:
Meta Quest 3 performance
Meta is the only manufacturer to install Qualcomm's Snapdragon XR2 Gen 2 in the Quest 3 so far. As a modified Snapdragon 8 Gen 2 chipset, it is considered one of the most powerful processors for virtual and mixed reality devices. The octa-core processor is manufactured using the 4 nm process and thus, should be more energy-efficient and perform better than its 7 nm predecessor.
---
Pros:
Fast processor.
Sufficient memory.
Cons:
More RAM never hurts.
No 256 GB storage version.
---
The Californian chip manufacturer did not reveal any details about the Snapdragon XR2+ Gen 1, which is installed in the Meta Quest Pro (review). Thus, we only get vague information from Qualcomm, such as a 33% increase in CPU performance. In addition, there is a 50% increase in the GPU (presumably an Adreno 650 doing the hard work) and an eightfold increase in the NPU performance compared to the Snapdragon XR2 Gen 1. According to Qualcomm, the passthrough has a latency of 12 ms.
That these are not empty phrases becomes clear at the latest in the direct comparison of the Quest 2 and Quest 3.
Initial Setup & Software
Those who already own a Meta Quest 1 or 2 will have an easy time with the initial setup, since only the existing data has to be entered into the "Meta Quest" app. Everyone else will now be asked to create an account. The problem of forcing you to have a Facebook account no longer exists, but now, you will need a Meta account. Due to the excellent passthrough, setup via glasses and app is not a big issue.
Pros:
More than 500 VR games.
No Facebook account is necessary.
Cons:
Some games can be quite expensive.
---
Now quickly set up the gaming area, of which there are two: a stationary and the so-called "Roomscale". The latter should take place in a room measuring at least 1.5 × 1.5 meters. Obstacles should be removed beforehand. A new feature is the automatic detection of the playing area, which can also be manually adjusted if desired. Finally, you specify the floor height with the controller and you're done.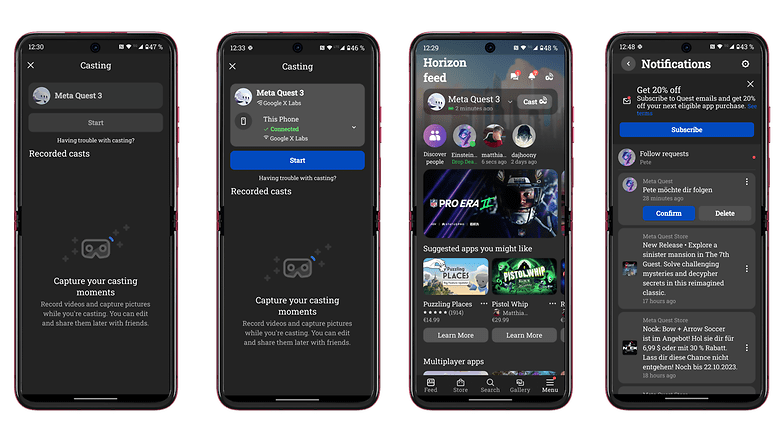 Since Meta, still known as Oculus back then, was present in the VR market for several years, the library is well-stocked. It can even be declared as the best of all. More than 500 VR games can be played directly, and new mixed reality games that have been specially optimized for the Meta Quest 3 are added every day. A prominent example would be BAM! by I-Illusions.
In addition to that would be the Ubisoft classic "Assassin's Creed Nexus" that offers a completely new gaming experience in virtual reality.
As mentioned at the beginning, Meta Quest 3 customers will (still) receive the game known as "Asgard's Wrath 2" which would normally retail for $59.99 for free. This is also a VR role-playing game that has no equal in terms of graphics. The exclusive title presented at the Meta Gaming Showcases offers almost 60 hours of dynamic gameplay in the style of "Uncharted Rifts".
But mom, your girlfriend, wife, or boyfriend needn't panic, you don't have to be lost to the virtual gaming world: There are also sporty applications like "Les Mills Bodycombat", where I have already shed a few calories and kilograms. With Meta Quest 3 and the excellent passthrough capability, I'm also ready to indulge in the free Meta Workrooms for the very first time.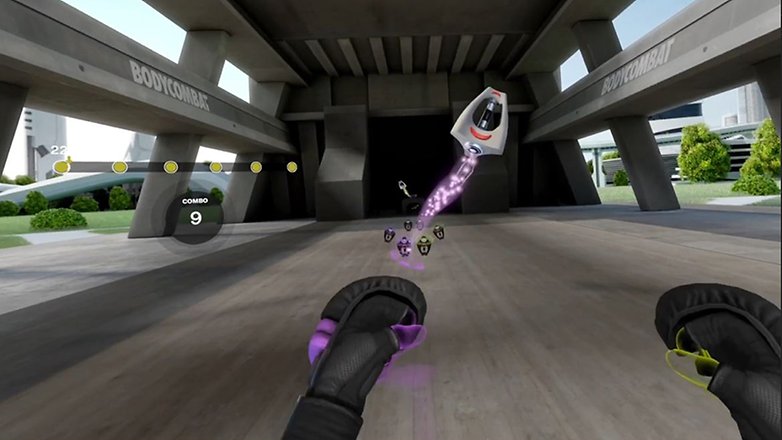 All I have to do is convince Fabi that every nextpit employee will be equipped with such standalone goggles, and productive work on countless monitors open at the same time can begin. All monitors available on my "real" PC can also be used in workrooms. However, I have a suspicion that my boss will rather wait for the Apple Vision.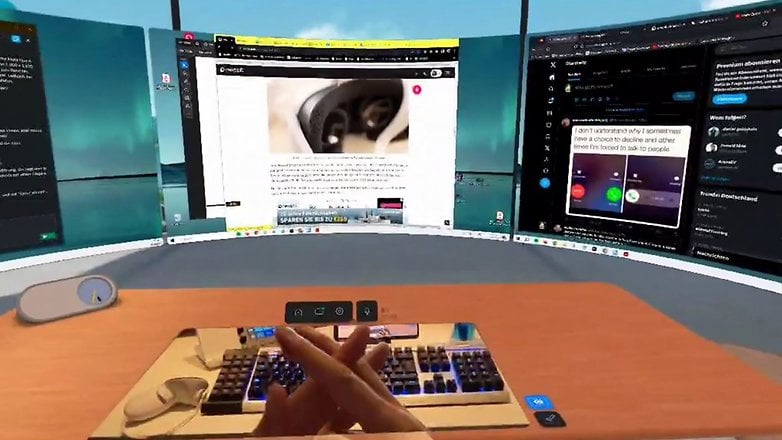 Of course, the Meta Quest 3 can also connect to your PC via WLAN or cable, so you can also take advantage of the entire Steam and Oculus library. Among them is my recommendation, "Half-Life: Alyx", which I will now play again from the beginning.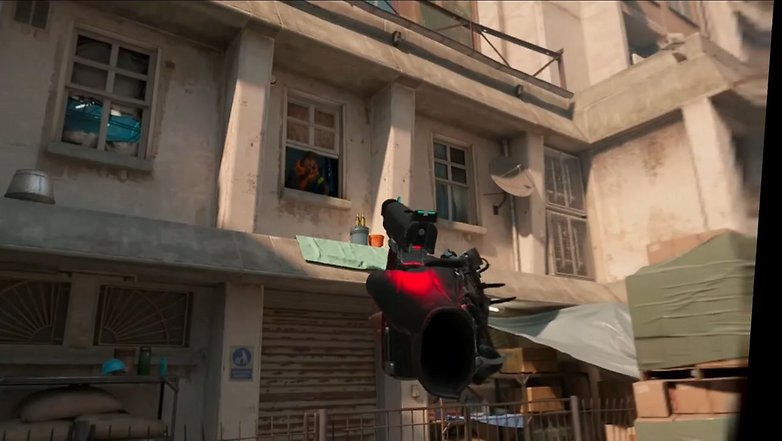 Tracking Cameras & Sensors
A real killer argument for standalone VR glasses is that they do not require a cable to a computer or a next-generation console, as is still the case with some manufacturers (remember the Sony PlayStation VR2?). Such a cable does limit the gaming fun quite a bit. The entire technology of Meta Quest 3 lies in the goggles and the two-handed controllers. In our case, there are a total of six 6DoF inside-out tracking cameras and two 4 MP RGB passthrough cameras plus a depth sensor.
---
Pros:
Best RGB passthrough experience.
Very good controller tracking.
Reliable hand tracking.
Cons:
---
We were very surprised to find that the controller tracking is significantly better than the Quest 2 and on par with the Pro. That's because the Meta Quest Pro's controllers have their own Snapdragon 662 processor and three 6DoF cameras installed. A little fun fact: They are basically compatible with the Meta Quest 3 and can also be purchased separately afterward. For example, the controllers could also be used behind the back, where artificial intelligence can (rightly) guess where your hands are again and only get secured information as soon as they are sighted by the Meta Quest 3's lower cameras.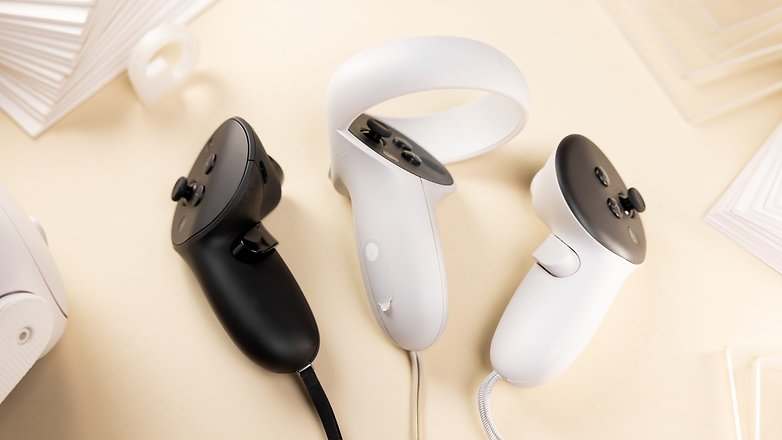 The controllers and the lack of eye and face tracking are indeed the basic differences to the Meta Quest Pro. Honestly? Given the price difference, I can easily live without it.
We also liked the hand tracking, which works precisely both in combination with a controller and without any controller. The centrally placed depth sensor makes its contribution here felt. Even though hand tracking is very accurate, there is still a slight delay. Without having tested it personally, Apple seems to be a step ahead with its much more expensive glasses.
However, we were really impressed by the passthrough feature, i.e. mixed reality. Of course, this was to be expected compared to the black and white of the Quest 2. But even the much more expensive Meta Quest Pro cannot come close to keeping up in this discipline. This became really clear during the initial setup, where I occasionally had to take a look at the computer browser or the Meta Quest app on the smartphone.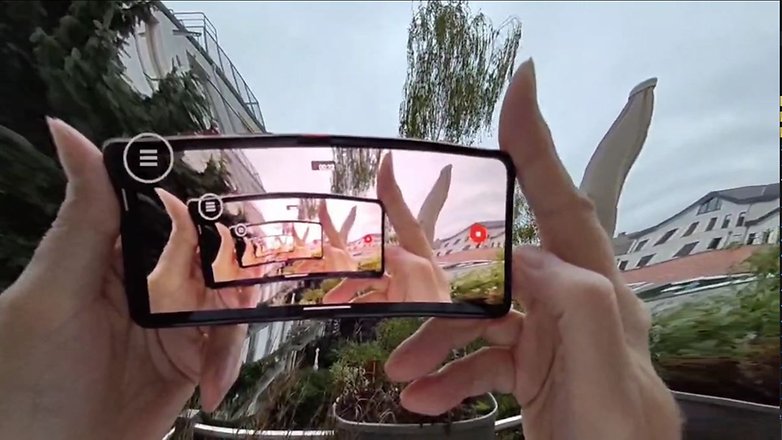 Sure, there are slight bulges in objects in places, and light sources are shown much brighter than they are in reality. However, these flaws in the matrix give me the confidence to remember that I'm wearing my VR/MR goggles. Not only do I look forward to playing my first mixed reality games, but I can now really work productively on my virtual desktop with tons of monitors. The only thing missing is better wearing comfort. So far, I can't stand the feeling after a full workday while wearing the Meta Quest 3.
Meta Quest 3 battery
Battery life is probably one of the most important buying criteria for a one-in-all headset. Thankfully, the Meta Quest 3 makes it very easy for you: it lasts just as "little" as all the other standalone VR headsets on the market. Depending on the intensity, you'll have two hours of virtual gaming fun at most on a full charge. The third generation of the Quest also needs exactly the same time for a complete charge on the included 18 W power supply.
---
Pros:
18 W power supply unit is included.
Two hours of playtime are possible.
Controllers use replaceable AA batteries.
Cons:
No charging station included.
Two hours of battery charging is dated.
---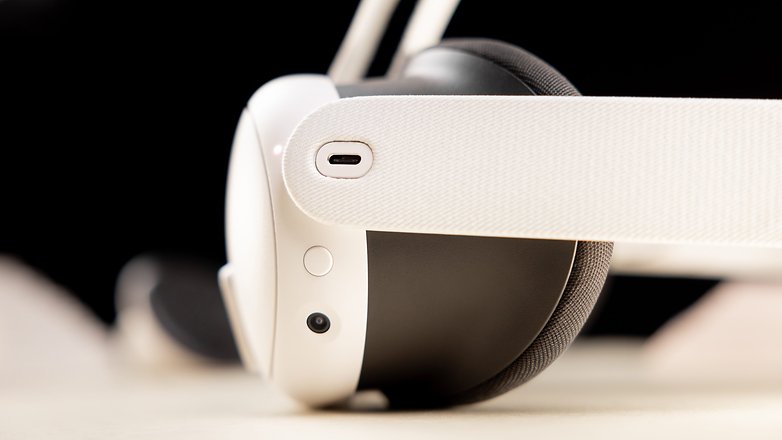 Of course, Meta sells you a charging station, but at a price. Honestly, I have to admit that I don't want to have the Meta Quest 3 with the standard headband on my head for much longer anyway.
However, if it should be necessary to wear the glasses for longer periods of time in the immediate future, I will probably need the Elite battery strap or a corresponding cable connection.
Meta Quest 3 technical specifications
Technical data
Product
Image
Display and optics

2x 2.064 x 2.208 px
72/80/90/120 Hz refresh rate
110° horizontal field of view
96° vertical field of view
Pancake Glass Lens
53 - 75 mm (IPD)

Dimensions

184 x 160 x 98 mm (L x W x H)

Weight

515 g (incl. battery)

SoC

Qualcomm Snapdragon XR2 Gen 2
4 nm structure width
Octa-Core
probably an Adreno 650 GPU

Memory

8 GB
128/512 GB program memory

Expandable memory
Unknown
Camera / Tracking

6x 6DoF inside-out tracking camera
2x 4-MP RGB camera
1x depth sensor

Battery / Runtime

mAh is unknown
1-2 hours runtime
Charging time approx. 2 hours

Connectivity

WiFi 6E - 2.4 GHz - 5 GHz - 6 GHz
Bluetooth 5.2

Sound

Stereo speakers
3D Spatial Sound
3x microphones

Other

USB Type-C port
3.5 mm jack connection
Air Link connection to PC
Link cable connection to PC (USB-C to USB-A)
RGB passthrough

Controller

Specifications per controller:

Qualcomm Snapdragon 662
3x 6DoF
Joystick and buttons
6-axis sensor (gyroscope)
HyperSense vibration motor
Rechargeable battery
10 hours runtime

Operating system

Android

Sales start and price

October 10, 2023
MSRP $499.99 (8/128 GB), $649.99 (8/512 GB)
Final verdict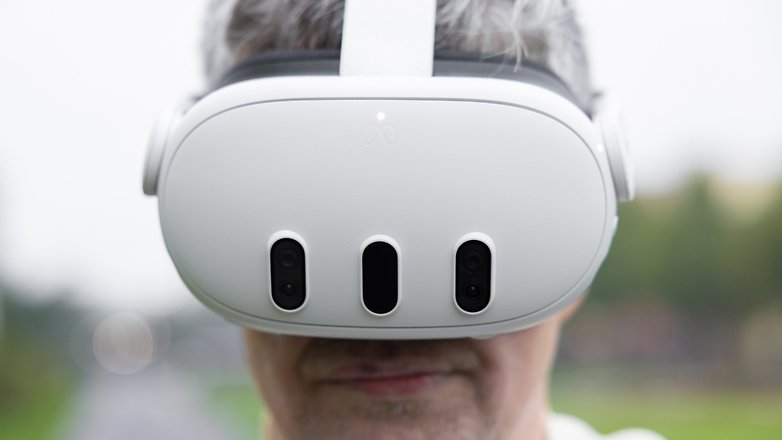 Technically, there is nothing to complain about in the brand-new Meta Quest 3. In my eyes, it is clearly better than the Meta Quest Pro, which is more than double its price, especially in terms of passthrough, i.e. mixed reality. Well, it does not have eye and face tracking, but that is not worth the $999 admission price of Pro for me.
While we are on the subject of price: The Meta Quest 3 is available starting from $499.99, which does not necessarily result in an impulse purchase for me. However, if we place that in relation to the Meta Quest Pro, or the Apple Vision Pro for $3,500, then the latest headset from Zuckerberg's company is a real bargain. It is just a shame that the accessory, which is really useful for long-term users, is so expensive.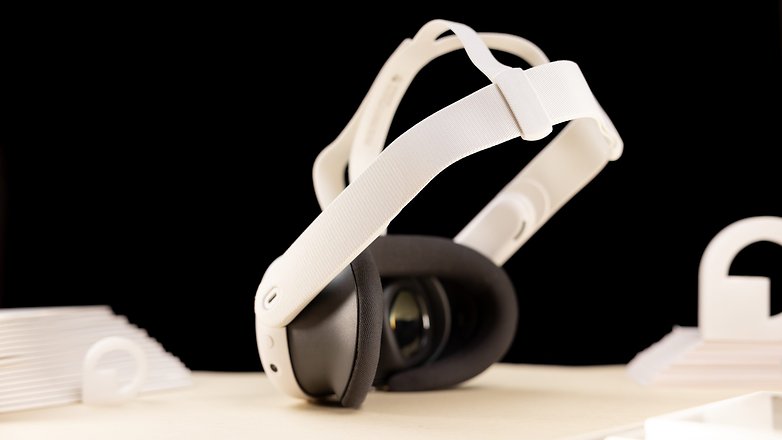 Okay, all things considered, the Meta Quest 3 is a MUST for those who have been thinking about getting into VR/MR for a while! However, those who have a Quest 2 in their possession should only purchase the successor if they have been upset about the poor passthrough to date. As for me? I'll be gaming in VR again!