JBL Link 300 and 500 review: for a louder Google Home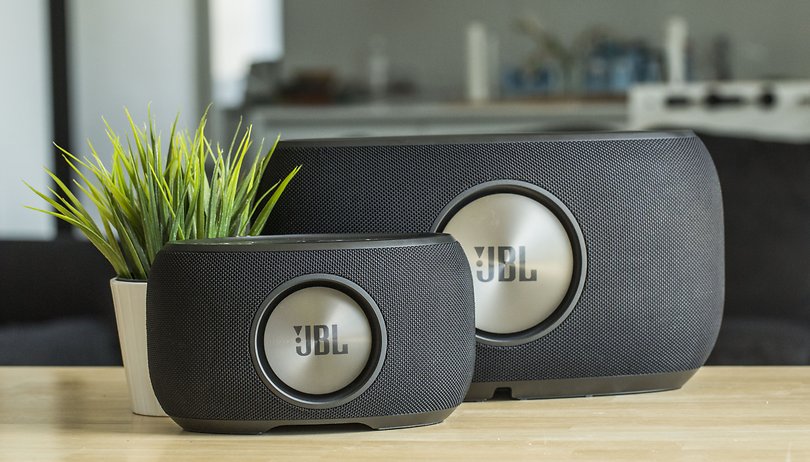 Harman brand JBL has jumped aboard the smart speaker train with the Link series, a range of Wi-Fi speakers with Google Assistant. An alternative to Mountain View's own Google Home speaker-assistants, we try out the JBL Link 300 and its big brother, the JBL Link 500.
Good
Bluetooth-enabled

Good sound

Multi-room operation with speakers from other manufacturers

Google Chromecast built in
Bad
No battery

Lacks wired input

Calls not possible
JBL Link 300 release date and price
JBL sells both speakers direct from their website. The smaller "kitchen radio" speaker JBL Link 300 sells for $250, and the larger JBL Link 500 is priced at $400. Both are available in black and white. In the UK, they are priced at £250 and £350, respectively. Amazon also offers the larger speaker, including pre-owned units at a lower price.
Business up top, party all around
Both JBL Link speakers are elegantly designed, if even there's nothing particularly exotic or eye-catching about them . The smaller JBL Link 300 has dimensions of 236mm x 134mm x 154mm and weighs 1.7 kg. The JBL Link 500 is taller and much wider measuring 370mm x 200mm x 157mm and weighs over twice as much at 3.5 kg.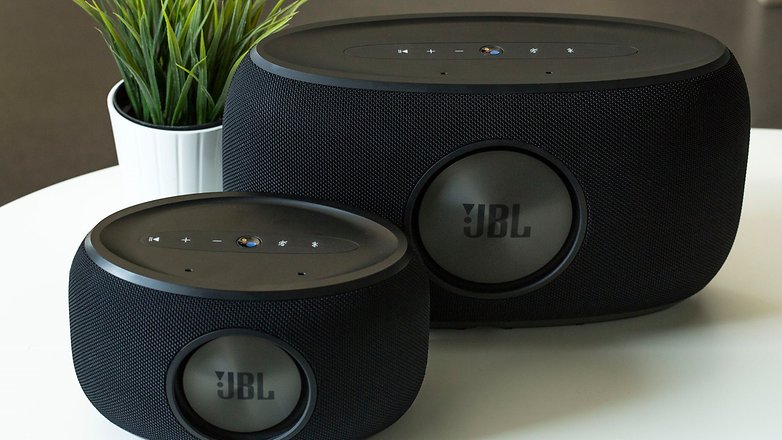 That's some heft to them, but make no mistake, these speakers are both real homebodies so you won't want to be moving them about. The portable JBL Link10 and 20 are battery powered, designed to be carried out to outdoor parties and the like. The JBL Link 300 and 500, on the other hand, need to be connected to the power at all times.
Like their smaller cousins, the JBL Link 300 and 500 are operated by buttons on the top. The colorful Assistant logo is in the center button, which is naturally dedicated to activating the AI-supported voice assistant. After you've set it up, the nice thing about these larger home speakers is that you can activate and use Assistant without having your smartphone turned on, i.e. the speakers are smart devices in and of themselves, not merely accessories for your smartphone.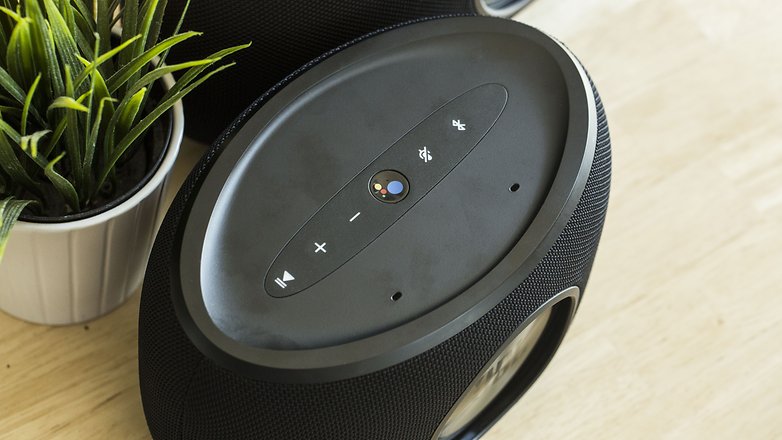 The other top buttons include volume up or down, playback, Bluetooth toggle and a microphone button that mutes the two microphones on top. Four status LEDs on the front light up white when the volume is adjusted, when Assistant is turned on, and when Assistant is listening. They light up orange when the microphones are muted.
Assistant is right at home
The main draw of the JBL Link series is integration with Google Assistant . JBL doesn't provide software for this, instead everything is done via the Google Home app. This is all well and good, as Google Home offers several benefits compared to other multi-room and smart home solutions, and Google Assistant is generally the most well-rounded and capable voice assistant on the market.
Setting up the home app from the Play Store is quite easy. The JBL Link connects via the Wi-Fi, makes software updates if necessary and is then available a few minutes later. You can assign different speakers different names or locations so you don't get them confused. Music streams can be started on command. You can also give each speaker a name and group them, even with Google Cast speakers from other manufacturers or Chromecast Audio.
The magic words OK Google or Hey Google swiftly summon Assistant to your service. The genie of Mountain View is always learning new tricks and voice commands, and with time, better understand your accent and pronunciation. With voice match, Assistant will get to know you specifically and respond accordingly.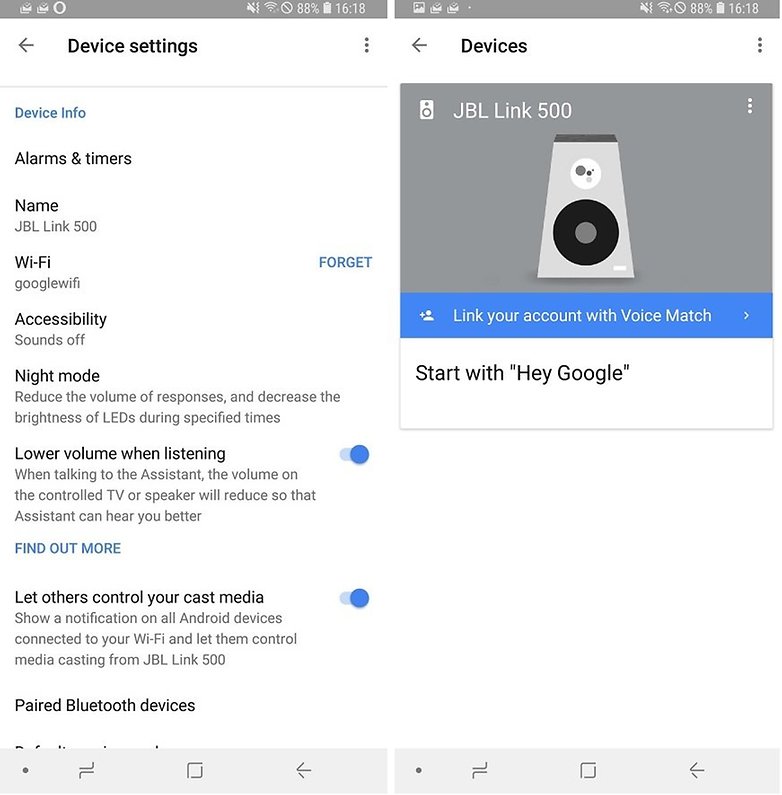 Google Assistant is handy to have around in cases when you need quick information, for example the weather forecast, or your commute time to work or the airport. It can read messages, plays music from most streaming services (Google Play Music, Spotify, YouTube or Deezer) and can control compatible devices in your smart home. If Google Home doesn't support your preferred music source, then Bluetooth comes in handy.
When you power them on, both speakers take just under a minute to get ready and start listening. The location of the power input in both cases is somewhat awkward and can't be reached when the speakers are standing up, you'll have to turn them upside-down or on their side to check the power cable.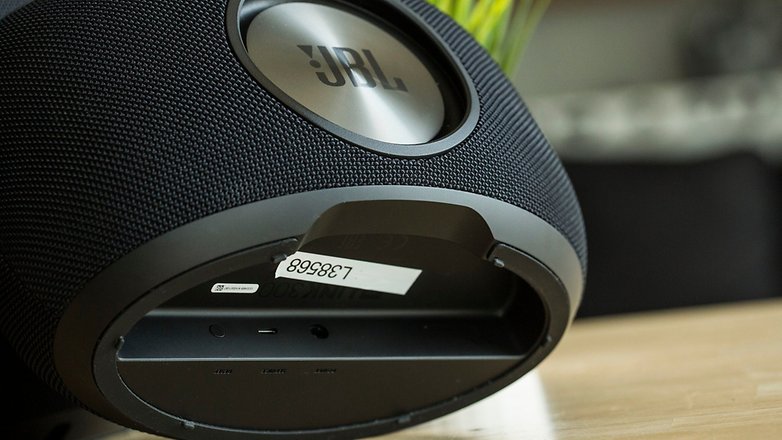 The speakers are designed for continuous operation and go into an energy-saving standby mode when you're not streaming. The devices search for updates overnight, and install them automatically.
In addition to using Google Assistant for its voice commands, all the speakers in the Link series are equipped with Google Chromecast , so they can team up with Chromecast-based audio device to create a multiroom audio setup over a Wi-Fi network.
It's important to note, that you can't expect to make calls with the JBL Link speakers the same way you would with a Google Home unit. Instead, these speakers are geared more towards music lovers than voice assistant fans.
Loud and sometimes a little too proud
At a glance, the different sized speakers have obviously different roles. While both models deliver a nice well-balanced (and loud) sound, I was impressed by the smaller 300 in particular , which exceeded my expectations for its size.
The Link 300 can fill every room
The Link 300 is kitchen/bathroom radio sized but can get really, really loud, with a wide sound and deep bass. The sound pushes out in front and boosts the treble, and for the price, its still a great speaker for listening to loud music as well as podcasts, news and the like. It's definitely more of a multimedia focused device than say, an Amazon Echo.
In the kitchen and bathroom situations, podcasts and music were easily listenable over a shower or cooking/washing, and the ability to change songs or episodes by calling Google Assistant was really neat. Even as a lightweight living room speaker, I wasn't disappointed, as the 300 can still fill a medium-sized room with a good sound.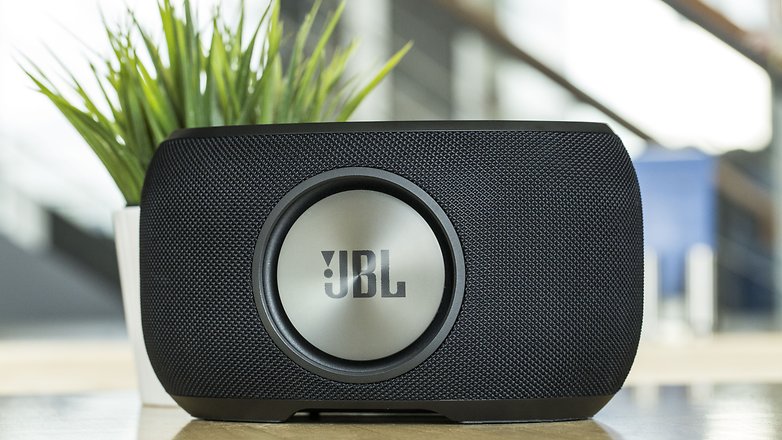 Given that the Link 300 did a good job for my audio needs all-round, is it worth shelling out for the big brother? That really depends. Are you going to be throwing a lot of house parties?
Get the party started with the JBL Link 500
The Link 500 delivers full, well-balanced tones overall, although the best bass sound doesn't fully kick in until you set it up to high (50% +) volume. You can't adjust the bass levels yourself, which can be an issue once it really starts thumping at high volumes. During my testing period, neighbors actually interrupted me and asked me to turn down the base. Sadly it was an all or nothing affair. So Link 500 was a bit too heavy-duty for my one bedroom apartment. Unless you have a sizable living area, you're unlikely to be able to use it to its full potential.
It does sound good, though. Distorted guitars, poppy vocals and beats all come through in excellent detail, there's not much to complain about when playing music from the Link 500, even if it doesn't quite match up to the best of Bose. The boomy bass lends itself better to genres like hip-hop or witch house, than say, delicate new wave or ethereal pop. But unless you're looking to fill really large rooms or throw house parties, you might find the JBL Link 500 to be overkill compared to the cheaper and more compact 300.
Disappointing, but there's no wired connection possible
Neither speaker features a connection for wired input, such as a 3.5mm aux. Everything is strictly handled over the airwaves so don't expect to connect your DJ decks to a JBL Link, for example.
JBL Link 300 technical specifications
JBL Link 300/500
| | Link 300 | Link 500 |
| --- | --- | --- |
| Speakers | 1 x 89mm woofer, 1 x 20mm tweeter | 2 x 89mm woofer, 2 x 20mm tweeter |
| Output power | 2 x 25W | 4 x 15W |
| Frequency response | 55Hz–22kHz (-6dB) | 55Hz–22kHz (-6dB) |
| Signal-to-noise ratio | > 80 dB | > 80 dB |
| Power supply | 19VDC, 3.0A | Internal 100-240V – 50/60Hz |
| Wi-Fi | 802.11b/g/n/ac (2.4/5GHz) | 802.11b/g/n/ac (2.4/5 GHz) |
| Bluetooth | 4.2 | 4.2 |
| Dimensions | 236mm x 134mm x 154mm | 370mm x 200mm x 157mm |
| Weight | 1.7 kg | 3.5 kg |
| Supported audio formats | HE-AAC, LC-AAC, MP3, Vorbis, WAV (LPCM), FLAC, Opus | HE-AAC, LC-AAC, MP3, Vorbis, WAV (LPCM), FLAC, Opus |
Size isn't everything
The JBL 300 and 500 are smart speakers with a slight emphasis on "speaker" over "smart". You can expect Google Assistant features to roll out a little slower to these units that Google's own, and you can't make calls, but in return you get a louder, more confident sound for your multimedia needs.
Personally, I found that the Link 300 met my needs handily, which was mainly as a background speaker for music, news or podcasts while I went about my daily tasks with the occasional question for Assistant. For the price, I'd say it's got a lot of bang for the buck.
The JBL Link 500 is great for when you really want to crank it up loud and bassy, and that's fine if your living set-up allows for it but also consider that if you're using it to its full potential, Google Assistant, the other main selling point of the Link series, is going to struggle to hear you.
Both are great products, but I'd personally stick to the smaller 300 unit, which more than meets my needs for the cost and gives me more options as to where to place it. The JBL 500 is a harder sell at $400, and you might want to wait to pick it up on sale. The similarly priced Google Home Max might not sound quite as loud, but you get voice calling and a wired input to boot.
Have you tried either of the JBL Link speakers? Do you prefer them to Google's own?