iPhone SE review: the small alternative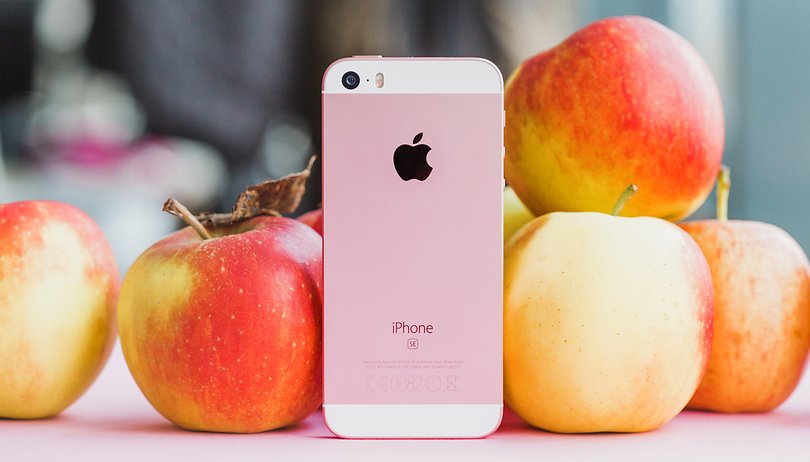 I've thoroughly tested the Apple iPhone SE and iOS after an arduous three-week experiment. As a journalist writing exclusively about Android, the new 4-inch iPhone has given me insight into another world of smartphones. I've compiled the results of the experiment – distilled through an Android perspective – to weigh up this phone's strengths and weaknesses. Does this mark a new phase in evolution of smartphones, or is it just an exercise in re-purposing old technology? Find out in this Apple iPhone SE review.
Good
The only high-end smartphone of its size

Excellent backup functionality

Very good camera

Crisp audio quality
Bad
High price relative to Android alternatives

Small display causes some issues

Battery struggles under heavy load
Apple iPhone SE: All deals
Apple iPhone SE release date and price
The iPhone SE release date was March 31, 2016. You've got a choice of colors ranging from silver, pink, gray and gold, as well as internal memory of either 16 GB or 64 GB. The iPhone SE price for these two storage capacities is either $399 or $499 respectively and you can buy it directly through the Apple website.
For this price you get a Sony Xperia Z5 or a Galaxy S6 Edge with 64 GB of internal memory. Both devices, however, are considerably larger than the SE. Looking at the Android offering right now, the iPhone SE is without competition at the 4-inch form factor.
Apple iPhone SE design and build quality
The design of the iPhone SE is practically identical to that of the iPhone 5s, which was released way back in 2013. It's constructed of aluminum and glass and, in my opinion, the craftsmanship is flawless – it has no significant weaknesses or pain points. Unlike a number of devices currently on the market, the SE doesn't offer protection against water damage or drops onto hard surfaces. You'll need to protect this device either with care, or accessories like a bumper case.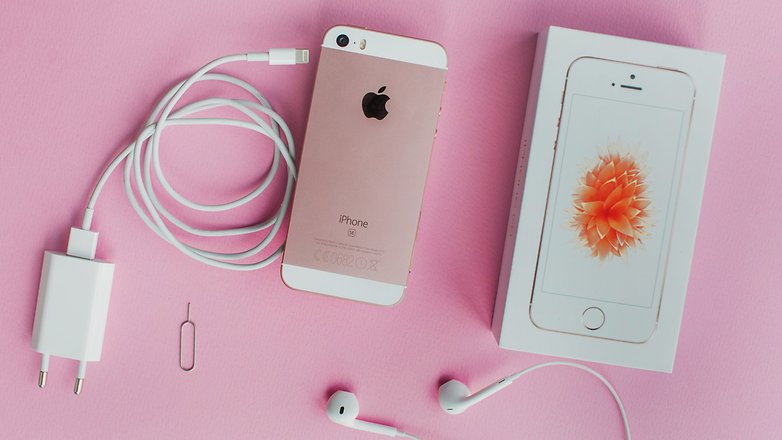 The iPhone SE has more physical buttons than we're used to seeing on Android smartphones. There are no capacitive (i.e software) buttons at the bottom of the display, for example. As you might already be accustomed to with iPhones, you'll navigate through the SE's apps entirely through the apps' own interfaces.
You can adjust the volume with the right index finger on two separate buttons situated at top-left side of the phone. There is also a sound on-off switch above these buttons.
The power button is located on the top edge of the phone. This is a more practical placement than you might think at first. It's pretty hard to press it accidentally, meaning you won't be routinely switching off the screen. To wake the iPhone, pressing the physical Home button is enough. Since there is also a fingerprint sensor in this button, pressing the button also unlocks it.
Samsung has copied this functionality since the Galaxy S6 and now many Android smartphones do it a number of varieties. Screenshots are also captured in iOS via pressing the Power and Home buttons simultaneously.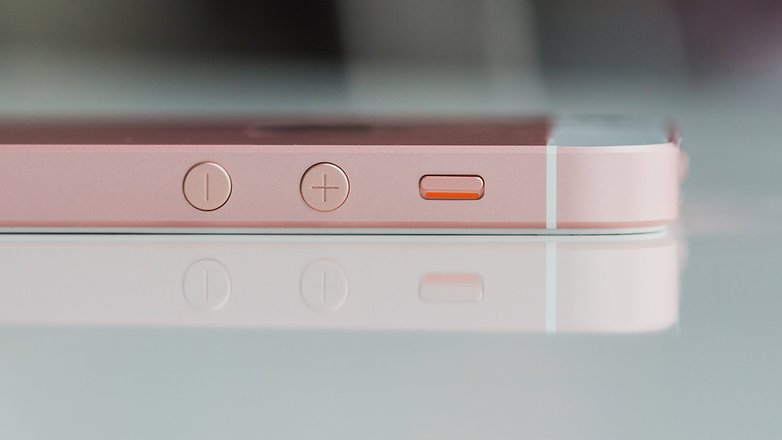 Apple iPhone SE display
The small four-inch display delivers content that is sharp and contrasty. The automatic brightness control is fast and reliable, keeping the display easy to read even in bright sunlight. But in some apps, the small touch screen prevents some menu buttons from appearing.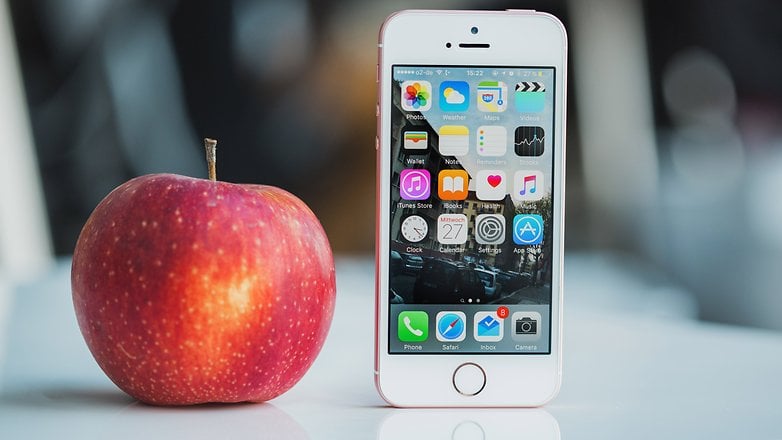 The iPhone SE display is only 4 inches diagonally. This is undoubtedly its unique selling point. Unfortunately, my display had difficulties during testing. For example, some controls were closely spaced together and I occasionally touched the wrong one, triggering an unwanted action. This gave the iPhone SE an unpleasant user experience in a few cases.
You can set larger fonts in the settings. However, this had no effect on fonts in some apps. In iOS I also found no operable magnifier, as found in the Android accessibility settings.
For the iPhone SE display, Apple has used an IPS panel with dimensions of 1,136 x 640 pixels to give it a density of 326 ppi. The typical contrast ratio is 800:1. The maximum brightness typically lies at 500 cd/m², according to Apple. In everyday life, the display works very well. Even in bright sunlight it's easy to read.
There's a nice gimmick that Apple introduced with the update to iOS 9.3: you can enable a function that allows the display to switch to night mode depending on the time of day. This, in turn, reduced the amount of blue light emanating from the display. So if you read the last AndroidPIT article later in evening, you won't be as dazzled by your display. In Android, this is only possible with an app, or in CyanogenMod/OS.
As a side note: although the iPhone SE has largely the same hardware and software as the iPhone 6s, Apple has omitted 3D Touch. The touch screen function allows you to pull up context menus over app icons on the homescreen and within apps themselves. But this is not available with the SE. But then again, that mightn't matter to some of you.
Apple iPhone SE software
What is the iPhone SE software experience like? Well, it comes running iOS 9.3 which is a good start. After unpacking the phone, you'll immediately find an update to iOS 9.3.1 (or higher if you read this review further down the update line). The software might seem a little sluggish when you're accustomed to Android. But elements such as the integration and performance of the fingerprint sensor, data backup functionality and anti-theft protection are considerably better than we find in Android.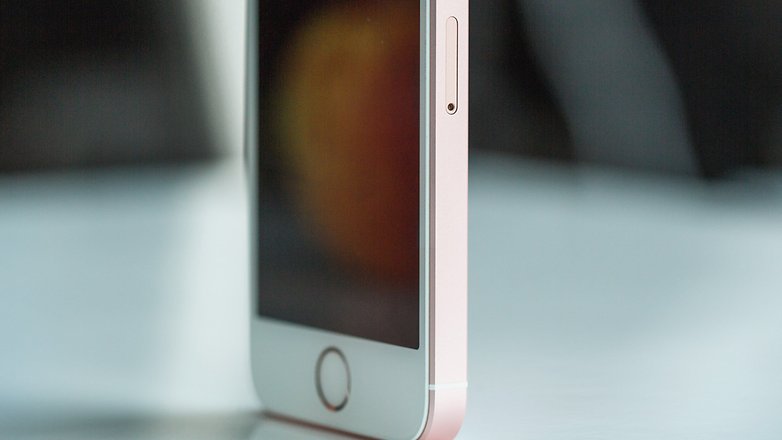 The usual rules of navigation in and between Android apps do not apply to the iPhone. After a short time, however, I adjusted to the rules. The reason is that Apple has watertight design specifications for apps they allow into the App Store. This produces uniform designs, so that the top-left is a back button inside apps. In many apps you also normally swipe from the left of the screen to the center. This gesture is to move backwards, making a back button redundant as we know in Android smartphones.
The second Android button that is 'missing' from the iPhone is that for recently-used apps. This functionality can be opened in the iPhone by double-pressing the home button. If an app crashes, you just swipe the preview away upwardly. Then it is closed and you can restart it from the Home screen.
What bothered me about iOS: I often had to return to the home screen. And there I was not happy with how I could sort the app launcher. The animation speed was too low and often I accidentally entered the multitasking menu.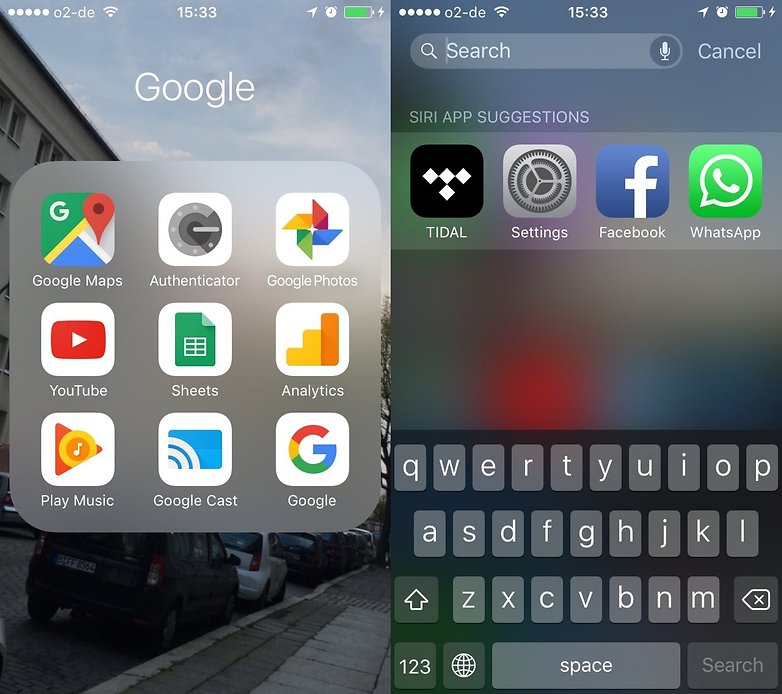 In Android it's possible to shorten animation times. If that's not enough, you can replace the launcher and use a new system with it to order your apps. iOS is inflexible here. This includes the search function, which you can bring up by down down on the home screen.
Thieves have no chance, plus that formidable backup function
Theft protection and a complete backup feature are two points of iOS that would make it, for many people, the more attractive system over Android. For quite some time iPhones have been completely encrypted and useless to thieves. In addition, you can, thanks to Find My iPhone, locate iPhones from any computer if you know your Apple ID.
For some time now Android has offered similar functionality. A found or stolen device which has security features enabled can not be reset and this makes them unattractive for sale on the black market. Thanks to device encryption and reactivation lock, this is fortunately becoming the case for more and more Android smartphones.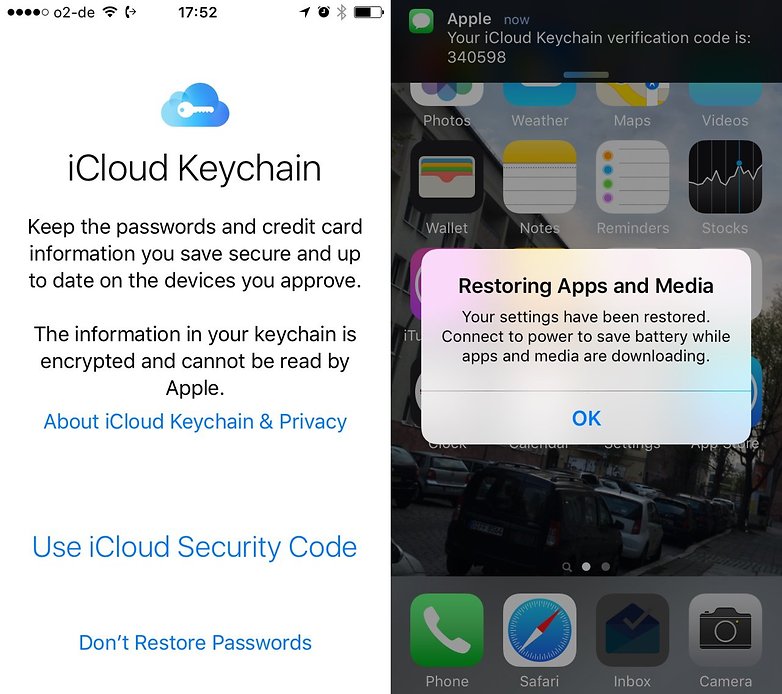 If you even have to replace your iPhone, it can be fully restored onto a new iPhone, thanks to backup in iCloud. The call log, SMS messages, WhatsApp chat and login history, apps and their settings or even the wallpaper – everything returns to its place again and you can go on with the new device where you left off with the old. This form of backup can be implemented only with some Android devices. In addition, backup execution is more complicated than it is with iCloud backup in iOS. But in Android, this condition is improving.
Certainly like a prison
Apple provides timely security updates for devices built during the past four years. These updates are not published in a monthly interval, but distributed as needed, unlike Android. If a serious vulnerability is known, one that has been exploited by hackers, within a few days an update will be distributed. In Android, this happens often only for a small percentage of devices and can lead to a delay of several weeks or months.
Apple iPhone SE performance
The performance of the iPhone is hardly comparable to that of Android smartphones. In terms of benchmarks like AnTuTu or Geekbench, it provides values ​​similar to the current Android top shelf.
Excluding the 3D touch display, the iPhone SE features largely the same hardware as in the iPhone 6s: an Apple A9 dual-core processor clocked at 1.85 GHz, a six-core PowerVR GT7600 series GPU and 2 GB of RAM. An additional M9 co-processor monitors background sensors and consumes very little power.
The power of the iPhone SE is sufficient for the most demanding apps on the App Store and due to its displays relatively small number of pixels, and the PowerVR graphics chip, it maintains high frame rates even in demanding games.
Another important task for the processor is the extensive post-processing effects of the camera. Most of these work invisibly and act to ensure that the material of the image sensor is translated into a realistic photo – which is achieved in most cases. More on this later.
Apple iPhone SE audio
The iPhone SE has a weak speaker installed at the bottom of the housing, however voice quality with the internal loudspeakers and microphones provide excellent quality for you and the caller on the other end.
Further, the included headset is thoroughly recommended both for calls and for music.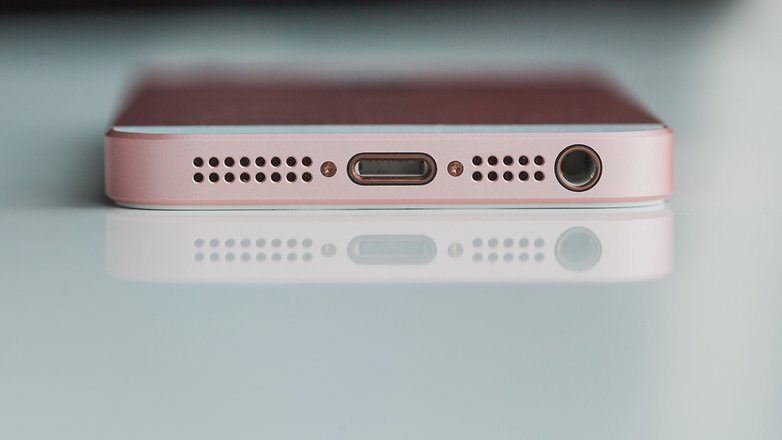 The bottom-mounted speaker isn't disappointing. It's easily covered by a supporting finger when held in portrait or landscape. For hands-free calls, it doesn't quite have enough power, so you should seek the services of a Bluetooth accessory or headset instead.
Thanks to the reduction of ambient noise while making calls with the SE, it's easy to hear calls even in noisy environments. In addition, Apple supports VoLTE for all providers, which ensures high voice quality; this feature isn't a guarantee on all Android devices.
Music playback difficulties
While Android smartphones allow you to copy MP3s onto its internal storage or microSD card quite easily, and then lets you play them back with any app, on iOS devices this is not so simple.
On an iOS device, you can't just copy MP3 files from your computer and play them with any app, as you could do on android. So, instead, you either convert them on iTunes or you use services like Google Play Music to sync them there.
Both ways are super weird. And neither one of them allows you to copy your music files from the iPhone to any other device. I'm sure that this is by design, though, since it prevents you from making unauthorized copies of anything. Personally, I don't like to be considered a criminal.
Apple iPhone SE camera
Another argument for buying iPhones is their cameras. Apple was so committed to ensuring it has the best on the smartphone market, it assigned 800 employees to build the latest. The software is great as well. But the results speak for themselves.
The main camera of the iPhone SE has a 12 MP sensor with an aperture of f/2.2. It would have been a great addition if Apple provided automatic image stabilization. Optical stabilization, such as we see in the HTC 10 or Samsung Galaxy S7, would have been helpful while shooting moving subjects.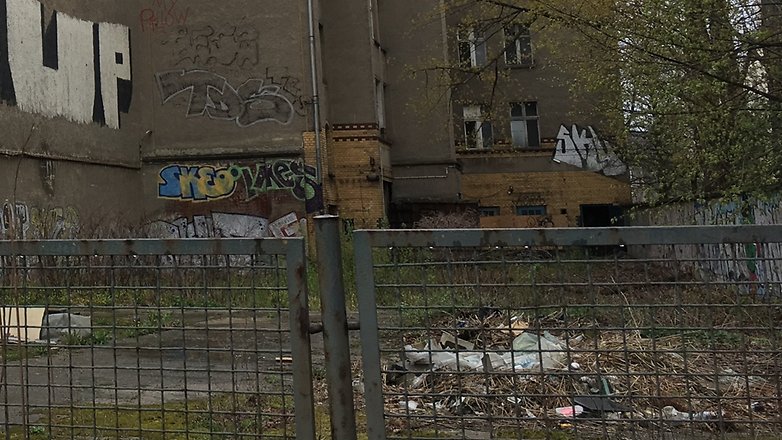 In daylight, the camera of the iPhone SE shows talent. Details show up sharply and color reproduction is true to the original. Details are numbed only in the peripheral areas of JPEG compression. Unfortunately it isn't possible to output the sensor data in RAW format, and thus to avoid erroneous JPEG compression.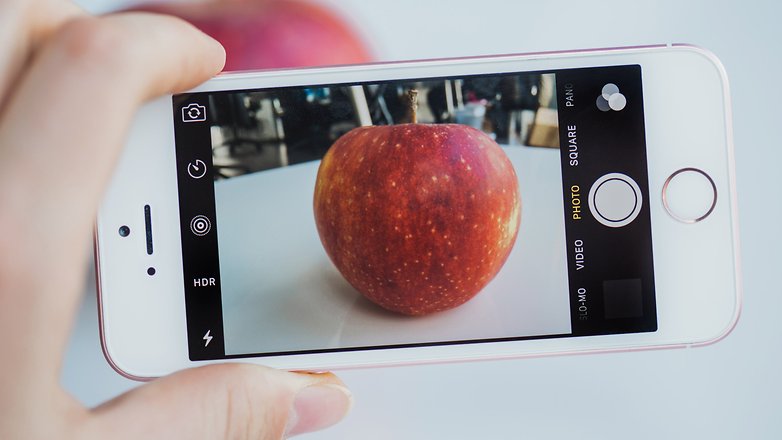 The space is too small in the 16 GB model in order to permanently store images. So you should probably activate the option to optimize iPhone memory in the settings. The pictures are uploaded in full resolution in the iCloud and the copies on the iPhone replaced with miniature thumbnails. There's a similar option in Android smartphones with the Google Photos app.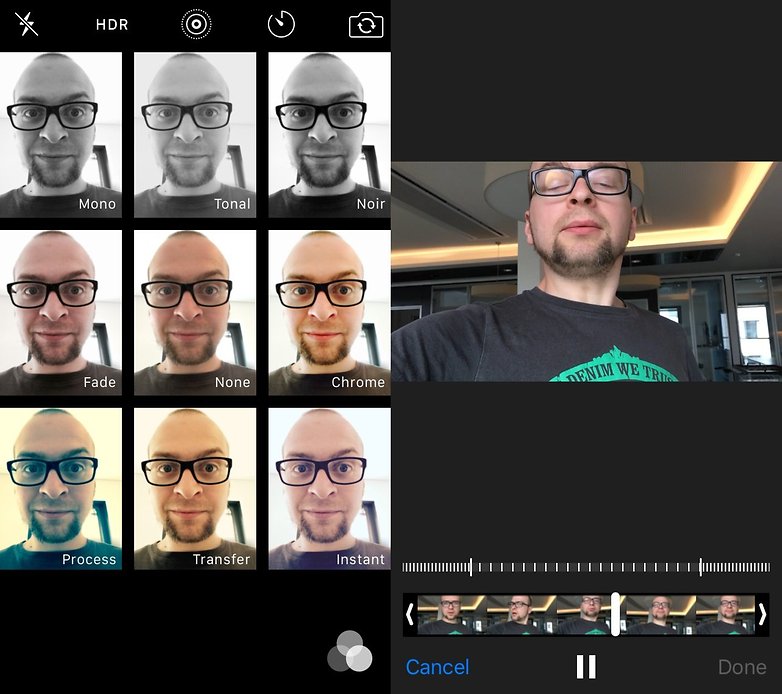 Apple iPhone SE battery
The iPhone SE battery lasts just over one day with moderate use. Heavy use of the camera reduces the battery life considerably. The battery is not replaceable. It's worthwhile to carry a Power Bank.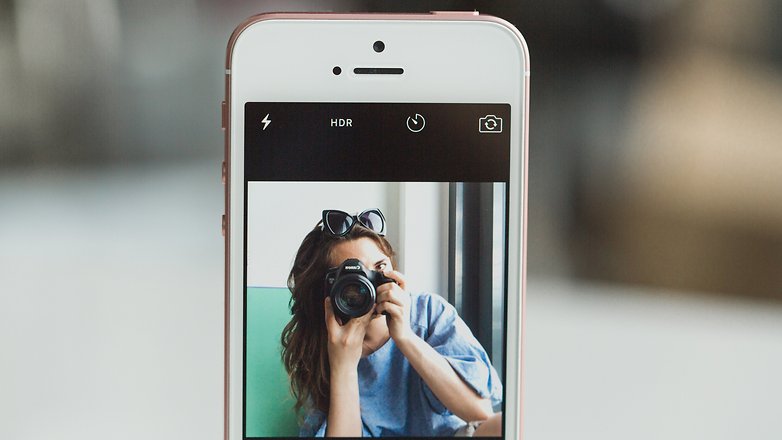 The iPhone SE is certainly no battery wonder. With its 1,624 mAh lithium-polymer battery, it stores only half as much energy as many Android competitors. Since it still holds a full day - also as most Android-based competitors do - this shows that it has significantly lower energy consumption. Thus, the iPhone SE has a smaller ecological footprint than most other smartphones, at least in this respect.
Apple iPhone SE technical specifications
Final verdict
The iPhone SE has impressed me to the point that I would recommend you consider buying it. One of my reservations would be that you could buy two good Android devices for the same price and that you can might quickly find out how costly Apple ecosystem can be.
Android smartphones offer many strengths that you have to spend more money on to get with the iPhone SE. The Nexus 5X shoots similarly good images and has, if you buy it from Google, comparable service conditions. The Galaxy S7 has better battery life and similarly good performance. The Xperia Z5 Compact is nearly as small, but provides a good mix of comparable photo quality and performance. In my opinion, you should definitely consider these alternatives before leaping towards becoming an Apple customer.