Huawei Mate 10 Pro vs Samsung Galaxy Note 8: similar, but...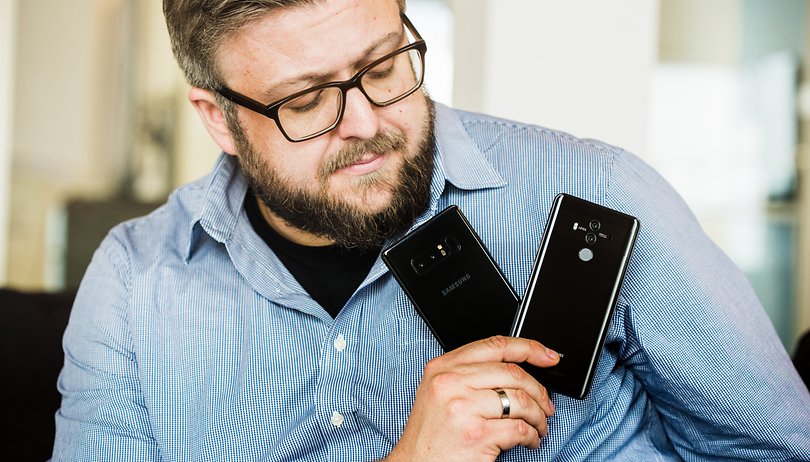 In light of the Google Pixel 2 XL's weaknesses, the Samsung Galaxy Note 8 and the Huawei Mate 10 Pro are arguably competing for the phablet crown in the Android world. Both devices are similar in some respects, but they do differ in fundamental ways. Here is our comparison.
The Samsung Galaxy Note 8 has a considerable task: Making up for its predecessor's abject failure and once again making the Korean manufacturer the be-all and end-all of large smartphones. The ingredients for such have been successful in the past: A large display, quick processor, sleek design and stylus.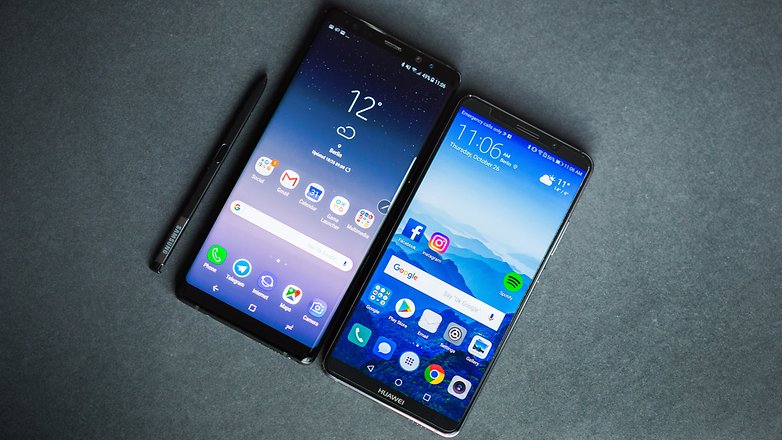 The circumstances are a bit different for the Huawei Mate 10 Pro. Its predecessor, the Mate 9, is still considered one of the best smartphones on the market, even though it is still a sort of hidden gem. The Mate 10 Pro sees Huawei foregoing the aluminum design and following the current trend - curved glass, aluminum bezel, thin display edges - together with a true novelty. Its Kirin 970 is one of the first smartphone chips with integrated artificial intelligence.
Glass and Aluminum everywhere
Both smartphones' designs can be described in very similar terms: Glass on the rear and front, curved on the edges, held together by a sleek aluminum bezel. Plenty of display real estate, small borders, two cameras, and a fingerprint sensor on the rear, but there are definitely differences. Samsung's unicolor design looks more boring visually than the beautifully shimmering Mate 10 Pro with the strip on the rear, and Huawei did a much better job with the placement of the fingerprint sensor than Samsung. Samsung slightly curves its display around the edges, while Huawei foregoes this, which is a good thing. Elsewhere, this omission doesn't work out too well, because the Mate 10 Pro no longer has a headphone jack, although the Galaxy Note 8 does, which is a boon for music enthusiasts. All in all, the Huawei Mate 10 Pro looks more modern, consistent and elegant when compared to the Galaxy Note 8.
While design is a matter of taste, you can definitely get a sense of manageability. Although the Huawei Mate 10 Pro is only slightly narrower and thinner, its fluid forms feel better in my hand compared to the Samsung's Galaxy Note 8, which seems clunky. It's amazing how such minor device body differences on paper can make such strongly noticeable differences in practice. This impression may also have something to do with the weight, since the Mate 10 Pro is significantly lighter than the new Note. On the other hand, the fact that the Samsung smartphone is significantly longer—which is the price you pay for having 0.3 more diagonal display inches—is hardly bothersome.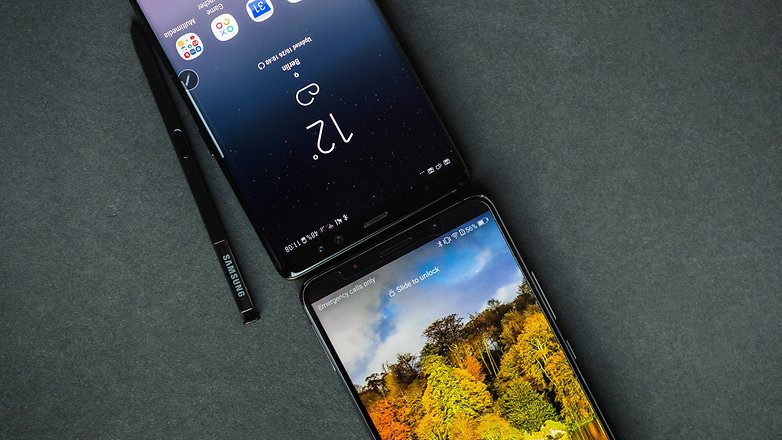 Displays are no problem for Samsung
When it comes to displays, I think that the Galaxy Note 8 comes out on top, and it's not due to the uselessly curved edges nor the somewhat larger format. The resolution does not necessarily play a role either. Both manufacturers use OLED panels, which Samsung has already been using for a while, whereas this is new territory for Huawei. You can also tell, because the quality of Samsung's display panel seems a bit higher overall: The colors are more radiant, the brightness is higher, and viewing angle stability is better, and you can mainly tell when you actually place both smartphones alongside each other. This isn't to say that the Huawei display is bad. Nevertheless, the Galaxy Note 8 has the advantage here.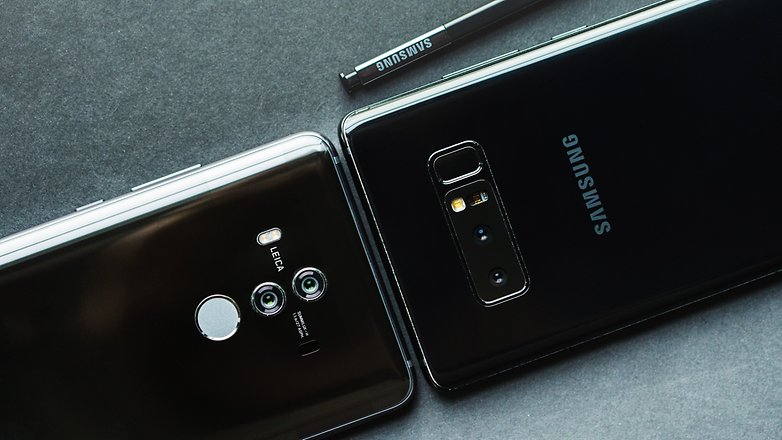 Naturally, the hard facts should not be swept under the table. One thing is clear: Both smartphones are superbly equipped, have expandable memory, quick processors and more. The Mate 10 Pro's advantage is its battery capacity and low display resolution, which may help its battery life. In the long run, it will be exciting to make a detailed comparison between the processors - the quick Samsung Exynos 8895 on the one hand and the AI-supported Hisilicon Kirin 970 on the other hand. There's no qualms about day-to-day performance for both, since there are hardly any faster smartphones nowadays. As a bonus, the Galaxy Note 8 has the S-Pen, which fans no longer wish to do without.
Huawei Mate 10 Pro vs. Samsung Galaxy Note 8 technical specifications
| | Huawei Mate 10 Pro | Samsung Galaxy Note 8 |
| --- | --- | --- |
Dual cameras are catching on everywhere, with Samsung and Huawei being no exception. Both smartphones take beautiful shots, but have different approaches. Samsung's second lens offers 2x zoom, Huawei's Leica camera has its own monochrome sensor for greater details. The advantage of the zoom on the Galaxy Note 8 is clear, 2x is simply not a whole lot and also has disadvantages - when taking portrait photographs with the Bokeh effect, you have to stand relatively far away from the subject to find the right image detail.
In the Mate 10 Pro, AI technology provides automatic image content detection and accordingly adjusts the camera's parameters and, if you wish, you can also make manual settings. Although a detailed shoot-out between both cameras is still to come, Huawei's camera offers greater flexibility and potential from a subjective standpoint.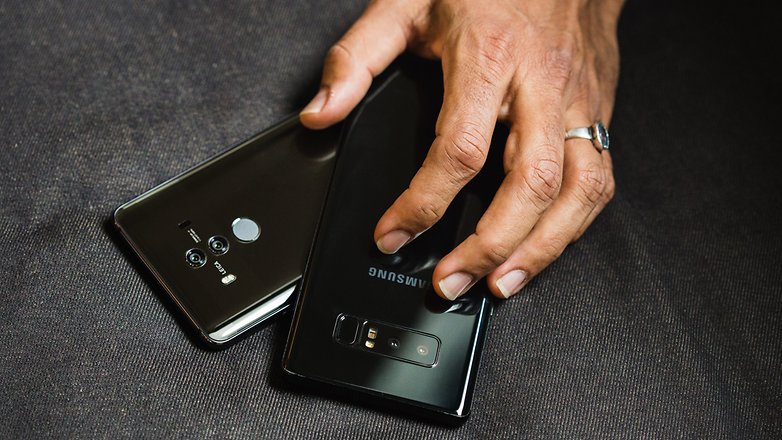 The Mate 10 Pro is one step ahead
All things considered, these are two very good smartphones that hardly have any true weaknesses, but Huawei is still slightly ahead in this comparison. This is due to its manageability, exciting platform, up-to-date software and strong battery. The Mate 10 Pro may be an important building block for Huawei's attack on Samsung's leading position in the smartphone market, which it has held for years.
Now over to you: which of these two XXL models could become your next smartphone and why?