Huawei Band 8 Review: A Missed Opportunity for Innovation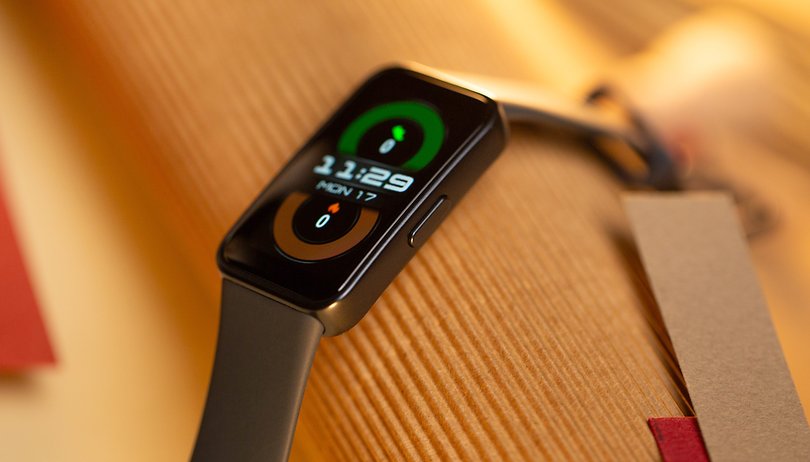 The new Huawei Band 8 is now also available in selected countries. It features a 1.47-inch AMOLED screen, permanent SpO2 tracking, and 14 days of battery life. Which wearable could already do that? For starters, the Huawei Band 7 and the Huawei Band 6. This begs the question: is there any point for the Huawei Band 8's existence? That's precisely what we'll find out here.
Good
Fast charging support

Bright AMOLED display

Intuitive operation

Compact and light as a feather
Bad
No NFC

No GPS

Less precise sleep tracking

Hardly any improvements compared to the predecessor

No wireless charging support
The Huawei Band 8 in a nutshell
The Huawei Band 8 is an excellent fitness tracker. Nothing has changed compared to the predecessor. However, not much else has changed either. The AMOLED display is still the same size at 1.47 inches with the same resolution, the number of sports modes has been increased slightly from 96 to 100, and the operation is also the same as in Huawei's Band 7.
At least the tracker now charges faster and can achieve a full charge within 45 minutes. The entire design has also become more compact and is even lighter now. This means that you once again get a very functional activity tracker for just under $60, which spares you from any major surprises.
This plastic-heavy fitness tracker will arrive in three colors: Emerald Green, Sakura Pink, and Midnight Black. There are also four different wristbands to choose from: two silicone (Emerald Green and Sakura Pink), the TPU wristband in Midnight Black, and finally the nylon wristband in Vibrant Orange.
The MSRP stands at €59 (around $65) a pop, although you can purchase it for less than that at the moment. There is no official release of the Huawei Band 8 in the US.
Design and display
Huawei relies on a 1.47-inch AMOLED display for the third year running. The overall weight has been reduced by another two grams to 14 g, and the device has also become thinner at 8.99 mm.
---
Pros:
Beautiful, brighter AMOLED display.
More compact and lighter.
Brightness is now infinitely variable.
Easily wristband swap.
Cons:
Bezels feel a bit too thick.
No ambient light sensor available.
---
Nothing much has changed in terms of design: The identical angular shape still houses a 1.47-inch AMOLED panel with a resolution of 194 × 368 pixels. The brightness has increased slightly to 500 nits (previously at 450 nits) and yes: The brightness can now be adjusted in a variable manner. However, you will not find an ambient light sensor on Huawei's affordable activity tracker in 2023.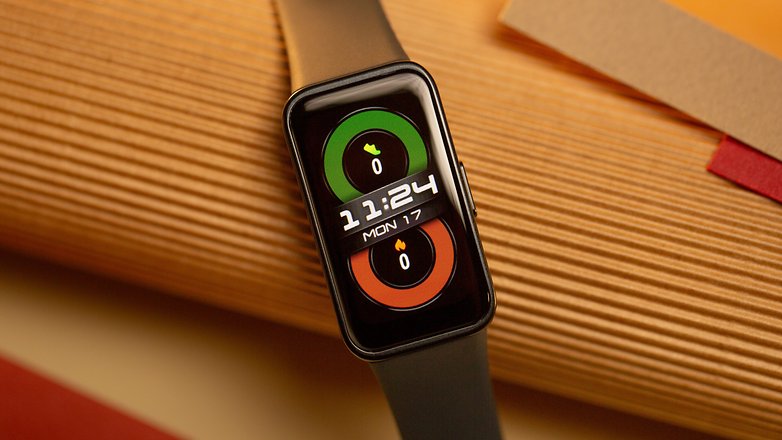 The Huawei Band 8 now measures only 8.99 mm thin and has generally become a bit more compact at 43.45 × 24.54 mm. You had four silicone wristbands to choose from with the predecessor. Now, the number of silicone wristbands has been slashed by half, but you do get an NPU variant, and a nylon wristband even.
By the way, the wristband has also received a new mechanism so that a finger press on the corresponding button releases the band easily. This is much better than before. However, this mechanism does not work with the wristbands from other manufacturers.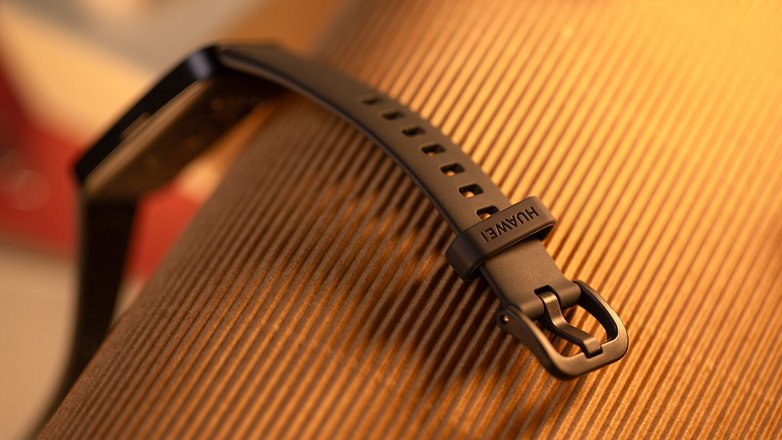 In general, there is not much to criticize about the design. We are dealing with an entirely plastic device here, where the Huawei Band 8 does not even try to represent something that it is actually not. I can live with that kind of quality for the price.
The Huawei Band 8 is waterproof up to 5 ATM, which would basically be enough for swimming. More serious swimmers, those who go diving, or even showering at very high water pressure could prove to be problematic. If you ask me, it's better to only go diving or swimming with devices that are rated at 10 ATM or higher.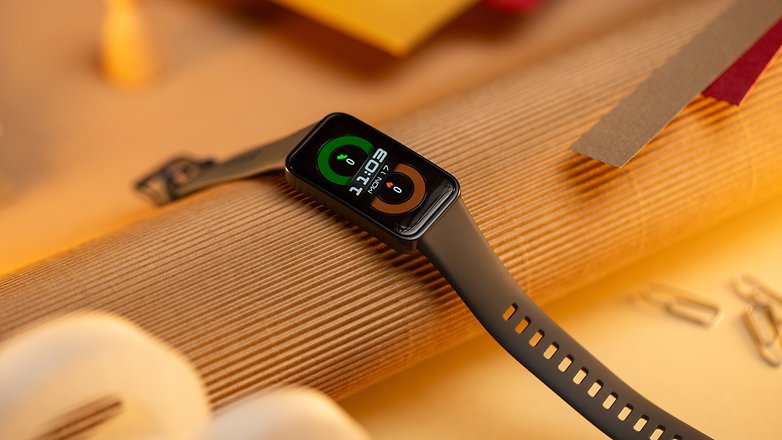 The Always-On display that was introduced in the predecessor makes a return, but I do not need it. Alternatively, you can wake the display up by tapping on it or by pressing the physical button on the right. The automatic wake-up via a gesture is hit-and-miss in terms of reaction, so you should definitely deactivate it if it annoys you (and AOD drains the battery faster).
Software and operation
Everything remains the same in terms of software and operation in the Huawei Band 8. If you hate change, you'll love the Huawei Band 8!
---
Pros:
Extensive and intuitive Huawei Health app.
Intuitive menu.
Practical hardware button.
Cons:
---
Did anyone notice? I just took the pros and cons for this category from the review of the Huawei Band 7. Sometimes, constant is boring while change can be annoying at other times. In the case of the Huawei Band 8, I can honestly accept the consistency of its software and operation, which means the hardware button remains and you can operate the fitness tracker as usual by swiping and using the button.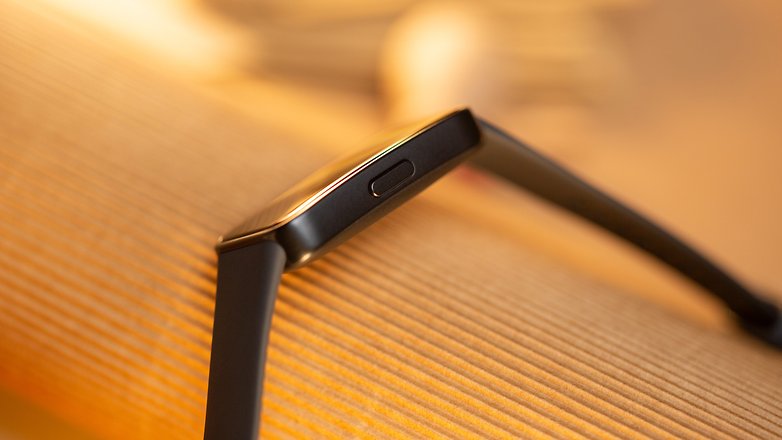 Pressing the button takes you to a drop-down list of sports features, lets you search for your smartphone, measure various metrics (heart rate or blood sugar level), and much more. Pressing the button again brings you back to the home screen, as does swiping from top to bottom. Swiping to the side reveals your widgets, which let you play music or display your activity, for instance. A swipe from the bottom to the top, on the other hand, will bring up any notifications.
The Huawei Health companion app on the smartphone shows the recorded values and much more in a more detailed and attractive manner. Once again, nothing has changed fundamentally. You still connect via Bluetooth 5.0 (ever since the Huawei Band 6). Someone urgently needs to tell Huawei that Bluetooth has already advanced some more steps in 2023.
I noticed one thing, but I'm not sure if I should blame the display, the software, or my huge fingers: I felt that the display did not react as well as usual when swiping. Sometimes when I swipe across the display, I did not experience the desired effect. Okay, maybe it really sounds like my fingers are too fat, huh?
Features and tracking
The Huawei Band measures heart rate and SpO2 level all the time, comes with 100 training modes, and does almost everything that a fitness tracker user would want it to. However, there are not many new tricks up its sleeves, and the sleep tracking is in accurate.
---
Pros:
Even more sports modes than ever.
Permanent SpO2 and heart rate tracking.
Cons:
No GPS.
No NFC.
Sleep tracking is inaccurate.
No new features.
---
In the umpteenth generation, do we still have to talk about the fact that there is a music player, weather readouts, being able to locate your smartphone, and operating the phone's shutter release remotely? Of course, all of those are possible with the Huawei Band 8. However, I struggle with a feature that I have previously used or at least tried with various devices: Sleep tracking!
"TruSleep 3.0 helps you sleep better," Huawei promised. And yes, I think it was cleverly executed. A single swipe is enough, and you can tap on the moon icon to avoid any distractions in the form of sounds or vibrations. Sleep is then tracked using the standard values by distinguishing between light sleep, deep sleep, and the REM phase.
Upon waking up, you will get a report on your wristband that breaks down the collected data. Of course, you can view it in greater detail and in a more legible format via the Health app.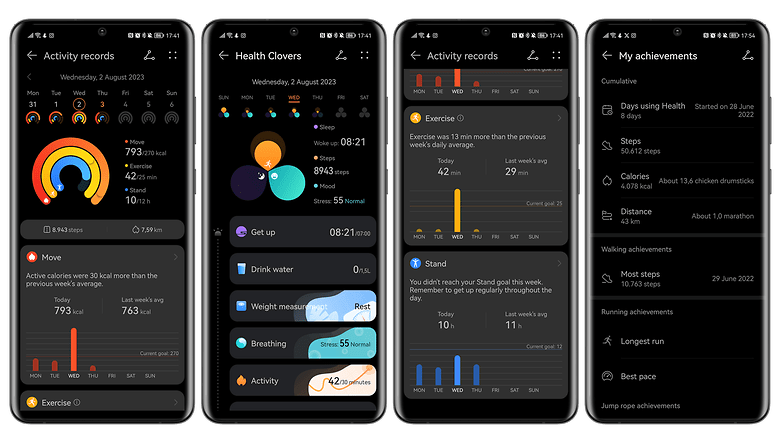 Unfortunately, the sleep tracking did not really work all that well or my sleeping habits are even worse than I thought. Last night, according to the app, I only slept for 3h 42min, and all of those were exclusively light sleep. Okay, that's about how refreshed I feel, but it was a bit longer and I'm sure there were some deep sleep phases. The question now is whether the precise tracking fails if, for instance, you clumsily left podcasts playing all night long.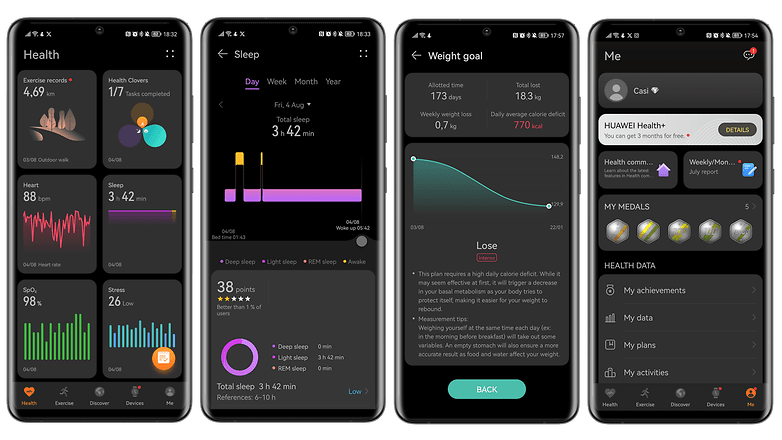 Apart from that, there are other well-known functions in terms of health: The blood oxygen level (SpO2) can be measured and monitored on a permanent basis if desired, as with the heart rate. In addition, you can count your steps, track calories, and view all these in dozens of views on your phone, but you can also receive the results on your wristband.
I cannot currently verify just how precise the health features are, apart from the very precise step tracking. As you know, the health data measured by your smart companion is not up to the standard one would expect from a doctor or medical professional anyway, so treat it only as a guide.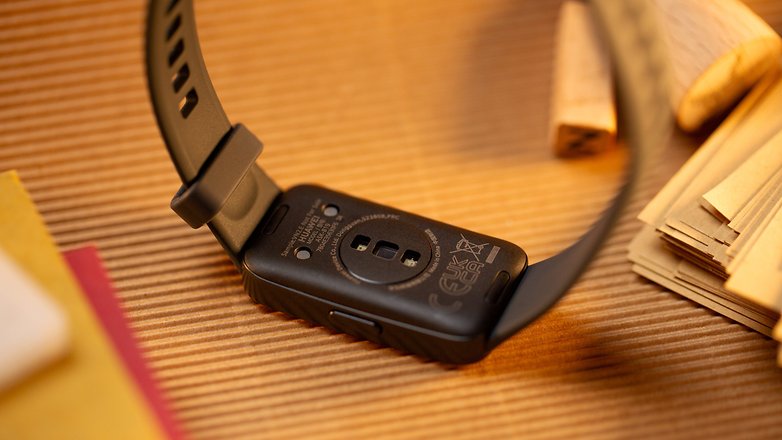 You also know the rest of the drill: Workouts are tracked, partly running and walking, automatically if you activate the feature. You are often referred to the Health+ in the smartphone app. If you want to do more than track your food intake, but also use the corresponding advice and training programs, you can do so after paying for a subscription in the app.
This would cost you €7.99 (around $9) each month. You can test it out for fun via a one-month trial before deciding whether the service is worth that amount of moolah each month. Of course, you can also cancel it anytime you like.
Finally, I would like to knock on Huawei's door and politely ask: My dear friends, where is the NFC support? You give the Huawei Band 8 this indispensable feature, especially when it comes to making payments, but only for China? Is such a move still possible? GPS has also not yet found its way onto the Huawei Band 8, so you still have to rely on your smartphone for precise tracking of your workouts.
Yes, I am certainly making exceptions for a device that costs only $65 each. But are all those features truly too expensive to implement in a global model? Hopefully not in the future!
Battery and charging
The battery life is still supposed rated for 14 days on average, and nine days for intensive use. However, I was particularly surprised by the charging speed!
---
Pros:
Fast charging.
Good battery life.
Cons:
No wireless charging.
Short, proprietary charging cable.
---
Even though the battery's capacity (180 mAh) remained the same, Huawei now claims to have a slightly different battery runtime: Previously, it was a maximum of 14 days and ten days in "typical" use. The company has now lowered the latter value to nine days. I did not quite manage that feat as the device was completely drained after approximately seven days. I think that's a really good figure, since I also tried using the watch more than I would normally do.
To be fair, I have to say that I did not use the Always-on Display. If you enable it all the time, Huawei has rated the battery life at a mere three days. The function is simply too unimportant for me to let it drain the battery.
However, I found the Huawei Band 8 to be an unbelievably pleasant improvement considering the "nothing has changed" mantra. You can recharge the device to full in just 45 minutes, something that the predecessor took 2 hours to complete. Spending just five minutes at the outlet is supposed to be enough for an average runtime of two days.
The magnetic, proprietary charging contacts remain. Unfortunately, this similarity extends to the insanely short cable as well. Never mind, you can't have everything.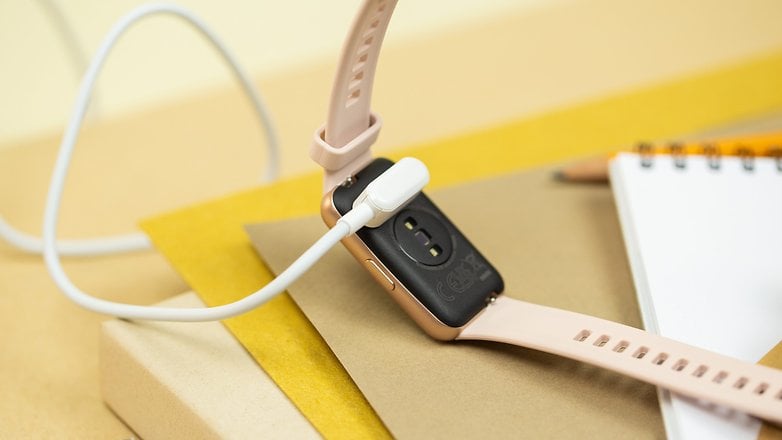 In conclusion, I am extremely satisfied with the battery because it combines the already sufficient runtime with a vastly improved charging time. The bitter pill to swallow would be the lack of wireless charging, although that would have been nice to have.
Final verdict
Here we are once again: At the end of a Huawei Band review, where I ask myself another time what has changed significantly compared to its predecessor. Huawei advertised the Huawei Band 8 by stressing on its ultra-thin design, data-based sleep monitoring, and long battery life.
Yes, the battery life is indeed a valid argument. Not because of the runtime, but because it charges much faster than last year's model. The design is almost the same, even though the fitness tracker this year is a bit slimmer and lighter. Sleep tracking, on the other hand, is anything but a marketing gimmick in my opinion, since it was rather inaccurate for me.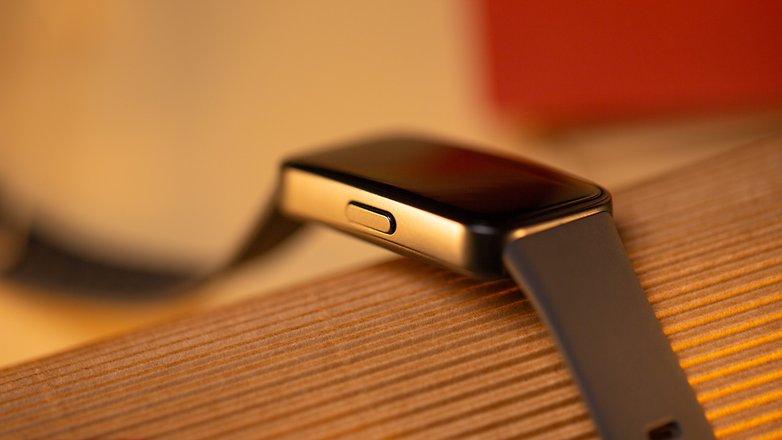 Functionally, almost nothing has changed, and the identically sized display is not much different from the Huawei Band 7 apart from a bit more brightness. Adding all of it up, I have decided to award it four out of five stars, just like what happened last year.
There is still no ambient light sensor, we still have to make do without GPS, and NFC is unfortunately only available in China. If Huawei wants to get a score of at least four stars with its successor, or even surpass them, it should perhaps start to address these shortcomings.
If you already own the Huawei Band 7, you certainly do not have to upgrade to the Band 8. And to be honest, that also applies to owners of the Huawei Band 6 as well. However, if you do not own a cheap fitness tracker and want one, you should take a look at the device, especially since it is currently available for less than $50.