Protect Your Phone and Google Account with 2FA and a Security Key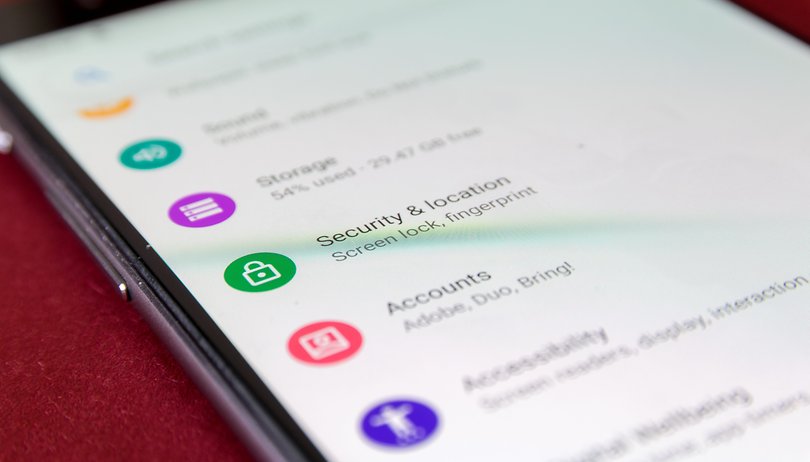 If you are not satisfied with the available two-factor authentication (2FA) options on your Google account, the big tech offers an alternative that can make it easier to log in on a new device. With a security key, your phone—Android or iPhone—can be used to confirm your identity and skip having to type codes on each new login.
The feature is available on devices running Android 5.0, iOS 10, or newer versions of either operating system. The device must be compatible with Bluetooth and have the feature activated. Unfortunately, it is possible to have only one device set as a security device, but you can easily switch keys when upgrading your phone or tablet.
Activate two-factor authentication on your Google account
Another requirement for using a security key is activating two-factor authentication on the Google account. If you already have 2fa activated, jump to the next section. If you haven't, follow these steps:
Access the Security tab on your Google account page.
Select 2-Step Verification.
Tap on Get started.
Choose Continue.
Add a phone number as a backup option, then press Send to confirm the number.

Alternatively, you can save backup codes on another device by tapping on Use another backup option

Tap Turn on to activate 2FA.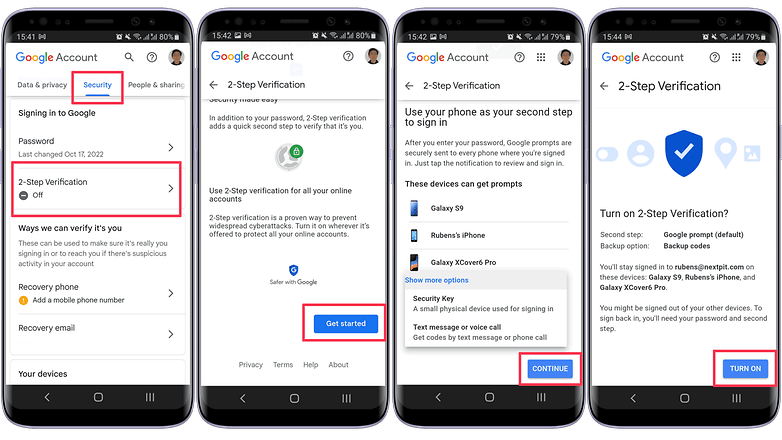 How to use your phone as a Google security key
With 2FA activated, you can turn your smartphone or tablet into a security key with these instructions:
Access the Security tab on your Google account page.
Select 2-Step Verification.
Choose Security Key.
Tap on Add security key.
Select the device to be used as a security key, then tap on Next.
Read the instructions to turn on Bluetooth, then tap on Next.
Confirm the security key activation by selecting Next.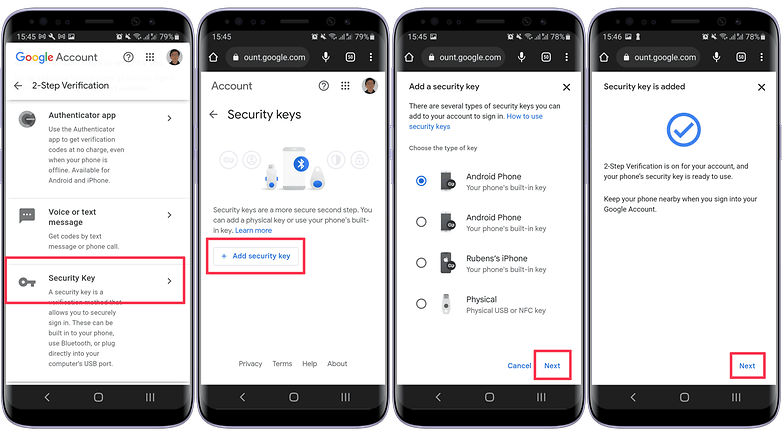 It is worth repeating that using a phone security key requires both devices to have Bluetooth on. Additionally, the feature is compatible only with Google Chrome and Microsoft Edge browsers.
Next time you try to log in to your Google account—including on Windows and macOS PCs— your security key will automatically communicate with the other device via Bluetooth and you won't need to use another 2FA confirmation method.
That is it. Now your Google account has an added layer of protection, covering Gmail, YouTube, Drive, Meet, your Android phone, and all other services associated with your Google profile. Do you already use the feature? Prefer USB or NFC keys? Share your tips in the comments below.