How to use the Image Clipper tool on the Samsung Galaxy S23 series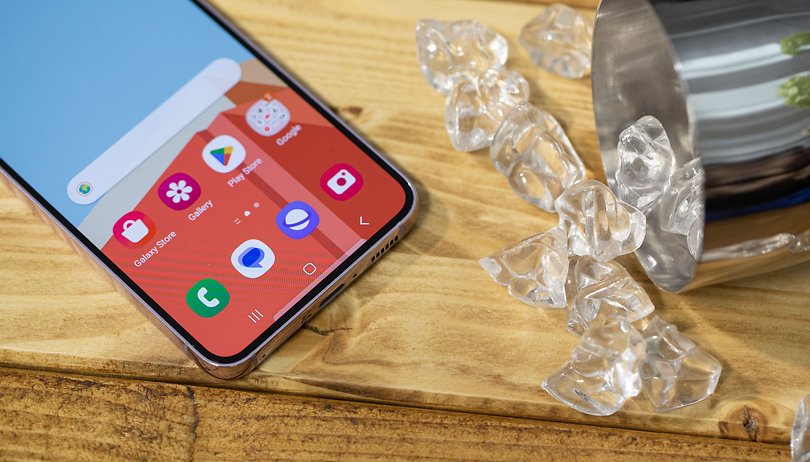 The Galaxy S23 series debuted with brand-new features earlier this month. Among them includes Image Clipper which lets you lift an object from a photo or video and transform it into a shareable image or a PNG file with transparent background. Here's a step-by-step guide on how to remove background from a photo on a Samsung smartphone.
Apple has introduced a similar feature which is more known as 'Lift & Drop' with iOS 16 for iPhones. Samsung's version found in latest One UI 5.1 operating system works the same as on an iPhones. However, it is only compatible with the latest Galaxy S23 series.
Which Samsung Galaxy phone supports the Image Clipper feature?
Samsung has not officially listed which Galaxy smartphones come with the Image Clipper feature that can be found in the built-in in the Gallery app. But right now, it is available on the Galaxy S23, Galaxy S23 Plus, and Galaxy S23 Ultra that run on One UI 5.1.
While older Samsung devices like Galaxy S22 and Galaxy S21 are updated to One UI 5.1, this feature is notably absent. It's unclear if this will be an exclusive feature for the Galaxy S23, or if there are plans to release it to other devices through a software update.
How to remove background photos from photos on the Samsung Galaxy devices
Since this is based on an AI algorithm, lifting or cutting an object works more efficiently and instantly for images with a clearly contrasting subject with its background. Likewise, the feature should be supported in most images that have pronounced and focused subjects. Below is a quick tutorial on doing so:
Launch the Gallery app.
Choose the image where the subject or object is focused.
Long press the subject and wait until it is highlighted.
Options to Copy, share, and save will pop up immediately.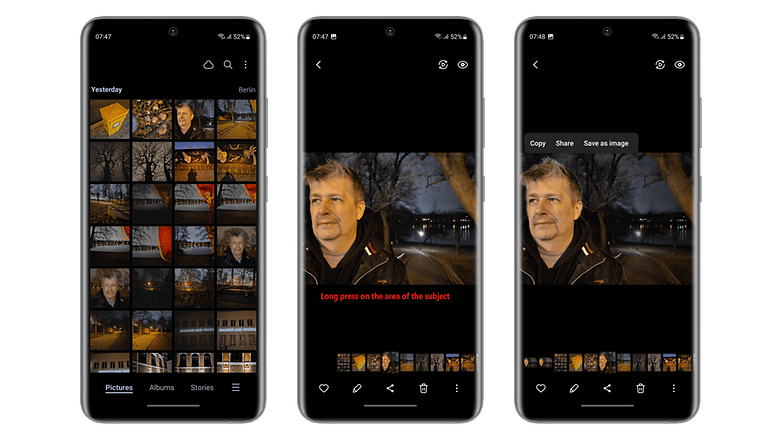 How to remove a subject and generate a new image from a video
As on the iPhones, you can also remove a subject or object from a video clip on a Galaxy device. You just need to pause the video at a period where a clear subject is more visible before selecting the subject area. Bear in mind that this only works with videos on your gallery app—at least we didn't manage to make it work in a YouTube video.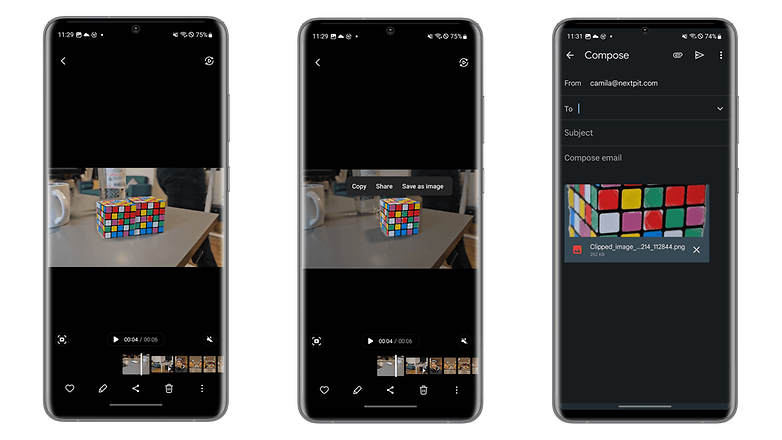 Alternatively, you can take a screenshot when playing a video and use the saved image to cut the required subject out. At the same time, these newly generated images can be shared or copied with others. But come on, it's much better to use this feature natively on a video record on your gallery.
Do you find this new feature useful? Please let us know your thoughts in the comment section.