Capture Star Trails with Samsung's new Galaxy S23 Astrophotography camera feature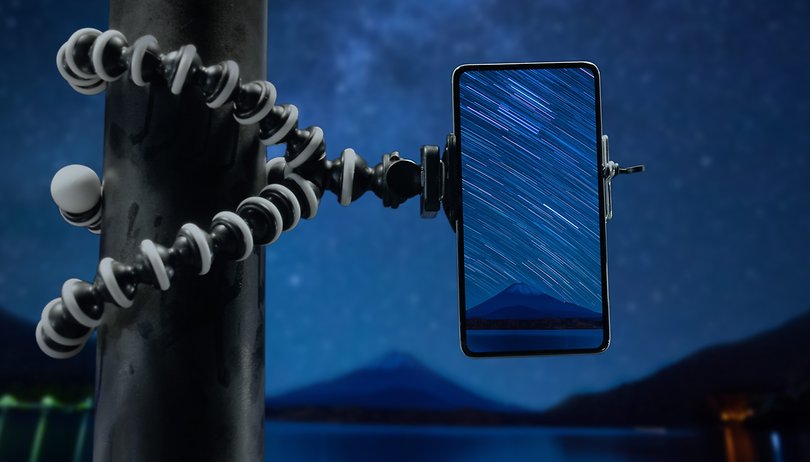 Samsung's latest Galaxy S23 series now comes equipped with an exclusive astrophotography camera feature called Star Trails in Hyperlapse mode. With this new feature, you can easily capture stunning footage of the night sky and create a hypnotic trailing effect of the stars. Here's a step-by-step guide on how to take Hyperlapse videos of star trails using your new Samsung phone.
Hyperlapse mode is a dated recording feature that is built in the main Galaxy camera app. It lets you create time-lapse videos in varying frame rates. Depending on the device, you can get multiple speed options with the highest setting being used in shooting Hyperlapse videos of the stars.
Which Galaxy phones can use Hyperlapse video with Star Trails effect?
What's new on the Samsung Galaxy S23 trio is the star trails effect, and it's accessible in 300x frame rate option. It's unclear if the feature will be added to older devices through a future software update. Below is a list of Galaxy camera phones compatible with Star Trails Hyperlapse video.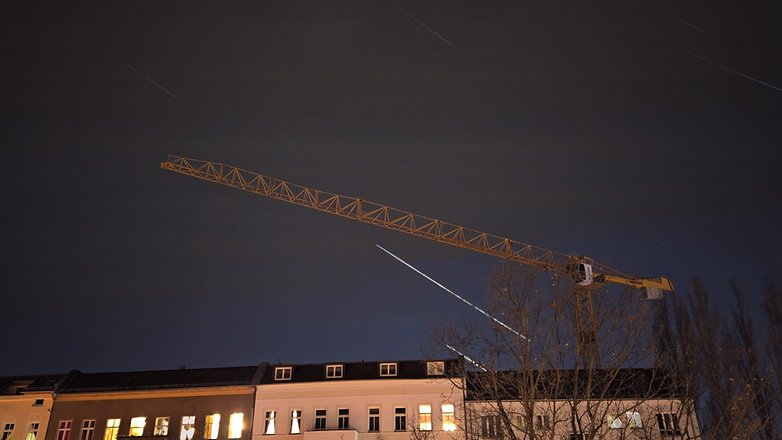 The image displayed above is a still shot taken from the Hyperlapse video shown below. The video, which was recorded over the course of about an hour, consists of 12 seconds of captivating footage.
How to capture Hyperlapse videos of the stars
To record steady footage with your Galaxy S23 model, all you require is a tripod. It's recommended by Samsung to shoot in an area with minimal artificial light sources like lampposts or buildings to avoid city light pollution. As the camera may need to run for several minutes up to an hour, it's essential to have a stable setup.
Although we haven't tested this feature in a neutron environment yet, we were able to produce an impressive sample from a balcony in Berlin using a compact Rollei traveler tripod.
You don't need to adjust any additional settings, and you can start shooting right away. Here is a simple step-by-step guide on how to create a Hyperlapse video of the stars:
Open Camera app and choose Hyperlapse mode from menu.
Select UHD resolution on the top menu.
Set the recording speed to 300x.
Turn on the Star Trail icon.
Let the camera phone record for several minutes to an hour.
Press the Stop recording button to generate the final clip.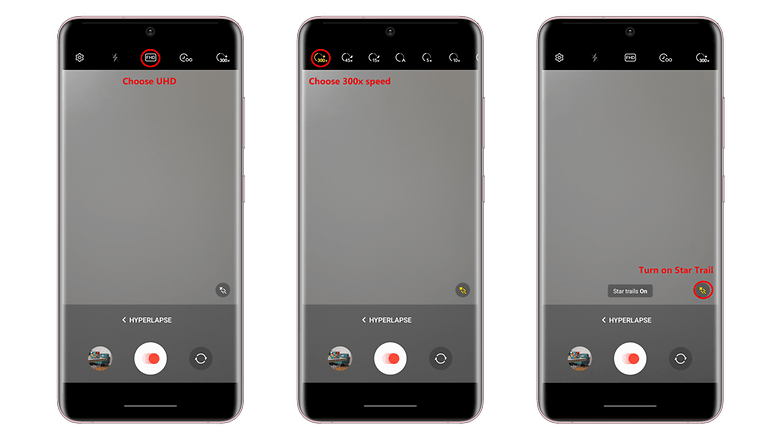 You can experiment with different durations as well as landscape backgrounds. Again, this relatively works well if you have a pitch-black ambiance away from other light sources and with clear weather.
What if you want to shoot only still photos of the stars?
Bear in mind that you're creating video clips here. If you intend to only shoot static night sky photos, use the Astrophoto mode in the Expert RAW camera app that is compatible with the Galaxy S20, Galaxy S21, Galaxy S22, Galaxy S23, Galaxy Z Fold 3 / Fold 4, and Galaxy Z Flip 3 / Flip 4. You can find our Expert RAW app guide here.
Let's hear from you! Have you ventured into astrophotography on your mobile phone yet? We'd love to know which apps you've used to capture the beauty of the night sky apart from the Galaxy camera and Expert RAW apps. Share your experiences and recommendations with us in the comments below.