How to recover deleted photos on Android
Update:

Revised for 2022!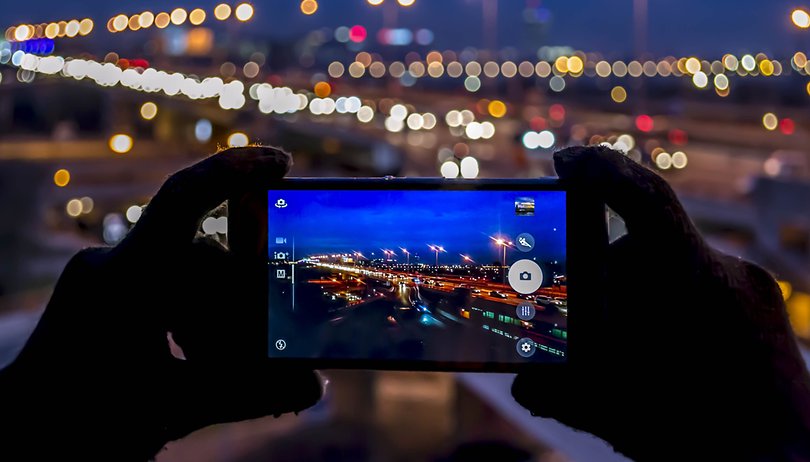 Wondering how to recover deleted photos on Android? Well fret not! You have come to the right place. In this article we outline some of the methods that may help you do exactly that. Before starting, however, we would like to emphasize that with each new Android version and Google's updated security policies, it is becoming increasingly difficult to recover deleted photos and data.
Jump to
Have you checked the recycle bin?
Now, before you call us out for posting something obvious, hear us out. Most modern smartphones do not actually erase your photos when you select the Delete option. Instead, they transfer the deleted images to a temporary folder (usually named Recycle bin/Trash/Recently deleted) where they are kept for a limited amount of time (usually 30 days) before being automatically deleted - this time for good.
In case you only recently deleted the photo, chances are, you will find it in this folder. The steps to access the Recycle bin changes from one device to another. But you will mostly find it within your phone's Gallery or Photos app. On Samsung phones, for example, you can access Recycle bin within the Gallery settings (check screenshots).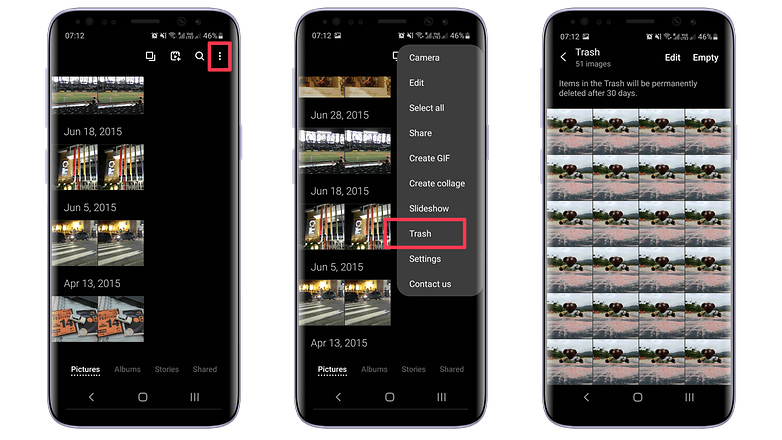 On phones running stock Android that use Google Photos as the default gallery app, only photos that were backed up to the cloud are stored in the Trash folder - albeit for 60 days.
In case you are sure the images have been deleted even from the Recycle bin, things get tricky and chances of recovering deleted photos become slimmer. This is mostly got to do with Google's updated security and privacy mechanisms for Android - including new initiatives like Scoped storage that restrict apps from accessing folders that are not their own.
Anyway, let us now look at what options you are left with.
Recover deleted photos with an app
There are several apps that claim to recover deleted pictures on Android smartphones. While many of them do not work, we did find partial success with a software called DiskDigger photo recovery. DiskDigger was also a bit less intrusive when it came to serving up ads, too. Do note, however, that the tool works better on rooted phones. You can try to recover deleted photos without rooting but results could vary. But there is no harm in trying.
Anyway, first head to the Play Store and grab DiskDigger photo recovery and then run the app.
If you've recently deleted your photos, DiskDigger should be able to find those photos, and you'll be given the option of whether to restore them to a folder on your device, or back them up to a cloud service.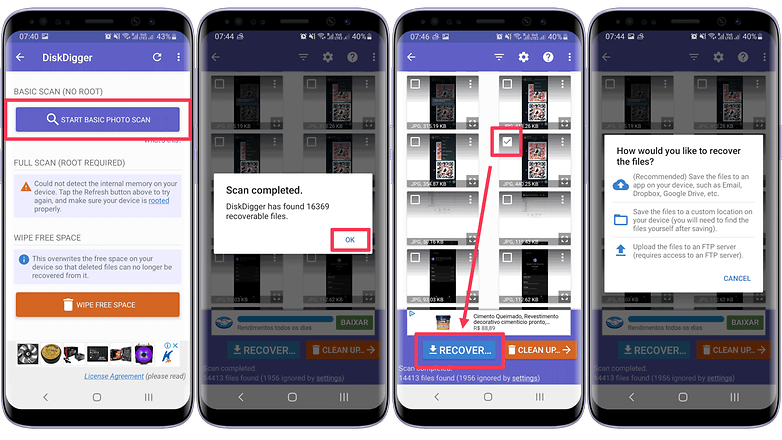 Note: On a non-rooted device, DiskDigger is limited to recovering images from your thumbnail caches, which means that the images will likely be of a lower quality than the original photos or videos. Recovering the full-resolution original versions of the photos or videos is only possible by rooting your device, and getting the Pro version of the app that costs $2.99. If you don't know how to root your phone, then refer to our complete guide on how to root Android to get started.
Anyway, after running DiskDigger, at first, it didn't look like it could find our photos, but a quick dip into its settings and unchecking the minimum file size factor revealed our deleted pics. As we said above, if you want to recover your photos, you will need the Pro version of the app, which is available at the link below. Once again, do note that there is no guarantee that you will, indeed, be able to recover deleted photos even with the paid version.
Alternate apps worth trying: While there are several Android apps that claim to recover deleted files, please note that most of them will not be able to do so on newer versions of Android - and without root access. In addition to DiskDigger, we also tried another app called EaseUS Mobisaver which also worked in a similar way. In case you do not find success with DiskDigger, this is a viable option to try out.
Recover photos on your Android phone using a computer
We're sure you have thought of this option as well. Is it possible to recover photos on an Android phone using a computer? Well, if you're using a phone that runs Android 9 or below, this might be possible. Once again, thanks to Google's improved security and privacy mechanisms, this is no longer an option on newer smartphones running Android 10 and above. We tried a number of apps that claimed to recover deleted files and every single app failed to achieve the desired result.
In case you do have an older phone running Android 9 or below, you can use apps like Wondershare's Dr.Fone and EaseUS Mobisaver (for Windows). Note that while using both these apps, you will need to enable developer options on your device.
How to recover deleted photos from a microSD card
In case the deleted photo on your phone was stored on a microSD card, the odds of recovering it become much higher. For this, you will need a computer and a data recovery software like Recuva - and not to mention - an SD card reader. To recover data from a microSD card using Recuva, follow these steps.
Download the latest version of Recuva and install it on your computer.
Connect the SD card reader to your computer (or insert the SD card into the card reader slot on your notebook).
Open Recuva and choose Advanced mode.
In Options dialog box select Actions tab and check Scan for non-deleted files.
Once you set these parameters, scan the SD card and wait for it to complete.
After the scan is complete, you will see a screen with all the recovered files.
Click on Recover to complete the process.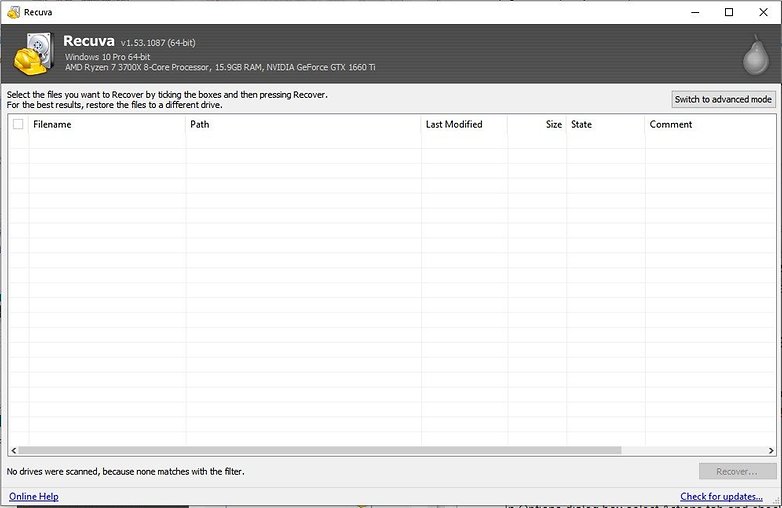 Once you've recovered your photos, you'll want to make sure this never happens again. And for that, you need to ensure that you keep your photos backed up all the time
We have a dedicated article that tells you how to do that exactly. But if you're in a hurry, here is what you can do.
How to back up your photos on Android
Now that we've explained how to recover deleted photos on Android, the next step is to prevent this situation from happening again. To do this, we recommend using an app such as Google Photos or OneDrive. Below, we use the example of Google Photos that lets you automate the process of backing up your photos.
While Google Photos recently came up with a cap on the amount of photos you can store for free, we still think it is a good option even with its paid plans just because of its sheer simplicity. As of now, you can use 15GB of storage allocated to you (shared with other services tied to your Google account) for storing photos. To make sure you have turned this option on, perform the following steps:
On your Android phone, open Google Photos.
At the top right, tap your account profile photo.
Select Photos settings.
Tap on Back up & sync.
Activate the Back up & sync option.
Tap on Upload size and then select whether to save compressed images or the original files.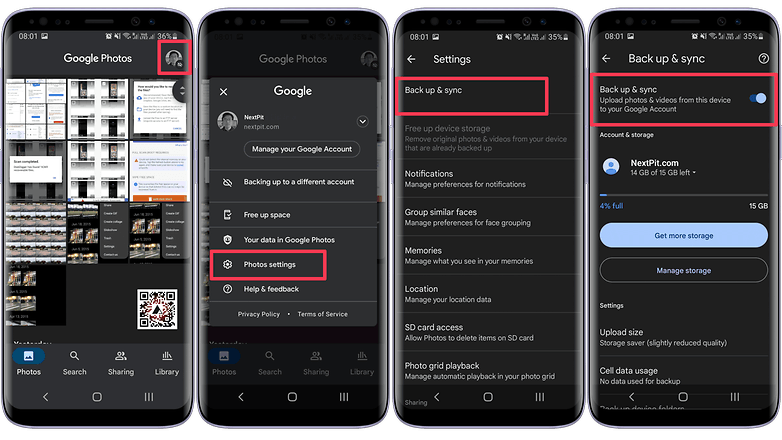 Read this for a complete guide on how to use Google Photos.
Well, that sums up our guide on how to recover deleted photos on Android devices. Have you had any disastrous data loss accidents before? What did you do to recover deleted photos on Android? Tell us in the comments.
---
This article was revised in February 2022. Older comments have been retained.