"Ok Google, I've had enough": How to turn off Google Assistant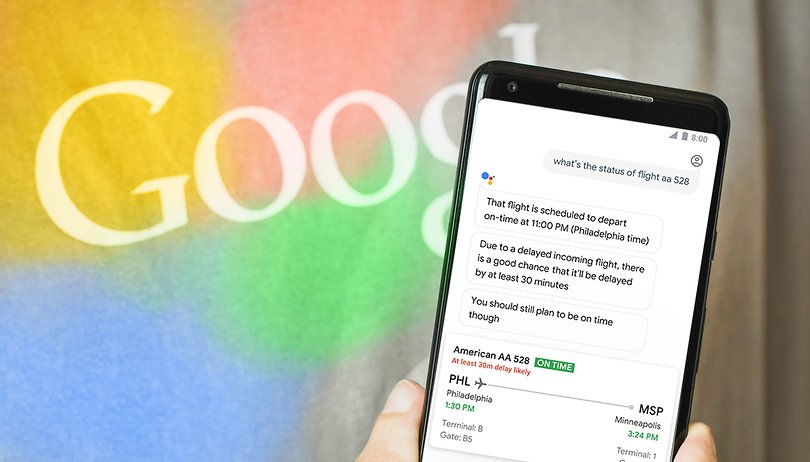 There is no denying that Google Assistant can be a very useful tool. In fact, it has also evolved considerably since it first arrived on our phones. But that's no reason to continue using it. I have also heard people often complain 'Google assistant keeps popping up' – that too on occasions when they don't really need it. You may also want to learn how to disable Google Assistant if you happen to be privacy-conscious and don't really want your phone continuously listening to the things you say. In this article, you'll find out how to get rid of Google Assistant in a few simple steps.
For me personally, I'm particularly annoyed that Google Assistant is activated without me having asked for it. I am sure you might have felt the same at least once. In fact, I also managed to find that a lot of people are searching 'how to delete Google Voice' on Google search. No wonder!
As you might have already guessed, this is mainly because Google Assistant is invoked multiple times when you unlock your smartphone. There are multiple ways this can happen. Whatever the way, once it's opened, the assistant captures your voice, analyzes it and performs the action you've indicated causing unnecessary delays.
Hell, you might even have your smartphone in your pocket and activate Google Assistant by accident. If you're in the middle of a conversation, your device might pick up a fragment of what you've said and think you're asking a question… and then answer you! This happened to me recently when I was talking to a friend. Suddenly, a voice from my pocket began to speak about the tomb of some Egyptian pharaoh. And believe me, at the time we weren't in an exciting debate about Egypt.
If something like this has happened to you too and you're sick of Google Assistant (even though you'll laugh at the more surreal searches), it's time to turn the feature off. There are many options to go about this. Let's explore a few.
How to turn off Google Voice
If you choose to disable Google Assistant completely, follow these steps:
Open the Google app on your phone and select the More option (the three bars)
Go to Settings
Select 'Google Assistant'
Scroll down to General (you might have to scroll down quite a bit)
Uncheck the Google Assistant option.
You will see a pop-up warning you about the features that will not work anymore when you do this. Ignore the message and click 'Turn Off'.
And that's it! You have successfully learnt how to turn off 'hey Google' for this Google Account.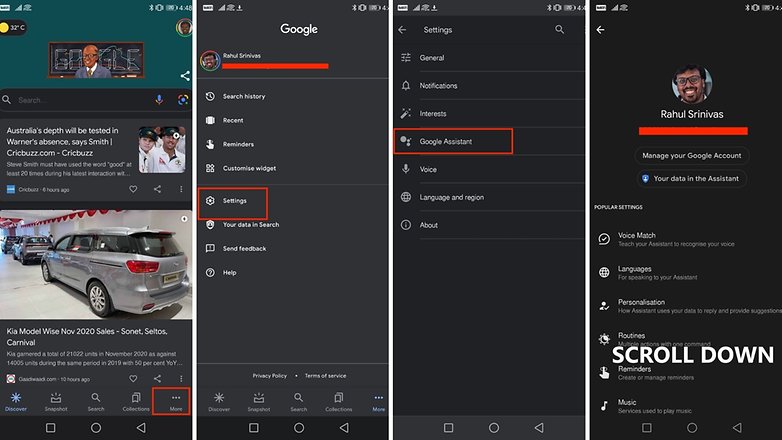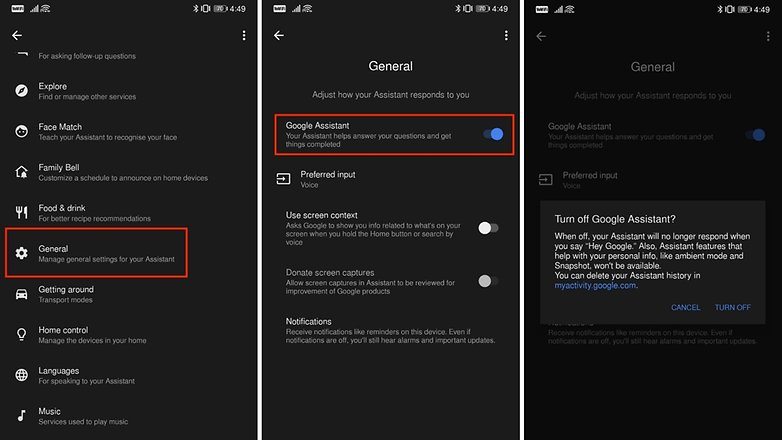 While the first option mentioned above will completely disable Hey Google, you might be looking for a solution that is less drastic. Perhaps you are annoyed by Google Assistant popping up when you are actually trying to do something else and don't really want to disable it completely. Well, we have a solution for that as well!
On many Android smartphones, there is a dedicated button to invoke Google Assistant. Then there are some others which invoke (often annoyingly) Google Assistant when you press long-press the power button. Let us now learn how to disable them both.
In the Settings menu of your phone, select Applications (or Apps), then go to Default applications, and then tap Device assistant app. (There might be slight variations in the menu structure depending on the brand of the phone you use - but you get a basic idea of where to look)
Here, you can specify which assistant app you want to open when you press the start button. In my case, I could choose between Google and having no supporting app.
If you select your 'Default Assist app' as none, Google Assistant shall no longer be invoked when you accidentally hit a button or even when you say 'Hey Google'
As mentioned earlier, this is the least radical option of the two as you can continue using Assistant whenever you want, but without having to worry about it being activated unintentionally.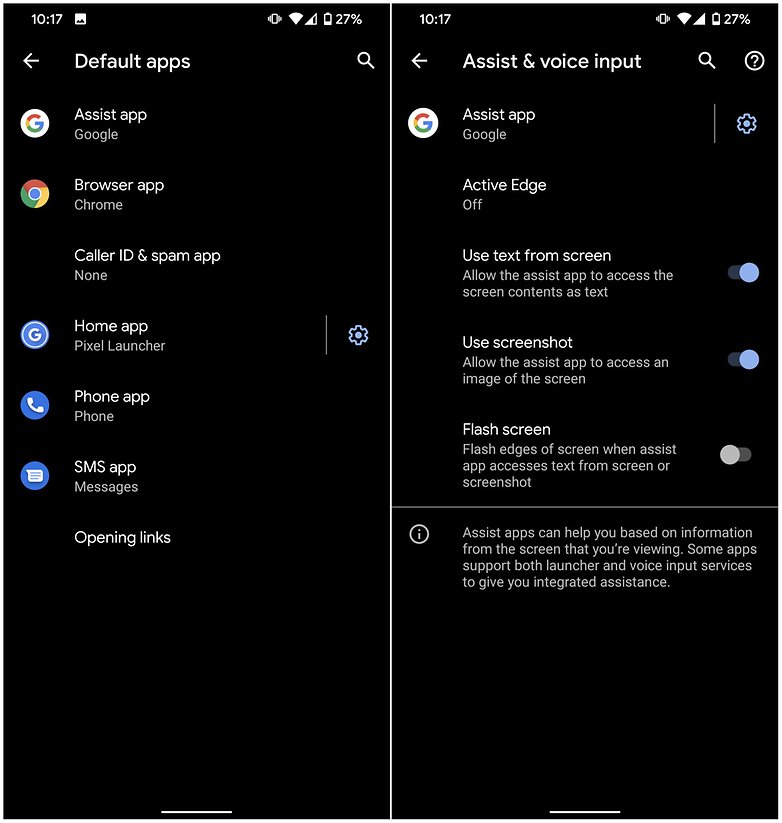 If you are heavily invested into the Android platform, chances are you already own a Google Home smart speaker or another Google home smart device. While most of these devices are heavily dependent on Google Assistant, Google still offers users the option to disable Hey Google commands on these devices.
Prevent Google Home devices from actively listening for 'Hey Google' or 'Ok Google'
The simplest way to ensure that your Google Home devices are not actively listening to your conversations is to engage the dedicated mute button that most of these devices come with. This action effectively disables Google Assistant features for that particular device.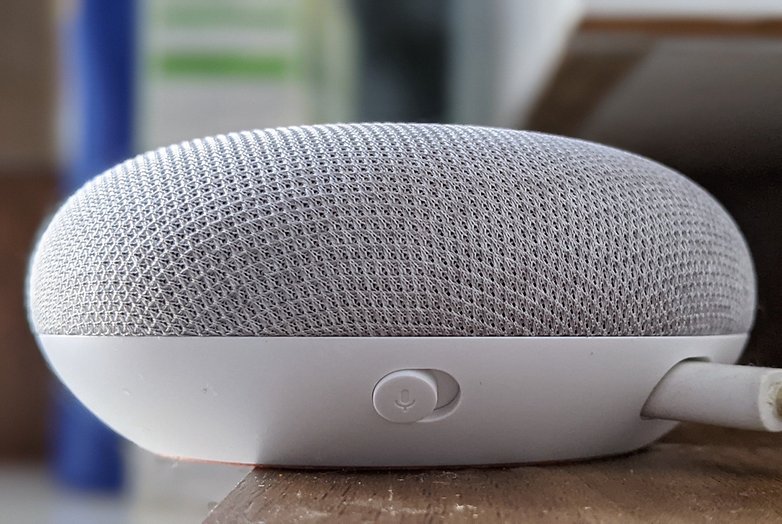 To turn on Google Assistant for these individual devices, all you need to do is to flick back the 'mute' button to the on position. This feature lets you individually manage these devices and you do not need to turn off Google Assistant for the entire account.
Well, that pretty much sums up our article on how to turn off Google Assistant.
What do you think? Does Google Assistant bother you or is just the opposite? Have you had any strange experiences with Google's trusty sidekick? Let us know in the comments!
This article was last updated on December 9, 2020. The comments have been carried over from a previous version of the article.