Honor Play review: at this price, it's well in the game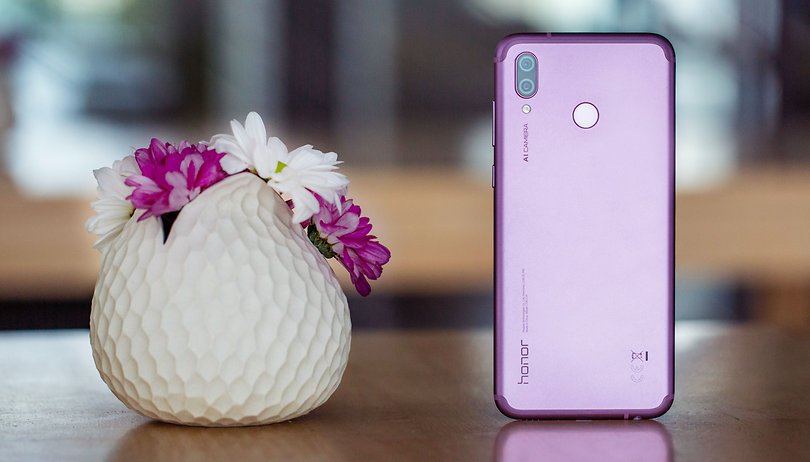 The Honor Play was unveiled in Europe at IFA 2018 in Berlin. With this new device, the Chinese manufacturer is targeting gamers. It relies on a large screen, 3D surround sound and a GPU-Turbo system. But this smartphone has a lot to offer, and not just to gaming fans. So, has Honor pulled it off with the Play? Find out in our full review.
Good
Build quality

Good performance

Value for money

Battery
Bad
Camera

No water resistance
A smartphone for the thrifty gamer
With its first smartphone for gamers, Honor does not deviate from its aggressive pricing strategy. The Play is priced at £279 in the UK (around $365), and you can choose between two colors: blue and black. The purple edition pictured will be available later. Honor also offers Player Edition, which has a nice pattern on the back and sells for around 10 euros more in Europe, but information about a UK release is not yet available.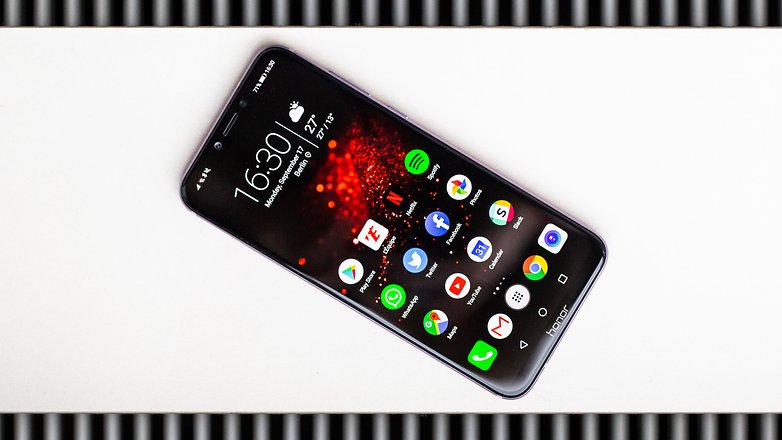 A nice-looking smartphone
With this new smartphone, Honor wants to seduce a new audience. The brand wants to attract the gamers' generation with a product that meets their expectations. Changes have therefore been made compared to the other smartphones in its range, both in terms of hardware and software.
The Honor Play has a large screen, similar to the Honor 7X and View 10. Aesthetically speaking, the brand delivers a rather elegant device made of metal with rounded edges, although it is not very original. Only the Player Edition versions, with patterns on the back, really stand out.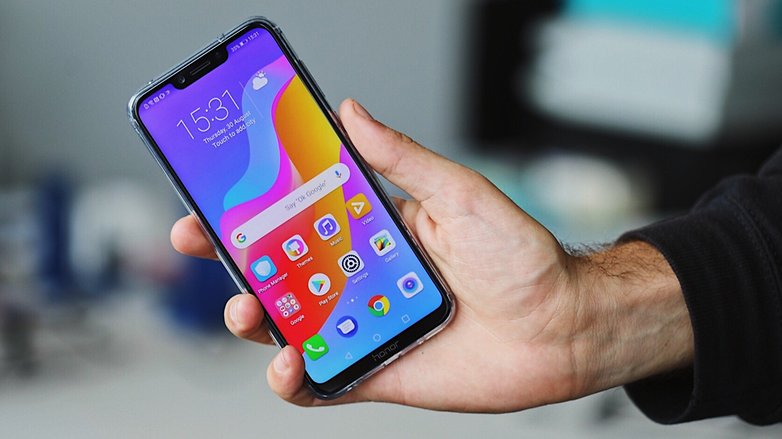 In other words, the smartphone is quite imposing, and its size requires two-handed operation most of the time. However, in order for the smartphone to sit well in your hand, the frame is thin and the glass on the edges is slightly curved, in alignment with the aluminum body. To play, the ergonomics of the device are excellent, but it is true that nothing indicates at the aesthetic level that the Honor Play is a smartphone for gamers.
There is also a headphone jack at the bottom and a loudspeaker. If you do not want to use the microSD card slot, you can place a second Nano SIM card in there.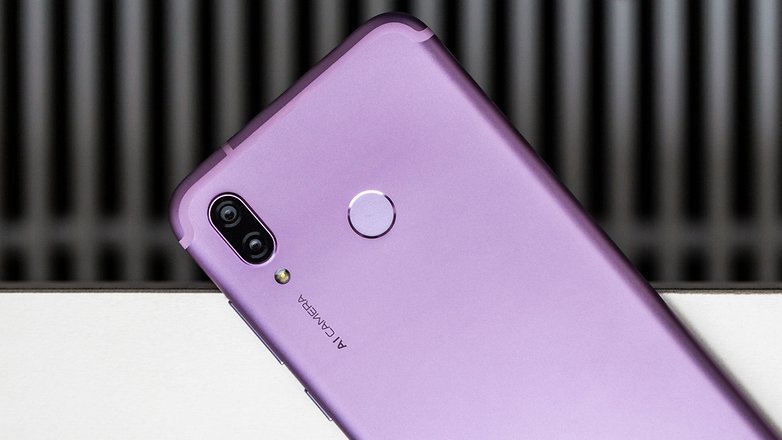 As we are now used to with Honor, the build is of high quality. The finish is very good for this price and the polished aluminum rear part feels quite classic and with the fingerprint reader on there, it has the advantage of leaving no fingerprints. Unfortunately, the camera lens is not flush to the back of the phone, which is noticeable when the Honor Play is placed on a flat surface.
A notch, but a well-calibrated screen
To play comfortably you need a large screen, and Honor is well aware of this. This results in a 6.3-inch LTPS display with Full-HD+ resolution (1080 x 2340 pixels), a 19.5:9 aspect ratio and a notch. The latter is quite important and is not particularly discreet. This leaves little room for icons. The notch houses the loudspeaker, front camera and light sensor.
The Honor Play screen is quite good with rather bright colors and a balanced contrast. I did not find the qualities of an AMOLED screen, but the brightness is excellent. The Play offers perfect indoor and excellent outdoor readability, even in the sun.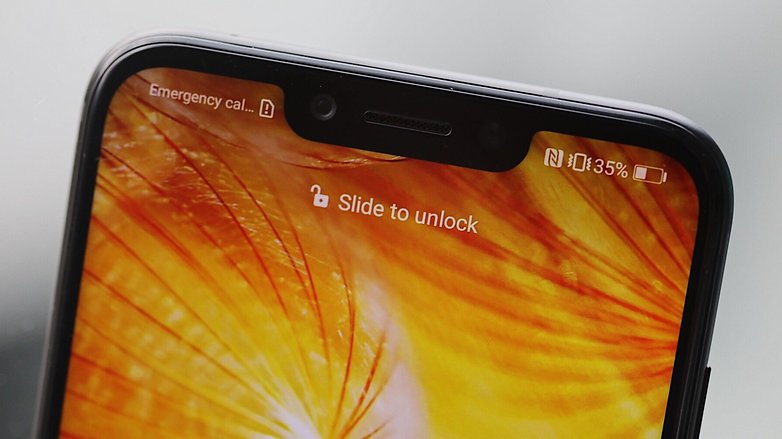 Finally, my biggest criticism concerns the notch. For a gamer smartphone, it takes up a lot of space, and the area for notifications is reduced. Of course, it is possible to reduce it, but Honor can do better in this area.
Android Oreo and EMUI 2.0
Not surprisingly, there is no sign of the latest update of Android, 9.0 Pie. The Honor Play comes with 8.1.0 Oreo is combined with the manufacturer's EMUI 8.2.0 overcoat. Honor did not specify when the smartphone will receive the Pie update. It will, we can assume, take a few months.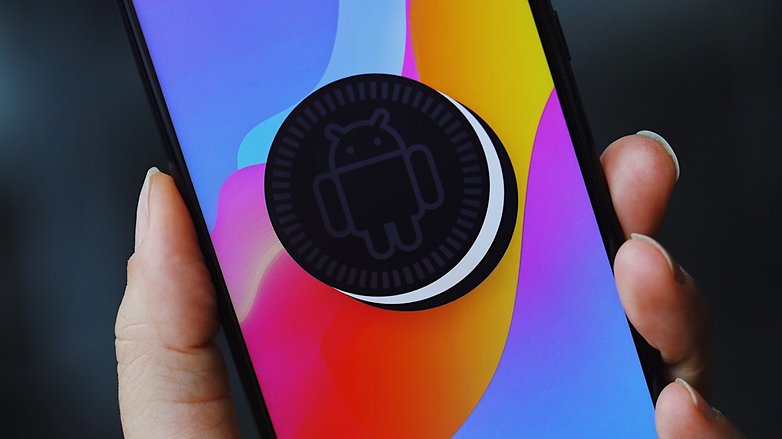 The interface presents no surprises compared to other models in the Honor range, except that this new version offers some graphic enhancements such as a drop down shortcuts menu in white instead of black.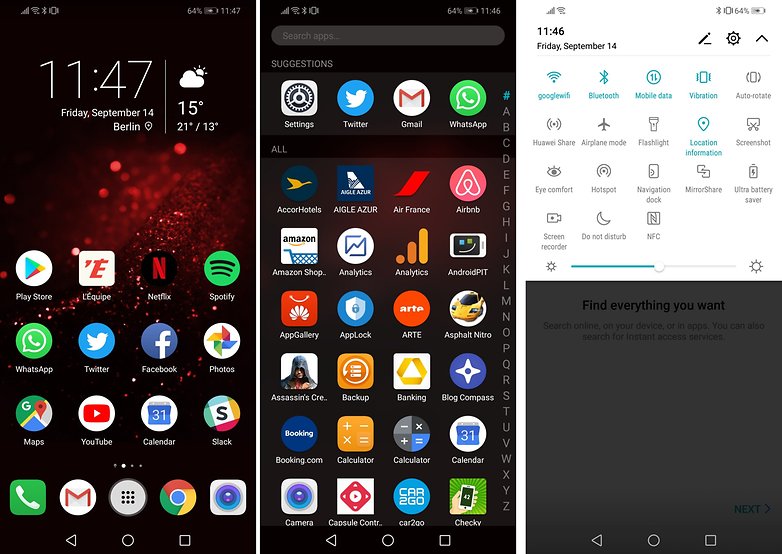 A worthy player in terms of performance
A smartphone for gamers means a powerful smartphone. Under the hood, the Honor Play carries the Kirin 970 processor (presented at IFA last year) and 4 GB of RAM. Of course, HiSilicon's SoC is not known to be the most efficient, and a Snapdragon 845 does indeed do better in this area. However, this processor has shown its qualities in many smartphones in 2018 such as the Huawei Mate 10, Honor 10 and Huawei P20 Pro.
In practice, it is therefore difficult to find fault with Honor's smartphone. This one perfectly meets all the needs and daily uses that you'll need from your smartphone. For £279, this is one of the best price-performance ratios on the market. Only the Pocophone F1 can compete with it. Another good point is that the smartphone never overheats, even when you play long gaming sessions or push the smartphone to its performance limits.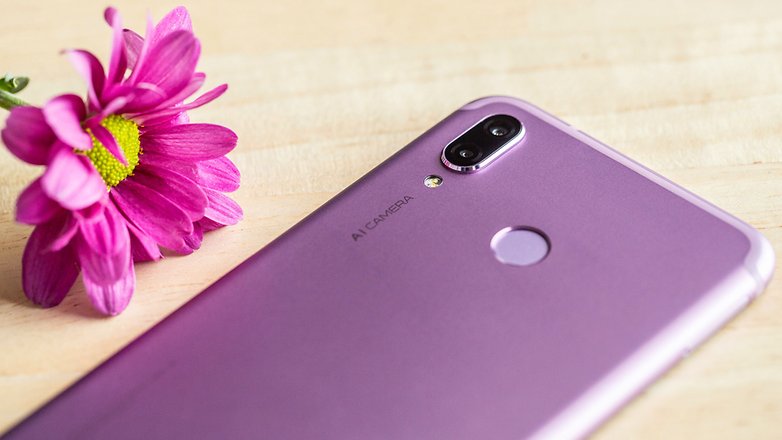 Honor also offers a "4D" gaming experience through artificial intelligence. In particular, the phone features a "Game On" mode, which allows you to obtain a higher frame rate and a better user experience with premium games. This optimizes system performance for games with its GPU-Turbo system. But honestly, it is difficult to notice any difference, the main benefit being the reduced energy consumption. One of the reasons for this is also that the Turbo GPU feature is currently only available for a small number of games.
What about benchmarks tests? Good question: we could not submit the Honor Play to the 3DMark benchmarks tests. The reason? The manufacturer was caught cheating on the tests.
Honor Play: processor and graphics chip performance test results
Pixel 2XL
Sony Xperia XZ2
Galaxy S9 (Full-HD+)
Honor Play
3D Mark
Sling Shot ES 3.1
3571
4437
3274
-
3D Mark
Sling Shot ES 3.0
4714
5043
3873
-
3D Mark
Ice Storm Unlimited ES 2.0
37844
48021
38488
-
Geekbench CPU
Single core
1867
2435
3645
1902
Geekbench CPU
Multicore
6291
7164
8820

6490

PassMark Memory
-
12418
21543

13826

PassMark Disk
-

73208

49655

72919
"Surround sound", but in mono…
Of course, for a gaming smartphone, it is also important to have quality sound. However, certainly for cost reasons, the Honor decided to offer only mono sound on the Play. Its location is not very suitable for gamers, either. Fortunately, the quality of the sound, even at high volume, is surprisingly good. Of course, pushed to its extreme limits, the Honor Play's single loudspeaker shows its flaws with a metallic and distorted sound.
To make things better, Honor Play offers 3D surround sound. It is supposed to provide a cinematic experience, allowing gamers to accurately locate enemies and gunshots. On PUBG Mobile, the AI 4D Smart Shock function is also activated to provide 30 different vibration patterns, and it reacts according to the direction of approaching enemies or gunshots. You will also feel recoil when you fire. Unfortunately, the function was not available at the time of my review.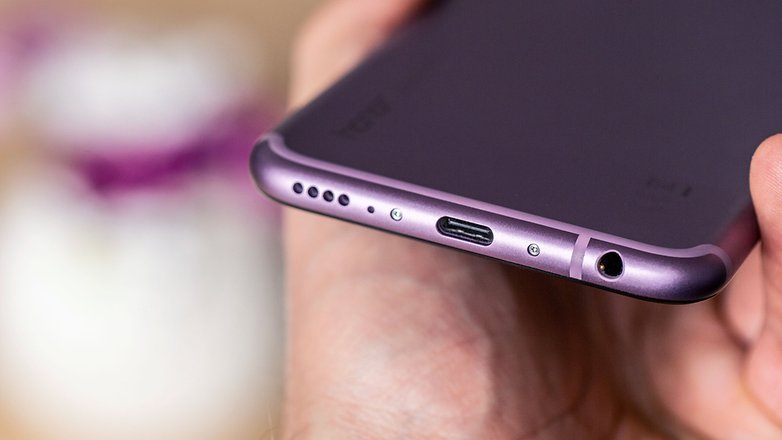 Finally, let's mention the audio output of the Honor Play, which is in the upper average bracket. Honor has made efforts compared to its previous models.
Three cameras but poor performance
Of course, despite its gaming ambitions, the Honor Play also has a 16-megapixel front camera and, at the rear, a dual 16 and 2-megapixel camera setup. The second camera is used for the Bokeh effect. Clearly, this is the area where the smartphone suffers most when comparing it to flagships. Again, it is certainly a question of economy and getting that price down.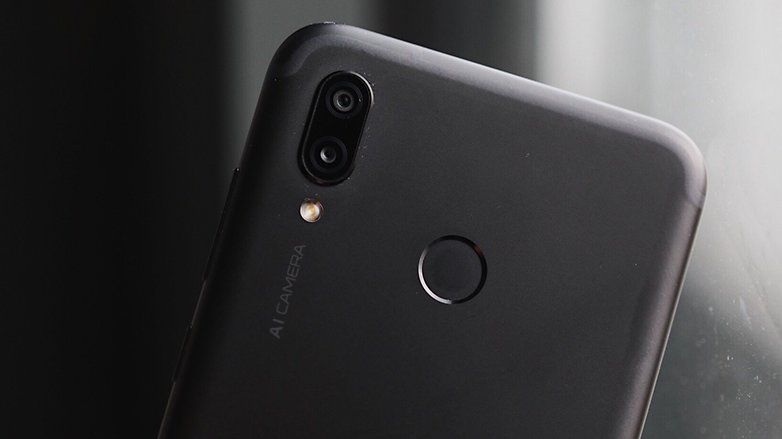 In terms of picture quality, when light conditions are good the Honor Play camera does quite well. I will simply note a problem with color saturation. Honor may offer Artificial Intelligence to improve shots, but it's not necessarily successful every time. In addition, Huawei's AI tends to change the colors of the images. Good points, on the other hand, are that focusing is easy, details are well replicated and it is possible to disable the AI effects even after taking the shot.
In low light, however, it is a little more problematic. I recommend that you disable Artificial Intelligence to avoid having clichéd effects that are too different from reality. The AI also slows down the taking of the shot a little.
The front camera, on the other hand, gives quite accurate results, and selfies look good. Finally, on the video side, it is possible to film in Full-HD. The result is good and I find the quality of the videos better than the photos.
You can get an idea for yourself by looking at my Honor Play photos here:
Almost 2 days of battery life
Yes, battery life is clearly one of the assets of this Honor Play. The smartphone comes with an integrated 3750 mAh battery that is perfect to support all regular usage you'll need in your daily life. On the PC Mark Battery test, the Honor Play lasted 9 hours and 37 minutes. It is, therefore, a good score that places the smartphone among the better phones for battery life.
In reality, the smartphone is able to provide a day and a half of juice without any problems. If you are not too greedy the power, you can even exceed two days.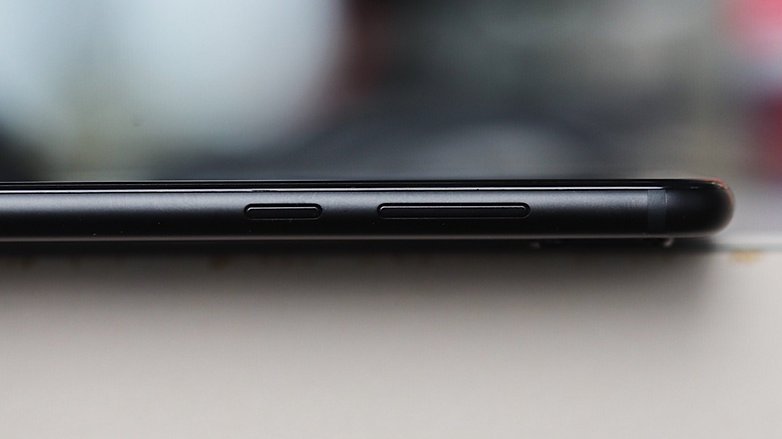 The Honor Play also offers a fast charging system in the shape of Huawei Fast Charge. In less than half an hour, the smartphone is able to recover up to 40% of battery. After that, it takes a little longer. It only takes about two hours to fully recharge though. Finally, note that wireless charging is not available.
Honor Play technical specifications
Final verdict
With this Play, Honor returns to its first love by addressing a young and playful audience directly. The manufacturer offers an attractive terminal for gamers that is affordable and solid in terms of technical characteristics. The smartphone also has specific features, especially at the GPU level, that are perfect for ensuring excellent performance. The only real downside is the camera, which spoils the final score a little.
However, overall, the Chinese manufacturer delivers a solid smartphone that offers a very good price-quality ratio that will suit a lot of users. Only the F1 Pocophone is a formidable competitor for the Honor Play. Xiaomi's F1 smartphone with a Snapdragon 845 is offered at around the same price.