Honor Magic V2 Hands-On: It Doesn't Get Any Thinner Than This!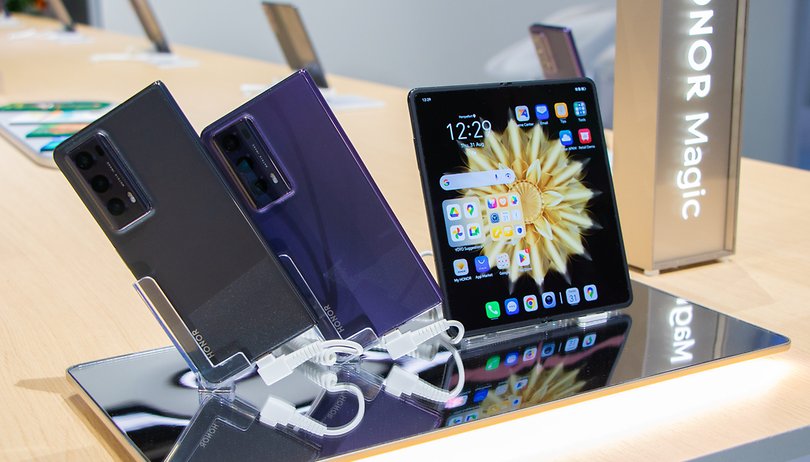 Honor already unveiled what is currently the thinnest foldable with the Honor Magic V2 in its home country, China, in July 2023. The company now wants to showcase its Samsung Galaxy Z Fold 5 competitor to an international audience at IFA 2023. I was lucky enough to take a look at the smartphone there, having spent some time with it.
Honor Magic V2 release date and price
The Honor Magic V2 costs just 8,999 yuan in its home country at launch on July 20, 2023. That would be around $1,240, depending on the daily exchange rate.
Of course, we are talking about the "smallest" model with 16 GB of RAM and 256 GB of internal program storage alongside color choices of black, gold, black silk as well as purple silk, and a special version with an imitation leather back.
However, the Honor Magic V2 will not be available to us at this price point. While we have not yet been able to know its price, I would assume that the Samsung Galaxy Z Fold 5 (review), which can be purchased for $1,849 for the 12/256 GB model.
Honor Magic V2 design and build quality
When you hold the 156.7 x 74.1 x 9.9 mm large handset that tips the scales at a mere 231 g in your hand, you do not immediately realize that it is a foldable device. A conventional smartphone also weighs somewhere in the same region these days. This is probably the limit of what is feasible for this form factor because the USB Type-C port has to be installed somewhere.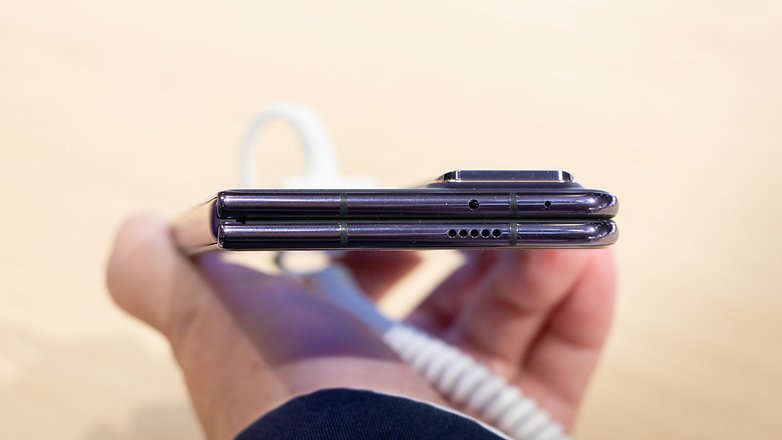 Behind, we are greeted by a rectangular camera array for the triple main camera on the upper left, which protrudes rather handsomely from the case. The lateral buttons are well positioned and offer secure and decent feedback. In general, the build quality is very high.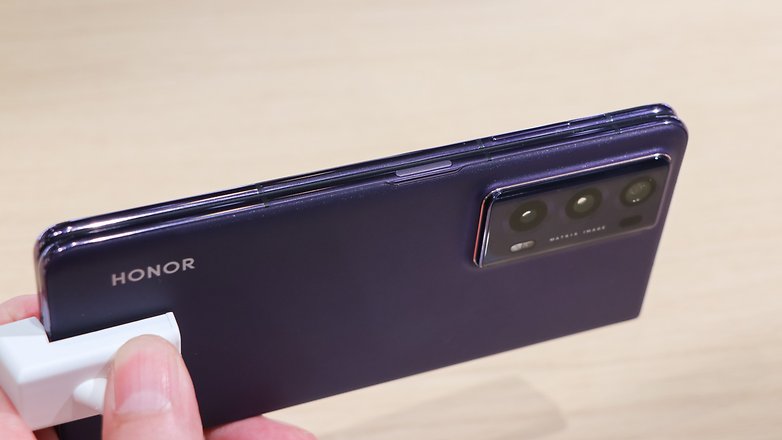 When opened, the Honor Magic V2 measures 156.7 x 145.4 x 4.7 mm, which is already very unusual in terms of thinness as mentioned earlier. In my first hands-on experience, I did not notice any flaws with the titanium hinge.
The two side panels remain well-placed in all positions, but can still be folded well without a visible gap. Honor claimed to have tested the folding mechanism for up to 400,000 folds, which equates to a lifespan of up to ten years at 100 folds per day. I did not have that much time at the Honor booth.
Honor Magic V2 display
This brings us to the probably most important category for a foldable. On the inside, the Honor Magic V2 has a 7.92-inch OLED panel with a resolution of 2,344 x 2,156 pixels and an LTPO refresh rate of 120 Hz. On the outside, there is a 6.43-inch display with an identical refresh rate and a resolution of 2,376 x 1,060 pixels .
Unlike a typical foldable, only the Samsung Galaxy Z Flip 5 (review) and the Motorola Razr 40 Ultra (review) offer a truly fully functional outdoor display.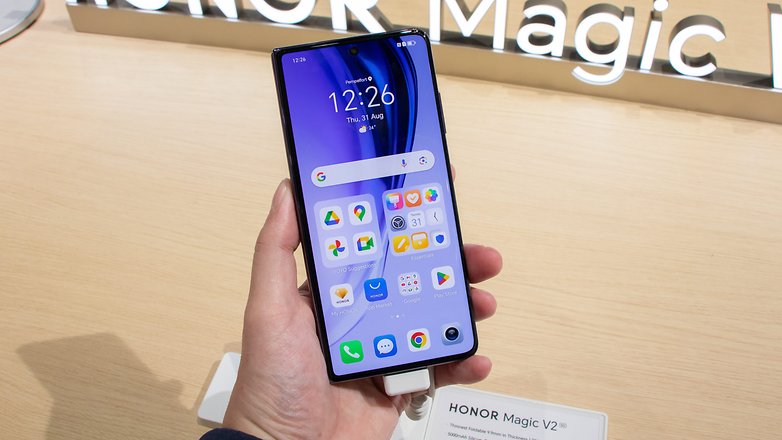 Both displays offer high-contrast and a stable viewing experience in our first hands-on at IFA. The maximum brightness is 1,600 nits on the inside and a remarkable 2,500 nits on the outside. That should be sufficient to do one's daily work even when one is under direct sunlight. The "Nanocrystal glass 2.0" protected outer display also offers support for a capacitive and pressure sensitive stylus.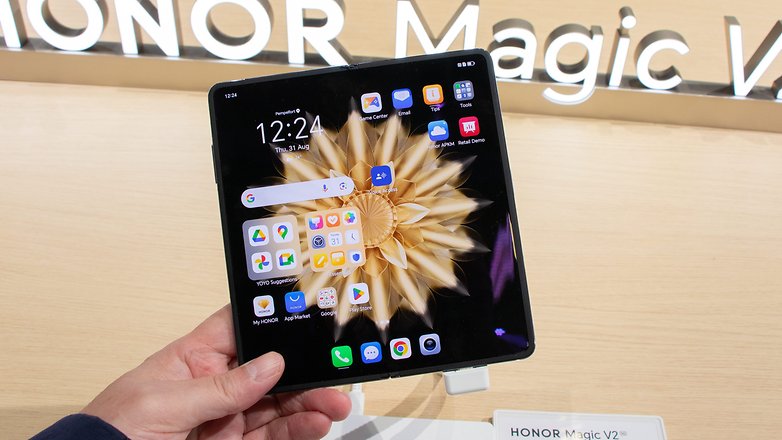 Honor Magic V2 software
The Honor Magic V2 arrives preloaded with the company's MagicOS 7.2, which is based on Android 13. After Honor was sold by Huawei, the company is again allowed to use Google Mobile Services (GMS) and the 5G wireless standard .
Thankfully, the Honor Magic V2 supports both. The Google security patch was dated August 1, 2023 in our hands-on and thus up to date.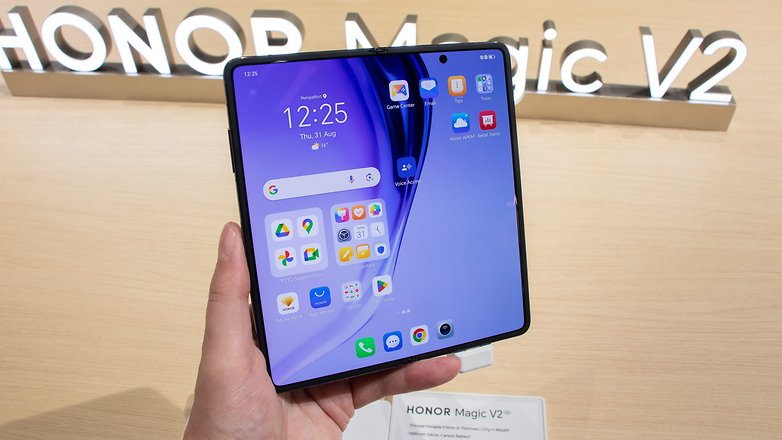 We could not obtain any information about the guaranteed software update support at the booth. Honor previously granted three major software updates and five years of security patches. We can probably expect the same from the flagship foldable.
To our surprise, we hardly came across any bloatware on the devices on display. Since I am still reviewing the Honor 90, I can confirm from my own experience that this is not part of the standard configuration. Thus, we will have to wait for the review unit to find out more.
At the booth, we were introduced to a new software feature that allows running two applications simultaneously. We are not talking about the well-known move of switching between two partitions, but about the simultaneous operation of one and the same app under two different users. Look out for the detailed review which will shed more light on this.
Honor Magic V2 performance
Honor currently installs Qualcomm's fastest processor in the Magic V2. That is, at least until the Snapdragon Summit in Maui, Hawaii, that will happen at the end of October 2023. That will be where the Californian chip manufacturer will unveil the Snapdragon 8 Gen 3. Practically the same processor that is also installed in the Samsung Galaxy Z Fold 5, although the South Koreans offer a slightly pimped version of the SoC.
For an approximate classification, I will include the table from the Samsung review until the final review of the Honor Magic V2:
Samsung Galaxy Z Fold 5
(Snapdragon 8 Gen 2)
Google Pixel Fold
(Tensor G2)
Galaxy Z Fold 4
(Snapdragon 8+ Gen 1)
Oppo Find N2
(Snapdragon 8+ Gen 1)
Galaxy S23 Ultra
(Snapdragon 8 Gen 2)
3DMark Wild Life
3DMark Wild Life stress test

Best loop: 14,126 (closed)
Worst loop: 6,442 (closed)

Best loop: 14,113 (opened)
Worst loop: 7,350 (opened)

Best loop: 6,650
Worst loop: 3,508

Best loop: 10,332
Worst loop: 5,606

Best loop: 10,389
Worst loop: 6,459

Best loop: 12,278
Worst loop: 7,386

Geekbench

Geekbench 6
Single: 2,040
Multi: 5,429

Geekbench 6
Single: 1,479
Multi: 3,784

Geekbench 5
Single: 1,332
Multi: 3,947

Geekbench 5
Single: 1,046
Multi: 3,556

Geekbench 5
Single: 1,912
Multi: 4,981
Honor Magic V2 camera
I already mentioned it in the design section: The vertically arranged triple camera on the back protrudes visibly from the chassis. This is an indication of the high quality camera system. Test photos were possible indirectly, but could not be exported quickly enough to evaluate them on the big screen later. However, the first impression was impressive in the rather poor light conditions.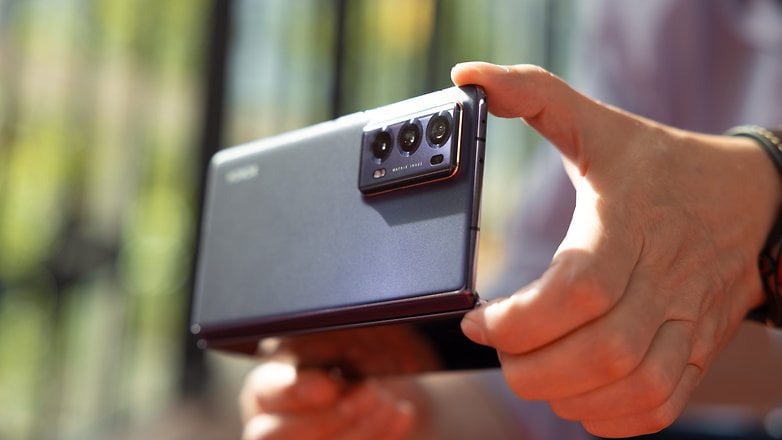 The specifications reveal a 50 MP main camera with an aperture of f/1.9 and another 50 MP camera. This time, however, it is equipped with an ultra-wide angle lens that offers optical image stabilization. A small treat for users would be is the 20 MP telephoto zoom and thus the third camera. Here, there is an aperture of f/2.4 and optical image stabilization as well.
For the two front cameras (one per display), Honor offers two wide-angle cameras in a punch-hole design, each with 16 MP and an aperture of f/2.2. I for one am already looking forward to testing the camera setup in public and hope that I do not have to lower my expectations in the end.
Honor Magic V2 battery
The Honor Magic V2 is equipped with a 5,000 mAh battery. According to Honor, it is the thinnest dual-silicon carbon battery on the market with a thickness measuring only 2.72 mm. There is presumably a Huawei SuperCharge power supply with a power of 66 W to go with this foldable. This is probably because the Honor 90 does not come with a power supply.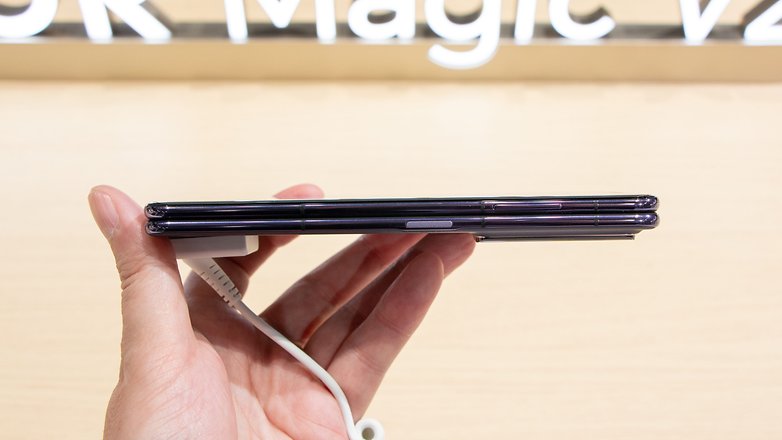 If you have already expected this, you are right on the money: There are no actual benchmarks on the actual runtime with only one battery charge or how fast the Honor foldable can be charged with the aforementioned power adapter. That remains within the domain of a comprehensive review that will be performed at the nextpit editorial office.
Early Verdict
The Honor Magic V2 looks to be a very successful foldable. However, that is only a subjective feeling after a first hands-on at the IFA 2023 in Berlin. The technical specs can largely keep up with the Samsung competition, and even surpass it in many aspects.
Of course, the price and the camera quality will be a decisive factor. The battery life should also play a decisive role for the unusually thin foldable.
As of now, the very thin and light form factor is impressive, despite being a foldable Android smartphone. I am inclined to award 4.5 stars, since the price will still be too high, as expected. However, we will talk more about this in our detailed review.