Honor 8X review: well-disguised economy in phablet form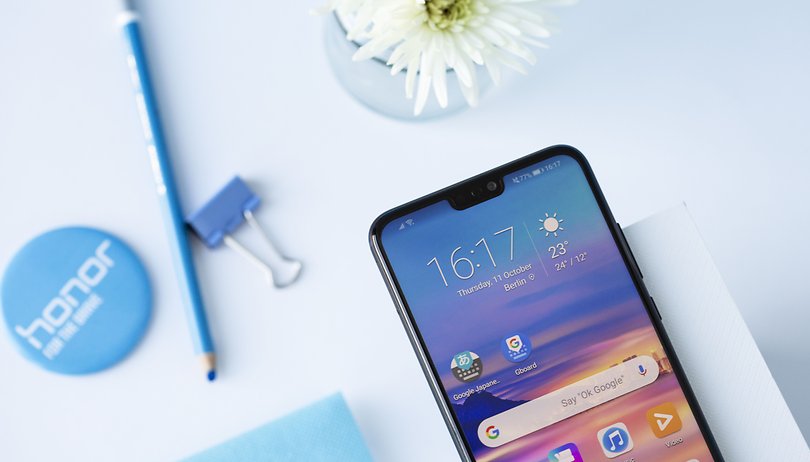 Honor smartphones are not known to be flagship-killing mid-range devices, but they have built a steady reputation as solid mid-range, mid-performing devices for the everyday user. With the 8X, Honor has taken its closest step towards offering a phone that looks like a 2018 flagship, at least on the surface.
Good
Excellent build quality

Large, vibrant display

Huawei's AI camera tech
Bad
Micro-USB charging

Face unlock is inconsistent

Gaming performance
Mini price for a huge display
The Honor 8X is now available in the UK for £230. You can pick from four color options but each comes with 4GB of RAM and 64GB of internal storage. You can buy it now at either Three, Amazon, JLP, Very, Argos, AO and Carphone Warehouse.
Despite Huawei's continued struggle with the US Government, its sub-brand continues to trickle smartphones out in under the Honor name. Exact prices and release dates are not yet available, but we know that the 8X is coming to America very soon.
At that price, I expect the 8X to be hugely competitive. It does not feel or look like a budget smartphone. Customers looking for a large screen and all mod cons at a budget price-point could do a lot worse than this, believe me.
Lots of glass and an excellent build
The Honor 8X has a huge 6.5-inch display along with a notch, which keeps the edges narrow. Just to give you a sense of scale, the first Android tablets were 7 inches! But thanks to the slim edges around the LCD display, the Honor 8X is still quite easy to use.
At first glance, you'd be forgiven for thinking this is a much more expensive phone than it is. The Honor 8X comes with all the features that we associate with a flagship in 2018. A large display with small bezels, no buttons on the front, and of course, a notch to house the front-facing cameras and facial recognition tech.
Both the front and back are made of glass, held together with a metal frame. The branding is prominent here and Honor wants potential customers who pick this up in a store to know about that AI camera sitting in the top corner, but more on that later. The fingerprint sensor sits in the middle.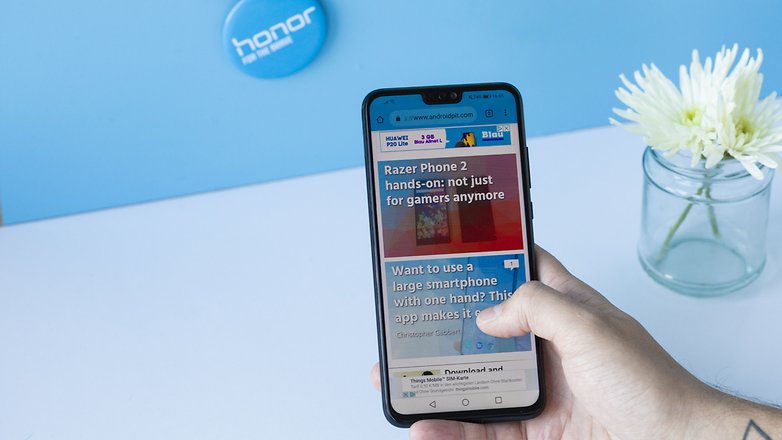 This is one of the most fingerprint magnet'y phones I have ever held. When we were taking shots for this review, our photographer Laure was constantly having to wipe it down every couple of minutes to keep it looking clean and new. The glass is seductive, though, especially in the blue version. The black version I tested is a bit more classy, although others might say it's more boring. The Honor 8X will come out in red sometime soon, and the product images look very good.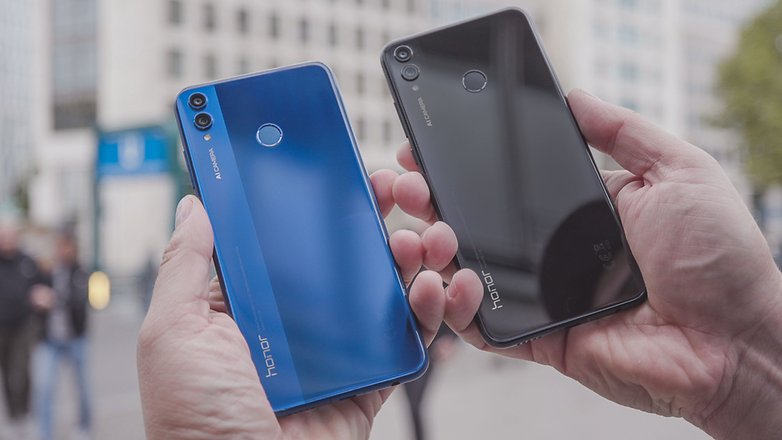 On the bottom, there is a 3.5mm headphone jack to please those who do not enjoy the fact that this is becoming more and more of a rare 'feature'. There's also a micro-USB port. USB Type-C would have been nice, but at this price point, you can't be too surprised.
The Honor 8X fingerprint sensor is located on the back, which is logical since there's no space left for it on the front. It was easy to reach and lightning fast, in my experience. In-display sensors aren't really an option for this price class, either. The device can also accommodate two nano SIM cards, so it supports true dual SIM and memory expansion.
A big screen that's all the rage these days
The standout feature of the Honor 8X, or at least the one that I think is going to sell these phones, is that large 6.5-inch display that adorns the entire front of this device. It's a 19.5:9, 1080 x 2340 pixels LCD and it looks a lot more expensive than it is. That means that the 8X offers slightly more than Full HD and a pixel density of 397 ppi. The notch is quite wide but it can be hidden in the software. You're looking at a screen-to-body ratio of more than 90% here.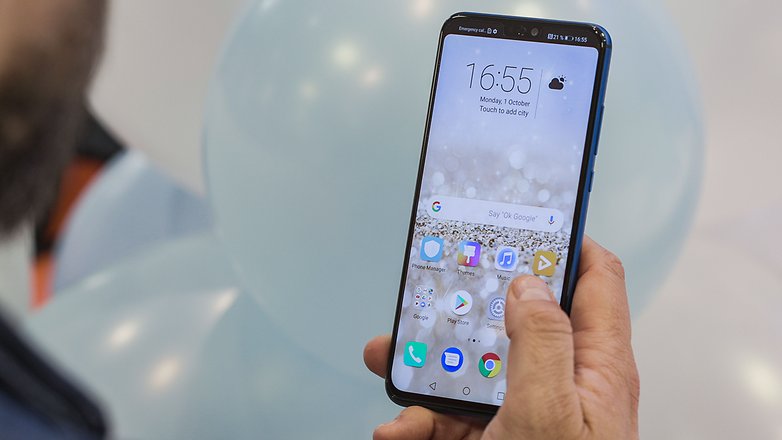 There's also a lot of customization available here. The default 'vivid' mode is quite striking, and you can choose between three color temperatures. At this size, the Honor 8X display is going to be popular with media junkies who watch a lot of Netflix and YouTube on their phones or gamers who need a larger space to accommodate digital on-screen buttons. The only word of warning for gamers would be the performance: this is not a smartphone fine-tuned for gaming, such as the Honor Play.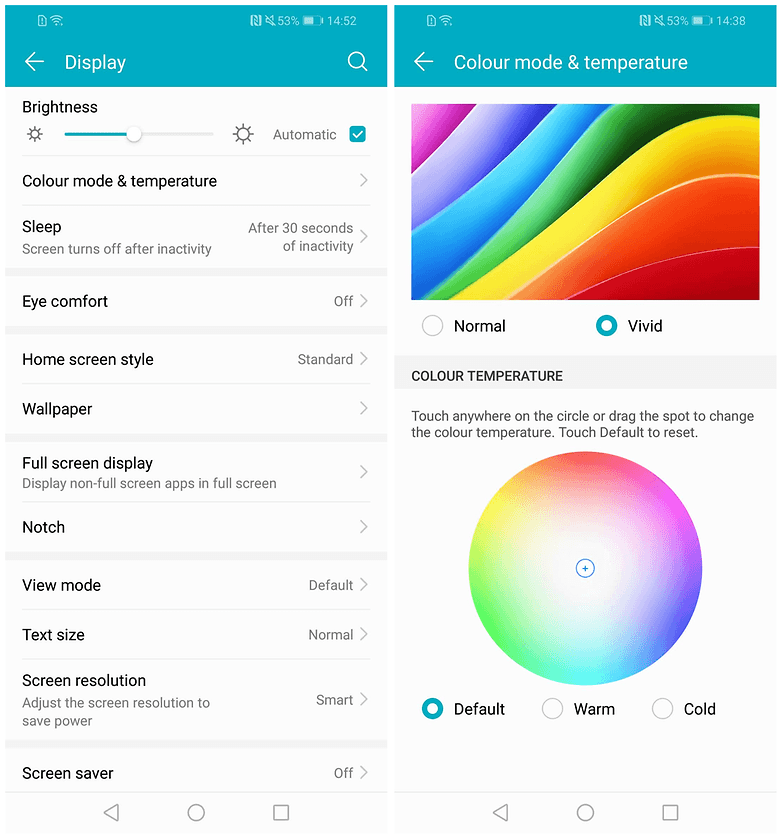 You can see the results of our display test in the images below. We measured the most important values, such as brightness, contrast, color space coverage and color distribution, with the Datacolor Spyder 5 Elite. The Honor 8X display covers the required color space well.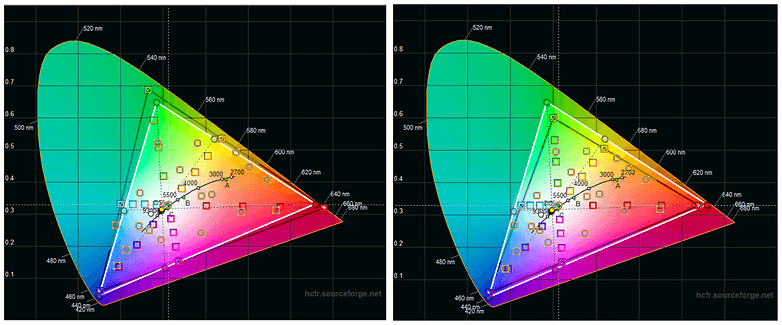 Android 8.1 with EMUI customization
The Honor 8X launches with Android 8.1 with Huawei's EMUI 8.2 customization on top of it. It will be familiar to anyone who has had an Honor or Huawei phone in the past. EMUI still has it opponents, but I am a big fan of the level of customization and utility control that is baked into this OS.
You have the ability to switch between an iOS-style format with multiple home screen or a stock Android-like app drawer. You can also change the layout of your home screen to have either smaller or larger icons, which impacts how many apps you can fit onto each homes screen.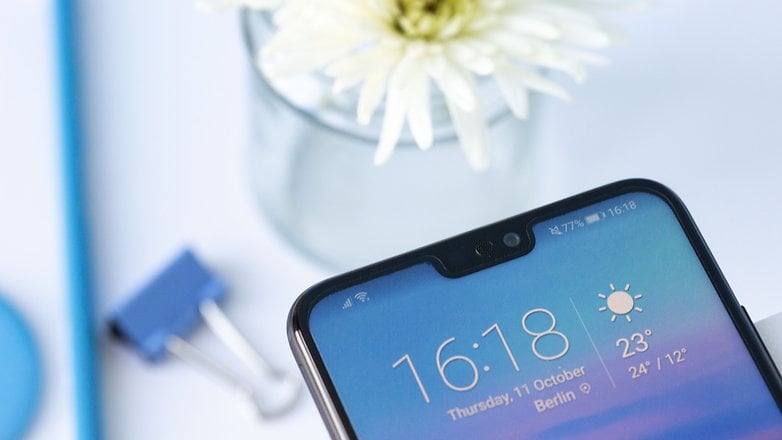 There's a fair amount of bloatware on the device out of the box including Huawei's own apps such as HiCare, AppGallery and Health. Our review device also came with Booking.com, Facebook, Netflix and eBay pre-installed. There is also a folder for a selection of Gameloft games. These are not full versions, however, they are demos. Most are of poor quality and will likely be instantly deleted by most.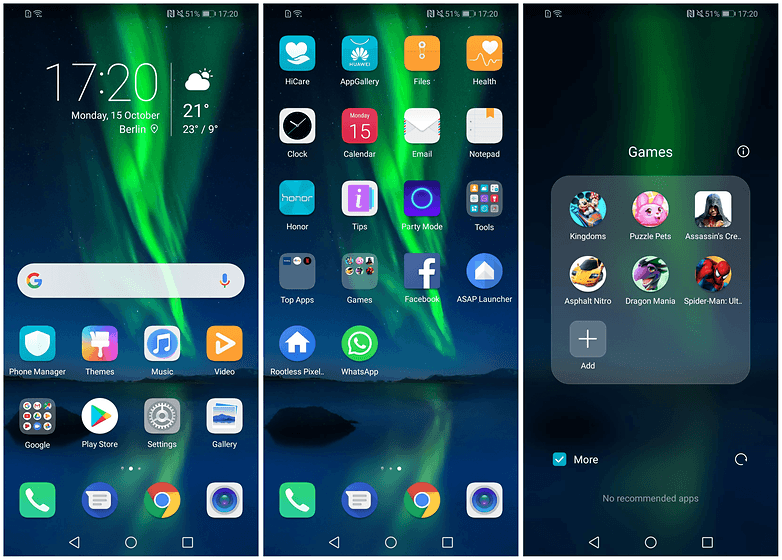 There's also a handful of quirky features that we have come to expect from Huawei and Honor. A Party Mode app lets you create a hotspot to share music with other Honor phones users, syncing the music that comes out of all the linked phones' speakers. There is also a karaoke feature that will play your singing voice back through your headphones for blasting out your favorite tunes. But I'm not really sure where this is useful.
Enough performance for everyday use, but not for gaming
The Honor 8X features a Kirin 710 octa-core processor with up to 2.2 GHz. The version I tested had 4GB of RAM. It's fine for daily usage. Apps launch quickly, and I had no problems with multi-tasking with 2-3 things on the go at once.
This is not a high-performance phone though, and when pushed to the limits, you start to see some of the cost-cutting measures that were required to get the 8X down to this price point. Asphalt Nitro was quite chuggy when I tried it, for example. Compared to say, the Kirin 970 in the Honor Play, the 8X simply can't keep up. So this is not a smartphone for demanding users.
One complaint that I kept coming across was with the facial unlock. The setup was quick and easy, but in daily use, I kept finding that it was inconsistent. I'd often pick up the device, and after failing to recognize my face would have to hit the fingerprint sensor instead. After a week I just turned it off and relied solely on the fingerprint. It could be improved with a software update, of course.
You can check out the benchmark test result below. Unfortunately, we were not able to run the Geekbench performance tests on this device.
Honor 8X compared to similar performers
Realme 2 Pro
Huawei Mate 20 Lite
Honor 8X
3D Mark
Sling Shot ES 3.1
1228
953
952
3D Mark
Sling Shot Vulkan
970
1021
1122
3D Mark
Sling Shot ES 3.0
1774
1442
1446
3D Mark
Ice Storm Unlimited ES 2.0
24067
20309
21350
In terms of audio performance, there is nothing much to report. The sounds quality isn't amazing, not terrible. Fine for watching videos at low volume, but I wouldn't want to listen to music out of it. The speaker is on the right-hand side so it's easy to avoid covering it with your hand in landscape mode.
AI-assisted camera that's good, but not great
Camera performance is usually the first sign of economy in the smartphone business, but it's not as obvious here as on a lot of mid-range devices. The dual camera on the back, featuring 20MP and 2MP sensors, has a lot of the software magic that we saw on the P20 Pro, a camera that has a lot of fans in our editorial office.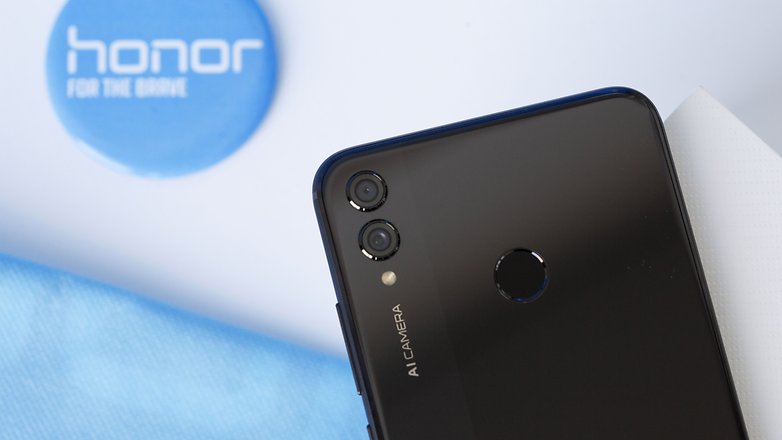 The ultra-low light mode is back as is a synthetic wide aperture feature for those bokeh shots that everyone wants these days. You also get the same AI camera tech in the 8X that you'll find on Huawei's flagships phones. The camera can identify 50 different objects from 22 categories and will automatically optimize a variety of settings according to what you're shooting.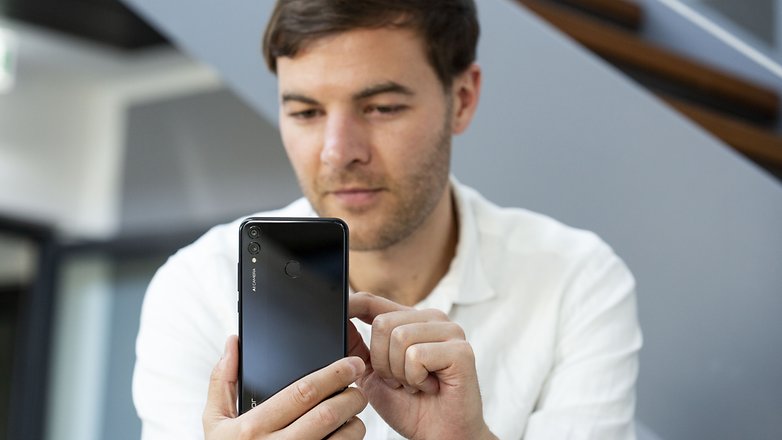 The recognition part works great, and you'll get a text flash up on your display while you point the camera so you can check that the AI is seeing what you are. When it comes to actual results, however, I found mixed results. AI camera tech tends to be a little too strong in my experience. It's almost like the software wants to make it obvious that it has changed something. You'll often find over-saturated, overly-punchy images. You can always deactivate it with a single tap, though. The maximum resolution for shooting video is 1920 x 1080 at 60 fps.
Micro-USB charging, but a day's worth of juice
The Honor 8X houses a 3,740mAh battery which, when you take into account that enormous display, had me worried when I first started using the phone. Huawei and Honor phones are known for their aggressive power-saving software and if you leave EMUI to do its thing you can stretch battery life to well above average for a phone with a screen this big.
I was surprised that, unlike my Huawei P10, the Honor 8X does not constantly warn me that I'm using too much power whenever I am using Pocket Casts or Spotify. At this price point, I can't really complain about a day and half of battery life for normal usage, although I am a light user compared to some of our other editors.
The downside in this category is that micro-USB port on the bottom. In 2018, it seems dated not to have a USB Type-C included. But these are the corners that need to be cut in order to get the price down to this level. At least there's fast-charging.
Unfortunately, I was not able to our usual PC Mark battery test on the Honor 8X review I had.
Honor 8X technical specifications
A modern package for an attractive price
For big-screen enthusiasts on a budget, you can do a lot worse than the Honor 8X. Pull this thing out of your pocket and nobody will think you are holding a sub $300 smartphone. Sure, you will have to make compromises on the chip performance and the camera, but that is nothing new when buying a device in this price bracket. Only the Pocophone F1 really shows this up in terms of CPU, and that is made of plastic and more expensive. The 8X is big, handsome and does the basics well and, for a lot of customers, that will be more than enough to leave them satisfied.