Google I/O 2019: all the news and highlights from the keynote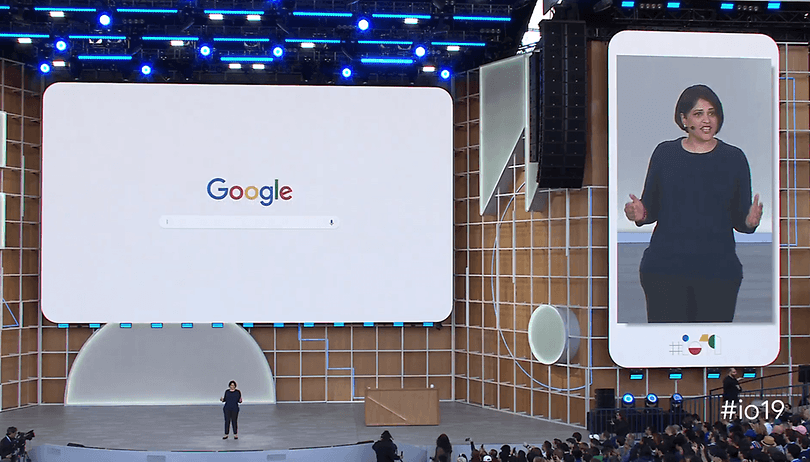 As every year, the most anticipated event for Android developers and Google fans has arrived. Google I/O 2019 is under way at the shoreline amphitheater of Mountain View, California. The big G unveiled a lot of news about Android Q, AI, smart home security and even new Pixel devices. These are the latest news and highlights from Mountain View.
Shortcuts:
Google I/O 2019: when and where is it happening?
This year Google I/O takes place from May 7 - 9. The venue chosen for the event is once again the Shoreline Amphitheater in Mountain View, now the traditional stage for the Big G event.
The opening keynote was full of juicy revelations, detailed below. Going forward, the conference will host three days of workshops streamed for anyone interested in the topics.
Highlights of Google I/O 2019
AR right in Google search
The first fun feature shown off at the opening keynote was the new feature of Google search. Now, you can get 3D objects in search results that can be overlaid onto the real world via your smartphone camera. AR and Google Lens VP Aparna Chennapragada demonstrated this with a pair of shoes, a human muscle, and terrifyingly, a great white shark.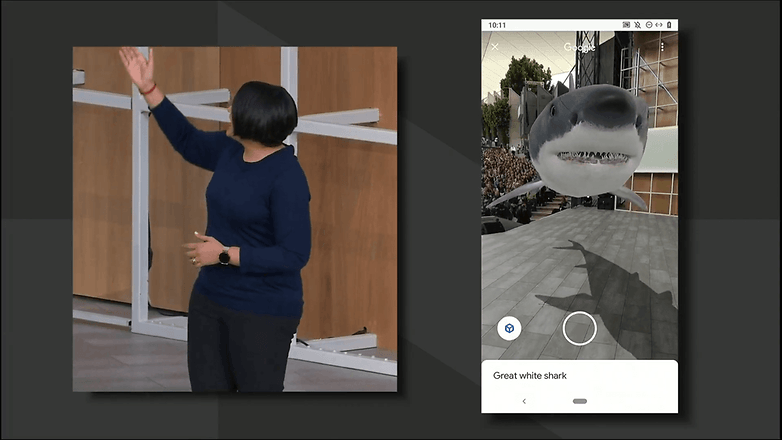 These 3D models aren't just toys, they can be great for shopping (checking out how these clothes or furniture look next to your belongings), education, and yes, just plain fun too. Google is already partnering up with organisations like NASA and commercial entities like Volvo and New Balance to integrate these AR objects into your shopping and study.
Google Lens becomes smarter
Google Lens is the AI helper that works with your smartphone camera to, as Google puts it, provide 'visual answers to visual questions'. Now Google Lens can leverage Google's vast reserves of data help you choose a meal at a restaurant: just point the camera at the menu and see it show you the most popular dishes, images of what they look like, and customer reviews. Now there's no excuse to dither at the table! Lens is even smart enough to split the bill.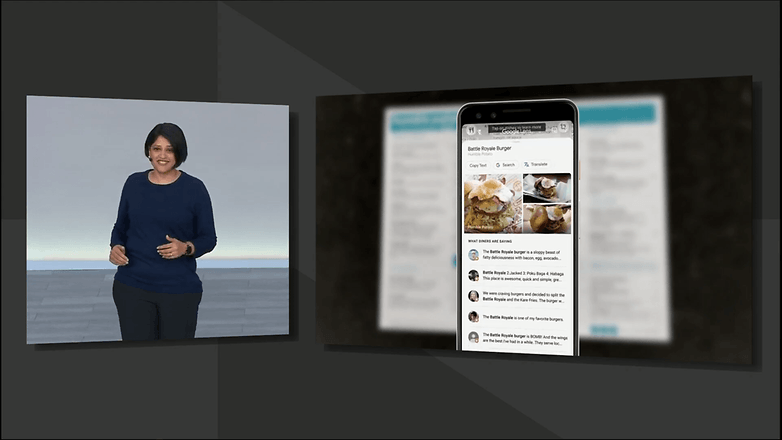 Even more magical is the integration of Google Lens with Translate. If you're travelling and come across an unfamiliar text, Google Lens will not just translate the text, but overlay text in your language on top of the original, making it seem like it was in your language all along. It will even read out the text to you, highlighting each word as it goes along to give you critical context on what the text means.
Assistant gets more helpful
Thanks to advancements in recurrent neural networks, Google has developed new speech recognition and language understanding models to make Assistant able to run locally on your phone, resulting in speech procession at near zero latency, and transcription in real time, even completely offline.
The improved on-device Assistant will understand your questions almost instantly and answer up to 10 times faster. Multitasking across apps is possible and with Continued Conversation, you can make several requests in a row without having to say "Hey Google" activation every time.
Google Assistant will also be using what it learns about you to understand context about what you say (for example: "mom's house" can mean different places to different people) and offer useful suggestions as it learns your daily routine and tastes in food, style, or entertainment.
Google Assistant also got a new 'Driving mode', to provide hands-free help when you're navigating on the road with Maps or Waze.
The next generation Assistant is coming to new Pixel phones later this year, but as we are aware, the whole Android ecosystem and smart home products should eventually benefit.
Duplex learns how to use the Internet
Last year Google wowed us with Duplex, in which Google Assistant makes phone calls for you to perform services like book a table at a restaurant or a hair appointment. Now Duplex has learned how to use a website, so you can, in the example shown, command Assistant to book a rental car for you, and Duplex will go to the booking site, fill it out with all your details and navigate all through the site. So much for the 'I am not a robot' defense.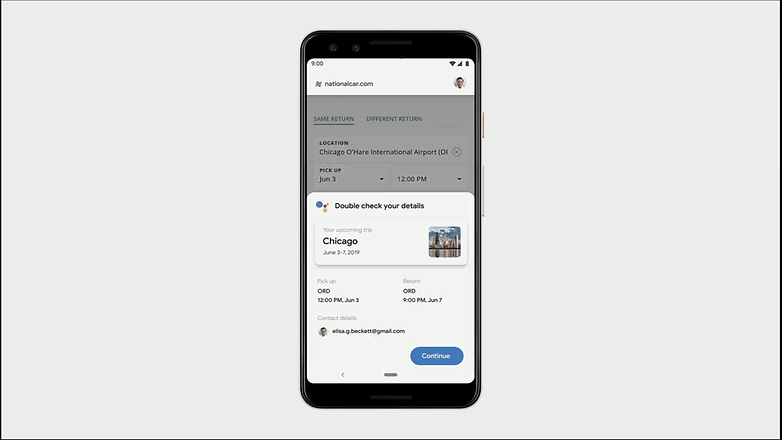 Auto-delete Google's data collection
Not everyone's a fan of Google location tracking and even those of us who appreciate its benefits don't want to completely let go of control over our data, or micro manage it by hitting the switches at particular times. Rolling out in the coming weeks to Location History and Web & App Activity is the new ability to choose a time limit for how long (3-18 months) you want your activity data to be saved and any data older than that will be automatically deleted from your account.
New budget Pixels
The Google Pixel range is great, but these premium pure Android smartphones ended up priced above the affordable levels that made many people fall in love with the Nexus devices back in the day. But now it looks like Google is going back to its Nexus roots with the Pixel 3a and 3a XL devices, starting from $399. The XL version costs $479, and that 80 bucks gets you a 6-inch display and bigger battery.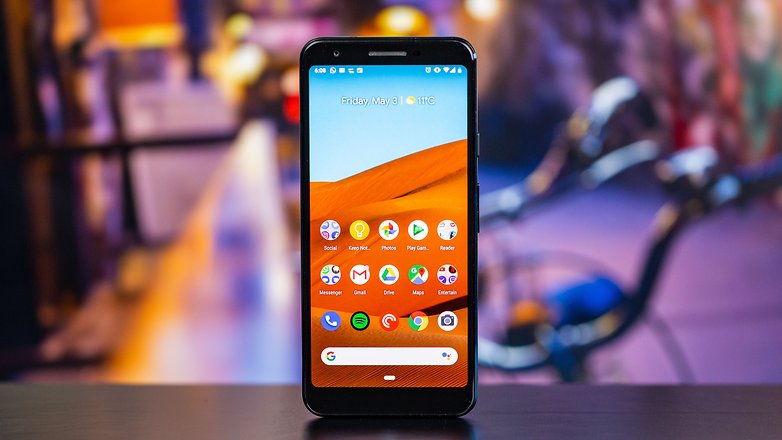 Let's face it, we already knew a lot about these thanks to the many leaks, but that doesn't mean we're not excited to see them official now. In fact, we've already had our hands on the Pixel 3a and are able to bring you a comprehensive review of this affordable phone that still manages to bring you the killer Pixel features of a fantastic camera and smooth software. You can now buy the Pixel 3a from the Google Store.
In addition to the new devices, proud Pixel owners will also benefit from new features like the much awaited AR directions in Google Maps, robocall screening, and improved battery life. In addition, Pixel phones will be now be available from a wider range of carriers. US carrier partnerships for Pixel phones now include T-Mobile, Sprint, and U.S. Cellular. Of course, you can still get them through Google Fi and Verizon.
Google Home and Nest combine
Google Home and Nest do the Dragonball Z fusion and become Google Nest, with their powers combined. Your Google and Nest accounts will also combine to give your greater control and security over your smart home devices. As part of this merger, Google Home Hub has become Google Nest Hub. We're also getting a new speaker, the Google Nest Hub Max, coming this summer to the US for $229, the UK for £219 and Australia for AUS$349.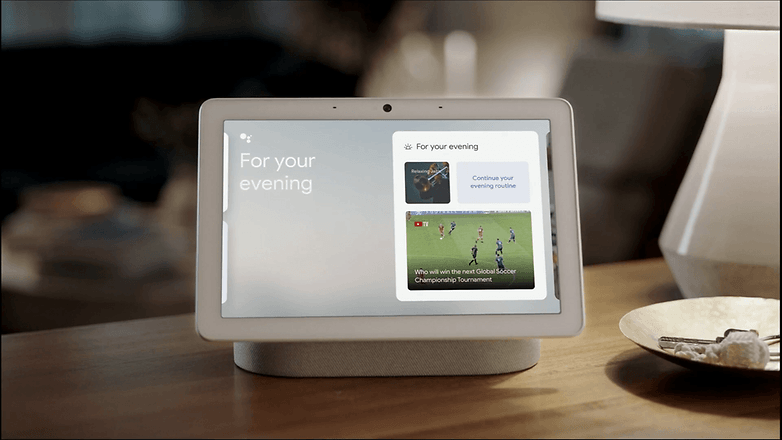 Android Q: some questions answered
Of course we didn't miss the 3rd beta version of Android 10 Q (its name is still shrouded in mystery), now already available for download for all owners of Pixel smartphones and others. We've got the full list of compatible devices, as well as a run down of interesting new features like the systemwide Live Caption function (a la YouTube), increased security and privacy, more Digital Wellbeing controls and improved Smart Replies to make communication even faster and easier.
The session schedule is online and an app is available
The official website dedicated to the event finally includes a calendar of everything that will happen during this Google I/O. You can even keep track of everything via the official app, available for download now. There will be many sessions dedicated to developers taking place in the hours and days following the keynote.
Among the most interesting sessions we find those dedicated to the new streaming gaming service Google Stadia and Linux on Chrome OS. There also will be insights dedicated to Android Q, including one dedicated to the dark theme (dark mode), and app support for folding devices.
AI and local application development will also be discussed thanks to the dedicated hardware that the company unveiled at the beginning of the month, called Google Coral. Topics such as Google Maps and Assistant, Kotlin, Firebase and many specific sessions for experienced and novice developers will be covered.
What interests you most about Google I/O? Let us know in the comments.