Geekom A5 Review: Pretty, Inexpensive—yet Powerful—Mini PC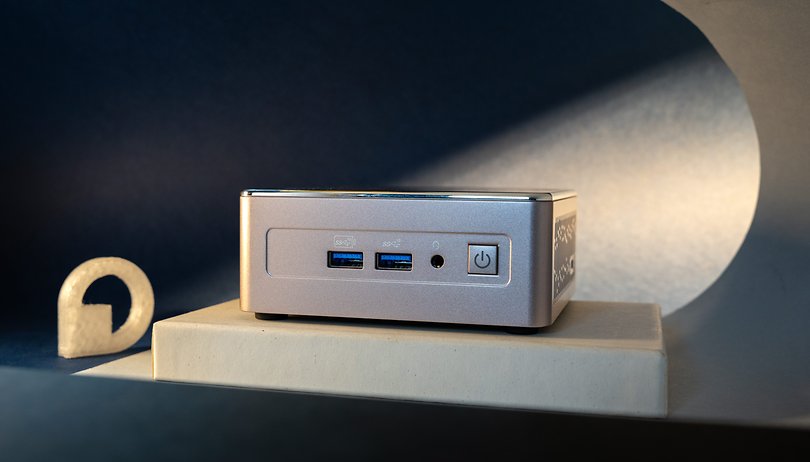 Geekom offers in its A5 a new mini-PC based on AMD's Ryzen architecture. After the AS 6 already convinced with a high performance level in our test, we take a look at the new model in this nextpit review. The Geekom A5 comes in a pretty case in rose gold, has an SD card reader again, and supports 8K displays. Let's try it out!
Good
Nice design

Solid price-performance ratio

SD card reader included

Windows 11 Pro preinstalled
Bad
Fan quite active and loud

No processor upgrade is possible

Power-hungry 120 W power supply
In a nutshell
Geekom focuses on price-performance with the A5 and offers a high-performance mini PC for an MSRP of $499. I was particularly impressed by the computer's design in the review—drawbacks like the somewhat outdated ports, the lower performance level due to the older processor and the quite loud fan are okay in view of the price. This is because Geekom offers a cheaper alternative to the AS6 with the A5, which is also based on AMD Ryzen processors.
Since the price dropped from $499 to only $399 in October, the small PC is even more recommendable. If you order the A5 via our link with the discount code "A5CODE40", you can save another $40.
However, there are no different configurations. This means that you have to settle for the almost two-year-old AMD Ryzen 7 5800H. You can upgrade the 32 GB of pre-configured RAM and the 512 GB SSD storage later, however.
---
This article was written in cooperation with the manufacturer Geekom. This has no influence on the exact content or the editorial opinion.
Design and processing
Geekom dresses the A5 in a new, more modern case with a new color variant. The size is still extremely compact at 117 x 112 x 49.2 mm and follows the line of the other Geekom PCs we have tested in recent months. Fortunately, we again find many ports on the front and back. While we again find an SD card reader compared to the AS6, there are exclusively large USB-A ports at the front.
Pros:
The design is even more appealing than the predecessor.
High connectivity.
VESA mount included in the scope of delivery.
Cons:
No DisplayPort, only HDMI 2.0b.
No USB-C port on the front.
Fan clearly audible during many tasks.
After having already tested three different Geekom PCs, I was able to enjoy a new compromise with the A5. While the connectivity of the AS 6 we tested earlier was really convincing, it lacked an SD card reader on the case. The SD card reader is again part of the party in this model and the connectivity on the back is also top—but a USB-C port on the front is missing.
The overall port diversity looks as follows:
Front (left to right)

2 x USB 3.2 Gen 2 Type-A
1 x speaker with 3.5 mm jack

Left side
Right side
Rear (left to right)

Power port
USB 3.2 Gen 2 Type-C
HDMI 2.0b
2.5G RJ45 LAN port
2 x USB 3.2 Gen 2 Type-A
USB 3.2 Gen 2 Type-C
HDMI 2.0b
Compared to the AS 6, which is also based on AMD Ryzen, the missing port for DisplayPort 1.4 is noticeable. It is also a bit confusing that Geekom advertises the new mini-PC with "Supports 8K displays", which suggests more modern ports for connecting monitors. However, only HDMI ports according to the 2.0b standard are found on the Geekom A5, while the more expensive AS 6 offers ports with HDMI 2.1. Thus, you can only connect monitors with 8K resolution via the USB 3.2 Gen 2 ports via Type-C.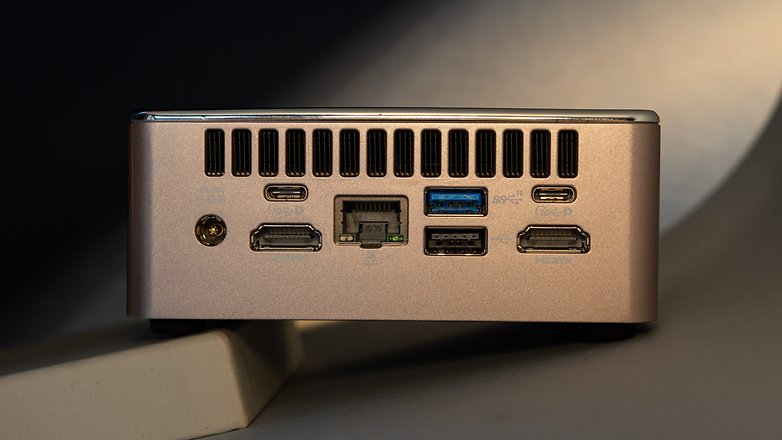 However, I really like the design of the A5's case. The rose gold amidst chrome-colored accents also caused people to ask about the small PC several times in nextpit's office. The build quality has remained the same compared to other models. That means: We find a case made of plastic with a metal chassis embedded in it. This is robust enough to safely throw the PC into a backpack and take it to the office. However, a carrying bag is missing in the scope of delivery.
This construction makes the Geekom A5's case nice and sturdy. However, the manufacturer obviously has to install a different fan. This fan starts more often than in other Geekom models. At the same time, it is more noticeable when you start a computer game or run Adobe Photoshop, for example. That is a pity since the loud fan noise is annoying in the long run.
Last but not least, I would like to mention the expandability of the mini-PC. Because if you unscrew the Geekom A5, you can upgrade both the RAM and the internal storage. A maximum of 64 GB RAM and up to 2 TB via M.2 SSD are possible. Geekom does not specify a storage limit for the expansion of HDDs in the 2.5-inch format.
Thanks to the included VESA mount, you can turn compatible monitors into an all-in-one PC with the Geekom A5. You simply screw the mini-PC behind the monitor.
Software & Drivers
Geekom ships the A5 with Windows 11 Pro pre-installed. You only have to connect the small PC and can directly log in with your Windows account and get started. You can also configure the installed BIOS to install a dual-boot option with Linux.
Pros:
Ready-to-use thanks to pre-installed Windows 11 Pro.
You don't have to install any drivers afterwards.
Cons:
Product key is not transferable.
As in every Geekom review, I'll briefly point out the advantages and disadvantages of the pre-installed OEM version of Windows 11 Pro. The operating system is powerful, and thanks to the Pro installation, you don't have to reckon with any restrictions. For newcomers, Windows offers a clean interface and, in my opinion, is now as intuitive as macOS or the iPadOS tablet operating system.
If you do not need Windows 11 Pro, you can of course install Linux or other operating systems on the PC. However, it is a bit unfortunate that you cannot transfer the paid Windows license to another device. The best option here is to use a dual-boot option. You can choose which operating system you want to start when you boot the PC.
Performance and components
Geekom offers another mini-PC based on AMD Ryzen architecture with the A5. The processor used is an AMD Ryzen 7 5800H, which was released at the beginning of 2021. This model cannot be upgraded to a Ryzen 9 model. However, 32 GB of fast DDR4 RAM is already installed from the factory. A 512 GB SSD from Lexar is used as storage.
Pros:
Fast performance in most office tasks.
Can run some games.
Comes with 32 GB of RAM out of the box.
Cons:
Processor cannot be upgraded even when buying a new one.
After we looked at more powerful Geekom PCs with the Geekom AS 6 and the Mini IT11 we also tested, we find a model with a Ryzen 7 processor here. The CPU is a bit older with its release in early 2021, was actually developed for notebooks, yet still delivers enough performance for office applications. From my review period, I can also recommend the A5 for basic video editing and casual gaming.
As with all Geekom models, it lacks a dedicated graphics card. The graphics performance is therefore limited compared to many desktop PCs. At the same time, the CPU and GPU have to share the installed RAM. Although the 32 GB memory is generous, you should not expect top performance in gaming or video editing.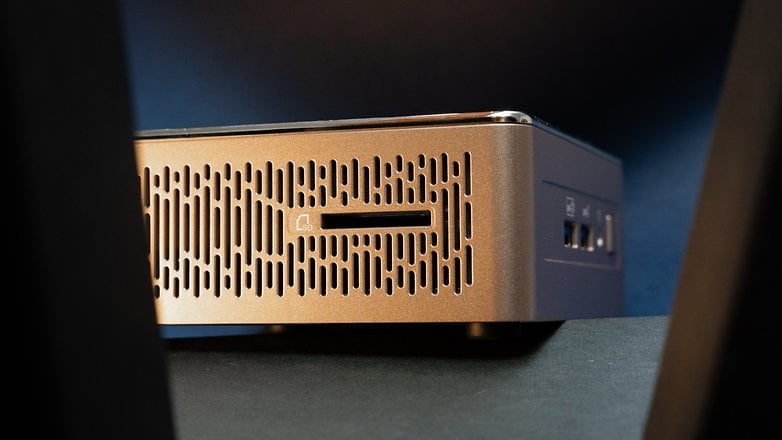 For my test, I edited a 4K video with Davinci Resolve, edited some files in Adobe Lightroom and Photoshop, and played the new Counter-Strike 2. The video editing worked smoothly for the most part without creating proxy files and at a timeline resolution of 1,080p. Editing 33-megapixel RAW pictures of my camera caused some jerks and longer loading times. Playing the fairly new first-person shooter worked, but only up 1080p and with medium graphics settings.
If you can handle some stutters and longer loading times and are more interested in older games, the performance of the mini-PC is sufficient. To create a bit more comparability, we'll take a closer look at the PC's benchmark results.
Benchmark table
| Test | Geekom A5 | Geekom AS 6 | Geekom Mini IT 11 |
| --- | --- | --- | --- |
| Geekbench 6 | 16.783 | 26.376 | 17.434 |
| AS SSD Benchmark 2.0 reading | 3,044.12 Mb/s | 3,068.19 Mb/s | 2,799.02 Mb/s |
| AS SSD Benchmark 2.0 write | 2,673.83 Mb/s | 1,787.49 Mb/s | 2,238.32 Mb/s |
| Copy speed SD reader with SanDisk SD | up to 90 Mb/s | - | up to 90 Mb/s |
The performance of the Geekom A5 fits in with Geekom's strategy: You get a cheaper alternative to the AS 6, which delivered the best results in the Geekbench benchmark so far with a Ryzen 9 processor. The read and write SSD speeds are on a similar level as the other models.
Power supply
Geekom delivers the A5 with a proprietary power supply, rated for 120 W. Due to the proprietary interface, operation via USB-C is not possible, which is a bit of a shame in view of the notebook components. However, the mini-PC remains more frugal overall than many desktop PCs.
Pros:
More power-saving than other desktop PCs.
Cons:
No power supply via USB-C.
Not too much can be said about the Geekom A5's power supply. The included power adapter supplies the mini-PC with a maximum of 120 W. So, in comparison, the included power supply is a bit hungrier than that of the other Geekom PCs.
However, if we compare the A5 with many full-grown desktop PCs, it is still more power efficient. What still bothers me personally, however, is that powering via the USB-C ports still does not work. Thus, the PC cannot be powered via a compatible monitor. This is despite the fact that DisplayPort allows us to connect USB-C monitors.
Final verdict
For an MSRP of $499, you get an office-ready mini-PC with the Geekom A5. In comparison, I like the new design much more than the rather angular and plain cases of the other Geekom PCs that I have tested in the past. However, the new AMD model produced a bit more fan noise when it came to performance-hungry tasks like video editing or computer gaming in the test.
With a lower MSRP and a weaker processor, Geekom offers a cheaper alternative to the AS 6 with the A5. So, we have performance and casual options for all budgets with either Intel and AMD components in the lineup of mini-PCs. However, although the A5 is the budget variant in AMD's lineup, I would have liked to see an option for a processor upgrade.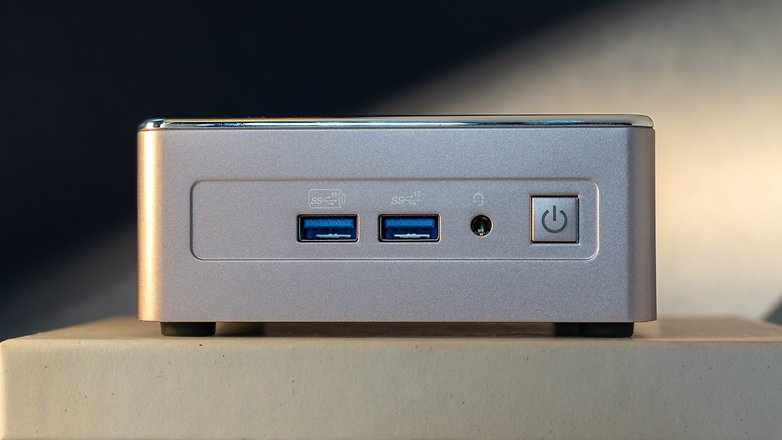 Because: If you like the design of the Geekom A5, you will have to accept a quite significant compromise in performance. That is annoying since you cannot upgrade the processor later on—unlike RAM and internal storage.
You also have to make another compromise in terms of connectivity. Although there is again an SD card reader, you have to live with HDMI 2.0b instead of HDMI 2.1. The support for 8K displays, which Geekom advertises, only works via the USB-C ports, which will also be needed for hard drives and other peripherals in 2023.
Thus, the Geekom A5 is a sensible addition to the Geekom lineup, but it comes with some compromises. For the future, I hope that Geekom will continue the new design line with more powerful mini PCs. After all, the charming PC in the rose gold look was particularly appealing to me from many colleagues in the office!