Brighter and Sharper: Garmin Launches Forerunner 965 and 265 with AMOLED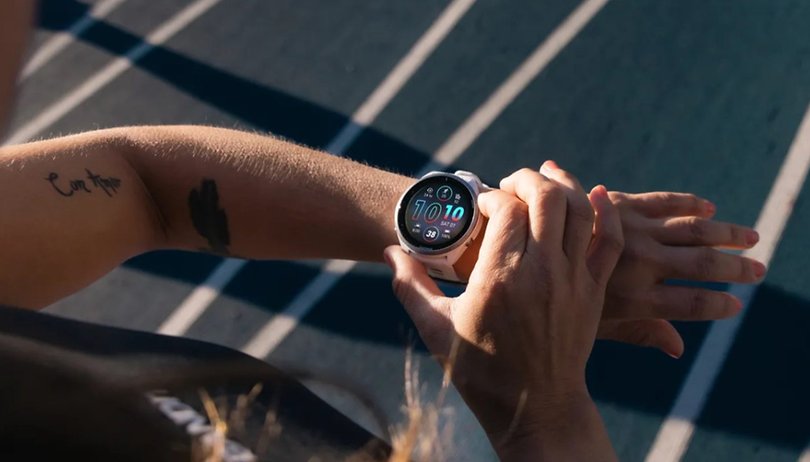 Garmin finally gives in to the idea that an AMOLED touchscreen is a better fit for multi-sport smartwatches. Today, the company officially launched the Forerunner 965 and Forerunner 265 series packed with vibrant AMOLED displays that have been only reserved on its premium watches before.
The Forerunner 265, which was leaked earlier, is confirmed to be available in two sizes. Like last year's Forerunner 255 (review), the Forerunner 265s is a smaller option with a 42 mm case while the standard model comes in 46 mm. On the other hand, the Forerunner 965 is a lone option with a 47 mm case.
Garmin Forerunner 265 and Forerunner 265s
It's the first time that Garmin is giving its mid-range running watches with AMOLED panels: 1.1-inch on Forerunner 265s and 1.3-inch on Forerunner 265. The new displays offer brighter output and sharper resolution than the transflective MIP. Furthermore, AMOLED has a more flexible always-on display mode.
As regards the design, there are minor iterations on the outside. In addition to the touch function brought by AMOLED, runners can still take advantage of the physical buttons with the main start/stop reshaped and bigger. Likewise, the Gorilla Glass 3 protection and 5 ATM water resistance are retained.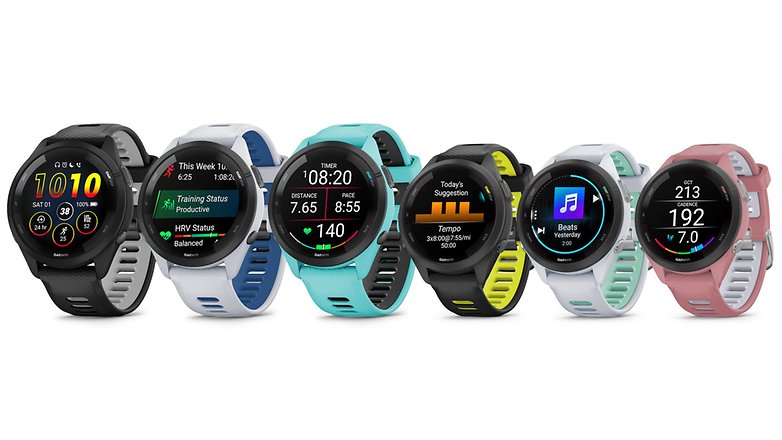 Garmin is adding two major fitness modes. There are now training readiness and running dynamics on top of the array of sensors to monitor health indicators such as heart rate variability and VO2 max. Connectivity-wise, features like multi-band GPS, NFC, and Wi-Fi are kept as well, but onboard storage for offline music on the two is doubled to 8 GB.
The Forerunner 265s has a slightly better battery life rated at 15 days in smartwatch mode and 24 hours with continuous GPS use compared to the bigger Forerunner 265 with 13 days and 20 hours rating, respectively.
Garmin Forerunner 965
Besides the titanium bezel that is new on Forerunner 965, it is also getting an AMOLED display in a 1.4-inch size (454 x 454 pixels). The front is protected by tougher Corning Gorilla Glass DX. At the same time, the water-resistance rating is at 5 ATM.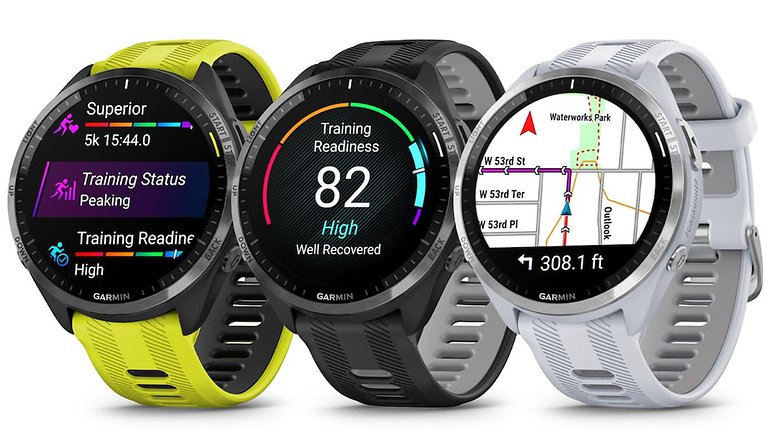 The top-tier running watch has additional performance metrics that aren't available on the mid-range Forerunner 265. These include training load ratio, real-time stamina tracking, and Climb Pro. The watch ships with a built-in mapping feature as well, which supports vast numbers of city and off-raid trails.
Garmin said that the battery of the Forerunner 965 lasts 23 days in smartwatch mode and 31 hours in GPS between charges. Charging the wearable is done through the proprietary Garmin connector.
Pricing and release dates of Garmin Forerunner 265 and 965
Garmin's Forerunner 265 in colorful dual-color silicon straps retails for $449, which is already available for purchase. Meanwhile, the Forerunner 965 costs $599, and it is hitting the market in the coming weeks.