Garmin Fenix 7 Pro review: Every smartwatch needs this feature!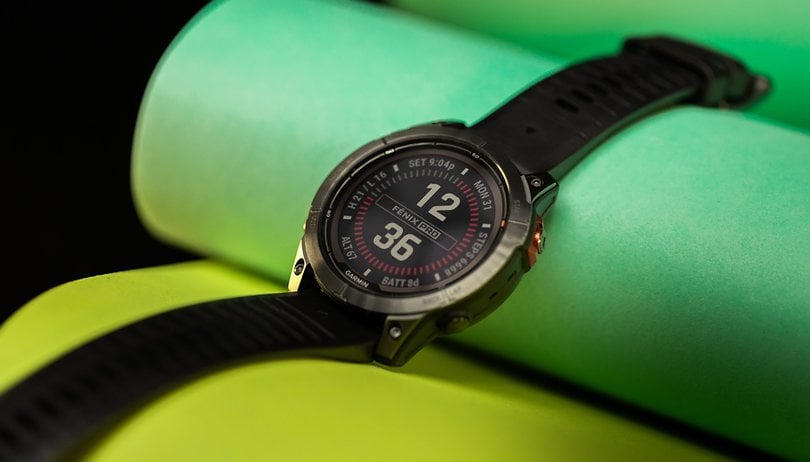 The facelifted Garmin Fenix 7 Pro doesn't break any new ground, but it is the first sports watch from the manufacturer to sport the new Elevate V5 PPG sensor. Read nextpit's review to find out what else this sensor has to offer apart from heart rate monitoring. You can also find out which ingenious feature from the Fenix 7X from 2022 is finally available in all three sizes of the Fenix 7 Pro.
Good
Super smart flashlight function

A huge number of tracking options

Massive accessory ecosystem

Three different sizes are available

Precise GNSS & fantastic outdoor features

Very long battery life
Bad
No LTE model in 2023 still

Poor smartwatch features
Garmin Fenix 7 Pro: All deals
The Garmin Fenix 7 Pro in a nutshell
The Fenix 7 Pro is a device that occupies the space between the Fenix 7 and Fenix 8, which means there is a limitation to the number of new features. Essentially, you get the really cool flashlight from the 7X in all models, and Garmin also installed its all-new PPG sensor known as the Garmin Elevate V5 here for the very first time.
Also, the entire lineup now features solar cells around the display, and all Fenix 7 Pro models offer the super-accurate dual-band GNSS and 32 GB of memory for maps. The prices then, correspond to the solar models from the Fenix 7 series, and those who want sapphire glass protection can pony up an additional Benjamin. While there is no price increase, it also does away with the cheapest models from the Fenix range.
In the table below, you can find all the models and their corresponding prices of the Garmin Fenix 7 Pro at a glance. Click on the prices to go directly to the manufacturer's website.
Garmin Fenix 7 Pro—model overview and prices
| | Garmin Fenix 7S Pro (42 mm) | Garmin Fenix 7 Pro (47 mm) | Garmin Fenix 7X Pro (51 mm) |
| --- | --- | --- | --- |
| Solar | $799.99 | $799.99 | $899.99 |
| Sapphire Solar | $899.99 | $899.99 | $999.99 |
Design & Display
The Garmin Fenix 7 Pro comes in the familiar Garmin design, so much so that our resident photographer exclaimed, "I've photographed this before. The ingenious flashlight is actually only visible at second glance, and Garmin also cleverly integrated the solar cells, which are now installed in all models, into the display.
---
Pros:
Very useful flashlight fucntion.
Classic, striking Garmin design.
Three different sizes are available.
MIP display is always legible.
Completely operational via buttons alone.
Cons:
Unspectacular 16-color display.
---
The Fenix 7 Pro uses the typical Garmin button layout with five buttons. On the right are two buttons for Start/Stop and Back/New Lap, where the former comes with a striking orange color border on the basic Pro model. I liked that touch! The three buttons on the left of the case are for light/shortcut functions, Up/Menu, and Down.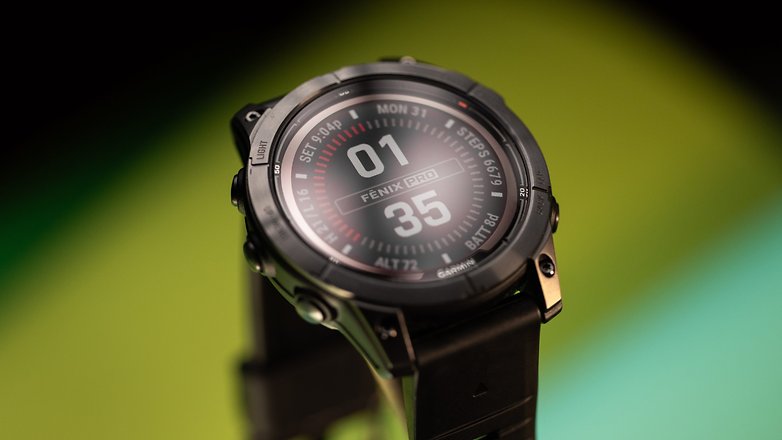 The interface is similarly structured on all Garmin watches: You can navigate through a configurable list of widgets using the Up and Down buttons. These include sleep data, notifications, your daily fitness report, past workouts, stock quotes, or the music player.
A long press on the light button takes you to the quick functions, which can also be configured. For instance, you can search for your phone, activate the DND mode or launch Garmin Pay for mobile payments. A long press on the Up button takes you to the main menu with all the in-depth settings.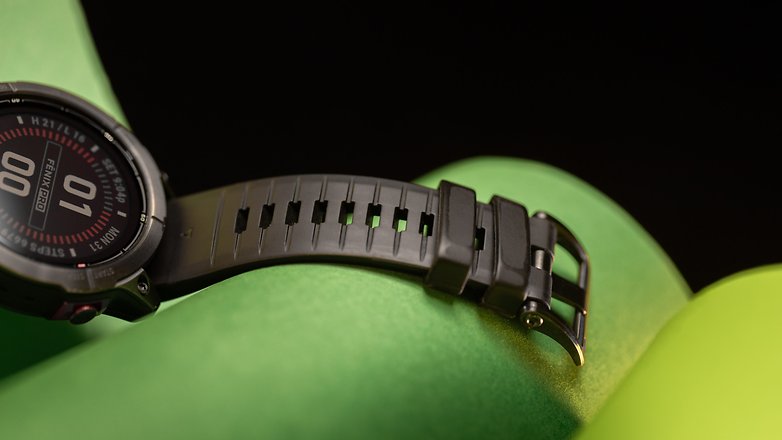 While you can also operate the Garmin Fenix 7 Pro 100% via the five buttons, there's also a touchscreen. You can also operate almost all features using the touch-sensitive MIP display. The only exception that I am aware of is starting workouts using the Start button and marking new laps, sets, etc., via the Back button.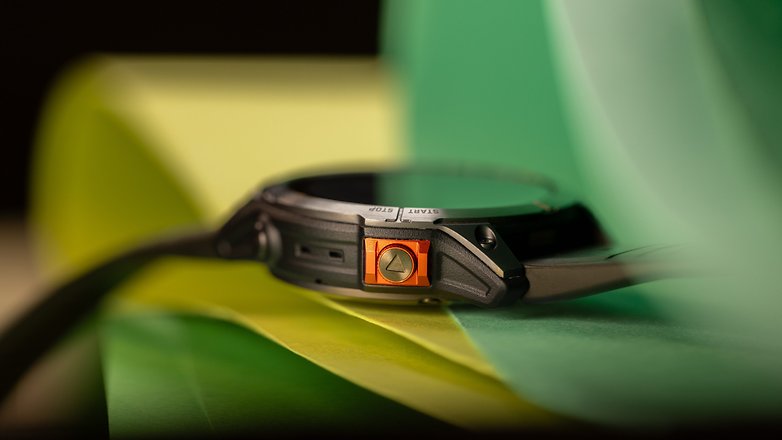 The MIP display with 16 colors in the Fenix 7 Pro is not backlit by default but relies on ambient light for illumination. This means the screen is still perfectly legible even under the Andalusian summer sun—not to mention you get to save quite a bit of energy compared to self-luminous OLED displays. However, you will have to activate the backlight in the dark either by pressing the light button or by raising your wrist to read the time.
Speaking of light, all models of the Fenix 7 Pro have now inherited the flashlight from the Fenix 7X. The feature sounds like a gimmick, but it's incredibly handy and, unlike your phone flashlight, it can be used in a hands-free manner.
When running in the dark, the light in the Fenix 7 Pro increases your visibility and alternates between white and red, depending on your arm movement that goes forward and backward, respectively. This is a really cool feature that made me seriously wonder why this handy flashlight feature isn't available in every smartwatch.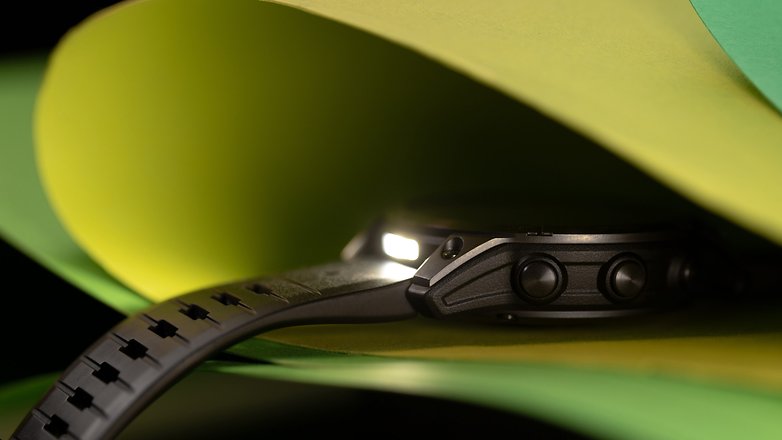 Smartwatch functions
While we have the next-generation Garmin timepiece on our wrist, nothing has changed in terms of smart features. Yes, Garmin watches are primarily sports watches. Nevertheless, the gap with Samsung, Google, Apple, and others is getting bigger and bigger here, and it is especially painful when it comes to mobile Internet and making payments via your wrist.
---
Pros:
Own app store with numerous apps.
Cons:
Still no LTE version available.
Garmin Pay has very limited acceptance worldwide.
No response options for notifications.
---
The Garmin Fenix 7 Pro is first and foremost a sports watch before you treat it as a smartwatch, there is no question about it. However, even true-blue smartwatches are increasingly encroaching upon the sports watch territory, placing a certain amount of pressure on Garmin. However, the clocks at the Swiss manufacturer continue to tick so slowly that very little has changed in terms of smartwatches since the Fenix 7 was released.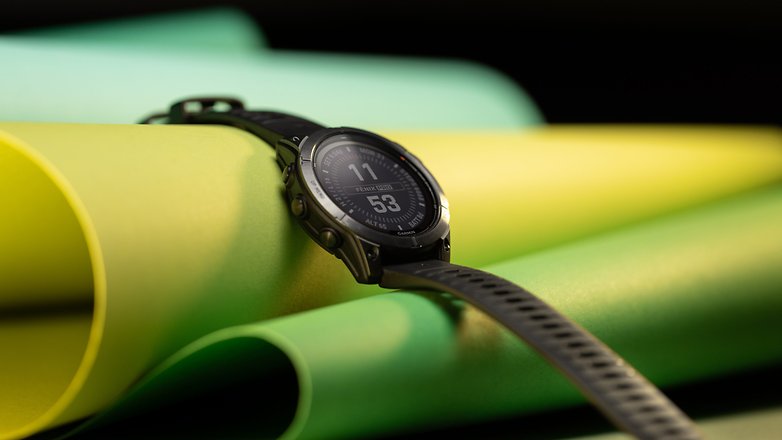 For example, the Fenix 7 Pro still does not have an LTE version. Due to the lack of a microphone, the watch neither functions as a hands-free device nor does it support Alexa, Siri, or Google Assistant. These are all features that have already been available in various Garmin watches, such as LTE connectivity in the Forerunner 945 and the hands-free function in the Garmin Venu 2 Plus (review).
The gap between Samsung's Galaxy Watches and the Apple Watch models, which bring more and more functions directly to the wrist, is also widening in terms of smartwatch features. Sure, you receive notifications on your wrist, but most of them are rather uninspired with generic icons and without any option to reply with a voice message or at the very least, a predefined text reply from the wrist.
Garmin Pay is available for mobile payments, but it only supports a rather limited collection of banks, at least outside of the USA. As I reside in Germany, I have accounts at three different major banks.
Despite the calendar showing it is now 2023, Garmin Pay is supported by any of my banks. The bottom line is, I still have to bring my smartphone around if I want to buy some rolls at the bakery after a jog or if I want to be reachable on the road. That's just too bad.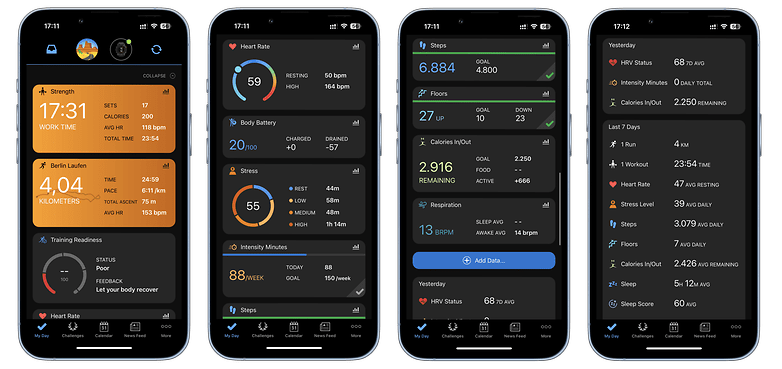 On the plus side, there is still Garmin's Connect IQ Store. The proprietary app store offers you countless different apps from important services, such as Komoot, Spotify, or Amazon Music. In addition, you will find countless special independently developed apps in the store.
Among these include a prayer calendar, a drink tracker, and a Pomodoro timer. Furthermore, there are countless watch faces to choose from, workout screens, user-defined metrics, and workout dashboards. The possibilities to customize your watch are almost endless.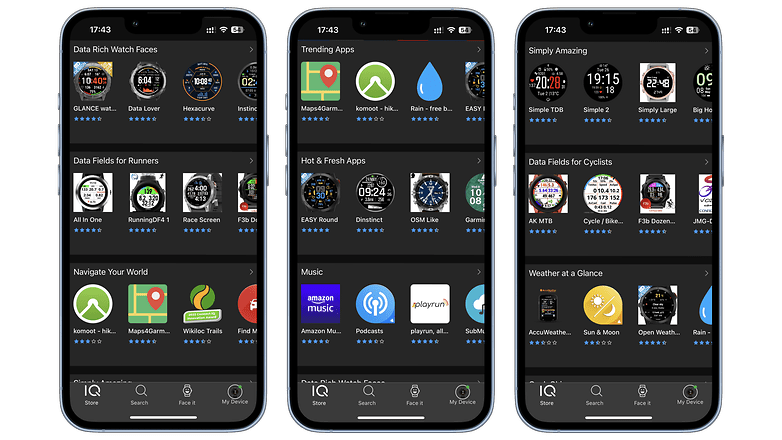 Probably the only new smart feature found in the Garmin Fenix 7 Pro in this discipline is the "Recently Used" feature for widgets. With a long press of the back button, the sports watch will chronologically show you the most recently accessed widgets.
Sensors & Tracking
The Garmin Fenix 7 Pro is the ultimate in fitness tracking. No other smartwatch on the planet offers more diverse sports options, tracking options, training plans, and evaluation options than Garmin.
---
Pros:
New Garmin Elevate V5 heart rate sensor is even more accurate.
An incredible number of sports modes with real added value.
Sensors deliver very accurate results.
Cons:
Metrics are partly unclear and can be overwhelming.
---
The Fenix 7 Pro offers countless different sports modes, including golf, windsurfing, and weightlifting. Its special feature? The different modes not only serve as a logbook for your workouts but also offer countless special functions each. For example, you have maps of more than 43,089 golf courses on the watch and can also take advantage of a swing analysis on the green.
When you're lifting weights, the watch counts your repetitions during the sets and even recognizes the exercise you've performed with a certain degree of reliability.
With the Fenix 7 Pro, more than 30 new workouts have been added, but not all of them come with individual metrics or features. Instead, they are primarily used to categorize your workouts so that you can always see that you were snorkeling and not kayaking on a particular date.
You will also get 30 new sports with this timepiece: Ice Skating, Ice Hockey, Hockey, American Football, Soccer, Lacrosse, Rugby, Cricket, Table Tennis, Padel, Basketball, Volleyball, Ultimate Frisbee, Baseball, Archery, Rafting, Kayaking, Boxing, MMA, Snorkeling, Motocross, Squash, Badminton.
Outdoor sports and GPS
The Fenix 7 Pro is also a terrific sports watch for outdoor fans. This was illustrated once again by Garmin's decision to now equip all models with dual-band GNSS. As with all appropriately equipped Garmin watches, the Fenix 7 Pro's tracking system is extremely accurate.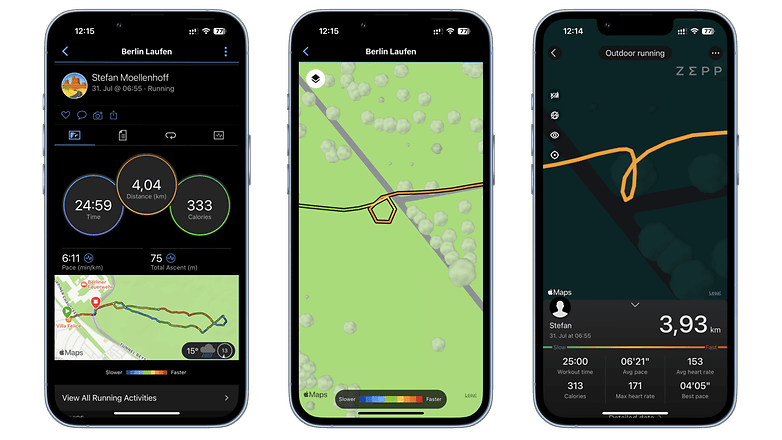 Garmin installed 32 GB of memory in all models of the Fenix 7 Pro. You can use the space for music if you want, but can also do so for Garmin's excellent map material. You can download these precise maps for turn-by-turn navigation or choose to be guided to POIs, exported, and imported routes. Of course, navigation also works via third-party apps like komoot.
For typical outdoor sports like running and cycling, the Fenix 7 Pro also continuously keeps track your heart rate. As long as your wrist is not heavily stressed during training, this works with an uncanny degree of accuracy.
In a direct comparison with a Sigma chest strap, the Fenix 7 Pro delivered almost identical results. The Garmin sports watch measured an average heart rate of 153 during a test run—the chest strap recorded exactly the same value. The maximum heart rate stood at 170 and 171 beats per minute, respectively.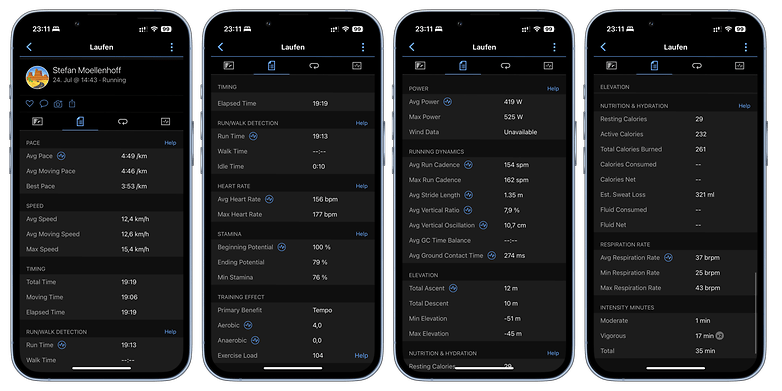 For endurance sports, the stamina metric is particularly interesting to check out. It reveals how much fuel you still have in the tank when running. This helps you to continuously adjust your pace to achieve certain running goals.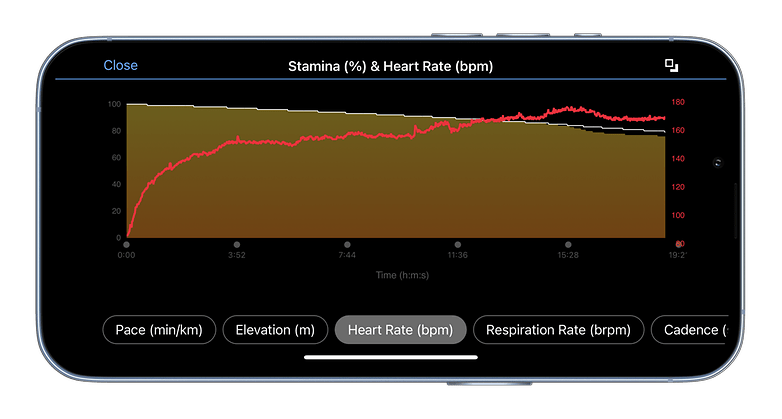 Indoor sports and fitness
Unfortunately, I only had the opportunity to test the new Garmin Elevate V5 against the Apple Watch Ultra for one workout, which has so far been our benchmark for accuracy when it comes to PPG sensors. It delivered almost identical results as chest strap systems.
However, in this singular strength workout (chest muscles/push), the Garmin Fenix 7 Pro delivered identical results to the Apple Watch Ultra with an average pulse of 113 and a peak pulse of 157 and 158 beats per minute, respectively. Many optical heart rate sensors are notoriously inaccurate, especially during workouts that involve many push-ups.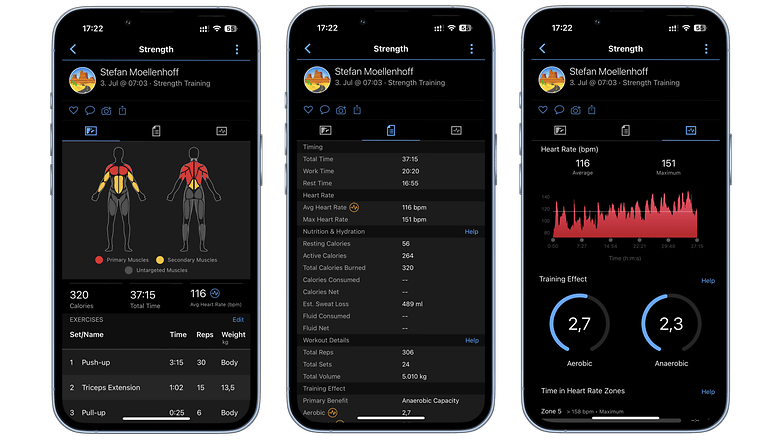 In direct comparison with a Sigma's chest strap, the Garmin Fenix 7 Pro still falls a bit short, though. During another chest workout of the same type, both systems achieved the same average heart rate of 118 beats per minute.
However, the optical heart rate monitor simply does not quite keep up with the chest strap, especially at peak load here with the Fenix 7 Pro recording 140 bpm while the chest strap recording 145 bpm at the peak. The bottom line is, this is still a very good result, especially since Garmin also offers countless chest straps in terms of accessories.
Garmin HRM Dual Heart Rate Belt
Garmin also introduced a few more metrics with the Fenix 7 Pro, including Hill Score for mountain running, weather information on maps, and better contouring for maps. All the software-based new features will also arrive at the Epix 2 and Fenix 7 via an update.
Sleep & Recovery
The Garmin Fenix 7 Pro offers the same comprehensive set of sleep and recovery metrics as found in the Garmin Fenix 7. Of course, the sports watch also tracks various sleep phases in addition to sleep time alone. Due to the lack of a sleep lab, we cannot test the accuracy of the individual phases. However, the wake-up and sleeping times always coincided in a rather precise manner with the actual wake-up and sleeping times.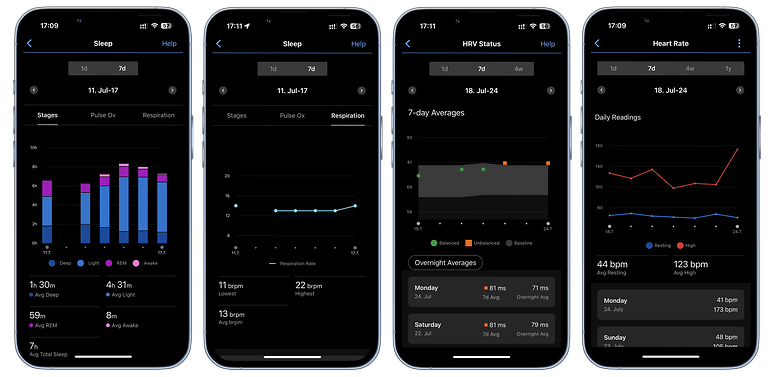 There are also a number of metrics you can use to monitor your fitness, of which the most prominent is the Body Battery. Through workouts and stressful days, you drain your body's battery, and with (restful) sleep, you fill it up once again. You can also take a "Health Snapshot," which is a current inventory of your body based on pulse, heart rate variability, oxygen saturation (SpO2), respiration rate, and stress levels.
Other tracking features
The Garmin Fenix 7 Pro offers a mini solar panel in the display for all models. This allows you to stretch your battery life, but also track how many hours you've spent in the sun. This gives you one more metric that could motivate you to spend more time outdoors.
In addition, the Fenix 7 Pro is the first Fenix model to include hardware for ECG measurement. However, the feature is not yet available, and Garmin has not announced a release date so far. Hopefully, it will not take too long until the corresponding certification is obtained and the ECG function is enabled.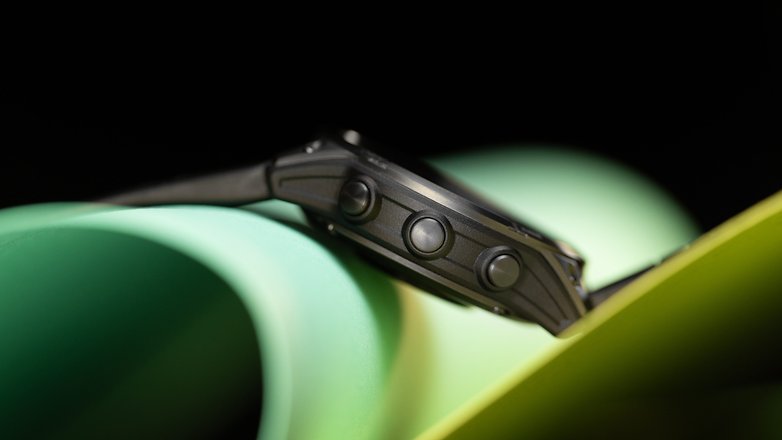 Garmin Fenix 7 Pro battery
Are you faced with a "low battery" warning once again because you did not recharge your phone throughout the entire weekend? That will not be a problem with the Garmin Fenix 7 Pro, which offers fantastic battery life. However, Garmin comes up short in two other points.
---
Pros:
Extremely long battery life.
Solar charging with all Pro models.
Cons:
No wireless charging support.
Proprietary charging cable.
---
According to Garmin, models in the Fenix 7 series have the same excellent battery runtimes as the non-Pro series. In other words, when you are in smartwatch mode, you get 14, 22, or 37 days of runtime with three hours of sun exposure per day, depending on the model size. When you enable GPS during your workouts, Garmin promises 16, 26, and 41 hours of continuous runtime with the multi-band GNSS enabled.
Unfortunately, we do not have an endurance runner in the nextpit editorial office that could actually exhaust all 16 hours of battery life in one go. But with about 30 to 60 minutes of exercise per day five times a week, I managed a good two weeks during the review duration. Recharging, which is so rarely required, is quite a leisurely affair.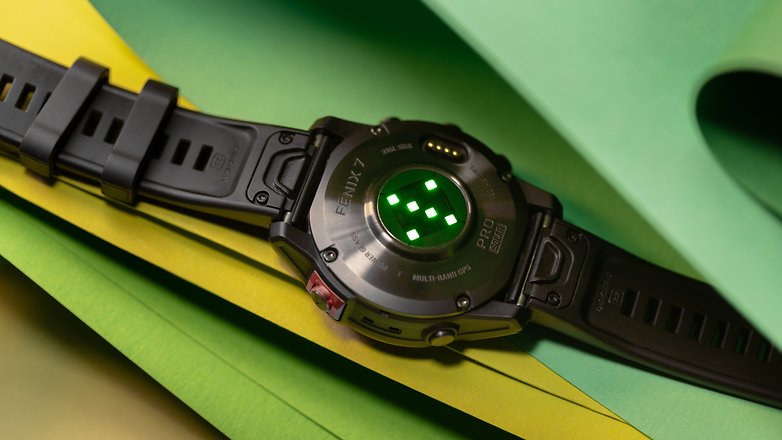 After 10 minutes, it fills up by a mere 8%. After additional ten minute increments, the Fenix 7 Pro then achieved 16, 24, 32, 40, and finally, 48% of battery life after an hour. In the second hour of charging, the battery also filled up in 8% increments every 10 minutes and finally reached 92% after 56, 64, 72, 80, and 88 minutes.
The battery is then fully charged after about 2.5 hours. Sure, that is slow. However, you also have enough juice for an entire weekend after just 20 minutes of charging.
Finally, I would like to see wireless charging support based on the Qi standard in the Fenix 8. It would simply be handy to be able to charge the watch on the go with a common standard instead of always using Garmin's proprietary charging cable. After all, the Swiss company uses the same proprietary cable for all their smartwatches.
Final verdict
Yes, the Garmin Fenix 7 Pro has a few exciting new features, including the improved PPG sensor for pulse, skin temperature, and more. At the very least, the hardware for an ECG function is also integrated. The flashlight is also a very welcome new feature that has now made it from the Fenix 7X to all sizes of the Fenix 7 Pro.
But then again, there just hasn't been much change in many areas. The stale smartwatch features, limited Garmin Pay support in certain countries, and lack of LTE connectivity are becoming more of a burden against the Fenix 7 Pro. This time around, the brilliant sports features manage to give it a cutting edge and ensure the facelifted sports watch receives 4.5 out of 5.0 stars. However, the Fenix 8 will have much to do to obtain a good score in its review.