Galaxy Buds 2 Pro review: Samsung tightens its ecosystem further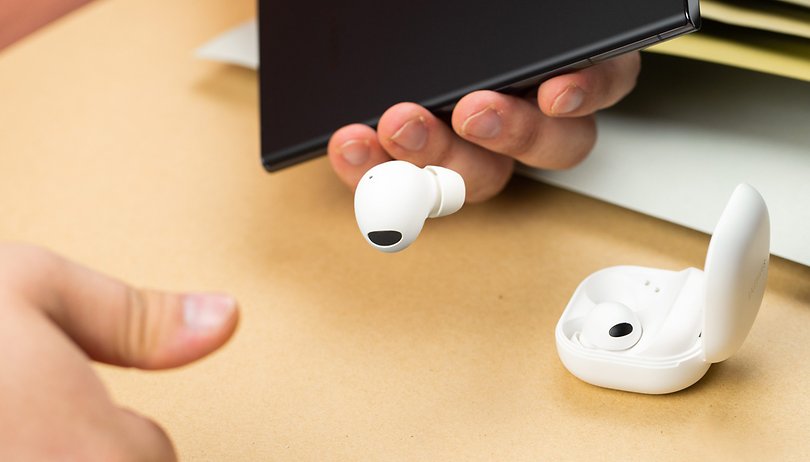 I reviewed the Samsung Galaxy Buds 2 Pro for NextPit and would love to share my full review of these ultra-compact wireless earbuds with ANC featuring the new Samsung Seamless Codec (SSC).
Good
Very compact and discreet design

Very neat premium finish

Decent audio quality

Fairly comprehensive companion app

Effective ANC
Bad
EQ and ANC not customizable enough

Autonomy too fair

Too many Samsung-exclusive features
Galaxy Buds 2 Pro in a nutshell
The Galaxy Buds 2 Pro has been since August 10, 2022 at a price of $229. They are true wireless earbuds with high-end active noise reduction (ANC) that will fit comfortably into your ears.
The big news this year is the new audio codec from Samsung, SSC Hi-Fi (Samsung Seamless Codec). Like many of its interesting features on paper, this codec only works if you use the Galaxy Buds 2 Pro with a compatible Samsung product.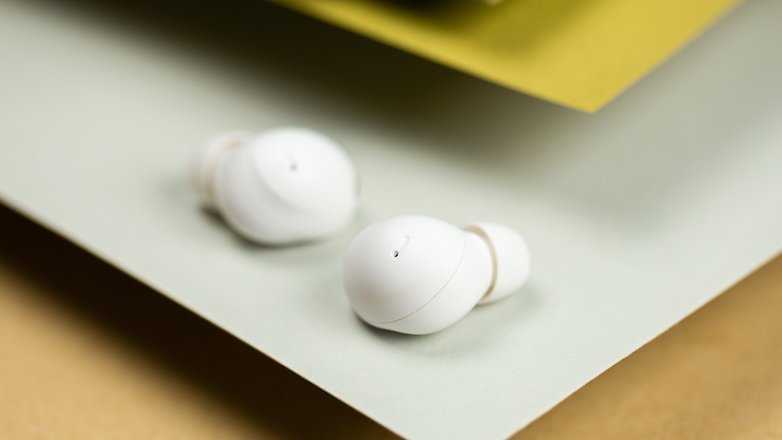 Design
The Galaxy Buds 2 Pro from Samsung are very compact true wireless earbuds. They are very when worn in the ear and I find that Samsung has particularly taken a special interest in their design as well as that of the charging case.
---
What I liked:
Very compact and visually discreet form factor.
Matte coating and premium finish.
IPX7 certification (can be submerged up to 1 meter of fresh water for 30 minutes).
What I disliked:
Less than optimal fit in the ear.
---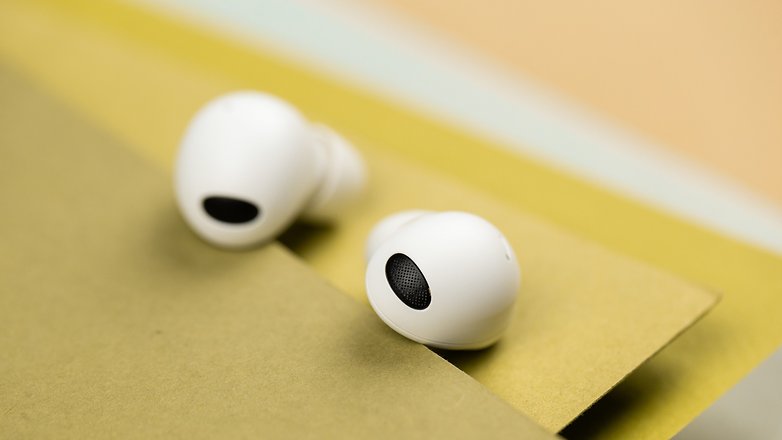 The Galaxy Buds 2 Pro is available in three colors: White, Charcoal, and Lavender. The earbuds are very compact with dimensions measuring 21;6 x 19.9 x 18.7 mm for each earbud and 50.2 x 50.1 x 27.7 mm for the case. That's even more compact than Apple's AirPods Pro 2. The earbuds tip the scales at only 5.5 g each while the case weighs 43.4 g.
This makes them visually very discreet once they're lodged in your ear, but they're also light enough to be forgotten when you're wearing them. I really like the matte coating that Samsung opted for. It's less flashy than on previous models, a very understated elegance that I find to be classy.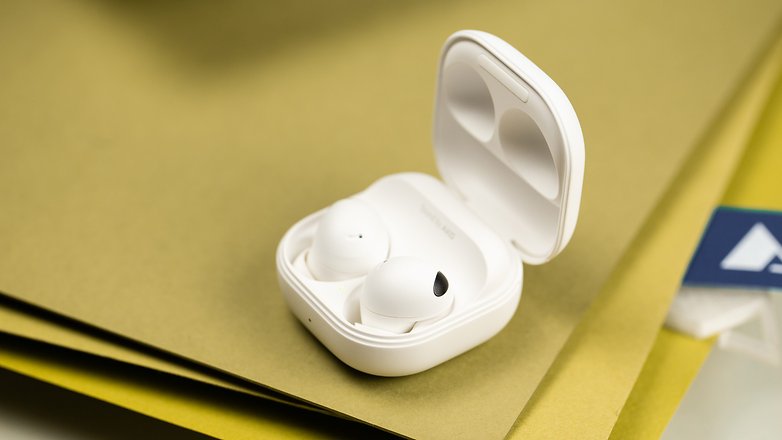 The Galaxy Buds 2 Pro is equipped with touch-sensitive controls which we will explore further below. We can also see a speaker grill on each earbud that is used for active noise reduction and transparency mode. This is an in-ear format, so the earpieces fit nicely in your ear canal. You can choose from three different sizes, too. While I found the support rather average, they did not resist that well to my very serious benchmark of intense headbanging as you can see below.
The case benefits from the same finish in the coating. It fits very easily in any pocket thanks to its small size. The hinge of the cover seemed very solid to me and the storage of the earbuds, although quite confusing at first, is quite easy via the magnetic fasteners.
Features and application
The Galaxy Buds 2 Pro offer some very interesting features, but most of them are only accessible if you use it with a Samsung smartphone. The Galaxy Wearable companion app, while very comprehensive, is also missing from some manufacturers, notably Apple.
---
What I liked:
A very complete Galaxy Wearable companion application.
Some gadget functions are quite fun to use.
Bluetooth 5.3 codec supported.
Google Fast Pair and Microsoft Swift for pairing.
Mono use is possible.
What I disliked:
No aptx/HD codec support.
No Bluetooth multipoint support (except between several Samsung devices).
Equalizer, ANC, and touch controls are not customizable enough.
Samsung's SSC Hi-Fi codec is too exclusive.
No iOS app.
---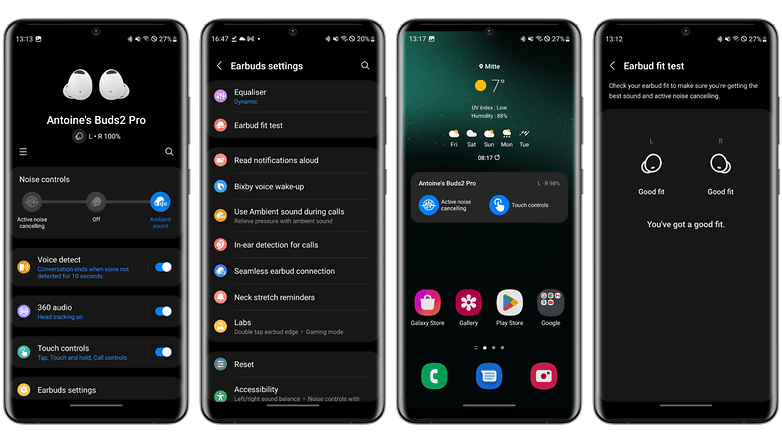 To set up your Galaxy Buds 2 Pro, access the equalizer, customize the touch controls, you will have to go through the Galaxy Wearable app. This application is unfortunately unavailable on iOS. There is a Galaxy Buds app that you can install on your iPhone, but only the Galaxy Buds+ and Galaxy Buds Live are supported.
But even on Android, where the Galaxy Wearables app is available just about everywhere, some features remain exclusive to the Samsung ecosystem.
The new Samsung Seemless Hi-Fi codec is too exclusive
The most notable thing about the famous SSC Hi-Fi codec (Samsung Seamless Codec) is this: the Samsung proprietary audio codec comes in addition to the basic SBC and AAC support, and is supposed to allow the transmission of an audio signal without compression with a sampling rate of 24 bits.
Basically, the codec is able to encode a full 24-bit sound, transmit it to the Galaxy Buds Pro 2, which is then able to decode the signal and maintain the high-quality 24-bit sound. The idea is to prevent the loss of information and data in the transmission of the audio signal for better sound quality.
But, already, this codec works only with a smartphone or tablet Galaxy running under One UI 4. And above all, it is already necessary that the signal at the source is of good quality. So if you listen to your music mainly on Spotify, this codec is useless. If you're using apps like Tidal or listening to FLAC files locally, it's a bit more interesting. But in all honesty, I don't have a sharp enough musical ear to tell you if I perceived a difference with or without the codec.
In terms of stability, the Bluetooth 5.3 connection worked just fine. We don't have multipoint support except between multiple Samsung devices, and the signal range was rather disappointing. When I moved to another room in my house, all it took was a single wall to separate me from my smartphone and the headphone signal was already a bit disrupted.
An equalizer and touch controls are too rigid
The Galaxy Wearable application is very complete, but I find the level of customization to be a bit too limited. The equalizer only offers presets for example, and you can't adjust it manually to your preferences.
Not all touch controls can be reassigned. However, Samsung offers several variations with a single touch, a double or even triple touch, and a long touch. Normally, that should be enough. I just wish I could have switched the touch controls to different tap gestures.
It is also impossible to adjust the intensity of the active noise reduction or the transparency mode. Now that is a real shame, because it is just like Apple.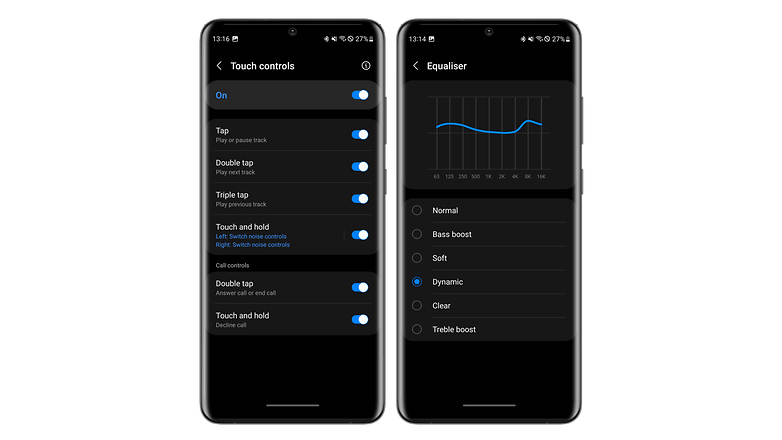 Some nice gimmicky functions
I'll end this section by mentioning a few features that are not essential, but found them to be rather funny and sometimes, even practical.
We begin with the Voice Detect function, which is similar to Sony's Speak to Chat, which automatically switches to transparency mode when the earbuds detect your voice. Basically, if you have the ANC enabled and start talking to someone, the Galaxy Buds 2 Pro will amplify ambient noise instead of attenuating it so that the person you're talking to is more audible and you don't have to remove the earbuds.
There's also 360-degree spatial audio with a head-tracking feature (HRTF) that is similar to what Apple offers. With compatible content, the stereo scene is very well represented in 3D and the effect is still cool. Once again, this option is only compatible with Samsung smartphones and tablets withat run on One UI 4.1.1 or newer.
The Galaxy Buds 2 Pro also offers a feature that notifies you when you're slouching too much. You can calibrate the earbuds to detect if your head is tilted too far down. You will then receive an alert to straighten your posture and stretch.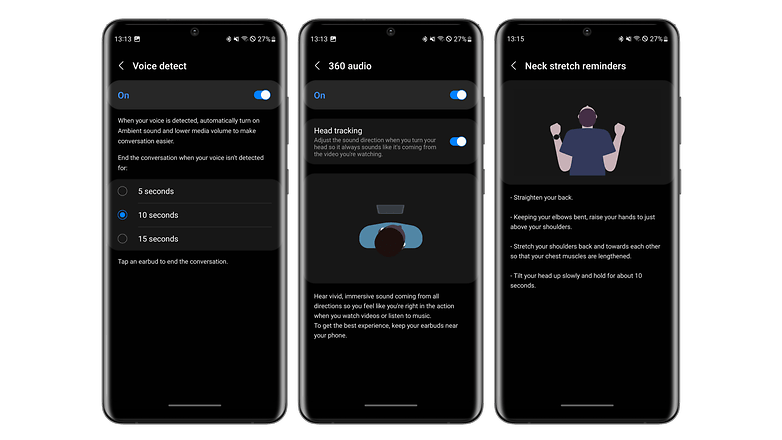 Audio quality, microphones and ANC
The Samsung Galaxy Buds 2 Pro has the particularity to integrate two transducers in each earbud. One is dedicated to the bass and the mediums while the other will take care of the highs. The first has a diameter of 10 mm while the second measures 5.3 mm.
---
What I liked:
The mediums are heavily emphasized.
ANC is excellent.
Natural transparency mode.
What I disliked:
Disappointing microphone performance for calls.
---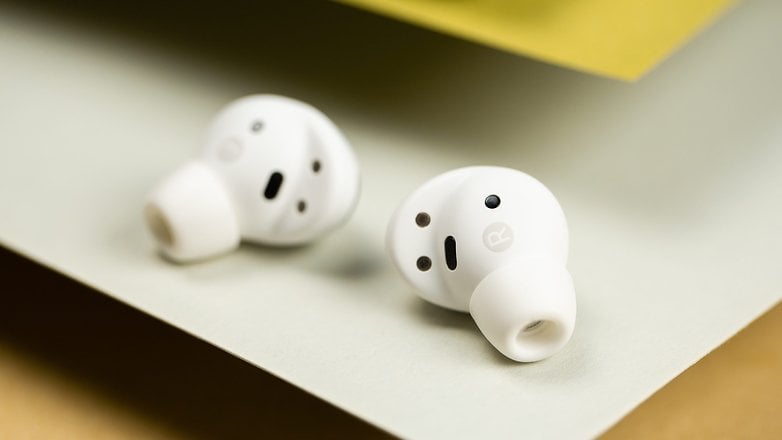 I'm generally not impressed with the audio quality offered on most true wireless earbuds on the market. Also, I'm still convinced that the audio signature of the Samsung headphones is AKG betrays its name.
An audio signature that is overly focused on the midrange
However, even if the sound is not transcendent, it is more than enough to listen to streaming MP3s. I used the Galaxy Buds 2 Pro alternately with a Galaxy Z Fold 4 and an iPhone 14 Pro while listening to digital tracks on Spotify and 24-bit tracks on Tidal.
We can say that it offers a fairly balanced audio signature that can be described as "W". The bass is well present, we have a peak on the mediums and a rise of the highs at the end of the frequency range. But the earbuds have a little too much tendency to flatter the mediums too much, in my opinion. With very vocal tracks, it makes the bass sound a bit muffled.
Personally, I quickly opted for the "dynamic" EQ preset to boost the bass and upper mids while attenuating the mids that are too flattered by the default settings. Basically, it flattens out a bit that famous "W" that I mentioned earlier. Apart from that, the sound is rather clean and detailed overall, but the stereophonic scene is not going to transport you to a whole new level. We are not on an all-encompassing rendering that immerses you, making it a little too backward for my taste.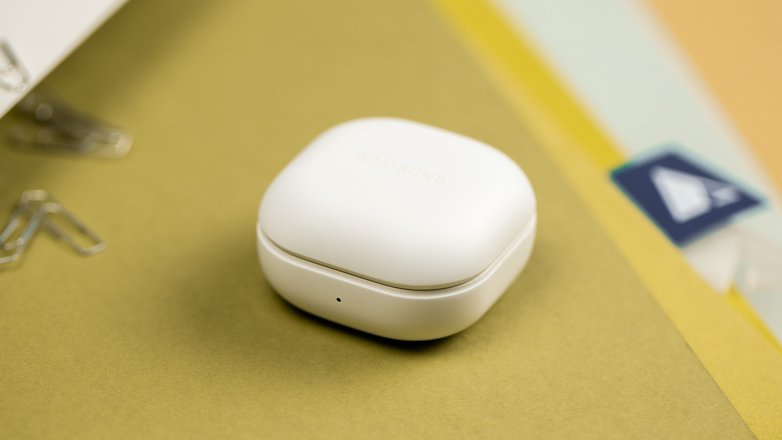 Disappointing microphones for calls
As for call quality, the Galaxy Buds 2 Pro come equipped with 6 microphones. As with almost every pair of true wireless earbuds I reviewed, I find the quality of the microphones to be very average. When indoors, it is fine, but as soon as there's a bit of noise pollution, it's becomes disappointing. Conversations are still audible, but it's not as good as what you get with the microphones of a smartphone.
ANC is effective, but is not the market leader
As for the ANC, the famous active noise reduction, I found it quite effective on the Galaxy Buds 2 Pro. It's not the best reference on the market, but Samsung's performance is quite good. In my opinion, it's even quite good compared to what is available in the market.
I still managed to get rebuked by a little lady whom I was blocking in the street and I couldn't hear her until she tapped me on the shoulder. Wind noise was also quite well attenuated, as are most structure-borne noises. As always with this kind of technology, attenuation of voices and noises that are too irregular is not effectively tuned out enough.
The transparency mode worked very well. I find the reproduction of amplified ambient sounds to be particularly natural and the voices of your interlocutors are perfectly audible and intelligible.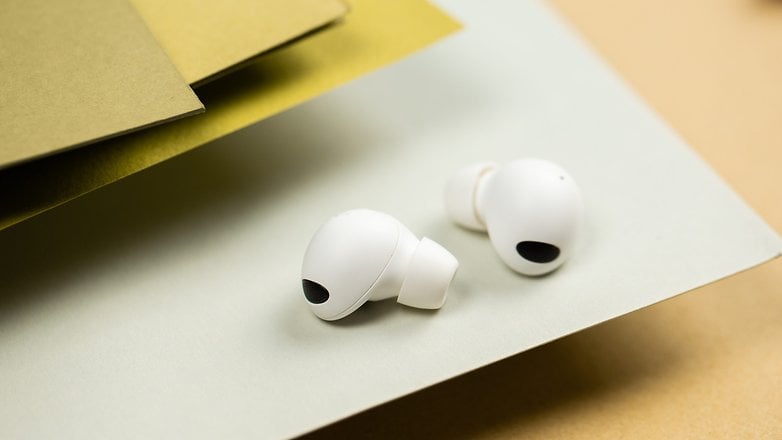 Battery life
The Galaxy Buds 2 Pro integrates a 58 mAh battery in each headset and one 500 mAh battery in the charging case. Samsung's claimed battery life is 5 hours for the earbuds and up to 18 hours after recharging via the case.
---
What I liked:
Wireless charging supported.
What I disliked:
Battery life is in adequate at this price point.
---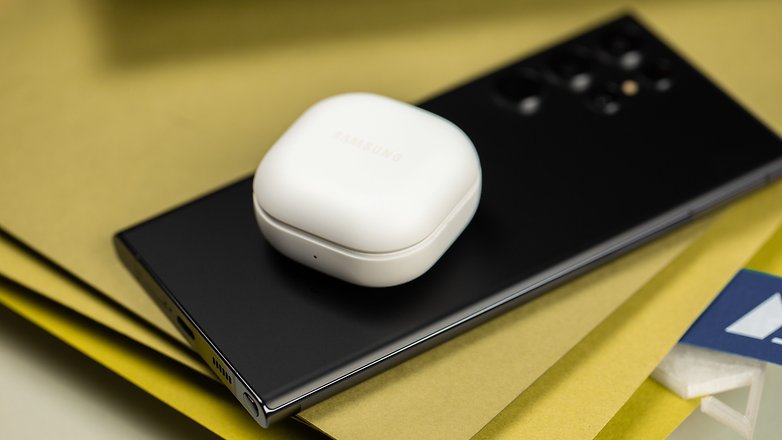 A 5-hour battery life, even with ANC enabled, is pretty low in 2022. On average, I was able to last for more or less 5 hours with the Galaxy Buds 2 Pro. I say more or less because the batteries in both earbuds don't drain at the same rate. Often, the right earpiece would run out of juice before the left.
This is normal if your earphones have a master-slave system for Bluetooth connection because often the right earphone is the main connection point and therefore the relay for the left earphone. But the Galaxy Buds 2 Pro can be used in mono mode, so they cannot work in this master-slave configuration, which means there should not be too much of a difference in battery life from one earbud to the other.
As for the recharging case, it allows you to recover 30% of battery life after just 10 minutes of charging. It takes a little over an hour to fully charge the Galaxy Buds 2 Pro. The case can be recharged via a USB-C cable or wirelessly via a Qi charger.
Conclusion
The Galaxy Buds 2 Pro are like the AirPods Pro, but for Samsung. I find almost exactly the same flaws as on their Apple counterpart. The very average battery life and the exclusivity of numerous features, and even settings are reserved for a limited ecosystem of products in this case.
On the plus side, the Galaxy Buds 2 Pro also sport good sound quality. I found the active noise reduction (ANC) to be particularly effective. Their design is also elegant and neat in addition to being super compact and visually discreet.
If you have a Samsung smartphone, I think the Galaxy Buds 2 Pro makes for a very good choice. It is less suitable if you have a non-Samsung Android smartphone and definitely worth a miss if you have an iPhone.