Fairphone 5 Review: Hopeful Innovation?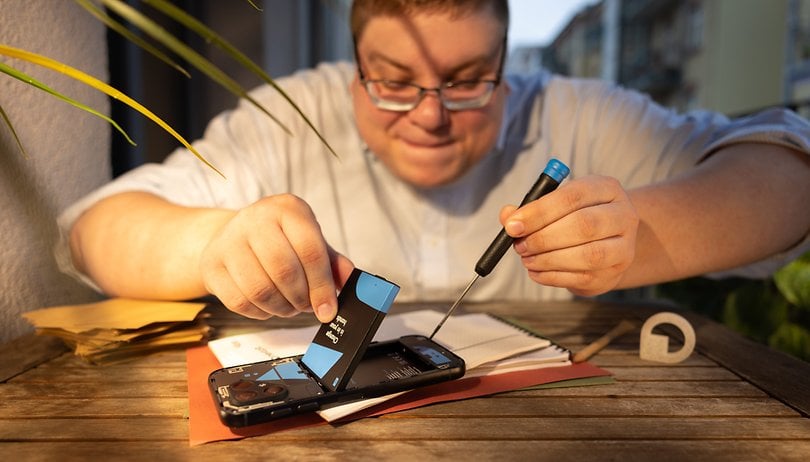 Fairphone, the manufacturer of sustainable, eco-responsible smartphones, is back with the Fairphone 5. The specifications are a little bit more attractive this year, sporting an OLED screen and a triple 50 MP camera module. The smartphone will receive Android updates for up to a whopping eight years! Is the Fairphone 5 worth jumping on the sustainability bandwagon? I give my opinion in this comprehensive review.
Good
More mature, modular design

Satisfying 90 Hz OLED screen

Major advances in photography performance

Excellent upgrade and reparability policy
Bad
Disappointing battery life

Adequate performance that is unworthy of this price range

Quality-to-price ratio is not yet balanced completely
In a nutshell
The Fairphone 5 was made available in most parts of Europe from August 30, 2023, where it retails for €699** (around $745) and arrives in a single memory configuration of 8/256 GB. The Fairphone 5 will be on sale for five years and will receive Android updates for up to eight years! It is, by all means and purposes, the most sustainable smartphone in the world and by a far margin at that.
However, there is one criticism that haunts any Fairphone handset time and again: its price-to-performance ratio. The Fairphone 5 introduces some hardware improvements over the Fairphone 4 (review) that was launched approximately two years ago.
Gone is the LCD screen, enter the OLED screen. The rear camera module and selfie camera have all been upgraded to 50 MP resolution. The design is even more modular now with 10 replaceable components compared to 8 on its predecessor.
However, Qualcomm's extremely unique SoC is not as powerful as other models within the same price range. Wireless charging is still absent. The 30W wired charging speed remains rather slow (relatively speaking).
The million-dollar question is: are we going to sacrifice user experience for the sake of longevity? Is the Fairphone 5 too limited for its price? In absolute terms, yes. But in reality, I do not think so.
**Do take note that Fairphone does not sell its handsets officially in the US, so all pricing (including its parts) are in € for this review.
Design
The Fairphone 5 boasts a design that is made up of recycled and ethically sourced elements. The smartphone has a 100% recycled plastic back, an aluminum frame and is IP55 certified.
---
Pros:
Easy to disassemble with accessible components.
IP55 certified despite having a modular design.
Good grip and neat design.
Aluminum frame.
Cons:
Not waterproof.
SIM and microSD ports are blocked by the (removable) battery.
Plastic back doesn't look or feel premium.
---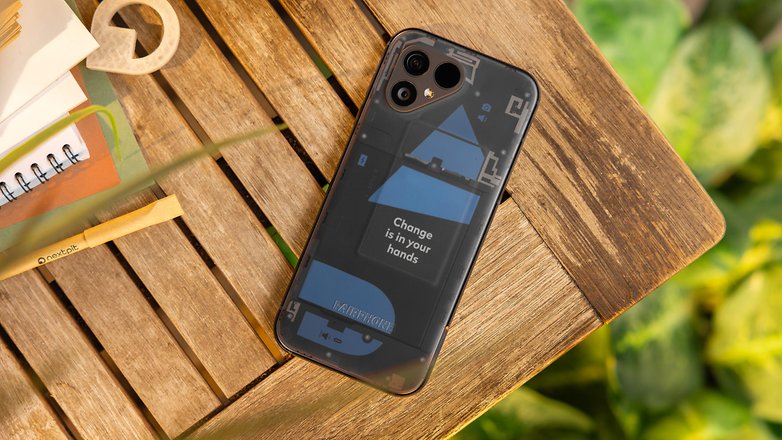 The Fairphone 5 is available in three colors: blue, black, and transparent. The latter is what I received for the review unit from the manufacturer.
As a Nothing Phone (2) fanboy, the transparent back speaks to me. Fairphone applied colorful patterns to the visible components via the back cover, and I rather liked the look. However, I must admit that the plastic back, which can be removed to access its components, doesn't exude premium vibes.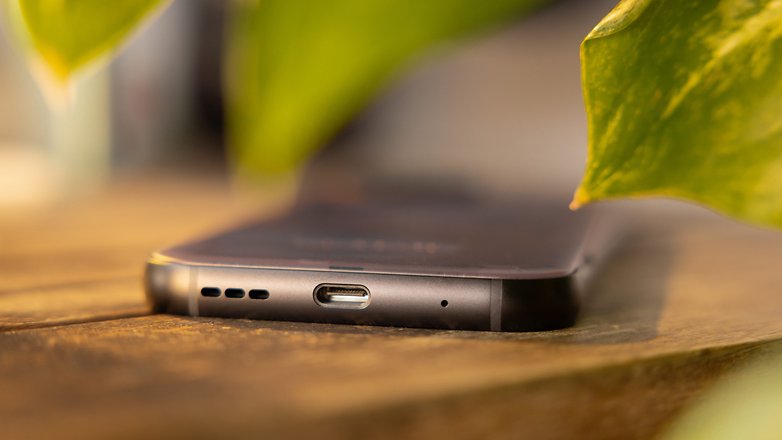 The smartphone offers a good grip with its rounded corners. The aluminum frame reminds me of the iPhone 11 in terms of feel. The smartphone is certified IP55 against water and dust. This is better than the Fairphone 4 (IP54), but you still cannot submerge it.
The Fairphone 5's screen is flat, and although its chin and forehead are a little too wide for my taste. Thankfully, they are symmetrical in nature, so those who are OCD about such things need not tear their hair out. The entire display is protected by Corning Gorilla Glass 5.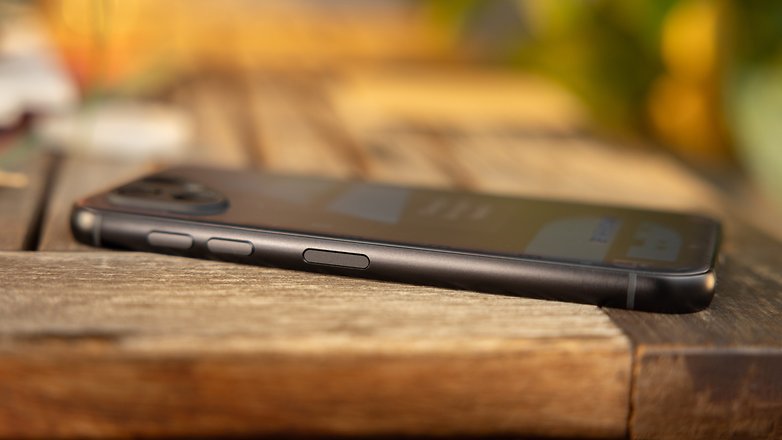 The smartphone is rather hefty, tipping the scales at 212 g, but I did not find it too cumbersome to carry.
The real attraction of the Fairphone 5's design is its modularity. You can simply unclip the plastic cover at the back to access the various components within. All in all, you can dismantle and replace up to 10 components: the screen, USB-C port, top and bottom speakers, selfie camera, the two lenses at the back (separately), battery, SIM port, SD port, flash, etc.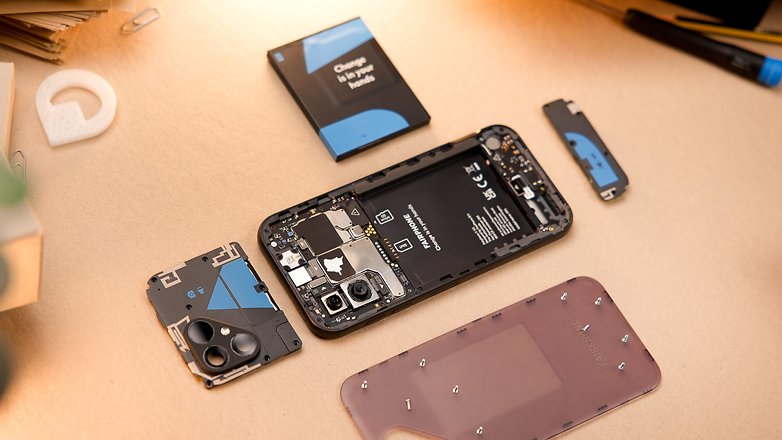 You can buy the components at the manufacturer's online store. The smartphone comes with a five-year warranty, so spare parts will be available for just as long. On the other hand, I think it's a shame that the battery, although removable, blocks the SIM and microSD ports. You will have to remove it to access them.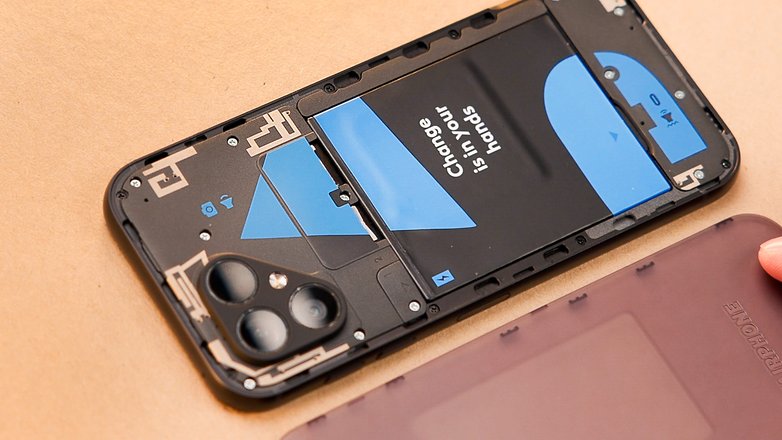 As for the disassembly, it is a fairly easy and, above all, quick matter. It can be a bit stressful to have to use a bit of force to unclip certain parts, and I was afraid of breaking the smartphone. Thankfully, all went well in the end. There was no data loss or malfunctions after reassembly.
Fairphone also places great emphasis on the eco-responsible and ethical dimension of the Fairphone 5's design. At least 70% of the smartphone's 14 key components were made from either recycled or ethically sourced materials. I'll focus on Fairphone's commitments in a dedicated article later.
Screen
The Fairphone 5 features a 6.46-inch pOLED display with a resolution of 1224 x 2770 pixels, a refresh rate of 90 Hz, and a maximum peak brightness of 800 nits.
---
Pros:
No curved edges.
The 90 Hz is rather sufficient for smooth scrolling.
Cons:
Slightly low brightness, forcing you to push the slider to 100%.
No variable refresh rate (LTPO).
Bezels are too thick.
---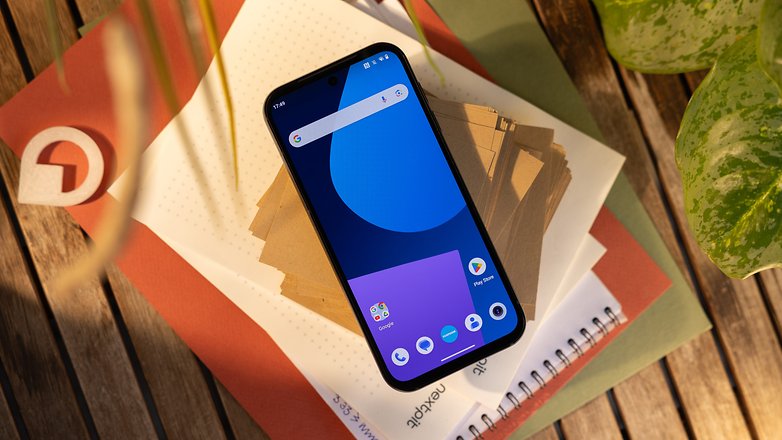 I did not notice any major defects in the quality of the Fairphone 5's screen. Colorimetry seemed a little too cold in Natural mode, so I opted for the Vivid mode.
The refresh rate is not variable without LTPO technology. You can choose between 60 and 90 Hz, that's all.
The maximum peak brightness of 800 nits doesn't break any intensity records either. When outdoors with automatic brightness, I was always at 100%. I think the manufacturer would benefit from optimizing all this to preserve the smartphone's battery life.
Personally, I found the bezels to be too thick for my preference. The chin and forehead segments seemed to be particularly prominent. I do, however, appreciate the fact that the screen is flat.
In short, it's not the best of the best, but I didn't find my user experience to be diminished in any way.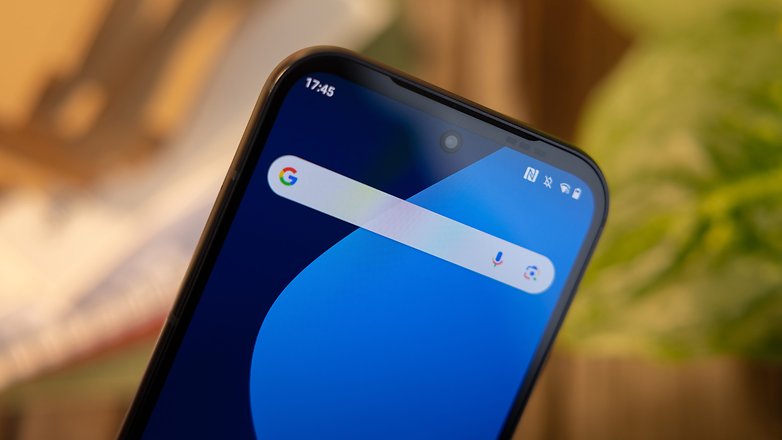 Interface/OS
The Fairphone 5 runs on stock Android 13. There is no bloatware, but you do get a solitary Fairphone app and a great update policy.
---
Pros:
5 major Android updates + 8 years of security updates!
Stock Android with zero bloatware.
Fairphone app is useful for understanding smartphone disassembly.
Cons:
---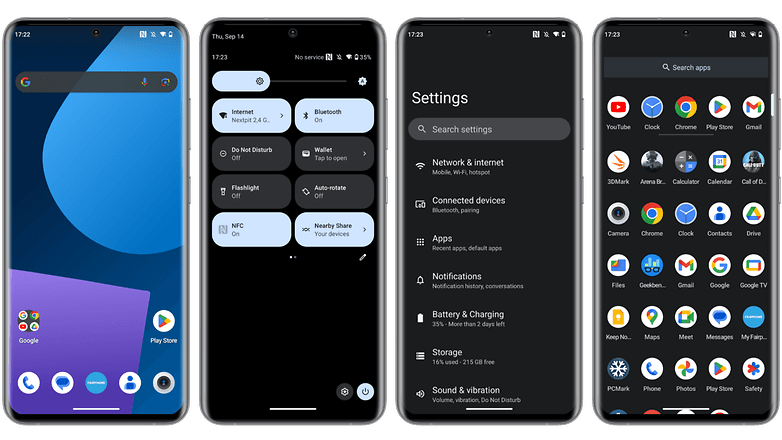 The Fairphone 5's software is the most streamlined and least interesting part of the smartphone. It's stock Android 13, that's all.
You get all the same menus, the same Android features as the Google Pixel 7 or any other stock Android smartphone. I really have nothing more to add on.
There is an official Fairphone app that provides information on your device's health, video tutorials for disassembly, guides to understanding the various modules inside the smartphone, and a help page in case there are any technical problems.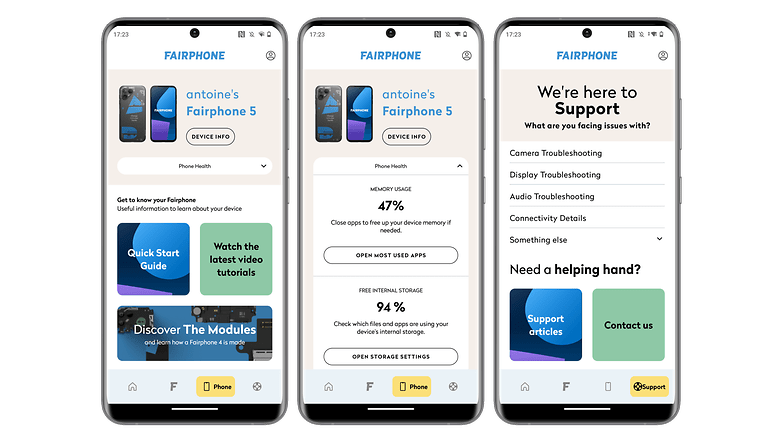 Apart from this application, there's no bloatware to report concerning the Fairphone 5. You will not get the likes of Booking.com, TikTok, mobile games on this—nothing! Just the Google Suite, as on any Android smartphone.
The Fairphone 5 supports NFC, Bluetooth 5.2, and eSIM connectivity. However, the Fairphone 5's biggest software asset is its update policy. Fairphone promises that the Fairphone 5 will receive five major Android updates and eight years of security updates.
I don't know how functional the Fairphone 5 will remain five years from now, given its rather modest SoC. But then again, this is the best update policy on the market. Fairphone also has partnerships like Murena to extend support for its smartphones.
Performance
The Fairphone 5 doesn't feature the latest Snapdragon SoC, as I'm sure you've come to expect. In fact, it doesn't carry a Snapdragon SoC at all, but a rather special chip called QCM6490. Performance is very similar to that of the Snapdragon 778, with excellent stability and no overheating issues.
---
Pros:
Very stable performance.
No overheating issues.
Cons:
Gaming at 60 FPS is not always possible.
Not sure the chip will be competitive in 5 years' time.
---
The 6 nm SoC features an octa-core CPU with a 1 + 3 + 4 configuration and an Adreno 643 GPU clocked at 812 MHz. The processor features 1 Cortex-A78 core at 2.7 GHz, 3 Cortex-A78 cores at 2.2 GHz, and 4 Cortex-A55 cores at 1.9 GHz.
In terms of raw performance, the Fairphone 5 performed like a Nothing Phone (1) (review) or any Android smartphone equipped with one of the countless variations of the Snapdragon 778 SoC.
Fairphone 5
QCM6490
Nothing Phone (1)
Snapdragon 778G+

Poco X5 Pro
Snapdragon 778G

3DMark Wild Life
3094
2809
2457
3DMark Wild Life Stress Test

Best loop: 3,082

Worst loop: 3,052

Best loop: 2,832
Worst loop: 2,816
Best loop: 2,459
Worst loop: 2,438
Geekbench 5/6
Geekbench 6:
Single: 1,132
Multi: 2,955
Geekbench 5:
Single: 796
Multi: 2,889
Geekbench 5:
Single: 768
Multi: 2,685
Clearly, performance isn't the best, especially when compared with similarly priced smartphones. On the plus side, performance stability is excellent. It exceeds 99% on the Fairphone 5. There's no overheating, and thermal throttling is almost imperceptible.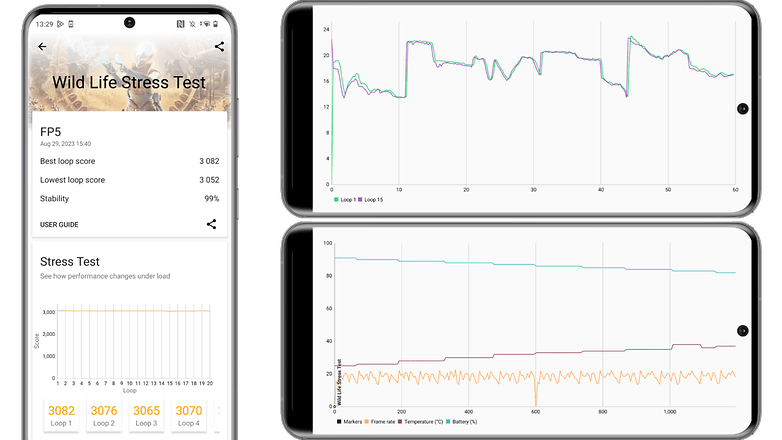 In an actual use case scenario, Call of Duty Mobile set my graphics to the highest level and my framerate to the median by default. I expected worse, to be honest.
In terms of durability, I wonder if this SoC will be efficient enough in five years' time, which is the smartphone's warranty period. What about performance in eight years' time, during which the Fairphone 5 is supposed to be kept up to date?
I understand that this defect is not Fairphone's fault. The manufacturer depends to a very large extent on the support offered by the chip supplier. Such long support is generally not offered for the highest-end chips, for profitability reasons.
I do think this remains one of the blind spots in Fairphone's policy. Time will tell.
Photo quality
The Fairphone 5 features a dual rear camera module. It comprises a main lens and an ultra-wide angle lens, each at 50 MP. The selfie camera also offers a 50 MP resolution. Photo quality is surely THE area where Fairphone made the most progress.
---
Pros:
The main lens is effective for both day and night shots.
Good colorimetry and wide-angle detail.
Very effective daytime selfie lens.
Cons:
Ultra-wide angle shots are too uneven by day and poor by night.
Limited digital zoom.
---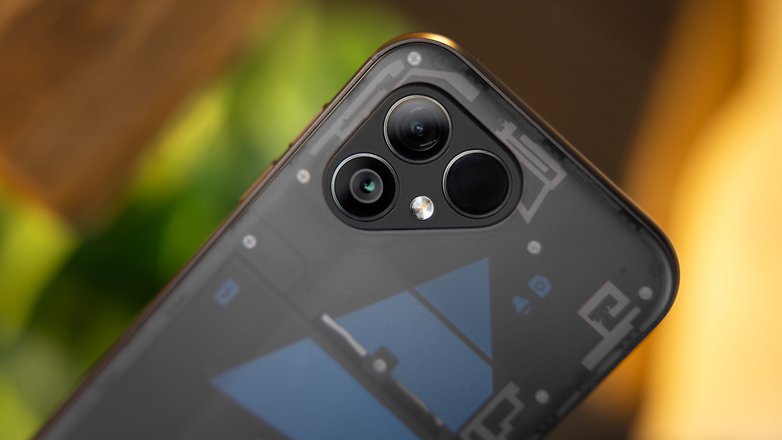 Photo quality was greatly lacking in the Fairphone 4, in my opinion. The manufacturer has put a lot of effort into this, and I've noticed a marked improvement.
Overall colorimetry is much more natural and less cold. The level of detail is also quite acceptable with the main lens, which is based on a Sony IMX800 sensor. You do not get a telephoto lens, but the 2x zoom obtained from the main lens does the trick. Don't expect to get much beyond that (20x maximum).
As for the ultra-wide angle lens, I was disappointed. During the day, distortion at the edges of the image reduced the level of detail. At night, digital smoothing performed to reduce noise erased every last trace of sharpness.
I found the selfie lens to be very effective during the day and very poor at night. The night mode didn't really impress me, either. It sometimes added artifacts to the image that were not present without night mode. Reflections, flare effects, and so on. At least, this was the case with the manual night mode. In automatic mode, the results from the main lens were adequate, but nothing more.
As for video, the Fairphone 5 can record in 4K at 30 FPS with all lenses, both front and rear.
Battery life & recharging
The Fairphone 5 is equipped with a removable 4,200 mAh battery. This battery accepts standard 30W wired charging, but does not support wireless charging.
---
Pros:
Removable battery, inexpensive to replace.
Cons:
Disappointing battery life.
No charger or cable included.
No wireless charging supported.
---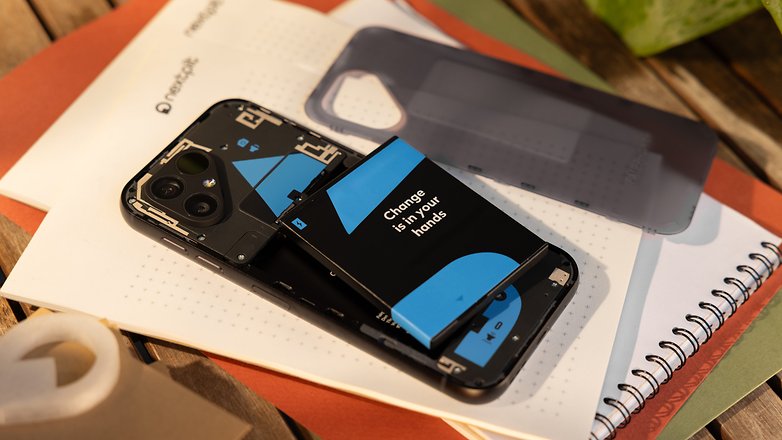 The Fairphone 5 doesn't have the most power-hungry AMOLED screen or SoC on the market. I expected the 4,200 mAh battery to hold up very well.
However, in our PC Mark benchmark, the Fairphone only lasted a mere 8.20 hours before dropping to below 20% battery life. That's a really low score.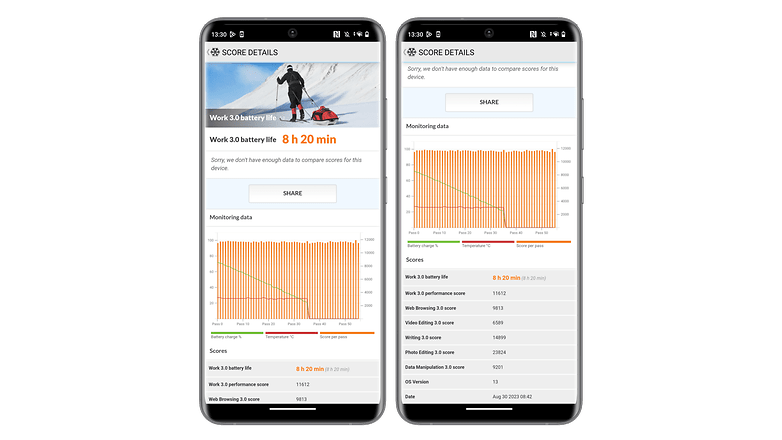 In actual use, I managed to get through a day's use without too many problems. There were times when I had to recharge it in the evening when I got home from work. In this price range, that's really disappointing.
The Fairphone 5's battery costs €39.95 if you want to buy a spare. In the worst case scenario, you can carry around a spare battery and swap it as soon as you run out of juice, harking back to the good old days when Nokia ruled the roost. Obviously, I'm joking, and I think the Fairphone 5's battery life is the smartphone's biggest flaw.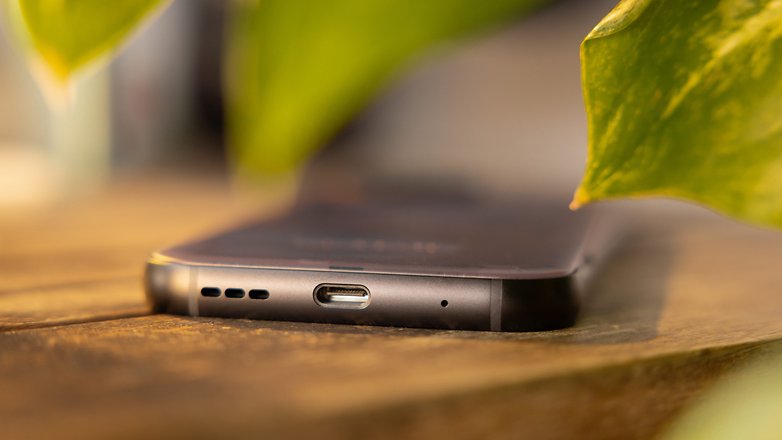 As for charging it, the standard 30W wired charging process is nothing to write home about. After 15 minutes of charging, I was at 36% and after 30 minutes, I reached 75%. It took me just under an hour to reach 100%.
Considering how Fairphone doesn't include a charger or cable, you have to make sure you use compatible accessories that support the USB PD 3.0 standard. I don't think this should be a problem today, but your charging speed mileage may vary depending on what you use.
Technical specifications
Fairphone 5 - Technical specifications
Image
Screen
pOLED 6.46" | 1224 x 2770 p | 90 Hz
Dimensions & weight
161.60 x 75.83 x 9.6 mm | 212 g
Colors
Black, Blue, Transparent
SoC
Qualcomm QCM6490
Memory
8 GB RAM
256 GB storage (expandable up to 2 TB)
OS
Android 13 Stock
microSD
✔️
Dual SIM
❌
eSIM
✔️
Camera module
Main lens: 50 MP | f/1.88 | OIS
Ultra-wide angle lens: 50 MP | f/2.2 | FOV 117°
Selfie lens
50 MP | f/2.45
Video
4K at 30 FPS | 1080p at 60 FPS
Audio
2 stereo speakers
No 3.5 mm jack
Battery
4,200 mAh
Charging
Wired: 30 W | No wireless charging
IP certification
IP55
Connectivity
Wi-Fi 6 | Wi-Fi Direct | Bluetooth 5.2 | NFC
Conclusion
I would have given the Fairphone 5 a 4.5/5 rating if its battery had been better. The improvements over the Fairphone 4 are undeniable. The screen is better. The camera module has been improved. Performance has increased, and the modularity is even greater now.
Only its weak battery life caused it to shed some points, as does the uncertainty about its SoC's ability to remain competitive 8 years down the road. Despite this, I'm going to use it very seriously as a daily driver, and I'm also considering installing Murena's /e/OS for a while, just to push the Zadist 3.0 delirium to the limit.
I really want to see if my user experience will be seriously undermined by a "limited" spec sheet for a €700 smartphone or not. Yes, I agree that the Fairphone 5 isn't worth its €699 price tag in terms of sheer specifications-to-price ratio.
But I also feel that the manufacturer increasingly understands the delicate balance it needs to strike to convert more users. Fairphone's technical specifications are gradually becoming more competitive.
By the way, if you find it too expensive for what it offers, wait a year or two. If you're crazy, wait 8 years and the smartphone will cost next to nothing, but it will still be updated with the latest Android OS!