How to disable WhatsApp blue check marks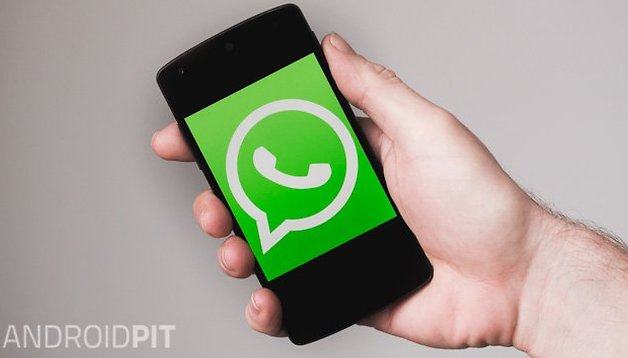 A few days ago many of you wouldn't have given any thought to how to disable the blue check marks in WhatsApp blue check marks are now optional - sort of. See the updated section at the bottom for details.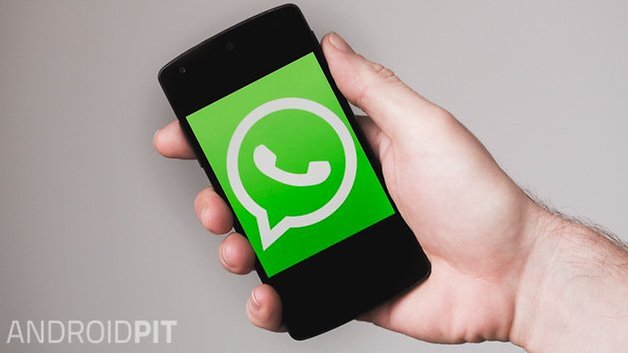 Use a WhatsApp substitute
Once they're on your phone how do you get rid of the blue check marks of death? Easy. The simplest way is also the most obvious: don't use WhatsApp. We like a little messaging app called Snowball Beta that collects all your messages from various other messaging apps and, like a snowball, rolls them all together in one convenient place. And the best part of it is that WhatsApp won't consider a message as read! That means no blue ticks of doom!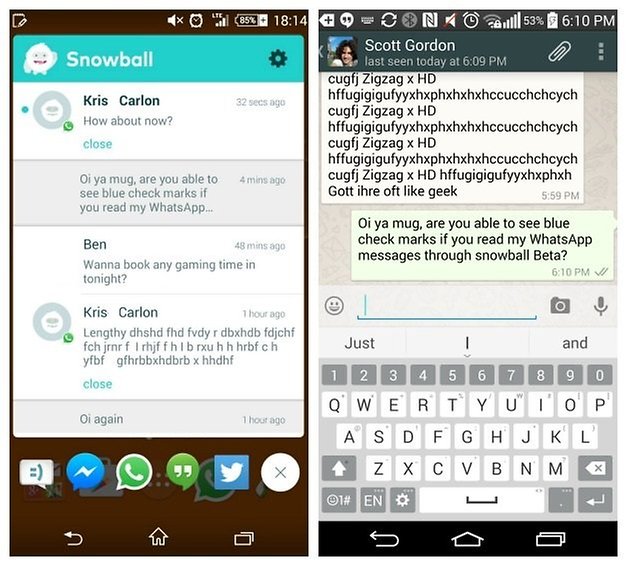 Use Pop-up Notifications
The next method is pretty great too: go to WhatsApp and into Settings > Notifications > Pop-Up Notifications and select ''Only when screen off.'' Now, when you next get a message from a WhatsApp contact your screen will illuminate with a message pop-up. You'll have the option to ''View'' or ''Close'' but hitting either one of these will change the marks from gray to blue on your friend's phone. What you want to do is hit the home button on your phone instead. Done. Message received, blue ticks avoided. Of course, it only works if your screen is off when you receive the message in the first place.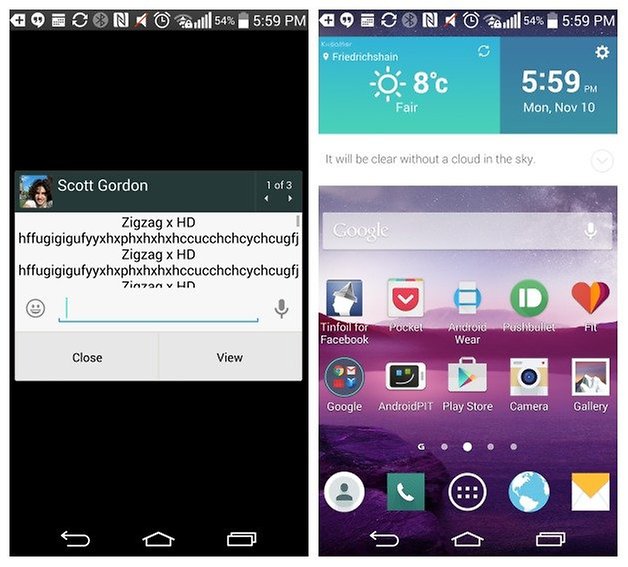 Use lock screen notifications
Following on from this logic, any lock screen notification app will let you sidestep the blue check marks. I'm a lifelong fan of Dynamic Notifications. If the message is short enough, which my WhatsApp messages usually are (my friends tend to send grunts, squeaks and clicks to me) then you'll be able to see the whole message on your lock screen without giving the game away. The same thing goes for your notifications shade, as a matter of fact: is the message is short you can preview it in the notifications drop down without letting WhatsApp know.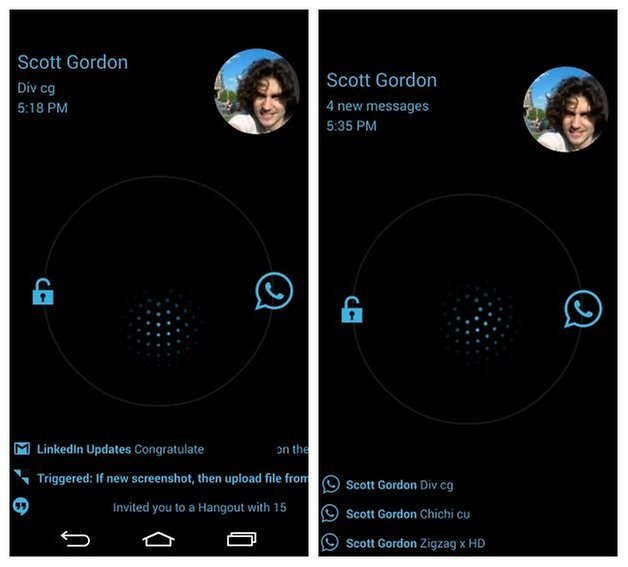 Use the WhatsApp widget
Just long press a blank space on your home screen to bring up the widget manager. Add the WhatsApp widget to your home screen and when new messages come in, even ones that are several lines long, you will be able to read them in the widget without affecting the blue check marks. Of course, if you tap the message in the widget it will launch the app and the jig will be up, but as long as you're mildly careful you'll be able to read everything incognito. Even if the one contact sends you multiple messages you'll still have separate entries (rather than the irritating ''three unread messages from X'' notification). You can even add a widget to your lockscreen (see link above this paragraph).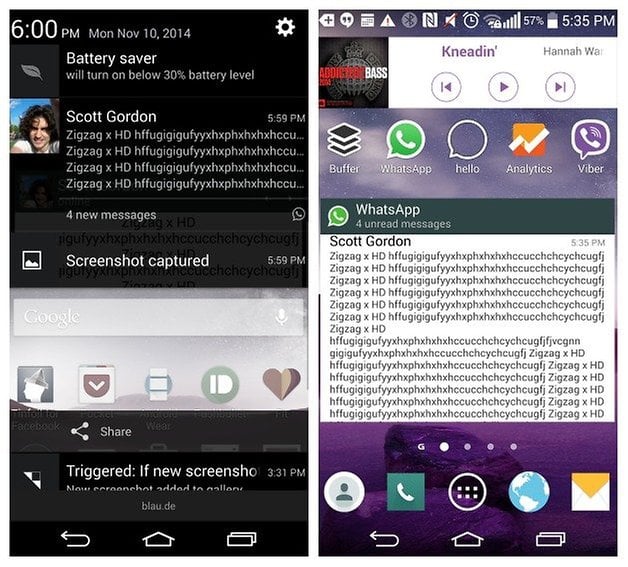 Use Airplane Mode
The last way to avoid the blue ticks of ignorance is the good old Airplane Mode trick. All you do for this one is see a message has come in, turn on Airplane Mode and then go into WhatsApp and read it. You can then safely hide from your friend but only until you turn Airplane Mode back off. As soon as you do that your friend will get blue checks to say you've read their message. I guess you could hold out for as long as possible, but really, is hiding from your WhatsApp contacts really worth going off the grid for long?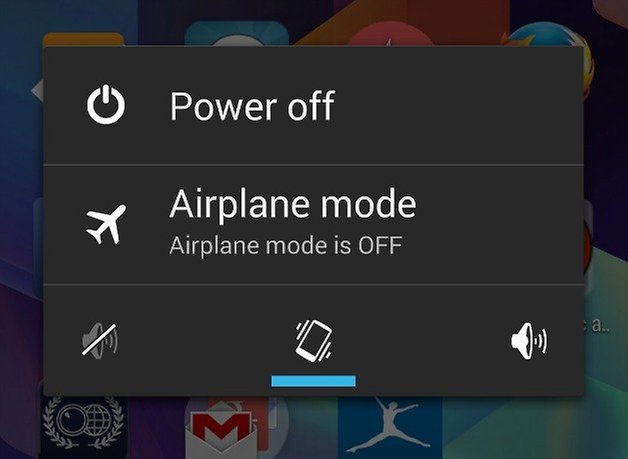 A final word
As you probably know by know, the blue checks will apparently be optional in a future update of the WhatsApp app. Likewise, things may change with Android 5.0 Lollipop now that we have lock screen notifications, so we'll let you know if anything needs to be tweaked any further. The good news is that no matter the problem, as you can see, there's always half a dozen ways to sidestep it if you put your old Android noggin to work. Enjoy ditching your friends, friends!
Update: A new beta version of WhatsApp is now available on the official WhatsApp website (version 2.11.444) which gives you the option to disable the blue checks marks. However, as the results of our survey tell us: the majority of WhatsAppers actually think the blue ticks are a good idea. So will you be disabling them once you have to power to? In any case, you can only grab the beta version from the site right now, but it will make its way to the Play Store soon enough.
Thanks Kevin Berendsen for the tips!