CyberGhost review: Turbo VPN for up to seven devices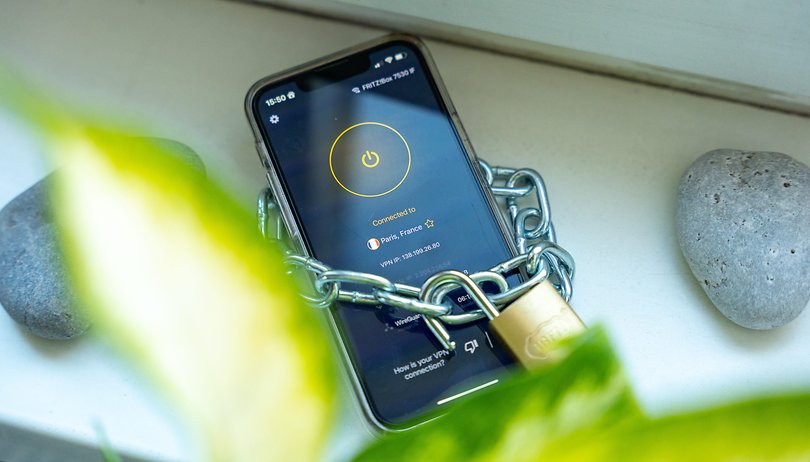 With CyberGhost, you can surf the web anonymously and undetected like a ghost (hence its namesake!) - and pay just $2.19 per month for a 2-year subscription. But which platforms can you use CyberGhost with and how fast are the connections to the country of your choice? NextPit has the answers in this CyberGhost VPN review!
Good
Fast connections across 91 countries

Good encryption with many supported protocols

Supports up to 7 devices

Free trial period and money-back guarantee for up to 45 days
Bad
Country selection is not always quite intuitive

Few browser plugins supported (Chrome and Firefox only)
Pricing and subscriptions
Disclaimer: This review is part of a cooperation with CyberGhost. However, this has no effect on our editorial opinion and its content.
You can only access VPN connections via CyberGhost with a subscription. However, there are numerous subscription options thanks to different terms and the payment options are diverse. Thanks to a 45-day money-back guarantee, you can also try CyberGhost out for yourself if you so desire. As an additional option, CyberGhost offers the inclusion of a dedicated IP address.
---
What I liked:
Particularly lengthy money-back guarantee from six months onwards.
Payable monthly, semi-annually, and annually.
Many payment methods, including anonymously via Bitcoin.
A free trial period is available.
What I liked:
---
CyberGhost subscriptions differ only in terms of the duration and interval, where the VPN provider deducts money from your payment method. Functionally, there is only the option to book a dedicated IP address for an additional $2.50 per month. Both this additional option and the subscription will further decrease the overall cost of your commitment to the VPN.
This is common practice with VPN providers and a good way to get CyberGhost at a lower price. As of reviewing it this May 2023, the cost of the 2-year subscription drops to $2.19 per month, which is a saving of 82%. With this option, however, you'll have to resort to a one-time payment of $56.94. The 6-month plan, which costs the equivalent of $6.99 per month, is debited every half year, and if you were to pay monthly, the cost increases to $11.99.
Costs and subscriptions (as of May 2023)
Term
1 month
2 years
6 months
Costs (monthly)
$12.99
$2.19
$6.99
One-time costs
-
$56.94
$41.94
Length of the money-back guarantee
14 days
45 days
45 days
Dedicated IP address
$2.50 per month
If you want to try CyberGhost before deciding to subscribe, you can do so for free for up to 45 days. However, the extended period of the money-back guarantee is only valid for long-term subscriptions. For monthly use, the time window drops to 14 days. For each case, you will have to reckon with other costs even when trying out the service. Alternatively, a one-day trial period is available for macOS and Windows for free. For iOS and Android, you can even get up to three days.
Last but not least: In addition to PayPal, CyberGhost accepts credit cards from VISA, Mastercard, American Express and Discover, Amazon Pay, Direct Debit, and Bitcoin. Hence, you have the option to subscribe to CyberGhost anonymously which is a plus point for the VPN provider.
Locations and servers
VPN services have numerous uses in 2023. One of them is to trick websites into thinking that you are accessing them from another country. CyberGhost covers a particularly large number of regions across 91 countries. However, you cannot access different servers manually in the process, but the provider claims to operate over 9,200 servers around the world.
---
What I liked:
High variety of countries and servers.
Optimized servers for streaming.
What I disliked:
No manual server selection.
Country selection can be quite cumbersome.
---
With 91 countries and 9,200 servers, CyberGhost offers a very good source of flexible and powerful VPN connections. In addition to popular VPN countries such as the USA, France, Germany, and other European countries, smaller regions such as the Isle of Man are also available. However, CyberGhost does not reveal how many servers there are per country in its applications.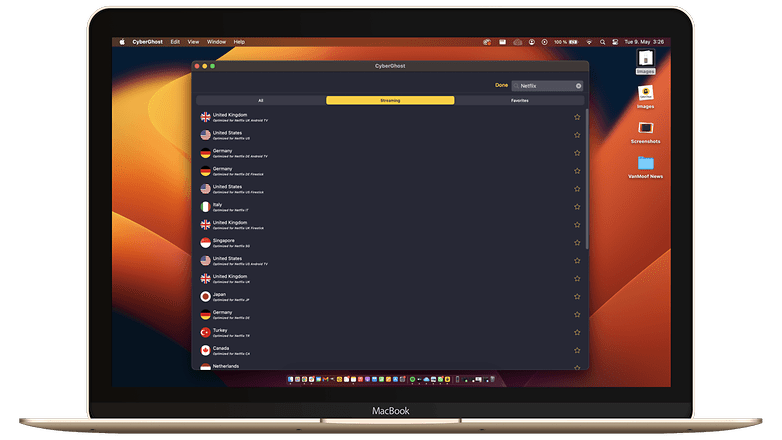 This also means you can't make a more precise selection of servers by region or city, such as NordVPN (for review) allows. In my opinion, this is not a big deal, since selecting specific countries is more likely to be used for bypassing geo-blocking or streaming anyway. For the latter, CyberGhost offers dedicated servers that have been optimized for specific services, according to the description.
These are the best apps for video streaming
In addition to the entire list of countries as well as your favorites, CyberGhost namely offers a tab known as "Streaming". It is here where you search for the country of your choice and see if there are servers tailored to that particular service. It is this segment and the regular country list that things get a bit complicated in CyberGhost. The order of the servers is too chaotic and there is no way to sort by country or streaming services.
Here is a quick tip: if you want to try CyberGhost, you can filter your search by country as well as by service. This will help you find the desired provider in seconds.
Speeds in 5 countries
The high number of servers at CyberGhost makes it fun to test the speeds in this review. After all, having many servers makes it a good prerequisite for providing each user with enough bandwidth for surfing, streaming, and downloads.
Download and upload speeds CyberGhost (Down / Up / Ping - Mbit/s)
| Country | CyberGhost MacOS | CyberGhost Apple iOS | CyberGhost Android |
| --- | --- | --- | --- |
| Without | 107 / 40.2 / 10 ms | 87.5 / 37.4 / 10 ms | 107 / 38.1 / 11 ms |
| Germany | 101 / 35.6 / 32 ms | 75 / 32.3 / 27 ms | 102 / 34 / 36.11 / 26 ms |
| USA | 103 / 36.5 / 191 ms | 77.2 / 35.2 / 102 ms | 109 / 35.8 / 111 ms |
| Australia | 101 / 27.8 / 515 ms | 69.7 / 25.7 / 307 ms | 103 / 36.3 / 263 ms |
| Japan | 98.4 / 21.2 / 512 ms | 50 / 4.52 / 292 ms | 100.5 / 35.44 / 290 ms |
| France | 101 / 35.6 / 48 ms | 31.4 / 17.2 / 41 ms | 101.93 / 35.39 / 28 ms |
As with every VPN review, we performed the measurements via WLAN using a 100 Mbit DSL line. We used the speed test from Ookla, since it offers native apps for every platform. This allows us to avoid possible bottlenecks caused by browsers like Chrome, Safari, or Firefox. The devices involved were a MacBook Air with an M1 processor and 16 GB RAM, the iPhone 13 mini, and a OnePlus 10 Pro (see review).
CyberGhost surprised us with consistently high download and upload speeds on all three devices. This was especially pronounced in the desktop operating system, where connections to distant countries like Australia or Japan are hardly affected by speed losses. Thus, users who want to protect their downloads or like to stream anime in the original language from Japan via sites with geo-blocking failsafes are in good hands with CyberGhost.
The mobile apps show higher losses in speed. However, with my line, which reached a maximum of 109 Mbit/s in the review, it was still possible to stream high-quality videos via CyberGhost.
One noticeable thing that is by no means a peculiarity when it comes to VPN connections, is the high latency in countries like Australia, Japan, or the USA. The delay would be particularly annoying when gaming or streaming games, and you have to reckon with longer loading times when surfing. However, the response times of the connections are not noticeably bad in particular.
Security and encryption
With a VPN, you not only gain more anonymity on the net, you also gain security. This means the security of your connection will result in encrypted data via a tunnel connection. CyberGhost uses 256-bit AES encryption and supports OpenVPN, IKEv2, WireGuard, and L2TP / IPSec protocols. For additional security, the apps are equipped with an automatic kill switch when the connection is terminated. Log data is also not stored by the service.
---
What I liked:
Many protocols supported.
Integrated kill switch.
No-log policy.
Company remains outside the surveillance of the "14 eyes".
What I disliked:
---
CyberGhost ticks all the right boxes that we expect in a VPN when it comes to data protection and encryption. With OpenVPN, Wireguard, and IPSec, the provider works with modern protocols, even if there are no in-house developments like NordVPN's "NordLynx". With 256-bit AES encryption, the provider also works at the current industry level and a no-log policy is also part of good VPN practices in 2023.
What are the 14 Eyes? Find out more here
With its headquarters based in Romania, CyberGhost gains another advantage in this respect: The country is not part of the "14 eyes", an association of countries that have made legal requirements for possible cooperation with their secret services. This also means additional security for private users, since user data remains protected even if the FBI or other intelligence services come knocking.
This may sound absurd at first, but in the case of false accusations, many a border has been crossed with regard to data protection. While other VPN providers open locations or even letterbox companies in the Caribbean for this, Romania is a good compromise.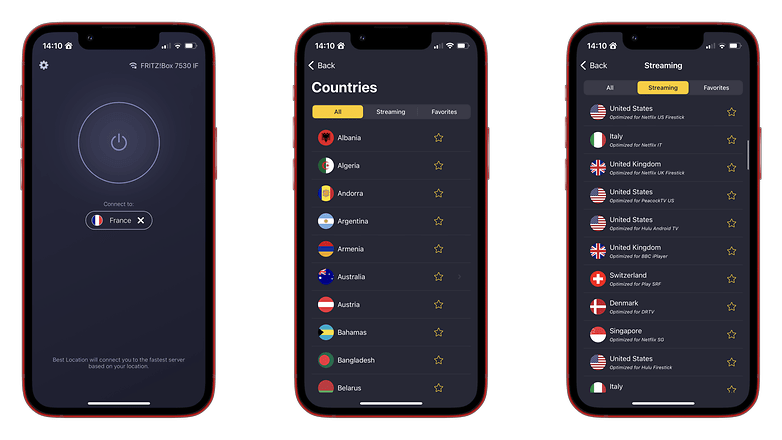 What I also found charming about CyberGhost is how there is a lot of information on the homepage about security on the Internet. This naturally makes you want to try out the VPN, and the company seems to be interested in educating users about anonymity and data protection on the Internet.
Last but not least, CyberGhost uses an integrated kill switch to ensure that no data is transmitted unencrypted in case of a connection failure or a crash of in-house apps. Before that happens, the VPN provider cuts your connection. As soon as a secure connection can be established again, the data transfer continues.
Apps and platforms
Fast connections and good encryption are of little use if there are no apps to work with your device. CyberGhost is available as a native app or as a browser plug-in for all common platforms. The provider even supports selected game consoles and smart TVs. To make matters more convenient, you can secure up to seven (!) devices simultaneously with one subscription.
---
What I liked:
Diverse platforms supported.
Up to seven devices can be used simultaneously.
Can also be configured on routers thanks to OpenVPN.
What I disliked:
Browser plugins only for Chrome and Firefox.
Operating it via a huge connection button is less than convincing.
---
Many providers proved that using a VPN is now very simple. Instead of entering server addresses and login data in the operating system, you simply download an app in 2023. CyberGhost will configure the VPN connection once after installation, after which you just need to tap the desired connection.
Platform diversity is very good overall with CyberGhost. In addition to common operating systems like Windows, MacOS, Linux, iOS, and Android, smart TVs, the Amazon Fire TV Stick, or game consoles like the PS5 or the Xbox Series X/S are also supported. If your desired operating system is not on the list of supported platforms, you can also take the detour via Google Chrome and Mozilla Firefox browsers.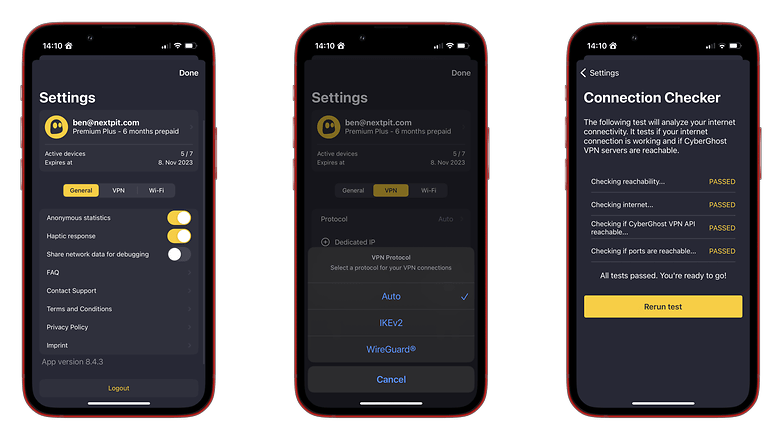 Since CyberGhost optionally supports OpenVPN, you can also establish VPN connections via your router. The advantage here is having every device you connect via your WLAN network be automatically secured by CyberGhost. There are no native apps here, but CyberGhost offers a detailed router configuration guide on its homepage.
What confused me a bit in the review were the two different apps that are available for macOS. If you download CyberGhost via the AppStore, you get a minimal customized version of the mobile app — but if you were to download the application directly from the manufacturer's website, you can expect a nicer and, above all, more functional app.
When you launch the less comprehensive version, you will see plenty of unused screen space and a huge button in the center. You can use this to automatically set up an "optimal" connection or alternatively open the country list via a small button below. All other options can be reached via the settings.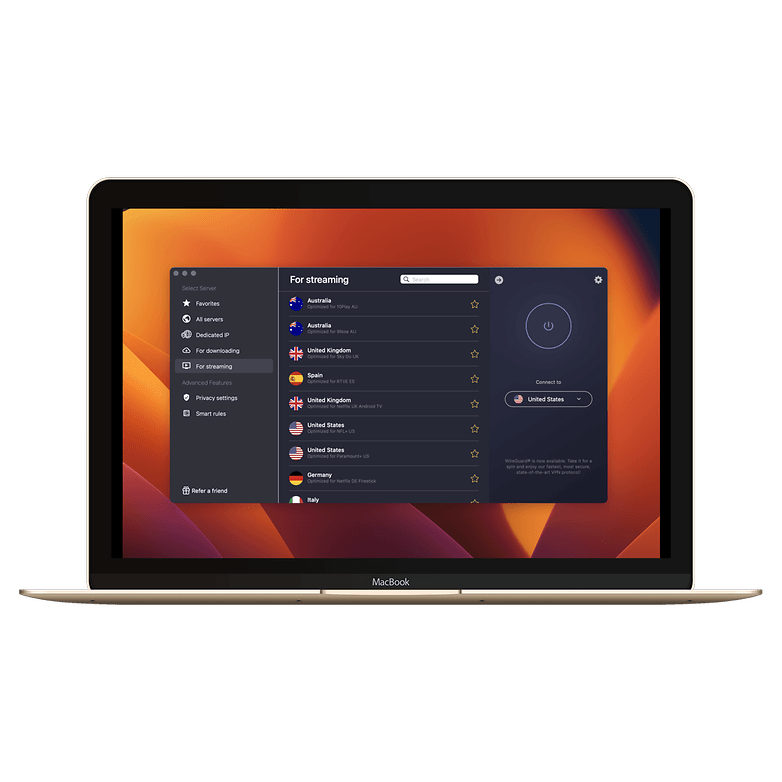 While this design is basic, it hides many exciting features behind menus and buttons. This is not always intuitive and can be even a bit confusing when selecting dedicated streaming servers. The integrated search, which is found on the upper right edge of all applications, therefore becomes the key to a quick server selection.
However, after a certain familiarization period, the operation of all CyberGhost applications becomes intuitive and it only takes about 20 seconds to establish the required connection.
Notifications in the mobile app also positively stood out for us in the review. If your smartphone connects to an unsecured Wi-Fi network, CyberGhost informs you right away and suggests establishing a secure connection via VPN.
Conclusion
Let's summarize our thoughts: CyberGhost offers access to over 9,200 servers across 91 countries at prices starting from $2.19 per month, allowing up to seven devices to connect at the same time with one subscription, and offers convenient features such as dedicated IP addresses, optimized streaming servers, and a kill switch that ensures security even when connections are dropped. Thus, the VPN provider fully impressed us in the NextPit review.
Here you can find the best VPN providers in comparison
In addition, there is a high number of platforms with common operating systems as well as the option to configure VPN connections via the WLAN router thanks to OpenVPN. If you like, you can also obtain detailed information about advantages such as the company location that is outside the 14 eyes or the 256-bit encryption in the company's own Security Hub or reach the free 24-hour customer service in case of problems.
Skeptics also get a money-back guarantee for up to 45 days — or they can try out CyberGhost without risk for 24 hours for Windows and Mac, or completely free for two days under Android and iOS.
As you can see, CyberGhost really impressed us in the review. The only points of criticism during the review were the somewhat counter-intuitive apps and the low availability of browser plug-ins. Users who surf with Safari or Microsoft Edge are left out in the cold, as only Mozilla Firefox and Google Chrome are supported.