CyanogenMod Installer: A simple solution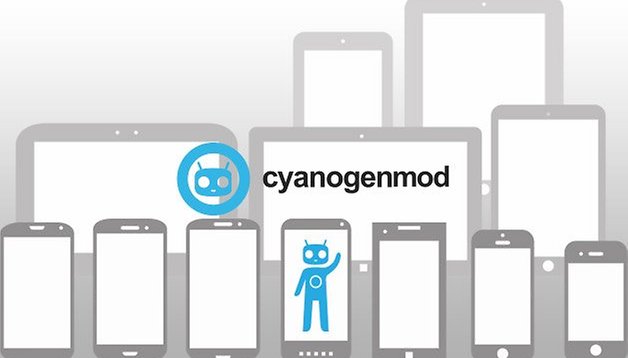 There's no doubt that custom ROMs are popular, but many people shrug off the possibility of getting them on their devices just by the sheer requirements needed to install them. Unlocking your device, rooting it, backing up everything, and then flashing a new firmware makes some people balk at the idea of doing anything and just stick with their standard issued ROMs. The team behind CyanogenMod has therefor out on my Nexus 7 (2013).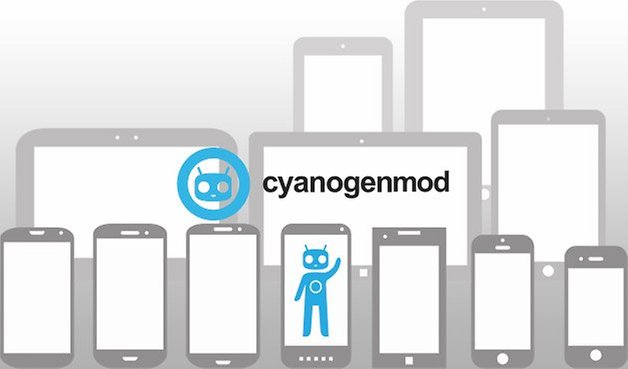 The CyanogenMod installer consists of two parts: an Android app and a Windows installer. Both work hand in hand during the installation phase, but at this point in time you'll actually have to make a request to become a beta tester for the installer before you can do anything. Head over to the Google+ community and request an invite to try it out for yourself.
Android Installer
The Android portion of the process really just serves one purpose: To prepare your smartphone for the installation process and make sure you've got the right settings enabled. It will check to see if you have USB debugging enabled on your device as well as the PTP USB Transfer mode enabled, and prompt you to enable them if they aren't already. As well, it gives you a step by step process and then prompts you to what you need to do on your PC.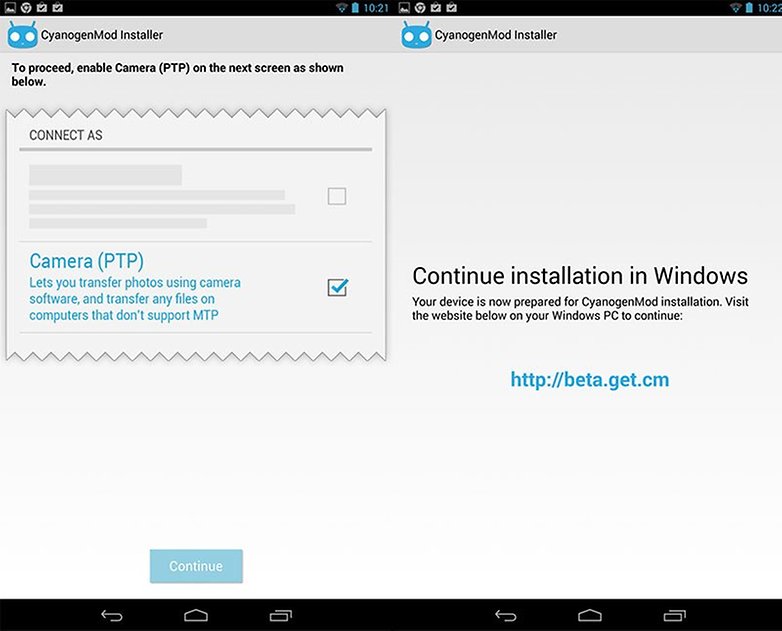 Windows Installer
Once you've done everything you need to get done on your Android device, you will be prompted to download the CyanogenMod installer for your Windows PC. Once the download is done and you fire up the installer, it'll start downloading any updates and other files it'll need for the process. This takes a good chunk of time (about 15 minutes in our tests) so feel free to go grab a coffee, let the dog out, or do whatever quick task you've been neglecting. Once the update is complete, the installer will prompt you to disable your anti-virus software (although, in my case, I didn't need to do this and it still worked) and tell you to connect your device.

Once connected, the installer will recognize the device and start downloading the recovery software specifically for your device, CyanogenMod, and the Google Apps package. As well, this will take a bit of time to perform as it's quite a large download and will depend on how busy the CM server is and your internet connection.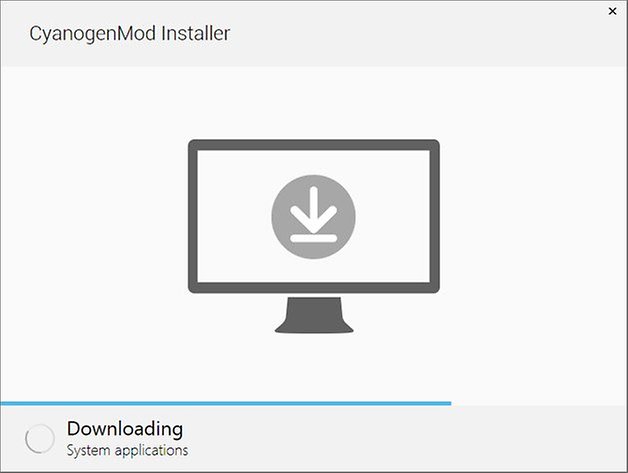 Once the downloads are complete, the CyanogenMod installer will be all good to go and will inform you that during the process, a factory reset will be performed on your device. As such, all your data on your device will be wiped. If you want to keep anything (contacts, messages, files, etc) make sure to perform a backup before proceeding past this point.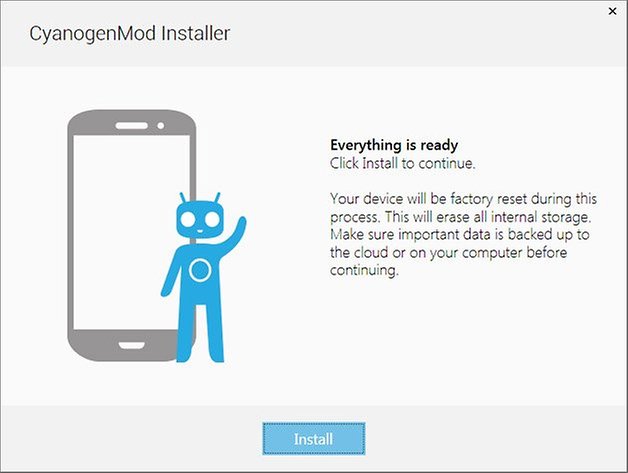 Once you click install, the installer performs all the tasks associated with having to install a custom ROM on your device: unlocking the bootloader, installing recovery software, and finally flashing CyanogenMod and Google Apps package to your device. All in all, this process takes about five minutes from start to finish and when completed, you'll have CyanogenMod installed on your device!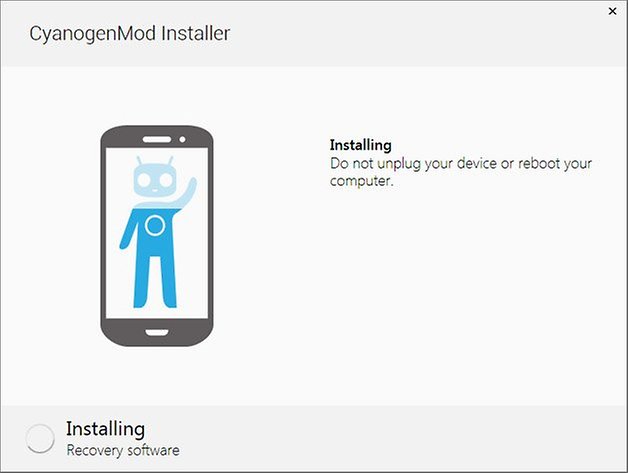 As a quick overview to the time that the entire process took for us, check out our table below:
| Process | Time |
| --- | --- |
| Updating the installer | 15 Minutes |
| Downloading the required data | 60 Minutes |
| Installation on device | 5 Minutes |
| Total Time | 80 Minutes |
Conclusion
As long as you have a supported device (please see the end of the article for this information), the process of installing CyanogenMod using this method is both idiot proof and ridiculously simple. I even talked my fiancée, , who is by no means tech savvy, through the process while watching and she had no issues whatsoever with getting through it. While this does dumb-down the installation of a custom ROM quite a bit, it also provides a nice gateway for non-technical users to try something other than stock Android or whatever pre-loaded configuration came with their device.
Here's a list of the currently supported devices for the CyanogenMod Installer. Please note that this is being updated on the fly by the developers and you should check out the Google+ page (once you've been invited to the beta) for a more complete and updated list.
Supported devices as of October 9th, 2013:
find5 - Oppo Find 5
crespo - Google Nexus S
crespo4g - Google Nexus S
maguro - Google Galaxy Nexus (GSM)
toro - Google Galaxy Nexus (Verizon)
toroplus - Google Galaxy Nexus (Sprint)
grouper - Google Nexus 7 (WiFi)
tilapia - Google Nexus 7 (GSM)
flo - Google Nexus 7 2013 (WiFi)
mako - Google Nexus 4
manta - Google Nexus 10
skyrocket - Samsung Galaxy S II Skyrocket
hercules - Samsung Galaxy S II Hercules
i9100 - Samsung Galaxy S II (Intl)
i9300 - Samsung Galaxy S III (Intl)
d2att - Samsung Galaxy S III (AT&T)
d2spr - Samsung Galaxy S III (Sprint)
d2tmo - Samsung Galaxy S III (T-Mobile)
t769 - Samsung Galaxy S III (T-Mobile)
jfltexx - Samsung Galaxy S4 (Intl)
jfltespr - Samsung Galaxy S4 (Sprint)
jfltecan - Samsung Galaxy S4 (Canada)
jfltecri - Samsung Galaxy S4 (Cricket)
jfltecsp - Samsung Galaxy S4 (C Spire)
jfltetmo - Samsung Galaxy S4 (T-Mobile)
jflteusc - Samsung Galaxy S4 (US Cellular)
n7000 - Samsung Galaxy Note (Intl)
quincyatt - Samsung Galaxy Note (AT&T)
quincytmo - Samsung Galaxy Note (T-Mobile)
t0lte - Samsung Galaxy Note II (GSM LTE)
n7100 - Samsung Galaxy Note II (GSM)
t0lteatt - Samsung Galaxy Note II (AT&T)
t0ltetmo - Samsung Galaxy Note II (T-Mobile)
i605 - Samsung Galaxy Note II (Verizon)
l900 - Samsung Galaxy Note II (Sprint)
m7ul - HTC One (Unlocked)
m7tmo - HTC One (T-Mobile)
m7att - HTC One (AT&T)
m7spr - HTC One (Sprint)
So, has anyone else tried out the CyanogenMod installer? How did the process go for you?