10 coolest features on Android smartphones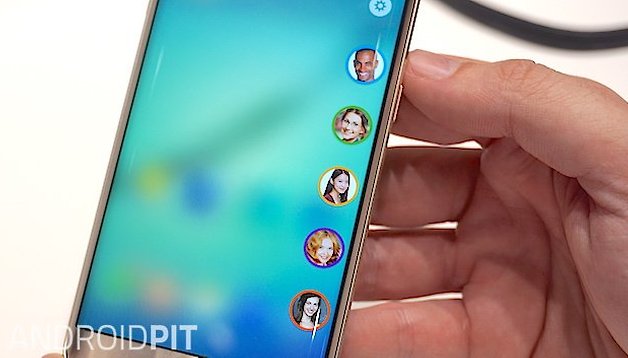 It's easy to take smartphones - and the ways in which they make our lives easier - for granted. The very word 'smart' in a smartphone has an almost endless number of implications for what that little rectangle in the palm of your hand is capable of. 'Smart' means GPS, touchscreens, voice controls, web browsing and life management. Thanks to the creativity of individual manufacturers, it can also mean heartbeat sensors, television remotes, and gesture controls. Here are what we deem to be the 10 best features across all Android smartphones .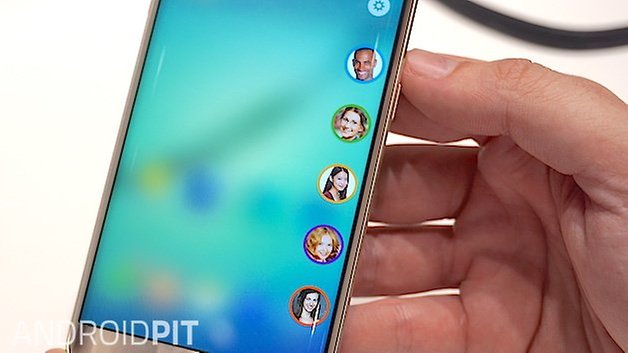 Quick charge (Samsung Galaxy S6, HTC One M9, Huawei P8, Nexus 6)
One of the simplest and most useful smartphone innovations in the last year has come in the form of fast-charging, which in most cases can charge around 50 percent of your smartphone battery in just 30 minutes. This is extremely useful in those frantic situations when you're a long way from a place where you can fully charge your phone, and need to give it a quick shot of life to see you through the next several hours. Most major manufacturers have already got onboard with this, though annoyingly you usually have to buy a special separate charger to do this. Hopefully, it won't be long before fast chargers come 'out of the box'.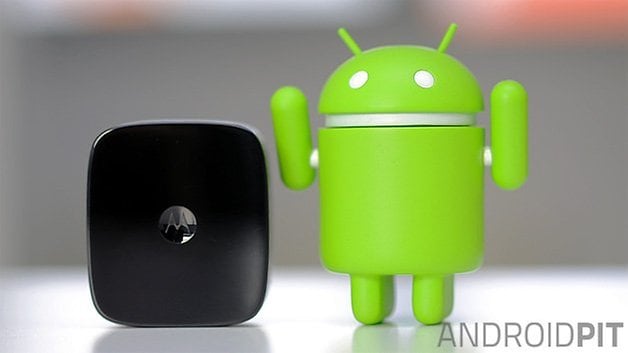 Heart-rate monitor (Samsung Galaxy Note 4, Galaxy S6)
Many people are still confused by the need to have a heart-rate monitor on a smartphone, but with the increasing use of smartphones as health and fitness trackers, this feature is perfect for the fitness freaks out there. Samsung is leading the way in this area, with fully functioning, accurate heart-rate monitors on the backs its Galaxy Note 4 and Galaxy S6. Track your heart-rate before and after your runs, have the S Health app log your data, and see how your heart rate changes over time. There's really no more satisfying measure of your own improving fitness than seeing your heart rate remain nice and steady after activities that used to send it haywire (apart from a six-pack, of course).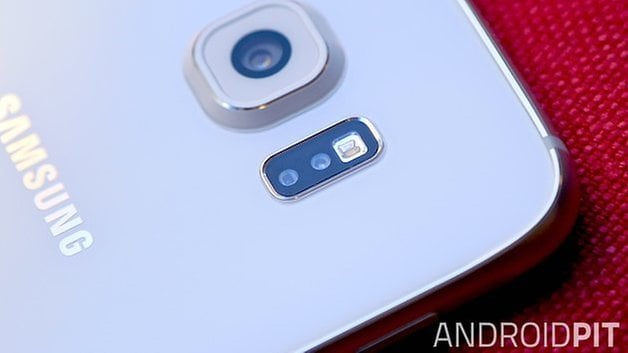 IR blasters/Remote controls (Samsung, HTC, Sony and LG)
The golden age of infrared may be long gone, as it's been superseded by 'sexier' wireless technologies like Bluetooth and WiFi for transferring data. But IR continues to be the main technology connecting remote controls to TVs, set-top boxes and sound systems. Smartphone manufacturers are aware of this, which is why the likes of Samsung, LG, Sony and HTC have begun introducing IR blasters into their more recent flagship phones. You can connect them to any number of devices, and have different set-ups for different rooms, so those 90s fantasies of an all-in-one remote can finally be fulfilled.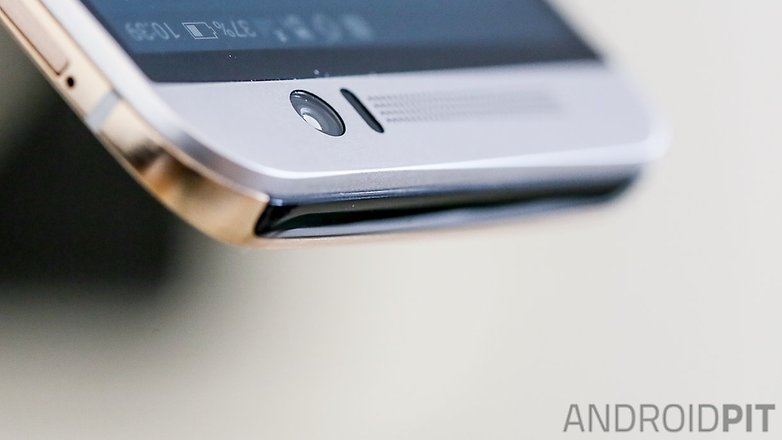 Kill switch a.k.a Device Protection (Android Lollipop 5.1 update)
Google has been taking big steps to make the Android platform more theft-proof. Android Device Manager - which lets you remotely lock, ring and track your device - went some way towards doing this, but it's only with the 5.1 Lollipop update that a full-on kill switch has finally been implemented. To activate it, you need to enable 'Device Protection' on your device. Then, should your phone get stolen and factory-reset, the phone will require your Google account details to let another person use the phone. This will work similarly to Apple's 'Find my iPhone' feature, which reportedly led to a dramatic drop in iPhone theft in New York, London and San Francisco.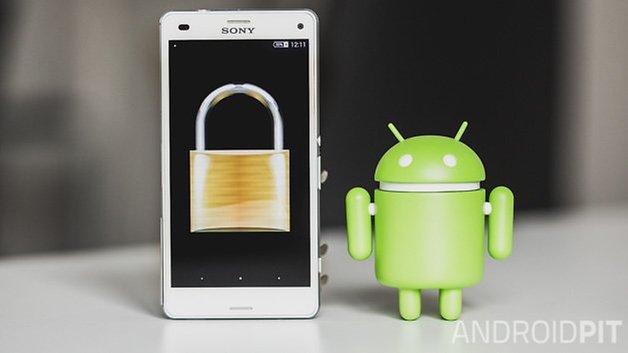 The edge display (Samsung Galaxy S6 Edge)
Some say it's not worth the extra money. Others say it leads the way in smartphone design and innovation. Both of those things can be true, but there's no denying that the elegant edges of the Galaxy S6 Edge have their uses. Leave your phone face-down (counter-intuitive, we know), then when a contact calls you, the edge display glows in the color you assigned to that contact. You can also use the edges to stream your selected news sources, or have quick access to your favorite contacts. It's a truly unique use of flexible display technology, and we hope it's a sign of things to come for smartphones.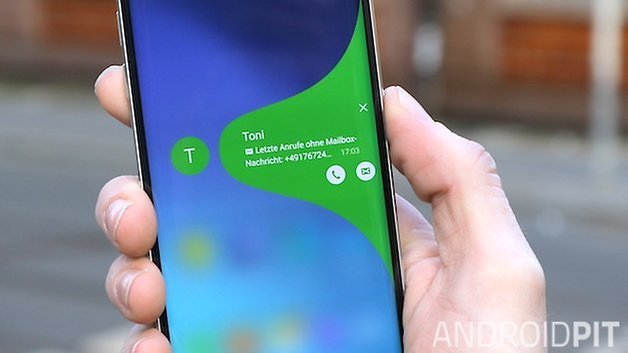 Knock On and Motion Launch (LG and HTC)
Carrying out actions with the screen off is becoming increasingly prevalent among Android phones. On the LG G3, for example, tapping twice on the turned-off display will activate it - no need to press any buttons. Knock On also works in reverse: double tap the home screen and the display turns off again. It couldn't be easier. LG has also built on this concept with their newest invention called Knock Code: A pattern of your choice is tapped into the turned-off screen to unlock the phone, meaning you get safety and comfort all in one. An alternate pattern to bring you to guest mode.
HTC followed the trend of gesture controls with the HTC One (M8) and now the HTC One M9: swiping over a turned-off screen launches different functions depending on the direction. For example, you can land on Blinkfeed, the home screen or the last opened app. Also, a double tap wakes up the M8.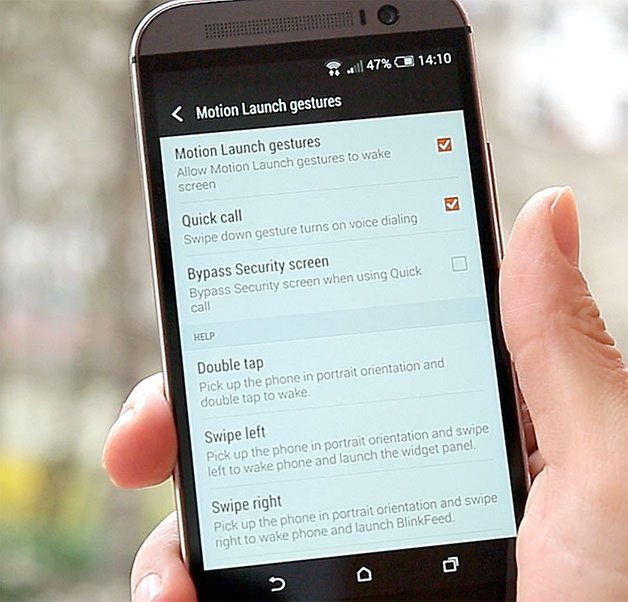 Fast-boot your camera (HTC One M9, Huawei P8, Moto X and more)
With the HTC One M9, you can start the camera by rotating the phone to landscape mode and then pressing the volume down button. The Huawei P8 camera is also super quick - just press volume down button twice to start it up. Even Motorola have focused on a faster and less complicated camera: with the Moto X, a clever twist of the wrist will have the camera ready for a snapshot.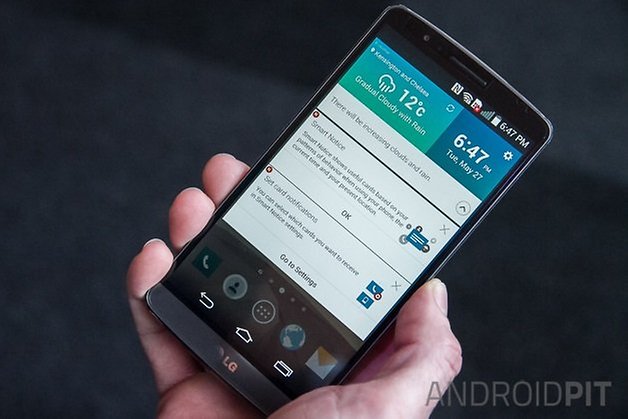 Improved notifications (Android 5.0 Lollipop)
Since the Android 5.0 Lollipop update, notifications have become much more interactive on all Android devices. You can now jump straight to messages and apps that leave notifications on your lockscreen, making them that bit quicker to access. The great thing about seeing these on your lockscreen is that you can be cheeky and simply choose to ignore them without even having to unlock your phone - so no more scrambling to take a look at messages or notifications that you're not even interested in!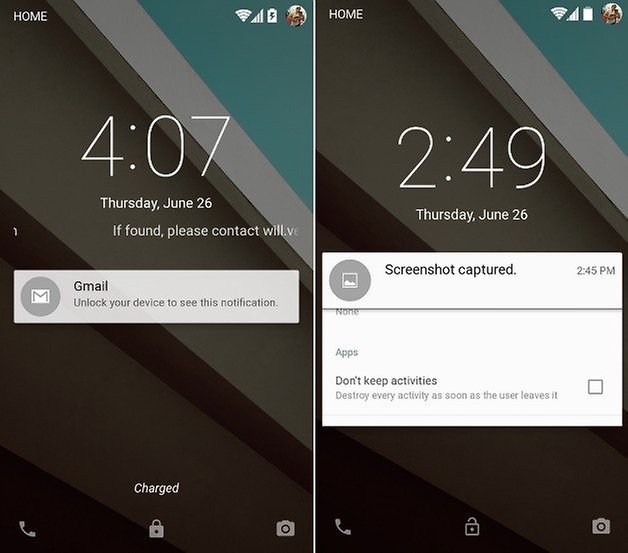 Smart Lock - (Android 5.0 Lollipop)
Having to type your PIN code in every single time you unlock your phone can get tiresome, particularly when you're in the safety of your own bedroom where you (hopefully) are fairly sure that no one's going to steal it from you. Android addresses this with the 5.0 Lollipop update, which lets you set up Smart Lock. Using this feature, you can set up certain locations or devices where you'll be able to use your phone without having to type in a security code. Just go to Settings > Security > Smart Lock to see your options. Yet another way in which Lollipop makes life a bit easier.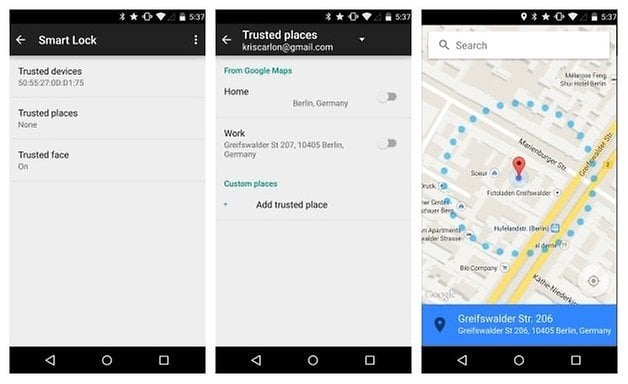 Google Now
Google Now has gone from being a bit of an oddball side-attraction to a crucial part of the Android operating system. All you need to do is say ''Ok, Google'' to activate it, at which point you can issue various commands like satnav directions, sending messages, and of course searching the internet. Stock Android device like the Nexus 5, Nexus 6, and Moto X let you switch Google Now to 'Always On', while in others you can just drag up from the home button to bring up the Google Now screen, then say 'Ok, Google' to activate it.