How to use CheapCast as a ChromeCast alternative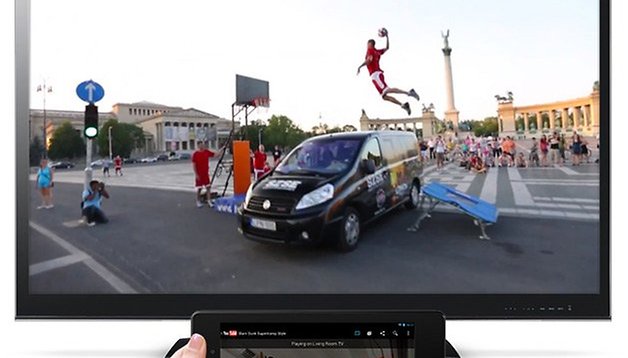 By using ChromeCast, you can easily transmit any smartphone, tablet or even computer content wirelessly to your TV. Unfortunately, this HDMI stick from Google which was presented last month still doesn't exist in some countries, but with the Android app CheapCast, you can build your own ChromeCast knock-off right on your smartphone in just a few steps. Here's how it's done: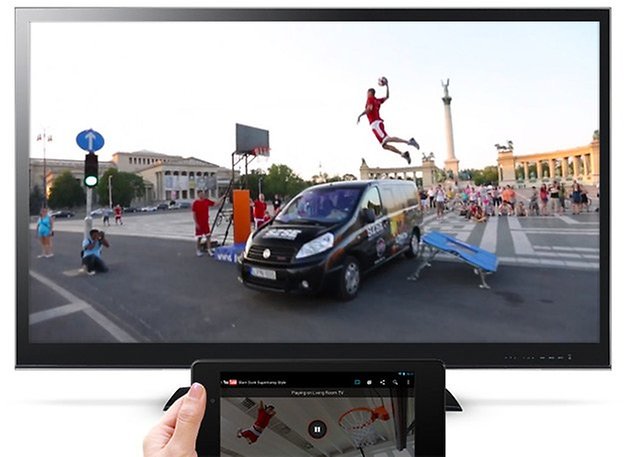 Getting prepared
Before you get started, you'll need 5 things:
A TV with an HDMI port
An Android smartphone with MHL support (as a receiver)
An MHL cable (it costs around 15 dollars)
The CheapCast app
Another device which you will use to transfer the contents to ChromeCast (smartphone, tablet or computer)
Set up
Install the free CheapCast app from the Google Play store and launch it.
Press on ''Friendly Name'' in order to give your a device a name of your choice so that you'll be able to better locate it for future use.
Now, connect your smartphone with your MHL adapter to your TV and then press on the top right Start Service icon on the CheapCast app.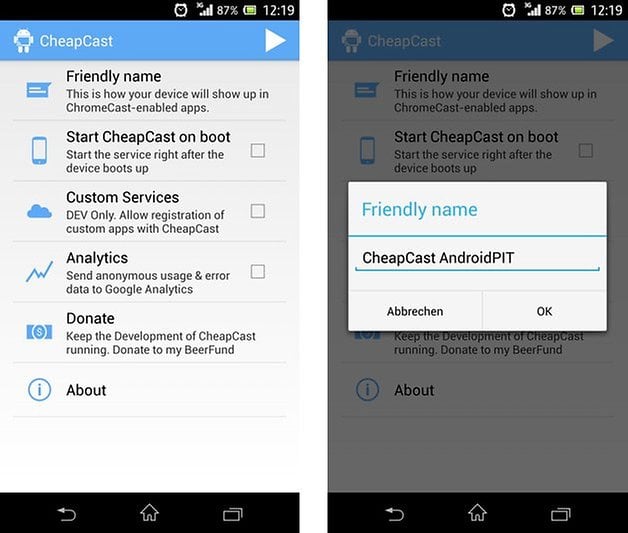 Using the app
Now grab another Android device and open YouTube, Google Play Music or another app that ChromeCast supports. Once in the YouTube app, you can open a video and then on the top right side of the main menu, press on the symbol to transmit the content wirelessly. You'll then see a pop-up window, which will allow you to choose which device will play the video. In our case it was ''CheapCast AndroidPIT''. After you've made your choice, it will process the request for a moment and then the video will start playing on the TV.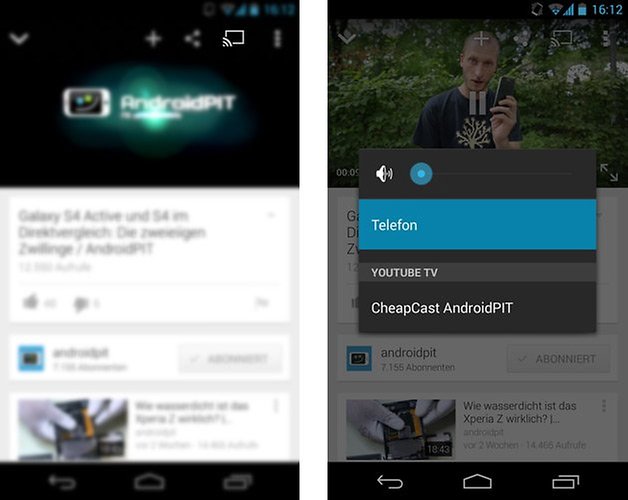 The Verdict
CheapCast is available for free in the Google Play store and is a great solution for emulating ChromeCast. The app is still in its beta phase and many of the ChromeCast functions aren't yet supported. One of these missing elements is the playback of copyrighted content via Google Play Movies. But for those who would like to transfer their music or YouTube videos over to your TV, CheapCast can offer this with little fuss. I did however run into a few problems during my test. Neither the Sony Xperia ZL nor the HTC One could transmit content via CheapCast. However, the Sony Xperia Z Ultra worked like a charm.
Let us know if you try this little workaround!