The best smart speakers with a voice assistant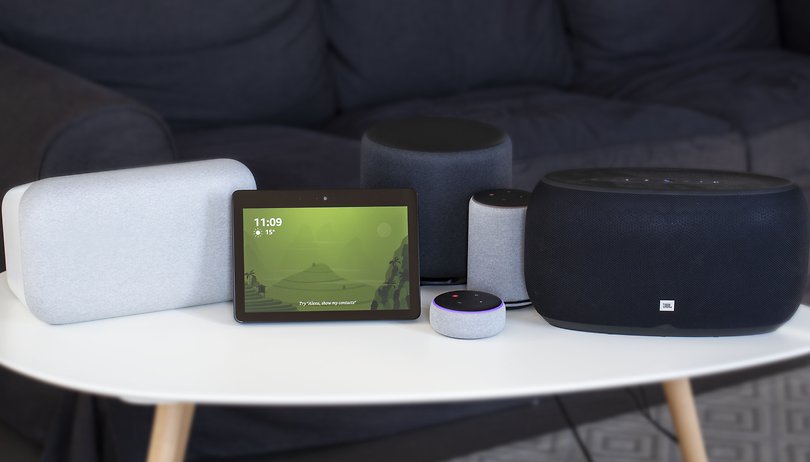 As a multi-room system, Wi-Fi loudspeakers can bring sound to your whole apartment, use streaming services instead of radio or CDs and control your smart home devices on demand. Some smart loudspeakers can be coupled wirelessly to form a stereo pair. Here are the best smart speakers you can buy today.
In your search for the right smart speaker, you will come across many new questions. Can I connect them to my old CD player? Should I use a language assistant like Google Assistant or Alexa? Can I connect two smart speakers to make a stereo pair via Wi-Fi? We have already been able to answer some questions for you in our smart speaker reviews.
Jump to section:
The best smart speakers with Alexa
Amazon Echo Family
Every autumn Amazon presents updated and new Echo devices. With each update, the sound and range are improved. In the meantime, several Echo loudspeakers can be wirelessly networked to form 2.1 systems, which together form an inexpensive, voice-controlled stereo system for streaming music.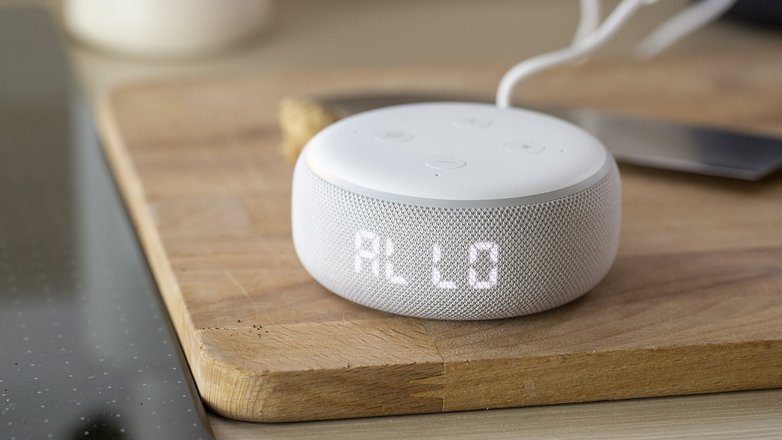 A 2.1 system consisting of two Echoes and one Echo Sub costs about $/£300 as a set. If you choose the set with the Echo Plus, you will also receive the Smart Home Hub function and can control ZigBee devices such as smart LED light bulbs without an additional bridge.
Sonos One
Sonos One masters both Alexa and Google Assistant. We cover the smart speaker named the Play:1 below.
Marshall Acton II and Stanmore II Voice
Marshall is not only relaunching its Acton and Stanmore loudspeaker series. The manufacturer also provides them with digital voice assistants. But that's not all: you can choose the language assistant when buying. The voice models, which are about $/£100 more expensive than the Bluetooth variants, are available either with Google Assistant or with Amazon Alexa. This results in a total of four variants of Marshall's new Wi-Fi loudspeakers.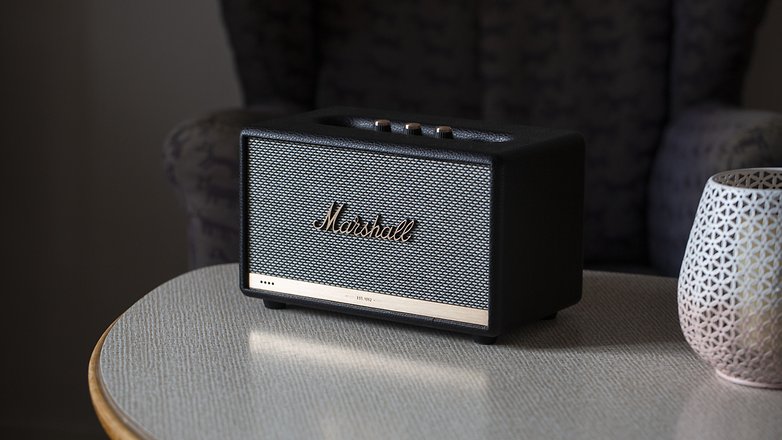 If you don't know them, the Wi-Fi loudspeakers feature digital knobs and a 3.5 mm line in on the top, typical of Marshall. Volume, bass, and treble can be adjusted both on the device and via your smartphone. You can also adjust the volume via the voice assistant. A source button selects between Bluetooth, Wi-Fi (up to 802.11 ac), Aux or - only with the Stanmore II - RCA, i.e. coaxial Cinch.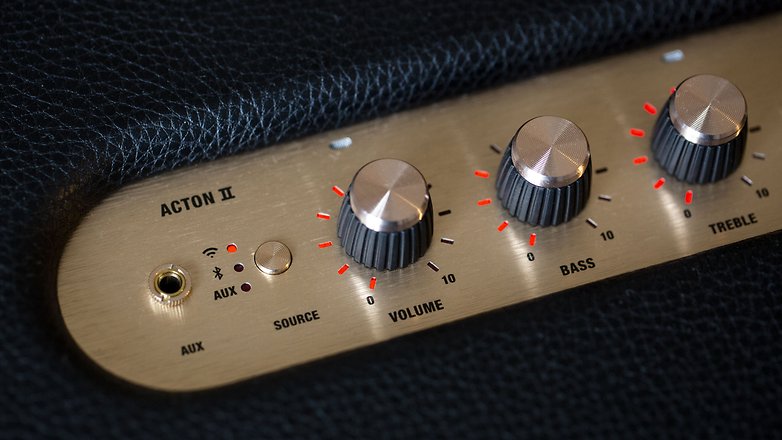 In the short test, the Bluetooth connection to a Fire TV Stick responds faster, so that the Acton Voice II is better suited for movie enjoyment than the Google Home Max. Our test of the Stanmore II Voice will be handed in later. And then we clarify whether the surcharge for the voice version compared to the Bluetooth version is worth it.
Here are the differences between the new brands at a glance:
Marshall Acton II vs. Stanmore II Voice
| | Acton II | Stanmore II |
| --- | --- | --- |
| Price | $199 | $349 |
| Dimensions (mm) | 260 x 160 x 150 mm | 350 x 195 x 185 mm |
| Power | 30 W + 2 x 15 W | 50 W + 2 x 15 W |
| Inputs | Bluetooth, Wi-Fi, jack | Like Acton + Cinch |
Ultimate Ears Blast and Megablast
Ultimate Ears has the Alexa-enabled counterpart to the JBL Link 10 and 20 (below) on the market. The colorful speakers have their own special feature: In party mode, you can synchronize several speakers on the move and without Wi-Fi.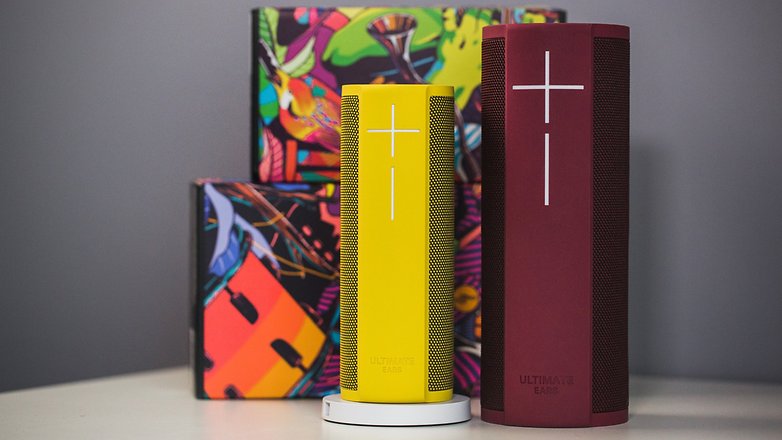 Due to the popularity of the brand, the price of blast loudspeakers is also rising. For the same price, there are several speakers with better sound. After all, with eight hours of battery life you can spontaneously fill an extensive party with sound. Listen to a sample at your trusted electrical store before you buy the speakers.
Smart speakers with Google Assistant
Google Home and Nest Family
Unfortunately, the Google Home has that tin can sound that one would expect from a small speaker. For a little more musical enjoyment, we recommend using the slightly more expensive Link 20 (above), which also cuts a fine figure on the go thanks to splash water protection and Bluetooth. Alternatively, you can use a Sonos Play:1 (above); without Google Assistant, but also with Google Cast. The Google Home, on the other hand, offers earlier updates for new Google Home features.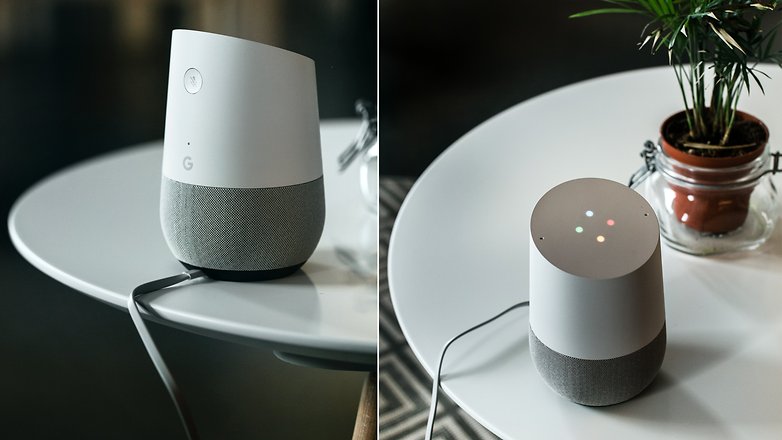 Just like most other cast capable speakers, the Google Home speaker can be connected to multi-room systems in the Google Home app. However, the Wi-Fi loudspeaker from Google, which has become somewhat cheaper, does not offer any extras.
Google Home Max
With the Google Home Max, Google has upgraded things as far as sound is concerned. The speaker, which costs now costs $250, optimizes the sound with the aid of the integrated microphones by measuring your room. And the stereo pairing introduced with it makes a duo of two an acoustic delight.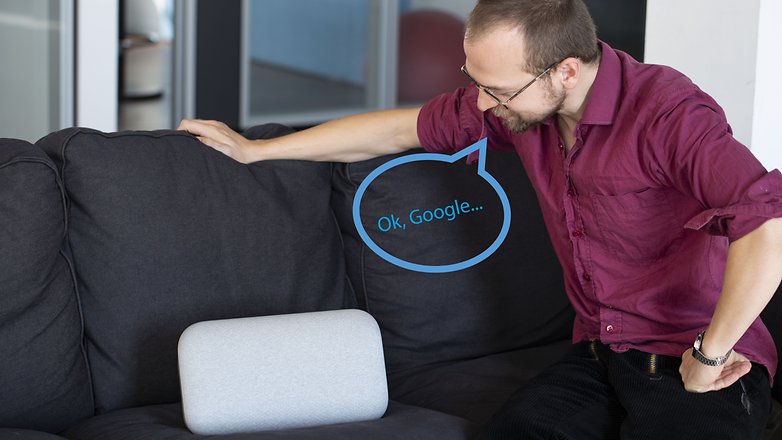 However, this enjoyment then has a high total cost. This money is also invested in the bet that you will continue to limit yourself to music streaming in the future; especially since only a few streaming providers work with the Google Assistant. Only four services can be voice-controlled. Many more can be transferred by Chromecast from your smartphone to the Wi-Fi speakers.
In addition, the Home Max allows connection via Bluetooth; also in stereo mode. However, there are significant delays. That may not be disturbing when listening to music. However, if you pair Google Home Max with a Fire TV Stick via Bluetooth, there will be more than a second of latency between picture and sound.
JBL Link Family
JBL's Link series can be voice-controlled via Google Assistant and configured to a multi-room system with the Home app. Since the end of 2018, two identical speakers can also be networked to form stereo pairs.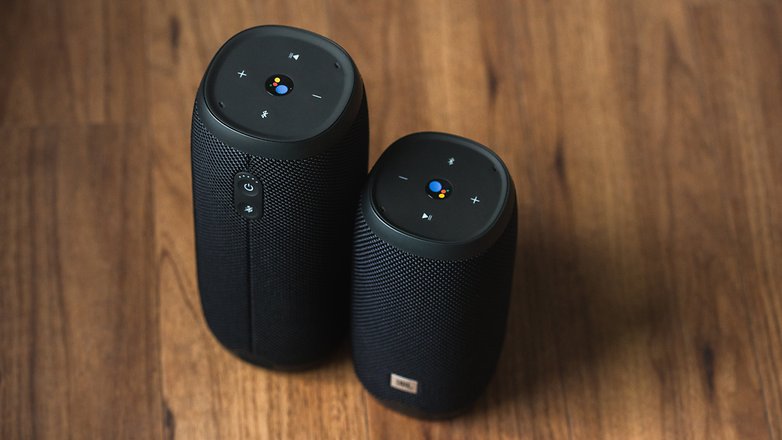 The highlight of the Link 10 and 20 is that they can be used as Bluetooth speakers with integrated rechargeable batteries on the go. This makes their use somewhat more versatile than that of the other Wi-Fi loudspeakers. Unfortunately, there is no assistant on the way without Wi-Fi.
Link 300/500
The larger models Link 300 and 500 have to stay at home for lack of battery and also do not offer splash water protection. To compensate for this, they offer significantly more power. They can also be connected to stereo pairs, as they are completely configured via the Google Home app. Stereo operation is maintained, even if you use a Bluetooth device for music playback instead of Wi-Fi.
At $250 or $400, the Link series is admittedly expensive. Especially since the sound of the equally expensive Google Home Max is much better since the Link 500 it is less bass-heavy.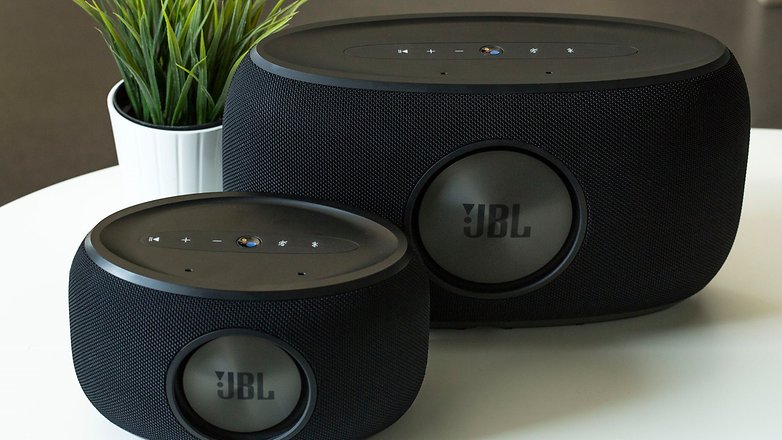 Sony LF-S50G
Sony's LF-S50G smart speaker looks similar to the Apple HomePod. The 360-degree speaker is controlled by gestures drawn into the air with your hand floating above the cabinet. It networks via Chromecast with your other Wi-Fi speakers and allows voice commands via Google Assistant. Acoustically, however, it has to take his hat off to the Sonos One.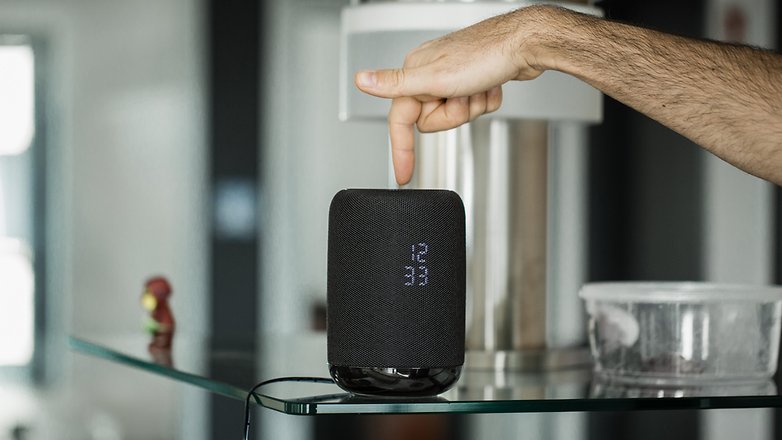 Marshall Acton II and Stanmore II Voice
Marshall also sells both speakers optionally with Google Assistant instead of Alexa. Technically, the devices are otherwise identical. See above for details.
Klipsch The Three with Google Assistant
Like Marshall, Klipsch is launching smart loudspeakers that look like classics on the outside. They are priced at just over $300. The test units are still on their way to us.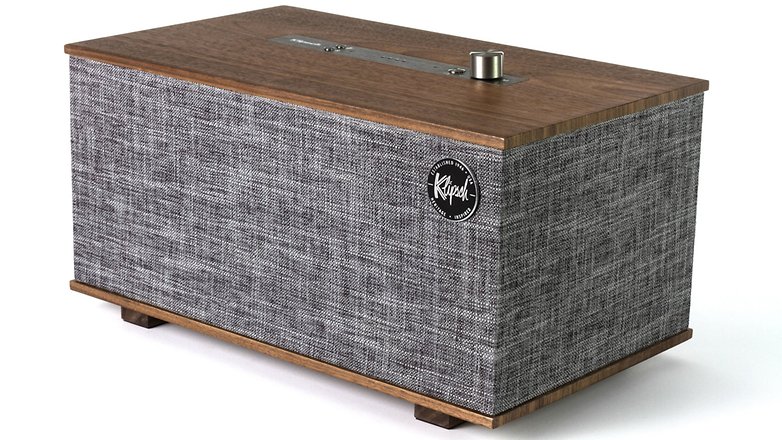 The loudspeaker The Three is available in an Assistant version, so it listens directly to your voice commands with its built-in microphones.
Wi-Fi speakers without digital assistants
Sonos Play:1
With One and Play:1, Sonos sells two almost identical speaker series. If you need the Alexa language assistant at home, you can buy Sonos One. If you buy Play:1, you get the same good sound without speech input and save about 50 bucks. Sonos connects via Google's cast service, Alexa (the One only), Google Home/Assistant (coming soon), AirPlay 2 (coming soon) and Spotify Connect. The Sonos app downloads music from 56 streaming sources directly to your speakers, solving most of the compatibility issues that competitors still have.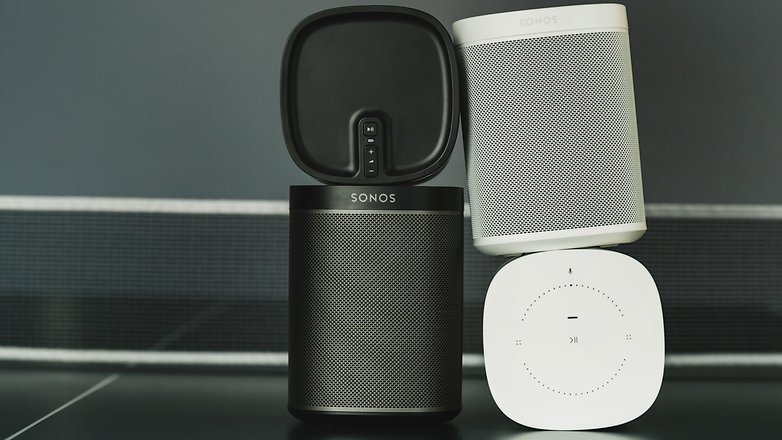 The highlight at Sonos is its modular expandability. The manufacturer continuously improves software and firmware and allows ever more complex networking options for the various loudspeakers. Extend the first speaker to a stereo system and add it to your 5.1 setup a few years later if you like.
Riva Arena
Riva's WAND series is great. Even the smaller models of the series called Arena offer strong sound. Stereo operation was already possible with the Wi-Fi loudspeakers when Google was still working on the corresponding standard implementation for all manufacturers. Unfortunately, Riva has a high price. With Sonos, you get the same equipment a little cheaper.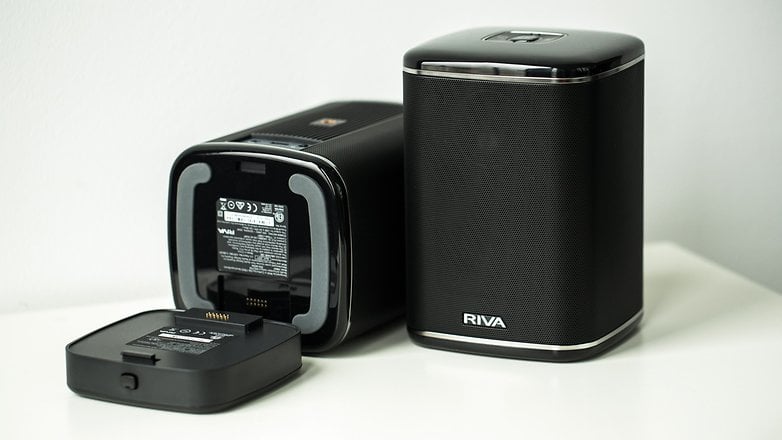 Yamaha MusicCast 50, MusicCast 20
The Yamaha MusicCast 20 and 50 loudspeakers are simple Wi-Fi streaming speakers. However, they can also be voice-controlled via Alexa. The same should be possible since May 2019 with the Google Assistant via a firmware update.
Comparison of smart home speakers
| | Amazon Echo Plus | Sonos One | Sonos Play:1 | Sony LF-S50G | Riva Arena | JBL Link 10/20 | JBL Link 300/500 | Marshall Acton II / Stanmore II Voice (Assistant / Alexa) | Google Home | Google Home Max | UE Blast / Megablast |
| --- | --- | --- | --- | --- | --- | --- | --- | --- | --- | --- | --- |
| Google Cast | no | yes | yes | yes | yes | yes | yes | yes / no | yes | yes | no |
| Google Assistant | no | no | no | yes | no | yes | yes | yes / no | yes | yes | no |
| Alexa | yes | yes | no | no | no | no | no | no / yes | no | no | yes |
| Spotify Connect | yes | yes | yes | yes | yes | no | yes | yes / yes | no | yes | yes |
| DLNA | no | no | no | no | yes | no | no | no | no | no | no |
| AirPlay / 2 | no/no | yes/yes | yes/no | no | yes | no | no | no | no | no | no |
| Bluetooth | yes | no | no | yes | yes | yes | yes | yes | yes | yes | yes |
| aux-in | no | no | no | no | yes | no | no | Jack + Cinch (Stanmore only) | no | yes | no |
| line-out | yes | no | no | no | no | no | no | no | no | no | no |
| Stereo pairs possible | yes, also with subwoofer | yes | yes | yes | yes | yes | yes | yes / no | yes | yes | yes |
| rechargeable battery | no | no | no | no | optional | yes | no | no | no | no | yes |
| Waterproof | no | no | no | no | no | yes | no | no | no | no | yes |
| Proprietary app required | no | yes | no | no | yes | no | no | no / yes | | | |
| Price | $99 | $170 | $130 | $200 | $150 | $200/$250 | $250/$400 | $200/$350 | $99 | $250 | $230/$270 |
Smart Speakers: Frequently Asked Questions
Multi-room systems with Wi-Fi loudspeakers from different manufacturers
If your speakers support Google Cast or Apple AirPlay 2, you can connect them to multi-room systems regardless of manufacturer. In Amazon's smart home app, on the other hand, only Echo devices are grouped. The Sonos One are the only loudspeakers with Alexa Speech Assist that can be networked to multi-room systems thanks to Chromecast. Many other manufacturers also offer proprietary solutions for multi-room operation that bind you to the respective brand.
Anyone looking forward to completely wireless cinema enjoyment will be disappointed by the previous HDMI sticks. Neither the Fire-TV-Stick nor the Chromecast can be connected to Wi-Fi speakers. The only alternative is the Bluetooth connection of the Fire TV Stick, which has to struggle with noticeable latency and frequent dropouts.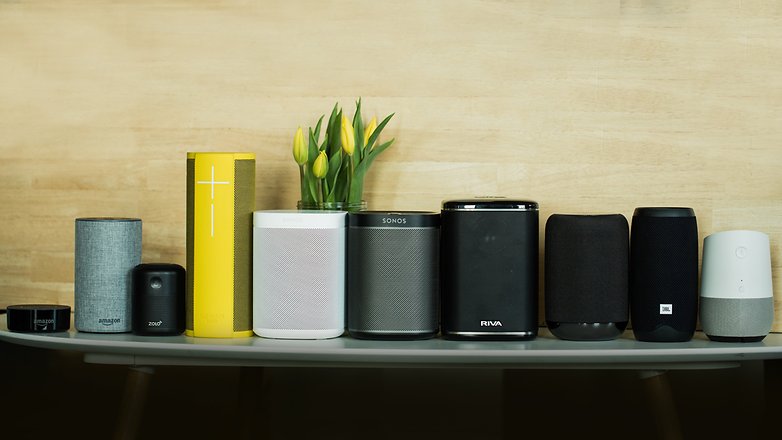 Which streaming providers can I use with my smart speakers?
You first configure the Wi-Fi speakers with an app on your smartphone. In Google's Smart Home controls or in Alexa's configuration, you can then network the respective language assistants with your streaming provider. In both cases, however, the choice is limited. Only Deezer, TuneIn, Spotify and either Google or Amazon are available for voice control. There is more choice, if you do without the voice control.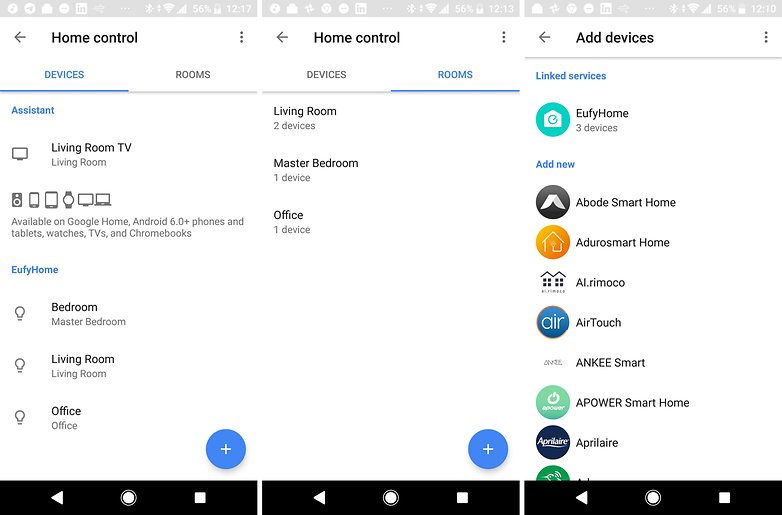 Can I connect my smart speakers to a stereo pair?
You also group your Wi-Fi speakers in the apps of Google, Amazon, or in that of the manufacturer. Stereo operation of two identical speakers has been possible in Google Home since the end of 2018. Amazon only allows this with newer Echo speakers. Sonos, Zolo and Riva Audio provide proprietary approaches. Stereo operation then runs both for music playback from the Wi-Fi and from a Bluetooth source.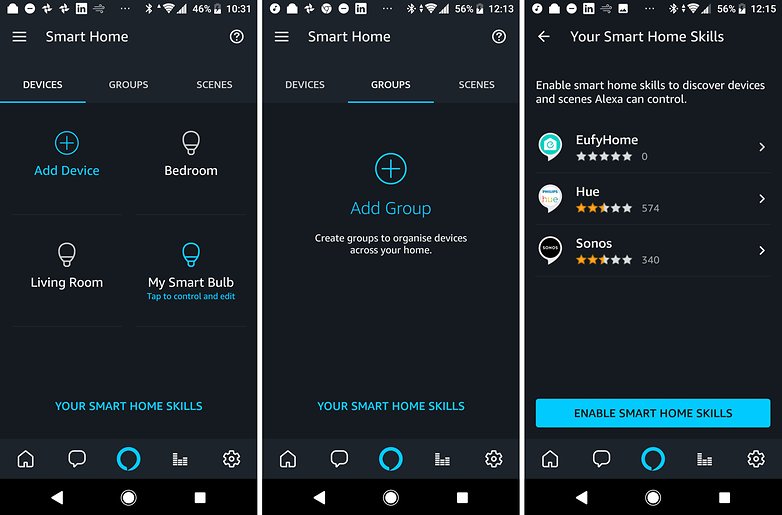 What's so special about Sonos?
Sonos was one of the first providers of Wi-Fi-enabled multi-room systems. Both the sound of the loudspeakers themselves and the low-latency networking of several loudspeakers were achieved by the manufacturer earlier than most of its competitors. Sonos offered some features long before they became available on Google Home, AirPlay or other systems, and some of them are still missing. These include the stereo or surround operation of Wi-Fi-linked loudspeakers or the Wi-Fi boost, in which the loudspeakers simply set up their own Wi-Fi network.
The weakness here is still the support of digital assistants. Sonos chose Alexa and implemented this wizard in their Sonos One. However, this is not mature. The integration of streaming providers will then no longer run smoothly and users will report problems with Alexa skills that do not occur when used with echo devices.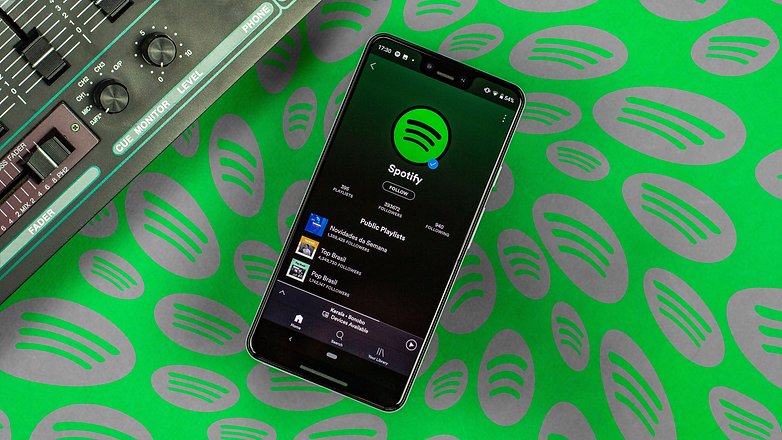 Do smart speakers still need Bluetooth?
The advantages of Wi-Fi compared to Bluetooth are numerous. The higher transmission rate allows more sound quality. The decoupling from the smartphone allows independent phone calls, more freedom of movement and longer battery life. Once in the Wi-Fi, you can better network the speakers with each other and control them with other smartphones or voice assistants in the same Wi-Fi.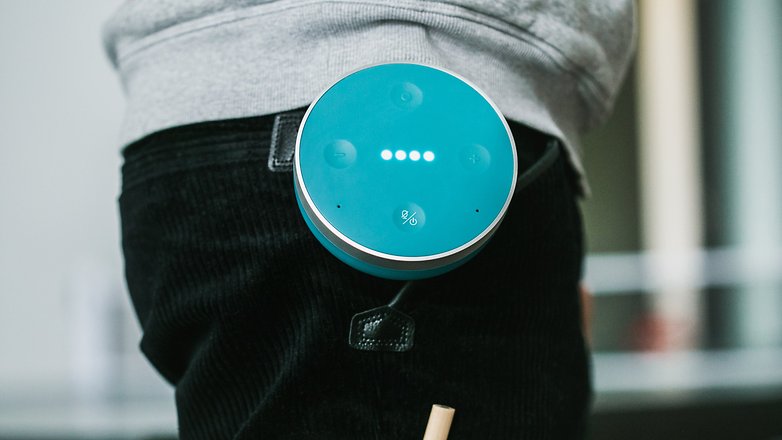 Yet almost all smart speakers still have Bluetooth. On the one hand, it continues to serve as an alternative data source because the old interface is much easier for the user to operate. Within seconds, your smartphone and speakers are paired, even if you are far away from any Wi-Fi outside.
In addition, you can often start Bluetooth pairing for smart speakers by voice command. For example, you can connect the Fire TV Stick with one or two Google Home Max and have good sound when streaming series.
Can I connect my old stereo system to the Wi-Fi?
Sure! With the Chromecast audio, Google had an adapter that can be connected to your system via a jack, cinch or fiber-optic cable and turns it into a Google cast speaker. Unfortunately it can only be found as remnants on eBay. Unlike the more recent Amazon Echo Input, the Chromecast Audio has no microphone; a positive feature for privacy critics.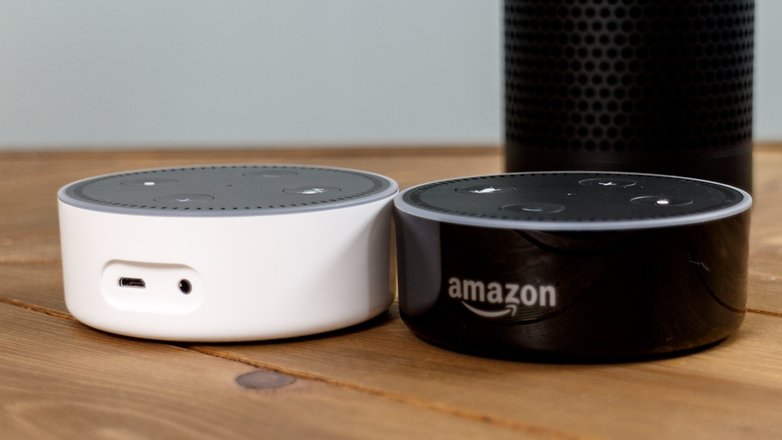 At Amazon you have the choice between an Echo Dot or the Echo Input. Both are connected to the stereo system via an analog jack cable. Microphones for the Alexa Speech Assistant are integrated here, so your stereo system will actually be smart.
Can I connect my Wi-Fi speakers to my TV?
Unfortunately, even Wi-Fi-capable televisions do not automatically network with Wi-Fi loudspeakers, as only a few manufacturers want to use the WISA standard provided for this purpose. Samsung only networks with its own multiroom system consisting of boxes such as M7 or M5. Sonos allows Wi-Fi networking of its sound base connected to the TV via HDMI-ARC. playbase with the PLAY 1.- or One speakers, which then become surround speakers.
At IFA 2019, Klipsch and LG presented test setups consisting of LG televisions and Wi-Fi loudspeakers. These can network loudspeakers via the wireless standard WISA without latency. Each loudspeaker comes with its own amplifier, so the whole setup is expensive. After all, WISA systems can be modularly expanded and ideally connected to loudspeakers and TV sets from different manufacturers.
Conclusion: Is the time ripe for smart loudspeakers?
Google, Apple and Amazon have found many partners in the hi-fi industry. Sonos was a pioneer, but traditional companies have also jumped on the Wi-Fi bandwagon. Changeover passengers can start small and retrofit their existing system with a smart Assistant. If you are planning a new investment, you can expand your system step by step thanks to modular systems such as Klipsch, Amazon, Yamaha or Sonos. It is important that the manufacturer offers long-term software support. Because every networked device is a new window into your digital home.
---
The article is continuously extended and old models are deleted or replaced. Older comments sometimes refer to content that has been removed in the meantime.