Best smart glasses | The most exciting models: current and future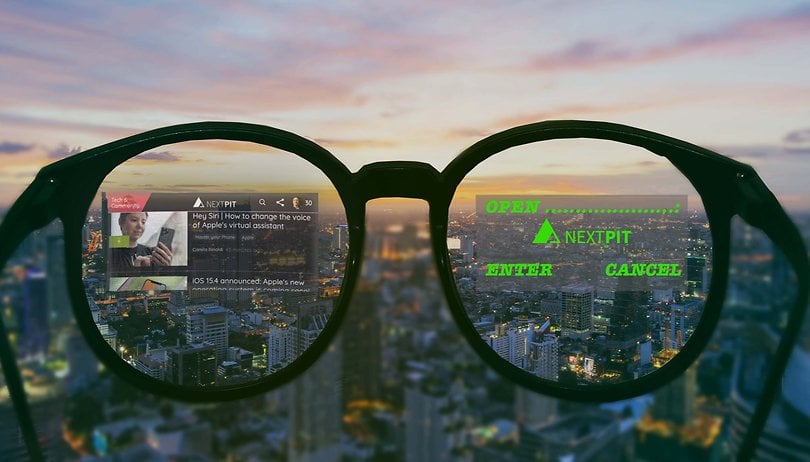 "Excuse me, is there somewhere I can charge my glasses?"—this sentence could be quite normal in just a few years. That's because smart glasses could be the next step in everyday digital life. Manufacturers like Xiaomi, Oppo, TCL, and Google have already presented their own AR and MR glasses—Apple is also said to be working on a model. You can only read about which models could be the best smart glasses here!
In the future, we will probably regularly spend time in virtual, augmented, or mixed reality. Or in good old English: Augmented Reality (AR), Virtual Reality (VR), and Mixed Reality (MR)! Smart Glasses seem to be emerging as an exciting avenue for such use cases.
At least if you look at the developments of big brands like Apple, Xiaomi, TCL, and others. To differentiate this article from VR glasses like the HTC Vive Flow, I would like to start with a definition of "Smart Glasses".
What do we actually mean by smart glasses?
As we understand it, Smart Glasses are electronic eyewear that can present you with digital content via screens in front of your eyes or speakers at your ears. Alternatively or additionally, they can accept videos or make calls via cameras and microphones.
They are "networked" and thus communicate with the internet via Wi-Fi or your cell phone. The difference between them and virtual reality glasses, however, is that they work with transparent screens and don't replace your field of vision with a digital display.
To make this article a little more interesting, we're including audio glasses like the Bose Frames and photo or video glasses like the Snap Spectacles, in addition to models like the Google Glasses.
The best smart glasses: these models are already available
Bose Frames
One of the first providers of smart glasses to the general public was Bose! With the various Frames models, the audio experts offer sunglasses with integrated speakers that connect to your phone via Bluetooth. Like a pair of in-ear Bluetooth headphones, you can play music or make calls via integrated microphones. However, the sound is significantly different than with classic headphones.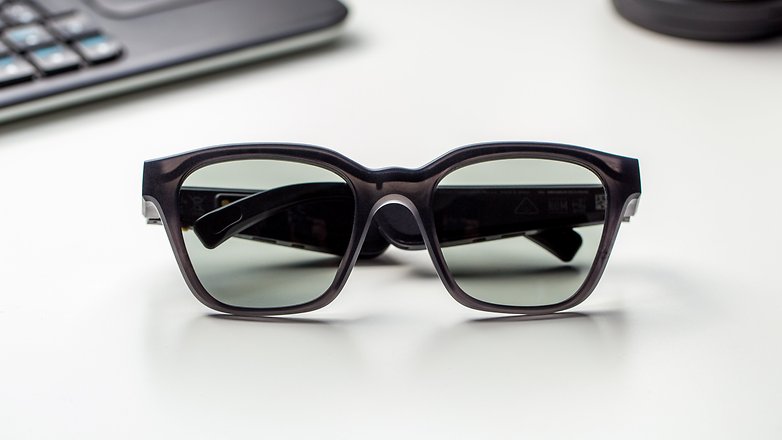 Because as you can read in our review of the Bose Frames, your ears are not shielded from ambient noise. As a result, you perceive the surroundings better in traffic but have to settle for a poorer music experience. The Bose Frames lack bass in particular, and the volume is also not comparable with conventional headphones. The following Bose Frames models are available in March 2022.
The different models mainly differ in shape, which changes from round lenses to a design that looks more like cycling sunglasses. In terms of price, you'll have to be prepared for recommended retail prices between $199 and $249 for the cheapest model.
Fauna Audio Glasses
The manufacturer Fauna caused a stir with an interesting charging system for smart glasses. The Audio Glasses are charged whenever you put them back in the glasses case. In our review of the Fauna Audio Glasses, the charging system for the audio sunglasses was quite convincing. Like the Bose Frames, Fauna's model is an alternative to conventional headphones.
In terms of sound, however, the Audio Glasses were rather mediocre. Furthermore, the battery life of 4 hours is too short despite the cool charging case. The fact that the glasses can't be turned off outside of the case doesn't help, of course. As "smart" sunglasses, however, the Fauna Audio Glasses have an advantage over the Bose models.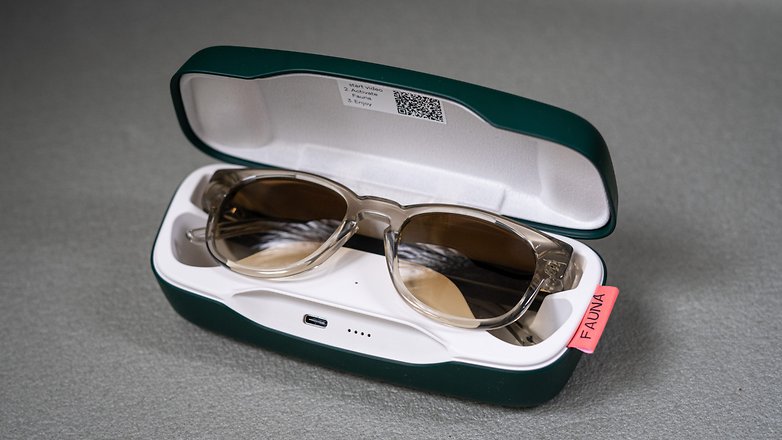 That's because the Fauna app can be used to set automatic reminders for drinking water or alarm clocks, for example. The idea is that you keep the glasses on your nose throughout the day, making them a digital companion in everyday life. In terms of price, you have to be prepared for $199.
Smart glasses from Facebook: Ray-Ban Stories
In collaboration with Facebook, the legendary sunglasses manufacturer Ray-Ban has launched Ray-Ban Stories. You can listen to music and make calls with these, but there's an extra feature compared to the models presented here: cameras are embedded in the left and right sides of the glasses frame. With these, you can take pictures as well as photos.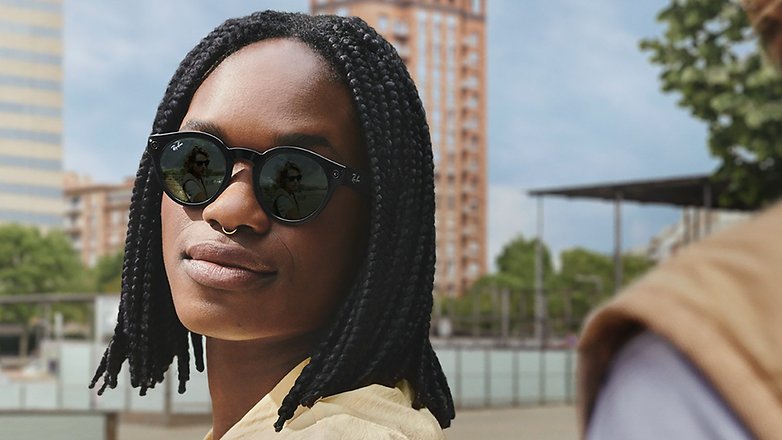 Via the new Facebook app "View", these can be shared directly with friends and family - and certainly with Facebook's image recognition algorithms. The resolution is 5 megapixels each and the internal memory is said to be able to store up to 500 photos or 30 video clips of 30 seconds. You can trigger recordings by calling out "Hey Facebook."
Facebook's video and photo glasses were met with harsh criticism right at the time of their launch. There is only a small light that informs the person you are talking to that he or she is being filmed. The data processing on Facebook's servers is also a thorn in the side of many security experts. You will have to budget for exactly $299 in the US.
Snapchat Spectacles
Even before Facebook and Ray-Ban, the social network Snapchat launched the "Spectacles". The third version features an eye-catching design, two cameras on the left and right in the casing, GPS, Bluetooth 5.0, 4 gigabytes of flash memory, and a 3D function. Thus, it is possible to record 3D content for viewing on VR glasses.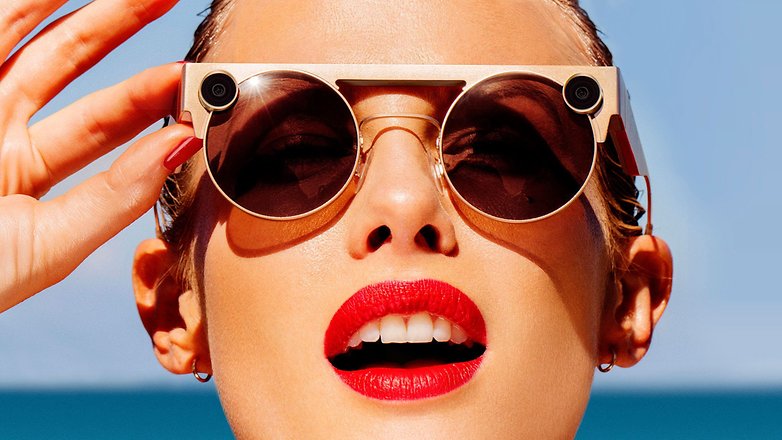 Technically, the Snapchat Spectacles 3 playback videos in HD resolution at 60 frames per second. What's also exciting is that Snapchat includes a 3D viewer in the box. You insert your phone into the viewer and do not need any other accessories to watch the content.
However, the spectacle with the Spectacles comes at a price—you'll pay a hefty $380 for the Spectacles 3 on the official homepage. Another little preview: With the next-generation Spectacles, Snapchat wants to offer a version with AR support for the first time. The design is different again, and the fourth-generation Spectacles allow you to view the content directly via screens in the glasses.
Razer Anzu: Clearance pricing
Gaming specialist Razer also entered the smart glass market with its own audio glasses. The Anzu smart glasses offer the basic feature set with Bluetooth speakers and a microphone. The frame can be used to control media playback and calls using not only touch gestures but also voice commands.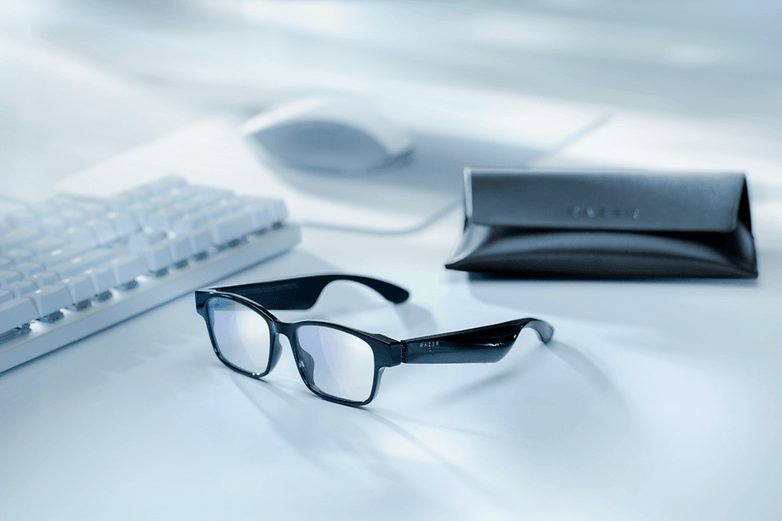 The frames can be fitted with prescription lenses, depending on the lab, and the box includes two pairs of lenses: one for blue light filtering, and a sunglass one. Better yet, Razer is offering big discounts over the original MSRP of $199/€199.
The discount at least makes it easier to tolerate the rather short 5-hour battery life. Regular Razer fans will also notice the lack of RGB lighting, but in this case, it is a welcome change.
AR glasses from the manufacturer Vuzix
At MWC 2022, we had the opportunity to try out AR glasses from the German manufacturer Vuzix. The AR glasses display content directly in the field of vision of the glasses. The trick: If someone is standing across from you, they cannot see the displayed content. Even though the shown models worked surprisingly well in the short test.
There is one problem: The glasses from Vuzix are rather intended for commercial use. You cannot, for example, watch YouTube videos on the display in the glasses on the train. The manufacturer rather targets the use in combination with drones or for navigation in unknown areas.
This is the case with many AR glasses that are currently available on the market. They are not intended for everyday use and do not yet offer an integrated experience of apps, calls, and streaming content, as we would like to see in the digital future. For this reason, we are still focused on the future of smart glasses right now.
You can look forward to these smart glasses in the future
At the latest since Apple's plans to develop smart glasses became known, smart glasses have been on the minds of many users and companies. So it's not surprising that more and more major electronics manufacturers have introduced smart glasses in recent weeks and months.
Smart glasses from Google: Will Google Glass be ready for series production?
We have already mentioned Google Glass in this article. The wearable launched in a first version in 2014. After a temporary sales hiatus, the Google Glass Enterprise Edition 2 appeared in 2019, which was offered for $1,100. However, the product was aimed more at developers and companies that want to further develop Google's technology or use it for their own software.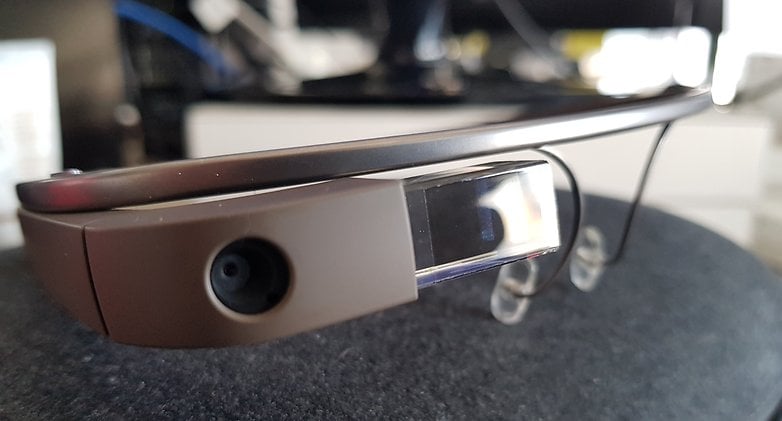 Glass, hence the singular in the name, offers a projector on a single page that can project digital content onto a glass prism in front of the user's eye. In the basic version, Google dispenses with a frame for the glasses and attaches the technology to a frame that you place on your nose. However, there are also attachments for sunglasses.
After many years of questions regarding a general market release, Google announced in March 2023 that it was discontinuing the second generation Google Glass, without an indication on whether there will be another generation in the future.
Smart glasses from Apple: Apple Glass or Apple View?
Much more exciting are the rumors surrounding the Apple Glass or lately also called "Apple View". There are already many rumors about the smart glasses, even though Apple did not announce any official information even at the spring event on March 8. Since we find the Apple View / Apple Glass very exciting, we have compiled a rumor special overview of the Apple smart glasses for you.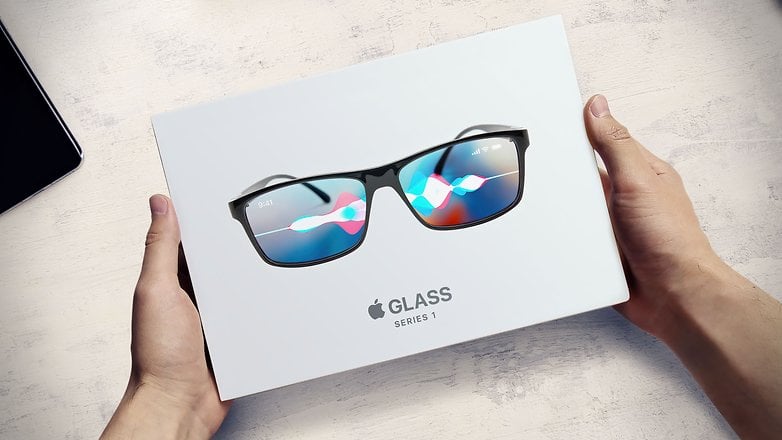 In this article, however, we want to talk about the significance of Apple's smart glasses. After all, the Cupertino-based company has already managed to make new products palatable to a mass audience when it comes to smartphones and tablets. Therefore, many people have high hopes that Apple Glass will make a new product category relevant enough to open up a new market for consumers. So if you're up for smart glasses, you should hope for these glasses!
Smart glasses from Xiaomi: The Xiaomi Smart Glasses concept
The smart glasses from Xiaomi bear the simple name "Smart Glasses" and were already presented as a concept in September 2021. According to the manufacturer, a "multitude of miniature sensors and communication modules" will ensure that you can make inputs without an additional controller. Xiaomi relies on a combined solution for the displays integrated into the glasses.
The manufacturer wants to use a MicroLED imaging technology to project content via tiny image processors onto the inner lens of the glasses. Thus, the actual technology would be in the frame. Still, the concept shown in the video above looks discreet and wouldn't stand out much at all in everyday life. However, it is not yet clear when the technology will hit the market, even though Xiaomi presented an updated "Explorer Edition" during MWC 2023.
Smart glasses from Oppo: The Oppo Air Glass
For Oppo Inno Day 2021, another Chinese manufacturer presented a model that strongly reminds of Google Glass. The concept, also called "smart monocle" by many, only offers a display that sits in front of the right eye. However, Oppo also plans to launch a model with a frame. The technology is supposed to weigh only 30 grams and thus not be very noticeable on the eye.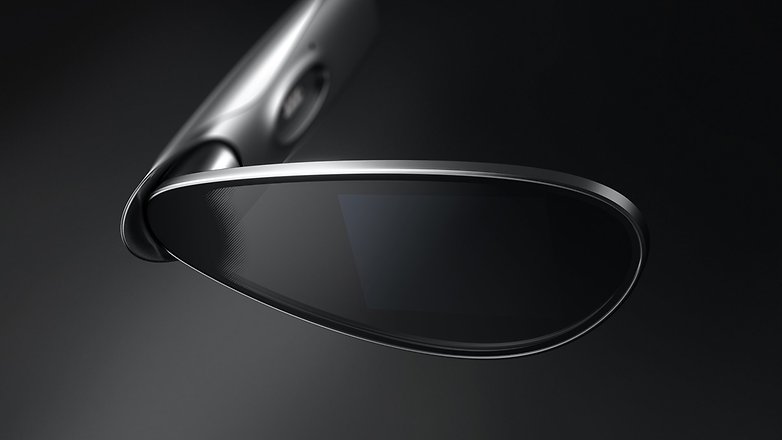 A Qualcomm Snapdragon Wear 4100 is supposed to be installed in the temple of the smartglasses and content is projected onto the glasses via a Spark Micro projector. The brightness is supposed to be 1,400 nits and either 16 or 256 grayscales can be projected onto the lens. The product is expected to be launched in China in the first quarter of 2022. We do not know anything about a western release or prices yet.
Smart glasses from TCL: Thunderbird Smart Glasses Pioneer
When it comes to new screen technologies, the manufacturer TCL is usually not far behind. This is also the case with smart glasses. Even though TCL's subsidiary Thunderbird is responsible for smart glasses, there is already an exciting product with the "Smart Glasses Pioneer". The wearable also relies on MicroLED. Compared to Xiaomi, however, the technology is supposed to display higher-resolution images with smaller pixels. However, only monochrome images can be projected.
Thunderbird also integrates a camera into the glasses, and Wi-Fi and GPS are supposed to be on board in terms of connectivity. Simple navigation and control of the smart home are supposed to be the main usage scenarios. However, the timetable for the wearable is sobering: Since the MicroLED technology is still too expensive, production-ready products are not expected to appear for another four to five years.
Conclusion: When will smart glasses really become practical?
In summary, we can see from this overview that smart glasses will still be a topic of the future in 2023. With the increasing rumors regarding Apple's take on the market, it seems like every Asian brand is announcing something in the space, but they all still looked more like prototypes or working devices for very special purposes. It will probably take a while until smart glasses are really ready to be used like smartphones all day long.
All the more reason to prepare yourself for this topic. Because smart glasses also come with a lot of ethical and legal concerns. Already, with models like the Ray-Ban Stories, you can secretly record and take photos of people who may not even realize you're wearing a video camera on your forehead.
So let me know in the comments if you're excited about smart glasses and what you think of the development. Is it a benefit for you to constantly wear a display and a camera on your nose or a horror scenario?
---
Article updated in April 2023 with additional models, updated pricing, and canceled models.