The Best Gaming Monitors in 2023 | Buying Guide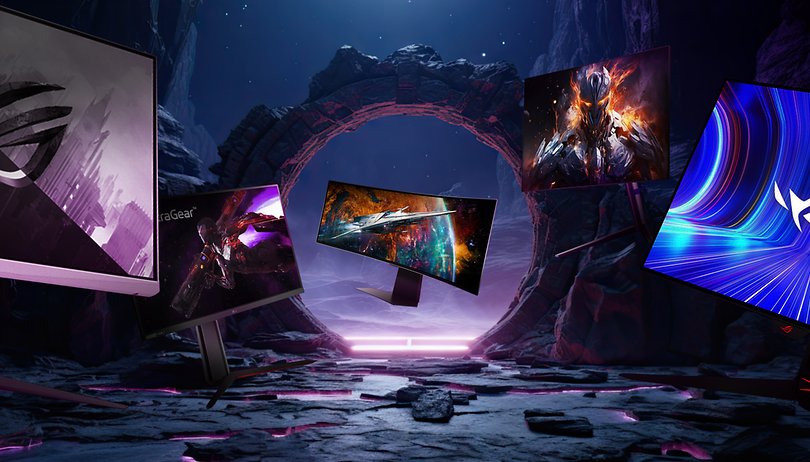 Are you on the lookout for a new gaming monitor for your PC? We have selected the best gaming monitors in 2023 across different price points of $400, $600, $800, and $1,000 just for you. You can also find a monitor for console gamers in this article. In addition, we explain the numerous technical terms attached to these monitors and how you can find the right model for your needs.
The best gaming monitors at a glance
Table of Contents:
The gaming monitor buying guide
In 1962, "Spacewar!" marked the start of computer gaming. Since then, gaming tech has evolved immensely. Monitors, pivotal to the experience, have advanced too. This article demystifies key terms and offers our top 2023 picks across various price points.
In this guide, nextpit highlights what to consider when choosing a gaming monitor. Remember, there's no one-size-fits-all "best" monitor—each gamer's needs vary. Determine your budget and specific requirements before diving in.
What size should your gaming monitor be?
Consider your gaming monitor's size first. Choices range from 10.1 to 55 inches. While many gamers prefer 24, 27, or 32-inch monitors, the biggest isn't always best. Your number of monitors and viewing distance matter.
For TVs, optimal size can be gauged by multiplying screen diagonal in centimeters by 2.1. But with gaming monitors, there's no strict formula. To prevent eye strain, e-athletes often opt for 24-inch screens due to proximity, whereas casual gamers might lean towards 27 inches if not sitting too close.
For those seated further back, larger monitors can be appealing. If you use multiple monitors, consistency in size (and specs like resolution and refresh rate) helps reduce eye adjustments. Ultimately, choose the size that fits your needs; bigger isn't always better.
Are curved monitors better for gaming?
Curved monitors offer an immersive gaming experience. Their design enhances the field of view, reducing eye movement. With their encompassing view, you might even forgo an extra screen, saving money.
However, size matters. A too-small curved monitor can hinder the experience with seemingly cut-off edges. For full immersion, opt for a larger model, like the Samsung Odyssey CRG9, a 49-inch monitor priced at $1,250 from the manufacturer.
Full HD, WQHD, or 4K: Which resolution makes sense?
Screen resolution is as vital as size for gaming monitors. Typically, smaller screens have Full HD, while 27-inch and above should have QHD. Higher resolutions on larger screens maintain consistent frame rates in fast-paced games like Call of Duty or Need for Speed.
Pixel density, measured in PPI, is key. A higher resolution increases pixel density, which, if too high, can strain the eyes and cause motion sickness.
Conversely, a 27-inch screen with Full HD may have too low pixel density, causing FPS issues and the blur effect. Ensure the resolution suits the monitor size. Additionally, avoid monitors with low refresh rates (hertz), which we'll discuss further in this article.
How to find the right panel for your needs
Choosing the right panel is another critical consideration. The options vary widely, including TN, IPS, VA, and OLED, each with its unique advantages. You might already recognize OLED panels (Organic LED) from high-end TVs. They offer an exceptional picture for gaming monitors, featuring perfect blacks, stark contrast, and rich color depth—all at a premium price. Additionally, these displays typically have the fastest response times.
The viewing angle of IPS panels (In-Plane-Switching) is a big advantage because even if you were to look at the monitor from the side, you can still see many colors in their brightness. Furthermore, a lot has changed in this area over the last few years, and the previously poor response times are no longer an issue.
VA monitors (Vertical Alignment), on the other hand, fall short when it comes to viewing angles, as the picture looks washed out when you don't look at the screen directly from the front. On the other hand, they offer great contrast and block light from the backlight, resulting in a deep black. Here, too, things have changed and the response times of the devices are getting shorter and shorter.
TN (Twisted Nematic) panels feature the lowest response time of all models. Since this is the oldest technology, the devices are often cheaper, although they are not the worst. You only have to make some concessions in terms of color depth and viewing angle. However, TN monitors are still present in e-sports in 2023.
FreeSync, FPS, response time & others: The most important terms explained
Some of the most important terms have been clarified, but there are still some questions that require answers. Below, you will find a mini-glossary of the corresponding terms with a brief description.
| | |
| --- | --- |
| | Description |
| DCI-P3 | This is a color space that is mainly used in film studios. It covers the range of naturally occurring surface colors. |
| DisplayPort | Similar to HDMI or the old VGA connection, DisplayPort is an interface for transmitting video and audio data. This port is even capable of displaying up to 5K content. |
| Color space | The color space describes the range of displayable colors of the monitor. Especially a "Wide Color Gamut" is very popular here, since it describes an extended color space. |
| FreeSync | FreeSync is a technology for improving the quality of LC displays. FreeSync reduces the stutter and tearing effect of content if the frame rate of the monitor is not compatible. |
| FPS | FPS stands for "frames per second". This value is already more than sufficient for many with 60 FPS, but the human eye can perceive more or less of these frames depending on the content. |
| G-Sync | G-Sync synchronizes the output of the graphics card with the monitor. If the GPU has a lower output rate than the monitor repeats images, this technology adjusts the error and provides a smoother gaming experience. |
| Input Lag | This value indicates how fast a monitor can play a content after you have input it. |
| Nits | Nits indicate the brightness of LCD screens in candela per square meter. The higher this value is, the brighter the image will be at full power, which can lead to problems with some games. |
| Response time | This value indicates in milliseconds how long a monitor needs to change the brightness or color of individual pixels. The lower this value is, the better the picture quality, as artifacts, such as motion blur, cannot occur. |
| VESA certification | The VESA certification is a classification option for monitors. Among other things, this indicates the peak brightness value. DisplayHDR 400 thus states that the monitor reaches up to 400 cd/m². |
If you can think of any other technical terms, feel free to share them in the comments. This glossary is constantly updated so that you are always up-to-date.
120 Hz, 144 Hz, or 240 Hz: How many hertz should a gaming monitor have?
You might have quickly scrolled down to the comments to point out the omission of the refresh rate. However, a brief mention isn't sufficient; understanding the term and its ideal Hertz (Hz) value for your desired monitor is essential.
The refresh rate denotes how frequently your gaming monitor refreshes its display. A higher value ensures smoother movements and potentially higher FPS. Generally, gaming monitors should boast a refresh rate of at least 120 Hz, as 60 Hz can come across as choppy. The adage "the more, the better" largely holds true in this context. Monitors with elevated refresh rates guarantee a smoother gaming experience.
If you're considering a 240 Hz monitor—which has grown increasingly affordable—you should not hesitate. An outdated online myth suggests your GPU should also produce 240 FPS to justify such a monitor. This is merely a misconception. A higher frame rate primarily minimizes issues like screen tearing or stuttering
The best gaming monitors at a glance
You are now familiar with the most important key figures and technical terms. It is time to present our selection of the best gaming monitors in more detail.
Best gaming monitor up to $400: LG UltraGear 27GP850P-B
The LG UltraGear GP850P-B is available with a screen that measures 27 inches across diagonally. Thanks to the QHD resolution, you will always get a good picture here and do not have to worry about motion sickness or a blur effect.
With a refresh rate of 180 Hz and matching sync technology from AMD and Nvidia, images are repeated quickly enough, allowing you to enjoy your favorite games at a high FPS in peace. It is also VESA certified with DisplayHDR 400.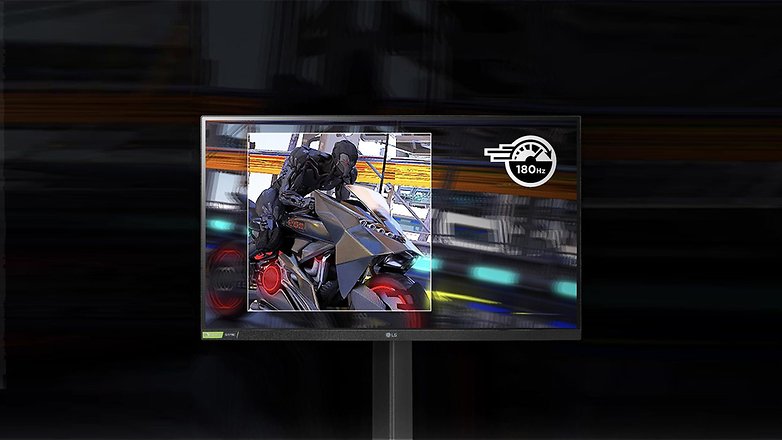 We opted for the LG here because the overall picture simply fits the bill perfectly. The response time of the inexpensive gaming monitor of 1 ms can now be found in many IPS panels.
A color space coverage of 98 percent in the DCI-P3 color spectrum and a peak brightness of 450 nits also ensure that the colors look clear and natural. However, the GP850P-B doesn't always cost less than $400. You might see prices that hover slightly above that, but the small surcharge is definitely worth it.
Best gaming monitor up to $600: ASUS ROG Strix XG27AQ
The Strix XG27AQ from Asus is in our selection that falls within the $600 price range. A screen that measures 27 inches across diagonally with a matching WQHD resolution, a response time of 1 ms, and a refresh rate of 170 Hz provides a good gaming experience. The brightness reaches a value of 250 cd/m² on the Asus and is thus perfectly suited for darker rooms.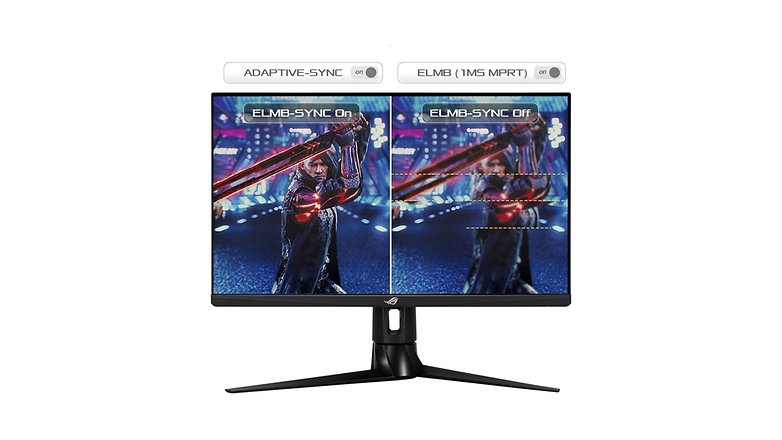 Thanks to the IPS panel, you also have a wide viewing angle of 178 degrees, which means you don't have to sit directly in front of the screen to fully perceive the image.
As with the $400 model, you'll also find DisplayHDR 400 certification, and you can use G-Sync along with Extreme Low Motion Blur Sync (ELMB) technology to prevent ghosting or tearing. In terms of price, you currently have to be willing to part with $599 for the monitor.
Best gaming monitor up to $800: BenQ MOBIUZ EX3210U
If you have a bit more money to spare, you can already venture into mid-range monitors. The BenQ MOBIUZ EX3210U is such a device and has a screen that measures 32 inches across diagonally.
Armed with a 4K resolution, you don't have to worry about a blur effect, since the PPI is adapted to the size of the monitor. In addition, you can expect a response time of 1 ms and a color space coverage of 98 percent.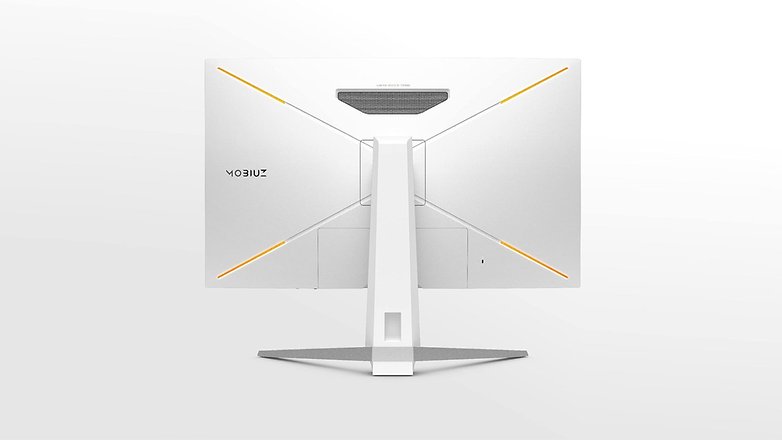 One of the highlights here, however, is the high brightness of 600 cd/m² and the two HDMI 2.1 ports, which also allow you to plug your PlayStation 5 or Xbox Series X and enjoy games at 120 FPS in an excellent 4K resolution.
The BenQ is also VESA DisplayHDR 600 certified. The price currently hovers around $700. If that is too expensive for you, we have picked out a console alternative with the Gigabyte M32U, which you will find a bit later in the article.
Best gaming monitor up to $1,000: Asus ROG Swift PG27AQDM
If you want to get a taste of what the high-end market offers, the Asus ROG Swift PG27AQDM is a good choice. The gaming monitor uses a 27-inch OLED panel with a WQHD resolution. The refresh rate is a fantastic 240 Hz, which allows you to play your games at a decent FPS. If your GPU does not play along with that figure, the monitor is also compatible with G-Sync.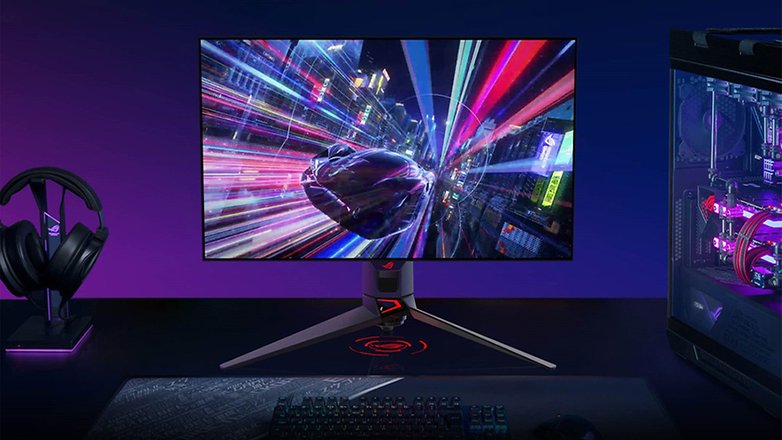 The best gaming monitor up to $1,000 currently has the fastest response time of 0.03 ms and brightness of up to 1,000 nits. It also has a color space coverage of 99 percent, which means that the colors are not only vivid but also bright and simply beautiful.
Fans of great-looking graphics will get their money's worth here. Only an HDMI 2.1 port is missing here to make it the perfect model. Nevertheless, the best technology will also cost you a lot, and you will currently pay around $999 for the Asus ROG Swift.
Best gaming monitor for consoles: Gigabyte M32U
If you prefer to play on a console instead of buying a gaming PC, you can, of course, buy a gaming monitor instead of a Smart TV (see our buying guide). You should definitely take a closer look at Gigabyte's M32U. A 32-inch monitor, paired with a 4K IPS panel, a response time of 1 ms, and a refresh rate of 144 Hz ensure fast gaming sessions without having to sacrifice FPS.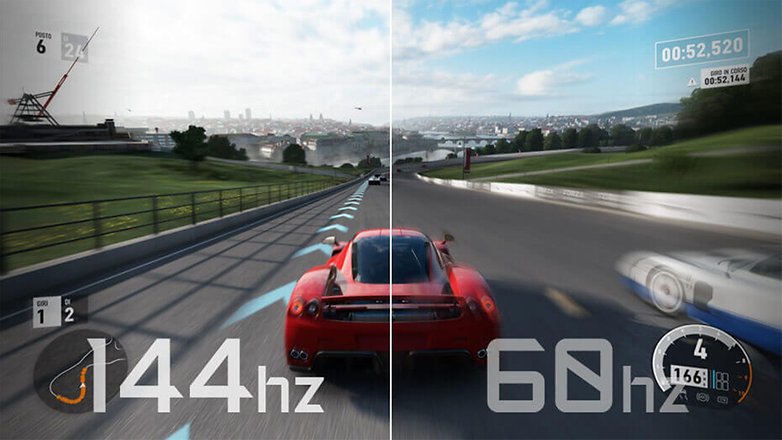 Only the color space coverage of 90 percent is a bit weaker, just like the maximum brightness of 350 nits, if you want to play in brighter rooms. So, if vivid colors are important to you, you should go for the best gaming monitor that costs up to $800.
If performance is more important to you, and you play in rather dark environments, you'll be best served with the Gigabyte M32U for just under $650.
Is there the best gaming monitor?
As mentioned at the beginning, it is not possible to make a conclusive statement about the best gaming monitor. It's up to you what your gaming preferences are. In this buying guide, we will only provide you with a guideline that should make the decision easier for you.
Nevertheless, the ASUS ROG Swift PG27AQDM currently offers the most sophisticated technology in this list, which should keep you happy for the next few years if you have the necessary spare change.
How many monitors are in your gaming setup? Do you focus on gaming features? If you're unclear about any terms or know of standout monitors, share with us! Your opinions and discussions are valued.