The best FPS games on Android and iOS in 2022
Update:

Check out the new games!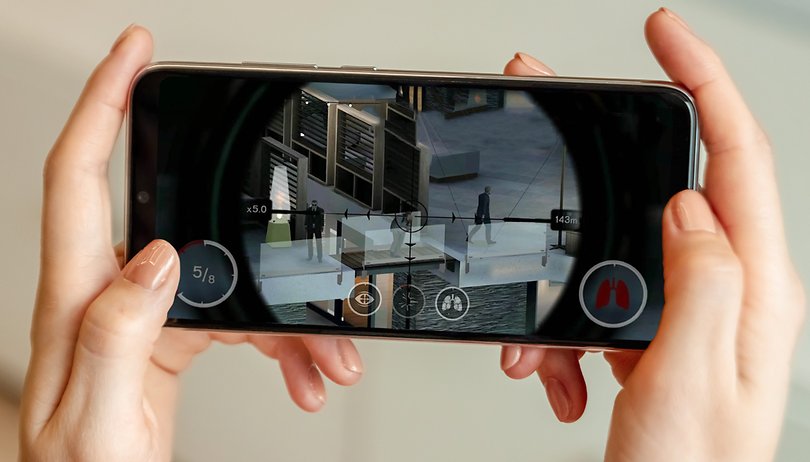 Mobile first-person shooters are some of the best games you can play now on your Android and iOS devices! If you are looking for some offline gaming fun, or some adrenaline-infused competitive shooting to test your skills, we have collected the ten best FPS games for 2022!
With mobile games being more and more popular, traditional gaming genres are slowly trickling down to pocket-sized versions. PUBG, CoD, CS: GO, Valorant, Apex Legends, Overwatch and Hitman are some of the franchises that have found their way into mobile devices either with original titles or blatant copies. Here, you will find some of the best mobile FPS games that you can play on Android and iOS, with a couple of the classics as a bonus!
---
---
Of course, some of our selections are targeted at e-sports gamers who want to be the very best and conquer the top of leaderboards, like PUBG, Call of Duty Mobile, and Modern Combat, while others are based on their graphics and solid storyline like Hitman Sniper. As you may notice many of these games are quite old. This happens for two reasons: First, the multiplayer games are treated as services, and thus, they receive constant updates that keep them relevant. Secondly, some FPS games are simply so good, that remain the best FPS titles you can play to this day.
Get free stuff for your games and more by clicking on our links below!
So our criteria are somewhat loose for this best list. If, for example, a game focuses on providing an excellent multiplayer experience, even if it has perfect gunplay but does not have enough players and suffers from long waiting times, or bot-infested lobbies, then we can not recommend it. Also, this means that we cannot do a countdown. Every game in this list is here for its reasons so that you can decide which one is the top one for you.
Jump to:
Call of Duty Mobile: The best competitive FPS game for smartphones
Activision hired PUBG developer Tencent to develop a mobile adaptation of Call of Duty. It makes perfect sense then to name this Call of Duty: Mobile which also boasts the mandatory Battle Royale mode that can be unlocked after just a few rounds. The game features many different modes as well as season-specific events, contributing to a premium, action-packed shooting experience.
Call of Duty has become the go-to shooter for mobile, dethroning other titles like PUBG in 2022, with solid gunplay, beautiful, customizable graphics, intuitive controls, and a solid player base that guarantees you never wait for a match. The game is also an e-sport, with the first tournament in 2020 offering prizes of up to 2 million USD.
4.3 stars on Google Play / 4.7 stars on the Apple App Store.
Price: Free, contains advertising.
In-app purchases: Yes.
PUBG Mobile & PUBG New State: The best battle royale FPS game
All of you would most probably have heard of PUBG. In the meantime, the well-known battle royale game has long featured a first-person mode. The principle, of course, remained the same: 100 players have landed on an island that contains a virtually limitless amount of loot.
The play zone will get smaller and smaller over time, increasing the chance of other opponents' encounters. Those who do not make it into the circle in time would lose. It is no wonder then that PUBG was voted the best Android game of 2018 in our poll.
Since summer 2019, PUBG Mobile has been made available in a lite version to cater to mid-range smartphones, and this move effectively expanded the target audience of this super hit.
Unfortunately, the graphics are not as good as the PC version, which you will definitely enjoy over a large monitor. Still, the Lite version does serve its purpose - as the game runs without any performance issues on mid-range smartphones. It is easy to use, and most of the elements have been converted over to the mobile world.
PUBG: New State
As of 2021, PUBG has received a sibling! Under the name of PUBG: New State this game is a stand-alone expansion that takes the formula of PUBG and gives it a futurist spin, with new weapons, sci-fi vehicles, and improved -even heavier- graphics with global illumination.
The game has remained pretty much the same as its predecessor in mechanics and gunplay; thus, we put them together. Although we have to note that the new faster, 20-minute Extreme Battle Royale Mode is something the franchise needs.

The game still has a few rough edges and is essentially a reply to Call of Duty: Mobile. This lack of originality and some gameplay issues that are not well ironed out yet, push the veteran players to return to PUBG: Mobile. Thankfully, our overall experience with the game shows a lot of promise, and I would not be surprised if after a year of updates, PUBG: New State has replaced PUBG: Mobile as the absolute best battle royale game for smartphones.
4.5 stars on Google Play (Lite version: 4.2 stars) (New State: 3.7 Stars) / 4.2 stars on the Apple App Store (New State: 3.8 Stars).
Price: Free.
In-app purchases: Yes.
Shadowgun Legends: Halo-like mobile FPS game
Shadowgun Legends is a game that reminds me of the would-be child between Halo and Warframe. It brings together speedy action, crazy PVE co-op combat and nice hubs for socialization.
You can equip your "Shadowgun" with all kinds of weapons and protective shields that change the gameplay a lot. Of course, skins ensure that you can differentiate yourself from other players. The gameplay is solid enough to keep you occupied, and there are both single-player and 4v4 PVP multiplayer battles to choose from.
4.4 stars on Google Play / 4.7 stars on the Apple App Store.
Price: Free, contains advertising.
In-app purchases: Yes.
Fortnite: Banned from everywhere but still popular
Okay I know, technically it is not an FPS game so shame on me for this selection, but after its ban, Fortnite should be on every shooter list! With the Android version of Fortnite, you can always carry the popular battle royale game with you so that it is all too easy to get started anytime, anywhere. Of course, the gaming experience on the PC is still unbeatable as nothing comes close to it (I'm of the PC master race persuasion when it comes to gaming).
The mobile version carries the entire experience of Fortnite to the mobile world with events, skins, and the same gameplay. Controls may still be a bit of an issue due to the limitation of smartphone controls, but a pro player won't need long to adapt!
Price: Free.
In-app purchases: Yes.
You would have surely noticed the drama between Epic Games, Apple, and Google. You will no longer be able to find Fortnite in the respective app stores. While iOS fans currently have no recourse, Android fans can still download the game directly from Epic Games.
Download Fortnite for Android
Download Fortnite for iOS
Infinity Ops: A mobile FPS game with a Battlefield 2042 aroma
Infinity Ops is a multiplayer FPS set in the future and reminds a lot of games like the disastrous Battlefield 2042 or the epic Battlefield 2142 if you are old enough to remember it. Infinity Ops features different classes with a wide variety of weapons and armors, while the environment gives an extra point for players to consider.
The player has to adapt to new environments and movement patterns with different gravities. Additionally, players have access to jetpacks, concluding in a genuinely chaotic experience that takes tons of skill to master. Thankfully the controls are pretty good and easy to master, while the graphics are optimized for weaker devices.
4.4 stars on the Google Play Store / 4.7 on the Apple App Store.
Price: Free, contains advertising.
In-app purchases: Yes.
Into the Dead 2: For survivors who like a single-player zombie FPS game
If endless runners and FPS titles were to be merged, then the result would most probably be the "Into the Dead" series with zombies all around. The game's atmosphere itself is creepy and fast-paced, which means you can never let your guard down at all times.
Of course, throughout the game, there are also other items that you need to take care of in order to survive, such as picking up conveniently scattered ammunition, health, and other essential items. Do make sure you are agile enough to avoid being attacked while taking down a zombie pack.
4.5 stars on Google Play / 4.7 stars on the Apple App Store.
Price: Free, contains advertising.
In-app purchases: Yes.
Modern Strike: The best mobile tactical FPS game
Modern Strike - the name is of course, reminiscent of a classic. Here too, it is a struggle between good and evil. There are eight different modes for single and multiplayer games with the inclusion of extras such as skins and weapons, with more than 70 different kinds to choose from.
There is even a clan system, including regular tournaments that push squads to be the absolute best. It is also interesting that, according to the developer Azur, Modern Strike also runs smoothly on less powerful smartphones without compromising on the graphics.
4.5 stars on Google Play / 4.6 stars on the Apple App Store.
Price: Free, contains advertising.
In-app purchases: Yes.
Modern Combat 5: A Call of Duty alternative FPS game
It looks like Call of Duty: Mobile, it has similar gameplay to Call of Duty gameplay, but it features a single-player story! Modern Combat 5 works best for high-end smartphones, but that doesn't it is not playable on mid-range devices. Above all, the detailed graphics are impressive, but fans of first-person shooters shouldn't expect too much from the mission design and story.
Once again, evil terrorists are threatening the free world, and as a brave super-soldier, you simply cannot allow such threats to be realized. Hence, our hero goes into battle with a large arsenal of weapons and shoots everything that moves. The jobs are mostly "go there and do all" missions, but it never gets really boring, with each success motivating you to unlock new improvements. There is also a lot of action in multiplayer mode, too.
4.4 stars on Google Play / 4.7 stars on the Apple App Store.
Price: Free, contains advertising.
In-app purchases: Yes.
Hitman Sniper: The best sniper FPS game
Agent 47 already made a very good impression of himself on Android with Hitman GO. In Hitman Sniper, Square Enix added a first-person shooter game into their stable. As the name suggests, the focus is mainly on the sniper rifle getting the job done.
As a professional killer, you lie in wait patiently to take out certain targets with different mission objectives. Wildly firing away almost never leads to success, but every shot should be carefully considered and hit the bull's eye (head!) if possible. There are many varied missions to keep you hooked, with additional rifles to be unlocked as you progress in the game. The game currently retails for $0.99.
4.4 stars on Google Play / 4.7 stars on the Apple App Store.
Price: $0.99.
In-app purchases: Yes.
Unkilled: The best multiplayer zombie FPS game
Unkilled comes from the developers of the legendary Dead Trigger 2. Of course, it is all about zombies yet again. This time, the undead has attacked New York and in order to keep the city safe from zombies, you will have to choose one out of five characters and get to the cause behind the plague. The graphics look even better here, and if you feel like it, you can even control the game using a gamepad.
In Unkilled, there are many ways to personalize your appearance and weapons. In general, you have access to more than 40 weapons across five classes - and there is a PvP multiplayer mode as well as various bosses to contend with.
4.4 stars on Google Play / 4.7 stars on the Apple App Store.
Price: Free, contains advertising.
In-app purchases: Yes.
N.O.V.A. Legacy: A classic multiplayer FPS game (Honorable Mention)
N.O.V.A. Legacy is based on the first installment of N.O.V.A., but this time around, it comes with pimped-up 3D graphics in this remastered version. You must fight the enemy hordes of the Colonial Administration and survive. Much of this game will bring back fond memories of weapons used in games like Halo or Crysis.
If you are looking for a challenge with other players, you will find several multiplayer options to indulge in here, including a team deathmatch. But there is also an offline mode to dabble with. You can also collect various bonuses to improve your equipment over time.
4.0 stars on Google Play / 4.6 stars on the Apple App Store.
Price: Free, contains advertising.
In-app purchases: Yes.
Doom: The first FPS game that started it all (Honorable Mention)
I guess no self-respective list would miss out on Doom, the classic among first-person shooters. The game was first released for MS-DOS in December 1993, where the first mobile version was released so much later in 2009. This means the game has been available on Android for some time now.
The Thy Flesh Consumed expansion (Episode IV) is also included for the anniversary version. This is a must-have title for fans of the classic. Just in case you cannot get enough of it, there is always Doom II for you to indulge in!
4.5 stars on Google Play / 3.7 stars on the Apple App Store.
Price: $4.99.
In-app purchases: No.
So this is my selection for the best FPS games you can play right now on mobile! In 2021 we had quite a few considerable updates in most of those titles. CoD got is running its first season and PUBG has a new installment so 2022 is definitely an exciting year to be a mobile FPS gamer! What do you think? Do you agree with my selection? Is there any game you would like to add to this list? Let me know in the comments!
---
This article was completely revised in February 2022. Older comments have been kept and may sound out of context.