Best fighting games on Android: the way of the warrior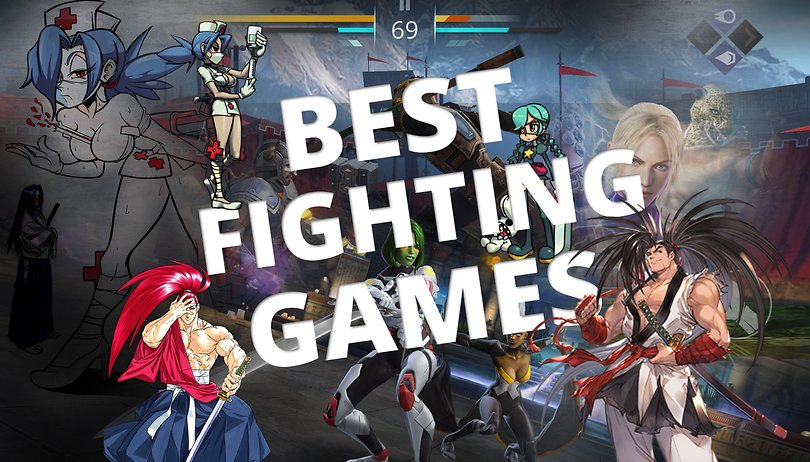 Ah, the simple pleasures of the fighting game: two hardcore contenders squaring off and dukeing it out for supremacy, usually using fireballs, flying kicks and other fancy forms of ass-kicking along the way. Genre champions such as Street Fighter and Tekken are now strutting their stuff on the Android arena, but which mobile fighter really reigns supreme? Let's take a look at the best!
Choose your fighter:
Street Fighter IV Champion Edition takes the title
Capcom's Street Fighter series has been the iconic fighting game ever since the early nineties, and the mobile offering from the venerable franchise doesn't disappoint. Street Fighter IV suffers a graphical downgrade in the port from PC and console, but the good news is that the sophisticated fighting system stays intact, with all the characters and moves you know from the big screen.
The game uses a virtual on-screen gamepad by default (though you can add your own controller), and Street Fighter veterans will find it fits like Ryu's worn red gloves. However, there's also an optional button just for special moves to make it easier for those who find touch controls awkward.
Unlike many fighting games on mobile, there's no login for daily rewards, no grinding for in-game currencies to level up your fighters' punches, no gambling-style random unlocks of characters, moves or features.
The free version of the game is akin to an old school demo, where you can play as Ryu against three classic characters. A single in-app purchase of $5 unlocks all the other fighters and various of game modes including arcade, survival and online versus.
All in all, the successful port of Street Fighter's mechanics and lack of pay-to-win BS elevates this game over prettier but more predatory offerings out there. $5 for a fair fight every time? Well worth it.
Somewhat frustratingly, the game is online-only, even if you're playing solo, and even after you've paid. But so long as you have a Wi-Fi connection, this is the most satisfying fighting game on mobile. Pro-tip: fire up the game while you've got Wi-Fi, and you should still be able to complete the arcade mode solo even after your signal drops.
App version: 1.00.01
Compatibility: Android 4.4 and up
Price: Free demo, $5 in-app purchase for full version
Shadow Fight 3: blades over brawn
The Shadow Fight series isn't a port from more traditional gaming platforms, but instead was developed natively for mobile. Although previous titles in the series featured battles between almost featureless black figures, Shadow Fight 3 brings all the action into the light, and looks good while doing it.
Instead of the traditional roster of similar games, you get one character that you customize through their equipment: armor, melee weapons and missile weapons. The equipment is tied to one of three factions: The Legion (Medieval European themed), the Dynasty (Wuxia Chinese) and the Heralds (anime-influenced techno-samurai).
The ability to mix and match equipment from different factions and select different special moves gives you enough variety that you don't miss choosing different characters - every combination demands different tactics.
Shadow Fight 3 plays with a surprising amount of depth, with hard controls through a virtual gamepad and restrained movement that requires proper form and timing to succeed. You will need to learn your weapon's reach, speed and power relative to your opponents. Tense counter-attacks and reversals are common, and in a fair fight, it plays out like a 2D version of Soul Calibur on your phone.
But sadly, fair fights in Shadow Fight 3 are rare. Your all-important equipment has stats that must be leveled up by leveraging various in-game currencies, earned by playing through its story mode, side missions, or 'versus' duels (against CPU opponents). Story missions are doled out piecemeal, and the duels frequently match you up against opponents with higher stats that you.
The result is that the player will frequently find themselves at a disadvantage in fights - pitted against an opponent that deals more damage than them, and takes less. Player skill can go some way to mitigate this - and I'll admit, there's great satisfaction to be had in handing the cheating bots ass back to it. However, this game will continually beat you into the ground in an attempt to get you to splurge some real money on in-game currency to then spend on 'booster packs' of random equipment cards.
It's sad, because Shadow Fight 3's controls and mechanics can result in a genuinely intelligent, stylish and fun fighting game that I'd happily buy outright, but the free-to-play/pay-to-win monetization scheme injects an unnecessary amount of frustration into the mix.
Nonetheless, you can still get a lot of mileage out of Shadow Fight 3 without paying. Its well designed system keeps Shadow Fight 3 ahead of other free-to-play fighting game titles on Android.
App version: 5.2.3
App compatibility: Android 4.1 and up
Price: Free, in-app purchases
Tekken Mobile: a slave to the grind
Tekken Mobile was a highly anticipated title for many months, but when it finally arrived on Android, fans of the long-running fighting game series were confronted with a very different game from what they were used to.
Bandai Namco's offering for mobile devices is a quintessential mobile fighting game, in that it's a micro-transaction heavy grind-fest with enough different kinds of in-game currency and stats to make me want to hire an accountant to play this game for me.
The sophisticated controls characteristic of the Tekken series have been shrunken down to a limited repertoire of taps and swipes along a 2D plane. Yes, this is Tekken game with no sidestepping, which should speak enough to series fans about how different it is.
Yet, if the monetization and mechanics are painful to think about, there's no denying that Tekken Mobile is beautiful to look at. The characters look great, movements are fluid and the graphics overall really take advantage of what modern high-end phones have to offer. It's one of the titles confirmed to take advantage of the Razer Phone's 120Hz display, for example.
Lacking the depth of gameplay that characterizes the Tekken series on console, Tekken Mobile really trades on the strength of its brand. You want to see your favorite characters rendered gorgeously on your mobile device? This is the one for you. But if you're looking for more tactics or challenges in your fights, you'd be better off paying $5 for Street Fighter or even just trying Shadow Fight 3 for free.
App version: 1.1.1
App compatibility: Android 5.0 and up
Price: Free, in-app purchases
Marvel Contest of Champions: the one for team players
In many ways, MCOC was the model for Tekken Mobile. The mechanics for collecting characters of different levels and upgrading them through grinding out different colors of crystal are almost carbon copies. Likewise, the actual fighting mechanics of tapping and swiping and activating special moves work almost the same way.
Like Tekken, MCOC sells this busywork on the strength of its brand. So it would seem that the choice here is a no-brainer. If you're into the Marvel Universe and want to see Black Widow and Black Panther duke it out, you've got to go with MCOC, grind and hope that you're rewarded with the characters you want to play, as well as with enough upgrades to keep them competitive. Or pay real money to have a better chance, of course.
Still, MCOC has a few more things going for it than just branding. The multiplayer game has a lot of active players, and requires co-operation to complete various challenges with high rewards. As a result of this, players around the world are organized into alliances, with a vibrant social element based around these co-operative quests.
So if you're more of a team player and like the idea of taking on co-op challenges with your buddies, then MCOC deserves some consideration for your brawler of choice. The community is so active that there are even budding third party chat clients developing around the game.
App version: 17.2.0
App compatibility: Android 4.0.3 and up
Price: Free, in-app purchases
Samurai Shodown II: cuts closest to the arcade experience
This is one for the old-school fans. SNK has been a friendly rival to the better-known Capcom for decades, and now many of its old arcade titles are available on the Play Store, including classics like Fatal Fury Special and King of Fighters 97/98. But for my money (and yes, these will all cost you money, to the tune of around $3 per title), the best of the bunch is Samurai Shodown II.
If you're spoiling for a good fight, don't let the old-school graphics put you off. Samurai Shodown II may not have the graphical polish of a title like Tekken, but it has retains the deep and balanced gameplay of the original. Balanced in that the CPU is still hard as nails just like back in the day, but the only thing between you and victory is always your own skill.
Although the sprites show their age, the characters are still as charismatic as ever, and the colorful 'Ukiyo-e' aesthetic remains attractive and distinctive. If you want to get the knives out, but are put off by Shadow Fight 3's frustrating IAP schemes, you could do worse than drop a few bucks on Samurai Showdown II. If swords aren't your thing and you prefer good old fashioned fisticuffs, then the best alternative is Garou: Mark of the Wolves. Don't let the silly name put you off, it's good.
App version: 1.7
App compatibility: Android 2.3.3 and up
Price: $3
Skullgirls kicks ass and looks good doing it
Skullgirls mobile, much like its PC cousin, is a fast paced fighting game with a darkly humorous anime-inspired art style that will be somewhat familiar to fans of classic series like BlazBlue or Guilty Gear. It recently received a major update that won it praise for its balance and depth. I took it upon myself to find out if Skullgirls mobile is a worthy sibling to the acclaimed PC version.
The freemium mobile version of Skullgirls is a prequel to the main fighting game with a familiar mobile-oriented twist - RPG elements to level up your character, daily missions and story elements to keep you coming back and kicking ass. Ready to run for the hills? I was too. But being a fan of the PC game, I decided to give it a try and was pleasantly surprised.
Skullgirl's fantastic soundtrack and art style make it a winner right off the bat (think sci-fi anime meets the gothic art deco stylings of Batman: The Animated Series), and surprisingly deep beat 'em up gameplay provides a solid core to the game, which skilled players can really get in to. Sure, for those with no honor there's an auto-fight mode. You can switch it on to takes care of basic moves, but if you just save it for a crowded subway, Skullgirls offers a frantic feast for the fingers.
Annoying free-to-play elements are present in that you'll constantly end up upgrading your fighters, and using in-game currency to unlock new ones randomly. If you're dead set on using your favorite characters from the PC version of Skullgirls, this could really put you out.
But having not yet reached a point where I'm tempted to shell out hard earned cash, I'm impressed at how much I can get out of the game gratis. Compared to other popular mobile fighters like Marvel: Conquest of Champions, or even another favorite of mine, Shadow Fight 3, Skullgirls manages to be less predatory when it comes to monetization and still oozes character and fun.
App version: 2.0.1
Compatibility: Android 4.1 and up
Price: Free, in-app purchases
Mortal Kombat X
This famously bloody video game series is also on Android, albeit in a somewhat limited fashion. You command teams of fighters and complete missions in a similar way to the aforementioned Marvel Contest of Champions and Tekken Mobile. The signature fatalities are only available under certain specific conditions. More often, you'll be able to pull off X-Ray attacks, only available for Gold characters, in which you'll see your fighter crack skulls, smash pelvises and shatter hips as they unleash their full power.
When you assemble your team of fighters, you can get a number of benefits to characters who are of the same type or complementary type. When fighting, you can also call in allies to deliver crucial moves.
While longtime fans of the series should be warned that this isn't the classic 1v1 matches of the mainline games, it's still the classic (klassic?) characters from Mortal Kombat and all their gruesome moves, so if you've got a lust for blood, it's worth a try.
App version: 1.21.0
Compatibility: Android 4.0 and up
Price: Free, in-app purchases
As an honorable mention, if you enjoy the mechanics of Mortal Kombat X's mobile but prefer to throw down with DC comics heroes, Injustice 2 effectively uses the same system as MKX for mobile, keeping good graphics but a similar freemium PvP gameplay.
Which of these is your favorite fighting game on Android? Or is there another rival that satisfies your fighting spirit? Step up and let us know in the comments!