Top 5 Apps of the Week: Weather, A Fighting Game, and More!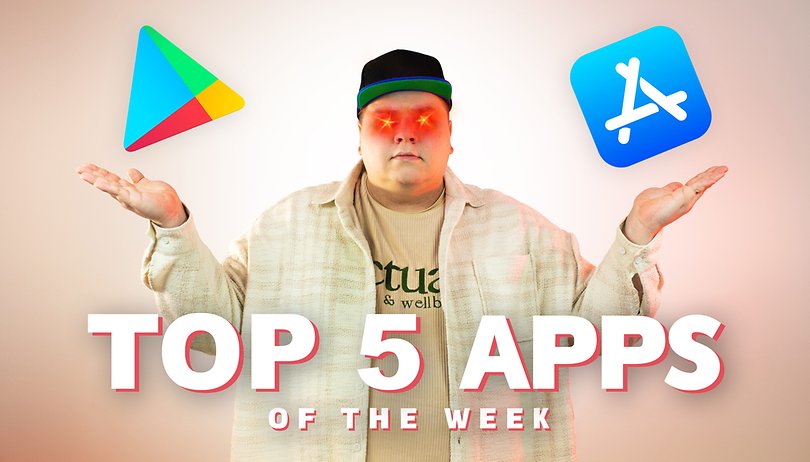 I simply cannot believe how fast time has passed. We are now in November, and you might find Mariah Carey's Christmas album thawing on all digital music streaming channels real soon. Just how will you keep yourself occupied over the upcoming holiday season? Well, reading a book is always a good bet, but there is always your smartphone to keep you company.
There is always a bunch of new apps and games that roll out on both Android and iOS platforms each week to keep you enthralled. Sit back, relax, and get comfortable as we check out what our top picks are this week. We personally handpicked and tested five apps and games just for you and hope they bring as much joy to you as they did to us!
This week is a mix of different genres. There is a game, with a VPN thrown in for good measure accompanied by a weather app and something for those who delve into mindfulness. Are you ready to check them out? Let's go!
SINAG Fighting Game (Android)
Sorry, iOS users. I promise I will try to do a Top 5 apps where all the apps and games featured are available on both platforms, but bear with me just for this week with the SINAG Fighting Game that is available only on Android. Enter a fighting game known as SINAG, and the game features just a couple of characters to begin with. Sounds boring? Not really.
Completing the story mode will unlock another two fighters, and you can gain access to another two more fighters in return for your time. How so? By watching a short video ad for each fighter, of course. Then again, with money speaking most of the time, those who want more options can always fork out $1.49 for a new fighter, capped at two.
It is more than just mindless brawls, as there is a story behind this game. After all, who cares about the story in a brawler? Not too many people, and I am happy to report that the controls are smooth and responsive, with each fighter having their own strengths and weaknesses. Best to be played with a controller, as touchscreen controls simply suck for any game, more so a fighting game.
Price: Free / Advertising: Yes / In-app purchases: Yes / Account required: No
For those who want more of a challenge, ditch the Story Mode. This is what separates the wheat from the chaff, the Versus Mode. You can go up against a CPU, but I think that fighting games are best played against another human. If you want to hone your skills, there is always the training mode to figure out the moves and apply them later.
Healthy Minds Program (Android & iOS)
Mindfulness apps are dime a dozen these days, so what made me pick Healthy Minds Program out of the bunch? For starters, I was curious about how this might be a hidden gem, so it is always nice to give a chance to any app. Having garnered over 100k downloads on the Google Play Store doesn't hurt its reputation, either.
Price: Free / Ads: None / In-app purchases: None / Account required: Yes
Touted to feature four decades of research from world-renowned neuroscientist Dr. Richard Davidson and his team at the Center for Healthy Minds at the University of Wisconsin, I was stoked to discover whether this is snake oil or something concrete. To my pleasant surprise, I was somewhat going through a rough patch in my life earlier this week, and found the entire process to be relaxing. I had to train my mind to calm down and be still, not letting all the pressures around me cave in.
I managed to get my work-life balance restored by the end of the week without kicking the dog or releasing my frustration on everyone else around me. I am quite sure other mindfulness apps work great, as there is always something for everybody. If you have tried others and nothing worked so far, why not give this a shot? The user interface is simple and progressive, and you should be able to see an improvement in your life after putting some of the lessons here into practice.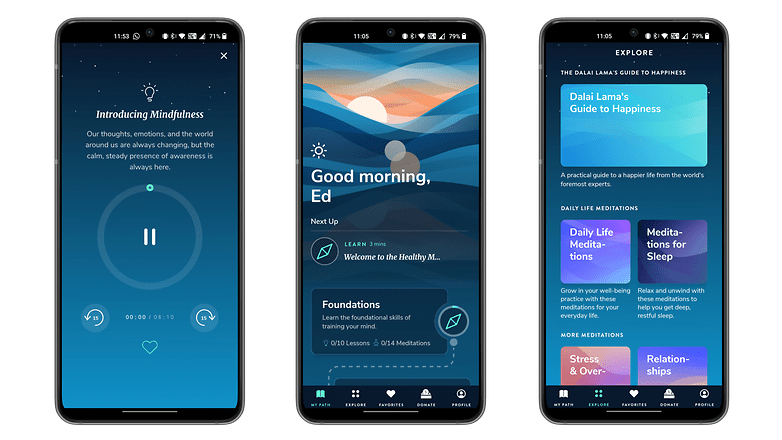 TunnelBear VPN (Android & iOS)
Everyone deserves to have a VPN running on their phones these days, considering the amount of private information that is stored on your handset. In fact, we at nextpit have long advocated this with our list of the best VPN services. TunnelBear VPN is lightweight in nature and works for browsing. Do be aware that TunnelBear VPN cannot access Netflix catalogs securely, so those who want a VPN to handle video streaming might want to look elsewhere.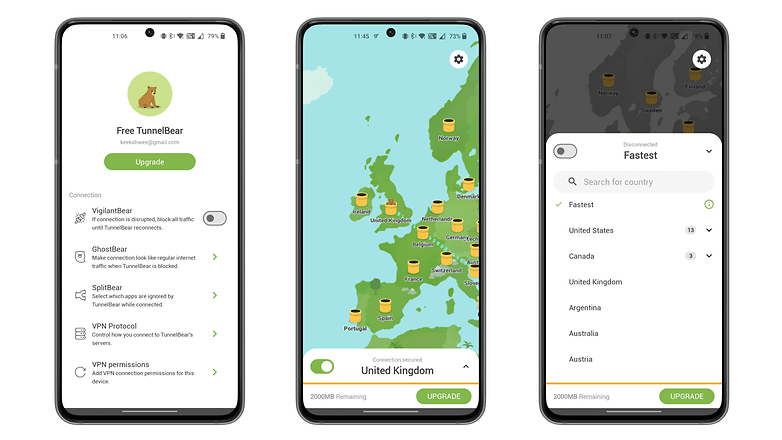 Price: Free / Ads: None / In-app purchases: Yes ($6.99 to $49.99) / Account required: Yes
The user interface is extremely easy to use and navigate. Just choose which particular tunnel (which coincidentally does resemble those pipes that Mario and Luigi love mucking around in) you want to use, and tap on it. The app will get the rest of the job done. Of course, free users will have 2GB of data to use a month, while those who want more will have to settle for a monthly or annual subscription.
One thing that I found endearing with this app is how you can enable bear sounds in the app itself. This is a cute touch to go along with the rest of the overall look and feel of the app.
Tomorrow.io: Weather Forecast (Android & iOS)
I love traveling. It always opens up new horizons as you get to experience different cultures, food, and of course, weather. Knowing the weather of where I'm headed is extremely important, and with a sinus issue, I would certainly like to know just how bad the pollutants are at my destination! Good thing Tomorrow.io caters to all that.
I can not only check out what the weather is like today, I can do so on an hourly basis if I want to be more accurate. Unless there is a great global calamity that will skew the results, Tomorrow.io has been pretty accurate so far, and at least I know when I should pack my anti-histamines!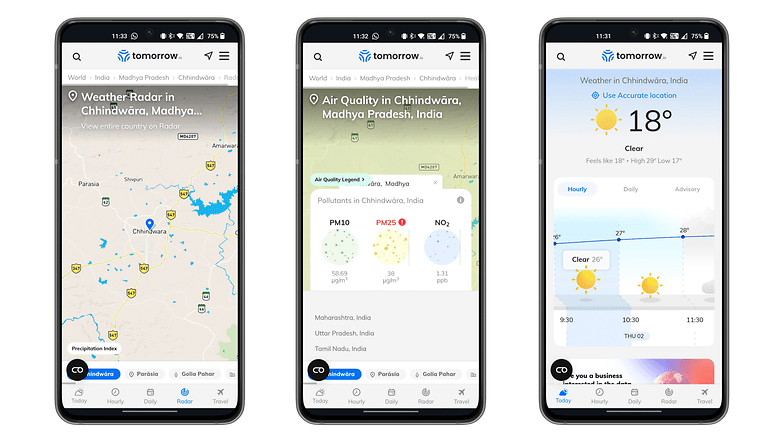 The user interface is extremely simple and easy to use. However, the precipitation alerts do not seem to work as intended at times, which is not a major issue but it would be nice to have it functioning as intended.
Price: Free / Ads: Yes / In-app purchases: Yes ($2.99-$49.99) / Account required: Yes
Of course, you can always get rid of all the ads by forking out a $2.99 monthly fee, and if you want to have a lifetime subscription with access to all the premium features, feel free to hand over a one-time payment of $49.99. For those who tend to travel around the world and need a handy app that is available at your fingertips to tell you all about the weather and pollutants, this does come across as handy.
I get the feeling that the developers are starting to skew more toward both private and commercial sectors without any updates for the app since September last year. Hopefully newer, consumer-friendly updates might come our way in due time.
Notifya (Android & iOS)
Home security is getting more important these days. What if there is someone who just opened a door in your house? Will you be aware? Let Notifya get the job done for you, where it will send you a notification upon detecting an open door in your house.
How does it do that? For starters, your smartphone's sensors will be used to, according to the app, detect pressure changes upon the opening and closing of doors. I have tested it in a quiet room, and it seemed to work repeatedly. I am not quite sure how it will function in larger homes or sliding doors, as my home is a humble one with traditional swinging doors.
Price: Free / Ads: None / In-app purchases: Yes ($0.99-$7.99) / Account required: None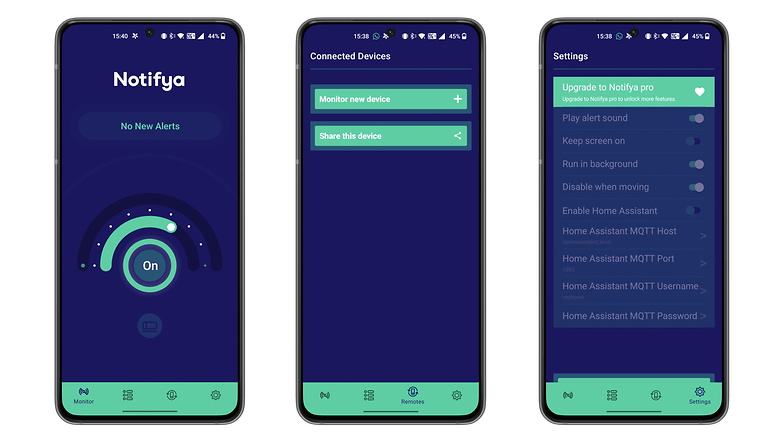 Of course, just like any self-respecting app that deals with more serious stuff in life like security, I was not surprised to see the more useful options and features available upon payment to unlock them. It will cost $7.99 for a Notifya premium subscription, and if you want some peace of mind, it rarely comes across as free, right?
With that, we have come to the conclusion of our five favorite apps this week. The nextpit editorial team is curious to know which of the listed apps above managed to catch your fancy? Do you think there is an existing trending app that we should have featured? Share your recommendations with us in the comments!