Apple Vision Pro vs. Meta Quest Pro: The Ultimate Mixed Reality Headset Showdown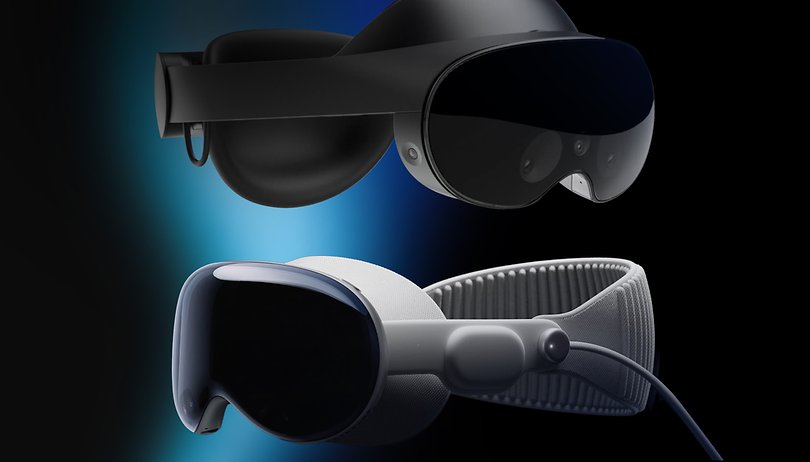 I don't know about you, but right after Apple announced the Vision Pro headset, I had only one thought in my mind: How does the Vision Pro compare with the Meta Quest Pro? So, here's the answer.
Apple Vision Pro vs. Meta Quest Pro: Specifications compared
Apple
Meta
Device
Image

Dimensions and weight
Display and optics

2x Ultra-high-resolution display
23 million pixels
micro-OLED
ZEISS Optical
EyeSight

2x 1,800 x 1,920 (3,600 x 1,920) pixels
72/90 Hz refresh rate
106° horizontal field of view
96° vertical field of view
Pancake Glass Lens
55 - 75 mm (IPD)

Processor

Dual-chip design
Apple M2 chip
Apple R1 chip

Qualcomm Snapdragon XR2+ Gen 1
7 nm
Octa-Core
max. 3.2 GHz
Adreno 650 GPU

Memory
Cameras / Tracking

12 cameras
5 sensors
Eye tracking

4x 6DoF inside-out tracking camera
1x RGB camera
IR eye tracking
IR face tracking

Battery and runtime

mAh unknown
1-2 hours runtime
Charging Dock (48W)

Connectivity

Wi-Fi 6E - 2.4 GHz - 5 GHz - 6 GHz
Bluetooth 5.2

Sound

Spatial Audio
Speakers are positioned close to the ears
6 microphones

Stereo Speakers
3D Spatial Sound
3 microphones

Other

A singular piece of 3D-formed laminated glass
Aluminum alloy frame
Stretched Headband
Digital Crown
Top button

USB Type-C connector
2x 3.5 mm (R/L) jack connection
Air Link connection to PC
Link cable connection to PC (USB-C to USB-A)
RGB passthrough

Controller

Qualcomm Snapdragon 662
3x 6DoF
Joystick and buttons
6-axis sensor (gyroscope)
HyperSense-Vibration Motor
Rechargeable battery
10 hours runtime

Operating System
Release date | Price

October 25, 2022 (US)
$1,499
Before we continue, I would like to mention that although we have already reviewed the Meta Quest Pro, the Apple Vision Pro has not yet reached the market. Therefore, we will base this comparison on the materials that Apple made available at the time of the Vision Pro announcement.
Table of contents:
Apple Vision Pro vs. Meta Quest Pro: Design
These are very distinct devices. While the Apple Vision Pro has a somewhat more compact design and more flexible straps, the Meta Quest Pro is rigid and offers a more conventional form factor.
Apple uses a single piece of 3D-formed and laminated glass, which seamlessly transitions into the curvy aluminum alloy frame. The seal is composed of a textile, and it comes in various shapes and sizes, making it easy to accommodate a range of face formats.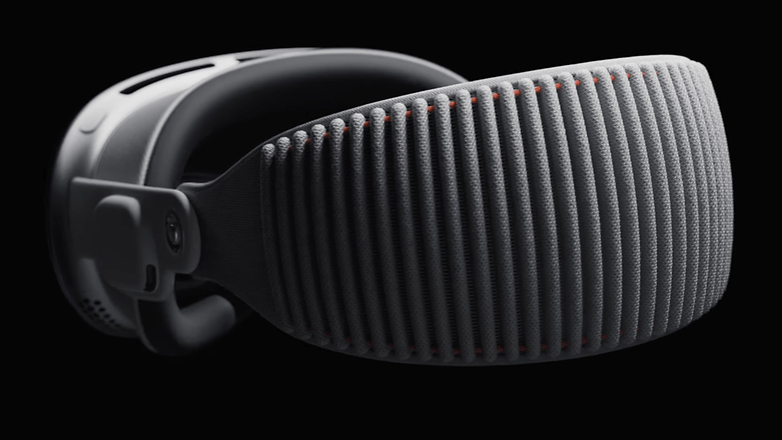 The straps and the headband are also available in multiple sizes. According to Apple—we have not yet had the opportunity to test it—the band employs a simple mechanism, making it easy to switch to another size or band style. It reminds me a lot of the Apple Watch band system.
The Quest Pro has a less flexible design, using rigid arms and a sort of pulley system to adjust the device to the user's head size. Meta doesn't offer interchangeable arms or adaptable head seals. The "one size fits all" approach predominates here.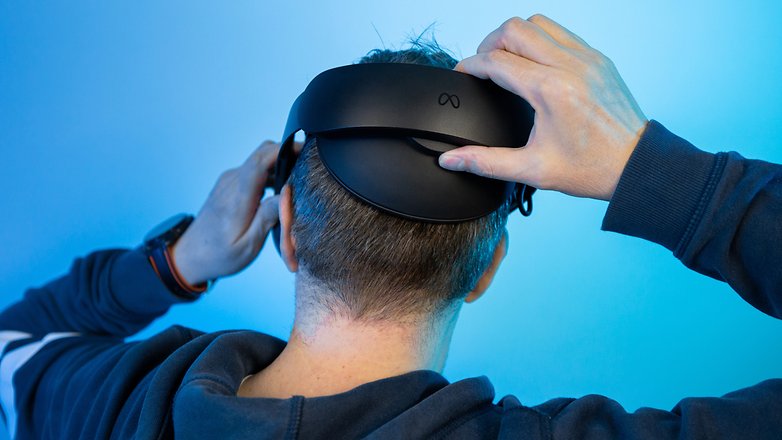 Although I haven't tried the Vision Pro on my head yet, I tend to lean more toward Apple's design approach here. The fact that the head strap is more flexible does sound like it would provide a more comfortable experience. However, while the Quest Pro never slipped off my head during some action-packed games, I did feel a certain level of discomfort wearing it most of the time.
Additionally, the Meta Quest Pro is a hefty gadget, weighing in at a substantial 722 grams. Personally, wearing the device on my head for more than 30 minutes becomes challenging due to physical discomfort. However, according to tech specialists who had a chance to demo the Vision Pro at its launch, Apple's mixed reality goggles are also not light. This could be even worse since the battery weight isn't factored into the weight of the headset.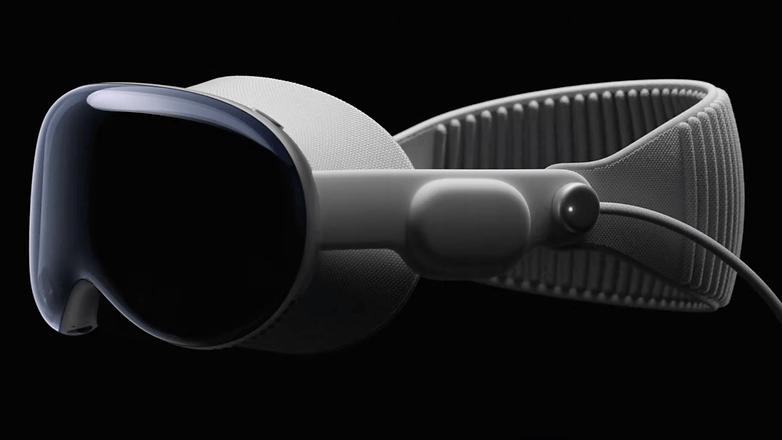 Apple Vision Pro vs. Meta Quest Pro: Display and Optics
So, Meta has decided to go with a pair of pancake lenses for their Quest Pro, and I've got to say, it's quite good. Each display boasts a resolution of 1,920 x 1,800 pixels, flickering at a smooth 72 or 90 Hz refresh rate for each eye.
From what I gathered from our review, it really steps up the game, delivering crisper visuals across the board for a full 106-degree horizontal field of view (and 96° vertically). That said, the pancake lenses also offer a good look even for those who wear eyeglasses. One surprising move, though—Meta ditched the usual OLED panels and decided to rock two LCDs instead.
When it comes to face and eye tracking, the Quest Pro requires significant facial contortions for your counterpart to recognize even a semblance of your facial expressions. If you're engaged in a normal conversation, the system can only recognize simple lip movements.
Finally, the Meta Quest Pro comes equipped with stereo speakers which, in our tests, we found to be quite satisfactory. And with the addition of a pair of headphones, you can enjoy even more detailed audio via the headphone jack.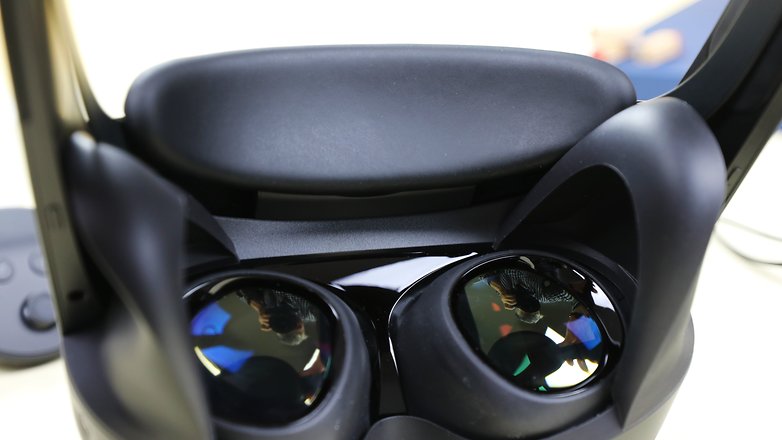 Meanwhile, Apple charted a different course with their Vision Pro. They harnessed the power of eye-popping micro-OLED technology to squeeze 23 million pixels into two displays, all supported by their own custom R1 chip. In addition to this, Apple utilized custom catadioptric lenses to ensure sharpness and clarity, along with Zeiss optical inserts for vision correction.
To put it simply, you're in for a 4K resolution experience that, believe me, is nothing short of awe-inspiring. Now, this isn't just my personal take. The folks who had a chance to demo it at WWDC 2023 are also raving about it—they're saying it's one of the best image quality on the market right now.
Moreover, the Vision Pro is equipped with a high-performance eye-tracking system. This system harnesses high-speed cameras and a ring of LEDs, which project invisible light patterns onto the user's eyes, allowing for responsive, intuitive input.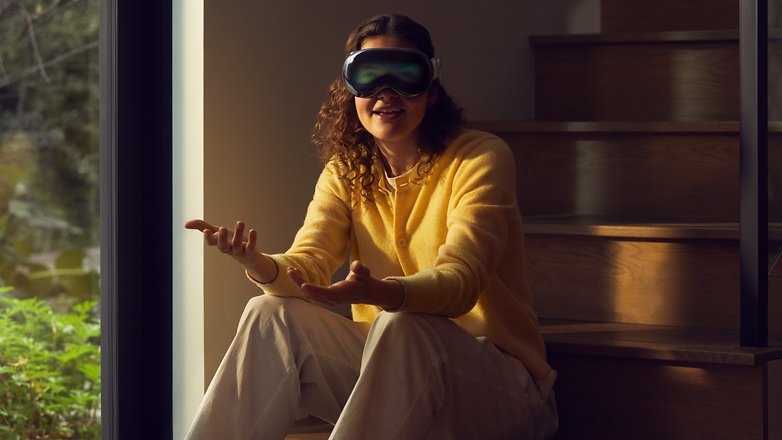 There's one really neat feature on the Vision Pro that I've got to mention. Apple calls it EyeSight. Basically, it's designed to help us stay connected with the people around us. Imagine you're wearing the Vision Pro and someone walks up to you. The device sort of becomes transparent, so you can see the person while the goggle's display shows an image of your eyes.
When you're fully into an app or just absorbed in the environment, EyeSight also helps give people an idea of what you're looking at. Just remember that the eyes on the display aren't actually your real eyes. They're just a digital version, kind of like a little virtual you. Some people believe this makes the device a bit dystopian, but my colleague Antoine Engels is definitely not one of them.
To enhance the display experience, Apple incorporated the AirPods Pro (review) well-known Spatial Audio system into the headset, complete with dual-driver audio pods that tailor the audio experience based on the unique shape of the user's head and ears.
Apple Vision Pro vs. Meta Quest Pro: Performance
The Vision Pro operates on Apple's dual-chip silicon design. The M2 chip ensures standalone performance, while the newly-introduced R1 chip processes input from 12 cameras, five sensors, and six microphones. This setup guarantees a near real-time content experience.
According to Apple, the R1 chip is capable of streaming new images to the displays within a swift 12 milliseconds, a rate eight times faster than a human eye blink. Unfortunately, up until now, we still don't know much about the Vision Pro's memory and internal storage.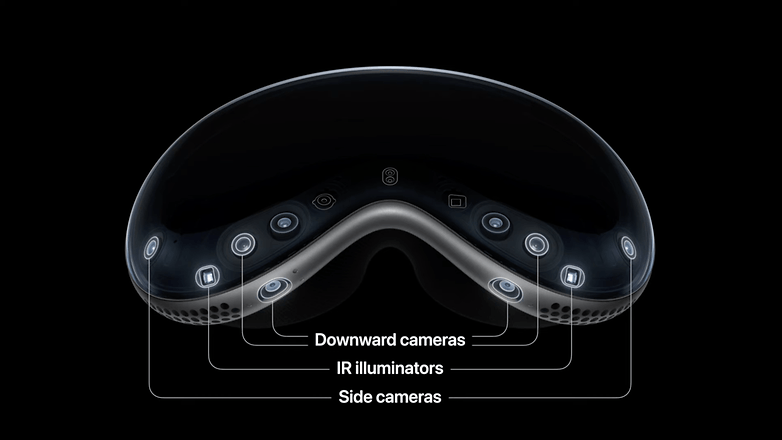 Now, let's take a closer look at what's cooking inside Meta's Quest Pro. Overall, the headset offers a fast processor and sufficient memory. They've paired a Snapdragon XR2+ Gen 1 chipset with an Adreno 650 graphics processing unit (GPU)—the bit that makes all your visuals come to life.
According to Qualcomm, this processor can handle interactions with a performance boost of about 50% compared to its predecessor. Now, this could be due to a faster clock speed on the main core, or maybe it's just got better cooling. We gave it a whirl in our tests but couldn't pinpoint the exact reason.
When it comes to storage, the Meta Quest Pro comes with a whopping 256 GB of internal storage for your programs and a beefy 12 GB of LPDDR5 RAM.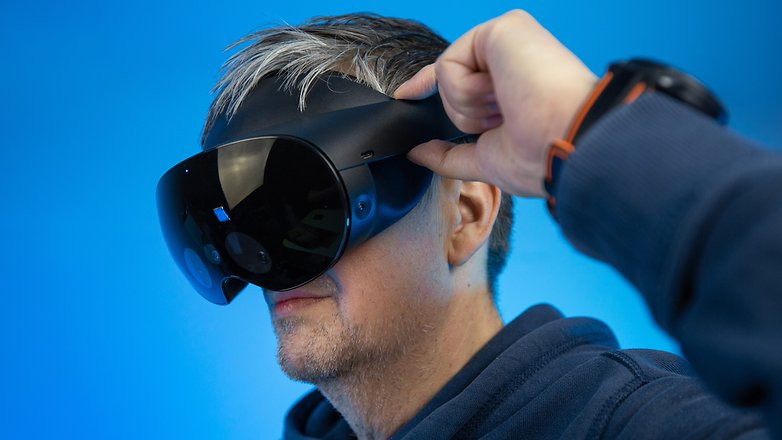 Apple Vision Pro vs. Meta Quest Pro: Operating System
Yes, I haven't tested the Vision Pro yet, but from what I've seen of visionOS so far, Apple appears to have a clear and significant advantage over Meta Quest Pro in terms of operating system and user interface. Don't misunderstand me, this was expected given that Apple is primarily a software development company. Especially for those who are already accustomed to iOS, iPadOS, or macOS, navigation should be very intuitive.
With visionOS, Apple placed significant emphasis on productivity, entertainment, and social interactions, not as much on games as the gaming ecosystem still seems to be largely in the hands of developers. As this is a mixed reality headset, most of the experience should hinge on a technology known as passthrough. This technology allows us to simultaneously experience two realities: virtual reality, without losing connection to the real-world environment.
Above all, Apple provides a software experience that doesn't require controllers, potentially offering a more seamless experience. Besides hand gestures, it's also possible to interact with the system using your eyes and voice. Last but not least, data from the Vision Pro's cameras and other sensors is processed at the system level and secured by a feature called Optic ID, which is similar to Face ID.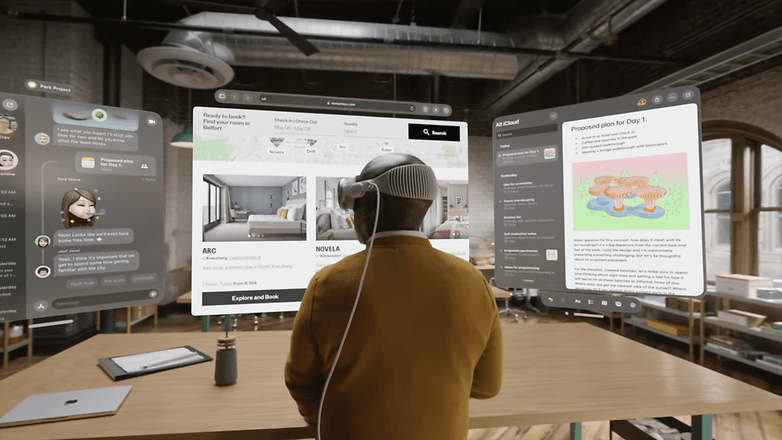 Meta, the developer behind one of the world's largest social networks and other services like Instagram and WhatsApp, certainly has software development in its DNA. However, when it comes to operating system development, they don't quite match up to Apple. This puts the Quest Pro at a disadvantage, particularly on the software side.
The Quest Pro OS has Android at its core and requires a Meta account. Although the software's foundation is Android, the user experience isn't quite what you might be familiar with as an Android user. To me, it feels like a mix of an Android tablet experience with a Microsoft Windows user interface. Personally, I believe Meta has a long way to go in terms of improving the user interface and experience.
The Meta Quest Pro features an RGB passthrough mode, which means that the built-in camera projects your physical surroundings onto the display. However, our tests showed that the Quest Pro's passthrough mode leaves much to be desired. While the picture quality is quite satisfactory with a decent representation of depth, it falls short when it comes to displaying content from a monitor, laptop, or smartphone.
One thing I really appreciate about the Quest Pro, though, is the gaming experience. Meta has put significant effort into encouraging developers, including major gaming companies, to create content for the Quest ecosystem. There are some titles that are quite enjoyable to play. They even recently released a number of high-quality titles during the Meta Quest Gaming Showcase.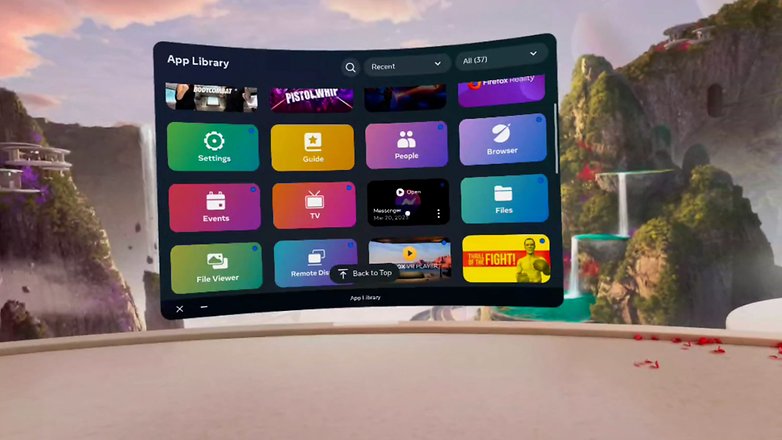 Apple Vision Pro vs. Meta Quest Pro: Camera and Tracking
Standalone mixed reality glasses, like those we're discussing, don't require a cable connection to a computer or a cutting-edge console. This means that all the tech magic happens right within the glasses (and in the case of the Quest Pro, the controllers too).
Meta has packed four 6DoF inside-out tracking cameras and one RGB passthrough camera into their headsets. The Quest Pro also comes bundled with a pair of controllers, each sporting three 6DoF tracking cameras and its own Snapdragon 662 chip. These controllers are essentially 360-degree tracking marvels—they can track movements even when they're behind your back. In our tests, we found this leads to incredibly precise tracking capabilities, which really come to life, especially in fast-paced games.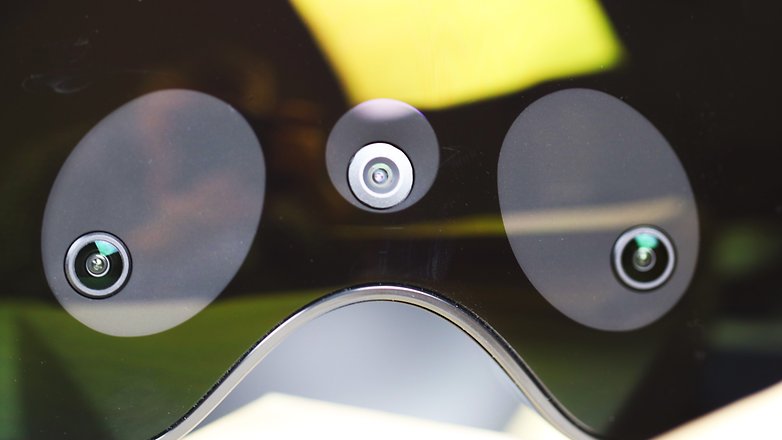 As previously discussed, the brand-new R1 chip from Apple handles input from an impressive array of 12 cameras and five sensors. This array of cameras and sensors is designed to stream new images to the displays within a lightning-fast 12 milliseconds. Cameras and sensors embedded at the bottom of the headset can track users' hand movements for seamless software interaction.
As I brought up in the comparison between Meta Quest 3 and Meta Quest 2, there's an advantage to using controllers when diving into a virtual world: haptics. Human hands don't naturally vibrate during an immersive experience, so having a controller that provides this kind of tactile feedback seems like a superior option. Additionally, for certain types of games, a joystick-like controller can significantly enhance the user experience.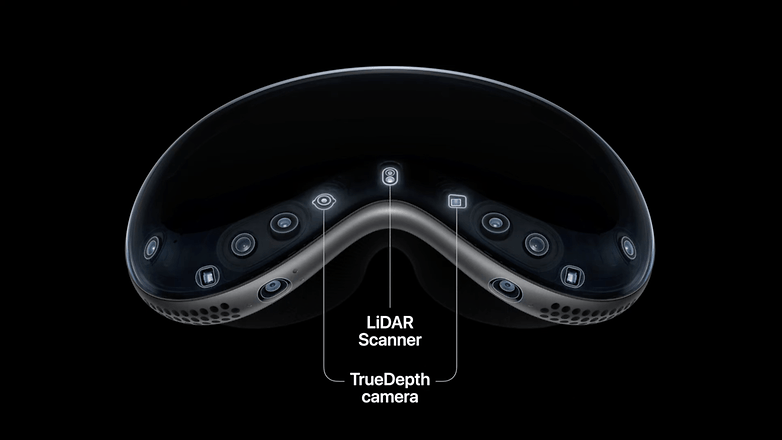 Apple Vision Pro vs. Meta Quest Pro: Battery life
After weight, battery life is the next biggest concern when it comes to all-in-one headsets. As my colleague Matt Zellmer pointed out, it's this self-sufficient form factor that truly makes it an all-in-one headset.
Having said that, both devices fall a bit short when it comes to runtime performance: the tech specs cite just two hours for both devices. Even though I haven't had the chance to test the Vision Pro yet, I'm convinced Apple has one-upped Meta in at least one respect: the battery weight isn't housed in the headset itself, and it's easily interchangeable. Honestly, I'm quite surprised that Meta didn't think of this before Apple.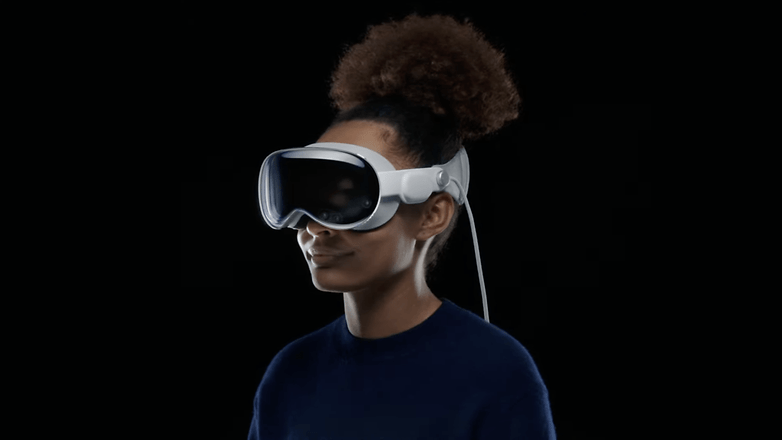 Additionally, both these gadgets can be juiced up using an external battery through the USB Type-C port. In theory, this should give you some extra playtime with both devices. Last but not least, since the Meta Quest Pro comes with controllers, the batteries in each one are not user-replaceable. Each controller offers an average runtime of 8 hours.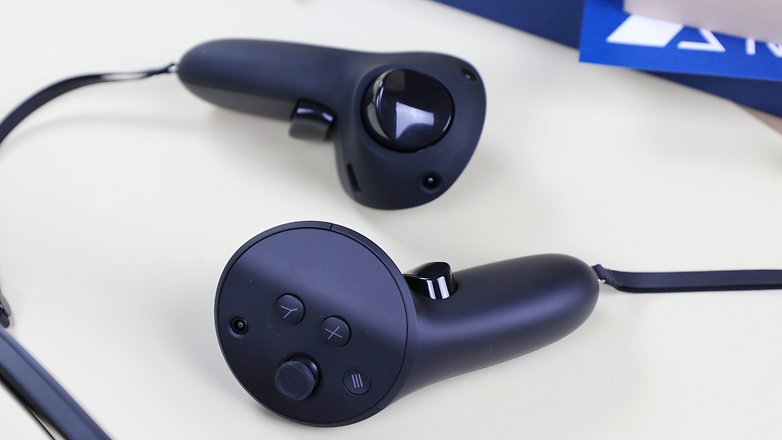 To conclude this section on battery life, Apple hasn't provided information on how long it takes to fully charge the Vision Pro. However, the Meta Quest Pro requires about two hours for a full charge.
Apple Vision Pro vs. Meta Quest Pro: Price and availability
As mentioned before, the Apple Vision Pro will only be available for purchase at the beginning of 2024, and sales will initially start in the United States. The device was announced at a cost of $3,499 USD.
On the other hand, the Meta Quest Pro was initially released in October 2022 at a price of $1,499 USD. However, as of June 10, it is now available for purchase worldwide at a reduced price of $999 (for the 12/256 GB model).
First impressions
As previously mentioned in this comparison, we still need to test the Apple Vision Pro to fully understand how its user experience differs from that of the Meta Quest Pro. However, having used the Quest Pro for a while now, I feel confident in saying that the Apple Vision Pro already has some advantages, such as superior software, image, and sound quality.
Regrettably, both headsets offer a subpar experience when it comes to long-term usage due to their weight. I can confirm that this is true for the Meta Quest Pro, and many reports from the Vision Pro demo stated the same for Apple's headset. Moreover, the battery runtime is subpar in both cases.
My initial impression is that Apple has done more things right, but Meta could also rectify many of its issues through software updates. Therefore, at this point, I'd say both gadgets are neck-and-neck, especially when considering their respective price points. I'm quite eager to see the Vision Pro on the shelves, but this wouldn't deter me from using (or in the case of many others, buying) the Meta Quest Pro right now.
What's your take on this comparison? Would you rather get the Meta Quest Pro right now or wait for the Apple Vision Pro? Or perhaps neither appeals to you? Please share your thoughts in the comments below.