iPhone 14 Pro Max review: The bigger the better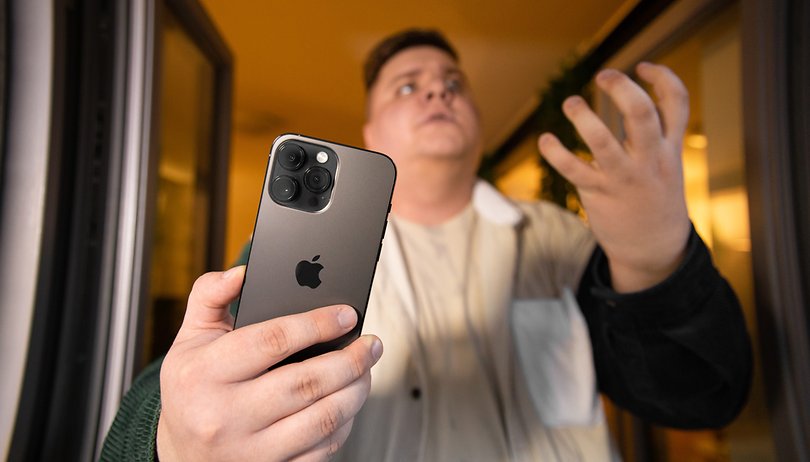 At NextPit, we've received the new iPhone 14 lineup and I was able to get my hands on the iPhone 14 Pro Max. In this comprehensive review where I put the iPhone 14 Pro Max through its paces, I would now like to share my thoughts on Apple's ultimate flagship iPhone with you. This is a smartphone which costs at least $1,099 and can only go higher from there depending on the storage capacity.
Good
An ultra-premium product through and through

Very bright and well-calibrated screen

The Dynamic Island feature

Performance worthy of a gaming smartphone with impressive stability

Responsive and efficient 48 MP camera lens

Very good portrait mode

Very decent battery life

iOS 16 with exclusive features and Apple's update policy
Bad
Far too expensive for a non-folding smartphone

The zoom is not the best at 3x

20W charge is too slow

The Always-on Display is too cluttered

Zero effort on design originality
The Apple iPhone 14 Pro Max in a nutshell
Apple's iPhone 14 Pro Max has been available for purchase since September 16, 2022. It does not get any better than this from Apple in 2022 when it comes to smartphones. You have four memory configurations to choose from:
128 GB: $1,099
256 GB: $1,199
512 GB: $1,399
1 TB: $1,599
The iPhone 14 Pro Max is identical to the iPhone 14 Pro apart from its screen size and battery life. The two Pro models are clearly the models from Apple's 2022 lineup that brings plenty of new features compared to its previous generation iPhone 13 and iPhone 13 Pro. It has many features and components that the iPhone 14 and 14 Plus do not have.
We have a completely reworked 48MP camera module, the new interactive notch known as Dynamic Island, and Apple's new A16 Bionic SoC. Needless to say, this is also the most expensive smartphone ever sold by Apple and among the most expensive phones on the market, foldable smartphones included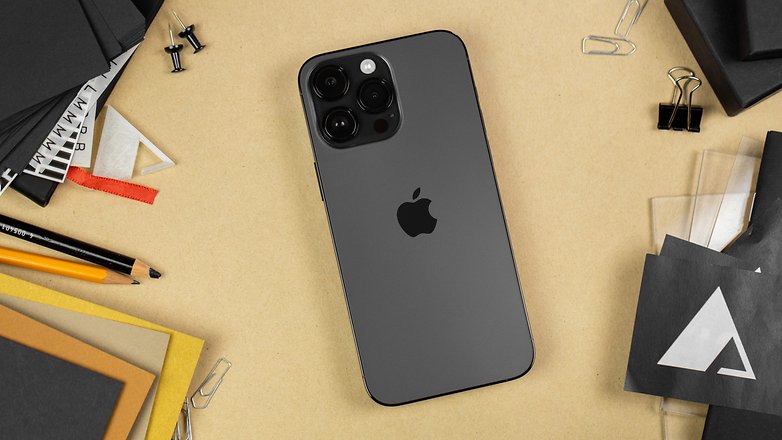 Design
The iPhone 14 Pro Max experienced no major visual changes from last year's models. The only new feature is the interactive notch called Dynamic Island.
---
What I liked:
Beautiful Space Black and Deep Purple colors.
Premium finish with the matte glass on the back and the stainless steel frame.
The Dynamic Island notch is more discreet than the large notch of the previous models.
IP68 rating
What I disliked:
The rather massive weight and dimensions.
No 3.5 mm headphone jack.
Zero risk-taken on the design.
---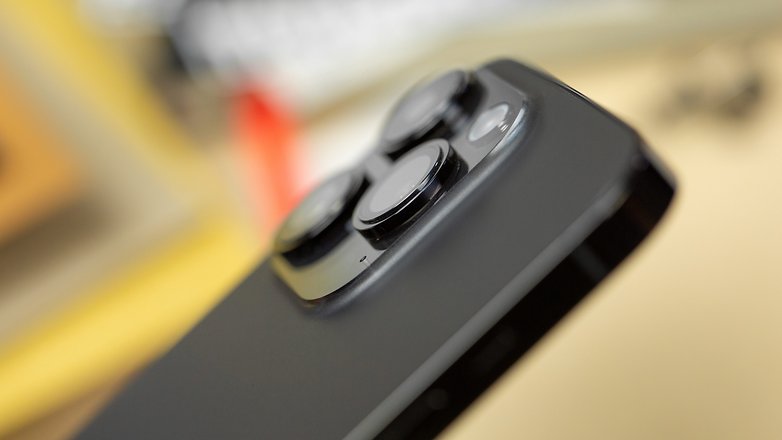 Design_iPhone13ProMax.jpg > Ctrl+C/Ctrl+V > Design_iPhone14ProMax.jpg—This is how I would summarize the design section of this review. Apple is a bit like that friend in high school who asks for your help to copy your homework and promises you that he'll modify his enough not to get caught for plagiarism. The difference? Apple does that with itself.
In short, in terms of form factor, nothing has changed. The iPhone Pro Max still has a glass back protected by Apple's Ceramic Shield. The matte coating on the back is very nice and pleasant to the touch.
The iPhone 14 Pro Max comes in four colors: Space Black, Deep Purple, Silver, and Gold. I received the Space Black version and I really like this minimalist and sober shade. The iPhone 14 Pro model Apple sent us came in the Deep Purple variant, which also happens to be my favorite color of Apple's new iPhone lineup.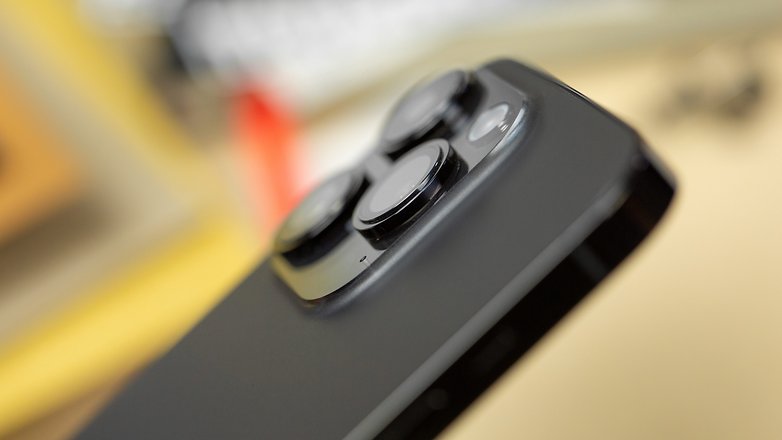 The stainless steel frame still has straight edges and rounded corners. Personally, I prefer the grip of the iPhone 14 Pro with its more compact 6.1-inch form factor than the Pro Max's 6.7-inch.
The iPhone 14 Pro Max tips the scales at 240g and measures 160.7 x 77.6 x 7.9 mm. In short: It is not optimal for one-handed use if you're a normal-sized human. And the huge island that holds the triple camera module at the back creates some imbalance when held. Also in the U.S., the iPhone 14 Pro Max omits the dual SIM port and only supports eSIM for now. It is also IP68 certified against water and dust.
The major news of the new Pro and Pro Max is the famous pill-shaped notch known as Dynamic Island, of which I will talk about below. This pill-shaped notch has the merit of being significantly smaller than the good ol' notch still found on the iPhone 14 and iPhone 14 Plus.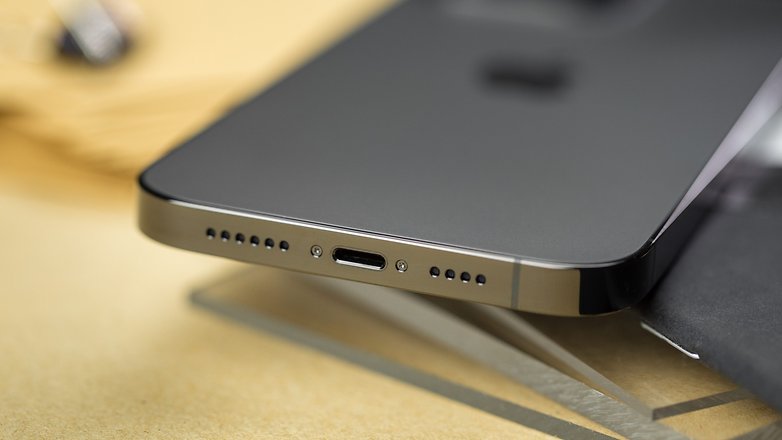 Screen
The iPhone features a 6.7-inch OLED Super Retina XDR display with a resolution of 2796 x 1290 pixels (placing it somewhere between QHD and 2K). The iPhone 14 Pro Max display has a refresh rate of 120 Hz (ProMotion) and can reach a maximum brightness of 2,000 nits (peak).
---
What I liked:
Dynamic Island that is not a gimmick.
Good brightness levels.
Faithful colorimetry with the TrueTone mode.
Refresh rate from 1 to 120 Hz with ProMotion.
What I disliked:
The somewhat low touch sampling rate.
---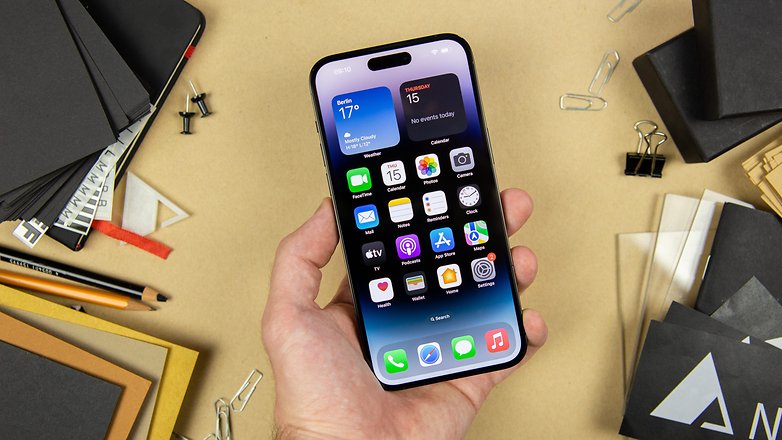 The iPhone 14 Pro Max screen is, once again, very, very similar to last year's iPhone 13 Pro Max. The resolution is slightly higher, and the flat screen's bezels are supposed to be slightly thinner. But these minute details are absolutely imperceptible to the naked eye.
No, what really jumps out when you look at the iPhone 14 Pro Max screen is the famous Dynamic Island that everyone is talking about. Maybe we've already talked about it too much. And perhaps after all the initial hype, no one will really care. But it's clearly one of the main points of interest of the smartphone.
Basically, Apple replaced its ugly, big notch with an ugly, but smaller pill-shaped hole that is also interactive. This hole is not only used to house the 12 MP TrueTone selfie camera, it also integrates with the user interface and serves as a sort of multipurpose widget.
The Dynamic Island displays animations on your screen for notifications, alerts, and other contextual information. It can also expand, shrink, and even split itself to display certain background tasks like your Uber driver who's on the way or the progress of your soccer game (via the Live Actions feature of iOS 16).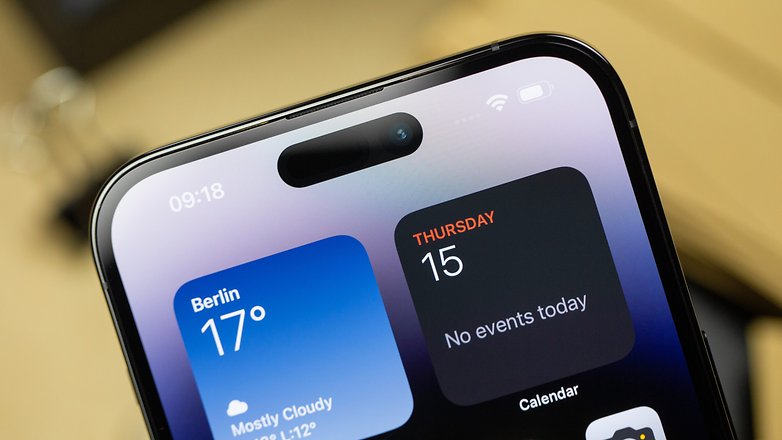 The Dynamic Island also allows you to display individual animations when you use Face ID. You can tap on it to enlarge it and display more information such as Apple Music playback controls or commands for calls, messages, directions in Maps, etc.
Personally, I really like this feature, but I can understand if some out there consider this as just a gimmick. I like the fact that it takes up less space than the classic notch. And I think Apple's approach is original, especially if third-party app developers play along for better compatibility.
The screen brightness is impressive on paper. But I doubt that we can reach 2,000 nits for the entire screen surface. During my review, I never stumbled across any readability issues even when I am under direct sunlight. The colorimetry seemed quite accurate to me, especially with the TrueTone mode activated. I found the touch sampling rate a bit too low when I indulged in my regular gaming sessions.
Interface/OS
The iPhone 14 Pro Max runs on iOS 16.0.1. We've already talked a lot about Apple's new mobile OS and you can find all the information about iOS 16 in our dedicated article. We also have a whole guide on the best features of iOS 16 to test on your iPhone.
---
What I liked:
Neat user interface.
Complete range of features.
AirDrop, Face ID, and widgets are really cool to an Android user like me.
The battery utility is very comprehensive and really fun to use.
The long software update policy.
What I disliked:
Navigation in iOS is not as intuitive as on Android (back gesture, selection tool, etc.).
The Always-on Display is cluttered and the depth effect of the background is very annoying to configure.
---
I'll just mention a few notable features here. Starting with the Always On Display. Apple doesn't offer the same level of customization that you can get on Android, but you can add up to four widgets under the date and time at the top of the screen.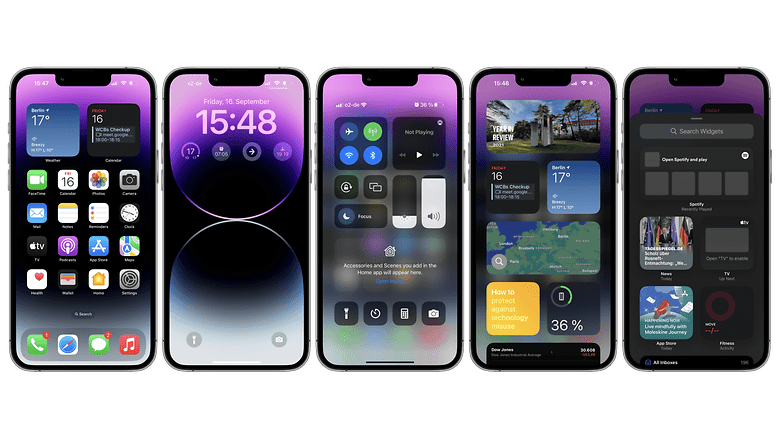 Another feature of the Always-On Display is the ability to apply a depth effect to your wallpaper. Basically, you can display part of the subject in the foreground of your wallpaper over the clock, giving a depth effect. But this doesn't work with all photos. There must be enough air at the top of the photo, while the subject must not take up too much screen space and you must not place any widgets.
Apple does not provide any tips in doing so, hence it is up to you to guess these conditions (or watch a tutorial on YouTube like I did) to figure things out. So, this function is pretty lame in my opinion. In addition, the wallpaper remains visible in the Always-on Display mode, which is quite annoying but also defeats the purpose. Basically, Apple's AOD is just a slightly darker lock screen.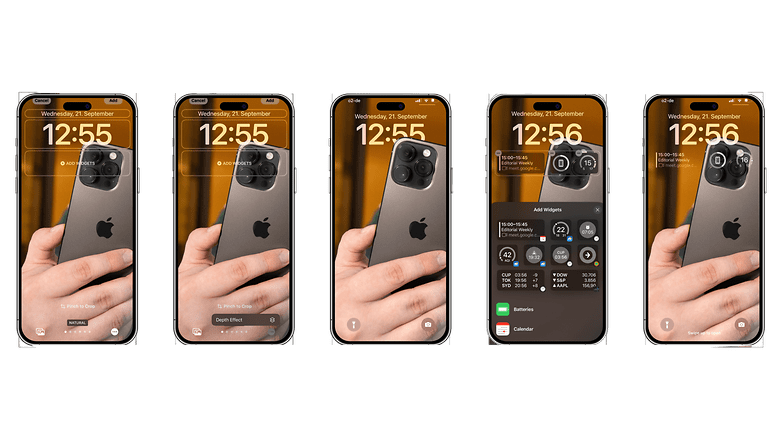 I also think it's a pity that the emergency call functions via satellite won't be available outside of North America for some time. The deployment in the US and Canada is planned for this November.
Performance
The iPhone 14 Pro Max packs Apple's new A16 Bionic SoC, just like the iPhone 14 Pro. The iPhone 14 and iPhone 14 Plus also retain last year's A15 Bionic.
---
What I liked:
Performance worthy of a gaming flagship.
Exceptional stability.
Not too much overheating on long gaming sessions.
Thermal throttling is present but progressive.
What I disliked:
---
From the few benchmarks I was able to reference to online, the performance between the A16 and 15 Bionic is quite similar. The A16 Bionic is obviously a bit more powerful. But in actual use, I don't think the difference is noticeable.
In any case, the iPhone 14 Pro Max has a performance worthy of a gaming smartphone. Not only does this apply in terms of raw performance, but more importantly, in terms of stability. Take a look at the difference between the best and worst loop on 3D Mark's Wild Life Stress Test benchmark. Compare the gap between the iPhone 14 Pro Max and the Galaxy Z Fold 4 that is powered by the Snapdragon 8+ Gen 1 SoC, and there's no contest.
iPhone 14 Pro Max
iPhone 14 Pro Max
Samsung Galaxy Z Fold 4
3D Mark Wild Life
Too powerful
Too powerful
8,611
3D Mark Wild Life Stress Test
Best loop: 9,599
Worst loop: 8,121
Best loop: 9,761
Worst loop: 8,321
Best loop: 10,332
Worst loop: 5,606
Geekbench 5
Single: 1,885
Multi: 5,406
Single: 1,699
Multi: 4,817
Single: 1,332
Multi: 3,947
Wild Life Stress Test simulates 20 minutes of intensive gaming use. The iPhone 14 Pro delivered scores that approached what I was getting with premium gaming smartphones that had the assistance of external fans like the Asus Rog Phone 6 Pro, BlackShark 5 Pro, or Redmagic 7 Pro.
This is really impressive! During the entire benchmark, the FPS rate stood firm at 60 FPS with a stability rate of 84.6%. With the even more advanced version of this benchmark, Wild Life Stress Test Extreme, the FPS rate was 30 FPS with a stability of 74%. On a non-gaming Android flagship, you can count yourself lucky if you achieved a 60% stability rate.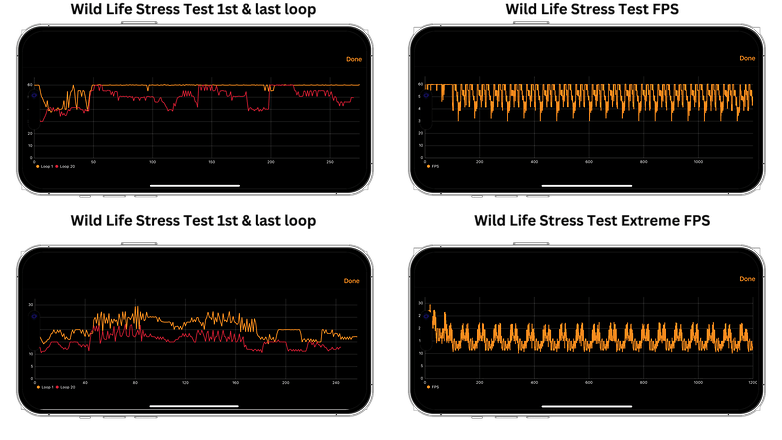 Thermal throttling is therefore very well managed by Apple. In a real-life use scenario, Apex Legends Mobile was running with the graphics and FPS rate at full throttle without any worries. I also never experienced any overheating during my long gaming sessions.
Photo quality
The iPhone 14 Pro features a new triple camera module on the back with a 48 MP wide-angle prime lens, a 12 MP 3x optical zoom telephoto lens, and a 12 MP ultra-wide angle lens. The new TrueDepth selfie camera offers 12 MP resolution and finally offers an autofocus function.
---
What I liked:
Promising new 48 MP wide-angle lens.
2xdigital zoom is interesting for portraits.
Versatility beacuse of the telephoto lens.
Autofocus for selfies.
What I disliked:
Telephoto lens zoom is not optimal.
The ultra wide-angle lens is rather ordinary except for macro shots.
---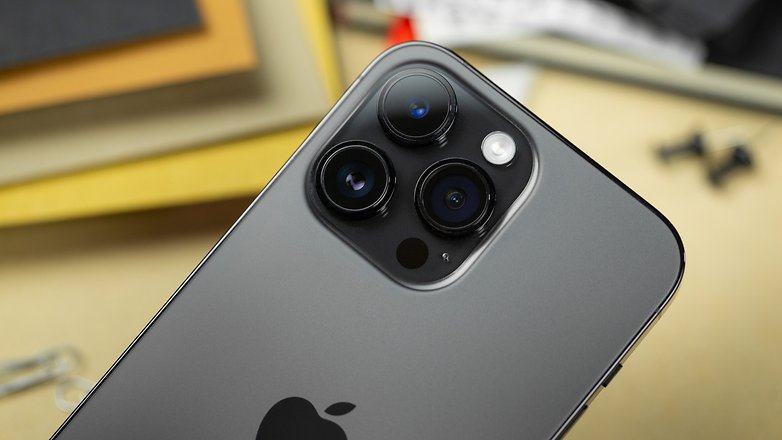 The new 48 MP lens captures shots via 4-in-1 pixel binning, so the final resolution is 12 MP but with a better, detailed reproduction. The physical size of the sensor is also larger, allowing the lens to capture more light and offer better exposure and a wider dynamic range, which is very useful for low-light shots.
In my test photos, I found the colorimetry to be far more natural than on most Android smartphones I've reviewed. This is a well-known trait of the iPhone, which is less flattering where colors are concerned when it comes to software processing. I found the photos to maintain their sharpness, where you can still see a lot of textures when you magnify the image on the screen.
The dynamic range is rather broad even if I find that the iPhone 14 Pro Max managed backlight moderately, offering shots that have too much contrast. On the other hand, focusing is very fast and not very wonky. We can really capture scenes this way without too much hassle.
The ultra wide-angle lens is quite ordinary in my opinion. The distortion at the edges remains well contained, but some elements are often overexposed and the level of detail is not always there. On the other hand, it allows one to take rather nice macro shots.
I really liked the 2x zoom that (obviously) lies between 1x and 3x. Basically, it allows you to zoom in not with the telephoto lens, but with the main lens. The iPhone creates a digitally zoomed photo (by cutting and cropping) from a full resolution shot. So we get to maintain a very good consistency in terms of colorimetry and exposure. I don't know if we can talk about 100% lossless zoom, but the level of detail remained excellent to the naked eye. However, at the same time, the 2x magnification is quite low, so it is logical that we remain close to the rendering of wide-angle photos.
The telephoto lens is not the most powerful on the market. You can push the zoom level up to 15x and the pictures are quite usable. It's good that Apple doesn't play with 50x or 100x zooms which are still useless (except for looking at the arrival time of the subway from the other end of the platform).
The 2x zoom is also particularly interesting for portrait pictures. 1x is far too wide and 3x is far too narrow for the subject. This intermediate 2x level offers a good compromise and saves you from having to move to crop. I found cropping to be super clean.
We will also quickly mention the Action Mode for video stabilization and the interest or relevance of 30 FPS instead of 24 FPS in Cinematic Mode. The iPhone 14 Pro Max can still shoot up to 4K at 60 FPS. My colleague Ben has dedicated a video to it that I will integrate in this article very soon.
Battery life
The iPhone 14 Pro Max packs a 4,323 mAh battery that accepts 20W of wired charging, 15W of wireless charging with a MagSafe accessory, and 7.5W with a Qi charger.
---
What I liked:
Very good battery life.
ULTRA comprehensive battery utility.
What I disliked:
20 W charging is far too slow for a $1,099 smartphone.
No charger included in the box.
---
Unfortunately, we don't have benchmarks to test the battery life of the iPhone as we do for Android smartphones. It is not because these benchmarks simulate a realistic use, but at least it allows one to have a better idea that makes it easier to compare between models.
Basically, I picked two typical days to get a better idea about the battery of the iPhone 14 Pro Max. With an average screen time of 5 hours, gaming sessions of at least 30 minutes to an hour, graphical benchmarks, and photo-taking sessions, the iPhone 14 Pro Max easily lasted for more than 10 hours before falling below the 20% remaining battery life.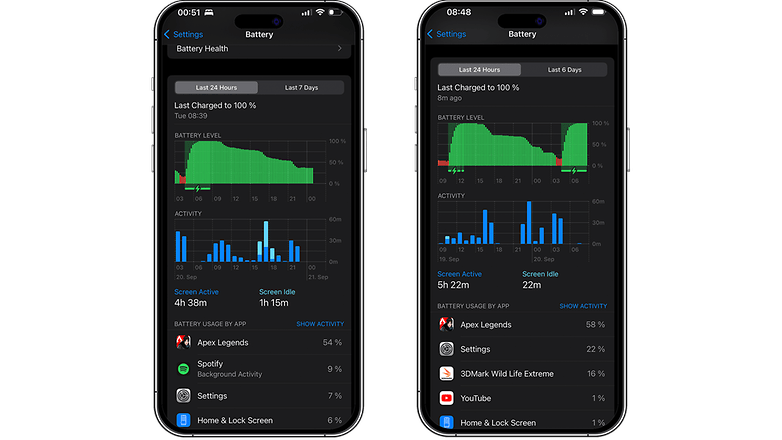 Under normal use, you can very well go a whole day without having to plug it into the mains. I would have to do more extensive testing to give you a more concrete opinion, especially by comparing the battery life with and without Always-on Display.
On the other hand, I find the 20W wired charging to be ridiculously slow and ancient in 2022, similar to the equally pathetic 25 watt charging speed that Samsung offers on their flagship handsets.
Technical specifications
Apple iPhone 14 Pro (Max)
Device
Apple iPhone 14 Pro Max
Colors

Black, Silver, Gold, Deep Purple

Screen

6.1 inch Super Retina XDR OLED
2556 x 1179 pixels 460 dpi
120 Hz ProMotion | LTPO
2,000 nits peak
Dynamic island
Always-on Display

6.7 inch Super Retina XDR OLED
2796 x 1290 pixels 460 ppi
120 Hz ProMotion | LTPO
2,000 nits peak
Dynamic island
Always-on Display

SoC

Apple A16 Bionic (4 nm)
6-core CPU
5-core GPU
16-core Neural Engine

Memory

128 GB, 256 GB, 512 GB and 1 TB

Main camera

48 MP | quad pixel | 2.44µm | f1.78 aperture | 24 mm focal length | sensor-shift OIS

Ultra-wide camera

12 MP | f/2.2 aperture | 1.4µm | 13 mm focal length | Macro

Telephoto camera

12 MP | f/1.78 | 48 mm focal length | 2x optical zoom | Sensor-Shift OIS

Video

8K at 24/30 fps | 4 at 24/30/60 FPS (rear)
1080p at 30/60/120/240 FPS (selfie)
Action mode
Cinematic Mode 4K 30/24 FPS

Selfie

12 MP | f/1.9 aperture | Autofocus
Photonic Engine

Audio
Battery life

Video playback: 23 hours
Video (streaming): 20 hours
Audio playback: 75 hours

Video playback: 29 hours
Video (streaming): 25 hours
Audio playback: 95 hours

Fast charging

20 W (wired)
15 W (MagSafe)
7.5 W (Qi)

Durability

IP68 RATING
Ceramic Shield, stainless steel frame

Connectivity

eSIM, 5G, Wi-Fi 6, NFC, Bluetooth 5.3, UWB, Satellite

Price
$999
$1,099
Conclusion
Among all the models offered by Apple, the iPhone 14 Pro Max is certainly the most premium model. However, as much as I will never choose the basic iPhone 14 because it doesn't bring anything compared to last year's lineup. I'll never buy the iPhone 14 Pro Max either. It's just way too expensive and I personally find it too huge for my liking.
The new camera module is convincing with its 48 MP lens, especially its 2x zoom which allows one to snap very nice portrait pictures. I love the Dynamic Island on the screen which is far from being a gimmick in my opinion, and I hope that Apple will find more potential for use in terms of the iOS 16 user interface. I was once again amazed by the power of the Apple SoC, especially by the exceptional stability that makes the gaming experience pleasant in terms of smoothness.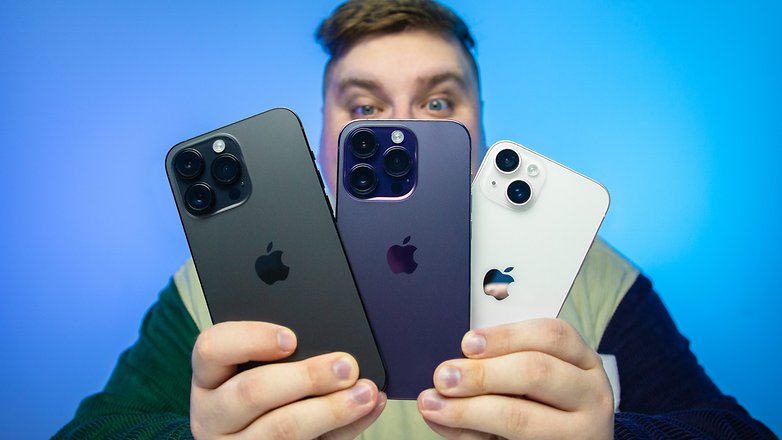 Still, it's clearly indecent to sell a smartphone that has the same face for three years and only offers incremental innovations at the same price as a foldable smartphone. In a pinch, the 128 GB iPhone 14 Pro seems like a good compromise to me if you have 1000 bucks to shell out in a smartphone. This is the price of a Samsung Galaxy S22 Ultra or an Oppo Find X5 Pro when they came out.
But for $1,099, I find the iPhone 14 Pro Max too above ground. Do not hesitate to consult our iPhone 14 (Plus) and iPhone 14 Pro (Max) comparison to get your own idea.