Apple iPad Pro 11" (2022) review: Maximum power in a pint-sized tablet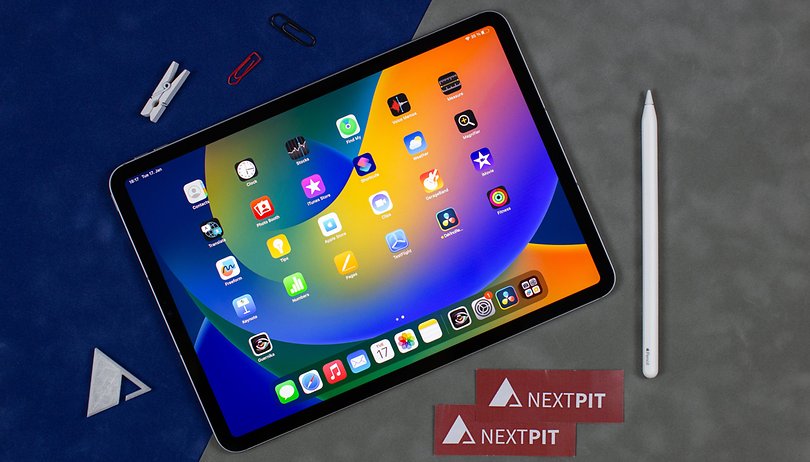 The iPad Pro (2022) that arrives in the 11-inch format is an impressive powerhouse. Apple's M2 SoC offers mind-blowing performance for a tablet, with the 11-inch display being extremely capable, while the entire build quality is top notch. But can the smaller Pro iPad prove itself as an everyday workhorse in reality? Here is our review of the iPad Pro 11" (2022).
Good
Apple's M2 SoC delivers impressive performance

Ecosystem works great with iPadOS 16

Good camera image quality

Excellent workmanship
Bad
"Only" one LCD panel instead of an XDR display (12.9")

Webcam is still located on the left side

Moderate battery life under heavy use
The 2022 iPad Pro in a nutshell
The 2022 iPad Pro that arrives in the 11-inch version is an impressive piece of technology. Whether you use the iPad to edit 4K videos with DaVinci Resolve, generate AI images with StableDiffusion and other software, or simply "watch" Netflix and send emails: The diminutive tablet is an impressive performer and is a lot of fun to use due to its compact format. Of course, there are some drawbacks: The battery in the small case drains rather quickly when performing demanding tasks, while the display cannot keep up with the panel of its larger sibling, the iPad Pro 12.9" (2022). Not only that, do you think it is worth the $799 asking price?
You'll pay at least $799 for the 128 GB version, and the tablet costs $100 more if you want to double up the storage space. The 256 GB version does seem to be more suitable for everyday use. Things heat up with the 512 GB ($1,099) 1 TB ($1,499), or even 2 TB ($1,899) models. A 5G module means a $200 surcharge in each case. Just for comparison's sake, Apple has maintained the same price point compared to the previous generation. By the way, you can also read our review of its predecessor, the iPad Pro 11" (2021) here.
Apple iPad Pro 11" (2022) design and build quality
The 2022 iPad Pro looks rather similar to its 2021 predecessor, and that is certainly high praise. Just like last year's model, the tablet is extremely well-constructed and looks really chic.
What I liked:
Great workmanship and excellent build materials
Very handy and light
What I disliked:
There is not much to write about the design of the iPad Pro. The tablet comes in the same style as with all current iPads, with thin bezels in front sans a physical home button. The case remains flat on the sides, with the edges comfortable to the touch. The build quality is great, you will not find anything creaking or cracking when pressure is applied.
If you hold the tablet in portrait mode, there is a USB-C port at the bottom. The power button (top side) and two separate volume buttons (right side) are located around the upper right corner. The back is completely matte apart from the Apple logo and the camera island.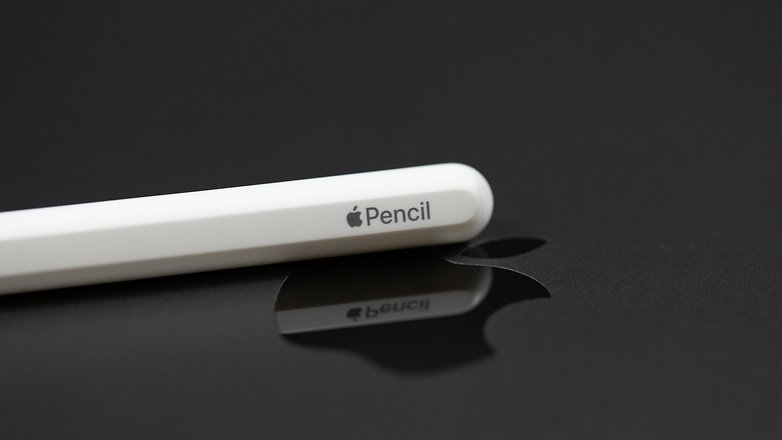 Our review unit arrived in a shade of space gray and did not have any visible scratches after two months with one exception: The glossy coating of the Apple logo at the back is not only susceptible to fingerprints, but also to scratches. We discovered that it caught two clearly visible scratches.
Apple iPad Pro 11" (2022) display
Apart from the form factor, the display is one of the major differences between the 12.9-inch and 11-inch iPad Pro. While the larger version uses an "XDR display" with mini-LED backlight, the 11-inch model makes do with a "normal" LCD panel. However, that is by no means bad.
What I liked:
Great display with good color reproduction
Excellent brightness
What I disliked:
No mini-LED display in the small iPad Pro
Worse black levels than 12.9-inch model
The iPad Pro 11" is more than just a tablet for viewing Netflix. The 11-inch LCD panel in the iPad is much too nice to look at for that. Thanks to the 120 Hz refresh rate, animations look buttery smooth, and color reproduction is excellent. We did not have a beer garden with high summer at hand for the review, but the panel with a maximum brightness of 600 nits according to Apple can still be read even when you are under the southern Spanish winter sun, for instance.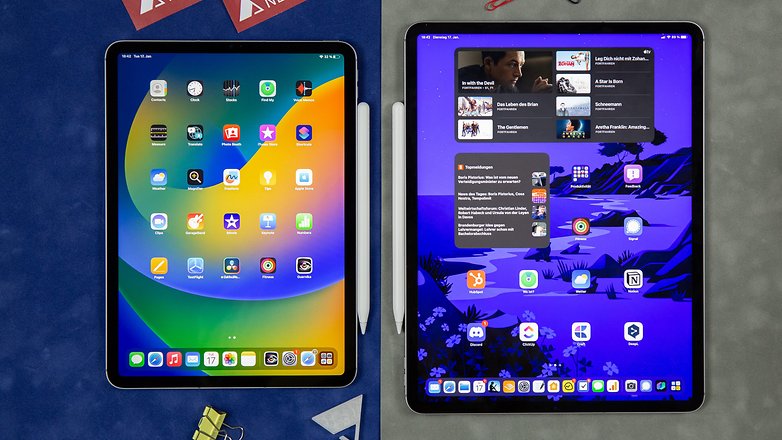 However, the large iPad Pro is a step ahead during summer at best. The XDR display installed in the 12.9-inch model relies on a mini-LED backlight and thus achieves 1,000 nits in standard mode or 1,600 nits under direct sunlight. The mini-LED panel is also ahead in terms of black levels since it can be dimmed more. Black is only seen as dark gray in the smaller 11-inch iPad Pro.
Apple iPad Pro 11" (2022) software
The iPad Pro 11" will run on iPadOS 16 in 2023, which is a significant leap forward compared to its predecessor, iPadOS 15. Features like real multitasking and the Stage Manager are included, but it is less fun to use on the small display.
What I liked:
Unbeatable ecosystem across many product categories
What I disliked:
No Apple Pencil is included
Expensive accessories
The iPad has grown up to become a real portable computer. That was the focus at Apple's presentation of iPadOS 16 last fall. The operating system made a leap forward especially in multitasking, although that is somewhat idle on the small iPad. I turned off the practical Stage Manager after a few days because I always dragged the apps to full screen mode on the small display by accident.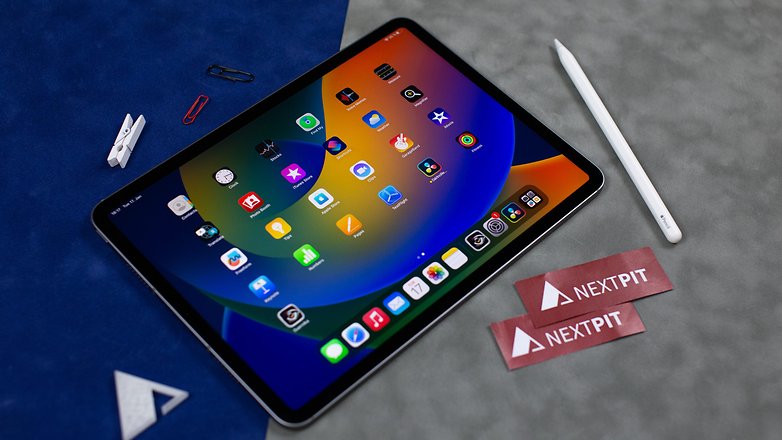 At the same time, the iPad also benefitted from the numerous features that the Apple ecosystem has to offer. With Universal Control, for example, you can use the iPad as an extra display for the MacBook or work with the Apple Studio Display (review) as with a full-fledged desktop computer.
And little things like the shared clipboard, which lets you seamlessly copy information back and forth between iPhone, iPad, and MacBook, are just great for everyday use. Apple's ecosystem is seamless to useox. For more information on iPadOS 16, check out the article below.
Finally, Apple offers a whole bunch of accessories for the iPad Pro. This is especially stark with the Apple Pencil, but it is a shame that it was not included with the tablet, which costs at least $799. Instead, you have to pay another $129 for the second-generation stylus. You can find cheaper options in our article concerning the best Apple Pencil alternatives for the iPad.
Apple also charges a lot for the various available keyboards, such as the Smart Keyboard or Magic Keyboard, and they cost around $249 and $349, respectively. More accessories -and cheaper options from third-party manufacturers can be found in our article about the best iPad Pro accessories.
Apple iPad Pro 11" (2022) performance
The iPad Pro has a really incredible amount of power underneath the hood, for which you will probably only find a few applications in the compact format.
What I liked:
Incredibly powerful
Low heat development
Very little thermal throttling
What I disliked:
The iPad Pro (2022) occupies a fairly unique position in the tablet space with its Apple M2. The SoC runs competing Android tablets like Samsung's Galaxy Tab S8 series into the ground. In Geekbench 5 Multi-Core, for example, the iPad Pro and the Galaxy Tab S8 Ultra (review) scored 8,480 and 3,275 points, respectively. The Intel Core i5 in Microsoft's Surface Pro 9, for example, is easily beaten by the Apple M2 in the benchmarks.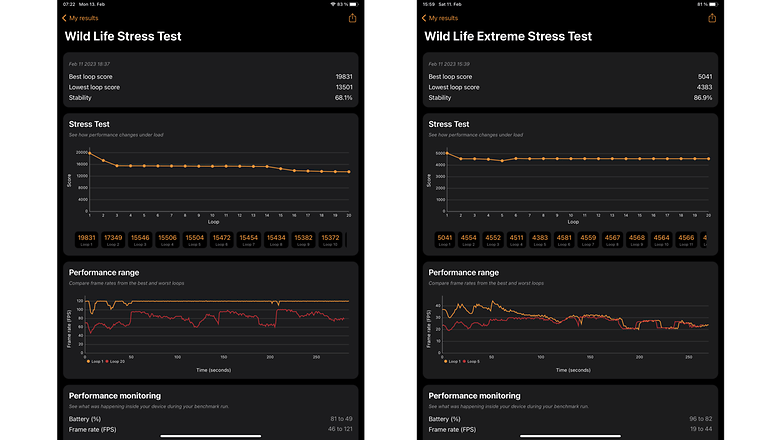 The iPad Pro achieves a stability rate of around 70 percent in Wild Life Extreme. That is slightly worse than the Qualcomm chips in the Galaxy Tab S8 Ultra (8 Gen 1) or the Xiaomi 13 Pro (8 Gen 2). However, the iPad is still faster than the unthrottled competition in absolute numbers even when performance is throttled.
Apple iPad Pro 11" (2022)
Galaxy Tab S8 Ultra
Xiaomi 13 Pro
3DMark Wild Life
3DMark Wild Life Stress Test

Best Loop: 19.771
Worst Loop: 14,042

Best Loop: 8,636
Worst Loop: 6,582

Best Loop: 13,091
Worst Loop: 10,207

Geekbench 5

Single: 1,892
Multi: 8,480

Single: 1,235
Multi: 3,275

Single: 1,509
Multi: 5,006
In direct comparison with an older iPad Pro from 2021 or 2020, practically no performance differences are noticeable in everyday use. Just like its most recent predecessors, everything ran smoothly in everyday use. Differences only became noticeable in really demanding tasks like 4K video editing or in benchmark tests. The following table compares the differences in Geekbench 5 across different iPad Pro generations.
iPad Pro: Geekbench 5 comparison of different generations
| | Single-core | Multi-Core |
| --- | --- | --- |
| 2022 iPad Pro (Apple M2) | 1,892 | 8,480 |
| 2021 iPad Pro (Apple M1) | 1,721 | 7,192 |
| 2020 iPad Pro (A12Z Bionic) | 1,581 | 4,644 |
What else is there? With WLAN 6E (802.11a/b/g/n/ac/ax), support for 2.4 GHz and 5 GHz as well as dual-band, you will be able to achieve speeds of up to 2.4 Gbit/s in a network. The latest Bluetooth 5.3 standard is also on board, which allows multipoint Bluetooth connectivity and more. The iPad Pro (2022) really leaves nothing to be desired in terms of performance.
Apple iPad Pro 11" (2022) camera
Even though the 11-inch iPad is rather compact, it is not fun to take pictures with it. The rear camera is sufficient as a "document scanner" and the selfie camera is perfectly fine for your everyday video calls. At least that applies to the quality, because its position at the side is simply annoying in landscape mode.
What I liked:
Good picture quality during the day
What I disliked:
Webcam is still positioned awkwardly
No night mode for photos
What do you mostly use the camera in your tablet for? The answer to this question plays an important role in how you should interpret this section. The 11-inch iPad Pro when held in portrait mode has an ultra-wide angle camera above the display. The selfie camera delivers usable quality during the day, and videos in maximum Full HD resolution are also pleasing to look at. Nevertheless: the (I presume here) iPhone in your pocket will take better pictures and is much handier.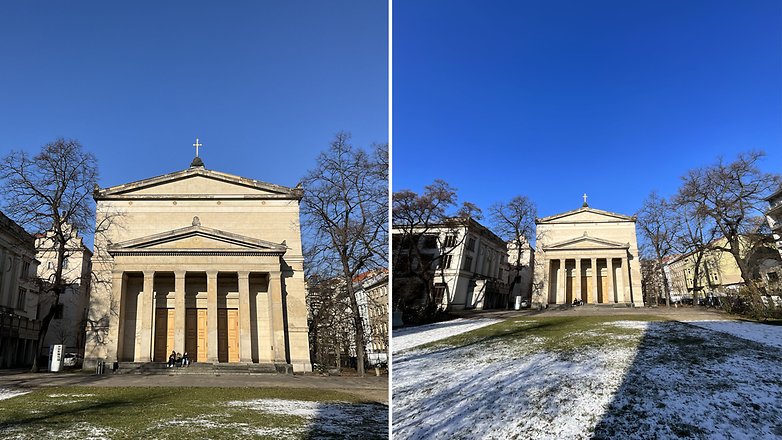 However, the position becomes impractical to use in landscape mode, which is mostly used for video calls. Instead of looking at the person you are talking to, you always feel like you are looking past them. Center Stage doesn't help, either. The follow mode always automatically crops the picture so that you can be seen in the center. Although this works reasonably well, it can sometimes seem a bit hectic. This is especially true if you move too much in front of the camera, your colleagues will get dizzy at some point.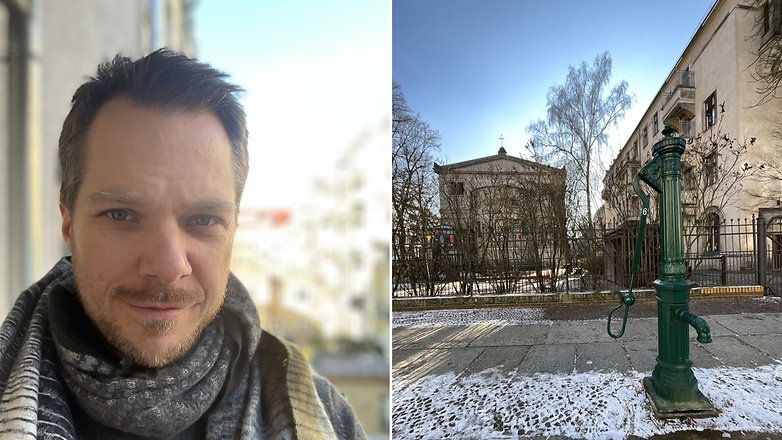 Apple installed a dual camera at the tablet's back. The main camera offers 12 megapixels of resolution, while ultra-wide angle photos are shot in 10 megapixels. The photos are already decent under good lighting conditions, but it quickly becomes clear that the device is simply not made for taking photos in the dark. The tablet is not only too bulky, but the results are also noisy and pixelated. The fact that Apple has omitted the night mode does not necessarily help.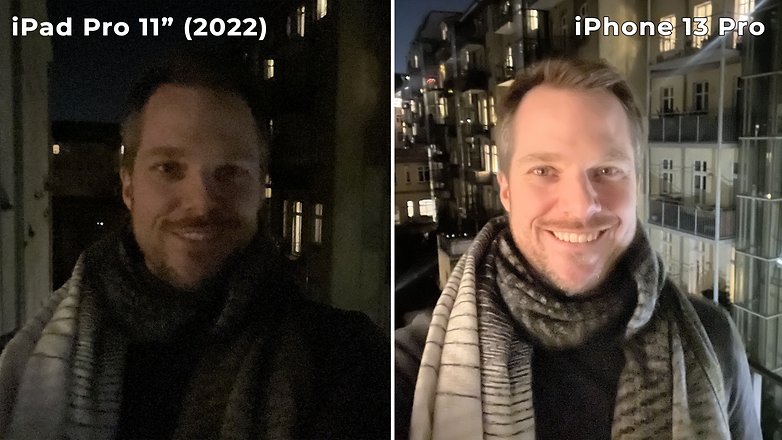 The LiDAR scanner at the back also falls under the camera department. This is handy for AR applications for instance, or if you want to scan objects as 3D models. Finally, the 11-inch iPad Pro also has Face ID on board, which reliably unlocks your tablet.
Apple iPad Pro 11" (2022) battery
After talking about high-end hardware that is underneath the hood, the question naturally remains: What about the battery? The answer? It depends. The iPad Pro that arrives in an 11-inch format does very well in light use with e-mail, videos, and the like. However, if you push the M2 chip to its limits, the 7,538 mAh battery is quickly drained.
What I liked:
Good battery life for light, everyday use
Power adapter is included in the box
What I disliked:
Short battery life when performing demanding tasks
Slow charging speed
Admittedly, I had a hard time evaluating the battery life. On the one hand, the runtime in everyday use is really not bad in view of the compact format. For example, when watching a TV series via WLAN (Apple TV+), the 2022 iPad Pro with 11 inches needs almost four hours of use to see the battery life drop to 50 percent at maximum display brightness. The manufacturer's claim of ten hours of surfing or video watching is thus realistic at moderate display brightness.
The situation is different for demanding tasks like 4K video editing with Davinci Resolve. If I were to generate pictures in an endless loop via a stable diffusion model, it takes just two hours until the 7,538 mAh battery in the small iPad Pro drops from 100 to 25 percent. Just be aware that you won't be able to edit videos continuously on the next intercontinental flight if you don't have a power outlet within reach there.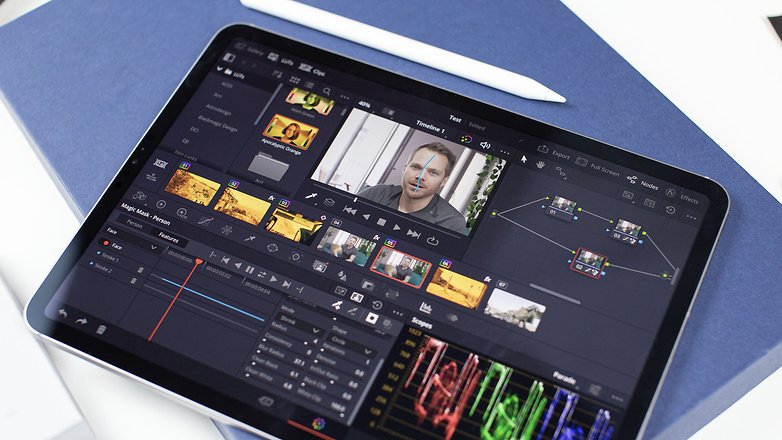 On top of that, Apple charges their device at notoriously slow speeds, and the 2022 iPad Pro is no exception. It takes 30 minutes until the battery is charged to 23 percent. After one hour of charging, you hit 48 percent. A complete charge from zero to one hundred takes an impressive 140 minutes with the included power adapter.
Final verdict
What is there to say about the iPad Pro 11" 2022 in conclusion? You will not be able to find a much more compact and versatile workhorse simultaneously, neither from Apple itself nor among the Samsung tablets (comparison), for example. However, you should also consider whether you really need this all this power. Apart from the new M2 chip, there are few reasons to really buy the 2022 model. The 11-inch iPad Pro from 2021 is currently going cheaper if you are curious about picking up a tablet.
If the small iPad Pro fits into your budget, you will definitely be happy with the small tablet. The build and design are top, and even the "weaker" Pro display is fun in everyday use. The performance is spectacular, and battery life is also very good in everyday use, assuming your daily routine does not consist of 4K video editing and the like.