AlgoLaser Launches All-in-One Smart Laser Engraver with a Big Sale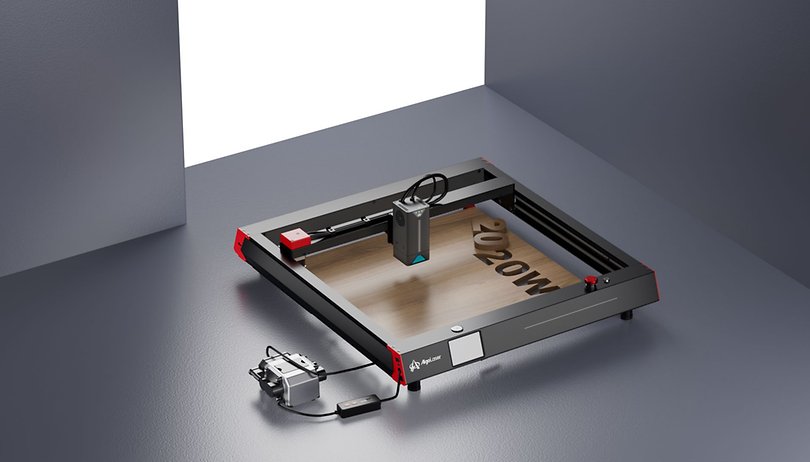 Engraving used to be exclusive to very expensive and niche devices but recently we started to see more and more devices priced at consumer-friendly levels. A new example is the AlgoLaser Delta 22W laser engraver, which not only costs less than $1000 but also makes it easy to use, with fast and high-resolution engravings for home users.
For standalone operation, the Delta 22W offers total control through the built-in color smart screen. Load files via microSD cards for quick engraving and cutting tasks, including batch operations, without requiring another device.
Besides that, the display allows controlling the air pump, checking task status, and sending light notifications. For added convenience, you can send files directly from your smartphone or tablet using the AlgoLaser app connecting the Delta 22W via Wi-Fi, with an array of smart control options right at your fingertips.
Not only that, the Delta 22W Laser Engraver has a modern design that can fit nicely in any workbench. The AlgoLaser device is easy to assemble, with simple installation steps, and not only supports popular apps like LightBurn and LaserGRBL but also offers its own AlgoLaser app for iPhones and Android.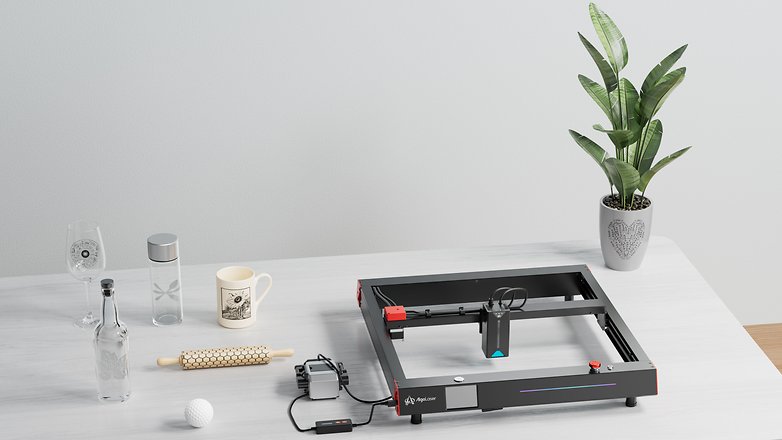 The Delta 22W is powerful enough to not only engrave but also cut some materials. AlgoLaser lists cutting capabilities for pinewood sheets of up to 30 mm thickness using a single pass, saving time. According to the manufacturer, it is possible to cut up to 45 mm thick black acrylic, 12 mm thick MDF, or 20 mm thick white oak.
Another highlight is the option to apply 500+ shades of color during the engraving process, by oxidating a stainless steel material. For those in a hurry, the AlgoLaser Delta 22W can engrave at up to 500mm/s, thanks to its multi-core CPU.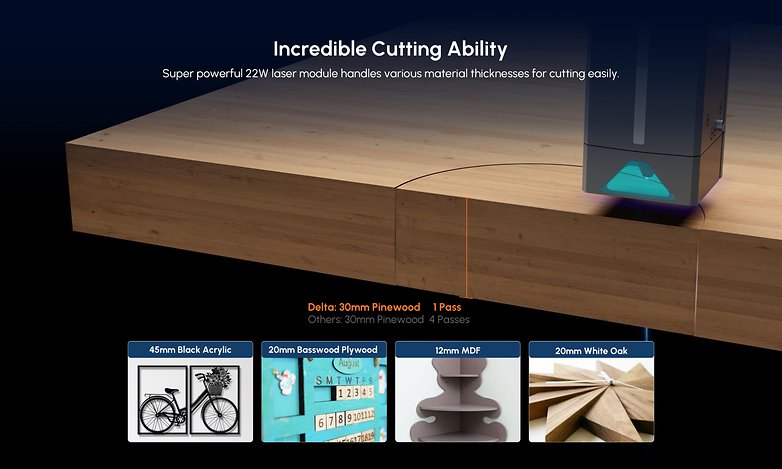 The machine not only offers power and speed but also precision, with an advertised 40% smaller spot size, regardless of power level. To keep the engraving quality, the AlgoLaser Delta 22W reminds the user when it is time to clean the lens.
Other maintenance and safety features include flame detection and protection, air pressure monitoring, an emergency stop switch, a key lock to prevent unwanted usage, and protection against machine offset, tilt, current, voltage, and even USB connection errors.
For the Delta 22W initial sale, AlgoLaser is offering both a sizeable discount—cutting the $1499 MSRP to $999—and a free 400x400 mm honeycomb panel for the first 100 buyers. More details can be found on the Gearberry online store linked above.