[Review] Onavo is the Best Damn Data-Monitoring App for Android, Period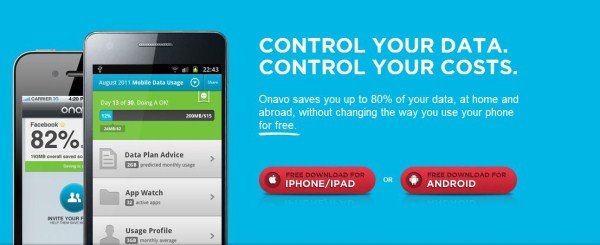 While I'm not what you'd call the data-hogging type, I do love me some Google Maps, Facebook and Youtube goodness while I'm on-the-go. Unfortunately, my data plan with O2 here in Berlin is not what you'd call luxurious. For all of the days of the month, I've only got 200 MB of data-goodness to gobble up. For folks like me, a data-monitoring app is a neccessary policeman.
Apps like 3G Watchdog are great, but they don't go far enough. What I've always wanted was an app that'd tell me how much data I was using and which apps were hogging the most 1s and 0s. Thankfully, Onavo is that app, and it goes way beyond what you'd expect from a data-monitoring app.
For one, it's got a really nice visual interface. Instead of the somewhat Android 1.0 look of the black and white 3G Watchdog, Onavo is dressed up in pleasing grays and blues (okay no biggie but a nice extra). From the main menu, you can see statistics on your data usage over the past month, as well as which apps are using the most data. This might sound obvious (Youtube = bad, GMail = not so bad) but I was surprised to find out that apps like Google Calendar were using more data than Facebook. Meanwhile, apps that I had no idea were going online, like Fruit Ninja, were actually sucking up data. Who would have known? Now I do.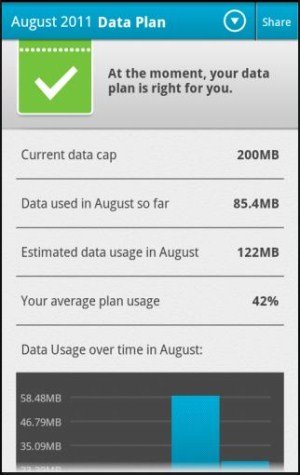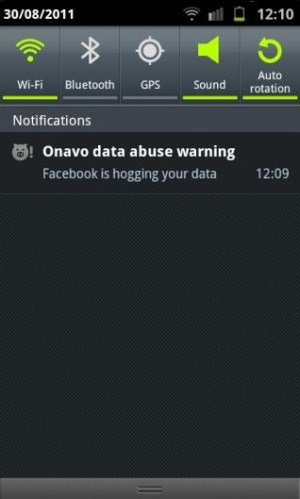 (Onavo's interface is unbeatable)
Onavo has bigger ambitions than just telling you which apps are data hogs. The developers also want to develop a worldwide Onavo Android community which crowdsources information on apps and data usage from across the globe. With such a database, you'll know before you download if the app is a hungry beast.
Onavo is also helpful when traveling, as it has special settings for roaming that can track each MB used so you don't end up with a crazy $1,000 bill at the end of your trip. And the company has plans to release an app for Android quite soon that somehow shrinks your data so you use less when globetrotting.
More on that in the coming months. For now, Onavo is still the most user-friendly and helpful data-monitoring app around, which is sadly essential for all of us, given the fact that Sprint is the last carrier with a truly unlimited plan. Give it a try and let us know what you think.