Xperia 1 Mark V Review: The Good, the Bad, and the Flawed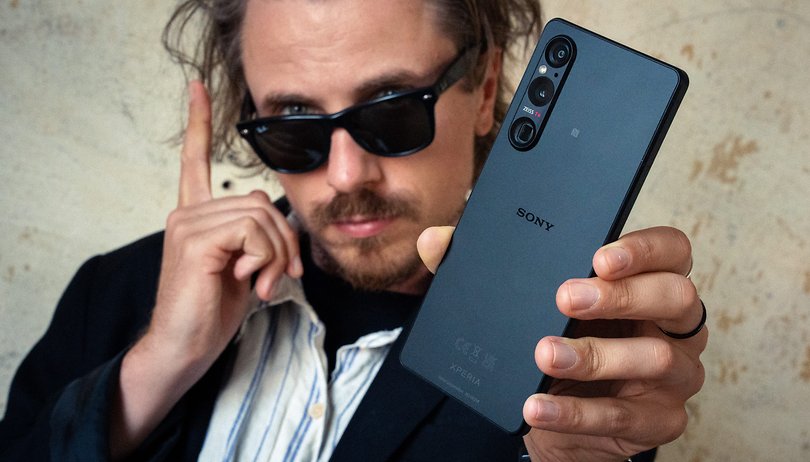 A brand new image sensor in the main camera, the latest SoC from Qualcomm, and many other implementations that make a nerd's heart skip a beat. Sony's Xperia 1 Mark V is a flagship smartphone, through and through. Therefore, Sony also charges a hefty $1,399 for a phone that receives only up to 3 years of updates. Does this add up? A nextpit review of what is perhaps the most beautiful and uneconomical new Android flagship will reveal the truth.
Good
Excellent main camera image quality

Very high-performance level

Hardly any heating problems in everyday use

Extremely high-quality build (apart from the box)
Bad
Three years of software updates are too short

Variable telephoto camera disappoints

Not even a single cable is included

No adaptive refresh rate
Sony Xperia 1 V: All deals
The Xperia 1 Mark V in a nutshell
Sony has once again improved its flagship smartphone with the introduction of the Xperia 1 Mark V. The new stacked CMOS sensor impressed us in particular. However, the Xperia also offers above-average performance in mobile games, everyday use, media consumption, and—you won't believe it—making calls. However, software support is far too short for $1,399 a pop. Zoomed-in photos are also less impressive despite the variable focal length.
If you want to buy the Xperia 1 Mark V, you can currently place a pre-order for the phone. If you were to trade in your old smartphone, you can obtain a discount. Sony also included the excellent Sony WH-1000XM5 (review) over-the-ear headphones. You can read everything about this handset on Sony's website—and share your thoughts with me in the comments if you have already purchased the Mark V!
Design and processor
Some might deem it as a lack of ideas, while others are saying that Sony is "staying true to one's character"—visually, the Xperia 1 Mark V has not changed much. The phone arrives in the usual 21:9 format with comparatively thick bezels above the screen.
Sony has made the back rougher and spared no expense in both the choice of materials and the workmanship. The Xperia 1 Mark V is waterproof according to the IP68 certification—despite the presence of a 3.5mm headphone jack and an Easy Access SIM tray.
---
Pros:
Very high-quality choice of materials.
Discreet camera placement.
SIM card and microSD card can be removed without any tools.
Cons:
Edges are quite sharp.
Top-heavy when held.
Not a single cable is included.
---
Unpacking the Xperia 1 Mark V for the very first time is truly a roller coaster ride for me. This is because the smartphone comes in a package that is made of recycled paper, which is eco-friendly. However, it seems extremely cheap.
Don't get me wrong, you could also package your smartphones in a safe for all I care, but the contrast to the high-quality Sony smartphone is still noticeable. This is even more stark when Sony does not even include a USB-C cable in the box for a handset that costs close to $1,400.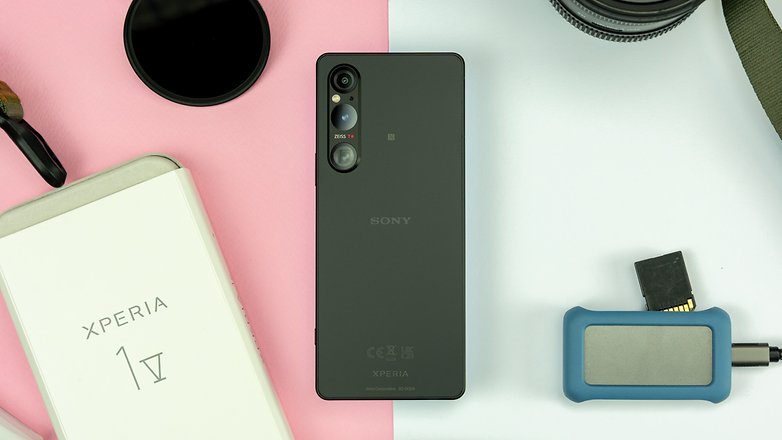 Once you are done scratching your head, your fingers will enjoy the Gorilla Glass Victus 2 in front and back of the Xperia 1 Mark V. The glass elements are enclosed within a grooved metal frame which appears to provide a particularly steady grip when you grasp it. The back, which Sony has also introduced a ribbed design, has also become more secure to hold.
The camera configuration with its three lenses protrudes only a few millimeters from the back. Although Sony uses movable elements for zooming and a larger sensor here, the camera is much more discreet than in other flagships.
Other special features of the 1 Mark V are the 3.5mm headphone jack on top, stereo speakers with front-facing grilles on both sides, and the SIM card and MicroSD tray that can be removed without any tools. Despite these features, the smartphone comes with IP68 certification, offering protection against water and dust.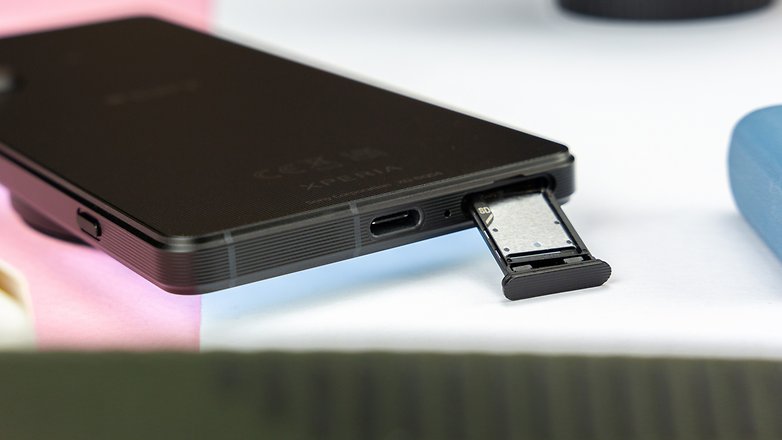 Even though Sony has been following this design trend for years, it still works with its monolithic aesthetics in 2023. However, there is criticism of the sharp edges which tend to 'bite' the little finger when held sideways for a longer duration. This is particularly annoying since Sony's handset tends to tip backwards due to its top-heavy form factor when you hold it in one hand and need to change the position of the little finger. Sony has clearly made a mistake here!
Display
Sony installed a 6.5-inch 4K display with a 120 Hz refresh rate and different HDR certifications in the Xperia 1 Mark V in a 21:9 format. The refresh rate is not adaptive when it comes to content, but the 240 hertz sampling rate ensures fast response times when it comes to gaming. 10-bit support, Creator Mode, an X1 processor for intelligent upscaling, and infinite contrasts thanks to OLED technology are also part of the package.
---
Pros:
True 4K resolution (3,840 x 1,644 px).
Great color reproduction including fine-tuning options.
Bright enough for use under direct sunlight.
Cons:
No adaptive refresh rate.
Format is rather unsuitable for many media formats.
Difficult one-handed operation.
---
In short: My eyes are used to the small 5.4-inch display of the iPhone 13 mini. In comparison, Sony's display not only looks as big as a movie screen, pictures and media content also look far sharper. This is due to the extremely high 643 ppi pixel density, pulling far ahead of the iPhone at 443 ppi.
However, you will have to accept the fact that most videos shown will feature black borders on both sides. Sony loves its 21:9 format, although there is hardly any media content in that format available on the World Wide Web. Even its own video apps record in 16:9 by default. Well, how about that! While black edges are not a very negative thing on an OLED screen, Sony once again made it difficult to use the device with one hand.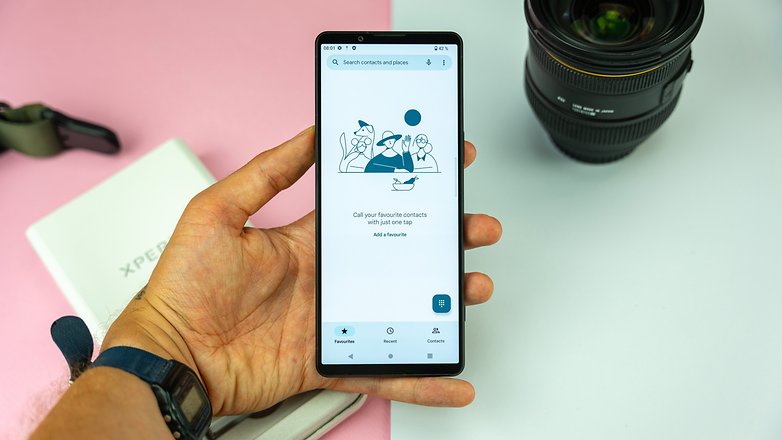 I have rather large hands and have to stretch my fingers quite a bit to pull down the notification bar of the Xperia 1 Mark V. Thus, it is usually necessary to reach around with my fingers and risk dropping Sony's top-heavy phone. This could—and should—really be solved in the future with a design change, especially since the smartphone tends to peek out of smaller pockets.
By the way, Sony's best phone display at the moment has certifications for HDR 10, HLG, and offers idiosyncratic 10-bit support. This uses 8 bits for the display and 2 bits for smoothing to enable particularly smooth color transitions. It looks good in everyday use, but I cannot say anything more without having it run through some lab tests. You would also know that we would rather focus on practical use here at nextpit.
Based on the above, I can assure you that the Xperia 1 Mark V has an excellent display. Sharpness, color fidelity in image editing, and the smooth 120 hertz refresh rate including a 240 hertz touch sampling rate are a delight in everyday use. Technically, however, the display lacks the option to adjust the refresh rate adaptively. You only have a choice between 60 hertz to save power and 120 hertz.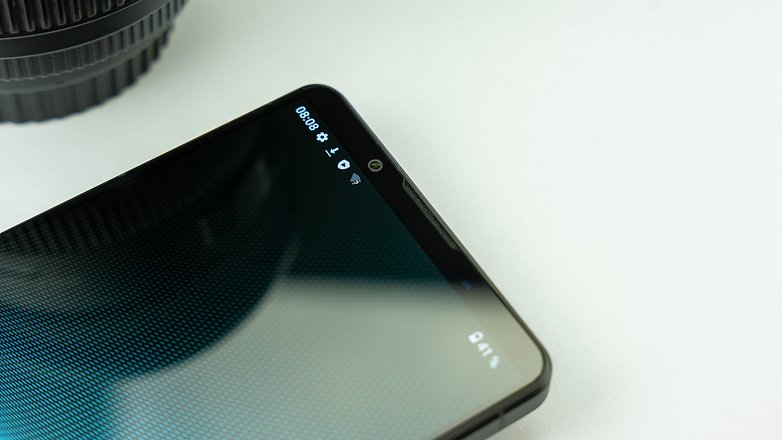 Oh yes, a minor detail when compared to the Xperia 1 Mark III, which I reviewed: Sony has removed the notification LED on the top bezel. Shame on you, Sony—shame on you!
Software
The Xperia 1 Mark V ships with Android 13 right out of the box—and is supposed to receive updates up until Android 15 according to the manufacturer. That is not much, just like the three years of monthly security updates that Sony promised. There are hardly any preinstalled apps and Sony continues with its almost stock Android look.
---
Pros:
Almost stock Android.
All additional apps Sony installed are useful.
Cons:
Poor update policy for a $1,399 phone
Poor update policy for a $1,399 phone (I am intentionally repeating myself!!!)
---
I'll be honest here: I still need to save some words for the camera section in this review! Therefore, I'll keep this short. You can read everything you need to know about Android 13 in the linked review. Sony does not manage to improve upon its update policy in this generation, either.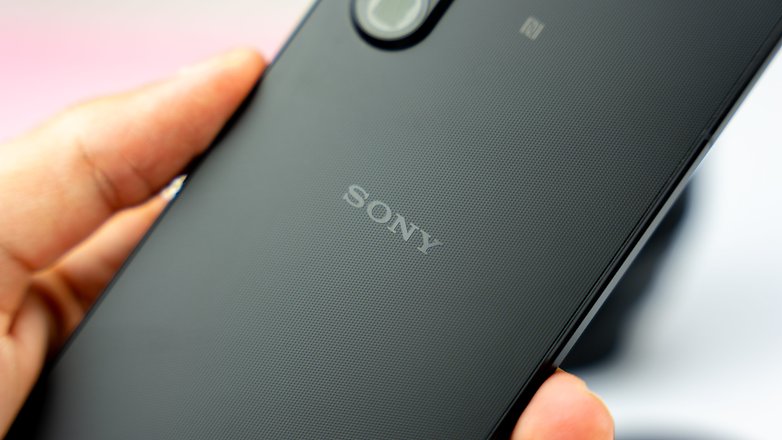 What does this mean? If you buy this phone for the same amount that you can drive home a used car, you won't receive any more updates when the MOT would also expire on the used car. Two years of Android updates are way too little, and even the additional year of monthly Android updates won't help. That is really, really not worth it, Sony!
Performance & Technology
The Xperia 1 Mark V is powered by Qualcomm's Snapdragon 8 Gen 2, which remains pleasantly cool when running under load in Sony's flagship. In addition, you will find 12 GB of RAM and 256 GB of internal storage, which you can expand via microSD cards.
Waiting times are virtually non-existent in 2023 flagships and there are currently no mobile games that would push such hardware to the limit. Even video editing and image processing ran smoothly.
---
Pros:
Amazing system performance.
Sony was able to fix the heat problems in its predecessors.
Expandable memory available in a flagship.
Cons:
Fingerprint sensor in the Power button is not always reliable.
Vibration motor seems a bit aggresive.
---
There is a certain stress factor that has started to appear in Android flagships in 2023. The phones launch apps and content so quickly that you can hardly keep up. As always, I reduced the number of animations in the developer settings, making Sony's new flagship the fastest phone I've ever used. Mobile games, image editing, and benchmark tests were also easily handled by the smartphone.
Compared to the Xperia 1 Mark III, I noticed that Sony has finally solved the heat problems in everyday use. The 3DMark stress test still showed a significant drop in performance due to thermal throttling though. In return, the smartphone remained cool even at 30 degrees in the middle of summer, even when it stayed in my pocket while jogging in the sweltering heat and tracked my run via GPS.
Bottlenecks, i.e. components that slow down the phone, do not exist in the Xperia 1 Mark V. The 12 GB RAM is ample, the SoC even managed to run the Extreme benchmarks in 3DMark smoothly, with an ample amount of 256 GB internal storage available right out of the box. The fact that Sony offers expandable memory via microSD cards is also incredibly convenient. A 512 GB model is also available in selected countries.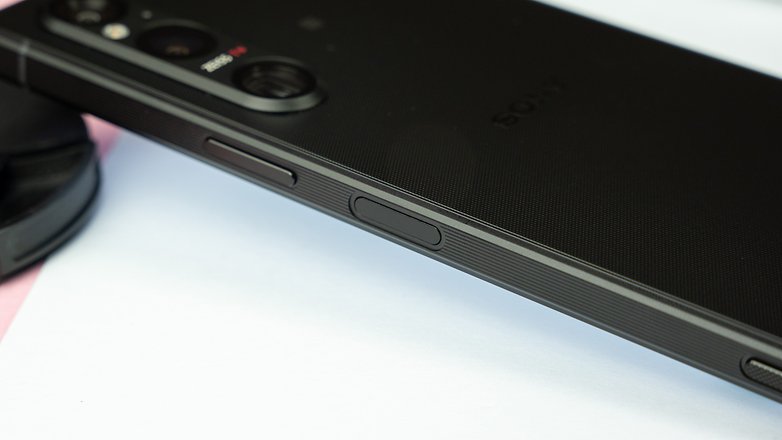 Technically, the 1 Mark V is also impressive in other respects, with its high-quality 3.5 mm headphone jack, loud stereo speakers, and a high-quality vibration motor. However, the latter seemed a bit aggressive to me at times, such as when typing on the Gboard keyboard. Beyond that, I found Sony's fingerprint sensor to be a bit too sensitive. When I took it out of my pocket, it sometimes wanted to scan my fingers so often that I had to enter my code.
Another plus point: the distance sensor in the top of the handset is finally calibrated properly. The Xperia 1 Mark III and the Xperia 1 Mark IV had a tendency to turn the screen on when making calls. Conversations were then held by holding the phone to the cheek. This will no longer happen here—now finally to the camera!
Camera
Sony uses a new type of stacked CMOS sensor with "2-layer transistor pixels" in the Xperia 1 Mark V. This offers 48 instead of 12 megapixels for the very first time in a Sony flagship .
In addition, its usual strengths like extremely extensive camera apps, variable zoom in the telephoto lens, and a dedicated camera button including an autofocus feature are there. You can also record videos in 4K at 120 fps using any camera, now how about that?
---
Pros:
Excellent image quality from the main camera (especially when developed in the RAW format).
Camera apps are miles ahead of the competition (at least for enthusiasts).
Can be used as an external monitor for Sony cameras via USB-C Gen 3.2.
Dedicated camera button.
Cons:
Telephoto shots are less impressive in terms of detail (blurry, washed out, and chromatic aberrations).
Very neutral look compared to other smartphones.
Focal length range of 85 - 125 mm of the telephoto camera is impractical.
Shooting in S-Cinetone, but not in S-Log.
---
Short comment: I have included three galleries in this review. The first one shows JPEG shots directly from the Xperia 1 Mark V. In the second one, I've edited RAW shots in Lightroom to my preference and in the third one, I've re-shot some shots with my Sony Alpha 7 IV and the Sigma 24-70 mm f/2.8 Art. All comparison images were unedited and shot in JPEG.
A separate review could be written about the Xperia 1 Mark V's camera. The setup of a wide-angle lens with a new 48-megapixel stacked CMOS sensor, an ultra-wide angle camera, and the variable telephoto zoom together with the numerous settings is something you will have to learn to use. The longer you work with the 1 Mark V, the better the photos become—but more on that later.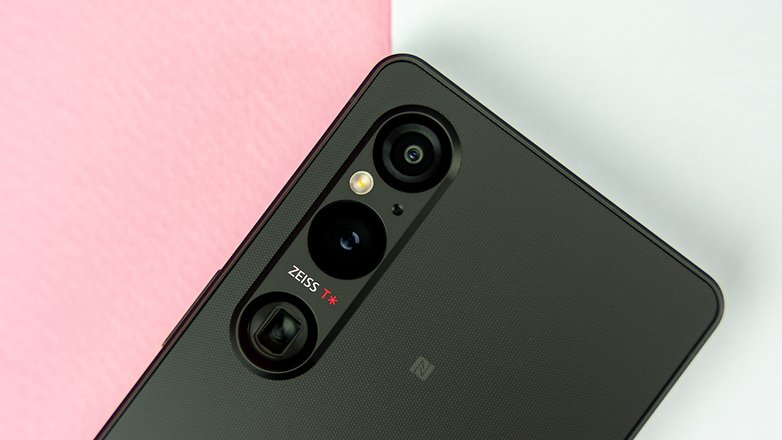 Technically, we first have to note that Sony also develops camera sensors for many other smartphone manufacturers. The manufacturer could theoretically maximize the potential of its own hardware in the best possible way. However, Sony gambled away this advantage somewhat as the pictures often fell short of the expectations that should be placed on a camera phone for $1,399.
This is particularly evident in the telephoto camera shots, which can zoom variably between a focal length range of 85 - 125 mm. This feature is extremely rare and my guess is that Sony will drop it as early as the next generation. This is because telephoto shots do show quite a few optical flaws with the Xperia 1 Mark V.
The colors of the photos look washed out, there is a lack of sharpness even under optimal lighting conditions, and strong chromatic aberrations, i.e. color fringes around tree branches, are visible. In RAW shots, it was easy to fix that by "dehazing" and other adjustments. However, the photos were hardly comparable with the main and UWW camera,
These drawbacks outweigh the practical, optical zoom function—especially since the distance between 24 mm at wide angle and 85 mm when the zoom level is very high. Since I like to shoot portraits, I miss the focal length range at around 50 mm when taking photos. Also, the lack of sharpness is not really suitable for portraits.
The opposite becomes clear with the main camera armed with a 24 mm lens. The pictures are crisp, revealing an incredible dynamic range as RAW files in post-processing and also impressed with their color fidelity. You get a type of quality here that I personally wouldn't be able to distinguish from a high-quality digital camera like the Sony RX100 right from the start. However, portraits at 24mm look a bit odd, as facial features are distorted at wide angle. Landscape shots, street photography, and snapshots look fantastic, though.
In this regard, I was also surprised by the ultra-wide angle camera, which offered crisp shots thanks to autofocus. Sony fails to offer a macro mode here though. If you were to compare the Xperia 1 Mark V with models like the iPhone 14 Pro or the Xiaomi 13 Ultra (review), you will be disappointed.
Regardless of the camera selected, the Xperia 1 Mark V impressed with an insane speed when focusing and triggering. The same applies to continuous shooting at 30 fps, where eyes or faces can be tracked if desired. These are features that Sony already introduced in older models, though. Just like the option to record 4K videos with up to 120 fps with all three cameras at the back.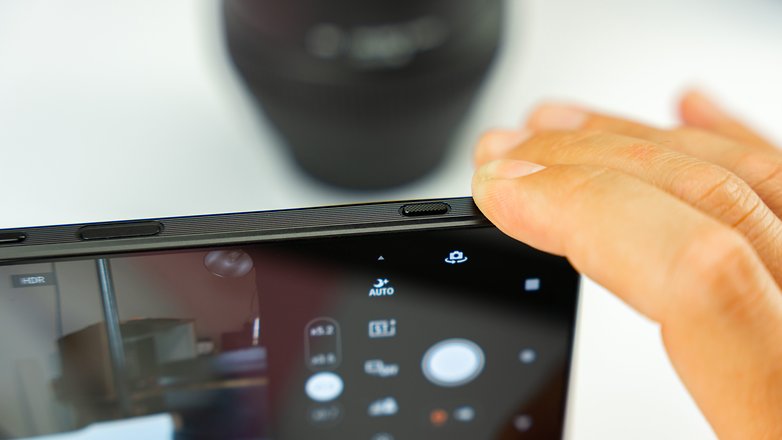 So what else is new in the fifth-generation handset? Sony is relying on a new AI, reminiscent of the systems in the A7RV and ZV-E1, to be even more precise with autofocus. It works! There's also subject tracking and a feature for product presentations while filming. That works as well! And with S-Cinetone, a popular video style becomes available, making it easier to mix shots from your Alpha camera and phone.
This was well executed as well, but it doesn't look as good as recordings in the log format, known as "slog" by Sony. This function is missing on the phone and would have made the filming experience even more powerful.
So for next year, I wish Sony would replace the variable telephoto camera with a fixed focal length with good optical properties. This is because zoom shots have diminished my very positive impression significantly when viewing them on the PC.
This is particularly unfortunate since taking pictures with the Xperia 1 Mark V is more fun than with most other phones due to the extensive camera apps —they are based on the new menu of the Alpha cameras, by the way —and the convenient shutter button.
Battery and charging
The Xperia 1 Mark V is equipped with a 5,000 mAh battery and charged via compatible power adapters at a maximum of 30 watts. Wireless charging is also supported. According to the manufacturer, the flagship placed a special emphasis on a long battery life, which is supposed to remain at 80% after three years. Thus, the phone will still run for the entire day even when the update warranty has expired.
---
Pros:
Long battery runtime.
Wireless charging is supported.
Long battery life.
Cons:
Quick-charging at 30 watts is too slow.
No charging adapter is included.
---
Forgive my sarcasm, but Sony's longevity strategy is really absurd. In the press briefing about the Xperia 1 Mark V, the longevity of the battery was discussed for minutes, which is very welcome in itself. However, the inadequate software support is a blood-red thread that can be seen throughout this review.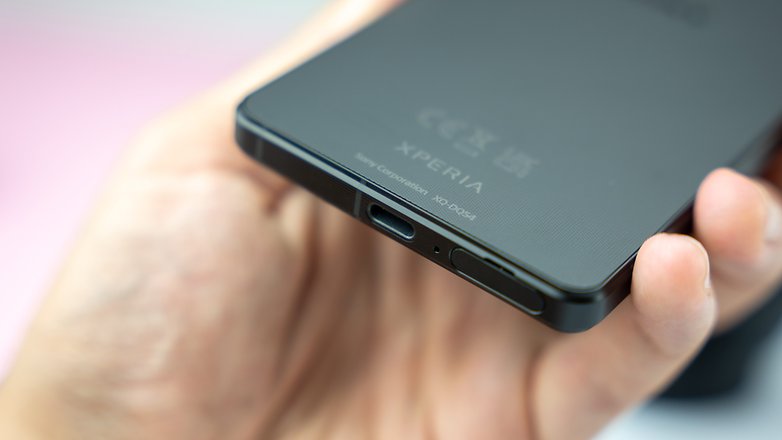 It is all the more annoying because the Xperia 1 Mark V impressed in terms of battery life in everyday use. The phone still retained just under 20% of battery power after a day of intensive use. This is despite the fact that I always used the display in 4K and at 120 fps. You will probably charge the battery overnight, so it is rarely a disadvantage that Sony's flagship only charges at 30 watts.
Quick-charging is nevertheless practical in select situations. Here, the Sony device lags behind the competition. If the phone could charge faster, you would have to look for a suitable charger anyway. Neither an adapter nor a cable were included in the 1 Mark V's packaging.
Last but not least, I found it quite charming that the Xperia 1 Mark V charges intelligently to prolong the battery's longevity. If you were to set an alarm in Android for 7:00 a.m., the phone will charge slowly until the alarm rings. This is by no means an amazing novelty, but it is a very nice gesture.
Conclusion
The Xperia 1 Mark V is a high-quality and powerful smartphone. How unreasonable is it to buy Sony's latest flagship for $1,399? This is not so much due to the price, which you can definitely obtain at a cheaper price point or via mobile contracts—but rather due to the Xperia 1 Mark V's biggest shortcoming.
Software support of two major Android updates and three years of security patches are simply not up to par with the rest of the industry. But somehow that is also so Sony. Why launch a perfect product on the market if you can't also include a few tiny and major slip-ups?
Why not make a smartphone that is 16.5 cm long, developed in a country where people have rather small hands? And why include a telephoto camera with enough sharpness and a sensible focal length if it can zoom in a bit instead?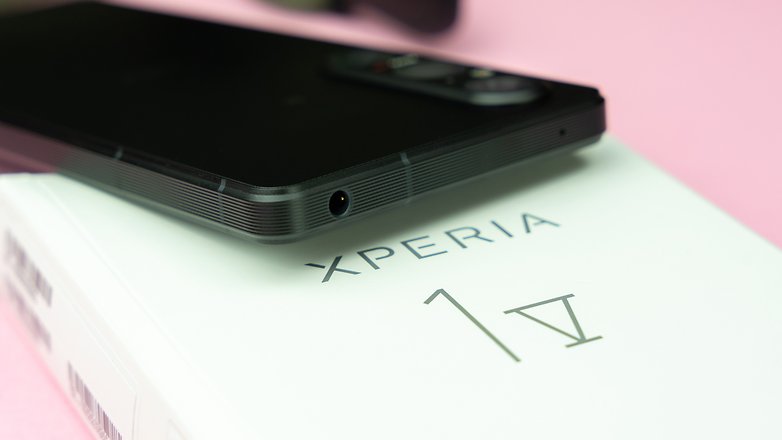 Sony knows exactly who their target market is. Enthusiasts and professionals who expect a certain quality and reliability. That's why I've been using Sony Alpha cameras for years. They are stock, professional, 95% reliable, and deliver a neutral look that I can still customize myself. There is no prestige, no gimmicks with flashing LED backs—this is calssicSony.
And when this unpretentiousness is lost, technology really gets you wondering. When images on large screens suddenly look exactly like they do on the small display. Or when ideas deliver the neutral look I need for color grading in video editing. When I need to edit videos on my phone and I don't have to think about any latency thanks to the 3.5 mm jack.
For those looking for that, the Xperia 1 Mark V is perfect. This is because it is technically more impressive than the competition in many aspects—just without all the marketing fluff. Therefore, this Sony flagship also serves a small niche. In my opinion, dear Mr. Sony, it is precisely this niche that deserves longer product maintenance than three years. For this very reason alone, I wag my reproachful finger: Four stars for you!