Xiaomi Mi 5 vs iPhone 6 comparison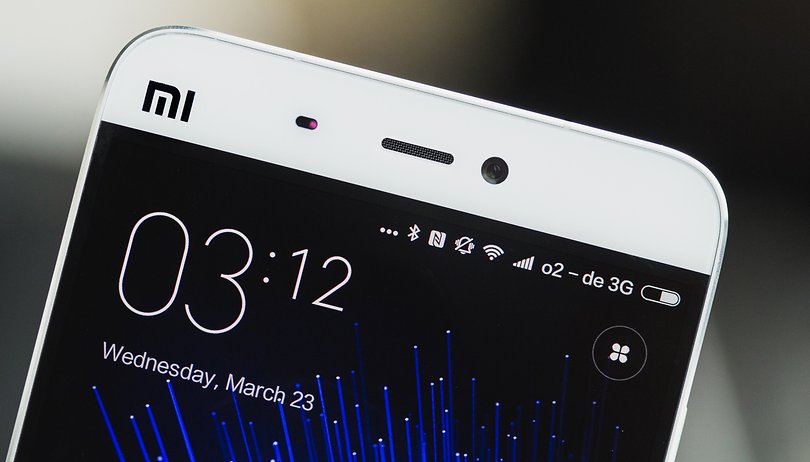 The Xiaomi Mi 5 has reviewed well with a premium design and fast user experience, but can it topple one of Apple's finest releases, the iPhone 6? Read on for our comparison between the Xiaomi Mi 5 and Apple iPhone 6. NEXTPITTV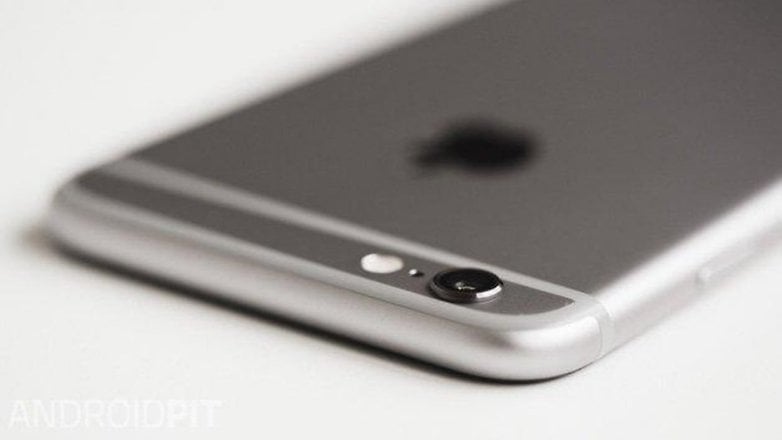 Xiaomi Mi 5 vs iPhone 6 comparison: design and build quality
There's three different variations of the Xiaomi Mi 5 to choose from, which are the Standard Edition, the High Edition and the Special Edition. Whilst there's no differences between the smartphones when it comes to appearance apart from the back material, there's plenty of changes under the hood.
The Xiaomi Mi 5 is lovely to look at, and we complimented the gadget on its looks in our full review. Xiaomi's smartphone shares similar curves to the Samsung Galaxy S7, and the mobile's almost-bezeless display is one of our design highlights.
A handy fingerprint sensor lives inside the physical home button on the front of the device, and according to the words of Hugo Barra, Xiaomi purposely put the rear camera in the same position as is found on the iPhone 6. We're pleased to report that the rear snapper on the Xiaomi Mi 5 sits flush with the body of the phone, unlike Apple's flagship of old.
As there's various versions of the Xiaomi Mi 5 available to buy, Xiaomi has taken steps to give a unique feel to the rear of each device. The glossy ceramic back cover is only on offer with the 128 GB Pro version of the Mi 5, said to be 'harder than steel'. The other builds of the smartphone come complimented by a curved glass rear, coming in a choice of white, gold or black.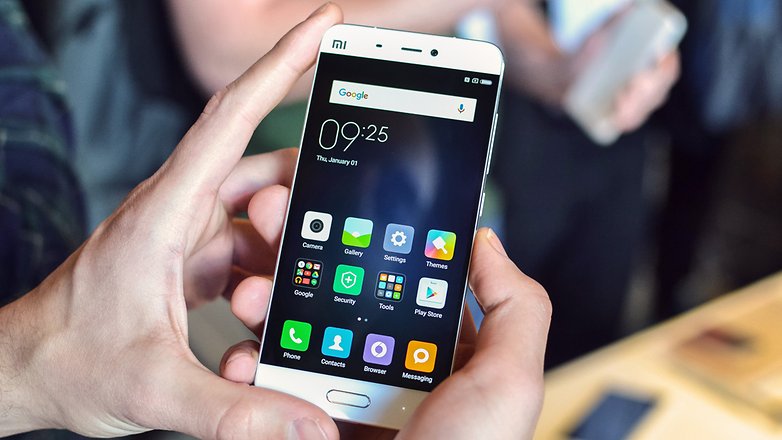 Apple's iPhone 6 is an iconic piece of kit, boasting top-notch build quality and a lovely smooth body that truly cements the gadget's position as a highly desirable, premium product.
The iPhone 6 features an anodized aluminium back that can be tough to grip, hence why a reasonable portion of iPhone owners choose to protect the smartphone with a case. To add to the list of potential gripes, the rear snapper on the iPhone 6 protrudes ever so slightly, which may be an annoyance for some or not a problem for others.
At just 6.9 mm thick, the iPhone 6 is a delightfully thin smartphone. Whilst the noticeable antennae lines on the back of the device have caused some debate in the past, there's no denying that Apple's iPhone 6 is a gorgeous-looking release otherwise. There's a reason why so many other manufacturers have taken design inspiration from Apple, after all.
Xiaomi Mi 5 vs iPhone 6 comparison: display
The Xiaomi Mi 5's solid display has proved to be one of the key ingredients that has convinced so many buyers to pull the trigger, offering up good brightness levels, rich color detail and effective viewing angles.
Xiaomi's release arrives with a 5.15-inch full HD LCD unit, capable of hitting a max brightness of 600 cd/m² thanks to an effective LED back redesign. We were impressed by the handset's display in our review, which looks brilliant flaunting the edge-to-edge look.
A resolution of 1,080 x 1,920 pixels keeps content looking sharp and the front of the smartphone is kept safe and sound thanks to a sheet of Corning Gorilla Glass 4.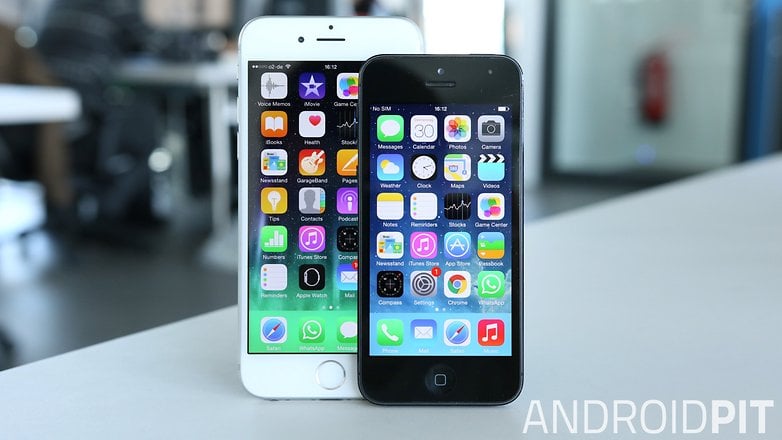 Apple's iPhone 6 is equipped with a gorgeous 4.7-inch IPS LCD screen, which showcases a resolution of 1,334 x 750 pixels at 326 ppi. As the numbers show, Apple has the edge over the Mi 5 with display quality.
As the world adjusts to smartphones with a bigger screen, Apple has deemed it necessary to add a screen resizing feature to the OS, which shrinks down the display into a corner so that the gadget can be used with one hand. It's a clever idea, and certainly a feature that comes in handy on a regular basis.
The screen of the iPhone 6 is hardly reflective at all, and as expected Apple has hit it out of the park over viewing angles and color accuracy.
Xiaomi Mi 5 vs iPhone 6 comparison: processor and storage
Whilst all three versions of the Xiaomi Mi 5 smartphone are powered by the Snapdragon 820 chip, there's some differences between the models in terms of internal storage and RAM.
Firstly, the most expensive Mi 5 comes with 4 GB of RAM and a hefty 128 GB of internal storage, more than enough to satisfy heavy smartphone users. Meanwhile, the mid-level offering dishes up 3 GB of RAM and 64 GB of storage, whilst the entry-level Mi 5 has 3 GB of RAM and 32 GB of storage.
Considering the Qualcomm Snapdragon 820 is considered the fastest processor of 2016, it goes without saying that navigating the menus of the Xiaomi Mi 5 is done at a lightning-fast pace. Thanks to its internals, the Xiaomi Mi 5 can comfortably battle the LG G5 and Samsung Galaxy S7 and S7 Edge when it comes to speed.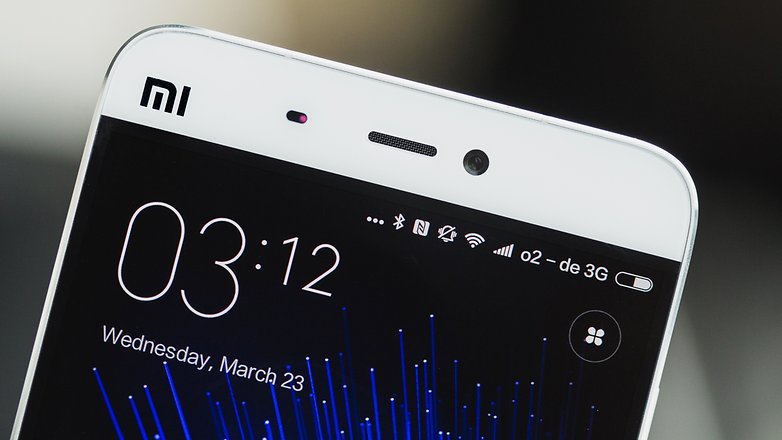 On the other side of the fence, Apple's iPhone 6 is powered by a 64-bit A8 chip, and despite the fact that the smartphone has just 1 GB of RAM to its name, it copes very well with resource-intensive tasks.
Apple produces three variants of the iPhone 6, with the smartphones providing 16 GB, 64 GB or 128 GB of internal storage. Admittedly, 16 GB won't get heavy users far in 2016, so the 64 GB option is probably the ideal choice for most.
The A8 chip living inside the iPhone 6 keeps the lag demons at bay fantastically well, and it's very rare to have the user experience impacted by stutter.
Xiaomi Mi 5 vs iPhone 6 comparison: camera
The main 16 MP camera of the Xiaomi Mi 5 partners effectively with OIS technology to provide clearer, higher-quality pictures and videos.
According to the Chinese group, the OIS technology inside the Xiaomi Mi 5 is a 4-axis component that is designed to cope perfectly with shooting in low light and grabbing snaps of fast-moving objects. In our review we weren't quite as impressed with the main shooter or the 4 MP front-facing camera, but the overall experience was reasonable.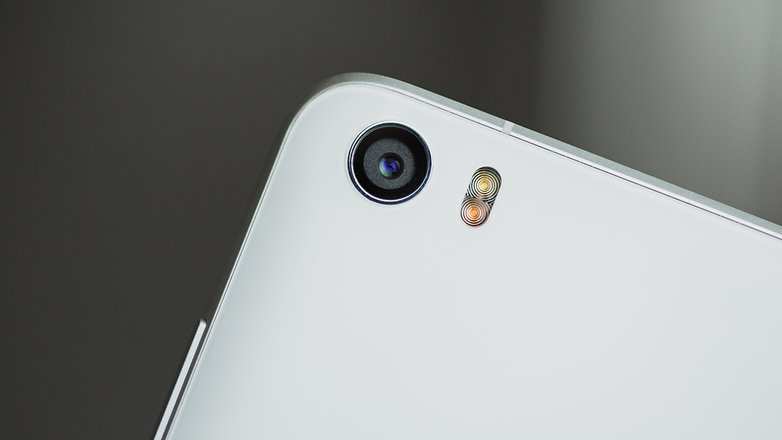 The iPhone 6 takes marvelous pictures thanks to an 8 MP iSight camera, teamed up with an iSight sensor to perform at 'double the speed' of Apple's previous release.
Slightly protruding out of the back of the iPhone 6, the rear camera features True Tone flash and f/2.2 aperture, along with dual-LED flash. Folk that know their way around cameras will be pleased to know that photo exposure can be adjusted manually, and custom filters add to the list of tools to play around with. Video fanatics can try shooting 1080p video at 60fps with the rear camera, and it's also possible to film in slow motion.
Unlike the Xiaomi Mi 5, the iPhone 6 doesn't feature OIS, although focus speeds are still particularly strong. The HD front camera of the iPhone 6 has had its brightness pushed up and now supports built-in HDR, making it ideal for high-quality video calling and selfie sessions.
Xiaomi Mi 5 vs iPhone 6 comparison: software
The Xiaomi Mi 5 comes running MIUI 7, which is based on Android 6.0 Marshmallow. As we noted in our review of the smartphone, customers buying the handset from a trader could potentially be provided with a variant of the Chinese ROM, or the so-called multi-ROM which supports Google Apps.
MIUI currently has over 175 million active users, and smartphone owners that like keeping their gadget in top condition will no doubt approve of weekly software updates.
iOS 9 powers the iPhone 6, which is easily the best mobile build of iOS to date. New features to the OS include an improved Siri, a faster overall browsing experience, smoother animations and better search results listings.
Apple's OS has never been about customization to the extent of MIUI though, instead focusing more on providing a streamlined experience that works exactly how it needs to. Updates for the OS are slightly more spaced out, but when they drop Apple usually has some substantial additions to bring to the table.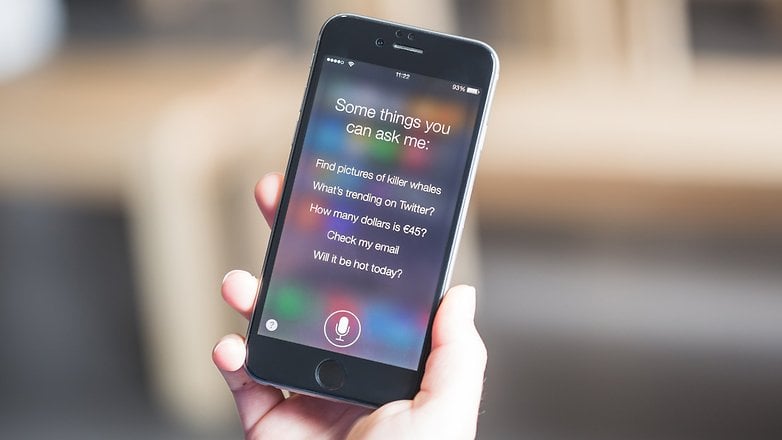 Xiaomi Mi 5 vs iPhone 6 comparison: battery
The battery inside the Xiaomi Mi 5 will last most users until the evening, and thankfully it's particularly quick to charge to its fullest. In fact, charging up the Mi 5 for just an hour will have it juiced up for a full day's use, which is rather impressive.
A Type-C connector is the charging port of choice and the 3,000 mAh battery performs well through continued use over the day. We've been impressive with the Mi 5's battery life during our time with it in our hands.
Apple's iPhone 6 has a smaller capacity battery than the Xiaomi Mi 5, dropping in the form of a 1,810 mAh component. Even so, Apple claims that the battery inside the mobile is 25% longer lasting than that of the iPhone 5s.
Perhaps unsurprisingly, the Apple iPhone 6 needs a charge most evenings if it's in use throughout the day, and although battery life is decent overall, we expect heavy users would get more out of the Mi 5.
Xiaomi Mi 5 vs iPhone 6 comparison: specs
Want a closer look at the internal power of both the Xiaomi Mi 5 and Apple iPhone 6? Take a look at our detailed table below.
Xiaomi Mi 5 vs. Apple iPhone 6 technical specifications
Xiaomi Mi 5
Apple iPhone 6
Dimensions:
144.55 x 69.2 x 7.25 mm
138.1 x 67 x 6.9 mm
Weight:
129 g
129 g
Battery size:
3000 mAh
1810 mAh
Screen size:
5.16 in
4.7 in
Display technology:
LCD
LCD
Screen:
1920 x 1080 pixels (427 ppi)
1334 x 750 pixels (326 ppi)
Front camera:
4 megapixels
1.2 megapixels
Rear camera:
16 megapixels
8 megapixels
Flashlight:
LED
LED
Android version:
6.0 - Marshmallow
Not available
User interface:
MIUI
Not available
RAM:
4 GB
3 GB
1024 MB
Internal storage:
128 GB
32 GB
64 GB
16 GB
64 GB
128 GB
Removable storage:
Not available
Not available
Chipset:
Qualcomm Snapdragon 820
Apple A8
Number of cores:
4
2
Max. clock speed:
2.15 GHz
1.4 GHz
Connectivity:
HSPA, LTE, NFC, Dual-SIM , Bluetooth
HSPA, LTE, NFC, Bluetooth 4.0
Xiaomi Mi 5 vs iPhone 6 comparison: verdict
Both the Xiaomi Mi 5 and iPhone 6 have a healthy list of key strengths, each providing a great user experience, sleek design and a regularly-updated OS.
Is the Xiaomi Mi 5 an iPhone beater, or does Apple's iconic smartphone continue to impress in all of the right areas? Let us know your thoughts in the comments section below.