WhatsApp vs Facebook Messenger vs Telegram: the ultimate comparison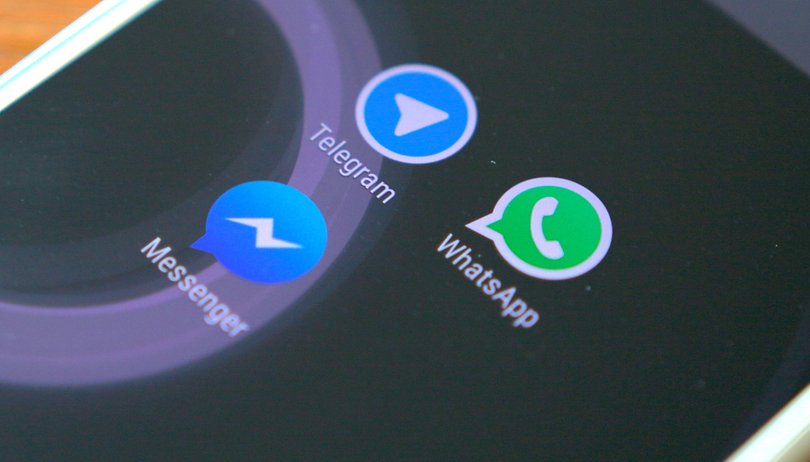 WhatsApp, Telegram and Facebook Messenger are three of the finest messaging services around. Though all of them offer the same basic functionality, each has its own individual strengths. Find out all of the pros and cons of these services in our WhatsApp vs Facebook Messenger vs Telegram comparison.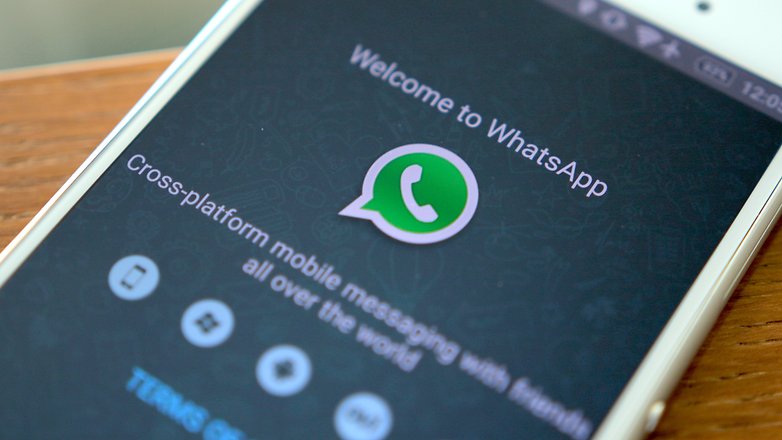 Telegram Messenger – what's good?
The major advantages that Telegram offers are security and privacy. Neither WhatsApp nor Facebook Messenger comes close to the encryption that Telegram's secret chats employ. WhatsApp has improved in recent times – to the point where it has threatened Telegram's relevancy – but Facebook Messenger lags behind.
Telegram offers the option to set up secret chats between two people. These chats utilize end-to-end encryption – a level of security neither Facebook Messenger nor WhatsApp provide – and even allows you to create self-destructing messages. These secret messages are a valuable, if flawed, idea (see below) and give Telegram a USP.
Telegram includes the vast majority of features that both WhatsApp and Facebook Messenger have, including the ability to send videos, pictures, audio and voice clips. It even offers minor details like custom notification LED color (like in WhatsApp) and stickers (as in Messenger).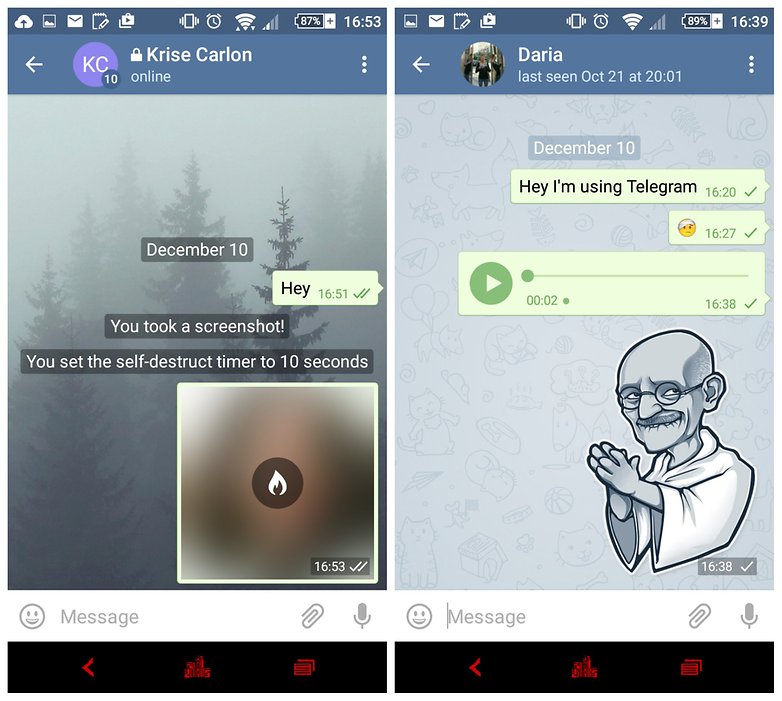 Telegram Messenger – what's bad?
The major area where Telegram struggles to compete with Facebook and WhatsApp (besides the smaller userbase) is that it lacks free voice calling, which may deter some people who would otherwise adopt Telegram.
What's more, there are a few niggles with Telegram's secret messages. Notably, you can screenshot the conversations contents. What is the purpose of having self-destructing messages if they can be saved without your consent anyway? These messages still have end-to-end encryption, and the both parties are notified when a screenshot is taken. But preventing these screenshots would have truly elevated Telegram above the competition.
Lastly, Telegram doesn't have a browser-based service like WhatsApp and Facebook do.
Facebook Messenger – what's good?
Facebook Messenger seems like it has been around forever. It has a clean, light blue interface, and informs you when your contacts are online (either on Messenger or Facebook). You can chat with individuals and groups.
You can text non-Messenger friends using their phone number, send media including pictures, stickers, GIFs and voice messages, continue chatting while in other apps via the use of Chat Heads, and share location information with your friends. Messenger also allows you to make free calls internationally to other friends using the service and, since 2015, you can even use it without having a Facebook account.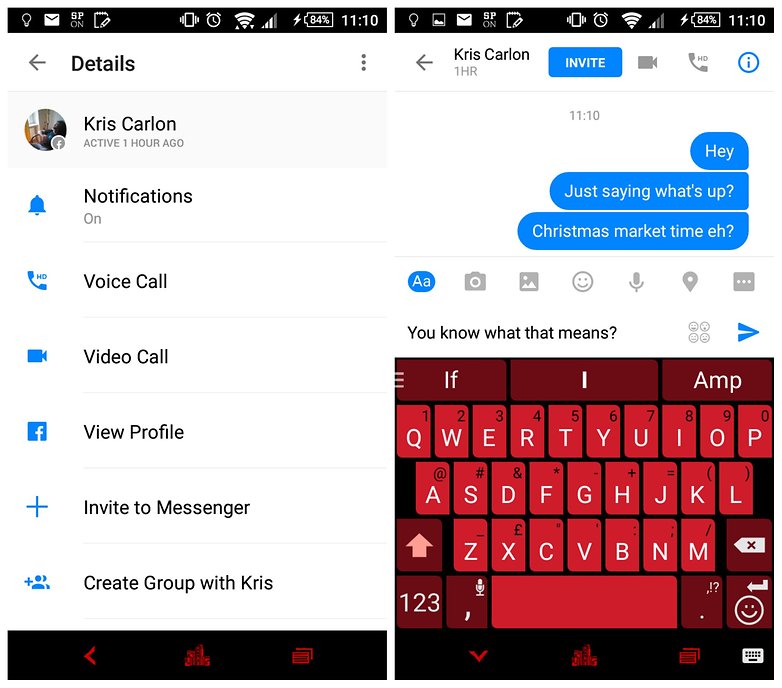 Facebook Messenger – what's bad?
For starters, you can't log out of Facebook Messenger within the app itself: there is no logout button. To get out, you need to go to Settings > Applications > Manage Applications. Then open Messenger and hit Clear Data. You also don't have control over notifications like you do in the other apps.
Possibly the biggest downside of Facebook Messenger is with regards to privacy and security. It's not like Facebook offers absolutely no protection, and it is improving its encryption, but there are many opportunities for your location to be revealed, and you need to use your real name (unlike on WhatsApp and Telegram).
WhatsApp – what's good?
WhatsApp is probably the most well-run instant messaging service available, handling more instant messages in a day than the entire global SMS industry. WhatsApp uses your telephone number (and that of your friends) to set up an account so new contacts are added as soon as you get their phone number, assuming they use WhatsApp too. Unlike Facebook, it is not linked to a larger service.
WhatsApp allows you to send free instant messages to anyone you know with the app installed and you can chat with individuals or groups. You can send videos, pictures, voice messages and location data, and it also features some easy-to-use sharing features and has a huge array of emoticons to spice up your messages. What's more, WhatsApp supports free voice calls.
Of the three apps in our list, the one that most people are likely to use is WhatsApp.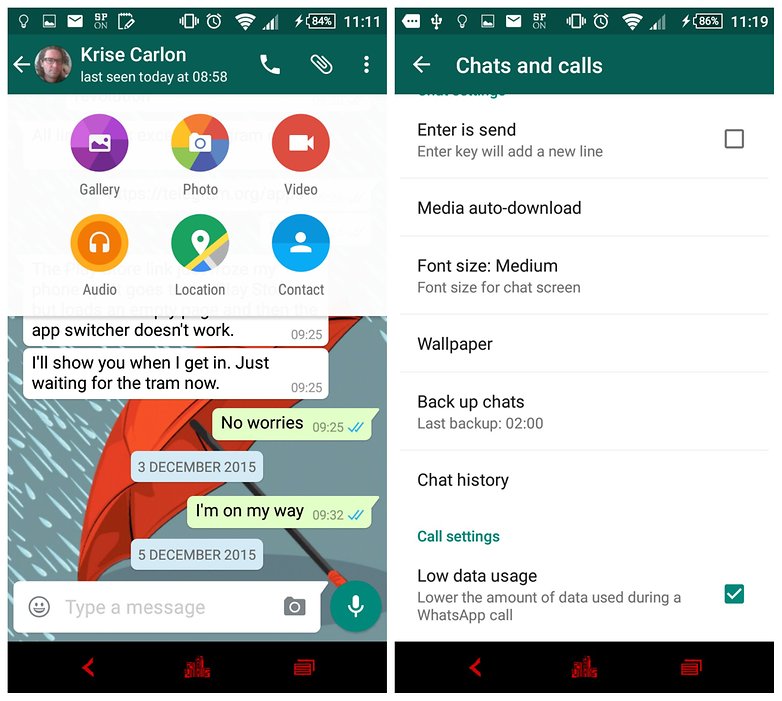 WhatsApp – what's bad?
WhatsApp, while providing a good core service, is light on extras. There are no moving stickers or mini games and it is yet to support GIFs. As with Messenger, you can't log out of WhatsApp (because it uses your phone number), and moving it between different devices can be a pain.
Features at a glance
| | | | |
| --- | --- | --- | --- |
| | Facebook Messenger | WhatsApp | Telegram |
| Free | Yes | No (99 cents annual subscription fee) | Yes |
| Free voice calling | Yes | Yes | No |
| Account requirements | Facebook account or telephone number | Telephone number | Telephone number |
| Time stamps and read confirmations | Yes | Yes | Yes |
| Automatic backup of messages | Yes (via Facebook website) | Yes (daily 4 PM) | Yes |
| Security reputation | Not great | Recently improved (messages are encrypted) | Excellent |
| Send pictures | Yes | Yes | Yes |
| Send videos | Yes | Yes | Yes |
| Send GIFs | Yes | No | No |
| Send stickers | Yes | No | Yes |
| Send voice messages | Yes | Yes | Yes |
| Search function | Yes | Yes | Yes |
| Send location data | Yes | Yes | Yes |
| Option to log out | No | No | Yes |
| Video calling | No | No | No |
| Set wallpapers | No | Yes | Yes |
| Customize notifications | Only on or off | Yes | Yes |
Conclusion
There is no definitive best messaging app and no clear loser here. WhatsApp has the most users and, for this reason, is probably the most convenient messaging app to use. It also provides voice calls, but the app isn't free (though the cost is minimal).
Facebook Messenger lets you can contact anyone who has added you on Facebook, and it also has voice calling, while Telegram has the best security, and allows you to log out of the service whenever you want.
If you don't already use any of these apps and want our advice on which to download, we'd say WhatsApp, simply because it does almost everything right and has hundreds of millions of users, so you're most likely to find more of your friends on there.
Discover more options in our Best instant messenger apps for Android feature.
Which messaging app do you think is best? Let us know in the comments.