Poll of the week: What are your favorite (weird) Android/iOS apps?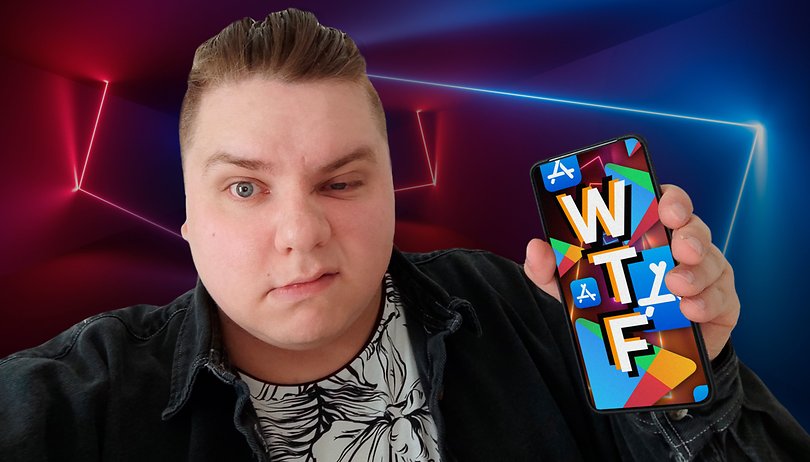 It's Monday and time for us to share with you the results from our 'Poll of the week' for last week. As you have gauged from the title of this article, our topic last week was about your weird app fetishes. And as the case usually is, the results of the poll did end up destroying my preconceived notions.
While the vast majority of you have conceded having an application "fetishism", you have remained very prudent in the comments - at least on the French domain. Anyway, let us get to the part where I try to make sense of the way you voted.
Turns out...
You like loitering on App Stores
I was quite surprised to see that for every region where NextPit is published (and read), the vast majority of respondents said they were a fan – or at least a follower of niche applications. You know, the ones considered "strange." It is quite rare that a question is decided by an absolute majority in our polls this week.
I was convinced that most smartphone users do not see any point in going beyond installing the usual messaging. social media, productivity and digital well-being applications. I used to think you guys are no risk-takers and do not even like to go beyond installing a set of 'necessary" apps. Nothing could be further from the truth! And yes, thanks for proving me wrong. Once again!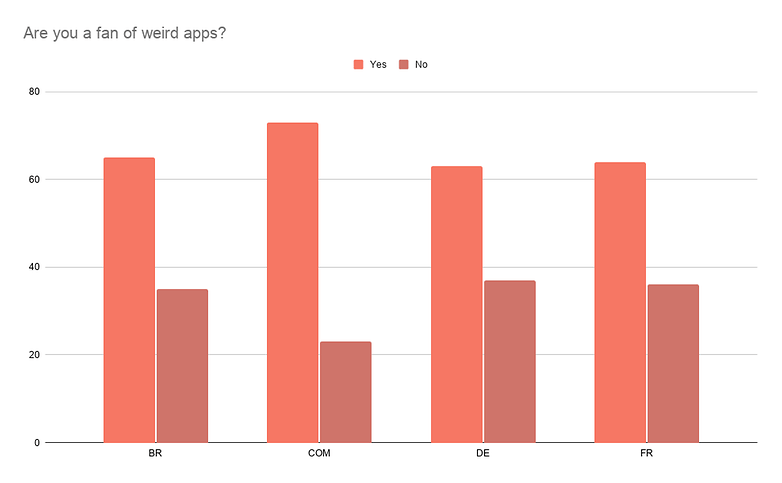 You're not that adventurous either
Okay, to be honest, I had high expectations as far as the comments section of this article (on the French domain where the original article was published). It's not for nothing that I hammered throughout the article that I wanted your opinions, your recommendations for strange apps in the comments. The idea was to open my horizons. But despite an absolute majority saying they love a quirky app niche, the comments from our readers did not reveal too much. Sigh!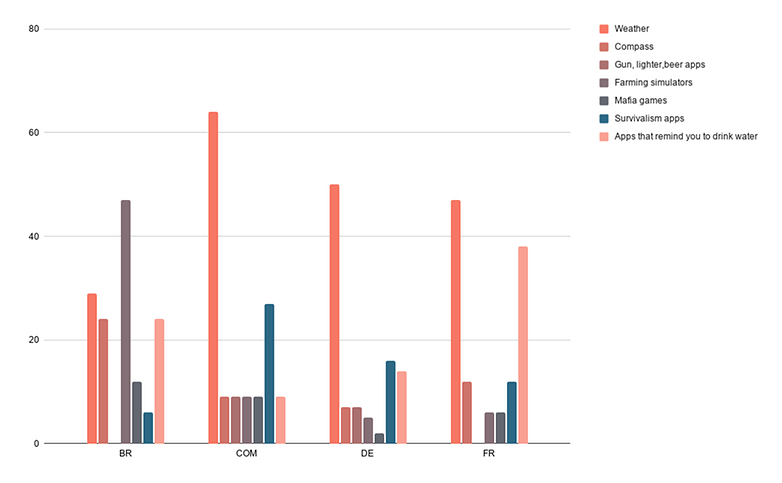 While I did end Up having a discussion on the comments, it veered around the usefulness of apps like these (you know the kind of apps that remind you to drink water). Then there were the wannabe meteorologists who did not quite like me shitting on weather apps. I agree they are cool, OK?
In any case, the most striking fact that I will remember here is that the biggest fans of farming simulator games are our Brazilian readers and not German ones! It's a collapsing myth, a paradigm anchored in the collective imagination that NextPit has just shattered. You're welcome.
To conclude, the majority of comments felt that when it came to apps, it was better to focus on the essentials.
Conclusion: Lack of supply or demand?
As I explained to you at the beginning of the article, I found the answers to this survey quite paradoxical. On the one hand, the absolute majority of readers say they appreciate niche / weird apps, but on the other hand, the comments under the article are very conservative.
What is wrong? It almost felt like the majority who voted for question 1 were not daring enough to reveal their guilty pleasures. Is my view of a strange app too "extreme" for most readers? Or was the survey just poorly worded?
I don't have the answer, but since we know that there is a demand for weird apps, maybe there is a problem with the supply? I say maybe, but my weekly app "research" sessions have shown me that the market is extremely heterogeneous when it comes to app categories.
Out of the 10 apps I see, at least 6 belong to the to-do list, task planner, or note-taking productivity apps niche. An observation that most of you share since almost all of you have declared that you find that the catalogues of the Play Store and the App Store to lack originality. Only our German readers were mostly satisfied with the current offerings.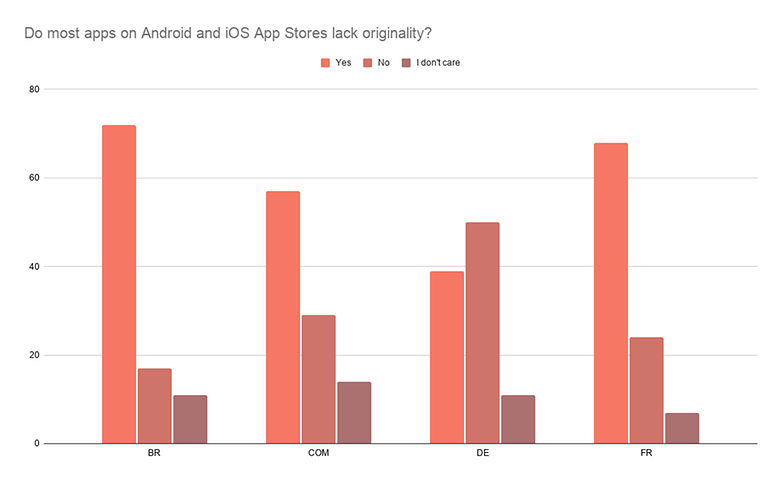 Thank you again to all of you for participating in this survey, do not hesitate to give me feedback on my analysis of the results or to suggest other subjects that could be the subject of a survey!
---
Original Article
If you are a frequent NextPit reader, you are probably aware of the fact that I am the one that usually scours the Google Play Store and the iOS App Store and app repositories looking for mobile apps and games for my weekly 'apps of the week' column. And while I haven't said it loud, I am surprised to see weird apps that are weird for another reason. For being actually popular!
Let me give you an example. On NextPit's French domain, one of the top-ranked articles on Google and with very good traffic is a selection of the best compass apps from 2019. BUT WHY? I am at a loss as to why are so many people interested in compasses?
This piqued my interest and this week I want to know from you, our readers, what are the strangest Android and iOS apps or games that you love and have installed on your phone?
Are you a fan/adopter of a strange app niche?
First of all, we need to lay the groundwork and identify the more subversive minds among us, those gold diggers who venture out to download betas and other early access apps to find the rare gem that no one else is paying attention to.
I want to know if you have an unspoken preference, a fetish for a certain type of app that breaks from the mainstream norm of messengers, to-do lists and other note-taking apps.
What are your favorite weird/niche apps?
Come on-you've done the hard part, your app coming out. But I want to go further, if you don't mind. I really want to know what kind of out-of-the-box apps you like in particular. It could be a category or it could be a specific app. That app may have real utility or it may not have any utility at all.
What matters to me is to know your choice and especially the reasons behind it. I want to understand trends that I don't understand, like the "Mafia" type game fad (or meme) in late 2020 that I still can't explain to this day.
I've listed a few examples below, but my list is light years away from being exhaustive. So I trust you not to focus too much on the survey itself. NextPit is not INSEE or IFOP, in this week's polls, it's mostly your opinions and explanations in the comments that interest us, more than the stats.
So I invite you, as always, to participate in the comments. To be honest, I even hope that some of you will give me ideas for future selections of applications that I would never have thought of.
Do you find the Play Store and App Store catalogues lacking in originality?
I often install Android apps that a student on the other side of the world has developed in his spare time and without resources. I see an interface that could use a little more care but that clearly shows that it's a passion project. All this reminds me of when I still had a gaming PC in college and installed random early access games on Steam.
While many of the apps on app stores these days are not of great quality – sometimes we also stumble upon a rare gem that is definitely worth a second look (and an eventual download)
Do you share this sentiment? Do you believe that that the apps available for download these days lack originality?
Thank you in advance to all those who will participate in this poll. As always, I really invite you to explain your choices and develop your reasoning in the comments. It's the debate that's interesting, more than the numbers. And finally, I wish you a good weekend and hope to see you next Monday to discuss the results.