VanMoof S5 Review: How Good is This $3,500 Hipster E-Bike?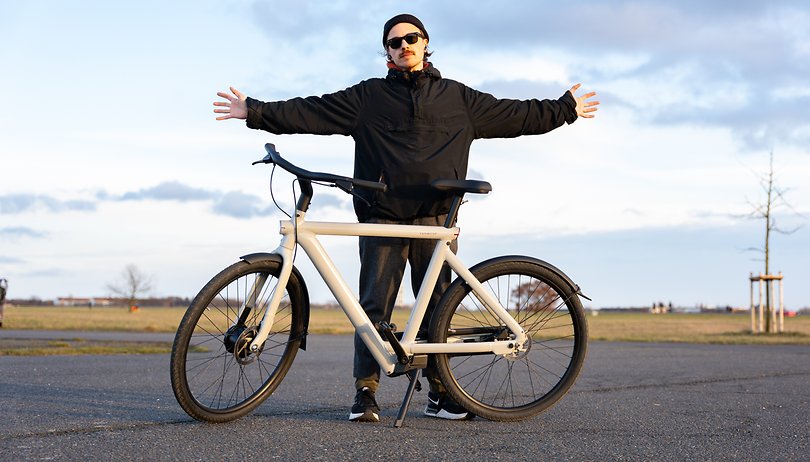 The VanMoof S5 sounds like a spaceship when you unlock it and gets you from point A to point B just as fast when you press the boost button. With the latest model, VanMoof succeeded in delivering an important upgrade, where shortcomings of its predecessor have been corrected. Whether the purchase price of $3,498 is worth it for everyday urban use, find out in our NextPit review!
Good
Great ride comfort

Lively performance thanks to a boost mode

Clever anti-theft inclusions

All-round successful design
Bad
Exact speed can only be viewed via a smartphone

Range in full power mode is only 55 kilometers

Automatic gearshift cannot be manually changed
The VanMoof S5 in a nutshell
The VanMoof S5 raises cycling to a new level. This is because, in everyday life, the e-bike has proven to be quite the boon, ensuring a certain carefree attitude thanks to its anti-theft functions, and the combination of riding fun and a very high level of ride comfort being beyond reproach. Its disadvantages are pretty obvious—the high entry cost of almost $3,500, the rather cumbersome ring display, and the less-than-reliable automatic gearshift with an extremely hefty weight.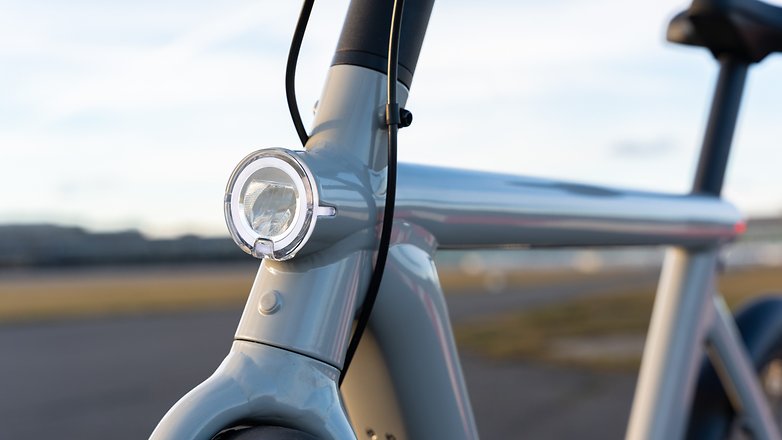 Don't let that scare you though. Starting with the latest VanMoof generation, you can choose between two models for the very first time. In everyday use, I reviewed the S5 with 28-inch tires for riders who are between 1.55 and 2.10 meters tall. Alternatively, VanMoof offers the smaller and, above all, more maneuverable A5. This offers an identical range of features, and more information about the A-model can be found in the course of this review or in our news about the fifth generation of VanMoof bikes.
One more hint before we begin the deep dive: The manufacturer, VanMoof, has been struggling with very long delivery times. Whether online or within my social circles, I have heard cases where customers had to wait several months before the e-bike is delivered.
Design & Build Quality
VanMoof focuses entirely on minimalism in its e-bike designs. The frame is characterized by clean lines; you won't find any cables or cable guides anywhere. The VanMoof experience also includes acoustic and visual signals, with which the bike responds to your instructions on the bike or smartphone like an idiosyncratic creature.
Pros:
Very clean design with high-quality workmanship.
Acoustic and visual feedback are not just a gimmick.
Built-in lock and theft protection.
Cons:
Very large and heavy.
Ring displays are rather awkward to read.
Difficult to repair by yourself.
VanMoof pursues strict minimalism with its e-bikes. Compared to conventional bikes, there are no "loose" components on the S5 and A5 models. The brake levers merge smoothly into the handlebars, the front and rear lights are firmly integrated into the frame, and even the integrated bike stand looks like it has been embedded right out within the bottom bracket. This look is very clean and fits the high-end image of electric bikes.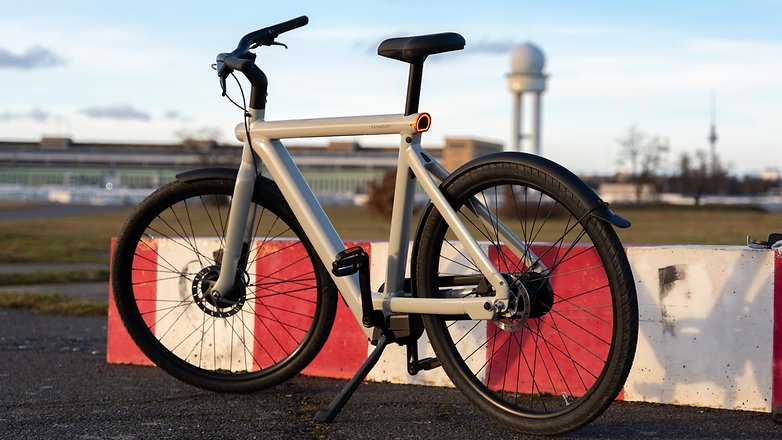 Build quality is excellent. With a weight of 23 kilograms, the smaller A model weighs 22 kilograms, making the VanMoof S5 massive and secure to ride on the road. Nothing rattles or wobbles even on cobblestones, and after various test rides, I have the impression that VanMoof's bikes are built to last. Only the battery, which is firmly integrated into the frame, seems to limit the service life.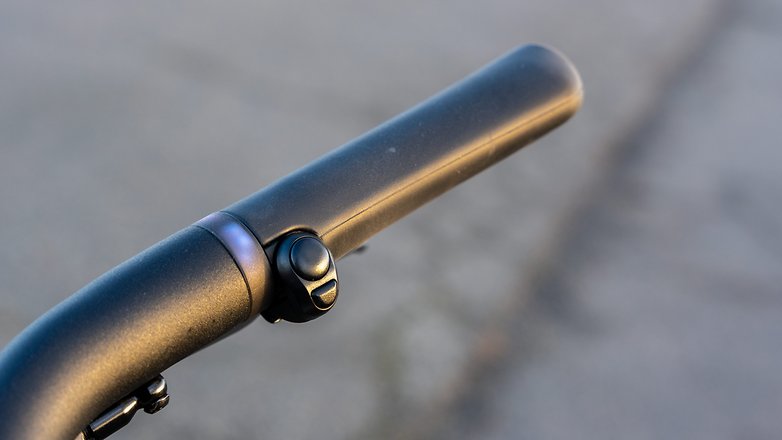 One difference compared to the predecessor model S3 is the changed display for battery status, support level, and speed. Older models showed you the speed precisely via a dot-matrix display on the frame that is located just below the handlebars. Now you can see or "guess" this information using light rings next to the grips.
This makes the design a bit cleaner, but it takes some time to get used to. I also find it a pity that you can't read the speed accurately without your smartphone. If you want to know exactly how fast you're going, you can attach your phone to the center of the handlebar with a matching SP Connect case. You can also charge your phone via a USB-C port.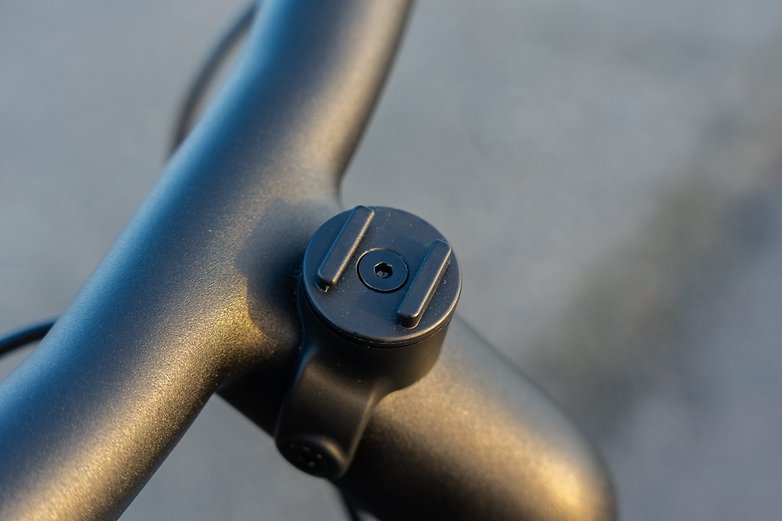 The VanMoof S5 has four buttons for controlling the support level, the bell, the flashlight, and the boost. You can reach these comfortably without having to reach around with your thumbs, the pressure points are perfect and the buttons can be operated blindly even with gloves.
In addition to the buttons on the handlebars, you'll also find a button on the rear suspension that activates the "Smart Kick Lock", which you can operate either with your hand or with your shoe. If you make sure that the rear tire is positioned correctly, you lock the bike. The VanMoof S5 is unlocked either via your smartphone or via an individual code that you can enter via the boost button. Together with the GPS-based anti-theft system and the connection to Apple's Find My network, this results in useful theft protection.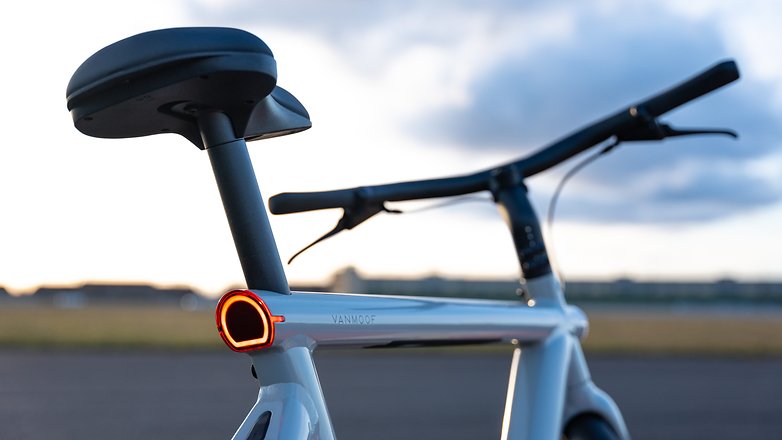 What I found annoying about the VanMoof S5 is that repairs are only possible to a limited extent. To protect the moving parts of the VanMoof from theft, VanMoof delivers its bikes with a set of anti-theft tools. You need this to loosen and tighten the screws and nuts on the VanMoof even for something as simple as adjusting the saddle height.
In addition, all cables and brake cables run inside the frame. So, if you like to tinker with your bike, you might want to choose a different e-bike.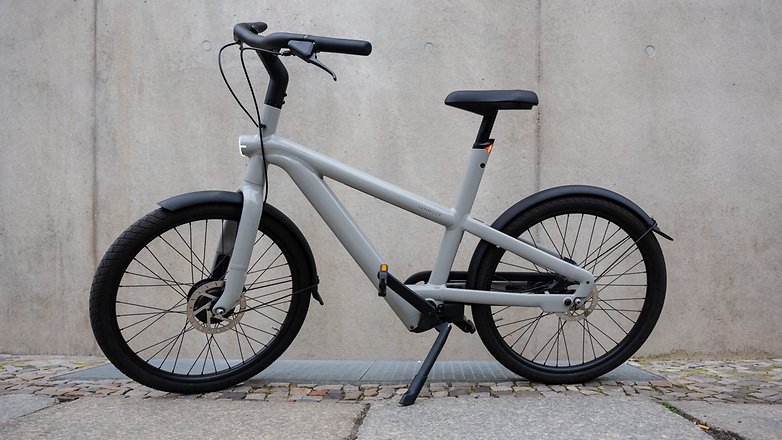 E-motor and riding fun
VanMoof again relies on an electric motor for the front wheel. This has an output of 250 watts and can release a further 68 Newton meters (NM) of torque at the push of a button. The manufacturer has reduced the VanMoof-typical automatic gearshift from four gears to three and installed a torque sensor in the bottom bracket. As a result, the gearshift works quieter, is smoother, and is less noticeable when cycling. While the A model with small wheels is supposed to be more maneuverable, the S model is more suitable for "cruising".
Pros:
Very high level of ride comfort.
Lively performance thanks to the boost mode.
Smooth rides even without any suspension.
Cons:
Automatic gearshift cannot be operated manually ...
... and sometimes leaves you wanting more.
The S-model can be quite slow to react due to the heavy weight.
The new VanMoof models are the manufacturer's most powerful bikes to date. However, they will soon be replaced by the "VanMoof V" S-pedelec, which is expected to reach speeds of up to 50 km/h. As is typical for e-bikes, the A5 and S5 models are limited to 20 mph (15 mph/25 km/h in the European model). Do check with your local regulatory measures to see whether the A5 and S5 models are compliant.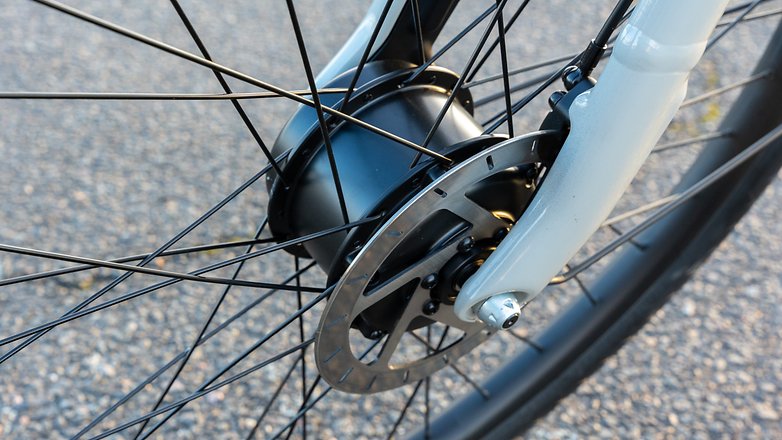 With a 250-watt battery and boost mode, the S5 will get you from 0 to 15 mph (25 km/h) really quickly. The boost button, which gives you more torque, is really handy when riding around the city. On my test rides, for example, I was able to quickly overtake slower cyclists or quickly catch a green light at the intersection. You will also have a decisive advantage in traffic light races with other cyclists.
You can supplement the motor's power with your own muscle power for faster progress. The VanMoof S5 automatically determines in which gear you will make the most efficient and comfortable acceleration. The manufacturer has improved the full shifting of gears, but I personally missed a manual option to shift between the gears.
This becomes stark especially when braking, where the VanMoof downshifts by itself, which becomes extremely uncomfortable due to the sudden drop in momentum during my test rides. If you don't listen carefully while cycling due to headphones or road noise, you can't accurately estimate when the bike has finished its shifting process. However, since the stability of the bike is very good, I was never placed in a dangerous situation even once.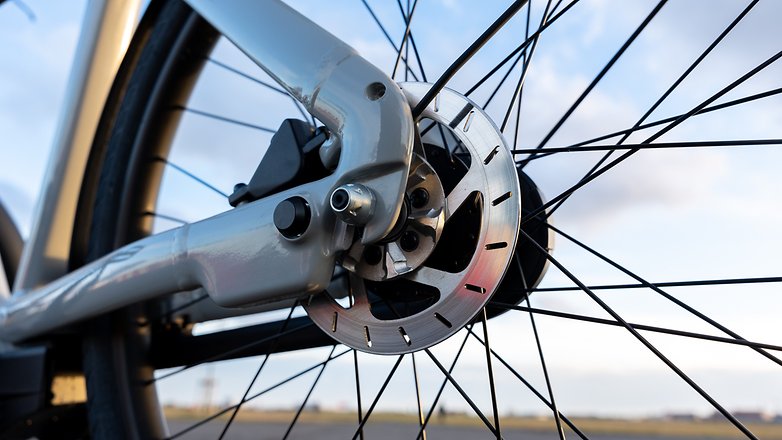 This is because the VanMoof S5, with its stiff and stable frame and heavy weight, almost feels like a moped or scooter when riding on the road. In the gridlocked traffic on the Sonnenallee in Berlin, I was able to easily, and above all, safely, keep up with other road users thanks to the boost mode.
However, the S5 is less suitable for tight curves or particularly dynamic driving in my opinion. During the review period, I used a Sushi Maki+ at the same time, which can rather be called an "S-Fixie". If you like to drive between cars in traffic or decide to change directions at short notice, the S5 was too sluggish. The A5 model or a lighter e-bike would be better suited here.
Battery performance and smart functions
VanMoof stated the range of the S5 as 34 miles (55 km) in full power mode and 87 miles (140 km) in economy mode. In the practical review, where I was usually on the highest support level and with regular boost enabled, I managed to least 25 miles (40 km) on a full battery charge. If you are only visiting friends for a short time, VanMoof offers a fast charging mode that recharges half a battery charge in just 2.5 hours. A full charge takes approximately 6.5 hours.
Pros:
Practical quick-charge mode.
55 kilometer range is very suitable for urban areas.
Practical anti-theft protection measures.
Cons:
Battery is not removable by default (additional battery pack is unavailable).
There are reported problems with the charging process in the newer VanMoof's.
A maximum range of 87 miles in economy mode is quite impressive but represents a small downgrade compared to its predecessor, the S3. In my opinion, however, such specifications are rather marketing arguments anyway, because who buys an e-bike to then ride it in power-saving mode on the lowest support level?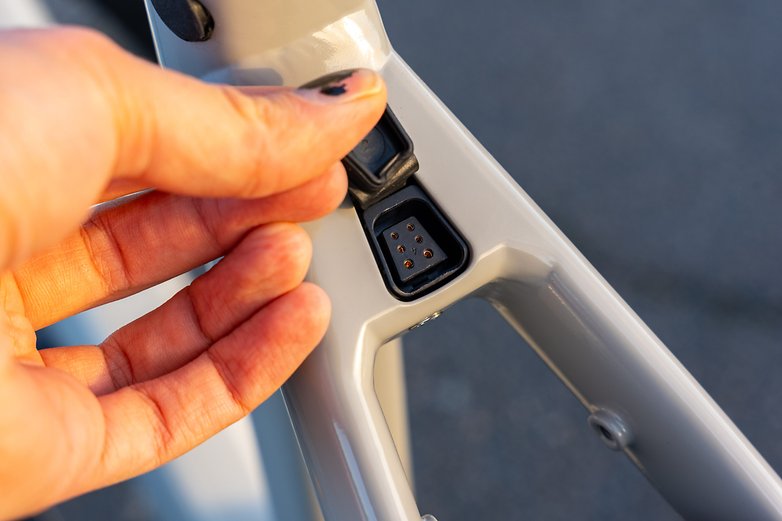 So with the S5, you're more likely to travel between 31 and 37 miles (50, 60 km) at a stretch, which is still very suitable for everyday use. It's also encouraging that VanMoof charges the first half of the battery faster, giving you another 15 to 18 miles of range in just 2.5 hours. In my everyday use of the bike, however, charging requires real effort. This is because VanMoof has permanently installed the battery in the frame, I always had to carry the bike with me to my apartment on the second floor.
However, VanMoof told us that they are already working on an additional battery that can be conveniently charged in the apartment and swapped later. As with the Whoop 4.0 fitness tracker reviewed by NextPit, the external battery will then charge the internal battery, allowing your VanMoof to remain outside your apartment building.
Smart functions
VanMoof's e-bikes are characterized by several smart features that are not available from other manufacturers in this format. First and foremost, you enjoy comprehensive theft protection, which starts with the smart kick lock and ends with pinpointing your bike. Apple users also benefit from support for the Find My network, which you can use to locate your bike and report it as missing.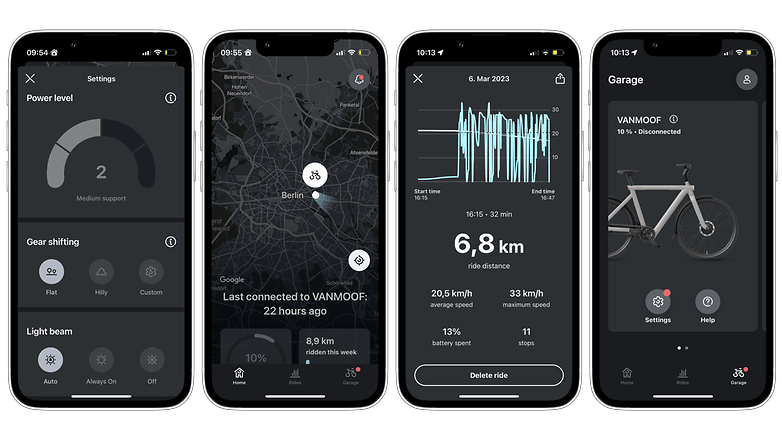 In addition to the theft protection, VanMoof's companion app mutates into an intelligent onboard computer. It records your rides, can control multiple VanMoofs if desired and turns your bike into a digital key. If you stand close enough to the VanMoof S5 with your phone in your pocket, you can unlock your bike without an unlock code or a swipe gesture on your phone.
Final verdict
After a few days of testing, I will certainly miss the VanMoof S5 in everyday life. This e-bike exudes a lot of "personality" with its idiosyncratic design, charming light and sound design, and high ride comfort. VanMoof manages to make you establish a personal connection with its bikes, and that can be a decisive advantage if you like it.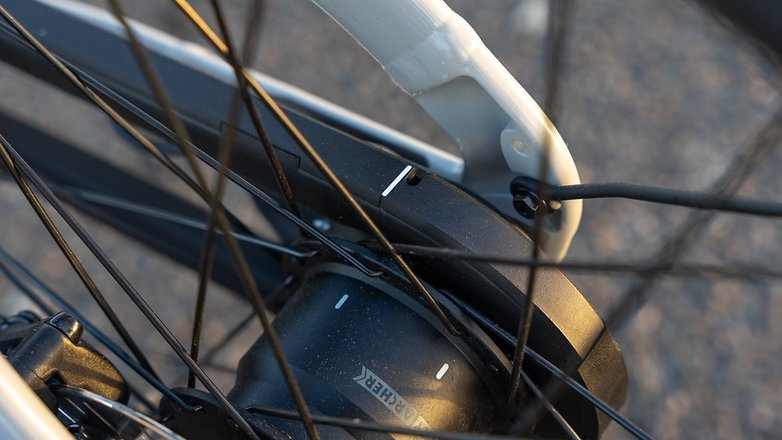 If you can still keep a certain distance, you are buying a powerful and high-quality e-bike with the S5. It offers a particularly convenient locking mechanism with built-in anti-theft protection that includes a kick lock and a real guarantee of fun with the boost button. If you are on the road with the VanMoof, you will also be regularly looked at or even chatted up due to the uniqueness of this ride.
As for its disadvantages, the VanMoof is very heavy and steers rather sluggishly in the urban jungle. You have to get used to the automatic gearshift without manual shifting for a long time when driving actively. For me, a loss of control is always a disadvantage, even if VanMoof was able to improve the function compared to its predecessor. The fact that the range of 55 kilometers in full-power mode is not exactly enduring could be a thorn in the side for many prospective buyers.