Twitter add vocal tweets on iPhone, a moderation nightmare in sight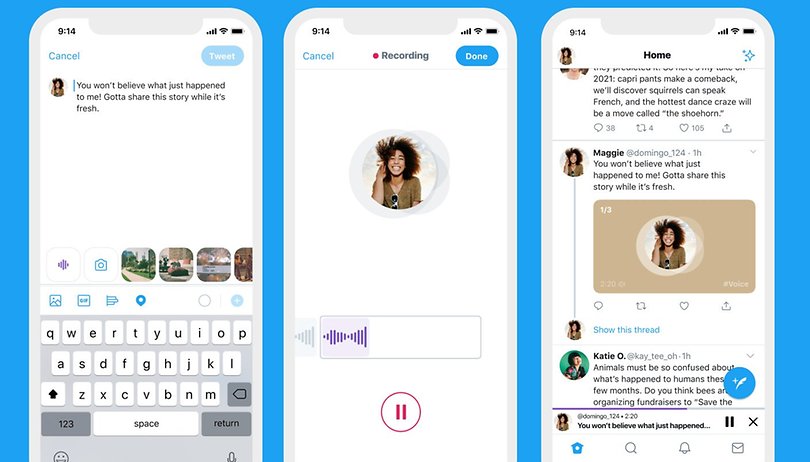 "Chirping", the origin of the word Twitter has never been more meaningful. The social networking giant has announced it is beginning to test a feature to create voice tweets, on iOS only.
While it has been requested for years to be able to modify a tweet after posting it, Twitter is now tackling a much more essential (really?) task: vocal tweets.
You can Tweet a Tweet. But now you can Tweet your voice!

Rolling out today on iOS, you can now record and Tweet with audio. pic.twitter.com/jezRmh1dkD

— Twitter (@Twitter) June 17, 2020
Tell your life story in 140 seconds
Deployed to a handful of iOS users only, this feature allows you to record 140-second audio messages instead of the classic 280-character written tweets. The availability of this option on Android is not indicated at this time.
When you compose a tweet, a sound wave icon appears offering you to record your voice, leave a message, and share it. To play them back, followers who see them just have to click on the player. It will display your Twitter profile picture in the background while the audio is playing. It will not be modified in the voice tweet if you update it after posting it, for example.
Voice tweets cannot last more than 140 seconds. Of course, Twitter doesn't want to prevent its users from telling their life stories. If your absolutely fascinating story that deserves to be shared aloud with the world is longer than 140 seconds, you can continue your recording. The excess of your voice note will be cut out and distributed in a thread under the original voice tweet, just like the classic responses. What's a shame is that voice tweets don't offer subtitles at the moment. Only an original tweet can be a voice note, so you can't use this option for a tweet response or retweet. Below is a preview of an audio tweet that may be the first same voice posted on Twitter.
oh wow pic.twitter.com/HoQEEMxPvH

— Tom Warren (@tomwarren) June 17, 2020
Words hurt, especially when you give them a voice
Voice notes are already very popular on messaging services such as WhatsApp. Some people claim that it's a time saver and a pretty convenient option when you're "too lazy to write". Personally, it's a Zoomer mode for me that I find hard to understand.
Twitter says that on iOS, a dock will be integrated into the application's interface so that you can listen to voice tweets while continuing to view your feed. But the biggest problem we see coming from miles away is the issue of moderation. Twitter already has enough trouble dealing with illegal and malicious written content, so why give it a voice and unnecessarily complicate its platform?
From deepfakes made by compiling the various voice messages of a user to the tirades of Donald Trump that Twitter is now trying to censor or moderate, to hate messages from extremist groups, ... the potential abuses are not lacking.
Especially since this function could have been limited to DMs (private messages) rather than public tweets. And according to CNN reporter Donnie O'Sullivan, Twitter has indicated that it will not proactively moderate voice tweets, for the time being only reviewing voice tweets reported by users.
This means Twitter is not pro-actively monitoring audio, only relying on user reports – wildly irresponsible?

— Donie O'Sullivan (@donie) June 17, 2020
When asked by The Verge, Twitter explained that this is still "just a test phase" and that the firm is also working on "the best way" to make this option accessible to people with hearing loss.
No doubt that this addition and this new format will make people talk and that it will have to undergo many adjustments. I am not sure that Twitter's desire "to add a more human touch to the way we use the platform" is shared by all its users.