Tips and tricks for BlackBerry Messenger (BBM)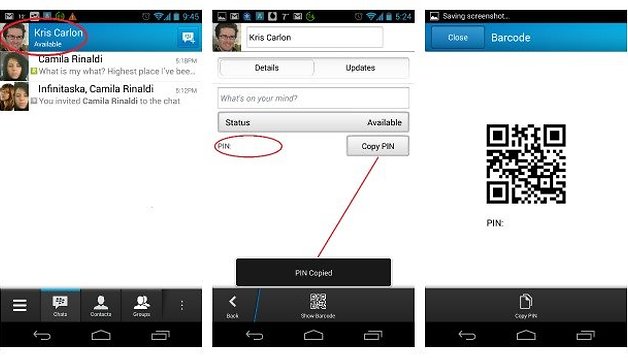 The success of BlackBerry app on the Android platform, we've prepared an article with some tips and tricks that will be quite useful when it comes to getting the most out of the BBM app for Android. NEXTPITTV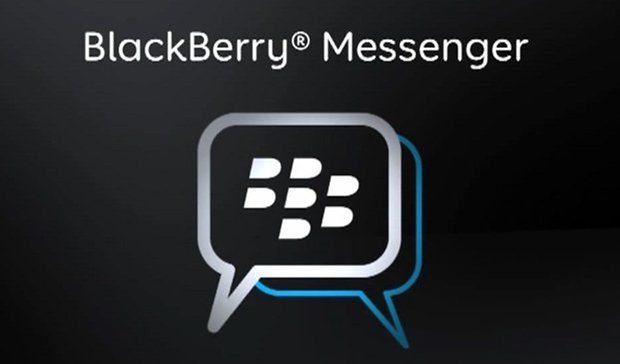 In BBM, you basically have three central tabs: Chats, Contacts and Groups. At the top there is the name banner with profile picture and on either side of the three main screens, you have context menus that slide out like the navigation drawer in Android. The left screen provides shortcuts to sections of the app and the right screen is basically a settings/action menu. These can either be accessed by swiping when you are either on the end screen or by pressing the corresponding button in the bottom left or right hand corners. The confusing part is that these buttons change their contents depending on whether you're in a chat or on the main part of the app.
The PIN
One of the most remarkable features of this messenger is that it is not based on a telephone number in the way Line or WhatsApp are. Each user, after completing the registration procedure, is assigned a private PIN that is used to contact other users – in this way, anyone with your phone number can't just start spamming you with messages: you have to share your PIN first. But where is it? Finding this number is essential if you want to work with BlackBerry Messenger, but despite being simple, locating it is not very intuitive.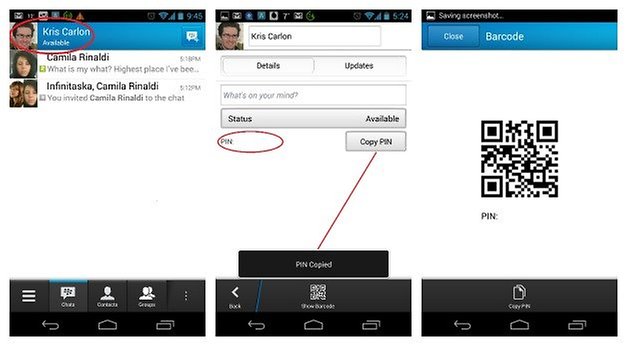 To locate this fundamental piece of information you simply need to click on your avatar (your profile picture) or your name in the banner at the top of the BBM app. This rather unintuitive action will open your account profile screen with your details, QR code and updates about your profile activity, including your PIN. In addition, you do not have to memorize it or write it down on a scrap of paper because the application offers the option to copy the PIN right from your profile page, so you can get busy inviting your friends to BBM.
Edit your Status
As in other instant messaging apps, you can also modify and change your visible status. This option is accessed in the same place as your PIN. You can create your own custom status messages or simply indicate if we are available or busy. The available options will appear in a drop-down list under ''Status''. In the beginning you'll only see ''Available'' or ''Busy'' but it only takes a second to spice up your options. You can even add emoticons.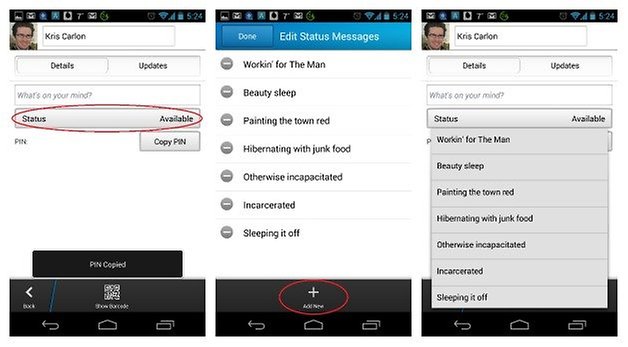 Hide the Action Bar
Surely this should be the other way around, but BBM comes, by default, with an obtrusive action bar on top of your keyboard. Unless you spend half your time inviting others to join your chats or attaching things, it's a massive waste of space. As you can see, I have SwiftKey installed on my phone which already has a suggestions action bar on top of the keyboard, so adding the BBM action bar on top means I can hardly see any of the chat.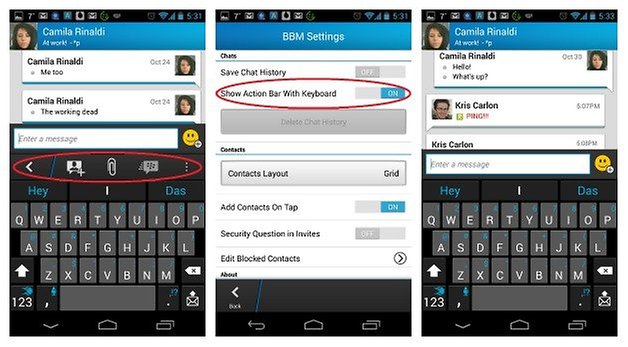 Fortunately, this action bar can easily be uninstalled. From the main app window (not inside an actual chat), just tap the action overflow button in the bottom right hand corner (the three dots on top on each other), tap on Settings and then scroll down to the Chat section, where you'll find a slider switch for ''Show Action Bar with Keyboard'' – you'll want to switch this off.
Add contacts
As mentioned above, in BlackBerry Messenger contacts are added by sharing a PIN, but there are also some other options to do via other means. In any of the main windows, tapping the action overflow menu button will bring up a list of options including ''Invite to BBM''. Tapping this option will bring up a range of options, including a QR scan code, email, SMS and NFC.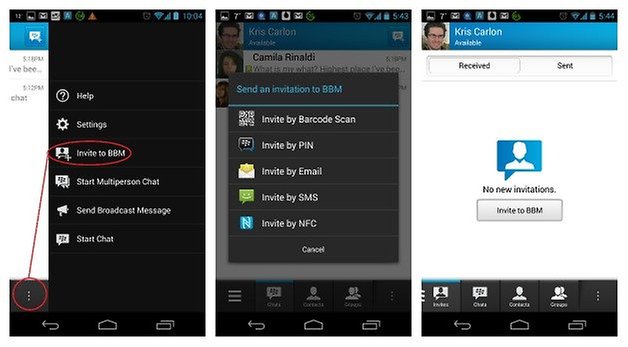 You can also invite people directly from your Invites page, which is accessed via the button in the bottom left hand corner of the main app window (three bars stacked on top of each other). You can access your own barcode either from the bottom of the scanner window (which will launch your camera) or via your profile page.
Contacts view
In BlackBerry Messenger you also have the option to view your contacts in different ways. If you're not a fan of the default grid style, you can change it to a list style like WhatsApp. Just go into the Settings – the action overflow menu button – and scroll down to the Contacts section.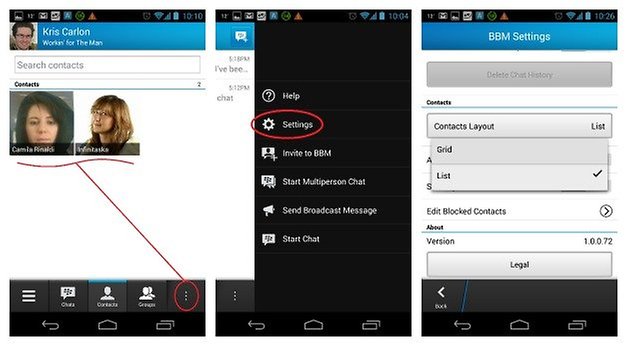 There are some other useful options in the Contacts Settings, where you can manage your blocked contacts and even add a security question to your invites to beef up the security. The general Settings provide several other useful options too, like disabling the ''BBM Connected'' icon in your notifications bar and setting the color of the BBM notification LED.
Manage your notifications
If you've got contacts who obsessively change their profile picture, or you're in the midst of a contact-adding bender, then perhaps you don't want to see every single notification. Fortunately you can manage the notifications you'll see in BBM too – for all your contacts or just one in particular.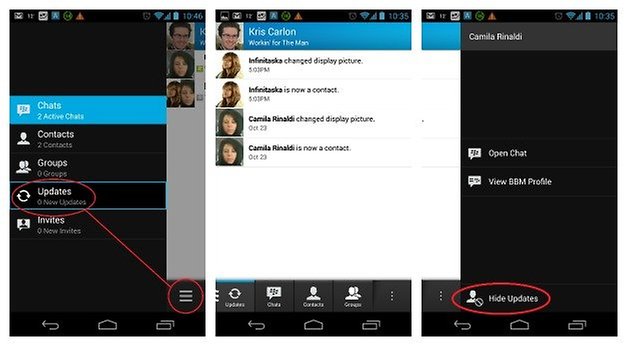 You can go into Settings and simply turn of all Notifications, or you can disable notifications for an individual. This is one of the most peculiar hidden settings in BBM. To get to it, you need to go into the Updates menu via the left hand menu button (the three bars). This will take you to a list of your updates. To block updates from a particular contact you have to long press an update from them (or their avatar) to bring up another context-specific menu where you will find the option for Hide Updates for that contact. Very strange placement BlackBerry, but good to know.
These were just a few tricks to help you get your way around BBM. Do you know any other useful tips for BlackBerry Messenger on Android?