Are Soundcore Liberty 4 Earbuds Worth Your Investment? Read Our Review to Find Out!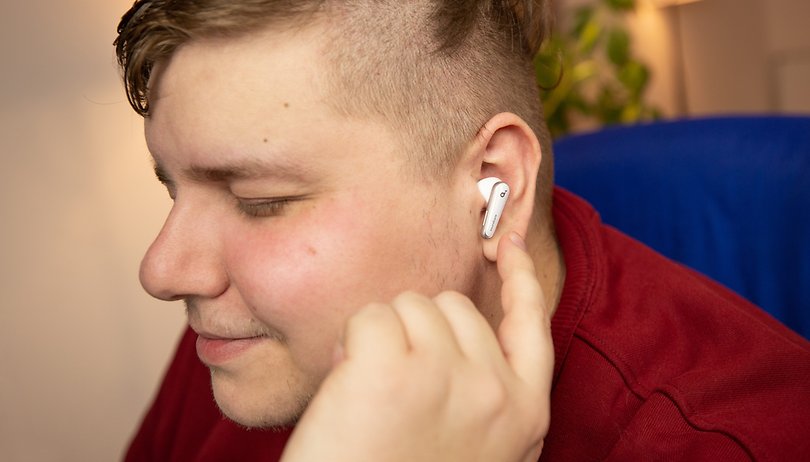 The Soundcore Liberty 4 that I reviewed leaned more toward the high-end headphones segment than what the manufacturer offers normally. For $150 a pop, we have active noise cancellation (ANC), LDAC audio codec, wireless charging support, and a very complete companion app.
Good
Discreet form factor and neat design

IPX4 rating

LDAC codec, Bluetooth 5.3, dual pairing

Efficient adaptive ANC

Good battery life and wireless charging support

Health and sports functions (BPM, workouts, etc.)
Bad
Slow charging with the case

Not optimal for sports use
Anker Soundcore Liberty 4: All deals
the Soundcore Liberty 4 in a nutshell
The Soundcore Liberty 4 are available Globally since last year with a recommended retail price of $149.99. They are still available at this price on the official store or on Amazon.
Soundcore is known for selling wireless headphones and earbuds with a very good quality-to-price ratio. The manufacturer has experience in churning out great active noise cancellation (ANC) performance. We also often find features such as LDAC codec support or spatial audio that are normally reserved for far more expensive true wireless headphones like the Sony WF-1000XM4 reviewed by Benjamin Lucks or Sennheiser Momentum True Wireless 3 also reviewed by Ben in their offerings.
This year, Soundcore has decided to level up a bit. The Liberty 4 are still $100 cheaper than their high-end competitors when they were released and the headphones also offer health and sports tracking functions that are worthy of an actual fitness tracker.
Design
The Soundcore Liberty 4 is a pair of classic in-ear earbuds with stems. They are rather light and discreet in nature, but I found their support to be rather underwhelming.
---
Pros:
IPX4 rating.
Wear detection.
Lightweight (6 g per earbud).
Compact and elegant case.
In-ear design that is not too intrusive in the ear canal.
Cons:
It is not suitable for vigorous sporting activities.
---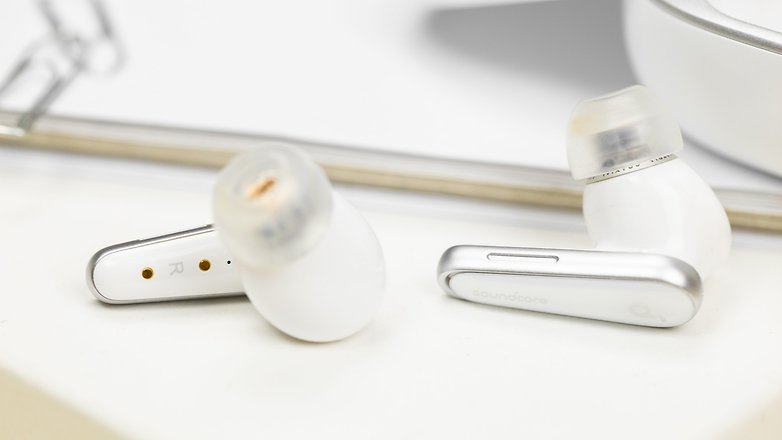 The Soundcore are in-ear earbuds, where its tips are inserted into your ear canal. I know this may bother a lot of people but I found them quite comfortable, even when wearing them for long sessions.
Each earbud weighs 6g according to my kitchen scale and the case sans earbuds weighs 50g. They're pretty unobtrusive visually once worn but despite offering three silicone tip sizes, I found the fit in the ear to be disappointing.
I wouldn't recommend them for outdoor sports or for running. They also had the annoying tendency to pop out whenever I chewed or yawned. The tactile controls are performed by applying pressure on the stems. They are known as "capacitive" keys.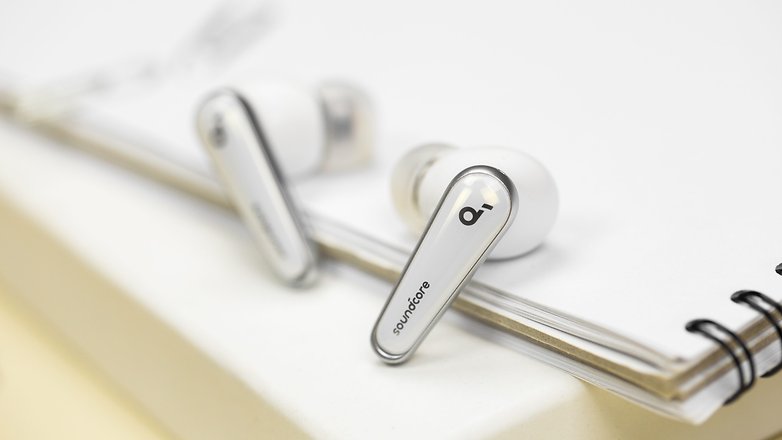 The Soundcore Liberty are IPX4 certified for water resistance. This means you can sweat it out without risking any damage. They come in two colors: black and white. The charging case has a sliding lid and magnetic slots to hold each earbud. It's a very compact little pebble that fits easily in your pocket. The matte coating is very nice to the touch and the lid's hinge is very smooth.
The case has a glowing light to indicate whenever the battery runs low. The headphones also project a white light when you place them in the case or open it. That's pretty handy whenever you reach for them or want to put them away at night when it's dark.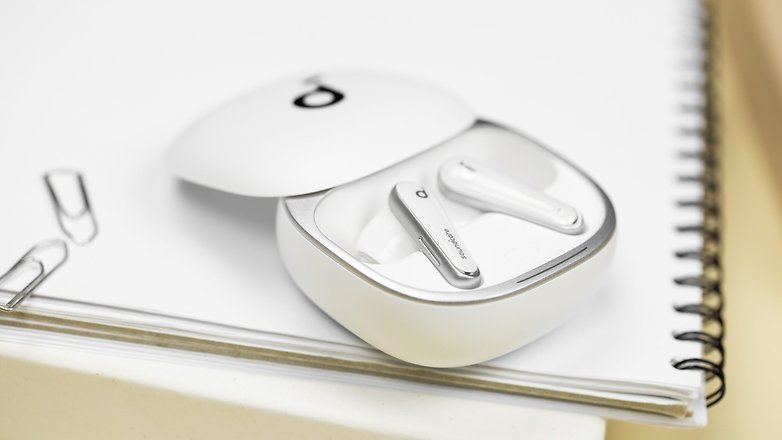 Audio quality and ANC
The Soundcore Liberty 4 features dual 9.2mm and 6mm diaphragms in each earbud. They support LDAC, AAC, and SBC audio codecs. Active Noise Cancellation (ANC) is part of the deal, and Soundcore allows you to adjust it in real time based on ambient noise.
---
Pros:
Very effective and adaptive ANC.
Excellent passive isolation.
Rather wide frequency range.
Cons:
Audio signature focuses too much on highs and mids by default.
---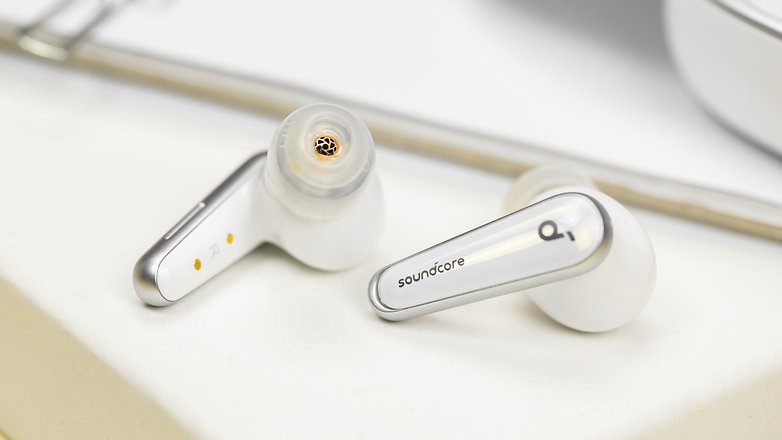 A sound that is a little too clear by default
The frequency range covered by the Soundcore Liberty 4 is rather wide. It goes from 20 Hz to 40 KHz (i.e. 40,000 Hz). The Soundcore Liberty 4 supports the LDAC codec to listen to your music under the best conditions (it's of no use if you're streaming MP3s over Spotify).
Soundcore opted for a two-diaphragm system in each earbud. One measures 9.2mm in diameter and the other is 6mm, where they are both aligned along the same axis. There is also a small duct over the drivers known as the "treble tube" which is used to diffuse the high frequencies as directly as possible in your ears to limit the losses and the artifacts related to the ambient noises.
Sound is typically very clear on the Soundcore Liberty 4. 'Clear' here translates to primarily the highs and upper mids being emphasized. The bass is not to be outdone but is a little behind by default. This audio signature places a lot of emphasis on the voices and instruments, in short, the essence of the musical message.
However, I found it to be a little too exacerbated by default. There is some sibilance in the sounds in S, T, and Sh which can grate at your eardrums at high volume. Thankfully, we can adjust all those via the equalizer which is very complete.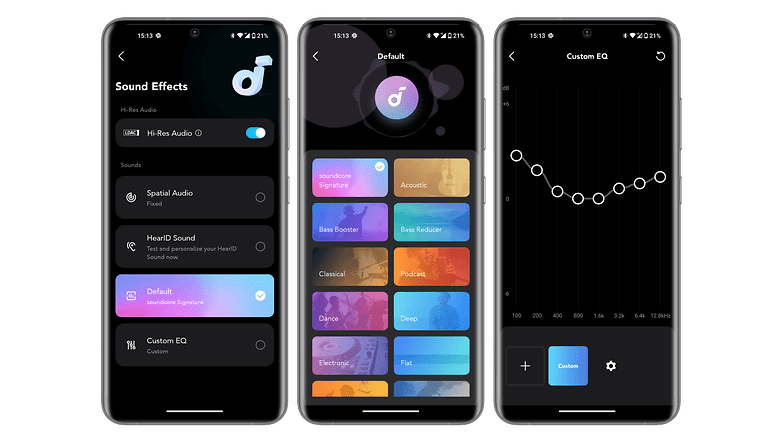 Active Noise Cancellation is still as effective as ever
ANC is generally a strong point across all Soundcore products and the Liberty 4 is no exception. Solid-borne noise (which results from contact with a surface) is very well attenuated. I'm talking about the clacking of subway tracks, computer keyboard keys, footsteps, etc.
Voices are more or less well handled and I couldn't hear the fan in my room at all (yes, I can't sleep without this background noise, so the fan still runs even in the winter).
In the Soundcore app, you can opt for an adaptive ANC known as HearID. Basically, the app checks to see if your earbuds are fitted properly when worn. It then measures the decibel level of noise around you.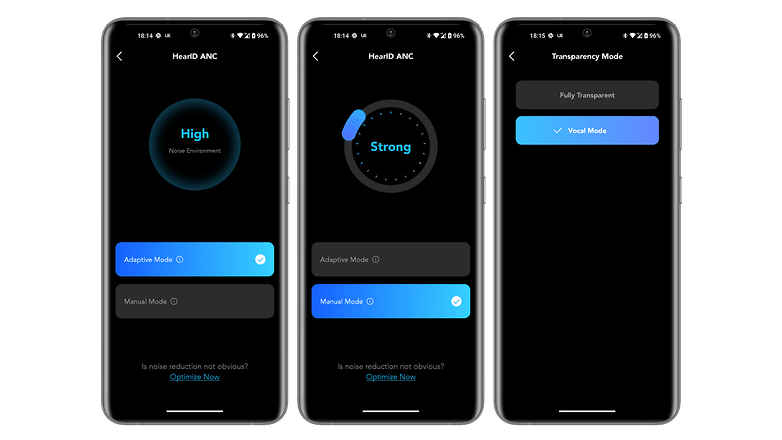 The intensity of the ANC will then adapt itself in real time depending on whether your environment is more or less noisy. The function works quite well but you can also adjust the level manually in three steps.
There is also a transparency mode to remain "conscious" of your environment. The sound here will be quite distorted but at least you can hear oncoming vehicles when you walk the streets.
Application and features
The Soundcore Liberty 4 works with a companion application (not essential) simply called Soundcore. It allows one to manage the equalizer, the touch controls, and the ANC as well as the health and sports functions.
---
Pros:
Lots of settings and customizations.
Very clean interface.
The tracking of BPM is quite accurate.
Pre-installed or custom training modes for athletes.
Available on both Android and iOS.
Cons:
Dual pairing is not always up to scratch.
---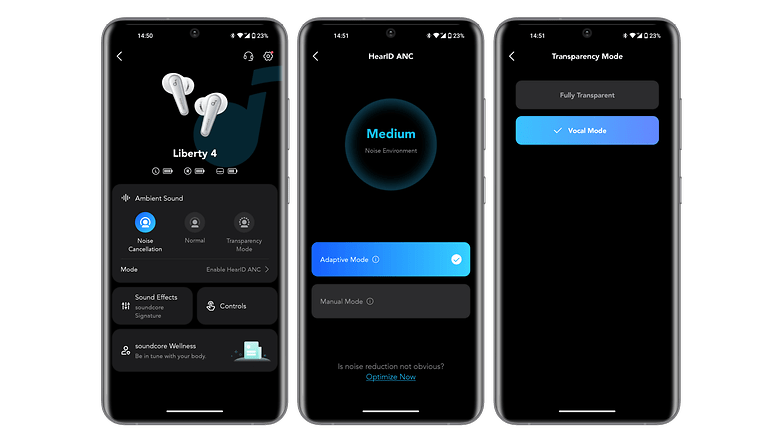 The Soundcore app is available for free on Android and iOS. I really like the interface as it is very ergonomic. The main screen allows you to switch between ANC and transparency modes.
You also have access to the equalizer and Soundcore offers many presets here. You also have the possibility to create your own EQ profiles.
You can also reassign touch or capacitive controls and associate them with three types of pressure (single, double, and triple). You can even set the level of pressure—higher or lower—to trigger a capacitive control and avoid registering false touches.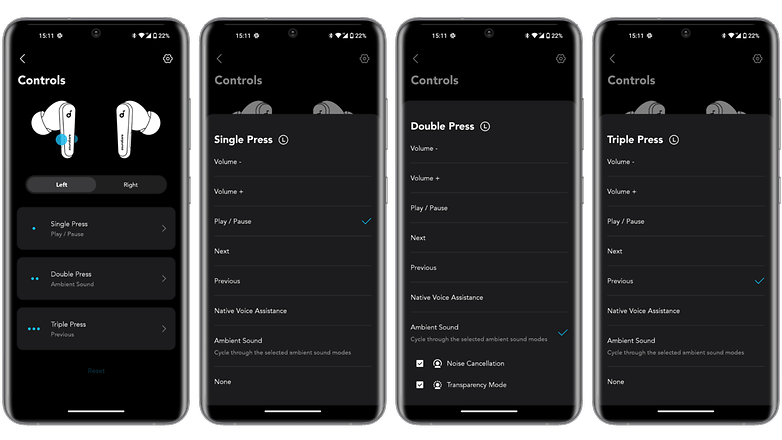 Soundcore also offers plenty (and far too many, in my opinion) of tests to check whether your earbuds are properly configured, the level of ambient noise, the tracking of your head for 360° audio, etc.
The earbuds don't have true multipoint Bluetooth connectivity, but you do have dual pairing via Bluetooth 5.3. In reality, I did not find this feature to be very effective. There is a degree of latency every time you switch from one device to another. Switching from my smartphone to my PC was not always reliable.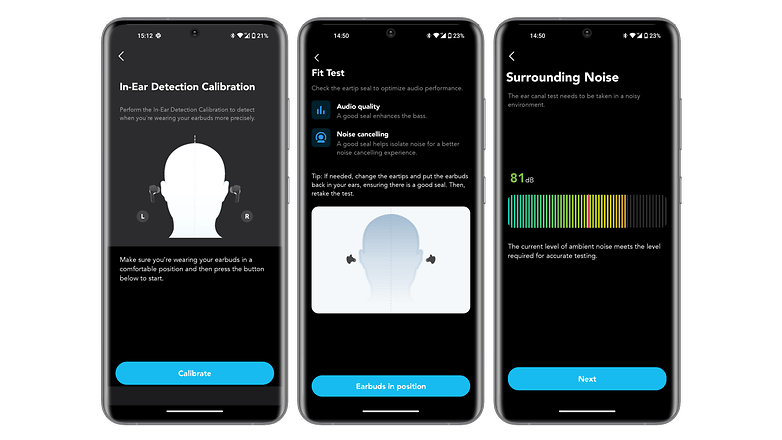 But the most interesting bits are the health and sports features. The earbuds have a heart rate sensor and can provide metrics for your BPM and stress level. I compared the results to the Xiaomi Smart Band 7 that I use and they were consistent.
With the built-in gyroscope, the Soundcore Liberty 4 can also help you maintain good posture so you don't over-stretch your neck. And the app incorporates pre-installed workout modes and lets you create your own. I'm a human worm, so I haven't tested these modes out.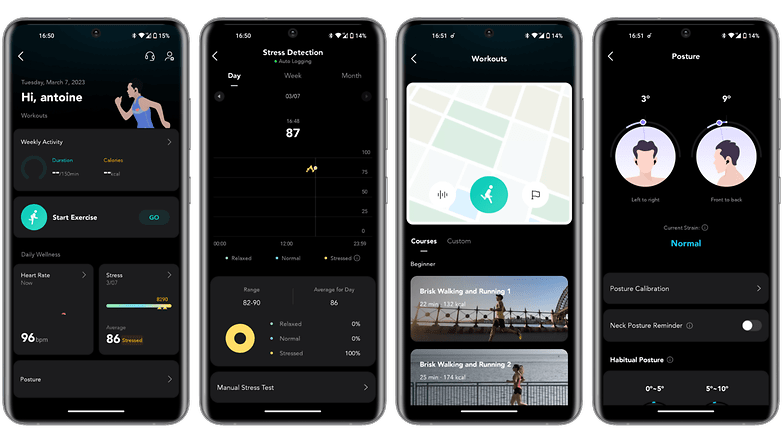 Battery life
The Soundcore Liberty 4 can achieve a battery life of 9 hours without ANC, 7 hours with ANC, and 5 hours for calls or with 360° audio, according to the manufacturer. The case is capable of providing up to two full recharges of the earbuds.
---
Pros:
Adequate battery life of 7h with ANC enabled.
Wireless recharging support for the case.
An auto-off mode in case of non-use.
Cons:
The rather slow charging speed.
---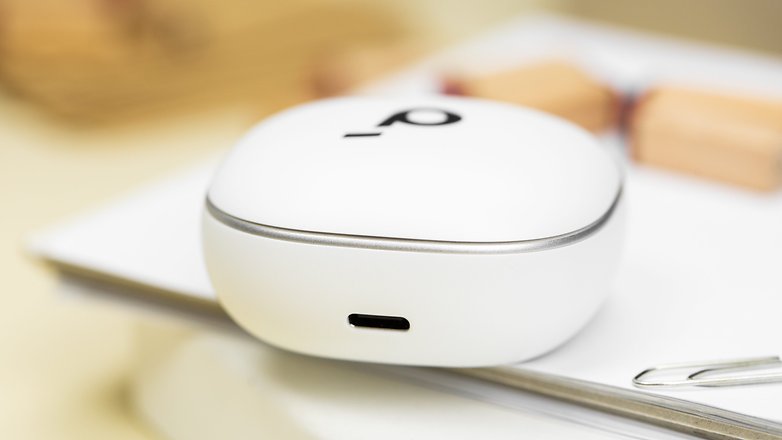 In everyday use, I can confirm the battery life performance when used with and without ANC fall within the manufacturer's listing. We can achieve 7 hours with ANC enabled all the time at a fairly high listening volume.
Recharging via the case is rather slow though. It took 15 minutes of charging to recover the equivalent of 3 hours of battery life. Other manufacturers did better here. It took me an average of 45 minutes to achieve a complete recharge from 0 to 100% with the charging case.
The case accepts wired and wireless charging, which is very convenient if your smartphone has reverse wireless charging enabled. And this is far from being a common feature in this price range.
Technical specifications
Technical specifications
Product
Image
Design
In-ear | IPX4 | weight per earphone: 6 g | weight of the case: 50 g | port sensor | haptic controls (capacitive)
Audio
Dual 9.2 + 6 mm diaphragm
Frequency response
20 Hz to 40 KHz
ANC

Yes, auto or manual
6 microphones
3 dedicated processors: QN1 and V1
Transparency mode | Speak to Chat

Bluetooth

5.3 | Codecs LDAC, SBC, AAC | Dual Pairing

Battery life

7 h with ANC | 9 h without ANC
Quick charge 15 min = 3 h of autonomy

Price
$149.99
Conclusion
For $150 a pop, the Soundcore Liberty 4 offers plenty of value for the money. I'm not a fan of the default audio signature, but once you run them through the equalizer, the sound quality of the earbuds proved worthy of their price range.
They're not really suitable for sports in terms of fitness exercises and that's a shame considering the health tracking and training features offered in the app. I found it interesting that Soundcore wants to replace a fitness tracker with a pair of earbuds and the BPM measurements were actually quite accurate.
The battery is very good, although I found the charging speed to be a little too slow. The ANC is always top-notch from Soundcore and there are plenty of options to adjust it. In my opinion, the wireless charging capability, LDAC codec support, port sensor, and adjustable ANC justify the $150 price tag.
What do you think of the Soundcore Liberty 4's price/performance ratio?