Sony Xperia Z5 Compact battery tips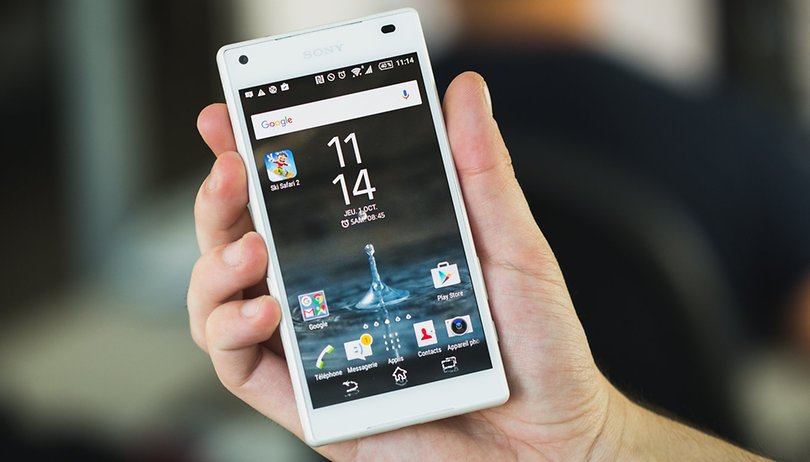 The Sony Xperia Z5 Compact is a great little phone, and its diminutive size doesn't mean it misses out on battery power. Sony knows a few things about getting long battery life in smartphones, and it's put them all into the Z5 Compact. Find out how to make yours last as long as possible with these Sony Xperia Z5 Compact battery tips.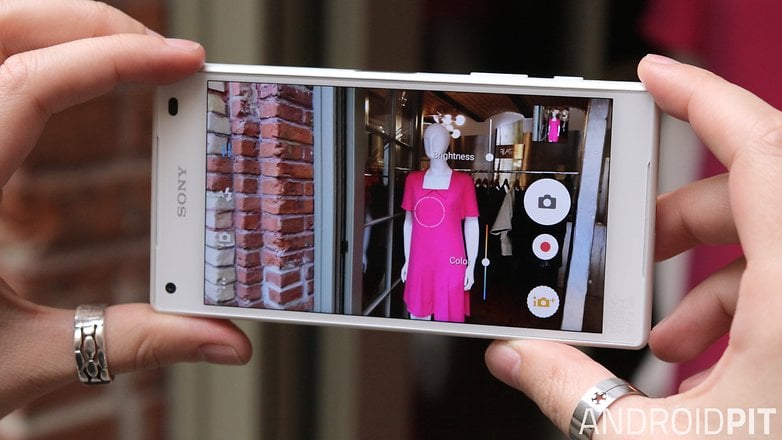 Why is the Sony Xperia Z5 Compact battery so good?
The Sony Xperia Z5 Compact battery life is amazing for such a small device. Sony has designed it to run for up to 50 hours of normal use, which is impressive stuff for a battery with a relatively small 2,700 mAh capacity. That's only 100 mAh more than the battery in the Xperia Z3 compact, but it delivers a lot more life. There are two reasons for that. One, the phone has been designed with energy efficiency and therefore long battery life in mind. And two, the screen is rubbish.
OK, maybe "rubbish" is a bit much. But Sony has quite rightly decided that cramming in too many pixels means the display uses far too much power, so it's decided to give the Xperia Z5 Compact battery a bit of help by sticking to a relatively unimpressive 1,280 x 720 pixels.
That's 319 ppi, which is fine for everyday phone stuff. You'll definitely notice the lack of sharpness compared to some of the other recent smartphone launches, but that's the trade-off you make when you get the Z5 Compact: you sacrifice a few pixels for longer use. What's the point of a 4K screen if there's no juice to run it?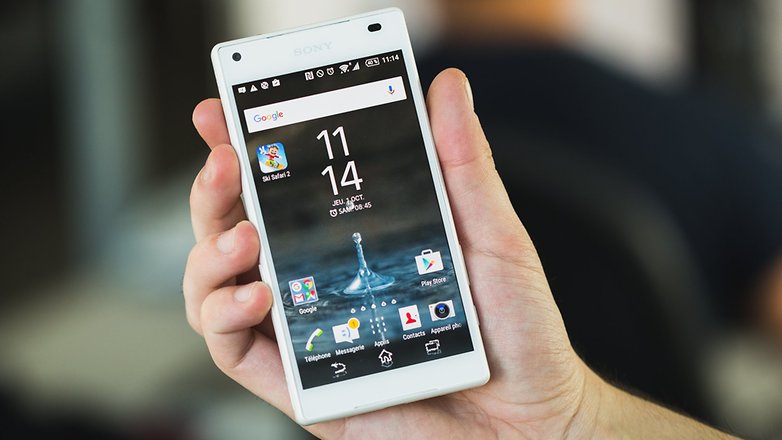 How to make the most of it
All of your Xperia Z5 Compact's battery features can be found in Settings > Power Management. The first thing you should look at in here is Battery Usage, which tells you which particular apps are using the most battery power.
If something is using huge wads of battery without you knowing about it, it could be that the app is buggy or a little too keen on downloading data when you're not actively using it. If it's the former, uninstalling will solve the problem and if it's the latter, you can restrict it in Settings.
As with any smartphone, the fewer apps you have running and the dimmer your screen, the longer your battery will last.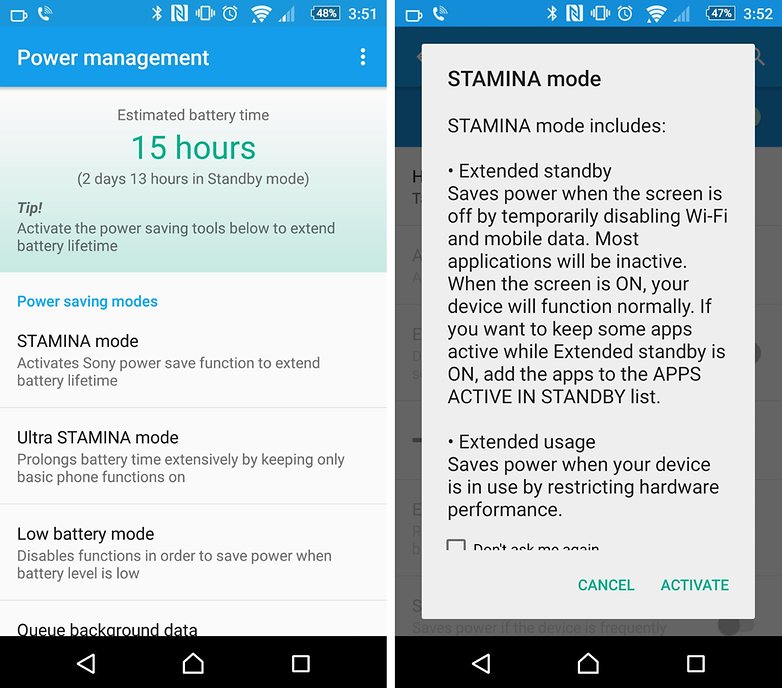 Sony Xperia Z5 compact power saving modes
Sony has given your phone four power saving modes, and you'll find them all in Settings > Power Management. They are STAMINA Mode, Ultra STAMINA Mode, Low Battery Mode and Queue Background Data. Sorry about the excessive capital letters. They're Sony's, not ours. Here's what each of those modes actually does.
STAMINA Mode: whenever your screen is off, your Xperia will turn off Wi-Fi and mobile data. It will also throttle down the phone's hardware to reduce any background activity. When it's enabled you'll see a plus sign in the status bar. There are a few other tricks up STAMINA's sleeve too: it can tell when you're only pressing power to see the time and keeps network connections in standby, which is pretty smart. You can also ensure that your favorite apps aren't unduly affected by going into Settings > Power Management > STAMINA Mode > Apps Active in Standby > Add Applications. Make sure Extended Standby is enabled here too.
Ultra STAMINA Mode: this mode puts the infinity symbol in your status bar, and it's a more hardcore version of STAMINA Mode. It limits your Xperia to the very basic functions of making phone calls and sending and receiving SMS messages. That has an incredible effect on battery life, although it's a little drastic for day to day use.
Low Battery Mode: the icon for this one is a little fuel gauge, and it enables you to adjust specific aspects of your phone's behavior: for example, you can automatically dim the screen and make it time out more quickly when battery power reaches a certain level.
Queue Background Data: as the name suggests, this only affects data transfer. Instead of letting apps upload and download data whenever they feel like it, Queue Background Data only transmits and receives data at pre-defined intervals.
How do you find the Xperia Z5 Compact battery? Are there particular apps you've found take far too much power, or is everything in your device just dandy? Let us know in the comments below.