Sony Xperia XZ3 review: a great phone, except for one thing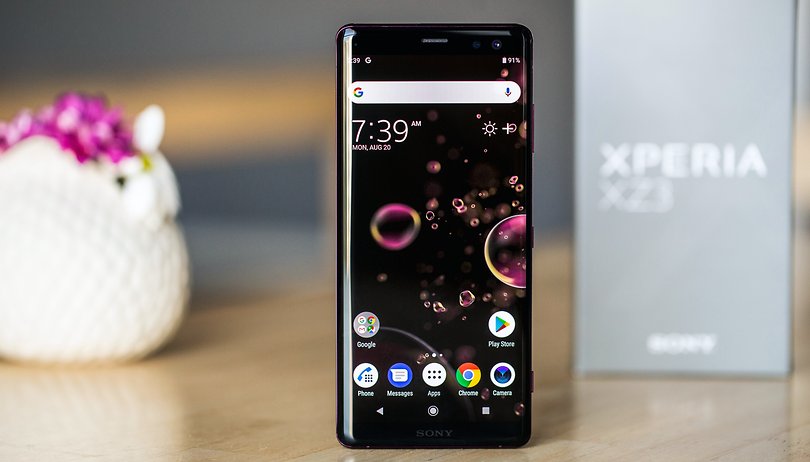 With the Sony Xperia XZ2 and its compact offshoot, Sony Mobile began a journey into the future, which now continues with the Xperia XZ3. The Ambient Flow design language was fine-tuned, and the necessary software optimizations, including the integration of new technologies, was finally implemented in the new Xperia XZ3. In our first hands-on review of the Sony Xperia XZ3, we will show you whether Sony is finally operating on the level of Samsung and Huawei in every respect.
Good
Design

OLED display

Good camera

Speakers

Android 9 Pie
Bad
Fingerprint sensor placement

Disappointing battery
Sony Xperia XZ3: All deals
A high price but more affordable than some competitors
The Sony Xperia XZ2 Premium was announced last April, three months later it was available in stores. The Sony Xperia XZ3 was announced at IFA, i.e. last September, two months after the release of its predecessor. Sony has always been known for having rather short production cycles, we have proof of this here again.
You can buy the smartphone in the US for $899. A high price, certainly, but in absolute terms it is cheaper than what some competitors demand: the new iPhone and the Galaxy Note 9 both stand with their tiptoes on the $1,000 line.
As for the colors, you can choose between burgundy (which we used for our review), white, green and black.
Finally, a new design!
Sony had never seemed to want to change the design of its smartphones. While the Japanese company managed to maintain the aging look of its Xperia range until 2018, it has (finally) decided to put an end to it with the XZ2 Premium and continues on this path with the XZ3. No bones about it: the device is elegant . It's subjective, of course, but he has his own little charm. On the other hand, it is very slippery so it is better to make sure to place it on a flat surface.
Let's start with the (only) negative point: the fingerprint reader is located in the middle of the device, just like with the XZ2 Premium. Apparently, Sony placed it so low in order to be able to lower the camera, but in practice, this is a disaster because in this position it is difficult to unlock the camera without twisting with your finger. Too bad.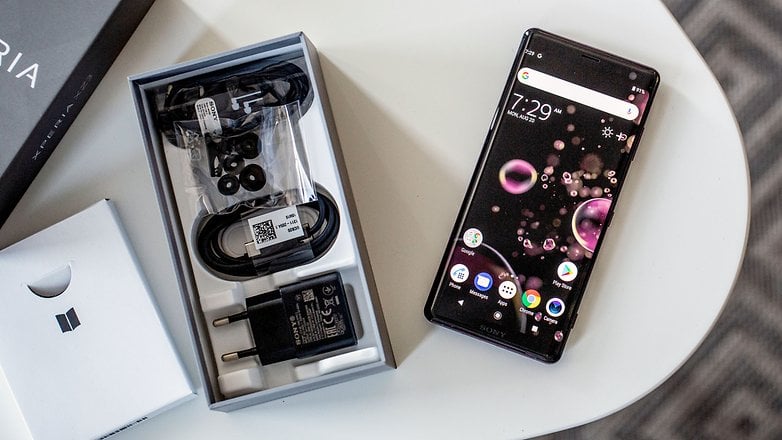 The device is similar enough to other devices on the market to be described as modern, and different enough to stand out from it. At the front, the bezel-less (but not too much, there is enough space at the bottom to contain the name Sony) which is illustrated by the absence of a notch and a slightly curved glass on the sides. At the back, we also find glass, interrupted at the fingerprint reader and at the bottom by a kind of mini notch.
At the back, the edges are a little rounded on the 4 sides, which gives a very nice visual effect (which is accentuated by the glass) and if it reminds us of its predecessor - which is logical, in the end - I still think it's very successful. The burgundy color, of course, plays a role, it is really elegant.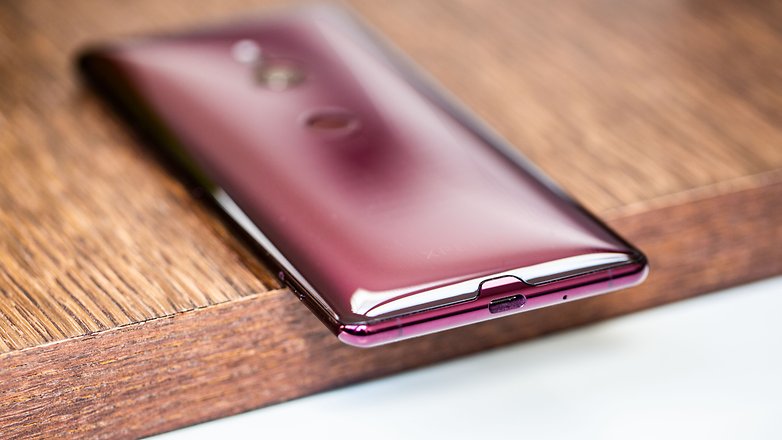 On the right side, we find the classic layout of Sony buttons, especially the one dedicated to photography. On the left side, absolutely nothing. The SIM card cart can accommodate either a microSD card or a second SIM card. As far as protection is concerned, we find IP65/68 certification.
Note that the device is slightly larger than the XZ2 (158 x 73 mm and no longer 153 x 72 mm) but it is also thinner at 9.9 mm. It is also 5 grams lighter at 193 g, but still a little heavier than a Galaxy S9+ (189 grams) or a OnePlus 6 (177 grams).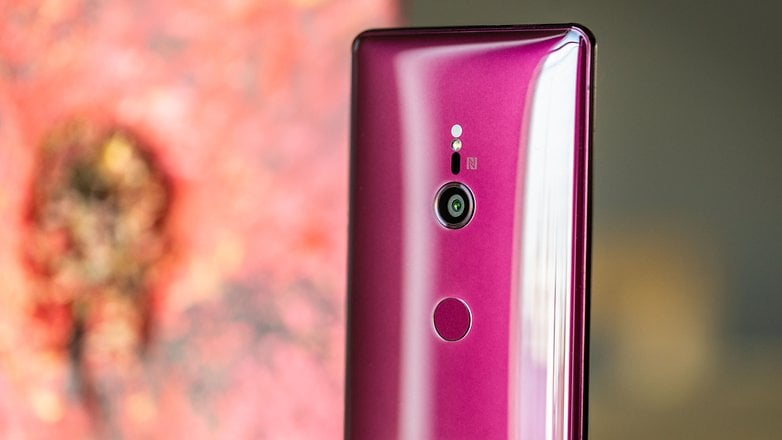 A quality display
Sony has decided to abandon the LCD screen found on the XZ2 and even on the XZ2 Premium, and opt for a P-OLED panel. The screen has a 6-inch diagonal and QHD+ (1440 x 2880) resolution, so multimedia content enthusiasts will enjoy it . In addition, it is compatible with HDR.
The colors are very well represented, especially the very deep blacks thanks to the OLED screen, and there is no contrast problem. On the other hand, by default, there is far too much blue for my taste, you get used to it, but it's a pity, especially at a time when the blue light is so criticized. The brightness is very good overall, I could read the screen in full sun without any problem, on the other hand, the automatic brightness does not always do its job well.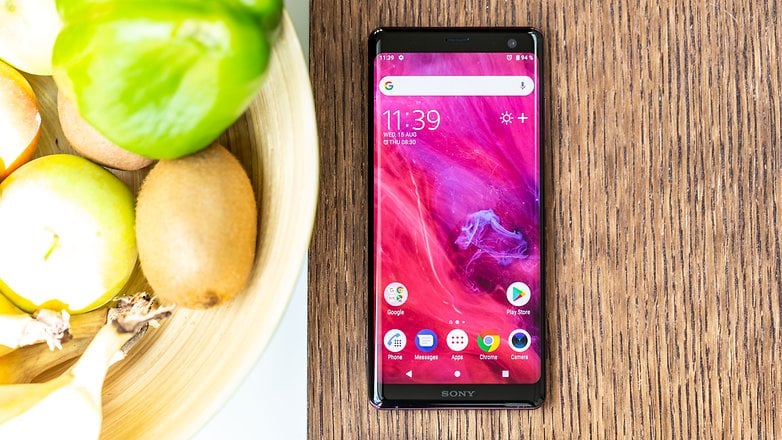 Several interesting options are available. Of course, you can configure many elements, including the mode for the color gamut or white balance. In the accessibility settings, an option on color correction allows you to adapt the screen if you have particular eye problems.
Sony Xperia XZ3 software
Here is one of the great features of this smartphone : it runs on Android 9.0 Pie. The security patch is dated August 5, let's hope Sony will update the device quickly instead of starting to fall behind.
We have here a sober and more elegant interface. A small interesting visual element: the possibility to invert the colors which, by default, are light in the menus and dark in the notification bar. Sony has also added a small software innovation called lateral detection. When you press a screen border twice in succession, a window appears offering you actions. Not only is it not particularly useful, but it is also often triggered when you don't want to, and conversely, it is not always triggered when you want to use it. In short, a feature that is quickly deactivated.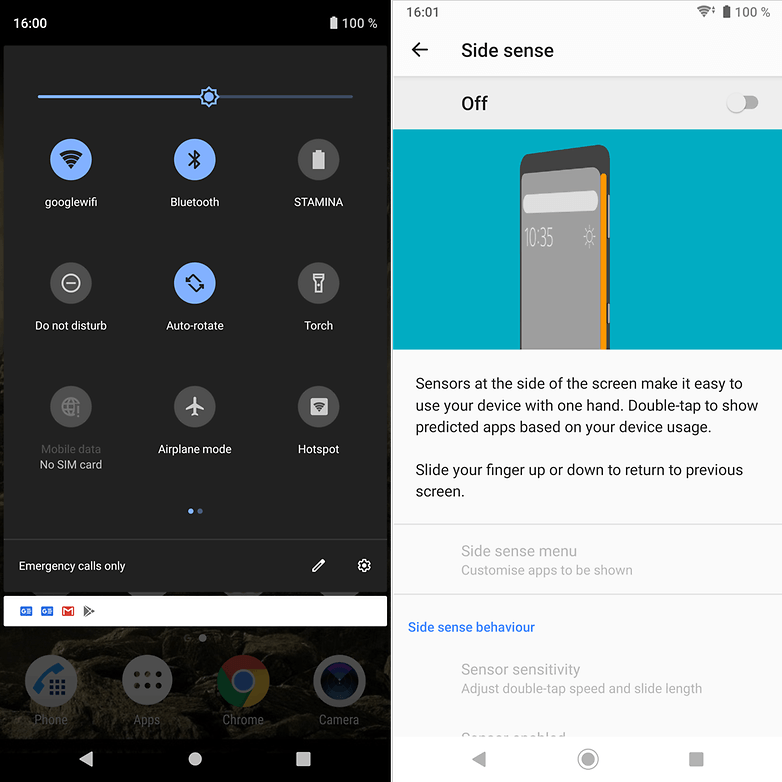 Another feature that is a little superfluous is the dynamic vibrations. Practical when you play but hold it in your hand to watch a video it's just annoying, fortunately it's easy to disable. These two points are subjective, of course.
As always, Sony preinstalls a few applications (but few, don't worry). It puts forward its own services, that's fine, but preventing me from uninstalling Facebook bothers me a little.
Solid performance
We have performed a complete test of the device's performance, you can find the complete technical sheet as well as my feelings and the results on the benchmarks in the following article:
In short, the device is very powerful and suitable for all types of use . You can have a simple use (chat on instant messaging, surfing, music) or advanced use (demanding applications, games...), you will not encounter any problems. On the other hand, if your goal is to have the most powerful smartphone, whether you use its power or not, you should know that it does not reach the Samsung Galaxy S9+ level on benchmarks.
I have had a problem with the device several times: the screen seems to deactivate for a few seconds and then works again as if nothing had happened. It occurs quite rarely and always in an unexpected way: at the end of a voice conversation on WhatsApp, at unlocking.... A recent update (52.0.1.1.3.27) may have fixed it because it has not reproduced in recent days.
Pleasing sound
The audio part has not been neglected either. We have stereo speakers that make a very good impression but, like all small speakers, when the sound is too loud the quality of the sound deteriorates a little. Despite everything, it manages to hold its own very well and several parameters make it possible to optimize the quality of listening.
No mini-jack plug, so you need to use the headset and adapter (both included). The audio experience is also satisfying here too, but with a Bluetooth headset you will have more comfort and you can enjoy Bluetooth aptX HD and LDAC technologies.
A single but effective lens
Fashion pushes manufacturers to use two cameras, but some smartphones like the Pixel 2 have shown that it is possible to take very good pictures with a single sensor . The Xperia XZ3 is no slouch with its IMX400 ExmorRS sensor, 19 megapixels, f/2.0 aperture, 1/2.3 size and 1.22 µm pixel size, this smartphone can take excellent pictures. Okay, we're not at the level of the Google Pixel 2 XL or the Huawei P20 Pro, but the non-expert eye will be delighted with these results.
You can also go directly to a gallery of photos taken with this link:
The killer weakness: battery
If this Xperia XZ3 has good qualities, it also has defects and its battery life is undoubtedly the biggest . On paper, with its 3330 mAh battery, we can think that with good optimization we can achieve something good here, but in practice it doesn't work out. In quite intensive use (a lot of photos, Google Maps, surfing and a little video streaming in addition to WhatsApp) the device could hardly last the day. You will have to recharge before the evening.
I used it on a trip and took a lot of pictures, which is what drained the battery quickly. A really intensive user who does not take a picture but uses social networks a lot and plays games on the phone will be disappointed by the battery life but the battery should last until the end of the day. On the other hand, things will be more complicated for photo fans. The charging is not the fastest either, so we are quite disappointed on this point.
On PC Mark's benchmark, the device obtained the score of 8 hours 48 minutes.
Sony Xperia XZ3 technical specifications
The XZ3 leaves you wanting more
Sony has taken into account the criticism it received on its XZ2. The large 6-inch OLED display makes it a smartphone well suited for multimedia content, i. e. to watch videos in high definition but also for gamers thanks to powerful hardware. The design has evolved, so has the photo aspect. Unfortunately, its poor battery life really spoils an otherwise perfect picture, if you are an intensive user you will have to go out with an external power bank.
Without this battery problem, I would have strongly recommended this smartphone to you, but if you are an intensive user, think again. On all other points, you will not be disappointed because it is the best Sony device I have ever had the pleasure of testing.