Sony Xperia 5 IV review: The perfect smartphone?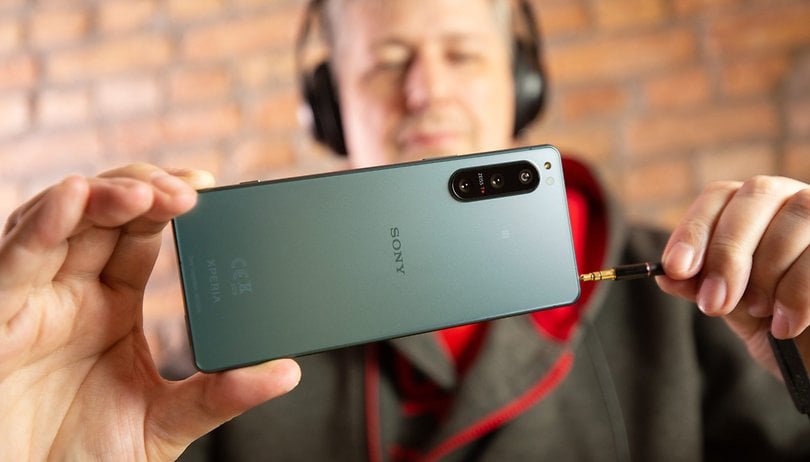 The Sony Xperia 5 IV was officially unveiled at the IFA in September 2022. Although the company has visibly distanced itself from the major smartphone stage, there are three new Xperia models released each year. Subjectively, the Xperia 5 IV is the best choice for everybody because it is relatively compact in size despite having flagship technology underneath the hood. The "compact" smartphone is also available at a much more affordable price just three months after it was unveiled, so our detailed review could not have come at a better time.
Good
Very good "Bravia" 21:9 OLED display with 120 Hz refresh rate

Easy to grip with high-quality design

Front-facing stereo speakers

Analog audio jack

Decent photo quality

Professional camera app

Excellent battery life

IP68 certification

microSD support
Bad
"Bloatware" at an MSRP of $999

Average software update policy

Missing face unlock

No power adapter included

Processor overheats easily

Slow battery charging
The Sony Xperia 5 IV in a nutshell
Sony's Xperia 5 IV was unveiled at IFA 2022, accompanying its siblings, the Sony Xperia 1 IV and the Xperia 10 IV at the beginning of the year. Although Sony's Xperia 5 IV, which is available in white, green, and black shades, is not the ultimate flagship model from the Japanese company, the recommended retail price (RRP) still stands at a whopping $999 (which has since been discounted to $799 for now).
Today, almost three months later, the Japanese company has at least reduced the price to $799, and price comparisons do seem to point to that as the new ceiling price. At this price point, the Sony smartphone begins to get really interesting.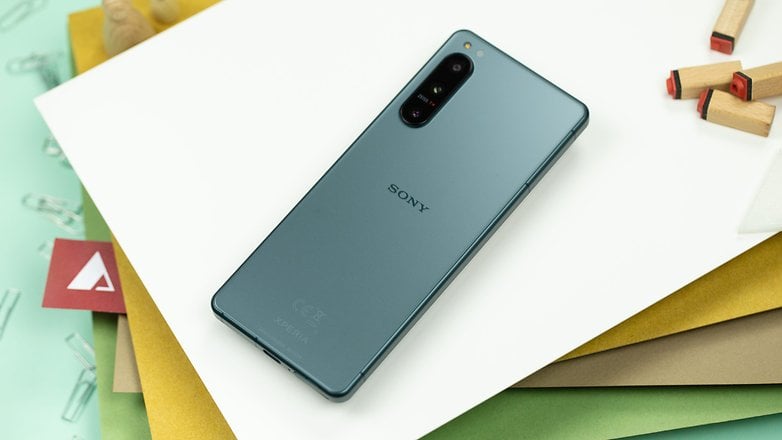 Sony has improved the Xperia 5 IV in almost all aspects: You get a brighter display, a bigger battery, a better main camera, a faster processor, and even wireless charging is now on board. If you like the smartphone, it would be a "no-brainer" of a decision. A note of caution though, depending on your mood, there are a few small flaws that you might want to be willing to live with.
These definitely include the battery's long charging time and the Snapdragon 8 Gen 1 SoC. The processor overheats way too quickly for our liking when taxed, where it becomes noticeable in different situations. The Snapdragon 8+ Gen 1 would have been a much better option, which would also have been available to the smartphone at the time of its release. However, let us first take a closer look behind the 21:9 screen.
Sony Xperia 5 IV design and build quality
Sony itself advertises the Xperia 5 VI as a "compact" Android smartphone. However, it is anything but compact at 156 millimeters long. Only the width of 67 millimeters and the 8.2 millimeters thickness makes it extremely easy to hold in the hand, tipping the scales at 172 grams.
---
What I liked:
Very easy to grip with a chic form factor.
Corning Gorilla Glass Victus.
Notification LED.
Very good build quality.
Great stereo sound.
IP65/68 certified.
3.5 mm jack.
What I disliked:
Position of the fingerprint sensor (depending on your preference).
No face recognition.
---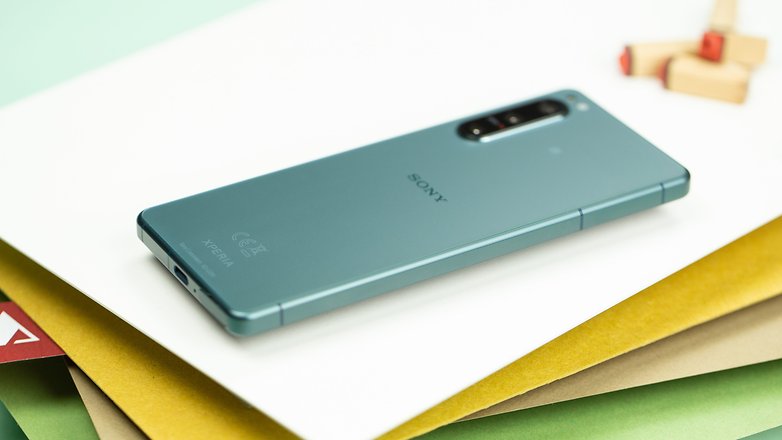 The angular yet rounded aluminum frame feels very good to hold and secure in the hand. The back is not a fingerprint magnet, and there is no risk of it slipping despite having a glass back. The left side is totally devoid of buttons or sensors, while the right side is populated with all the necessary buttons. The universal power and standby button is located almost at the center, including the slightly lower-placed fingerprint scanner. Above that, you will find the volume button and at the very bottom (top right in landscape mode) a two-stage camera shutter button.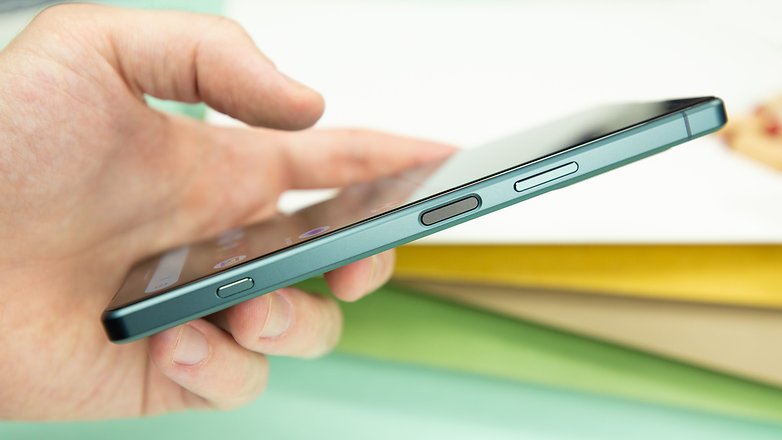 For right handers, the fingerprint sensor is perfectly placed on the side of the power button. For the remaining 10.6 percent of the population who are lefties, or people who like me, prefer to hold the smartphone in their left hand, the outlook is rather bleak. This is especially true since there is no facial recognition supported. At this point, I would like to point out that the aforementioned fingerprint sensor does not work very well in the rain.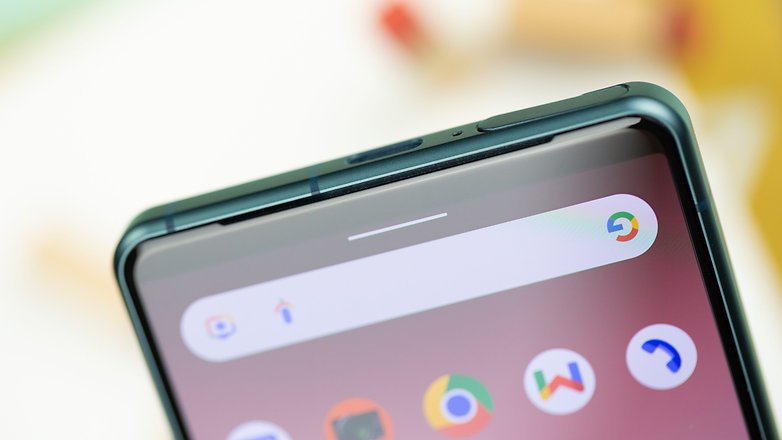 Sony accommodates a notification LED and front-facing stereo speakers with a more than satisfactory Dolby Atmos sound in the wide edges above and below the elongated screen. In general, Sony knows its stuff when it comes to audio with support for LDAC, 360 Reality Audio (Upmix), DSEE Ultimate, aptX, FLAC, Opus, Dolby AC-4, and many more audio codecs. There is even an analog audio jack for a 3.5 millimeter jack plug at the top.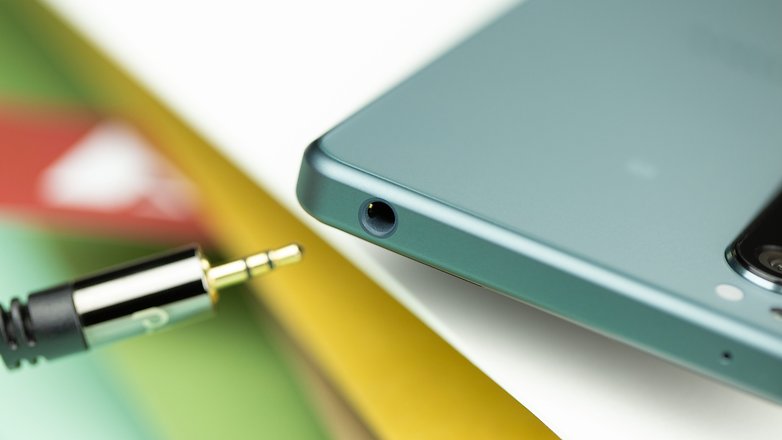 Another rarity in flagship smartphones is the optional storage expansion of up to 1 TB via a microSD card. In return, dual-SIM operation is only feasible with a nano-SIM and an eSIM. The SIM tray can be ejected without using any special tools, much to the editor's delight.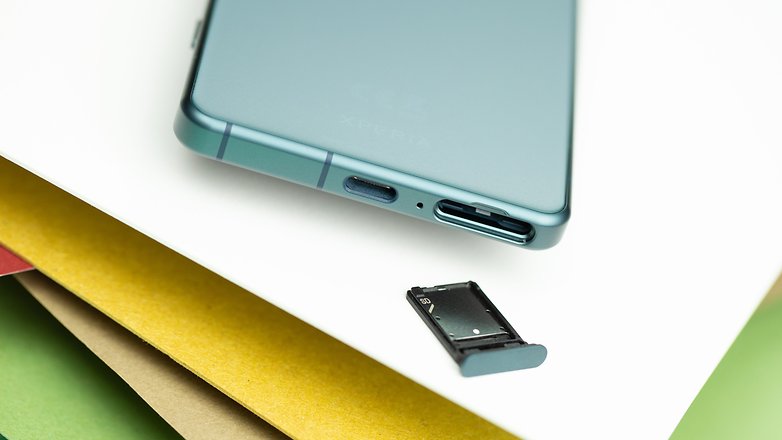 Sony Xperia 5 IV display
Sony's unique selling point appeared a few years back with the 21:9 widescreen on their smartphones. The aspect ratio definitely sees it fall out of the aluminum frame. Sony's Xperia 5 IV also retains this format, where what looks unnatural at first glance turned out to be quite useful in everyday use.
---
What I liked:
Display is 50 percent brighter than its predecessor.
Great video streaming experience.
What I disliked:
Color space is minimally smaller than its predecessor.
Only 60 or 120 hertz refresh rates are possible.
---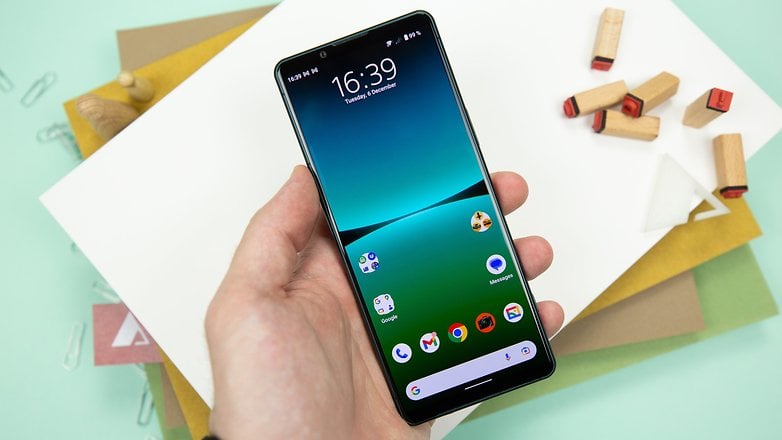 Let's begin with the cold, hard facts: We are dealing with a 6.1-inch OLED display with a resolution of 2,520 x 1,080 pixels (FHD+) at 449 ppi. The maximum refresh rate maxes out at 120 Hertz and can only be reduced to 60 Hz. This means there is no adaptive refresh rate, and Sony did not release any information on the reason behind that decision. With a touch sampling rate of 240 hertz, the manufacturer did not announce a maximum brightness level, but according to our measurements, it stands at just under 1,000 nits. Sony has increased the brightness by about 50 percent compared to its predecessor.
Sony has abandoned marketing terms like "Triluminos" or "CinemaWide" display. Even though the manufacturer likes to flirt with the brand name "BRAVIA", like in the "Bravia Core" app or the "X1 for Mobile" photo app, which displays almost all content in "Bravia HDR Quality" in a sharper manner with higher contrast.
And indeed, the OLED panel is significantly brighter and offers a very good and dynamic display. You get used to the unusual 21:9 format surprisingly quickly. The format shows its strengths not only in haptics and optimal usability, but also in streaming consumption. However, you should pay attention to the "special" cinema format when selecting a movie. The offer will be significantly larger in 16:9 format. But the 21:9 "ultrawide" format has also become increasingly popular in the monitor segment.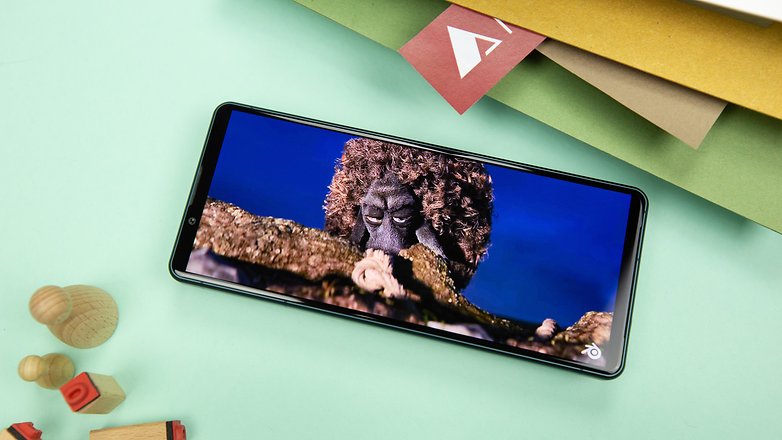 Since Sony did not integrate the front camera into the screen, but in the bezel next to it, ensuring the view remains completely unclouded. Only the extended DCI-P3 color space had some drawbacks compared to its predecessor. Even though these are not noticed by the user, we did not want to withhold the reduction of almost 15 percent coverage from you.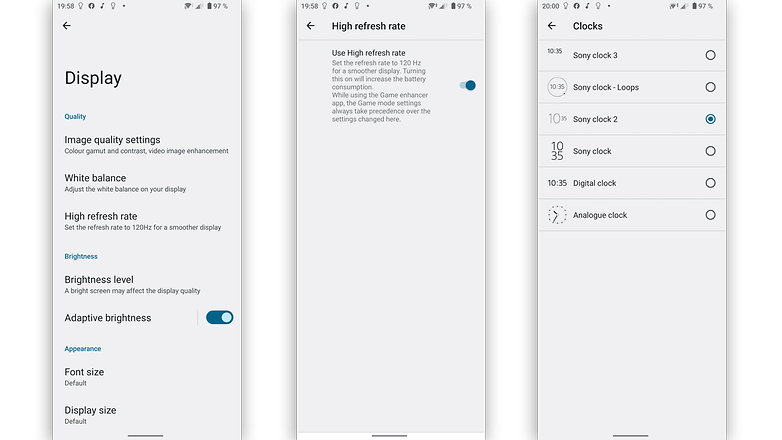 The Sony Xperia 5 IV also has an Always-on Display, but its settings and selection of optional clocks are still very limited.
Sony Xperia 5 IV software
The Sony Xperia 5 IV comes with Android 12 and has not seen Android 13 until today. Sony promised two system upgrades and three years of Google security updates. The last Google patch was October 1, 2022, making this a rather mediocre and not really a record-breaking promise. However, it would be possible to win back lost customers through the simple act of working on lengthening the software support period.
---
What I liked:
Almost stock Android.
Professional apps for audio, photos, and videos.
What I disliked:
Update guarantee is rather mediocre.
There is a bit of bloatware after all.
---
The user interface comes with almost stock Android, which I personally like very much. However, we will probably have to wait a little while for the upcoming Android 13 update, which has already been announced. In fact, it does seem that this update is being prepared to be rolled out in December 2022.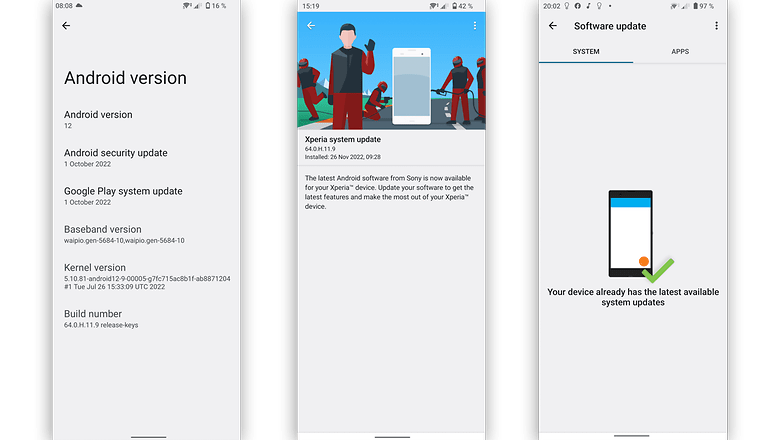 The bottom line is that there is also "bloatware" on board the $799 smartphone. It is probably debatable whether Linkedin, Facebook, Netflix, Tidal, and TikTok belong to this category, since many will install the apps anyway. While Google apps are primarily found on the Sony smartphone, there is also in-house software on board.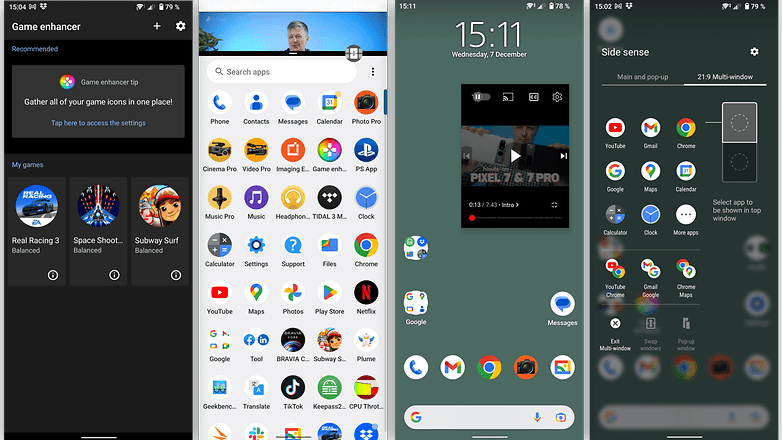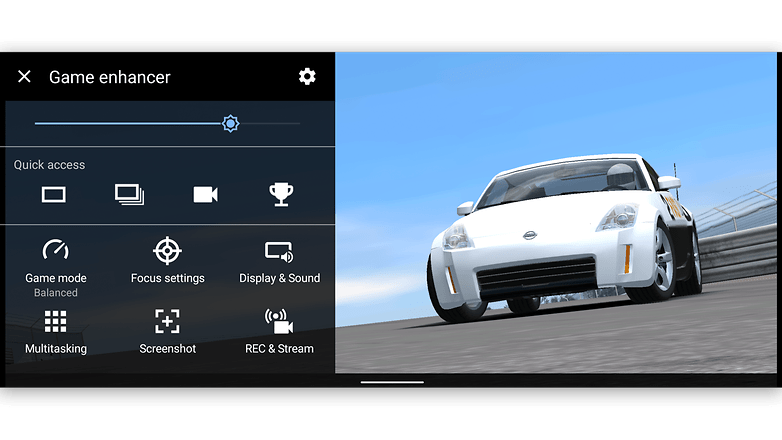 The pre-installed apps include such visible applications as the "Game Enhancer", which can be understood as a collection box for all installed games and a useful in-game menu. There are also less visible functions, such as the pop-up and multi-windows, splitscreen, or the Side Sense button.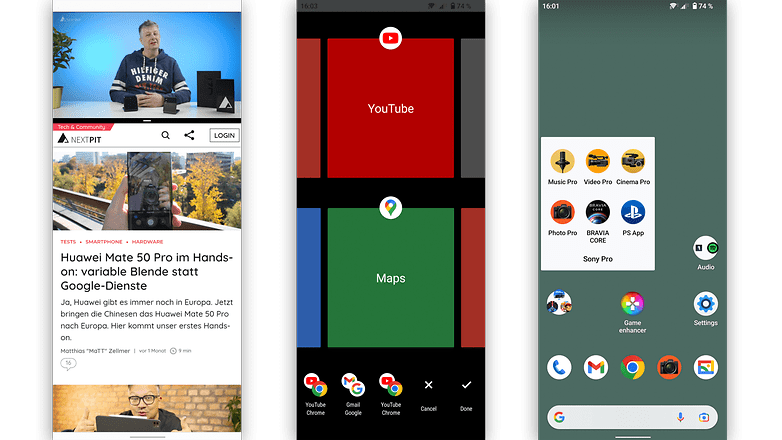 However, I don't want to end this chapter before I have mentioned the so-called "pro" apps. These include Music Pro, Photo Pro, Video Pro, and Cinema Pro. It quickly becomes clear that Sony wants to emphasize its core competence here. This is not only true in the audio area, which has already become clear alongside the stereo speaker and audio jack, but also in the multi-track audio application including small studio effects like a denoiser, reverb, or delay.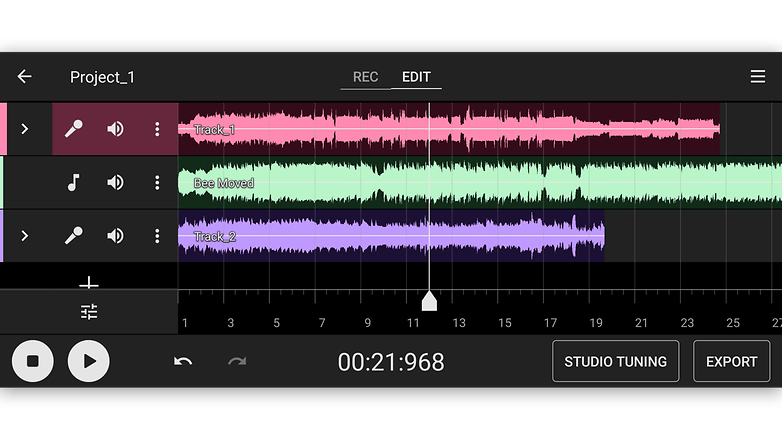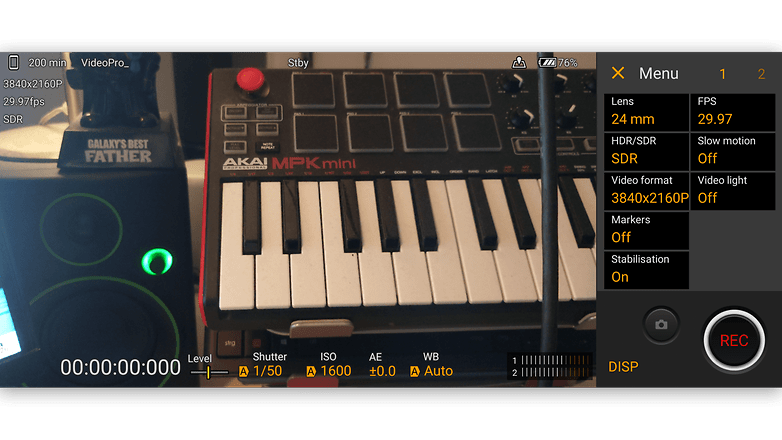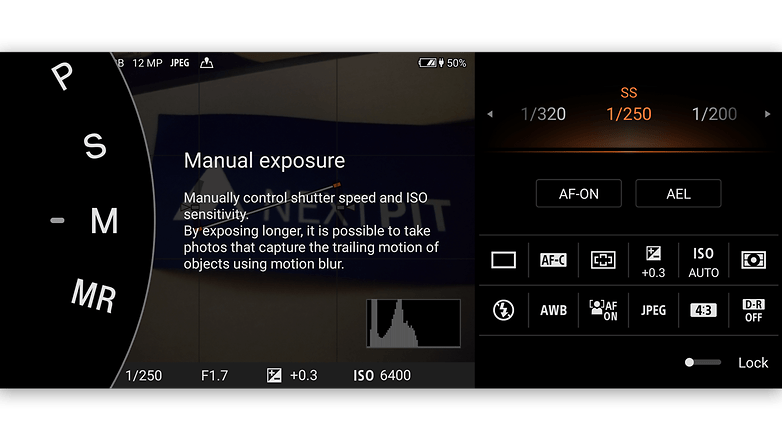 The camera app is also a bit of a challenge when it comes to photography. Just try to understand this: Sony doesn't provide an alternative for taking photos on the Xperia 5 IV as Photo Pro is your primary tool. There, a menu navigation launches that probably looks familiar to owners of an Alpha camera, but may overwhelm the average user at first. A virtual program dial and phase detection focus points, triggered by the two-step "real" camera button, are just two points here. However, we would like to talk more about that in the camera segment.
Sony Xperia 5 IV performance
Sony's Xperia 5 Mark IV is equipped with a Snapdragon 8 Gen 1 SoC. This is an octa-core processor whose primary core can be clocked up to 3.0 GHz. Graphics tasks are handled by the Adreno 730 GPU, which in our case is mated to 8 GB of RAM and just 128 GB of internal UFS storage space. Fortunately, storage can be expanded using a microSDXC card with a capacity of up to 1 TB. Otherwise, it would be pointless to have the word "flagship" here.
---
What I liked:
Sufficient power in all situations.
There is microSD support.
What I disliked:
Not the latest SoC.
Device gets uncomfortably warm.
No memory selection at purchase.
---
Qualcomm's flagship processor was already no longer the fastest SoC (System on a Chip) at the time of release, and the successor Snapdragon 8+ Gen 1 was already available. I am not saying that now because it is 0.2 GHz faster on the one Cortex-X2 core, but because the processor is generally better tuned. That is to say: The Snapdragon 8 Gen 1 is a bit of a hothead. The entire glass back heats up in a very unpleasant manner. This is not only during gaming, which I would understand, but also during 4K video production. I would still say this: there are cool pro camera apps in this smartphone, but what use are they if the smartphone simply shuts down during the second take with Megan Foxy Brown.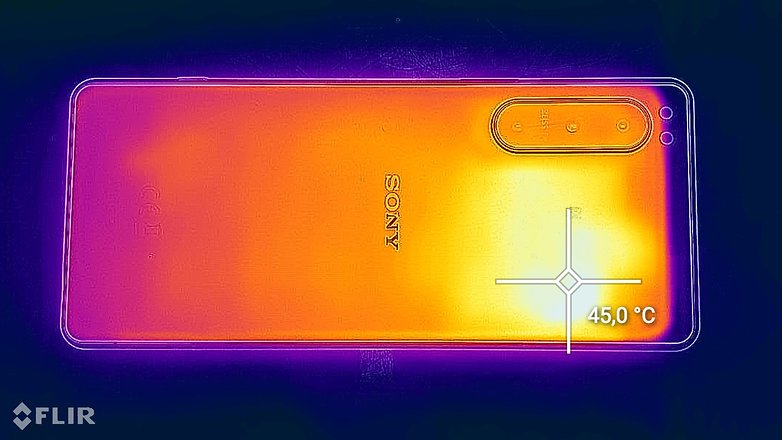 The 128 GB storage configuration basically falls into the same trap. Sony does not offer 512 GB or at least 256 GB of storage as an alternative. For the Photo Pro app as mentioned earlier, you can just about save yourself with the memory card option. However, it will probably not be able to keep up with 4K movies due to the bottleneck. The smartphone's performance is impeccable in everyday use.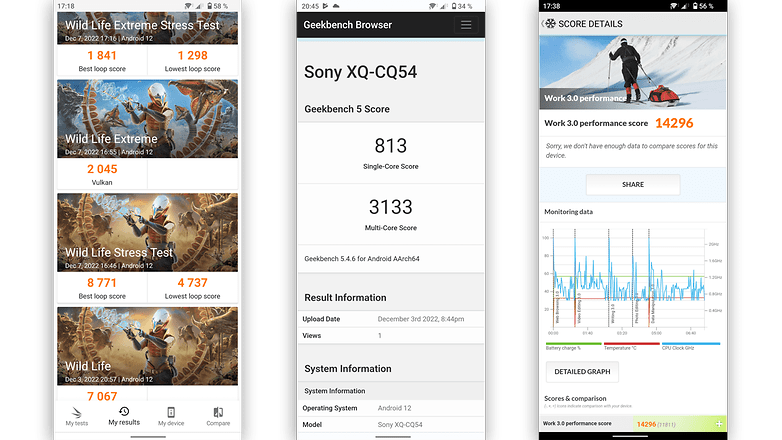 For the hard facts faction, the benchmark scores did not show the expected results that should theoretically be expected from the Snapdragon 8 Gen 1 SoC. This is mainly due to the fact that the processor has already been throttled on the software side to avoid the innards melt straight through the glass back.
Sony Xperia 5 IV
Xiaomi 12 Pro
Samsung Galaxy S22 Ultra
Samsung Galaxy Z Fold 3
Huawei Mate XS 2
3D Mark Wild Life
6838
9975
5682
5683
5793
3D Mark Wild Life Stress Test
Best Loop: 8771
Worst Loop: 4737
Best Loop: 10,028
Worst Loop: 4625
Best Loop: 5741
Worst Loop: 3351
Best Loop: 5579
Worst Loop: 3435
Best Loop: 5782
Worst Loop: 3267
Geekbench 5
Single-Core: 813
Multi-Core: 3133
Single-Core: 1155
Multi-Core: 3356
Single-Core: 1155
Multi-core: 3356
Single-Core: 1095
Multi-core: 3239
Single core: 840
Multi-Core: 2759
Sony Xperia 5 IV camera
Externally, Sony's Xperia 5 IV only made it clear that the flagship has a special focus on photography and videography with its separate camera shutter button. After all, the three 12 MP cameras were vertically arranged on the top left of the back do not necessarily give the impression of as a contender for the best camera smartphone in 2022.
---
What I liked:
Two-stage camera shutter release.
Photo results are convincing.
Impressive camera app.
Real pro features.
What I disliked:
No night or macro mode.
Difficult to use for beginners.
---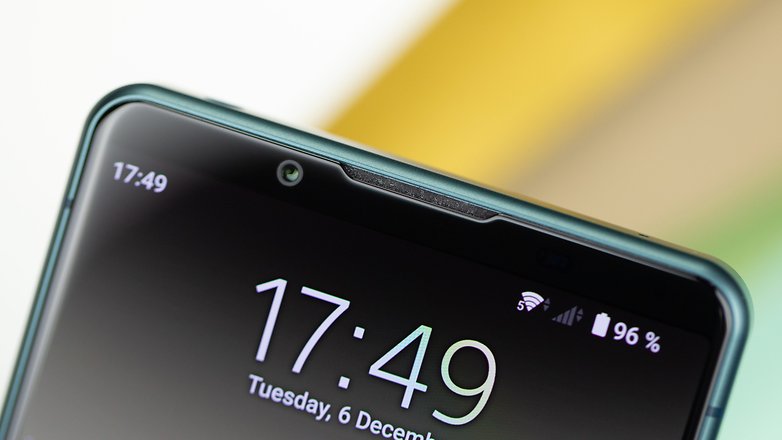 The Sony Xperia IV has a total of four 12 MP cameras , one in front above the display and three at the back (details in the specs). At least in terms of cameras, Sony has been consistent, but do they show up in the photo results as well? Google has already successfully proven that you can take very good pictures without 200 MP image sensors using the right camera software. Sony's camera software already convinces visually, if not even blow your socks off.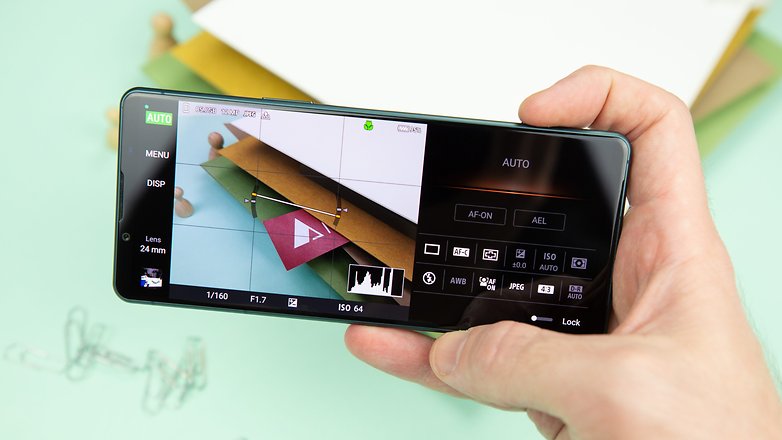 This is no mean feat since the engineers of the Alpha camera series have been consulted. According to their own statements, they use identical technology for the Xperia 5 lenses. This means that the shutter button works in two stages, just like in an Alpha camera. The first half-depressed stage focuses using real focus points (up to 247), and the second stage shoots the photo. Genius!
Things like the program wheel, continuous photos (max. 20/sec), real-time and eye tracking, all of them work really well with animals and humans as well as the AI-assisted 7.5x digital zoom (2.5x optical) that also characterized the Xperia 5 Mark 4, leaving a very professional impression. Is it too "professional" at the end of the day? Those who do not have any previous experience with "real" cameras or do not want to acquire them should possibly keep their hands off this smartphone. Although there is a so-called "Basic" mode, those who want to take great photos with the Sony will first have to get to grips with the entire learning curve. Otherwise, you will search in vain for a macro or night mode.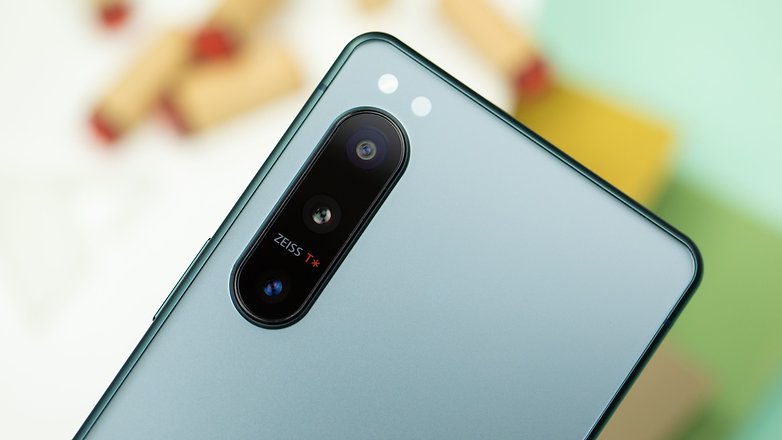 Let's move on to the photo results: It's almost a crime to send this obviously superior triple camera to compete with others in such weather. There has been no sun for days, with only rain or snow keeping us company. The blue sky remains hidden, the green meadows are but a dream, and there definitely aren't any colorful flowers to look at. We definitely need to make up for those shortcomings.
Nevertheless, these conditions seem to be made for the Sony Xperia 5 IV. This is because daytime pictures are quite pleasing to look at, as the compact flagship really blossomed compared with the competition when lighting conditions are less than ideal. Compared to its predecessor, the portrait, telephoto zoom, and wide angle shots have improved a lot.
I was surprised by the different colors of the shots, which is most noticeable in the comparison between the main camera (24 mm) and the telephoto camera (60 mm). The yellow of the Rubik's Cube, for instance, is much crisper using the main camera. The shots of the leaf with water drops could hardly be more different, too. The floating kindergarten with its circular windows looks almost identical in both 1x and 0.7x shots.
Night shots have taken a significant leap forward thanks to the BIONZ-X chip (also from the Alpha series). Of course, a steady hand or a tripod will optimize the result, despite the presence of "Optical SteadyShot" (OIS + EIS) - and FlawlessEye (for night photos). This is especially pronounced in the shot with the two bells, where you can still see the cobblestones on the left and the calendar on the right.
Due to the lack of reflections from the sun, I was unable to get an impression of the "ZEISS T*" coating used on the lenses. We'll work to provide that in the spring. So far, Zeiss lenses and their coating have always delivered excellent results, as found in the example of the Vivo X80 Pro.
I personally noticed the missing macro mode which cannot really be compensated in a sensible manner via the ultra-wide angle camera. Although the camera displays a macro icon in "Auto Mode", the photos taken mean something else (see with the red berries). The situation is different with the missing night mode, but I have already talked about the quality. In summary, the results of the triple and front cameras are much better than the predecessor and fit perfectly into the lower flagship class.
Sony's Xperia 5 IV has also made a significant leap forward in terms of videography. The fact that "Wide Dynamic Range", "Wind Detection" and 4K with a maximum of 120 frames per second are available for selection strengthened my initial impression. Despite having two additional apps like "Video Pro" and "Cinema Pro", my review here only scratched the surface. If you want a separate article about photography and videography, please let us know in the comments. My colleague Antoine also has a detailed review of the Sony Xperia 1 IV in this regard.
Sony Xperia 5 IV battery
Sony's Xperia 5 IV comes with a 5,000 mAh battery installed. Although the smartphone has become smaller compared to its predecessor, the energy cell has gained another 500 mAh. The good news does not end there: There is now also wireless charging including "Reverse Charge"! One of the biggest points of criticism in the predecessor is now off the list of shortcomings from the past. However, the joy only lasts until the compact flagship has to be charged for the very first time.
---
What I diked:
Long battery life.
Wireless charging supported.
Reverse Charge supported.
What I disliked:
No cable or power adapter included.
100 minutes charging time to hit 100 percent battery.
---
This is when you realize that no power adapter can fit into this flat box. It would have been enough for a cable, but Sony also omitted that. While I'm completely okay with the cable, I can't really understand the reason behind the missing charger. After all, today's smartphones also support different charging speeds, in the case of the Xperia 5 IV, it is 30 watts. I found Xiaomi's short-term approach of choosing whether to buy with or without the charger (at the same price) to be far more appealing. The customer should decide for himself the type of carbon footprint he wants to leave on the earth.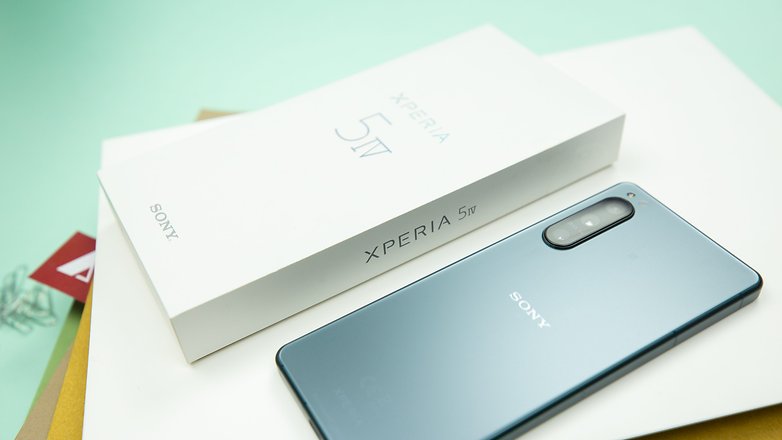 Back to the charging speed: I used my 65-watt VOOC power adapter from my OnePlus 9 Pro to charge the Sony smartphone. So by my Motorola Razr 2022 review, which wants to be charged with a smaller battery and also a 30-watt power adapter (Motorola included one), I thought I was well prepared for a lengthy charging time. However, Sony's Xperia 5 IV exceeded my wildest expectations: It took 100 minutes to hit 100 percent battery capacity! Bam!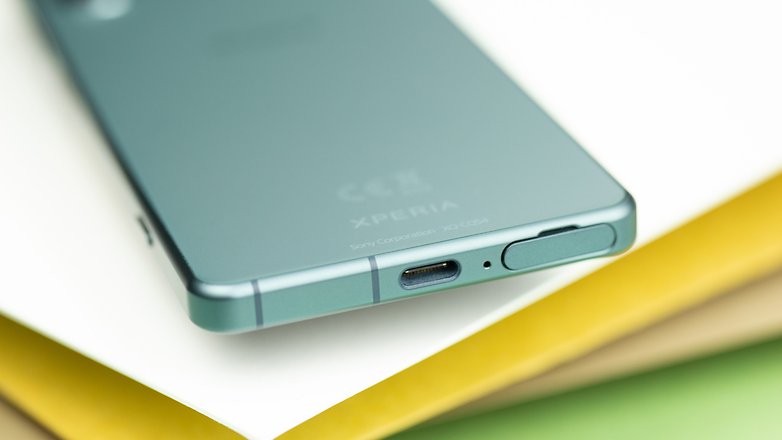 To get a general idea, it achieved 10 percent after 5 minutes, 45 percent after 30 minutes, and 79 percent of the maximum battery power after 60 minutes. Wireless charging was even slower, but at least it works just like its "reverse charging"! At the end of the day, it is how far I get with a full battery that counts, and the Sony smartphone can convince everyone. The "PC Mark Work 3.0" battery test showed us a proud 16 hours and 17 minutes at a display brightness of 200 nits when the test ended with a remaining capacity of 20 percent. These are real top drawer figures.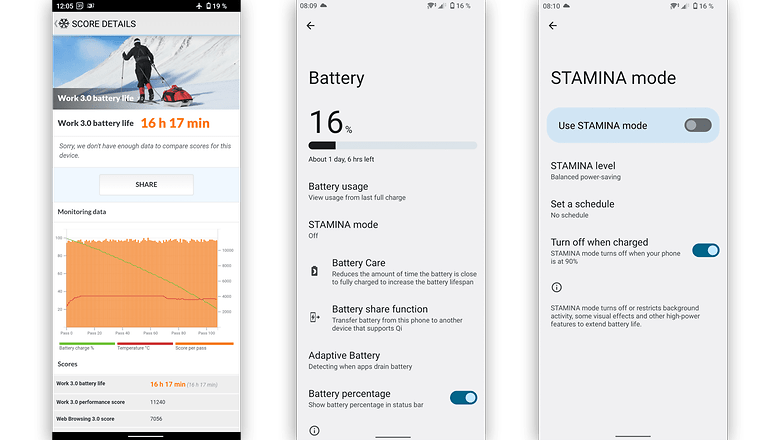 In reality, this was enough for one and a half days in my case with Slack messenger set up, three e-mail accounts, intensive surfing, gaming sessions, and snapping photos. Those who use the smartphone less intensively should also manage to hit two full days of use before looking for a power outlet. All in all, almost perfect and a respectable result!
Sony Xperia 5 IV technical specifications
Technical specifications
Device
Image

Screen
6.1-inch OLED, 2,520 x 1,080 pixels (FHD+),
120 hertz refresh rate, Corning Gorilla Glass Victus, 21:9 format
Dimensions
156 x 67 x 8.2 mm (H x W x D)
Weight
172 g (incl. battery)
SoC
Snapdragon 8 Gen 1 (SM8450)
Memory
8 GB LPDDR4 RAM
128 GB UFS 2.2 ROM
Software
Android 12
Expandable memory
Up to 1 TB
Main camera
12 MP | f/1.7 aperture | 1/1.7 inch Exmor sensor | IMX557 | equivalent focal length 24 mm | viewing angle 82° |
OIS, PDAF and real-time tracking
Ultra wide-angle camera
12 MP | f/2.2 aperture | 1/2.5 inch Exmor sensor | IMX563 | equivalent focal length 16 mm | viewing angle 124° |
PDAF
Telephoto camera
12 MP | f/2.4 aperture | 1/3.5 inch Exmor sensor | IMX650 | equivalent focal length 60 mm | angle of view 40° | 2.5x optical zoom
OIS, PDAF
Selfie
12 MP | f/2.0 aperture | 1/2.9 inch Exmor sensor | IMX663 | 83° viewing angle
Video
4K | 120 fps | OIS, EIS
Audio
Front firing stereo speakers with Dolby Atmos
3.5 mm jack
Battery
5,000 mAh
Charging via cable
30 watts
Wireless charging (Qi)
15 watts
IP certification
IP65/68
Conclusion
An almost unobserved "dwarf" makes a fuss! My dear friends, it rightly does so! The Sony Xperia 5 IV does everything better than its predecessor, the Sony Xperia 5 III, and that model already received a full four stars in the review. Clearly, at least half a star more must be possible with the improvements over the predecessor. Nevertheless, the Xperia 5 IV is not perfect. The Snapdragon 8 Gen 1 gets quite uncomfortably warm quickly when under stress, and charging could also be a bit faster for a flagship. Sony can also catch up a bit closer to Samsung in terms of its update policy.
However, this is offset by an extremely handy smartphone with an outstanding display, great battery runtime, wireless charging, microSD card support, IP68 certification, audio jack, and a camera that takes excellent pictures despite four 12-megapixel cameras. Ergo: A smartphone with all the features you could wish for.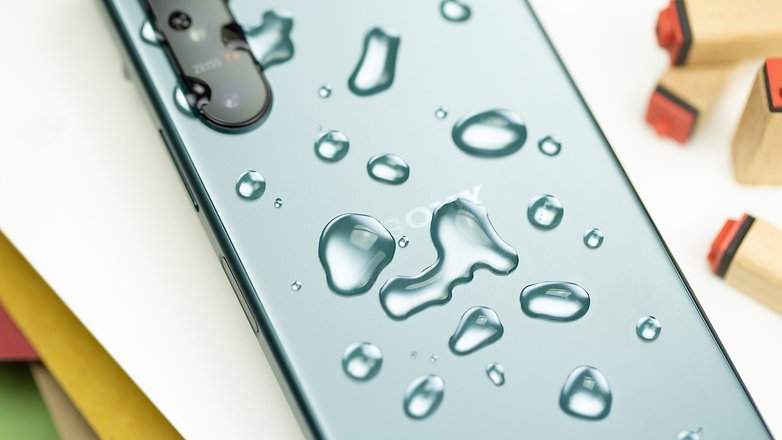 Thankfully, the current retail price of $799, which the Japanese manufacturer has already lowered from its $999 recommended retail price, makes this a clear winner. However, it is not an Apple iPhone 14, and thus the price has dropped and might even see further price cuts in time to come. And at that price, the Sony Xperia 5 IV definitely gets a buy recommendation from me. It takes a bit to understand the smartphone and its software, but once you do, yes, nothing and no one will separate you!